A bright fall salad with roasted Delicata squash, baby spinach, toasty brown butter vinaigrette, and crunchy squash seeds.
Like most of us, I'm crazy for all things squash this time of year. I count the days to my first bowl of Butternut Squash Soup the same way many coffee lovers await their Pumpkin Spice Lattes.
That said, after a few weeks, I sometimes start to find the usual winter squash preparations a little on the heavy side and look for brighter flavors to awaken my palate.
This Delicata Squash with Brown Butter Vinaigrette does just that. Roasted squash rings are tossed with baby spinach and a lightly-tangy vinaigrette made from browned butter and reduced apple cider vinegar.
The caramelized squash contrasts nicely with the fresh spinach leaves and the "zip" of the vinaigrette. It's a delicious alternative to your standard squash fare!
I was shamefully late to the Delicata squash party. I only discovered it in my local market two years ago, and totally by accident when I was sorting through the squash bins for my usual Butternut.
Like most winter squashes, Delicata has a mild, sweet flavor. What sets this cylindrical variety apart is that it's one of the few with edible skin. No need to peel. Talk about a time-saver!
When cleaned and sliced, Delicata squash yields beautiful half moons that are as pretty to look at as they are delicious to eat.
It's become one of my favorite squash varieties and an ingredient I savor in my regular side dish rotation throughout the autumn months (even on busy weeknights, given its quick preparation!).
This Delicata squash salad is an adaptation of a sunchoke salad I happened upon in Food and Wine last year.
The original recipe sounded delicious, but we were snowed in that day and sunchokes aren't something I stock regularly in my vegetable bin. Since I had all of the other ingredients, I decided to try the recipe with roasted squash and we loved the substitution!
The sweet roasted squash rings paired so well with the toasty brown butter and tangy apple cider vinegar. Baby spinach, chopped chives, and shallots brought a great brightness to the dish, with a very subtle "kick" from a few crushed red pepper flakes.
I ended up tweaking the vinaigrette a bit to best suit our personal tastes (a smaller ratio of vinegar to browned butter) and topped the dish with toasted squash seeds for some textural contrast. (A sprinkling of toasted nuts would also be delicious here.)
Delicata Squash with Brown Butter Vinaigrette is great served as a side dish, or as a light lunch with a wedge of artisan bread.
It would be a beautiful addition to any Thanksgiving table (I can't begin to believe that the big feast is only two weeks away; how did that happen?!), and an especially nice vegetarian option for dinner guests to savor the flavors of the season.
Did you know I have a weekly newsletter? It's a great time of year to subscribe and have delicious recipes delivered to your Inbox for all of your holiday entertaining needs!
More Thanksgiving Recipes on Striped Spatula:
Apple-Orange Cranberry Sauce (gluten-free, vegetarian)
Butternut Squash and Wild Rice Salad (gluten-free, vegan)
Sausage and Chestnut Stuffing
Maple-Bacon Sweet Potato Biscuits
Bouchon Apple Pie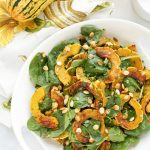 Print
Delicata Squash with Brown Butter Vinaigrette
Ingredients
2

Delicata squash

(about 2-1/2 to 3 pounds total)

3

tablespoons

olive oil

, divided

5

thyme sprigs

1/4

cup

apple cider vinegar

2

tablespoons

minced shallots

1

teaspoon

honey

1/2

teaspoon

crushed red pepper flakes

3

tablespoons

unsalted butter

1-1/2

cups

baby spinach leaves

, lightly-packed

1/4

cup

chopped fresh chives

kosher salt and freshly-ground pepper

roasted squash seeds or your favorite variety of toasted nuts

, for garnishing, optional*
Instructions
Roast the squash
Preheat oven to 425 degrees F with rack in center position. Cut Delicata squash in half lengthwise and use a spoon to remove seeds and stringy pulp. (Set aside if planning to roast the seeds, otherwise, discard.) Cut each half, crosswise, into 1/4-inch thick slices. Arrange on a baking sheet, toss with 2 tablespoons olive oil, thyme sprigs, and a few pinches of kosher salt and pepper. Roast 30-40 minutes, turning squash slices halfway through, until tender and golden.
Make the vinaigrette and serve
In a small saucepan, simmer apple cider vinegar until reduced to 2-3 tablespoons, about 2-3 minutes. Transfer to a small bowl and set aside. In the same saucepan, heat butter over medium-low heat until solids are light golden brown and fragrant. Remove from heat.

Stir shallots, honey, red pepper flakes, and a pinch of kosher salt into the reduced cider vinegar. Slowly whisk 1 tablespoon olive oil and browned butter into the vinegar mixture until emulsified.

In a large bowl, gently toss together spinach, roasted Delicata squash, and vinaigrette until coated. Season to taste with salt and pepper. If desired, garnish with roasted squash seeds or toasted nuts. Serve immediately.
Recipe Notes
*To roast Delicata squash seeds: Preheat oven to 325 degrees F. Rinse seeds in a bowl of water and discard stringy pulp (seeds will float to the top of the water as separated). Add seeds and 1 teaspoon salt for every 1/2 cup seeds to a small saucepan. Add enough water to cover by 1 inch and bring to a boil. Simmer for 5-7 minutes and drain seeds into a colander. Let cool slightly and dry with a paper towel. Place seeds onto a baking sheet and toss with about a teaspoon of olive oil (or another neutral oil) to coat and a few pinches of kosher or sea salt. Arrange seeds in a single layer and roast for about 10 minutes. Stir seeds, and continue roasting for 5-10 minutes, until lightly toasted and fragrant. (Seeds should not be dark brown.) Let cool and enjoy.
For the best flavor and presentation, this salad should be served immediately after assembling, as the spinach leaves will lightly wilt from the roasted squash slices and warm vinaigrette. I like to serve the salad lightly-dressed to allow the flavors of the squash and spinach to shine through, but if you prefer more dressing, the vinaigrette is easily doubled.
Have you made this recipe?
Let me know by leaving a comment and rating the recipe below! Don't forget to take a picture and tag
@stripedspatula
and
#stripedspatula
on
Instagram
for a chance to be featured in my newsletter!