Rich and dense, with a truffle-like texture and a hint of orange, this Chocolate Hazelnut Torte is a decadent treat. Naturally gluten- and grain-free!
As I see it, there are very few scenarios in which chocolate and Valentine's Day don't mesh.
Whether this weekend finds you sharing dessert with the person who sends your heart aflutter, single and loving it, or in need of some comfort food, you can never go wrong with a little (or a lot of) chocolate.
Last year, I celebrated Valentine's Day with a pan of my favorite Cocoa Brownies. This year, I'm all about Chocolate Hazelnut Torte. Rich and truffle-like in texture, with the warm aroma of toasted hazelnuts, a hint of orange, and a layer of ganache on top, this is one of those desserts that embodies decadence.
If you're going to make a chocolate dessert, why not go all out, right?
For the past month or so, I've been experimenting with using grain-free flours (nut flours, coconut flour, etc.) and natural sweeteners in my baking. It's been fun, though not all of my creations have been swoon-worthy.
I've had the most success with recipes that celebrate the ingredients for their own merits, rather than trying to duplicate grain-based confections. In the end, no matter the type of food, flavor and texture are most important. I've tried to make desserts that my friends and family find unqualifiedly "good," not "good…considering it doesn't have flour, refined sugar (or whatever other ingredient I've swapped out)."
Flourless chocolate cakes and tortes, for example, have always been some of my favorite desserts, though I'm usually too busy scraping my plate to focus on the fact that they're naturally gluten- and grain-free!
For this Chocolate Hazelnut Torte, I used ground hazelnut meal for texture and a combination of homemade date paste and coconut sugar for sweetness.
If you've never used coconut sugar, I definitely recommend giving it a try. Despite its name, coconut sugar tastes nothing like coconut. The flavor is reminiscent of brown sugar, with warm, toffee undertones. Plus, it has a lower glycemic index than other sugars. Win-win!
Hazelnut meal has become widely available in supermarkets with the popularity of gluten-free baking, but if you're unable to find a bag, it's easy to make at home in a food processor. You don't have to get too crazy about achieving a superfine, powder-like grind here. A little bit of crunch is a good thing against the richness of the chocolate.
Speaking of the star of the show (chocolate), I opted for the bittersweet variety here. I love the combination of dark chocolate and orange. I find that when using an intense chocolate, a little bit of orange both softens and complements the flavor.
For this recipe, I simmered the dates in orange juice, added a little zest to the batter, and a splash of Grand Marnier liqueur to the ganache topping. The hint of orange in each component lends a flavor that is present throughout the torte, but not overly assertive.
Seeing as the arts of cooking and eating are about as subjective as it gets, I always hesitate to term any recipe "the best." That said, I'm going to go out on a limb and call this torte "the best" chocolate dessert I've made in a while. I think I've found true love!
Did you know? Clicking the photos in any post will take you to my Flickr feed, where you can view additional shots taken during the cooking process.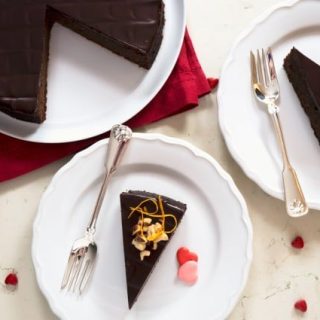 Flourless Chocolate Hazelnut Torte
Rich and dense, with a truffle-like texture and a hint of orange, this Chocolate Hazelnut Torte is a decadent treat. Naturally gluten- and grain-free!

This torte can be made ahead and stored, covered, in the refrigerator for up to 3 days. Return to room temperature before serving.
Print
Pin
Rate
Save
Saved!
Estimated Calories Per Serving:
537
kcal
Ingredients
For the Torte
18

dates

(about 1/2 pound), pitted

1

cup

orange juice

1/2

vanilla bean

, split open

3/4

cup

unsalted butter

, plus 1 tablespoon

9

ounces

bittersweet chocolate

(70% cacao), chopped

6

large eggs

pinch kosher salt

3/4

cup

coconut sugar or lightly-packed light brown sugar

2

cups

toasted hazelnut meal/flour

*

1

tablespoon

grated orange zest

softened unsalted butter and unsweetened cocoa powder,

for pan
For the Ganache
1/2

cup

heavy cream

**

4

ounces

semisweet chocolate

, chopped

1-1/2

teaspoons

Grand Marnier liqueur

(optional)
Instructions
Make the Torte
Preheat oven to 275 degrees F. Butter a 9-inch springform pan and dust with unsweetened cocoa powder.

Combine dates, orange juice, and vanilla bean in a small saucepan. Bring to a gentle simmer for 5 minutes, until dates are very soft. Drain dates in a fine mesh sieve, gently pressing out the liquid. Discard the vanilla bean and reserve the cooking liquid. Puree dates in the bowl of a food processor until smooth. (You should end up with about 3/4 cup of date paste.***) Set aside to cool.

Melt butter in a small saucepan. Remove from heat and add bittersweet chocolate, stirring until melted and smooth. Set aside.

In the bowl of an electric mixer fitted with the whisk attachment, beat eggs with sugar on medium-high speed until thick and pale, about 5-8 minutes. (If using coconut sugar, stir together eggs and sugar and let stand for 5 minutes before whipping to help the sugar dissolve. This is not necessary if using brown sugar.) Gently mix in melted chocolate/butter mixture and orange zest until no streaks remain. Add date paste and 3 tablespoons of reserve orange juice, gently mixing until combined. Fold in toasted hazelnut meal.

Pour batter into prepared pan and even it out with an offset spatula. Bake for 45-50 minutes, until a cake tester inserted into the center of the torte comes out with only a few crumbs. Transfer to a wire rack to cool completely.
Make the Ganache
Place chopped semisweet chocolate in a medium bowl. In a small saucepan, heat heavy cream until just beginning to simmer (do not boil). Remove from heat and pour over chocolate. Let stand 5-10 minutes, then whisk until chocolate is melted and mixture is smooth and glossy. Whisk in Grand Marnier, if using.

Pour ganache onto the center of the cooled torte and spread to edges in an even layer. Refrigerate until set (about 15 minutes). Slice into wedges and serve with additional chopped toasted hazelnuts and orange zest to garnish, if desired.
---
Notes
*Commercial nut meals/flours have become a lot easier to find in regular grocery stores the past few years. (At least three stores in my town stock the Bob's Red Mill Hazelnut Meal/Flour I used here.) To toast the Meal, I bake it in an even layer on a sheet pan at 350 degree F for about 10-12 minutes, until fragrant. Cool before folding into batter.
Make your own Hazelnut Meal: If you're unable to find ground Hazelnut Meal/Flour, you can substitute homemade. Using 2 cups whole hazelnuts, follow the toasting instructions above, shaking pan once or twice while baking for even toasting. When ready, the hazelnut skins will begin to split. Remove from oven, let cool slightly, and place between two layers of kitchen towels. Gently agitate the hazelnuts between the towels to release most of the skins (which can be bitter). When skinned hazelnuts are completely cool, transfer in 1/2-cup batches to a food processor fitted with a steel blade, or the grain container of a high-speed blender. Pulse until finely ground, being careful not to over-process into hazelnut butter.
**For a dairy-free alternative, substitute canned, full-fat coconut milk for the heavy cream. It makes a beautiful ganache!
***Depending on the size of the dates you use, you might end up with extra paste. Don't throw this away! Date paste keeps well, stored in an airtight container in the refrigerator for a week. It's delicious in smoothies, spread onto toasted English Muffins, or used in other baked goods.
Nutrition Estimate
Calories:
537
kcal
|
Carbohydrates:
38
g
|
Protein:
8
g
|
Fat:
40
g
|
Saturated Fat:
17
g
|
Cholesterol:
127
mg
|
Sodium:
59
mg
|
Potassium:
325
mg
|
Fiber:
5
g
|
Sugar:
27
g
|
Vitamin A:
675
IU
|
Vitamin C:
11.8
mg
|
Calcium:
74
mg
|
Iron:
3.4
mg
---
About our Recipes:
Please note that our recipes have been developed using the US Customary measurement system and have not been tested for high altitude/elevation cooking and baking.
Have you made this recipe?
Don't forget to leave a comment and rate the recipe below! Take a picture and tag @stripedspatula and #stripedspatula on Instagram for a chance to be featured in our Insta Stories and newsletter!