Rich, dense, and buttery, this variation on classic pound cake is a longtime family favorite. Served plain or adorned with your favorite toppings, this vanilla pound cake recipe is a cozy and comforting treat any time of day, from breakfast and mid-afternoon snack to dessert.
Vanilla pound cake is also a great recipe to keep in your collection to use as the base for a variety of creative desserts, year round. The sky's the limit with this easy, versatile cake.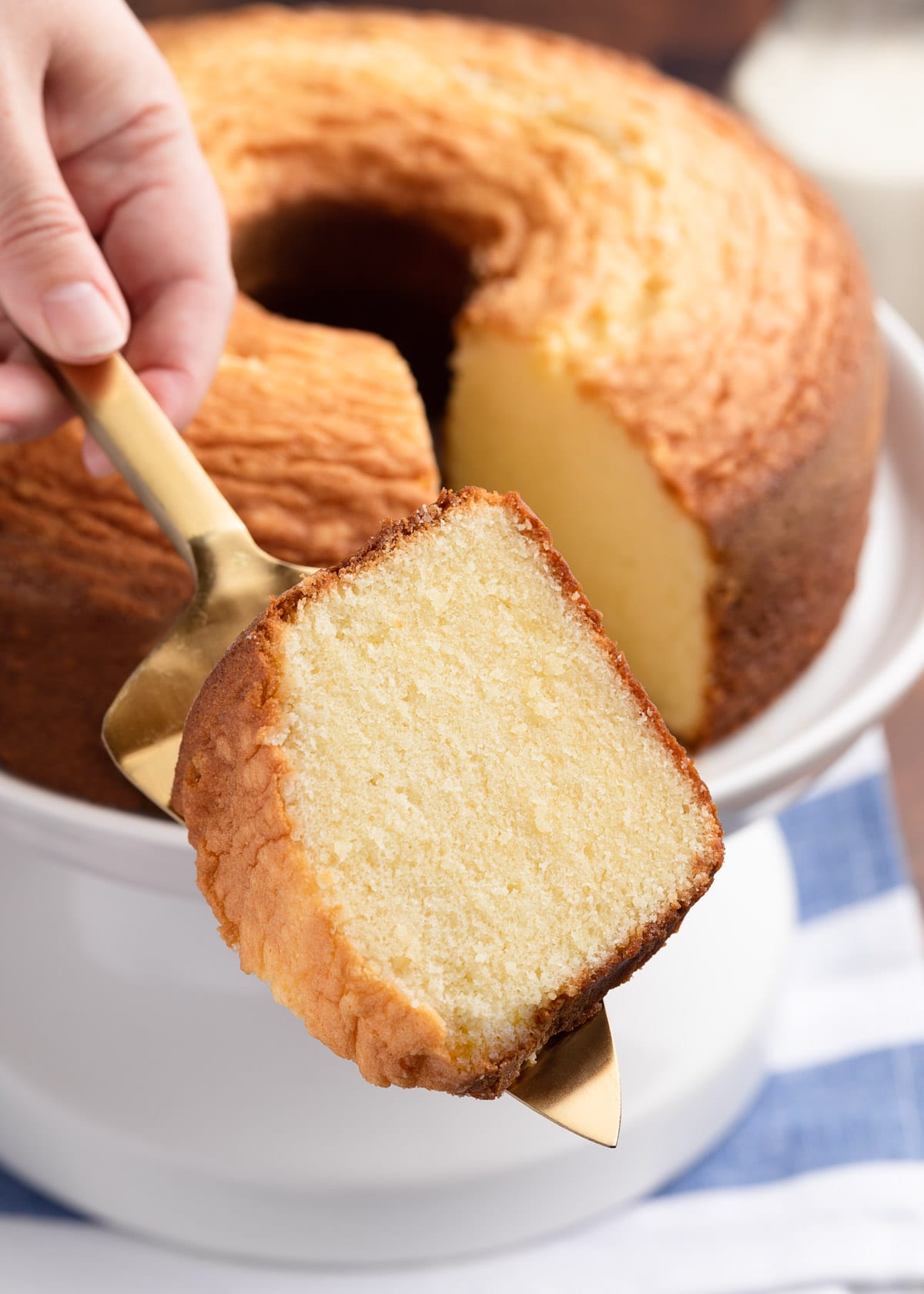 This post contains affiliate links. As an Amazon Associate, I earn a commission (at no additional cost to you) from qualifying purchases made by clicking these links. As always, all recommendations and opinions expressed are my own.
What is Pound Cake?
Pound cake is a dense, sweet, buttery cake that is particularly popular in the Southern United States. The cake style is believed to have originated in northern Europe, and brought to North America with the colonists in the 18th-century. Culinary historians believe the first written recipe in the colonies dates to Colonial Virginia in 1754. (Historical Source: American Cake; Anne Byrn p. 21, 28)
The recipe was originally named "pound" cake because it called for 1 pound of each of its ingredients: flour, sugar, butter, and eggs. In its earliest versions, no leaveners were used, and the cake got its lift by whipping air into the batter. In fact, baking powder wasn't invented until the mid-19th century.
Cakes of a similar dense, buttery texture to pound cake are common throughout Europe and the Americas, such as French "quatre-quarts", Mexican "panqué" and British "Madeira cake."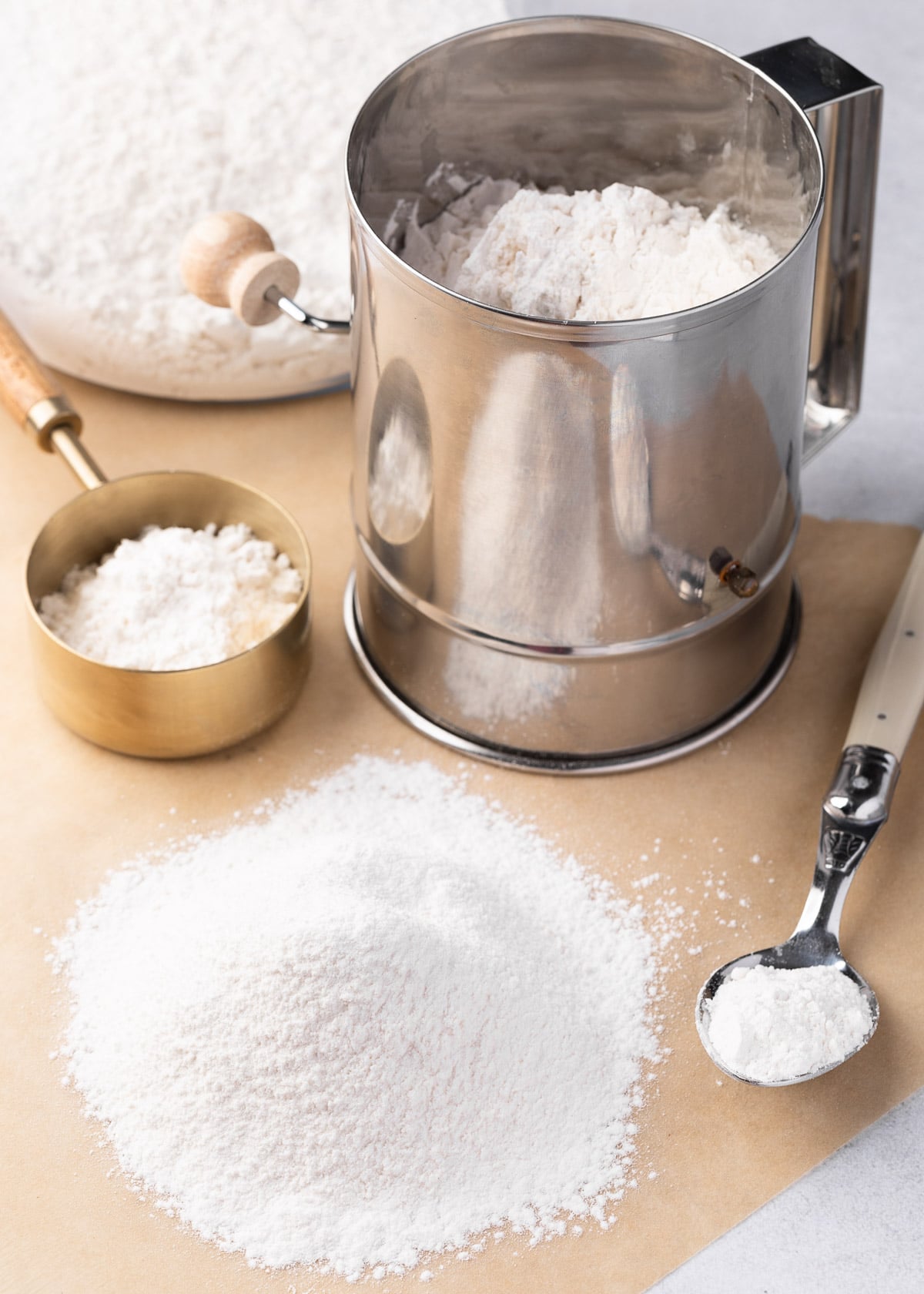 How This Vanilla Pound Cake Recipe is Different (and Why)
My mother and I adapted this pound cake recipe years ago from one of our favorite cookbooks, Southern Sideboards (Junior League of Jackson, 1974).
The cookbook recipe is called "Selma's Virginia Pound Cake," shared by Mrs. Patrick H. Scanlon. In a departure from many classic recipes, it doesn't use a 1 pound per ingredient ratio, calls for cake flour instead of all-purpose, and swaps out solid vegetable shortening for a portion of the butter.
You might be thinking, "Why vegetable shortening? Since shortening is 100% fat (as opposed to butter, which is fat and water), it traps air molecules during the fat-sugar creaming process, resulting in a cake with a better rise and more tender crumb.
The mixture of shortening and butter in this pound cake delivers the best of both worlds: a rich, buttery flavor and an extra-tender texture.
Additionally, many pound cake recipes (including "Selma's") call for 3 cups of sugar to 3 cups of flour. My family finds this a tad too sweet for our personal tastes, and our version reduces the sugar to 2-1/2 cups.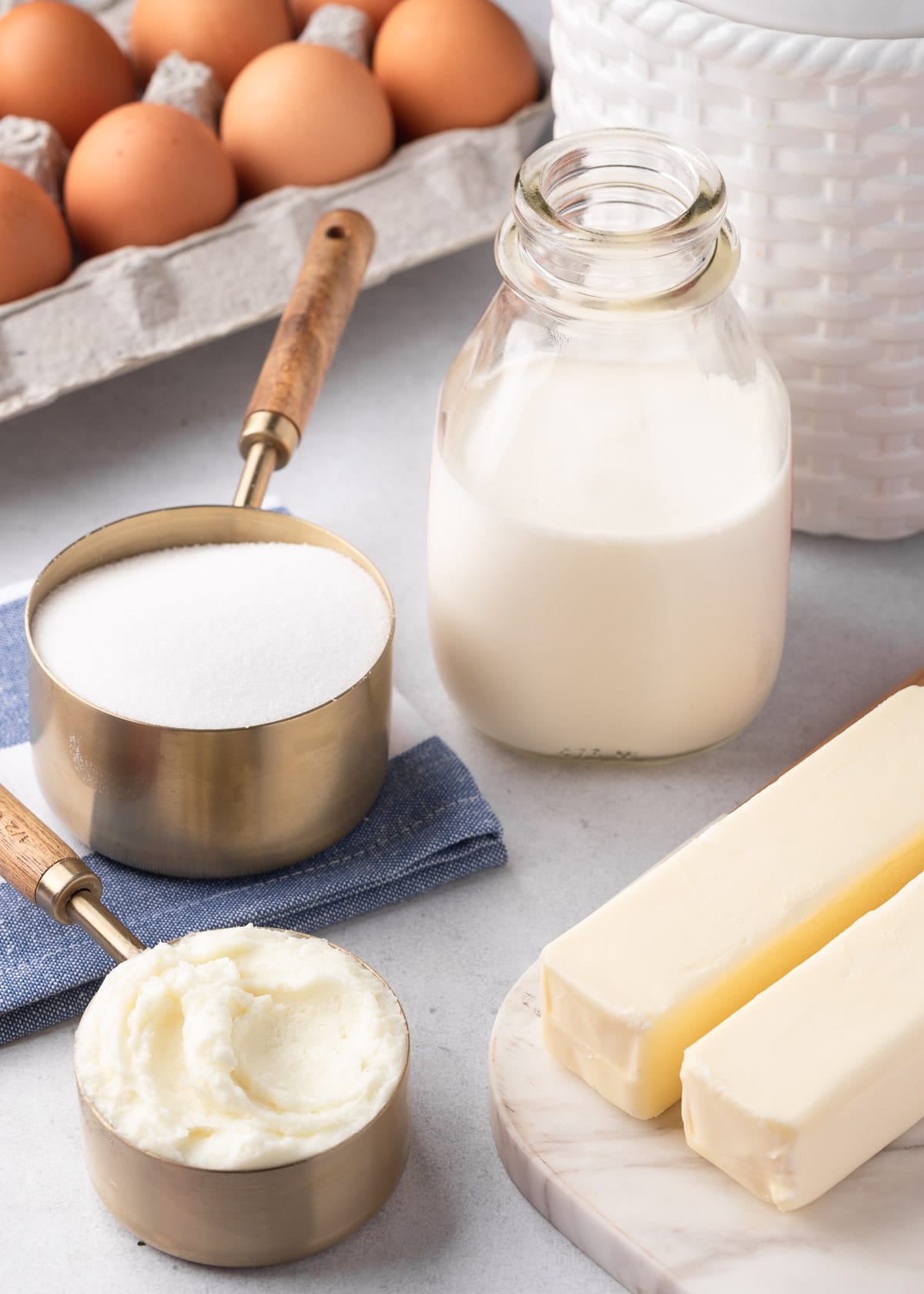 What You'll Need to Make Vanilla Pound Cake
Sifted Cake Flour. Sift the flour before measuring, using a food scale to measure by weight, or a spoon and sweep method with a dry measuring cup.
Baking Powder and Table Salt.
Softened Unsalted Butter. I've made this cake over the years with both American and European-style butters. We especially love the flavor and texture of the cakes made with European-style butter, such as Kerrygold or Plugra.
Solid Vegetable Shortening. I've tested this cake with both Crisco and Spectrum, and have found that the Crisco cakes rise just a little bit better.
Granulated Sugar. As mentioned earlier, my family reduces the sugar by 1/2 cup for a slightly less-sweet cake. If you prefer a more traditionally sweet pound cake, increase the sugar to 3 cups from 2-1/2.
Room Temperature Large Eggs. To quickly bring cold eggs to room temperature, place them in a bowl (whole, shell-on) and cover with warm (not too hot!) water. Let the eggs stand for about 10-15 minutes to take the chill off.
Half and Half. Some contemporary pound cake recipes call for whole milk, while others call for heavy cream. We find that half and half strikes the perfect balance in richness and rise between the two.
Vanilla Extract. Adds a warm, round flavor that makes this cake a great canvas for a variety of toppings and uses.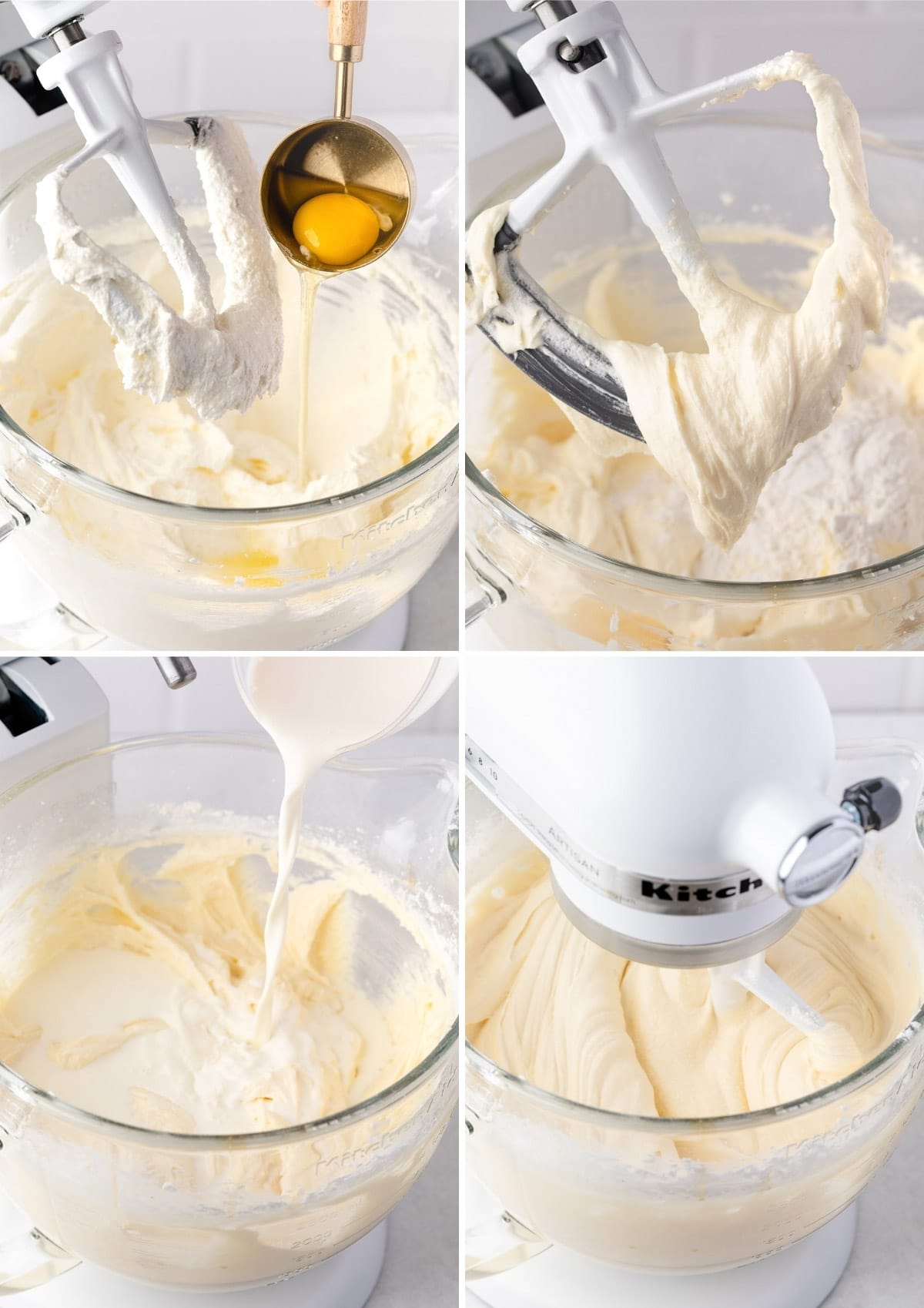 What Baking Pan Should I Use?
You'll need a 9-1/2 to 10-inch tube pan, with or without a removable bottom (16 to 18 cup volume). If you're using a pan with a removable bottom, be sure that the fit is tight. You don't want the fat you use for greasing the pan or the batter itself to leak out.
My favorite two-piece tube pan is the Chicago Metallic Professional 2-Piece 9.5-Inch Angel Food Cake Pan with Feet. I've never experienced leakage when baking this pound cake in it, and I like the convenience of easily removing the cake from the pan via the base insert.
I also own the one-piece Nordic Ware Angel Food Cake Pan (pictured in this post). I find that this tube pan tends to produce a slightly darker crust than the Chicago Metallic pan outlined above. Keep an eye on your baking time if using it.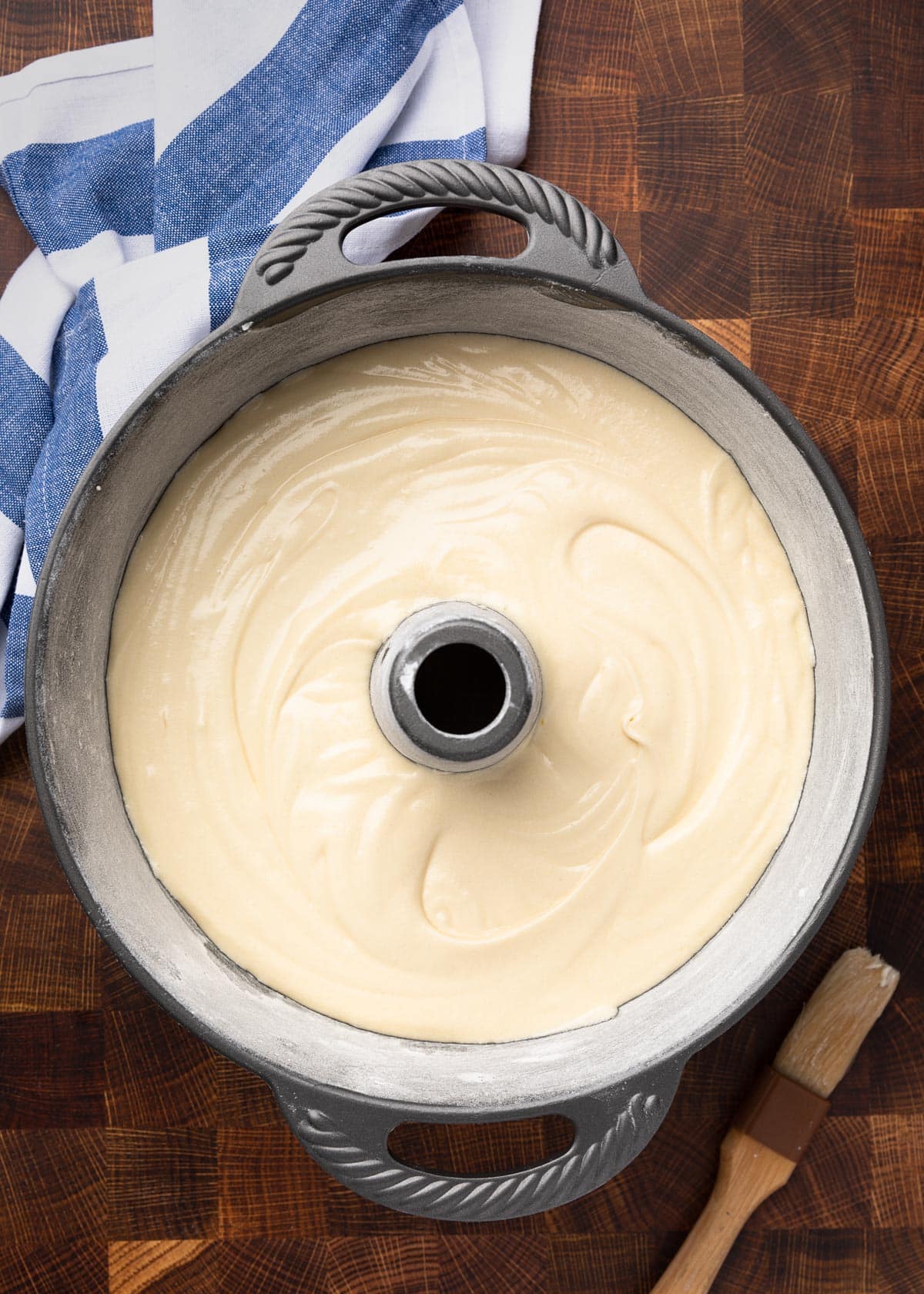 How to Make Pound Cake: Tips for Success
While this vanilla pound cake recipe calls for a small amount of baking powder, most of the lift will come from creaming together the butter, shortening, and sugar. I use my electric stand mixer on medium speed, beating with the paddle attachment for a full 8-10 minutes once the sugar is added to the bowl. For the best rise, the mixture should look very light in color and fluffy.
Shopping for a stand mixer? I personally own and love both the KitchenAid 5-Quart Artisan Stand Mixer and the equivalent of the 7-Quart Pro Line Stand Mixer (which has been in my family for 25+ years, and is still going strong).
Once I've added the eggs to the bowl, I'm careful not to beat the batter on too high a speed. Over-whipping the eggs in this recipe will result in a meringue-like top to the cake, which separates from the base. I stick to low speed on my stand mixer once I add the eggs.
I like to add the sifted dry ingredients (flour, baking powder, salt) to the batter in 3 additions. Alternate the dry ingredients with the liquid to create a smooth batter that doesn't over-develop the gluten in the flour.
Tip: If you have a pouring shield for your stand mixer, this is a great time to use it. If not, try sifting your ingredients onto a large piece of parchment paper or wax paper. Then, lift it from opposite sides, and use it to cleanly pour the dry ingredients into the mixer bowl.
Baking the Cake: Cold Oven vs Pre-Heated
The original "Selma's Virginia Pound Cake" recipe utilizes a cold oven baking technique. Simply, the batter-filled pan is placed into the oven without preheating, set to a temperature of 325 degrees F, and baked for 70 to 75 minutes as the oven comes up to temperature.
The cold oven method gives the pound cake a crunchy crust on the top, which is classic in many Southern recipes. I've tested the method numerous times, and when conditions are perfect, it produces a delicious cake with a crisp top and buttery crumb. That having been said, I've found that mileage can vary by oven and baking pan.
Depending on the age of the oven and its calibration, it can take varying amounts of time to heat up. On a couple of tests in different home kitchen ovens, I found that I had to bake the cold oven cakes longer than called for in the recipe. Those cakes turned out drier and denser. The extra baking time in some tube pans (such the Nordic Ware mentioned above) also resulted in a darker outer crust. Other times, the top browned entirely too fast and I had to cover it with foil.
Personally, I prefer and recommend using a preheated oven when making this pound cake for reliability. While you don't get a crunchy crust on the top, you do get a beautifully-baked, buttery cake, perfect for slicing.
Depending on the pan you've used, the cake will take 60-70 minutes to bake in a preheated 325 degrees F oven. The cake is ready when a cake tester comes out clean, or with just a few moist crumbs attached. Cool the cake completely before slicing into wedges and serving.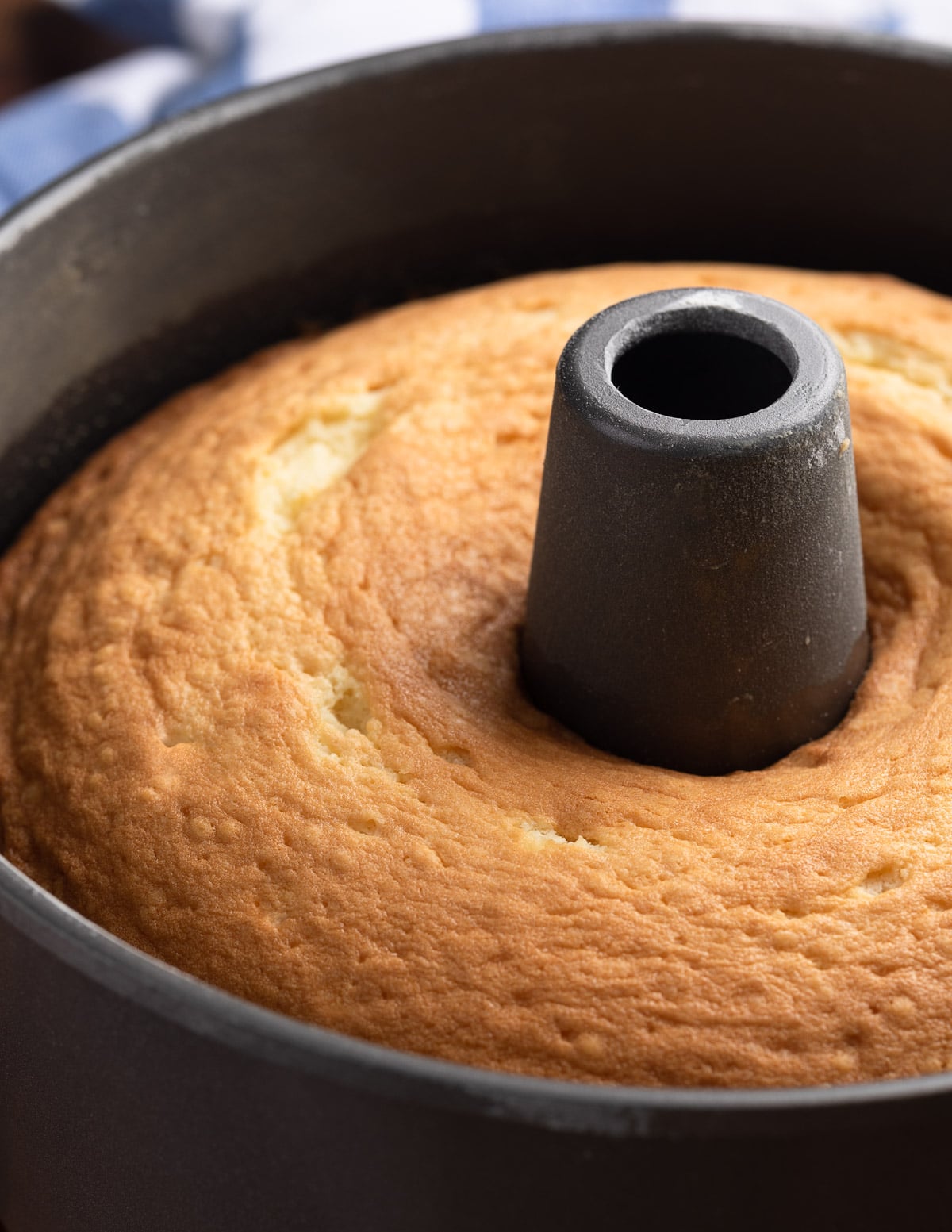 Serving and Storing Vanilla Pound Cake
Once fully cooled, cover and store the pound cake at room temperature. I always keep it in a domed glass cake pedestal on the counter. It's a cozy and welcome sight in the kitchen.
Serve the cake plain, with a dusting of powdered sugar, or top slices with whipped cream and your favorite fruit. We also love this vanilla pound cake with ice cream and a drizzle of chocolate sauce.
It's also a great cake to use in trifles and parfaits. Or, try it in place of brioche for a decadent Pound Cake French Toast! Sliced vanilla pound cake is also delicious warmed in the toaster, on the grill, or pan-fried in butter with a sprinkling of cinnamon sugar.
As with all pound cake recipes, the texture will densify after a few hours, and especially overnight. We enjoy the texture the best when gently rewarming the cake. Just pop a slice into the microwave for 5-10 seconds, and enjoy.
More of our Favorite Dessert Recipes: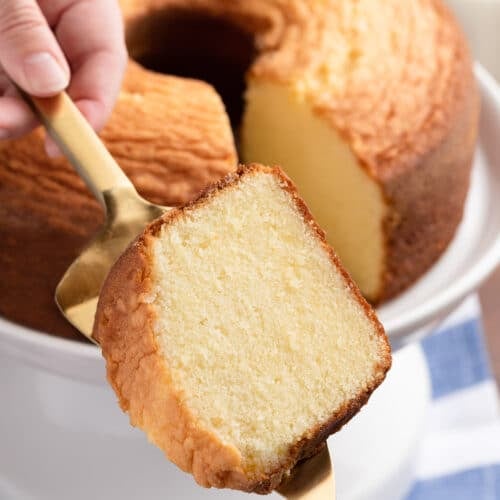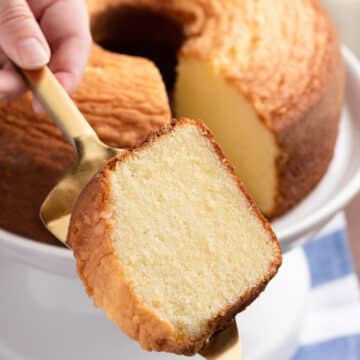 Vanilla Pound Cake
A rich, buttery vanilla pound cake recipe that's perfect any time of day, from breakfast to dessert. Enjoy it on its own, with whipped cream and your favorite fresh fruit, or as the base for trifles, parfaits, or a decadent twist on French Toast!
Print
Pin
Rate
Save
Saved!
Estimated Calories Per Serving:
447
kcal
Ingredients
3

cups

sifted cake flour

, not self-rising* (315 grams)

1/2

teaspoon

baking powder

1/2

teaspoon

table salt

1

cup

unsalted butter

, softened (about 65 degrees F)

1/2

cup

solid vegetable shortening

(such as Crisco or Spectrum)

2-1/2

cups

granulated sugar

(500 grams)**

5

large

eggs

, room temperature

1

cup

half and half

2

teaspoons

vanilla extract
Instructions
Preheat oven to 325 degrees F with rack in the lower third of the oven.* Grease and flour a large (9-1/2 to 10-inch diameter) tube pan.

Sift together the flour, baking powder, and salt. Set aside.

In the bowl of a stand mixer fitted with the paddle attachment, mix together butter and shortening until smooth and creamy-looking, about 3-4 minutes. Add sugar and mix on low speed until combined. Increase mixer to medium speed and cream until very light in color and fluffy, 8-10 minutes.

Add the eggs to the bowl one at a time, incorporating well on low speed after each addition. Scrape the bottom and sides of the bowl occasionally. Mix in the vanilla extract.

Gradually add the flour and half and half to the mixer bowl, alternating and mixing to incorporate after each addition. Start and end with the flour, adding it in 3 parts.

Give the batter a final stir with a rubber spatula and pour it evenly into the prepared pan. Bake for 60 to 70 minutes, until a cake tester comes out clean.

Cool the cake for 15 minutes in the pan. Run a thin knife around the edges and transfer to a wire rack to cool before slicing and serving.

Store cooled cake, covered, at room temperature. Cake is best enjoyed within a couple of days.***
---
Notes
*S

ift the flour, then weigh or measure using the "spoon and sweep" method.
**We like our pound cake a little less sweet than traditional recipes, so we use 2-1/2 cups granulated sugar. For a sweeter cake, increase to 3 cups.
As is traditional to pound cake, the texture will densify as it cools, and overnight. We like the texture best when next-day cake is gently warmed. Simply pop slices into the microwave for 5-10 seconds, and enjoy. For additional serving and warming ideas, see the "Serving" section in the article above.
Nutrition Estimate
Serving:
1
slice (1/12 cake)
|
Calories:
447
kcal
|
Carbohydrates:
41
g
|
Protein:
7
g
|
Fat:
29
g
|
Saturated Fat:
14
g
|
Cholesterol:
126
mg
|
Sodium:
138
mg
|
Potassium:
108
mg
|
Fiber:
1
g
|
Sugar:
17
g
|
Vitamin A:
657
IU
|
Vitamin C:
1
mg
|
Calcium:
49
mg
|
Iron:
1
mg
---
About our Recipes:
Please note that our recipes have been developed using the US Customary measurement system and have not been tested for high altitude/elevation cooking and baking.
Keywords:
pound cake recipe, vanilla pound cake
Have you made this recipe?
Don't forget to leave a comment and rate the recipe below! Take a picture and tag @stripedspatula and #stripedspatula on Instagram for a chance to be featured in our Insta Stories and newsletter!