Freckled with nutty beurre noisette, Brown Butter Glaze is an easy way to take your desserts (homemade or store-bought) to the next level. This glaze tastes like it came from a bakery and is ready in 20 minutes!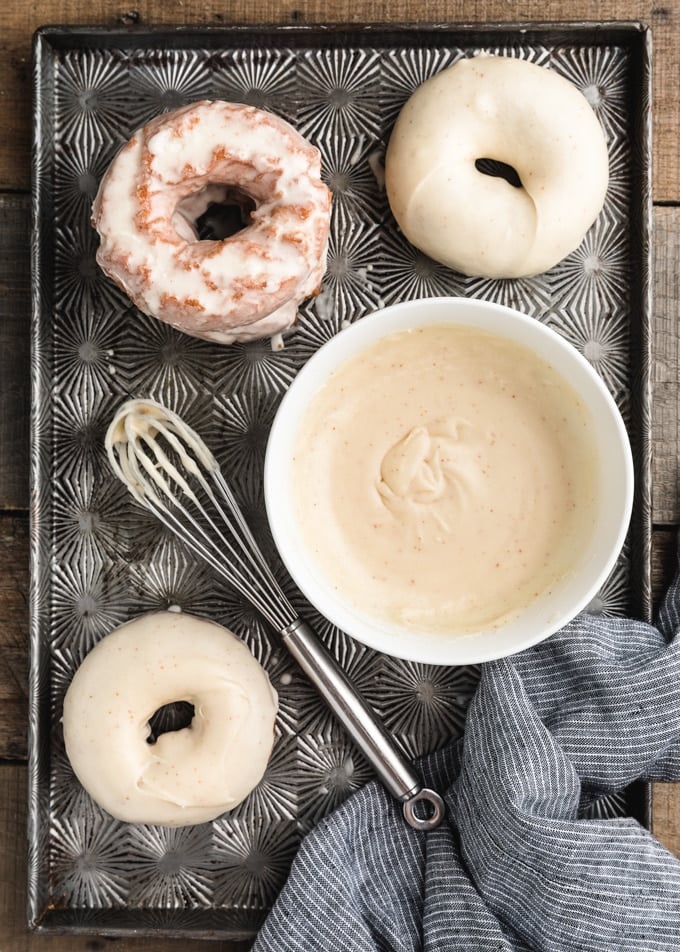 Confession: I'm kind of obsessed with brown butter (beurre noisette in French). Any time I want to take a butter-containing recipe to the next level, I pull my skillet out and start toasting up those milk solids. It hasn't let me down yet!
With its nutty aroma and round flavors, brown butter is simply intoxicating. When added to a basic sugar glaze, it elevates cakes and desserts to bakery status.
Glazes in general can be quite sweet, and the warmth brown butter brings to the table is such a great way to add flavor and richness. It's incredibly easy to make, too!

What Goes In Brown Butter Glaze
Like most of my easy cake glaze recipes, brown butter glaze only takes a few ingredients. And, they're all staples! To make this recipe, you'll need:
Butter (I use unsalted)
Confectioner's sugar (powdered sugar or icing sugar)
Milk or half and half
Vanilla extract
kosher or sea salt
In terms of tools, you'll need a small pan to make the brown butter, a sifter to remove any lumps from the powdered sugar, a bowl to mix the glaze, and a whisk.
How to Make Brown Butter Glaze: 6 Easy Steps
Brown the Butter
Get started by browning the butter. While it requires a careful eye (especially since you won't be making a large quantity), the process is an easy one.
Cut the butter into tablespoon-sized pats and melt it in a small, heavy-bottomed skillet over medium heat. I like to use either a stainless steel pan, or my ivory enameled cast iron (shown here) so that I can easily check the color as the butter browns. (It's much more difficult to judge in a nonstick or dark pan!)
When the butter is melted and the foaming subsides, keep cooking it, swirling the pan frequently to maintain an even heat. Within a few minutes, you'll start to see the milk solid sediments in the bottom of the pan turn golden brown.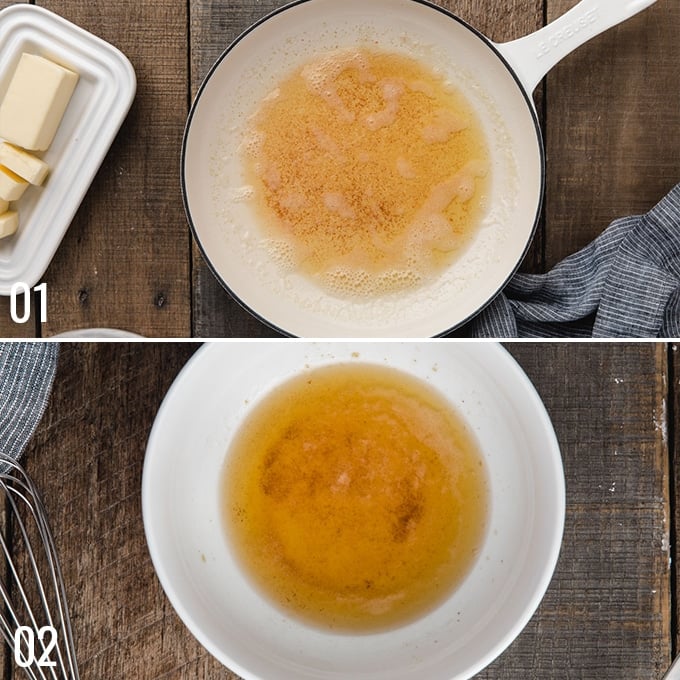 Brown butter can become burned butter pretty quickly, so watch it closely. When it's ready, the color should be golden and a toasty, nutty aroma will waft up from the pan. (Photo 01)
Carefully pour the butter into a bowl to stop the cooking process, leaving behind as much of the dark sediment in the pan as you can. (Photo 02) I like a few flecks of the solids in my brown butter, but you can also pour it through a fine mesh strainer if you want to remove more of them.
Let the butter cool for a few minutes while you sift and measure your powdered sugar.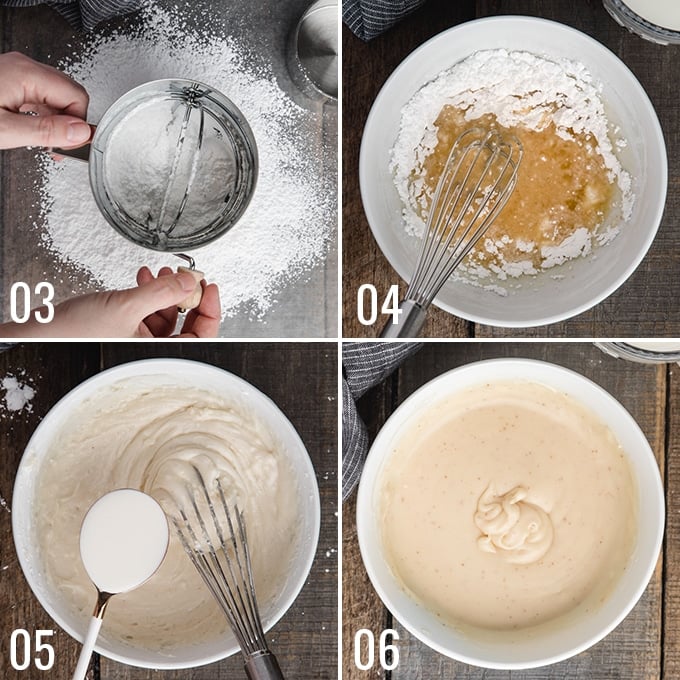 Sift and Measure
Sifting the powdered sugar before measuring will ensure that your glaze is as smooth as possible.
I like to use a spoon and sweep method for most of my dry ingredients–I find it to be the closest in accuracy to weight measurements. Spoon the sifted sugar into your measuring cups and use a straight-sided edge (such as a butter knife) to level the top.
Make the Glaze
You're almost done! Whisk the powdered sugar and a pinch of salt into the brown butter in a couple of additions. (Photo 04) Add enough milk or half and half until the glaze is as thick or thin as you like for your recipe (anywhere from 1-3 tablespoons), and flavor it with vanilla extract. (Photos 05-06)
Then, try your best not to dive into this brown butter glaze with a spoon before it finds its way to your baked goods. It's that delicious!
(Optional) Spike it for the adults!
Brown butter glaze is utterly delicious with a little splash of spirits. Just swap out some of the milk or half for the liquor, to your personal tastes. I usually don't go over a tablespoon, both for strength of flavor and the glaze's texture.
My favorite liquors and liquors to add are bourbon, rum, or Grand Marnier (a hint of orange is great with beurre noisette!).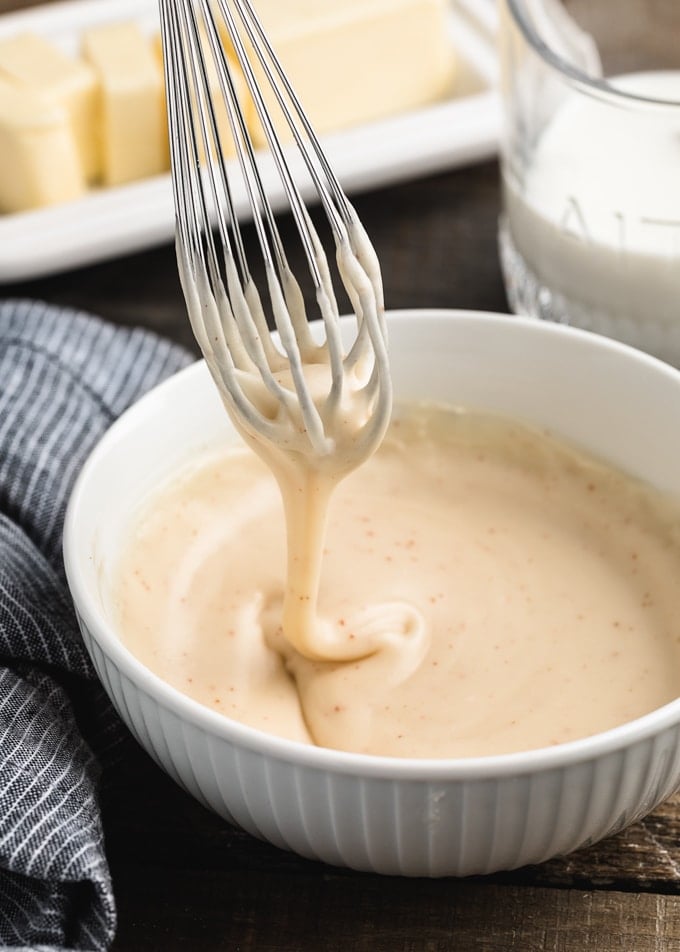 Brown Butter Glaze FAQ
Q. Does Brown Butter Glaze Harden?
A. Yes, this glaze will dry and form a light crust, though not to the same degree as a basic powdered sugar glaze due to the butter content. The glaze will slice cleanly after it's allowed to set. Most baked goods should be able to be stacked, but this will vary by how much liquid you've used, so assess on a batch-by-batch basis.
Q. Can I Make the Glaze Ahead?
A. Yes. You can make brown butter glaze up to 3 days in advance. Store it in the refrigerator, tightly covered.
When refrigerated, the butter in the glaze will solidify, so you'll need to gently take the chill off to regain a consistency that you can pour or drizzle. Gently warm the glaze in the microwave in 5-second increments, whisking in between, until your desired consistency is reached. This won't take long, so keep a close eye. You don't want to make it hot.
Q. Do Baked Goods with Brown Butter Glaze Need to be Stored in the Refrigerator?
A. If I'm storing baked goods (like a cake) with this glaze overnight or longer, I do like to cover them and pop them in the refrigerator. Before slicing and serving, I let them stand at room temperature (72 degrees F or less) for 20 to 30 minutes.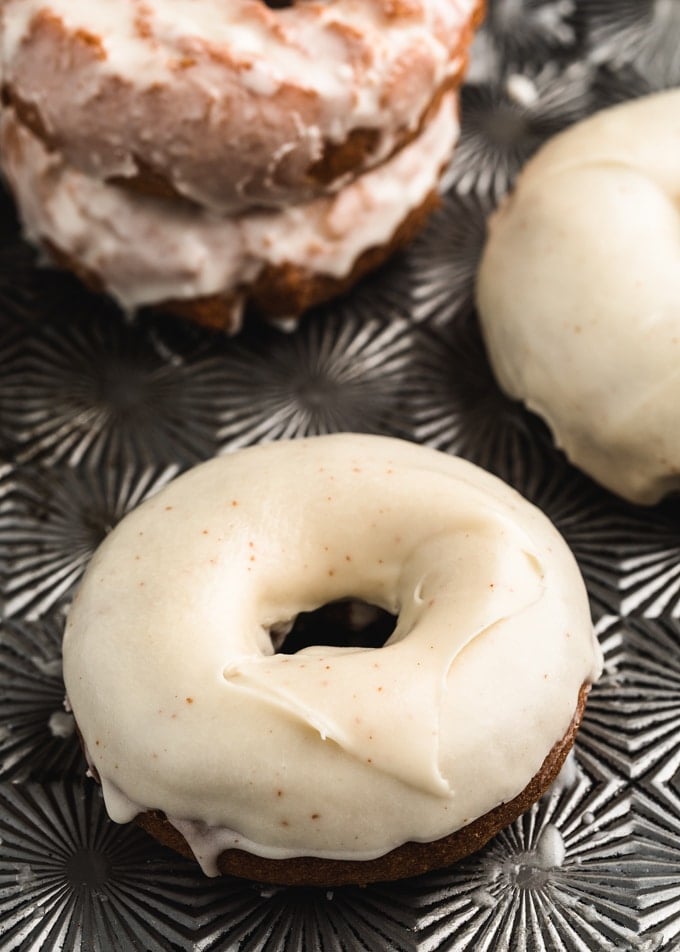 How to Use Brown Butter Glaze
You can elevate so many baked goods with this glaze's nutty, rich flavor! It's particularly good with fall flavors and spiced desserts. Here are some of my favorite ways to use it:
Bundt Cakes (pour or drizzle it over my Pumpkin Bundt Cake or Pear Cake)
Coffee Cake
Quick Breads (such as Banana Bread or Pumpkin Bread)
Cookies (dip the tops of cakey cookies for a sweet, toasty treat)
Doughnuts (try dipping Pumpkin Doughnuts or Apple Cider Doughnuts in the glaze instead of coating with cinnamon sugar)
Muffins and Scones (a little drizzle makes the perfect finish)
Cinnamon Rolls (spread it on while they're still a little warm!)
What's your favorite way to use Brown Butter Glaze? Tell us in the comments below!
More Easy Cake Glaze Recipes
CRAVING MORE? Subscribe to my newsletter and join me on Facebook, Pinterest, and Instagram for the latest recipes and news.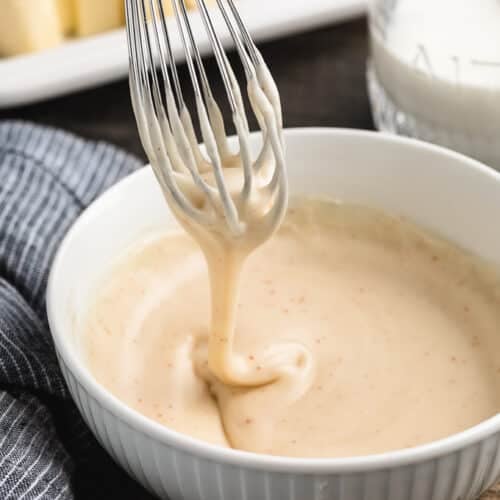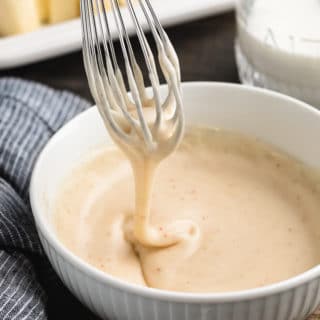 Brown Butter Glaze
This glaze recipe takes a basic sugar glaze to the next level with the nutty flavor of brown butter. So good, you'll want to eat it with a spoon!
Print
Pin
Rate
Save
Saved!
Estimated Calories Per Serving:
82
kcal
Ingredients
4

tablespoons

unsalted butter

1-1/2

cups

sifted confectioner's sugar

(powdered sugar, icing sugar), measured using a spoon-and-sweep technique

pinch

kosher or fine sea salt

1

teaspoon

vanilla extract

(to taste

1-3

tablespoons

milk or half and half
Instructions
Cut butter into tablespooon-sized pats and melt over medium heat in a small heavy-bottomed skillet. Choose a skillet that's light in color (stainless or white/ivory enameled) so you can monitor the color of the butter as it browns. When foaming subsides, continue cooking, swirling the pan frequently, until the milk solids are golden brown and the butter has a nutty aroma. (Watch it closely! It can burn quickly.)

Immediately pour brown butter into a bowl, leaving behind as much of the dark solids in the pan as possible. (You can also pour the brown butter through a fine mesh strainer, if desired.) Set aside to cool just slightly while you sift and measure your powdered sugar.

Gradually add the powdered sugar to the brown butter, whisking to combine. Whisk in vanilla extract and enough milk or half and half to thin the glaze to your desired consistency for dipping, drizzling, or pouring.
---
Notes
See
FAQ's
above for make ahead and glazed cake storage instructions.
Variations:
Spiked Brown Butter Glaze: Substitute 1/2 to 1 tablespoons of your favorite liquor or liqueur (such as bourbon, rum, or Grand Marnier) for some of the milk or half and half.
Citrus Brown Butter Glaze: Omit vanilla extract. Substitute 1-2 tablespoons lemon juice or orange juice for the milk or half and half. Stir in 1 teaspoon finely-grated citrus zest.
Salted Brown Butter Glaze: Use salted butter, or add additional kosher or sea salt, to taste.
Nutrition Estimate
Calories:
82
kcal
|
Carbohydrates:
8
g
|
Protein:
1
g
|
Fat:
6
g
|
Saturated Fat:
4
g
|
Cholesterol:
15
mg
|
Sodium:
2
mg
|
Sugar:
7
g
|
Vitamin A:
175
IU
|
Calcium:
4
mg
---
About our Recipes:
Please note that our recipes have been developed using the US Customary measurement system and have not been tested for high altitude/elevation cooking and baking.
Keywords:
brown butter glaze, cake glaze recipe, sugar glaze
Have you made this recipe?
Don't forget to leave a comment and rate the recipe below! Take a picture and tag @stripedspatula and #stripedspatula on Instagram for a chance to be featured in our Insta Stories and newsletter!