These rich Crab Stuffed Mushrooms, with sweet lump crabmeat, Gouda, and Dijon, are a perfect appetizer or side dish for any occasion. Originally published December 29, 2016 and updated in 2018 with video.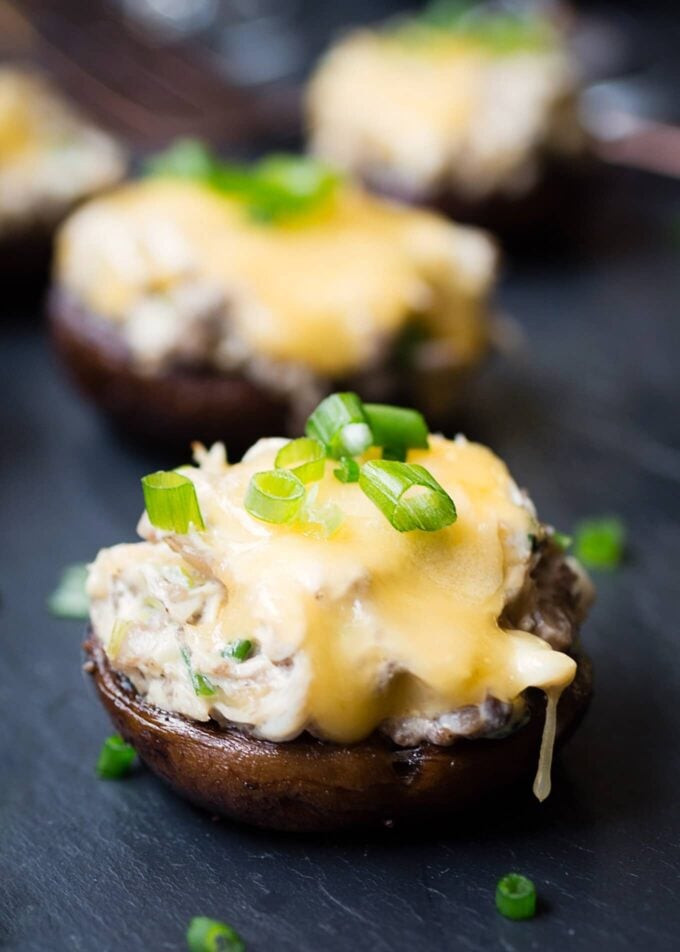 I still remember the night I met the first (and only) plate of stuffed mushrooms I've ever disliked. In lieu of a full dinner, a friend and I had decided to meet up for appetizers and cocktails. One look at the menu, and we knew we had to share the cheesy crab stuffed mushrooms. It was a no-brainer!
Or so we thought. Sadly, the mushrooms that arrived weren't quite (read: at all) what we had envisioned. The shriveled little mushrooms sat in a pool of oil, with almost all of the crab and cheese spilled out around each cap instead of filling them. The mushrooms themselves were rubbery, and the filling tasted almost entirely of hot mayonnaise.
It was pretty much everything that can go wrong in a stuffed mushroom wrapped up into one bite.
The next weekend, my friend came over to watch a tennis match and we decided to make our own crab stuffed mushrooms. Tasting the filling and adding a little bit of this and that along the way, we paved the way for a crab stuffed mushroom recipe that has since become a staple on my entertaining menu.
These elegant mushrooms combine par-roasted mushroom caps with a filling of lump crabmeat, cream cheese, garlic, Gouda, and a touch of Dijon. These mushrooms are perfect for any celebration, from Christmas and New Year's to game watch parties and beyond.
When you think about it, is there any special occasion that wouldn't benefit from a stuffed mushroom on the menu? Not in my house!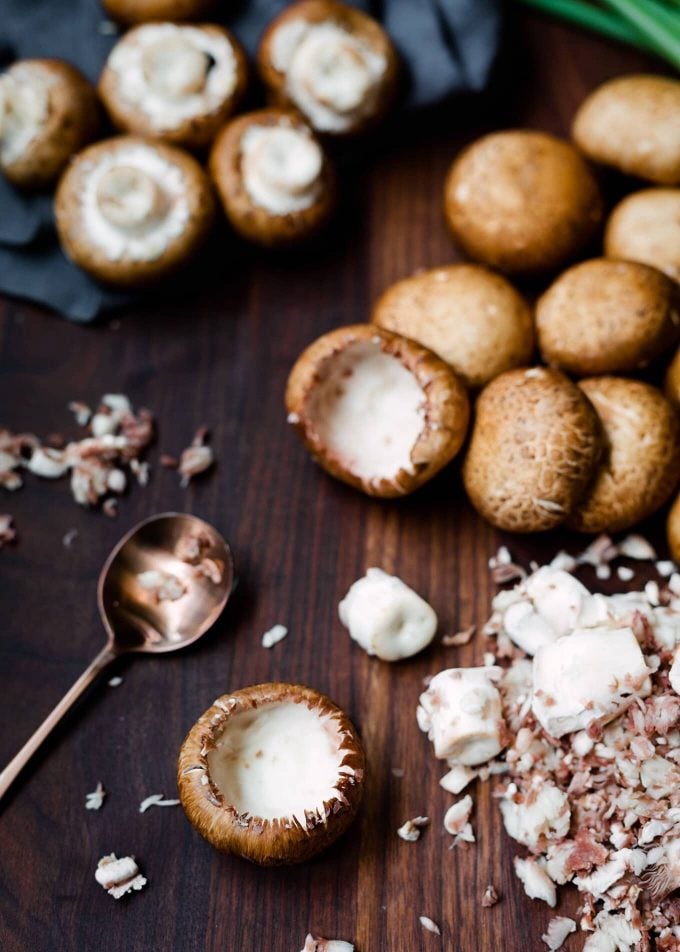 How to Make Stuffed Mushrooms: Pre-Roast the Caps
I've gotten in the habit of pre-roasting the hollowed-out mushroom caps before stuffing, a tip I picked up from Cooks Country Magazine. The first time I tried the process with a family stuffed mushroom recipe, it was a game-changer!
Mushrooms have a rather high water content. Sometimes when you stuff and bake them raw, you end up having to overcook the filling (like those ill-fated restaurant mushrooms) to get the caps tender without being soggy or rubbery.
The longer baking time isn't an issue for some fillings, like my Spinach and Artichoke Stuffed Mushrooms, but it can be less-than-ideal for delicate ingredients like crab.
In this recipe, I roast the caps until the water is released, fill with the crab mixture, and return to the oven just until the filling is warm, a mere 5-7 minutes. Pre-roasting the mushroom caps also makes these easy to prep ahead of time. You can fully assemble and store them in the refrigerator up to overnight before baking.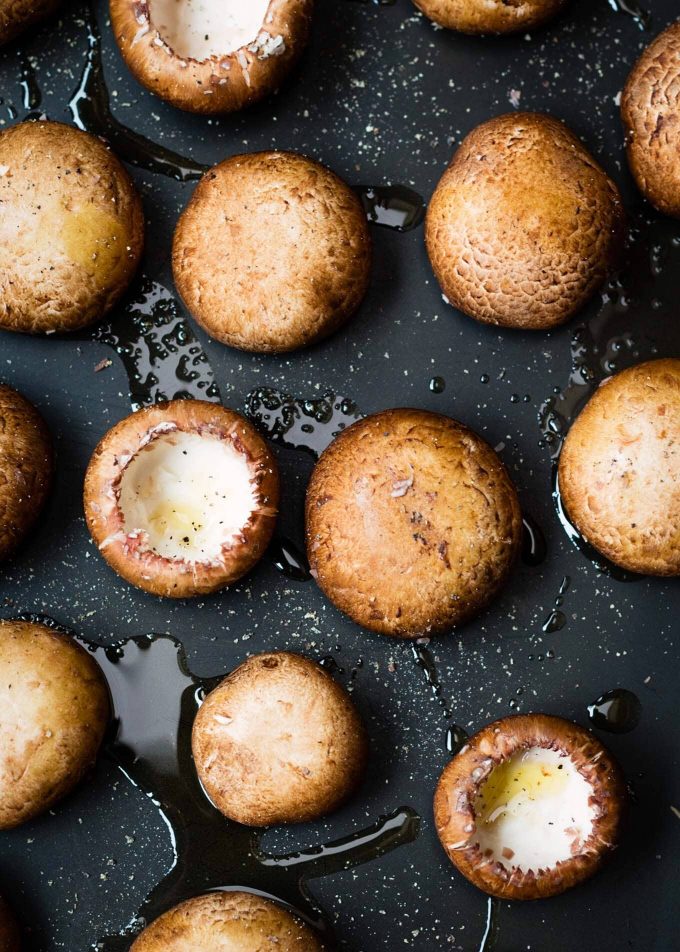 Choosing Mushrooms to Stuff
You can make great stuffed mushrooms with either white button, cremini (also known as "baby bella"), or, if you're serving them as a main dish, large portobellos. It's best to choose a variety with a sturdy cap that will hold the filling without too much spillage as they bake.
The variety I choose depends on how strong a mushroom flavor I'm going for in contrast to the filling. For these crab stuffed mushrooms, I like to use cremini.
They have a deeper flavor than buttons, which complements the delicate crab and Gouda well. Button mushrooms can be substituted if you prefer them or are unable to find cremini.
What Size Mushrooms Should I Buy?
When shopping for mushrooms to stuff, the size and variety I buy depends entirely on the filling I'm using and the occasion.
If serving stuffed mushrooms as an appetizer, I prefer smaller mushrooms that are about 1-3/4 to 2-inches in diameter. This size is easy for guests to pick up off of a platter and eat in just a couple of bites from their hors d'ouevres plates.
When serving stuffed mushrooms as a side dish, I look for larger diameter mushrooms, about 2-1/2 inches. These are often marked "stuffing mushrooms" (commonly found during the holiday season), and are most often the white button variety.
Want to brush up on your mushroom varieties? Check out this Visual Guide to Mushrooms from Epicurious. 

What Grade of Crabmeat is Best for Stuffed Mushrooms?
You'll find a couple of different grades of crabmeat at the grocery store at a range of price points. Whenever possible, I like to use fresh-packed crabmeat from the seafood market, but pasteurized works great as well.
As delicious as it is, you don't need to use expensive "colossal" or "jumbo lump" crab for stuffed mushroom filling. Since you break up the crabmeat in the mixing and stuffing process, you'd lose the benefits of the larger pieces in a recipe like this.
Since I love the delicate flavor of jumbo lump crabmeat, I instead opt for "lump" when making stuffed mushrooms. This grade contains broken pieces of jumbo lump crab, mixed with some of the white body meat.
In a pinch, you can also use "back fin" or "special" crabmeat in stuffed mushrooms. These grades contain finer flakes and shreds (particularly the "special" grade), so the filling will have a smoother texture than if you used lump. I don't like to use "claw meat" in this recipe, which has a stronger flavor and tends to be oilier.
Check out this info sheet from Sam Rust Seafood for a visual comparison of crabmeat grades.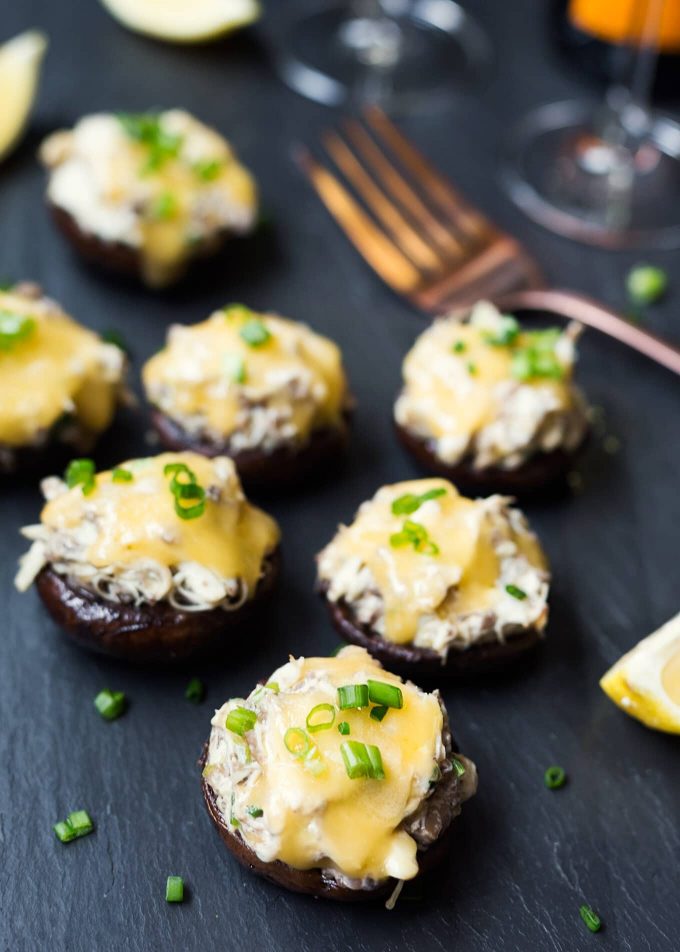 Serving Gouda and Crab Stuffed Mushrooms
While they aren't low on the calorie scale, these cheesy Crab Stuffed Mushrooms are low-carb. They're practically diet food, friends! [Cue laugh track.]
I find that a squeeze of fresh lemon juice over these rich, cheesy mushrooms just before serving is essential. They're good without, but the touch of acidity really wakes up the more indulgent flavors and gives the mushrooms that little extra pop o'something to make them special.
Serve them hot with a glass of Chardonnay, Pinot Grigio, champagne, or your favorite ale, and watch them disappear from your party platter! They're great alongside other small bites at a party, like my Trio of Deviled Eggs, Bacon Wrapped Shrimp, or Maple-Sriracha Devils on Horseback.
Video Recap: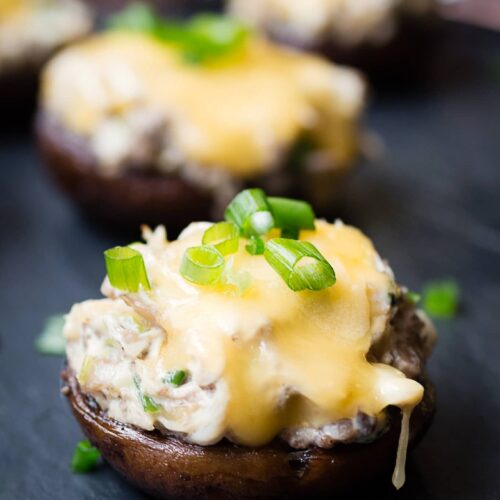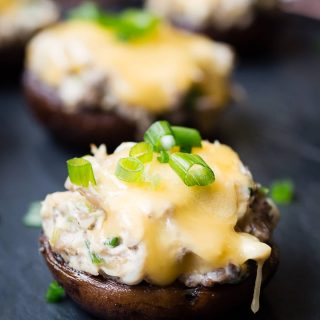 Crab Stuffed Mushrooms with Gouda
We like these creamy, cheesy crab stuffed mushrooms mild, but if you and your guests prefer a "kick," add a few dashes of hot sauce to the filling mixture, to taste. A squeeze of lemon juice over the mushrooms just prior to serving brightens the rich flavors of the filling.
Print
Pin
Rate
Ingredients
24

ounces

cremini mushrooms

, about 2-inches in diameter, cleaned (about 18-24 mushrooms)

1/4

cup

olive oil

, divided

1

cup

shredded Gouda

, divided

6

ounces

lump crabmeat

, picked over for cartilege

1

teaspoon

Worcestershire sauce

1

teaspoon

Dijon mustard

1/2

cup

block-style cream cheese

(1/2 of an 8-ounce block)

2-3

garlic cloves

, minced (depending on how garlicky you like your mushrooms)

1/3

cup

sliced scallions

, plus additional for garnish

kosher salt and freshly ground black pepper

lemon wedges

, for serving
Instructions
Preheat oven to 400 degrees F with rack in middle position.

Remove stems from mushrooms and set aside. Use a small spoon to gently hollow out a little of the mushroom cavity, removing gills.

On a baking sheet (lined with foil, if desired, for easy cleanup), toss mushroom caps with 2 tablespoons olive oil and a few pinches of kosher salt and pepper. Arrange mushrooms in a single layer, cavity-side down. Roast for 15-20 minutes. Remove from oven and flip caps. Set aside.

While mushrooms are roasting, finely chop stems. Heat remaining 2 tablespoons of oil in a nonstick skillet until shimmering.

Add chopped stems with 1/4 teaspoon each of kosher salt and black pepper, and cook, stirring often, until liquid is released and mushrooms are soft, but not brown, about 5-8 minutes. Add scallions and garlic, and cook until fragrant, about 2 minutes. Remove from heat and let cool slightly.

In a bowl, mix together cream cheese, Dijon mustard, and Worcestershire sauce. Stir in mushroom mixture and 1/2 cup shredded Gouda. Gently stir in crabmeat, breaking up any very large pieces. Season to taste with salt and pepper.

Fill roasted mushroom caps with filling mixture, packing it into the cavity and mounding slightly. Top each mushroom with some of the remaining shredded Gouda.

Bake for 5-7 minutes, until cheese is melted and filling is heated through. Serve hot, topped with additional sliced scallions and a squeeze of lemon juice.
---
Notes
TO PREP AHEAD:
Prepare recipe, as instructed above, through the filling of the mushroom caps and topping with shredded cheese. Cover mushrooms and refrigerate, up to overnight. When ready to serve, preheat oven to 375 degrees F. Place mushrooms on a foil-lined baking sheet sprayed with cooking spray and bake 10-15 minutes, until filling is heated. Let stand 5 minutes before garnishing and serving.
Old Bay Seasoning:
We've had some great discussions on social media about how much we all love Old Bay seasoning in crab stuffed mushrooms. I don't typically use it in this recipe, but it can certainly be added! To use Old Bay in these mushrooms, stir a couple of dashes into the filling after folding in the crab, to taste.
Nutrition Estimate
Calories:
67
kcal
|
Carbohydrates:
2
g
|
Protein:
4
g
|
Fat:
4
g
|
Saturated Fat:
1
g
|
Cholesterol:
12
mg
|
Sodium:
166
mg
|
Potassium:
170
mg
|
Vitamin A:
65
IU
|
Vitamin C:
0.8
mg
|
Calcium:
84
mg
|
Iron:
0.2
mg
---
About our Recipes:
Please note that our recipes have been developed using the US Customary measurement system and have not been tested for high altitude/elevation cooking and baking.
Keywords:
cheesy stuffed mushrooms, crab stuffed mushrooms, how to make stuffed mushrooms, stuffed mushrooms recipe
Have you made this recipe?
Don't forget to leave a comment and rate the recipe below! Take a picture and tag @stripedspatula and #stripedspatula on Instagram for a chance to be featured in our Insta Stories and newsletter!