Sweet and smoky with a hint of spice, Grilled Pineapple Salsa is a delicious summer snack with chips, or served alongside grilled meats and seafood.
The first time I had grilled pineapple, I was sold.
The balance of the juicy, caramelized fruit, against the light char from the grill was such an elegant and refreshing treat on a warm night. It's become a popular addition to our summer dessert rotation, usually drizzled with Nocciolata (the chocolate hazelnut spread to which I have such devotion, we should probably be taking vows).
Pairing grilled fruit with more savory flavors, such as in my Grilled Pineapple Salsa, is a great way to enjoy the best of the season's sweet produce beyond dessert. Tossed with a touch of extra virgin olive oil, grilled lime juice, honey, and ground cumin, this sweet, smoky salsa is a fun variation on the summer salsa theme.
Grilled pineapple is quick and easy, needing only a few minutes per side to caramelize. Since it cooks fast, you'll want to keep a close eye on it, so the natural sugars don't overdevelop (read: burn). The pineapple is ready when lightly-charred and tender, but still slightly crisp in the center.
You can grill cored pineapple rings or wedges; I tend to gravitate toward the former, as I find they cook just a little bit more evenly.
For this vibrant salsa, I also grill the red bell peppers, jalapeño, and limes, leaving the red onions raw for a fresh bite and contrast of textures.  The somewhat unexpected combination of sweet and savory flavors really allows the grilled fruit and peppers to shine in a unique way.
We love to enjoy a bowl of this salsa with lightly-salted tortilla chips (blue corn are my favorite here, both visually and for their slightly nuttier flavor). It's a great option for patio or poolside entertaining, with a margarita, an ice cold Corona, or your favorite mocktail.
Grilled Pineapple Salsa is also an excellent accompaniment to grilled meats; chicken and pork chops being the favorites in our house. Cheers to the start of grilling season!
More easy recipes to kick off summer entertaining:
Grilled Guacamole
Warm Crab and Artichoke Dip
A Trio of Deviled Eggs
French Potato Salad with Baby Arugula
Bacon Cheddar Potato Salad
Bacon Bourbon BBQ Sauce
Grilled Meatball Subs
Grilled Shrimp Scampi
Strawberry Basil Soda
Peach Mint Lemonade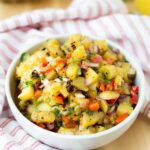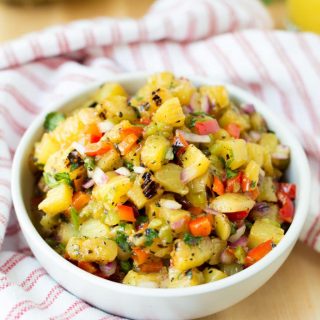 Print
Grilled Pineapple Salsa
This sweet, smoky fruit salsa is a refreshing summer snack. It can be prepared a day in advance of serving and stored, covered, in the refrigerator. We enjoy this salsa best at room temperature.
The times listed below reflect an hourlong rest for the flavors to meld. Grilled Pineapple Salsa only requires 30 minutes of hands-on cooking time!
Makes 3 cups salsa.
Ingredients
1

large pineapple

, peeled, cored, and cut into 1/2-inch thick slices

1

red bell pepper

, halved lengthwise, seeds removed

1

jalapeño pepper

1

lime

, halved

1

tablespoon

extra-virgin olive oil

, plus extra for grilling

1

teaspoon

honey

1/2

to 3/4 teaspoons ground cumin

(to taste)

1/2

cup

chopped red onion

1

tablespoon

chopped cilantro

kosher salt

freshly ground black pepper

tortilla chips

, for serving
Instructions
Heat grill with a medium-high flame. Oil grates or line with a nontoxic, nonstick grilling mat.

Lightly brush pineapple slices, peppers, and the cut side of the limes with olive oil. Season with a few pinches of kosher salt and freshly ground black pepper.

Grill, placing limes cut side down, until grill marks appear and pineapple and peppers have begun to soften; 3-4 minutes total for the limes, 3-4 minutes per side for the peppers, and 5-8 minutes per side for the pineapple (watch the pineapple carefully so it doesn't burn). Remove from grill and let stand until cool enough to handle.

Cut grilled jalapeño pepper in half lengthwise and remove seeds (if you prefer a spicy salsa, you can leave the seeds in). Chop grilled pineapple and peppers into into bite-sized pieces. You should have about 2 cups of pineapple and 1/2 to 3/4 cup of red pepper.

In a medium bowl, whisk together 1 tablespoon extra virgin olive oil, 1/2 tablespoon grilled lime juice, honey, 1/2 teaspoon ground cumin, 1/2 teaspoon kosher salt, and 1/4 teaspoon pepper. Add pineapple, peppers, red onion, and cilantro, tossing to combine. Season to taste with additional salt, pepper, and cumin, if desired.

Let stand, covered, for about an hour to allow flavors to meld, stirring before serving.
Have you made this recipe?
Let me know by leaving a comment and rating the recipe below! Don't forget to take a picture and tag
@stripedspatula
and
#stripedspatula
on
Instagram
for a chance to be featured in my newsletter!