Looking for a cozy meal without a lot of fuss? With a creamy sauce, meaty cremini mushrooms, and fluffy egg noodles, this Ground Beef Stroganoff is a casual twist on a classic that's ready in just 30 minutes.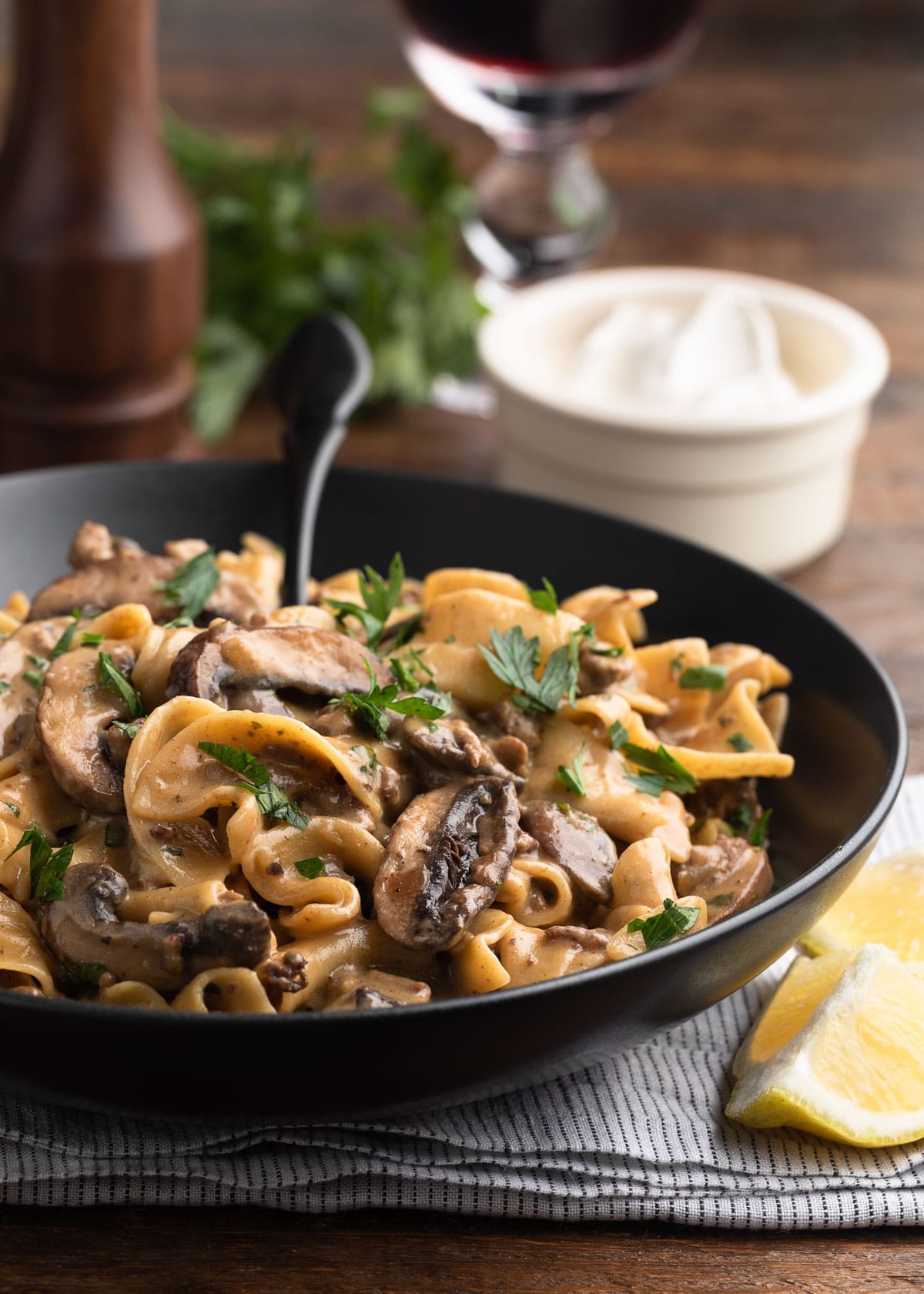 When we all first started staying home in 2020, many readers contacted me to ask for meals that they could prepare from the freezer and pantry. The request I got most often was, "What can I do with a pound of ground beef?"
One of my family's favorite comfort food recipes has always been Beef Stroganoff. It's a dish that satisfies when we're craving something warm and cozy, whether it's a classic recipe made with steak strips, stroganoff-style meatballs, or this one-pan dinner using ground beef.
This recipe is a casual twist on American-style Stroganoff, with beef, mushrooms, and egg noodles in a rich, sour cream-finished sauce. The prep is easy, too, with dinner on the table in just 30 minutes.
Ingredient Notes
Many of the ingredients you'll need for Ground Beef Stroganoff are refrigerator and pantry staples, like onion, garlic, Dijon mustard, and parsley. After years of making this dish, I've made a few notes about the remaining ingredients to ensure the best results.
Ground Beef
I most often use ground round (85/15), but have also made this with chuck (80/20). I find that sirloin is a little too dry in this dish. The fat content of the beef will determine how much butter and oil you'll need to add to the pan when sautéing the mushrooms.
Interested in prepping your own ground beef? Check out my tutorial, How to Grind Meat in Your Home Kitchen for all of the details.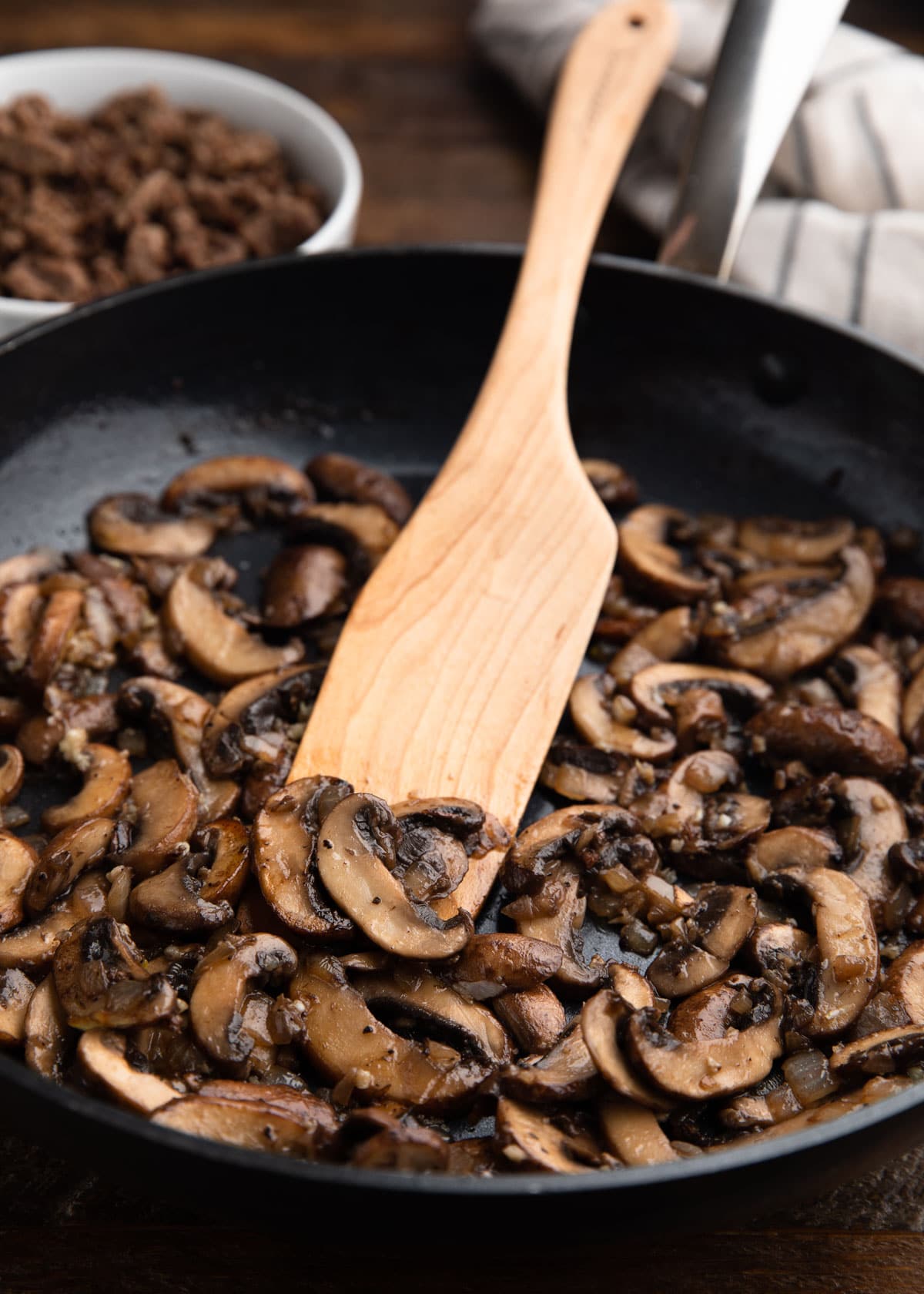 Mushrooms
I like to use cremini mushrooms in my stroganoff for their deeper, earthy flavor. You can substitute white button, but the flavor of the overall dish will be milder.
If you have varieties like shiitake on hand (or a "gourmet mushroom mix" from the market), they'd be great here as well.
The mushrooms should be sliced about 1/4 inch thick, with any tough stems removed. I prefer to buy my mushrooms whole and slice them myself just before cooking (I find that they stay fresher and more flavorful if I'm storing them for a few days).
Tip: Want to stock up on fresh mushrooms and freeze them for later? Check out How to Freeze Mushrooms from The Food Network.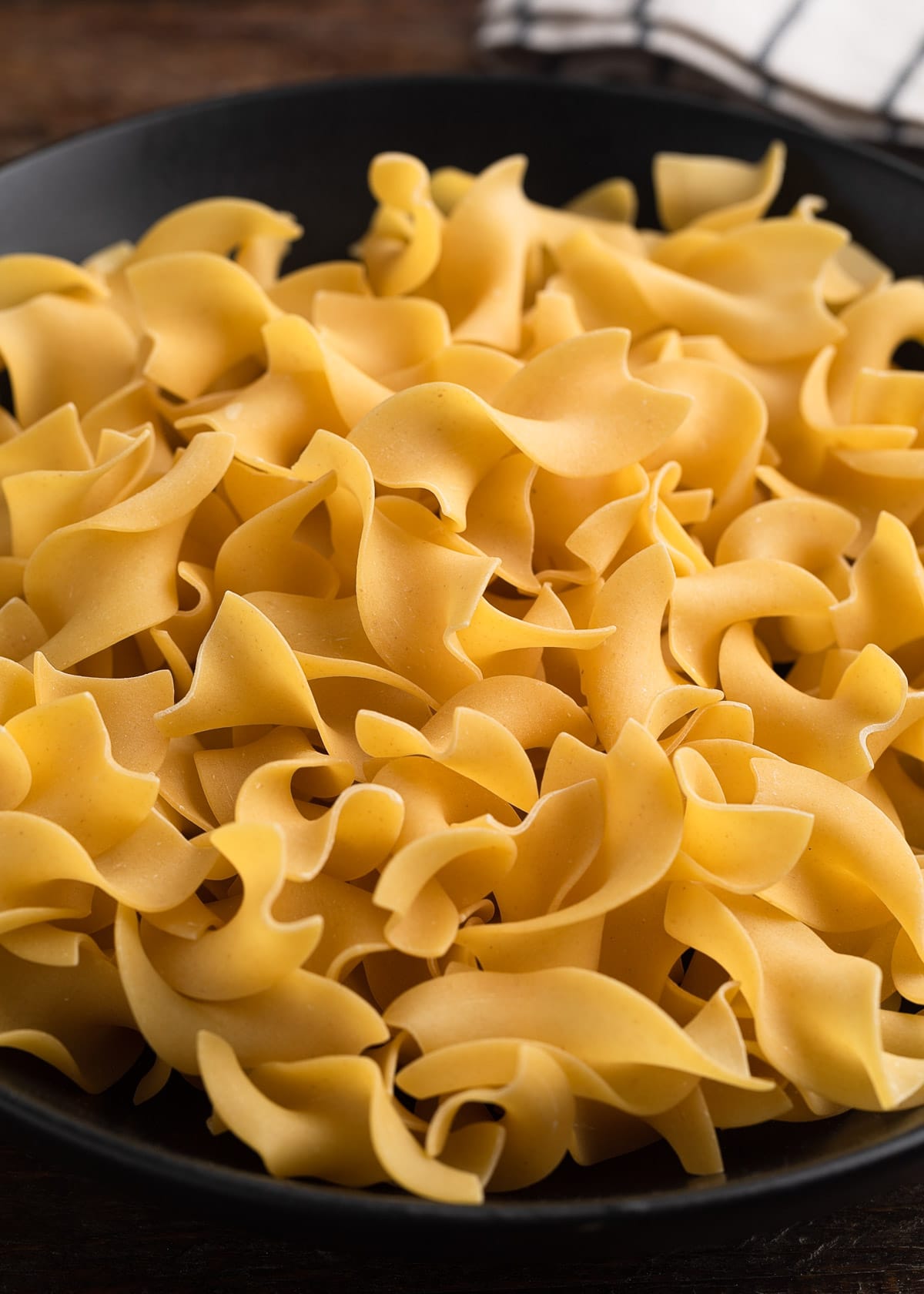 Egg Noodles
Egg noodles are a classic accompaniment to American-style Beef Stroganoff. I like using the wavy "extra wide" noodles in this skillet, but I've also used "wide" and "medium" varieties when I've run out, with good results.
Sauce
For the sauce (and to cook the noodles), you'll need flour, beef broth, Dijon mustard, sweet paprika, Worcestershire sauce, and a splash of cognac.
I've provided a range on the paprika in the recipe card since ground spices can vary in strength by batch and age. Start conservatively and adjust to taste, as needed.
Sour cream, one of the defining ingredients in classic Stroganoff, finishes the sauce. It both makes the noodles creamy, and wakes up the deeper flavors with some tang.
Depending on the brand of sour cream (some are tangier than others), I like to add a touch of fresh lemon juice. I'll either add a little to the pan before serving, or squeeze it over my portion for a bright finish.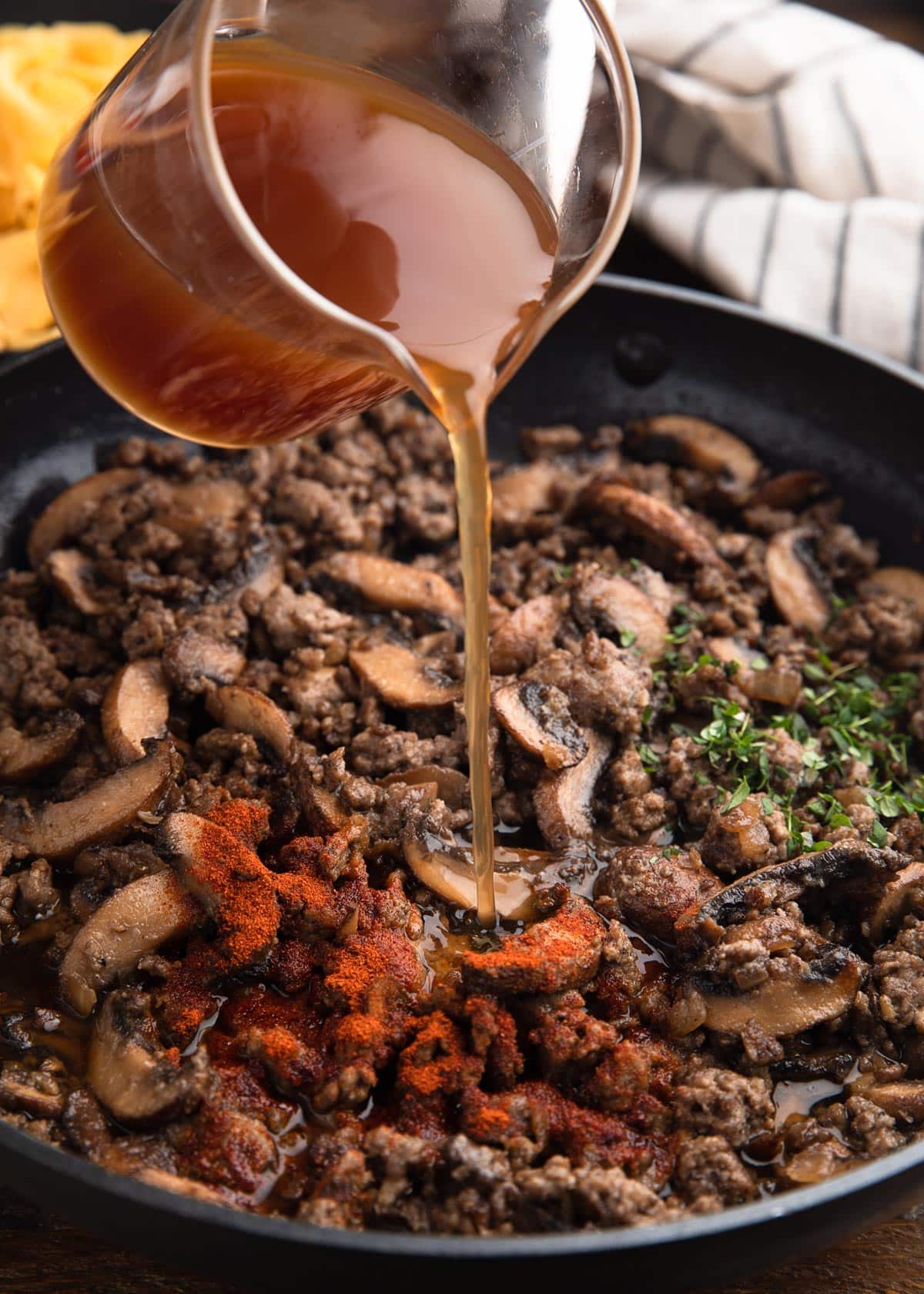 Cooking Ground Beef Stroganoff
The process for making this recipe is simple. Just brown the beef, sauté the onions, mushrooms, and garlic, and then simmer everything together with the egg noodles.
The amount of liquid in this recipe is intended for cooking the noodles in the pan. Note that if you were to boil the noodles separately, the sauce will be too liquidy.
Most egg noodle brands cook within 7-10 minutes. Simmer the pan covered, but be sure to stir every couple of minutes. This will ensure that a.) the noodles cook evenly, and b.) the noodles and sauce don't scorch as the sauce cooks down.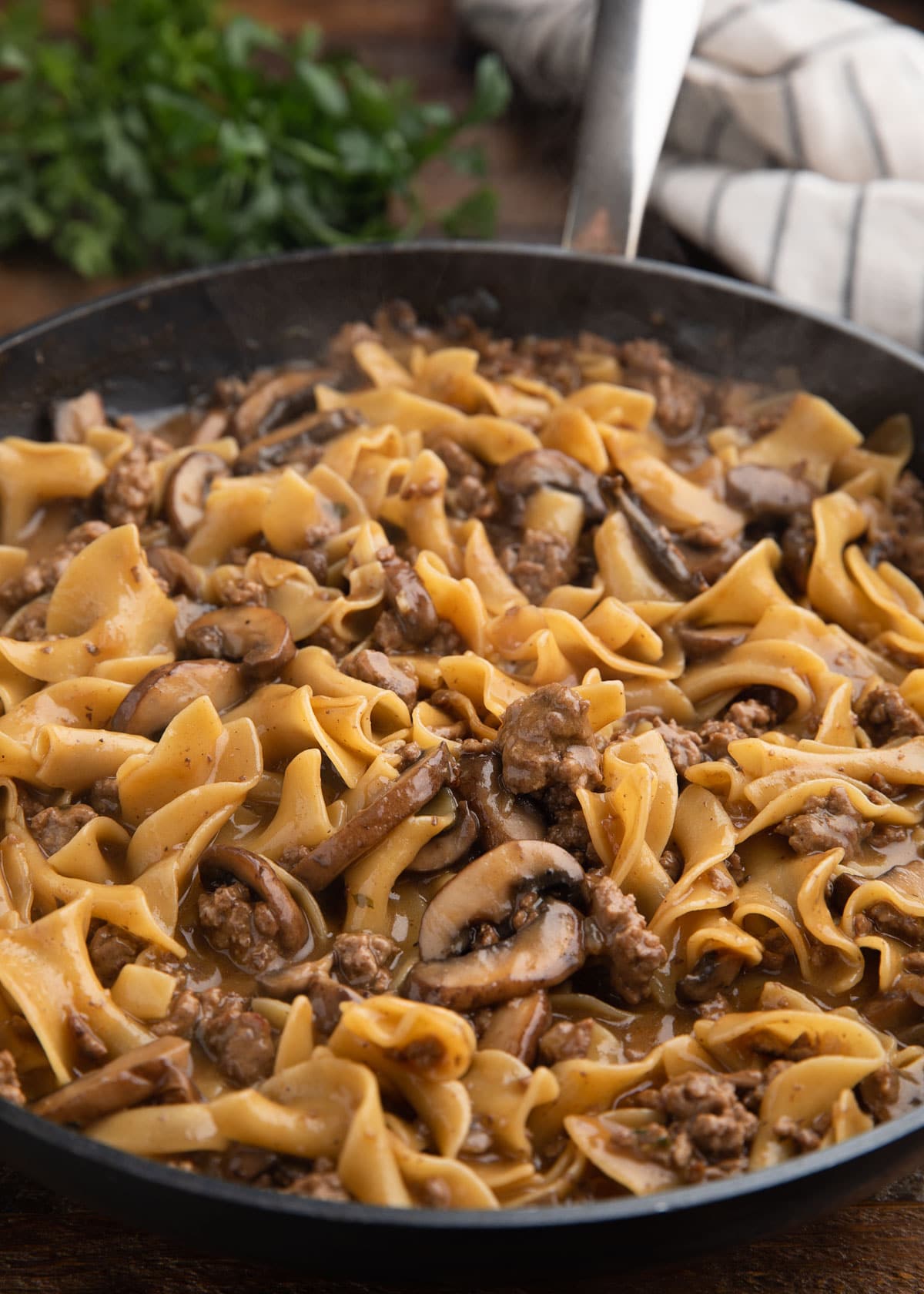 Choosing a pan. Be sure to use a nonstick pan that's big enough to simmer the noodles with the rest of the ingredients. The pans I most often use for this recipe are 12.5 to 13″ diameter with 2.5″ high sides.
Both the added flour, and the starches from the egg noodles will thicken the sauce as it cooks. That said, results can vary by noodle brand. I've tested this recipe with the Manischewitz brand (pictured), Pennsylvania Dutch, and Light 'n Fluffy, with consistent results.
If the sauce seems too thin after the noodles are al dente and you've stirred in the sour cream, just let it stand and thicken for a few minutes. If it's too thick, thin it out with a little extra beef broth.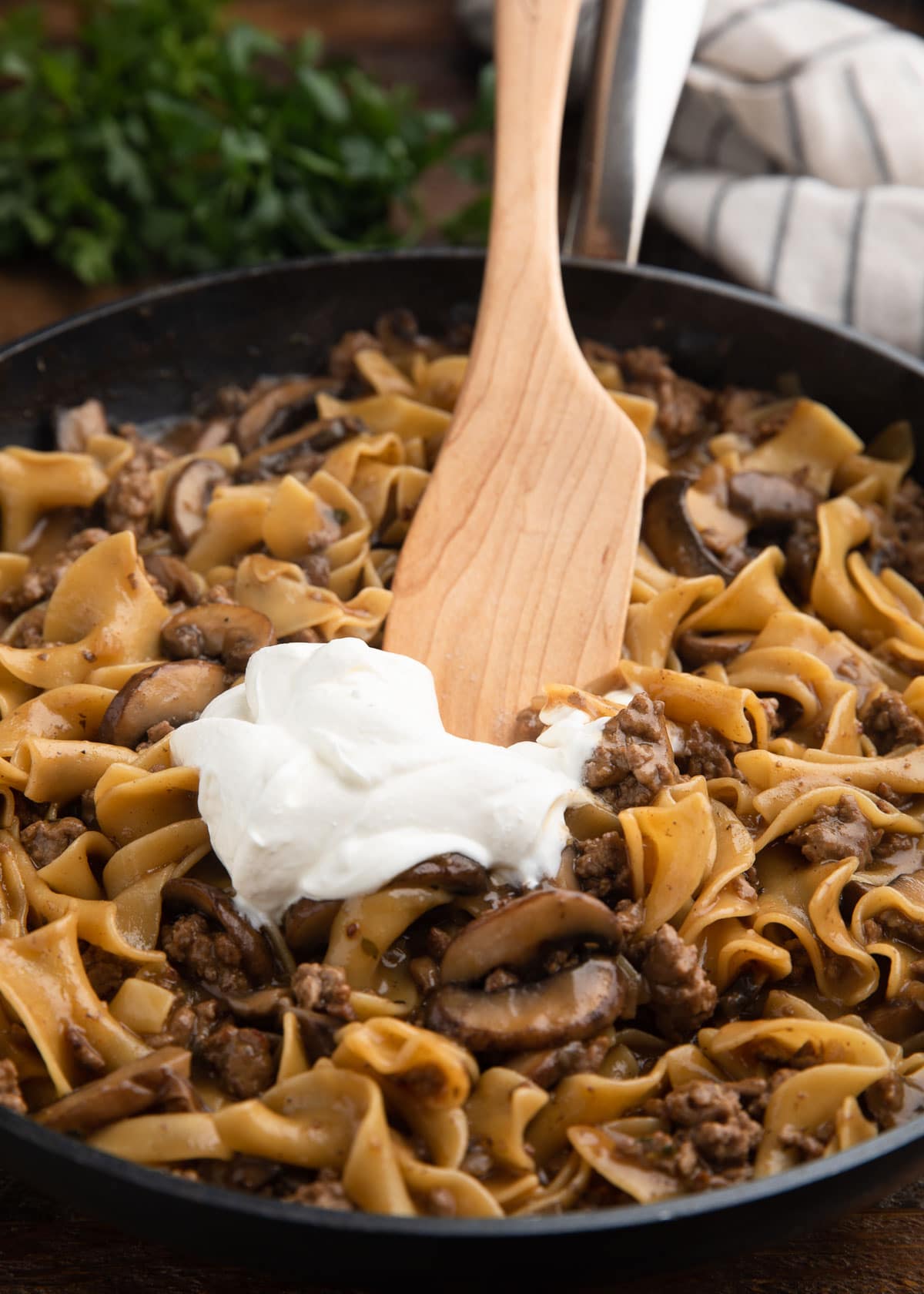 Substitutions
I usually recommend sticking to the recipe the first time you cook a dish (your mileage may vary when making swaps!). That said, we had the toughest time getting curbside and delivery slots for a while and I realize changes sometimes have to be made these days. If you can't get to the store, here are a few substitutions you can make:
Substitute ground turkey for beef. For the best flavor, use ground chicken thighs, or a combination of breast and thigh. Like ground sirloin, ground 100% turkey breast will be drier.

Substitute jarred or dried mushrooms for fresh. I'll be honest that jarred or canned, sliced mushrooms aren't my favorite substitution in this recipe. But, I tried it out when we were between grocery deliveries. Their flavor will not be as full as fresh cremini. I prefer to use or supplement the flavor with reconstituted dried mushrooms (usually a mushroom mix, including porcini), if fresh are unavailable.

You'll need 6 ounces of drained canned mushrooms or 1 to 2 ounces dried (reconstituted and drained before using).

Substitute dried garlic and herbs for fresh. You'll need 1/4 teaspoon garlic powder, 1/4 to 1/2 teaspoon dried thyme, and 2-3 teaspoons dried parsley.

Substitute dry white wine for the cognac. Or, deglaze the pan with 1/4 cup beef broth.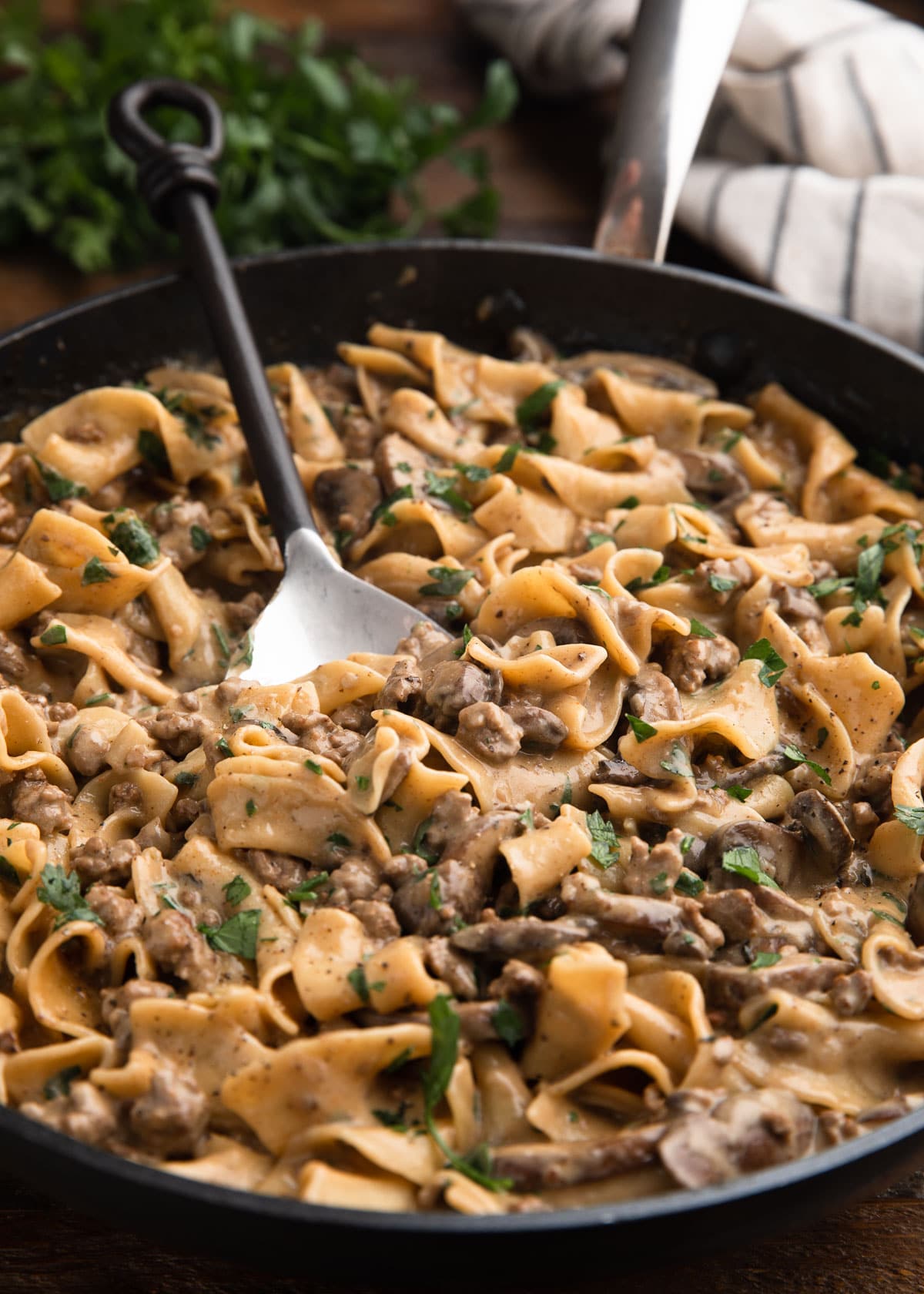 Other Recipe Questions
Q. Can I make Ground Beef Stroganoff ahead and reheat it?
A. I recommend making this recipe when you're going to serve it. I find that the noodles can become too soft and break down with reheating.
Q. Is this recipe freezer-friendly?
A. We haven't enjoyed this dish as much after freezing. Again, the noodles and sauce are best enjoyed when cooked and served fresh. That said, I do often make it with thawed ground beef.
Q. Can I use low-fat or non-dairy sour cream?
A. Yes. I've made this recipe several times with reduced fat sour cream with good results. We didn't love it with fat-free. I have not tested the recipe with non-dairy sour cream substitutes.
CRAVING MORE? Subscribe to my newsletter and join me on Facebook, Pinterest, and Instagram for the latest recipes and news.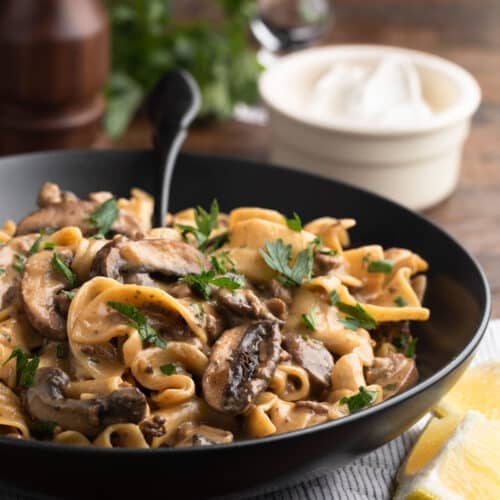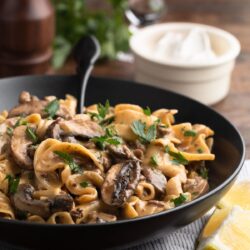 Ground Beef Stroganoff
This creamy, one-pan ground beef stroganoff is a cinch to make and full of flavor. Pure comfort food!
Print
Pin
Rate
Servings:
4
to 6 servings
Ingredients
1

pound

ground beef

(85/15 or 80/20)

1-2

tablespoons

unsalted butter or vegetable oil

(if needed)

1

small yellow onion

, chopped (1/2 to 3/4 cup)

12

ounces

cremini mushrooms

, sliced 1/4-inch thick

2

garlic cloves

, minced

1/4

cup

cognac

(can also use dry white wine)

3

tablespoons

all purpose flour

1

tablespoon

Dijon mustard

1

tablespoon

Worcestershire sauce

1-2

teaspoons

sweet paprika

, to taste (and depending on how fragrant your paprika is)

1-1/2

teaspoons

fresh thyme leaves

, divided

4

cups

low sodium beef broth

8

ounces

dried extra wide egg noodles

1/2 to 2/3

cup

sour cream

(depending on how creamy you like your stroganoff)

3

tablespoons

chopped flat-leaf parsley

1

teaspoon

fresh lemon juice

(optional)

kosher salt and freshly-ground black pepper
Instructions
Brown the ground beef with a few small pinches of salt and grinds of black pepper in a large nonstick skillet or saute pan (12.5 to 13" diameter by 2.5" high). Break up any really large pieces with a spoon or spatula as the meat cooks. Use a slotted spoon to remove the beef from the pan and set aside.

You'll need 3 tablespoons of fat in the pan–if the beef hasn't released this much fat, add enough butter or oil to make up the quantity.

Add onions, mushrooms, and 1/2 teaspoon kosher salt and 1/4 teaspoon pepper to the pan. Sauté until onions and mushrooms are softened, starting to brown, and most of the liquid that has been released has evaporated. Add the garlic and cook for 1 minute.

Stir in the cognac and simmer for 1-2 minutes, until almost completely evaporated.

Stir the ground beef back into the pan. Sprinkle the flour over the mixture, stir it in to evenly distribute, and cook for 1-2 minutes.

Add the beef broth, Dijon mustard, Worcestershire sauce, paprika, and 1 teaspoon of fresh thyme leaves. Stir in the uncooked egg noodles, and bring the mixture to a boil. Cover, reduce heat, and simmer for 7-10 minutes, stirring every couple of minutes, until the noodles are cooked through.*

Add the sour cream, remaining 1/2 teaspoon thyme, and 2 tablespoons of parsley to the pan and stir to combine. Season to taste with salt and pepper. (The amount will depend on the beef broth you used.)

If desired, stir in lemon juice to brighten the sauce (whether you need it will depend on the tanginess of the brand of sour cream you're using and your personal tastes), or serve the dish with lemon wedges on the side to squeeze over your bowl. Sprinkle remaining parsley over the top of the pan and serve immediately.
---
Notes
For pantry swaps, see the "Substitutions" section in the article above.
I've had consistent results testing this recipe with different egg noodle brands (Manischewitz, Pennsylvania Dutch, and Light 'n Fluffy). If the sauce seems too thin after the noodles are al dente and you've stirred in the sour cream, let it stand for a few minutes. It will continue to thicken. If it's too thick, thin it out with an extra splash of beef broth.
Nutrition Estimate
Calories:
477
kcal
|
Carbohydrates:
36
g
|
Protein:
24
g
|
Fat:
24
g
|
Saturated Fat:
11
g
|
Cholesterol:
97
mg
|
Sodium:
487
mg
|
Potassium:
897
mg
|
Fiber:
2
g
|
Sugar:
4
g
|
Vitamin A:
499
IU
|
Vitamin C:
7
mg
|
Calcium:
70
mg
|
Iron:
3
mg
---
About our Recipes:
Please note that our recipes have been developed using the US Customary measurement system and have not been tested for high altitude/elevation cooking and baking.
Keywords:
easy stroganoff recipe, ground beef stroganoff, skillet stroganoff
Have you made this recipe?
Don't forget to leave a comment and rate the recipe below! Take a picture and tag @stripedspatula and #stripedspatula on Instagram for a chance to be featured in our Insta Stories and newsletter!