This Honey Mustard Glazed Ham recipe has been a holiday tradition in my family for years. Utilizing a simmer-and-roast cooking method ensures juicy, not-too-salty slices, with a caramelized crust every time.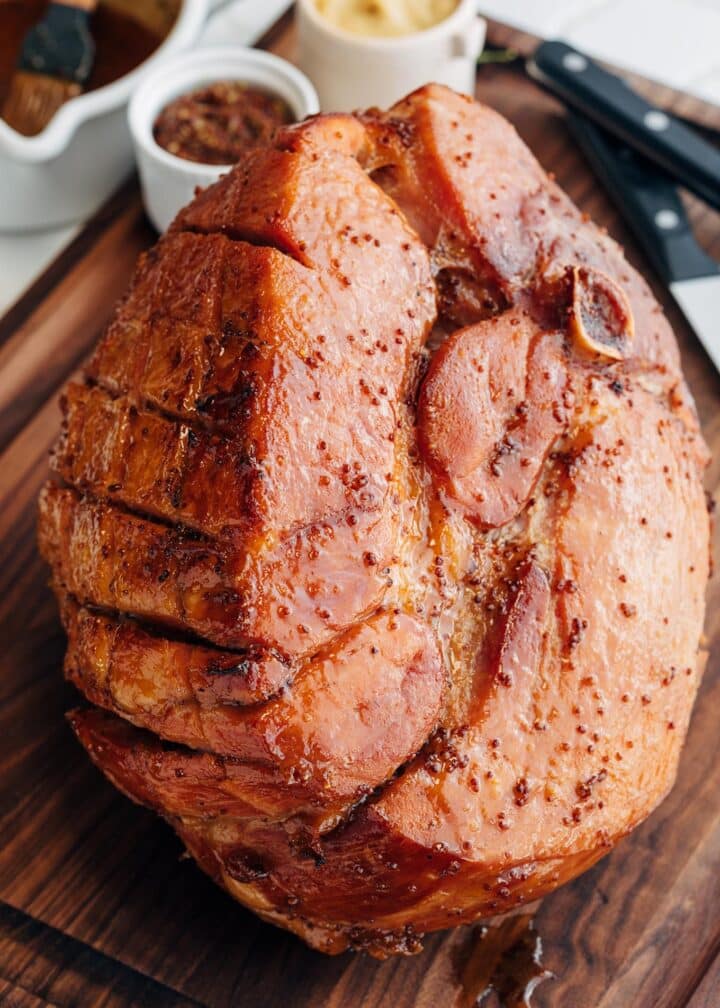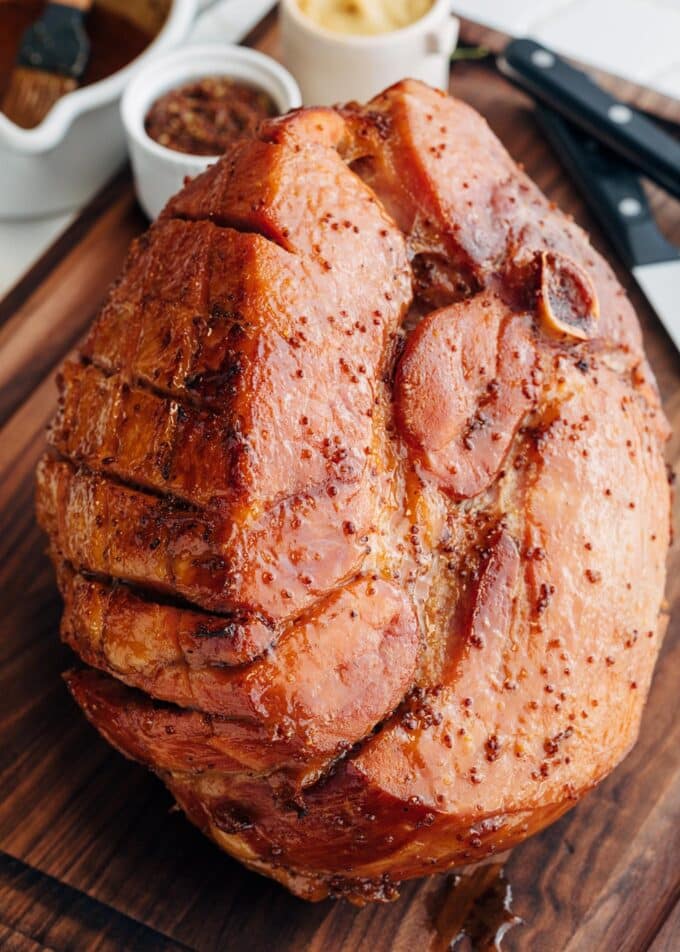 Mom's Honey Mustard Glazed Ham
My mother has been known for her holiday ham for as long as I can remember. It's something she's made for many an Easter brunch, and upon request, for Christmas or New Year's Day. Everyone has always raved about it.
The Honey Mustard Glazed Ham that I grew up with has naturally become my gold standard for ham. My mother utilizes a two-part cooking technique, described later in the post, that results in tender, succulent slices, that aren't overpoweringly salty.
Finished with a caramelized honey mustard-bourbon glaze, this easy-to-prepare ham is the perfect combination of sweet and savory. Served on a platter sliced or carved table-side, Honey Mustard Glazed Ham makes a beautiful presentation for a holiday brunch or dinner.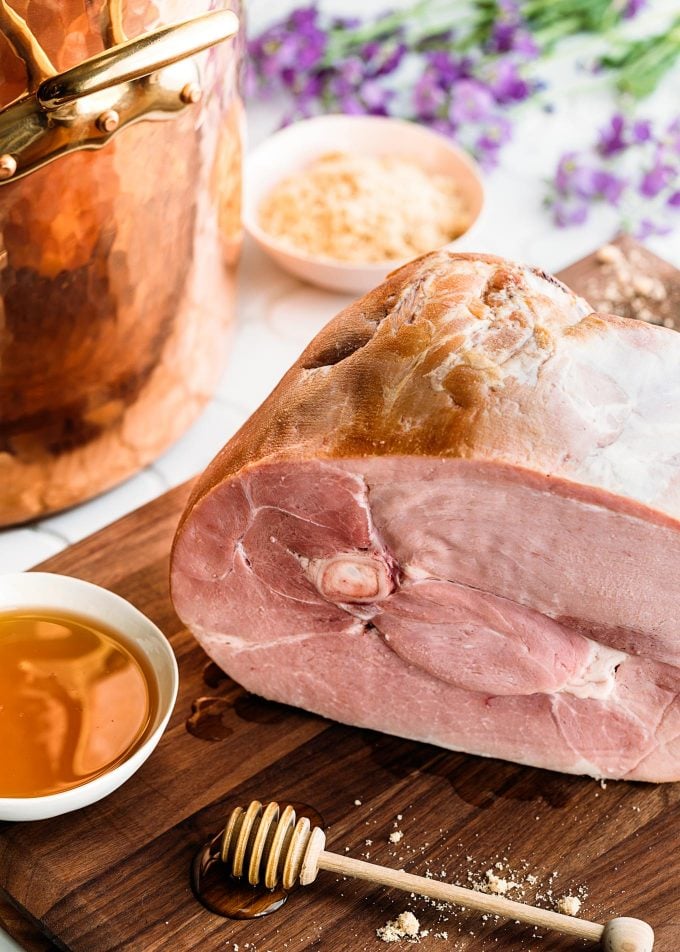 Buying a Ham
You'll see a couple of different types of ham at the grocery store, ranging from fresh cuts to cured and smoked, and those that are spiral sliced.
For this recipe, you want a fully-cooked, bone-in, wet-cured (or wet-cured and smoked) half ham that is not spiral sliced. These are often called "city hams."
From the selection of bone-in cured hams, you have your choice between the butt portion and the shank portion. We have always preferred the former. The shank, which is cut from the lower portion of the leg (you'll know it for its tapered end) tends not to be as tender as the butt portion.
Check Out: How to Buy a Ham from Fine Cooking
For a bone-in ham, plan on around ¾ pound per person. So, to feed a table of 10 guests, I buy about a 7.5 to 8-pound ham; 12 guests, a 9-pound ham; and 16 guests, a 12-pound ham. Of course, buying a ham a little bit bigger than you need ensures leftovers!
Fully-cooked hams need to be reheated to an internal temperature of 140 degrees F before serving. This takes between 15 to 20 minutes per pound with the simmer and roast method used in this recipe.
Don't forget to save the ham bone after carving! It makes fantastic Split Pea Soup.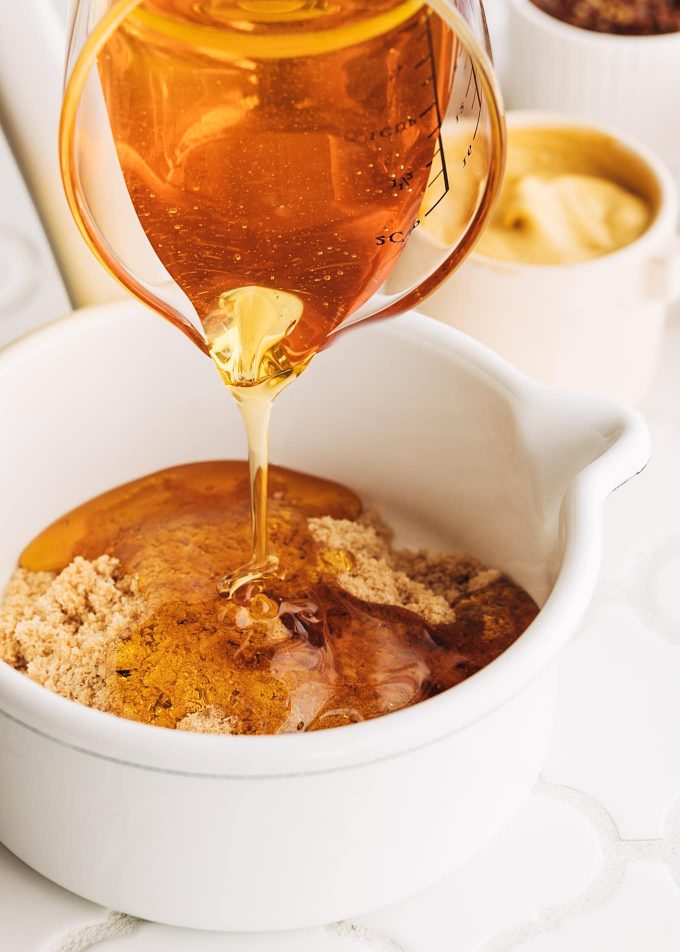 Technique: Simmered and Roasted Honey Ham
Sometimes, holiday hams can be so salty. While you'll want some element of a salty flavor to contrast the sweet glaze, too much salt in the ham can really be overpowering. I hate having to keep reaching for my glass to quench my thirst from a too-salty cut of meat!
The secret to my mother's Honey Mustard Glazed Ham has always been a two-stage cooking process that removes excess salt, tenderizes the meat, and keeps it juicy.
She starts by simmering the ham in a mixture of honey, brown sugar, and water, before glazing it and completing the heating process in the oven. This braising liquid doesn't make the ham itself too sweet (the glaze will give the exterior a sweet-spicy crust), but instead, counteracts and draws out the very salty flavor.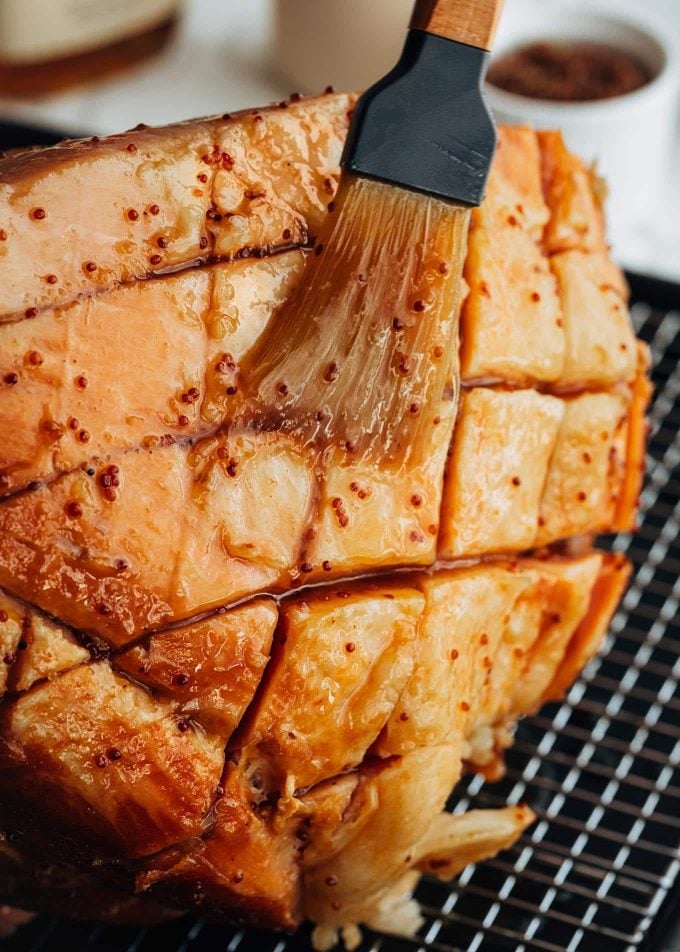 Unlike other cuts of meat, you won't want to save this braising liquid to use in soups and other recipes. First of all, the honey and brown sugar make the liquid sweeter than stock, so its uses would be limited.
Secondly, as its purpose is to draw the excess salt out of the ham, the liquid itself becomes far too salty to be palatable in other recipes. The braising liquid from this recipe should be discarded.
That said, in knowing that I will not be saving the liquid, I don't use expensive artisanal honey to simmer the ham.
The house brand honey at your grocery store or warehouse club is perfect here. Honestly, I'd use the most economical (yet still good-tasting) honey available to you for the cooking liquid.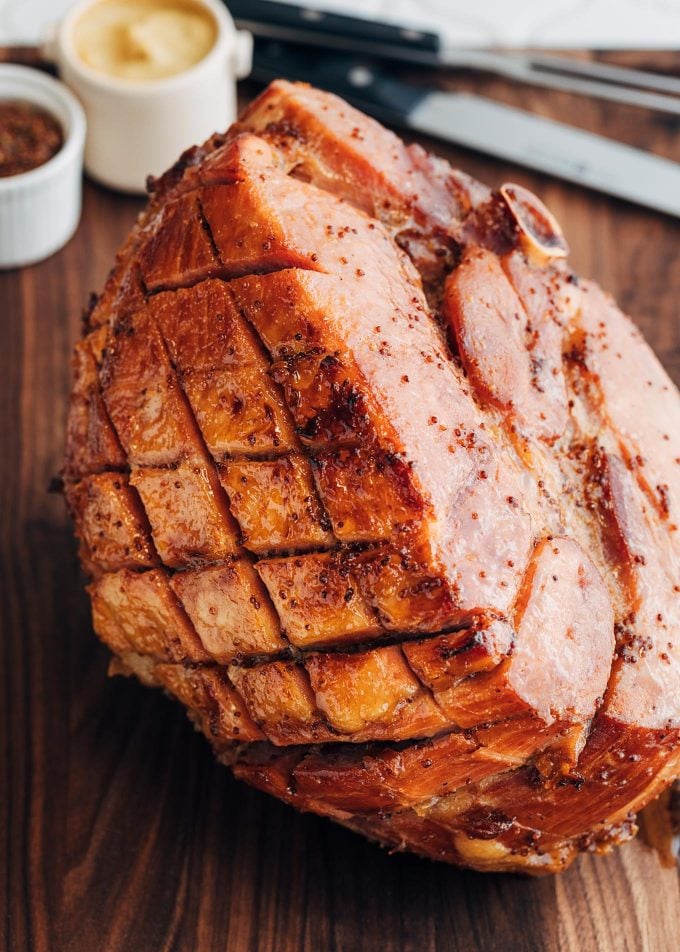 Honey Mustard Bourbon Ham Glaze
The glaze for this ham is so simple to make, and it caramelizes the exterior of the ham beautifully. We use both smooth and whole grain Dijon mustards for flavor and texture. Mixed with honey, brown sugar, a hint of ground cloves, and bourbon, this is a glaze worthy of a holiday celebration.
For a pretty presentation, and to better flavor the meat when it's sliced, score the ham after it simmers. Scoring beforehand causes the shape of the meat to "blossom" a bit too much.
To score a ham, use a sharp knife to cut a diamond grid pattern into the ham, with shallow cuts spaced about 1-inch apart.
For a closer look at the scoring process, take a peek at How to Score a Ham from Better Homes and Gardens.
This Honey Mustard Glazed Ham recipe makes enough glaze to cover up to a 13-pound ham with three coats. If you're using a smaller ham, unused glaze can be brushed or drizzled over ham slices when serving.
I sometimes even like to double my glaze recipe so that I can offer a small bowl of it on the side at the dinner table or brunch buffet.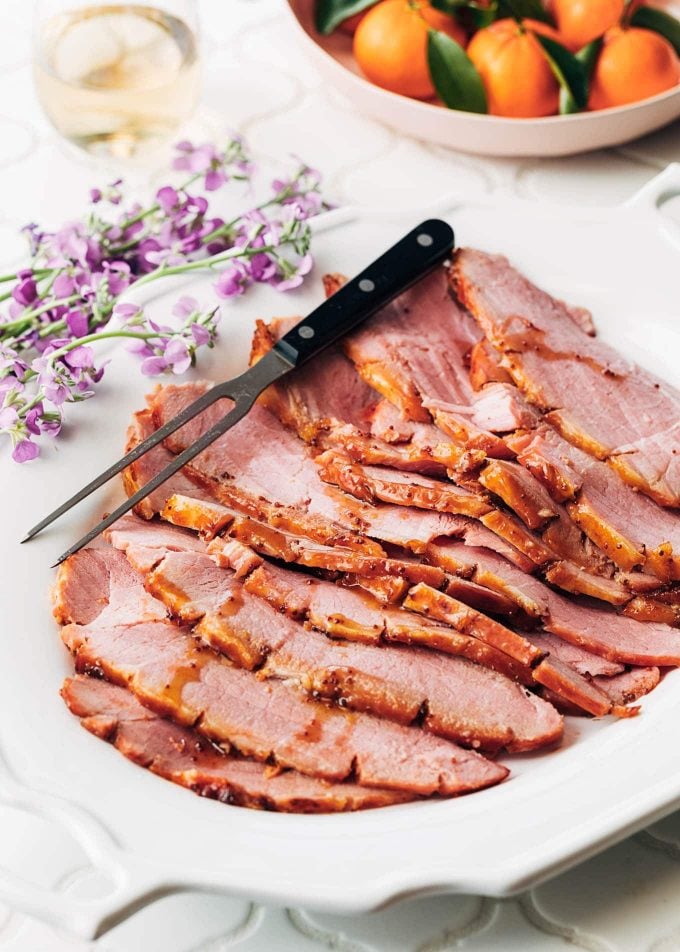 Side Dish Ideas to Serve with Honey Mustard Glazed Ham
CRAVING MORE? Subscribe to my newsletter and join me on Facebook, Pinterest, and Instagram for the latest recipes and news.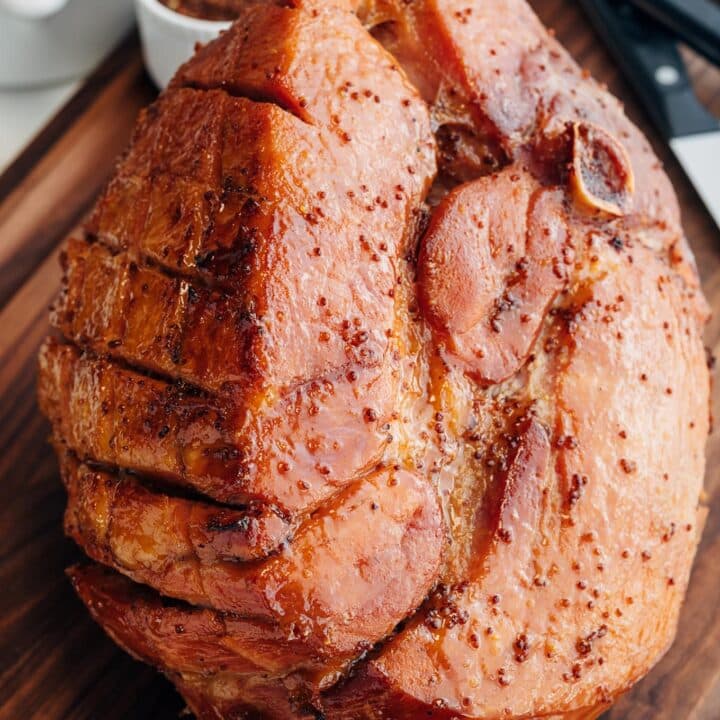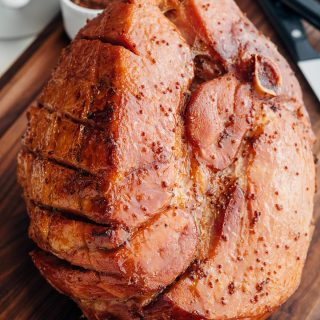 Honey Mustard Glazed Ham
Juicy, honey and brown sugar-simmered ham meets a bourbon honey mustard glaze. Perfect for a holiday dinner or brunch.
Print
Pin
Rate
Save
Saved!
Servings:
10
to 16 people
Estimated Calories:
995
kcal
Ingredients
To Simmer The Ham
1

gallon

water

, plus additional, if needed

1

cup

honey

½

cup

light brown sugar

8 to 13

pound

wet-cured, fully-cooked half ham

(bone-in, butt portion; smoked or unsmoked)
To Glaze and Roast the Ham
½

cup

honey

½

cup

light brown sugar

¼

cup

smooth Dijon mustard

2

tablespoons

whole grain Dijon mustard

⅛

teaspoon

ground cloves

¼

cup

bourbon
Instructions
In a large, 12-quart stock pot, stir together water, honey, and light brown sugar until dissolved. Rinse ham and lower it into in the stock pot, adding additional water, if needed, to just cover the ham. (If a corner sticks out of the water on a very large ham, this is ok.)

Bring to a boil over medium-high heat. Reduce heat to low to just maintain a bubble, and simmer, partially covered, until thickest portion of the ham registers 125-degrees F on an instant-read thermometer. Plan on about 15-20 minutes per pound.
Glaze and Roast the Ham
While the ham is simmering, stir together all of the glaze ingredients in a high-sided saucepan. Bring to a simmer and cook over low heat, stirring frequently, until sugars are dissolved and glaze is thickened slightly, about 10 minutes.

Preheat oven to 400 degrees F. Line a baking sheet or roasting pan with foil and fit it with a rack.

Carefully remove ham from the cooking liquid. (I like to pour some of the water into the sink before lifting the ham out with two turkey forks.) Discard remaining liquid.

Place the ham on the prepared rack and score by using a sharp knife to cut a shallow diamond pattern into the fat, spacing the cuts about 1-inch apart.

Brush the entire exterior of the ham with the glaze. Roast for 10 minutes. Add a second coat of glaze and roast for an additional 10 minutes. Brush the ham with a third and final coat of glaze, roasting the ham for 10 more minutes, or until the internal temperature reaches 135-138 degrees F.*

Remove ham from oven, tent with foil, and let rest for 15 minutes (internal temperature will rise 5 degrees during this time to 140). Transfer ham to a cutting board and carve against the grain into ⅛ to ¼-inch thick slices.
---
Notes
*If desired, you can caramelize the glaze further by broiling it for 5 minutes at the end of the roasting time. Keep a careful eye so that the sugars don't burn.
Nutrition Estimate
Calories:
995
kcal
|
Carbohydrates:
25
g
|
Protein:
78
g
|
Fat:
61
g
|
Saturated Fat:
21
g
|
Cholesterol:
224
mg
|
Sodium:
4434
mg
|
Potassium:
1073
mg
|
Sugar:
24
g
|
Vitamin C:
0.2
mg
|
Calcium:
52
mg
|
Iron:
3.4
mg
---
About our Recipes:
Please note that our recipes have been developed using the US Customary measurement system and have not been tested for high altitude/elevation cooking and baking.
Have you made this recipe?
Don't forget to leave a comment and rate the recipe below! Take a picture? Tag @stripedspatula and #stripedspatula on Instagram!