Learn everything you need to know about how to make gourmet deviled eggs with this guide. You'll find out how to make picture-perfect eggs that look like they came from a magazine, prep-ahead tips, and more. Your deviled egg game just jumped to the next level!
Visiting from Pinterest or a recipe roundup? This post was merged with "A Trio of Deviled Eggs" in March of 2019 to bring you more information and deviled egg recipes.
To skip right to the recipes and read the rest of the post later, click HERE.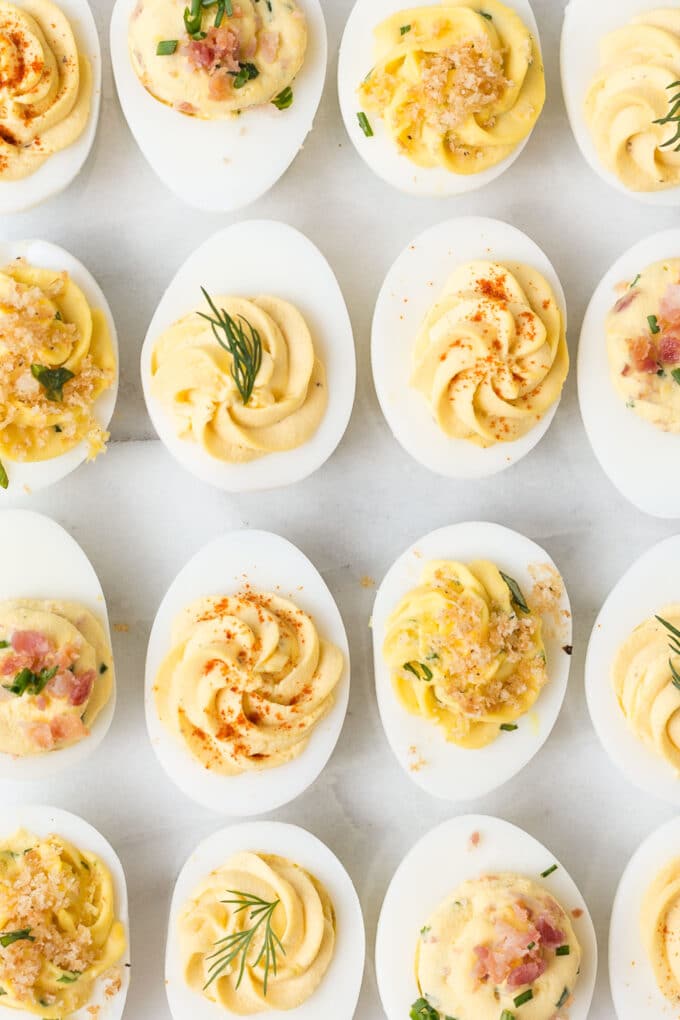 What are Deviled Eggs?
Deviled eggs are a hard-cooked egg appetizer. They're one of the most popular and enduring "finger foods" in the hors d'oeuvre world. Depending on your region in the United States, you might also call them, "dressed eggs," "salad eggs," or "stuffed eggs." The word "deviled" usually refers to spicy foods; in this case, the zing of the mustard and pepper in the yolk filling.
Want to read about the origins of deviled eggs? Check out The Ancient History of Deviled Eggs.
Basic deviled eggs are filled with hard boiled yolks, mixed with mayonnaise, mustard, vinegar, and other flavorings. Garnishes vary and are a fun opportunity for creativity.
Most deviled eggs have a "boat" shape from cutting the egg in half lengthwise. You can also cut them crosswise, creating a taller, more circular hors d'oeuvre. Deviled eggs are served chilled.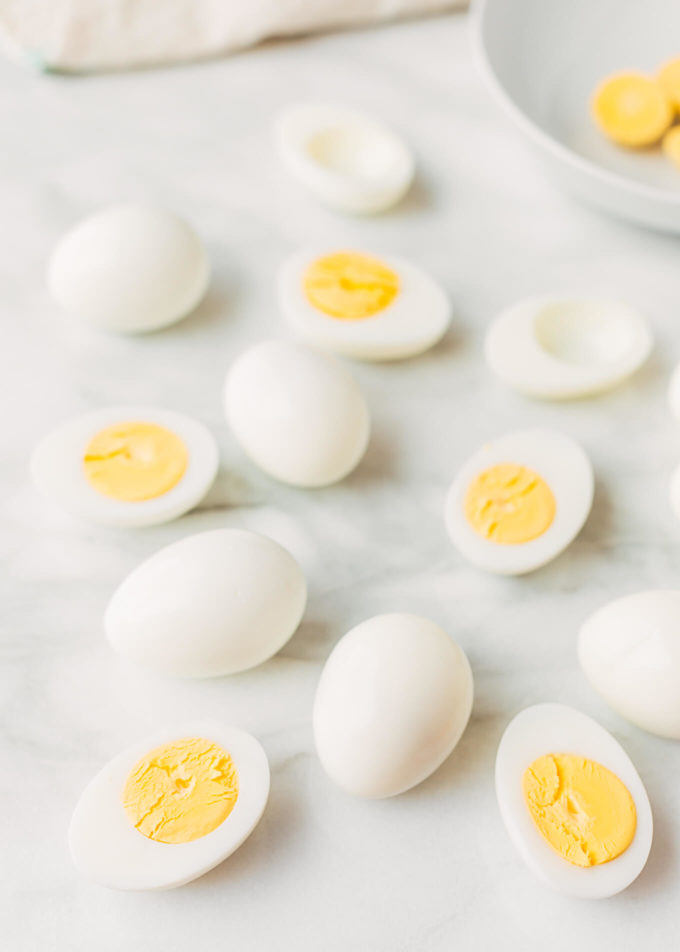 Tips for Making the Best Deviled Eggs
Deviled Eggs are incredibly easy to whip up, making them perfect for year-round entertaining. A few tips and tricks will make sure your deviled egg game is party-perfect.
1. For the prettiest platter, make a few extra hardboiled eggs.
Even when using the best cooking and peeling techniques, a rogue egg or two will inevitably be the "ugly duckling" of the group. Sometimes, the peels just don't come off cleanly, or the egg white splits when you're working with it.
When I'm making deviled eggs for an occasion where presentation is key, I cook a few extra eggs as backups. If I don't use them, they make great egg salad for lunch (as do the "ugly" eggs!)
2. Use a hand mixer for the creamiest filling.
I love the base of my deviled egg fillings to be as smooth as possible. You can get a pretty smooth filling by mixing the yolks and mayonnaise together with a whisk. For the ultimate in smooth, fluffy fillings, an electric hand mixer gets the job done quickly, leaving no lumps behind.
Another trick for a creamy filling is to press the yolks through a fine mesh sieve. It can be a little time consuming, but it gives the yolks a fine, smooth texture when they're mixed into the mayo with a whisk or spoon. (For convenience, my preferred method is still the hand mixer!)
3. For picture-perfect finish, pipe it.
Use a pastry bag with a piping tip for a beautiful presentation when filling your deviled eggs. The three tips I use most often are the open star, closed star, and round (usually, 3/8″ or 7/16″, depending on the filling and the size of the well).
The closed star tip is best for fillings that are on the smoother side, without chunky add-ins that might get caught in the closed points and disturb the piping's ruffled edges.
The open star tip can usually accommodate small add-ins–think tiny bits of crumbled bacon.
The round/plain tip is great for any deviled egg filling, and especially when you have more "loaded" add-ins that might be tricky to move through the points of the stars.
If you don't have a pastry bag with piping tips, you can also use a zip-top bag. Fill the bag, and then snip off one of the bottom corners to mimic the look of the round/plain tip.
Making Deviled Eggs without Mayonnaise
Most deviled egg recipes have mayonnaise in the filling. If you're someone who doesn't like the flavor of mayo, you can still make fantastic deviled eggs! Sour cream is a great alternative, as are plain Greek yogurt and creme fraiche.
All of these are typically a 1:1 swap for mayonnaise.
Depending on the substitution you choose, you might have to adjust the acidity in the recipe to match mayo's tangy flavor. To do this, you can add extra white vinegar or lemon juice to your filling mixture. Start conservatively (1/8 to 1/4 teaspoon) and add additional, to taste, until the filling reaches your tanginess preferences.
Making Deviled Eggs Ahead of Time
You can cook your hard boiled eggs up to a week in advance and store them either peeled or unpeeled in the refrigerator. If peeled, use a tightly-covered container.
In most cases, you can prep the filling for your deviled eggs up to two days in advance of serving. The key here is to prep the mixture ahead, but don't assemble the eggs.
For the freshest platter, it's best to refrigerate the un-filled, halved egg whites and the filling separately. Store both in airtight containers, pressing plastic wrap directly onto the filling's surface before covering with the lid so it doesn't dry out. Then, fill and garnish the eggs up to a couple of hours before you're ready to serve.
When your filling contains delicate herbs or flavors that might dull with a wait time of more than a few hours, it's best to add those ingredients the day you're going to serve the eggs. You can still prep the base ahead (the yolks and mayonnaise), folding in the time-sensitive ingredients closer to filling.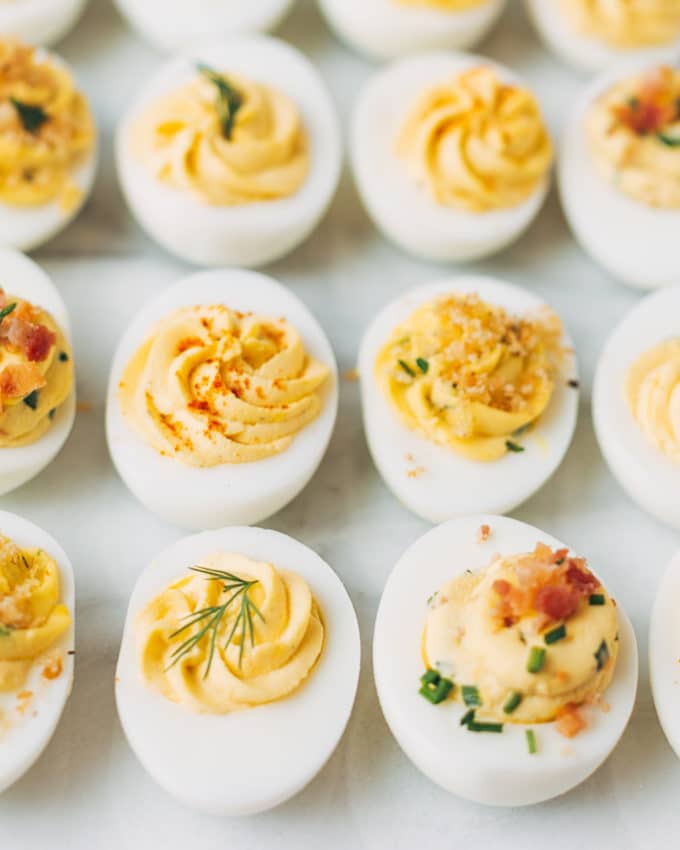 Transporting Deviled Eggs
Bringing deviled eggs to a friend's house? You have a couple of options for making sure they arrive intact.
Option 1: Assemble at the Party
Pack the whites, filling, and garnishes separately and assemble them when you arrive at your destination. Transport the filling in a sealed pastry bag or a ziplock bag (as described above in the piping section), and you'll be ready to fill the eggs with no mess upon arrival.
Option 2: Use a Deviled Egg Carrier
If you're the go-to guest for deviled eggs and find yourself packing them up often, you can buy a double-tiered deviled egg carrier. I have this one from Snapware.
A carrier is more secure for a car ride than an open, plastic wrap-covered tray, and keeps the eggs from bumping into each other. If needed, you can also pop the whole thing into the fridge with a smaller footprint than a platter when you arrive at your destination.
(As a side note: always mention to your hosts if you're bringing something that needs refrigeration, so that they'll know in advance to leave a space!)
In a pinch, you can also DIY a carrier by placing your filled deviled egg halves in the wells of a muffin tin. Cover the whole thing with plastic wrap, and you'll be on your way, protecting the eggs from bumping into each other. This method doesn't protect the pretty tops as well as a dedicated carrier, but it'll get you to your destination with less mess than a platter.
Deviled Egg Recipes for Every Occasion
Looking for the best deviled egg recipes and creative variations? Give these recipes a try!
1. CLASSIC DEVILED EGGS
If you're looking for a surefire hit at your next party, nothing beats the classic recipe.
2. ITALIAN DEVILED EGGS
Give your deviled eggs an Italian flair with fresh basil, garlic, and an irresistible crunchy topping.
3. BACON DEVILED EGGS WITH HORSERADISH
Bacon and eggs were simply made for each other. Add zesty horseradish and fresh chives to the equation, and you have an irresistible deviled egg combo.
4. CHIPOTLE DEVILED EGGS
Add a little zing to your deviled eggs with chipotles in adobo sauce and Spanish chorizo.
5. TRUFFLED DEVILED EGGS
Give your deviled eggs a luxe upgrade with the earthy flavor of truffles. Perfect for cocktail parties!