With an almond-scented crust, a layer of fruit preserves, and a buttery topping, these Bakery-Style Jam Crumble Bars are an easy and impressive dessert.
Memorial Day Weekend is here! The unofficial start to summer also means a season of outdoor entertaining, picnic invitations, and the need for a dessert that can be easily stored and transported.
Pies, crisps, and crumbles are great, but when it comes to serving a crowd, a pre-sliced grab-and-go bar is always an attractive option.  Enter Jam Crumble Bars.
With an almond-scented, shortbread-like crust, a layer of fruit preserves, and a buttery crumble topping, these bars are an easy, impressive, bakery-style dessert for busy summer entertaining.
This recipe was inspired by the Raspberry Streusel Bars in Joy of Cooking, which I've made a number of times over the years. They were always well-received (I certainly wouldn't turn one down!), but never quite exactly what I was craving.
Among other recipe tweaks, I ended up increasing the jam filling by half, adding a bit of baking powder to the crust for a bit of lightness, and reworking the streusel layer to be more reminiscent of a fruit crisp topping.
I actually tested this recipe out on a group of contractors working in our home during their lunch breaks.  When, after the last batch, they asked to take the recipe home for their wives, I knew we had a winner!
I should establish upfront: I'm not someone who uses large amounts of butter in my baked goods just for the sake of shouting "Butter!" from the rooftops.
That said, these bars aren't for the butter-faint-of-heart. They're decadent, but a goodly amount of butter is needed in both the crust and streusel for flavor and texture.
These bars are a dessert for a holiday weekend; an occasional splurge, not an every day occurrence. All good things in moderation, right?
Jam Crumble Bars are pretty simple to prepare.  They're one-bowl (technically, one big bowl and a tiny bowl or measuring cup to combine the milk and almond extract.)  While the base  layer is baking, the crumble topping is prepared in the same mixing bowl you used previously (no need to wash in between!).
The filling requires no effort other than opening a jar of preserves and spreading it onto the crust. (Though, since it's a dominant flavor, you'll want to use a quality jam or preserve; more on that in the recipe notes.)
The bars store well in airtight containers for advance preparation, and, in my humble opinion, improve in flavor after a day.  Sliced, they also freeze beautifully for longer storage.
As we gather this weekend for Memorial Day celebrations, our thoughts and gratitude are with our brave servicemen and women, and their families.  We especially honor those who have made the ultimate sacrifice for our country.
To paraphrase John Maxwell Emmons, "For [our] tomorrow, [they] gave [their] today."
More recipes for Memorial Day Entertaining:
Hot Crab Salsa Dip
Spinach and Artichoke Dip
Grilled Guacamole
Strawberry-Basil Soda
Bacon-Cheddar Potato Salad
Chickpea and Feta Salad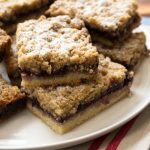 Print
Jam Crumble Bars
With an almond-scented crust, a layer of fruit preserves, and a buttery topping, these Bakery-Style Jam Crumble Bars are an easy and impressive dessert.

Inspired by Joy of Cooking, "Raspberry Streusel Bars"
Ingredients
For the base
2

cups

all purpose flour

1/3

cup

granulated sugar

1/4

teaspoon

kosher salt

1/2

teaspoon

baking powder

3/4

cup

unsalted butter

(1-1/2 sticks) chilled and cut into small pieces

3

tablespoons

milk

1

teaspoon

almond extract

1-1/2

cups

fruit preserves or jam

*
For the crumble topping
1-1/2

cups

all purpose flour

1/4

cup

granulated sugar

1/2

cup

light brown sugar

, lightly-packed

1/2

teaspoon

kosher salt

1/2

teaspoon

baking powder

1/2

teaspoon

ground cinnamon

1/8

teaspoon

ground cardamom

(optional)**

1/2

cup

rolled oats

(not quick-cooking)

3/4

cup

unsalted butter

(1-1/2 sticks), chilled and cut into small pieces

Powdered sugar for dusting

optional
Instructions
Preheat oven to 375 degrees F with rack in middle position. Line a 13x9x2-inch baking pan with parchment paper with a 2-inch overhang on the long sides. Lightly coat parchment with cooking spray.
Make the base
In a large bowl, whisk together flour, sugar, kosher salt, and baking powder. Using a pastry blender, a fork, two knives, or your fingertips, cut butter into flour mixture until it appears sandy (fine crumbs).***

In a small bowl, combine milk and almond extract. Pour over the flour mixture and combine until moistened throughout. Mixture will remain crumbly. For a tender shortbread base, don't overwork dough. Press dough into the prepared baking pan in an even layer. Bake 12-15 minutes, until center is just set and edges are just beginning to turn light brown. Remove from oven to assemble bars and leave the oven on.
Make the crumble topping
While the base is baking, whisk together flour, sugars, salt, baking powder, cinnamon, cardamom (if using), and oats. Using the same process as you did for the crust, cut butter into the flour mixture until crumbly.
Assemble the bars
Spread preserves over hot crust layer. Sprinkle crumble topping in an even layer over preserves (the crumble layer will be thick). Return to oven and bake 25-30 minutes, until crumble topping is light golden brown. Let stand at room temperature in the baking pan until completely cooled. Dust with powdered sugar, slice into bars, and serve.
Recipe Notes
*My favorite preserves to use in this recipe are Sarabeth's Blueberry-Cherry or Plum-Cherry. Blood Orange Marmalade is also delicious here. I've also used Bonne Maman Cherry and Hero Swiss Black Cherry with good results, though any quality jams or preserves will work well.

**The brand of ground cardamom I use is very fragrant, so 1/8 teaspoon gives the crumble topping a nice, but not overly-assertive hint of the spice. If your cardamom isn't as aromatic, or if you prefer a stronger flavor, increase to 1/4 teaspoon.

***You can also use a food processor to cut the butter into the flour-sugar mixture. For a tender crust and streusel, use short pulses and be careful not to overprocess. When using a food processor, I prefer to incorporate the liquid ingredients in the base and the oats in the streusel by hand.
Have you made this recipe?
Let me know by leaving a comment and rating the recipe below! Don't forget to take a picture and tag
@stripedspatula
and
#stripedspatula
on
Instagram
for a chance to be featured in my newsletter!