Kitchen pantry organization doesn't have to be overwhelming! Learn how to organize a pantry that fits your needs and lifestyle, and have fun designing it with tips from a Container Store expert.
Disclosure: I was invited to a VIP shopping event for the grand opening of The Container Store in Bridgewater, NJ. As a part of the event, I received a gift card to use toward my purchase. As always, all opinions expressed are my own.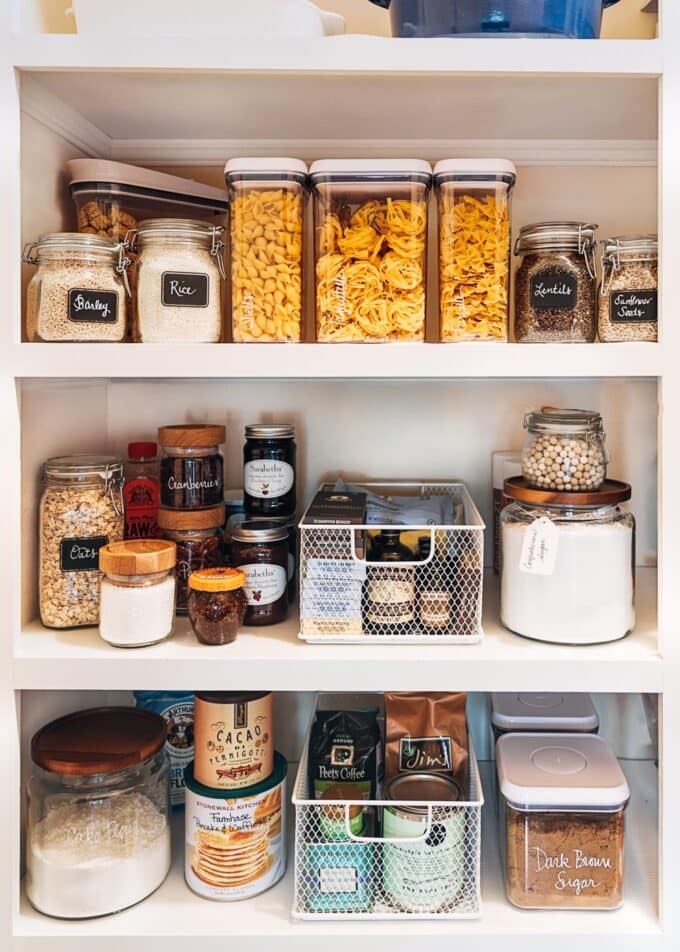 I have a walk-in pantry in my kitchen. When it's well organized, it's a dream. I have everything I need at my fingertips, ready to pluck from the shelves when I need it.
When it's disorganized, it can turn into a free-for-all. A chasm (albeit a delicious one) of chocolate chips, cookies, jars, and pasta.
For me, a disorganized pantry tends to have two consequences: 1.) it robs time that I can spend on other tasks because I'm in there longer than I should be, rifling through bags and boxes to find what I'm looking for; and, 2.) I end up buying duplicates of ingredients I already have, because I didn't see them hiding under another item when making my grocery list.
How to Organize a Pantry: DIY Guide
Full disclosure: I'm a person who loves to organize. Even if you don't approach organizing with a jazz hands level of excitement, kitchen pantry organization doesn't have to be a daunting task!
If you approach the process as designing an area of your home instead of as a chore, it can be a fun project.
Expert Tips for Pantry Organization
I recently got to chat with Greg Montoya, The Container Store store trainer. He gave me some tips for how to organize a pantry that streamline the process and make it an enjoyable one.
Clear the pantry space. Pull out everything in your kitchen pantry, sort through it, and discard items that have expired. Identify items that you don't use and won't use again. (We've all bought that ingredient for that one recipe and never looked at it again, haven't we?)
Assess your space, think about the functionality you need, and how you want your pantry to look.

Is your pantry walk-in with shelving or a smaller cabinet?
Do you want to use plastic, glass, or stainless steel containers?
Do you prefer a sleek and modern look? Vintage? Clean and bright? Colorful?
What size containers do you need? Do you buy in bulk?

Think about ways to maximize your space.

Look for untapped areas in your pantry for extra storage. For example, you can buy a back-of-the-door or wall rack that instantly adds a few shelves to your pantry.
Do you have a lot of small bottles or cans that you have a hard time seeing on your shelf? Think about a tiered expanding shelf unit to make all of the labels easy to read.

Shop for your containers. For a designer look, choose canisters of the same or coordinating sizes, styles, and collections. This is where the process becomes fun at The Container Store. There are so many container styles and collections to choose from, and the store has a lot of hands-on displays to help you visualize and plan the pantry of your dreams.
When thinking about how to organize a pantry, I like to sort it by section: baking supplies, canned goods, pastas/rice/grains, snacks, oils and vinegars, etc. Realistically, things do tend to wander a bit with time, but it's a timesaver to have a general target of where types of ingredients are when I need them.
Organizing by section also makes restocking and reorganization (which I try to do seasonally) a breeze.
My Favorite Pantry Storage Containers
For my pantry organization project, I decided that I wanted a bright, clean look that mixed a vintage and modern aesthetic. I found a few favorites that have made organizing my kitchen pantry easy.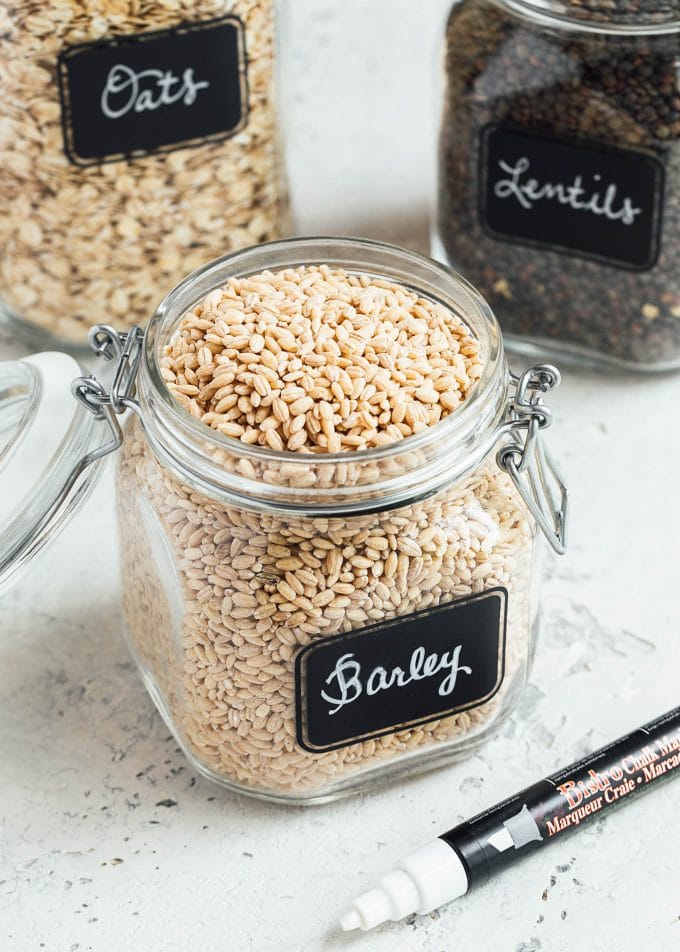 Clip-top Jars for Beans, Rice, and Grains
I've always loved glass jars with clip-top lids for both refrigerator storage (jams, pickles, cheese spreads) and dry goods in the pantry. They're so functional and have a warm, vintage-type feel.
I picked up the Bormioli Hermetic Glass Jars with Chalkboard Labels so that I could use my chalk marker to easily label pantry staples like oats, lentils, rice, and grains. They're great for coffee beans, too.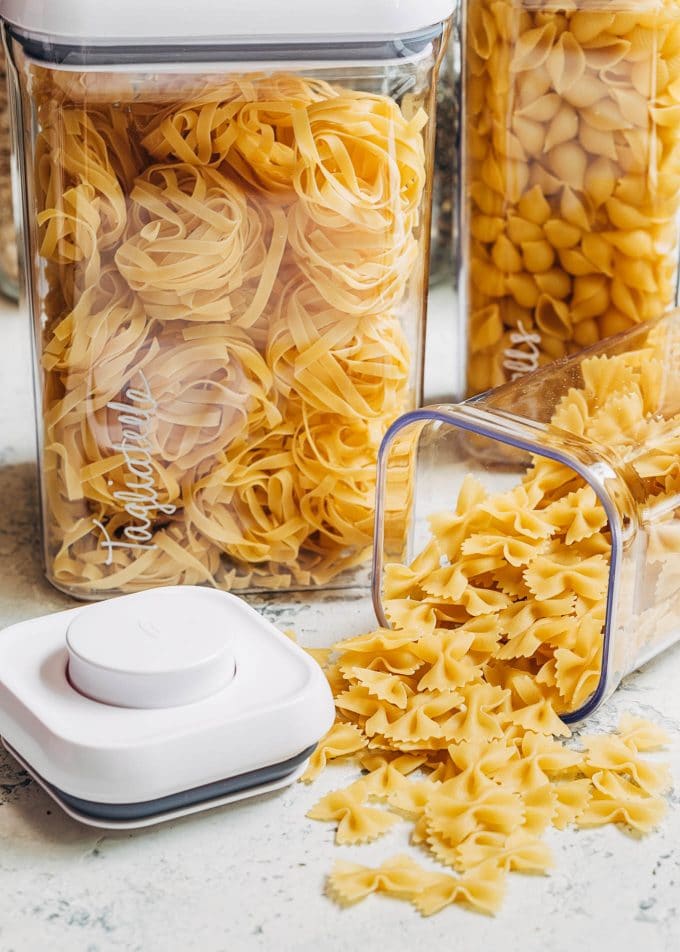 POP Canisters for Pasta, Brown Sugar, and Snacks
I thought the OXO Good Grips POP Canisters looked fun when I saw them in the store, but they turned out to be the holy grail of pantry organization containers when I got them home.
These canisters are plastic, but it's a super-clear, heavy duty plastic that really feels nice and sturdy. They open and close by pressing the button in the center of the lid, with an airtight seal.
I love that the POP canisters come in so many shape and size options—square, rectangle, tall, short, cereal dispensers, and slant jars. You can organize them into just about any configuration your shelves require.
The POP canisters have become my favorite for organizing my dried pastas (no more rifling through partially-used boxes on the shelves!), and keeping my brown sugar airtight and fresh. We've been loving the smaller containers for cookies, crackers, pretzels, and pretty much all of our snack foods.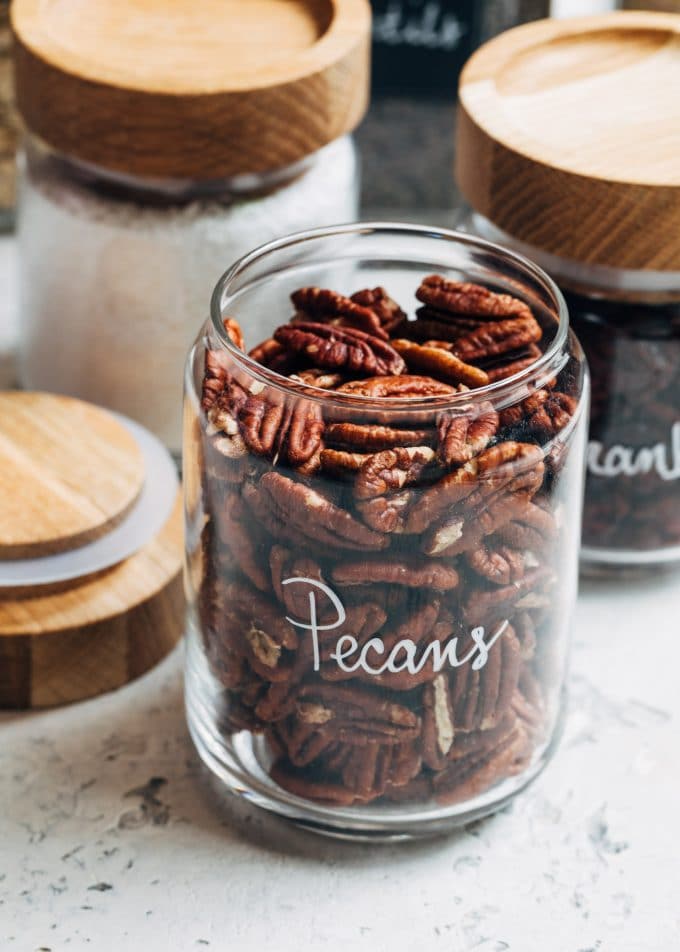 Glass Canisters for Small Pantry Staples
I always have a bunch of small boxes and bags in my pantry with staples like nuts, dried cranberries, pearl sugar, and popcorn kernels.
Previously, I placed the boxes in zip-top plastic bags in an effort to keep the contents fresh. It doesn't work that well longterm, and the jumble of bagged boxes can be hard to sort through.
For small pantry staples, I chose the Artisan Glass Canisters with Oak Lids. When I was shopping, I really liked the look of the wood lids, and that they have silicone seal to keep dry foods airtight and fresh. They're available in few different sizes and are stackable, so they're space-efficient on the shelf too.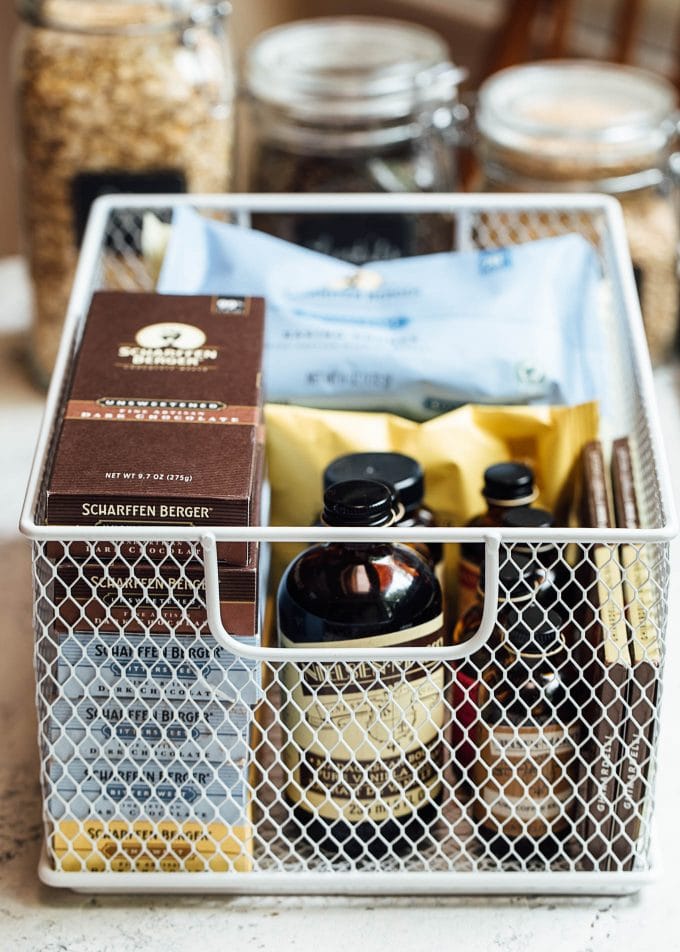 Bins for Organizing Baking Supplies
For baking, my pantry is always heavily stocked with various chocolates and extracts. To keep them sorted and easy to access, I love these Steel Mesh Stackable Bins.
Instead of small bottles and bags of chocolate hiding behind bigger items on the shelf, I organized them in a few bins. I can either grab what I need from the bin in the pantry, or take the whole thing out to sit on the counter while I'm baking.
I also decided to use them to organize my canisters of coffees, teas, and hot chocolate supplies.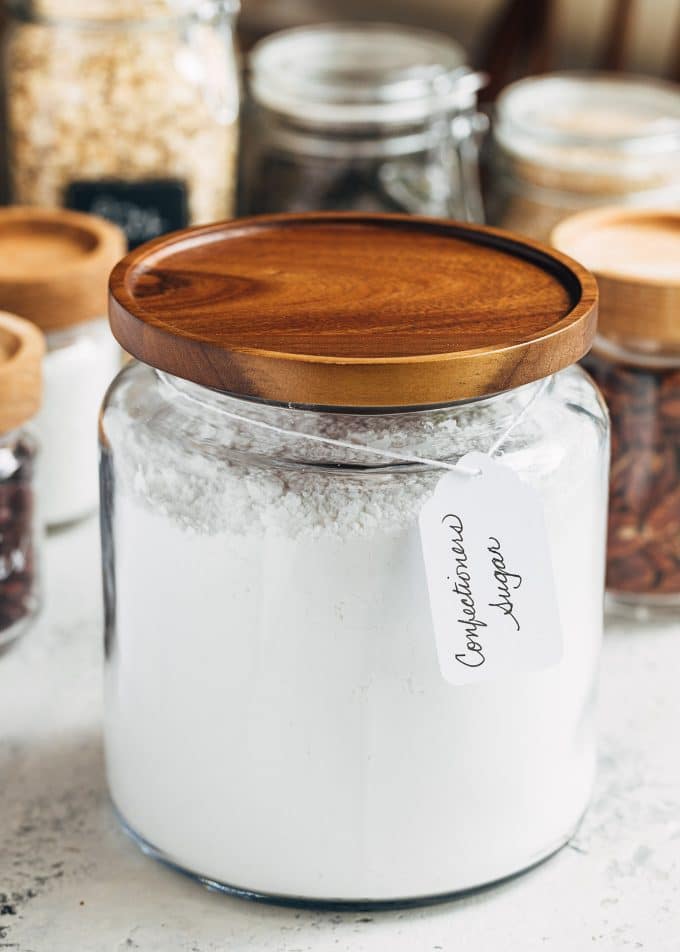 Large Jars for Scooping Flour and Sugar
I'd been using a few plastic containers that I've had for years to store my various types of flour and sugar. They were functional, but after all this time, they weren't pretty anymore. If I was going to give my pantry a makeover, my flour and sugar wanted an upgrade too!
I decided to go with the Anchor Hocking Montana Glass Canisters with Acacia Lids. They have wide enough openings that I can dip and scoop from them, and the wood lid (with a tight silicone seal) fits the aesthetic I wanted.
How to Organize a Pantry – Option B: Call in the Experts!
Reading this post about how to organize a pantry and thinking that you don't have time to tackle a design project or organizing just isn't your thing? The Container Store offers convenient in-home design and organizing services.
Complimentary in-home design services include space assessment, design suggestions, and expert measurements.
If you want them to handle everything for you from design to organization, they'll do that too! For a fee, experts from the Contained Home service will organize any area of your home for you.
Do you have any tips or favorite pantry storage containers? Tell me in the comments!