Bring a taste of coastal New England to your table with these Maine Lobster Rolls! See how fresh, simple ingredients make these lobster salad sandwiches a crave-worthy summertime classic.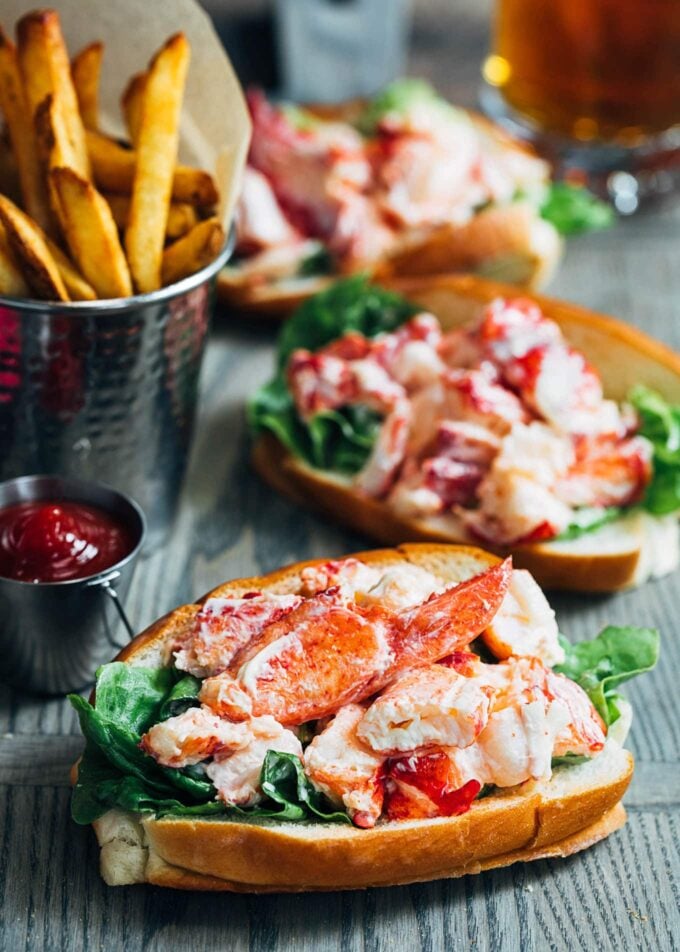 I promised myself that when I left for my recent trip to Maine, I would eat all the lobster while I was there. Happy to report: Mission Accomplished.
When I posted a photo on Instagram of the lobster rolls we had, I received many requests for a Maine Lobster Roll recipe. I knew I had to get to work steaming up some lobsters and photographing.
It also meant I had to eat lobster rolls again. Always willing to take one for the team, friends!
In this post, I'm going to take you through exactly what makes a Maine Lobster roll a classic, including what you need (and what you should leave out) for an authentic New England experience.
Despite the length of this post (I'm passionate about lobster!), Maine Lobster Rolls are so simple to prepare. With just a few ingredients and techniques, you can bring the flavors of Maine's picturesque seashore to your table, wherever "home" is for you.
What is a Lobster Roll?
Lobster Rolls are sandwiches that hail from New England, mounding chunks of fresh lobster meat onto buttered and griddled split-top hotdog buns. One bite takes me right to the sound of the ocean, warm, salty breezes, and the sand beneath my toes. It's summer on a bun.
How the lobster itself is treated differentiates styles of New England Lobster Rolls. In the language of the food world, recipes fall into two general categories: Connecticut-style and Maine-style.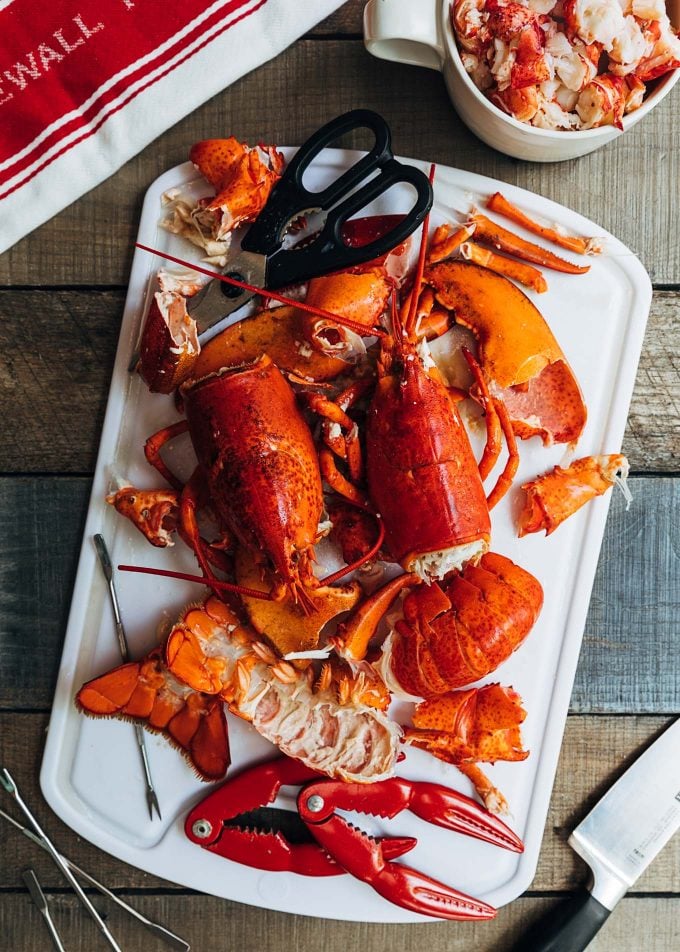 Connecticut vs Maine Lobster Rolls
To make Maine Lobster Rolls, steamed lobster meat is cooled and lightly-dressed with mayonnaise. The lobster salad is served chilled, piled into a griddled hotdog bun. (On some menus, the lobster might be unadorned, with a little mayo spread onto the bun instead.)
Connecticut Lobster Rolls are served warm. The lobster meat is dressed with drawn butter and mounded into a similarly-prepared bun. Connecticut Lobster Rolls contain no mayonnaise.
That said, you'll find both of these styles served in both states, and throughout New England. I've been at restaurants in Connecticut where I've found the mayo-based lobster roll on the menu (sometimes called a "lobster salad roll"), and at places in Maine where they're served with butter.
Generally-speaking, if you hear "Maine-style," expect the lobster roll to be chilled, with mayo; "Connecticut-style", warm with butter.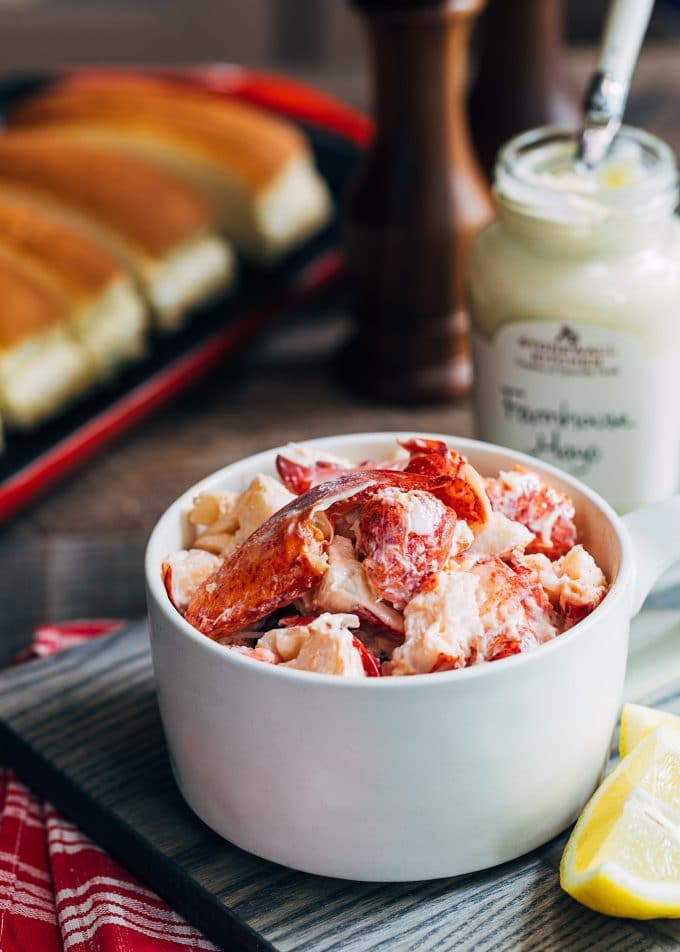 How to Make a Classic Maine Lobster Roll
New England lobster rolls, whether Connecticut or Maine-style, are all about the lobster. They're made with very few ingredients and let the sweet, delicate lobster itself be the star of the show.
I make Maine lobster rolls with fresh lobsters that are about 1-1/2 to 1-3/4 pounds in weight. This will yield about 1 pound of lobster meat total for 4 lobster rolls.
How to Cook Live Lobsters
For lobster rolls, I like to stick to two classic cooking techniques: boiling or steaming.
Boiling typically allows you to cook more lobsters at once. It's convenient if you're entertaining a crowd. The meat is also easier to clean from the shells.
Steaming yields a more tender and flavorful meat since the lobsters aren't submerged in the boiling water. It's also more difficult to overcook lobsters when steaming.
There has been a lot of debate about whether lobsters can feel pain. For a humane cooking process, I sedate/desensitize the lobsters before boiling by freezing them for 15 to 30 minutes, or dispatch them with a sharp knife before steaming. For more information and dispatching instructions, see How to Humanely Kill a Lobster for Cooking from The Spruce Eats.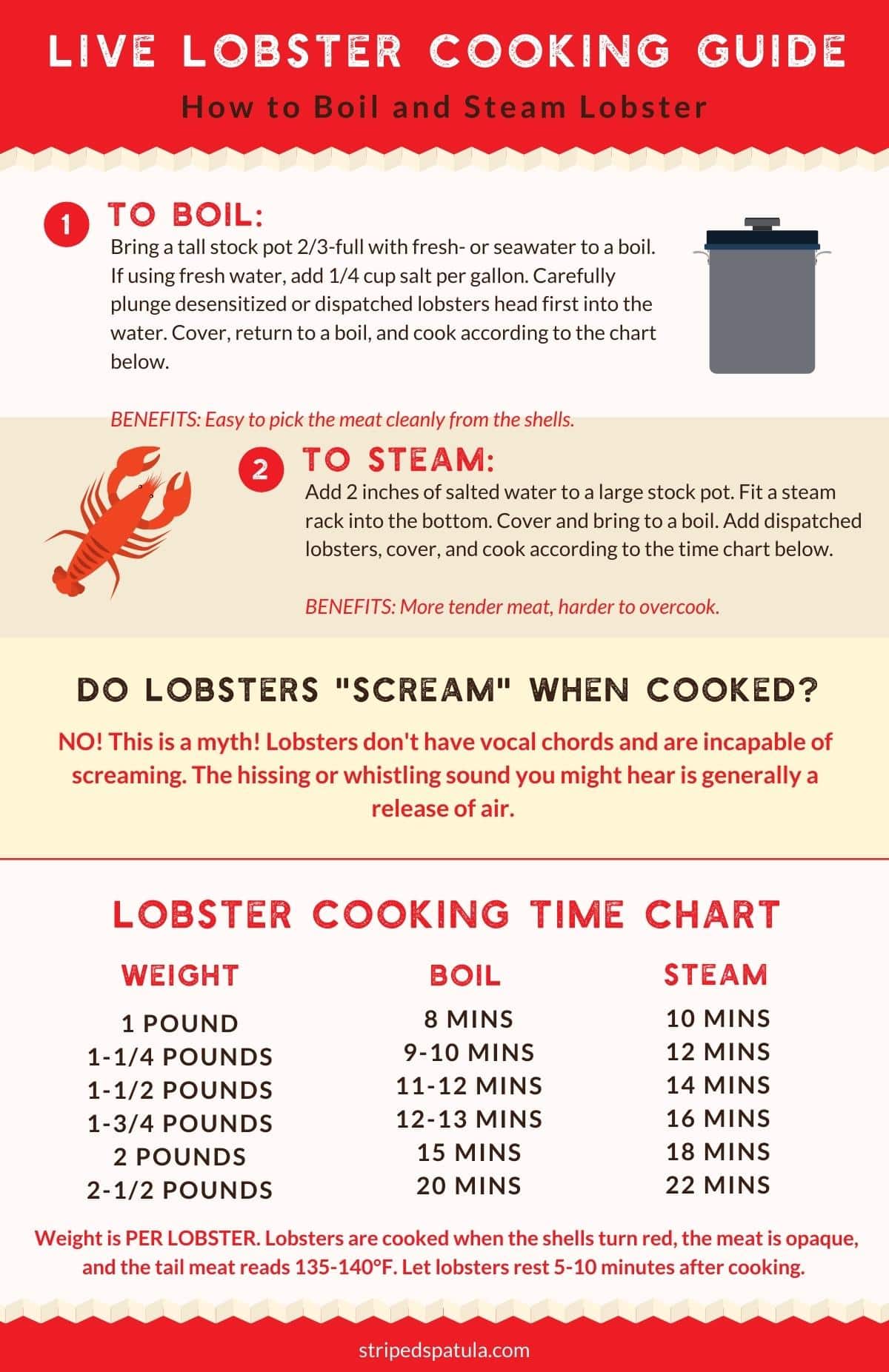 For more information about cooking techniques and tips, check out Cooking Lobsters By LobsterAnywhere.
I've cooked the lobster meat! What's next?
Once you've removed the tail and claw meat from the shells, cut it into large-ish chunks. If I've been skillful enough to remove the claws in one piece, I like to leave them as is, to lay across the top of each lobster roll. It makes an impressive presentation.
For Maine lobster rolls, gently toss the lobster meat with a good-quality mayonnaise. Again, the lobster is the main focus here, so you want just enough mayonnaise to bind the lobster salad, but not so much that it weighs it down.
Since some mayonnaise brands are more tart than others, I like to taste the lobster salad and add just a small squeeze of lemon juice if it needs a little brightening.
Beyond mayonnaise, every other addition to a Maine lobster roll is subject to debate.
Some classic recipes call for adding chopped celery to the lobster salad, for a bit of crunch. I prefer my lobster rolls without it.
Adding lettuce to the bun before mounding the lobster salad can also be a hot topic. I like a small leaf or two of Boston lettuce, but not too much. I'm not a fan of lobster rolls that skimp on the lobster and appear falsely plump from lettuce. The horror!
Add-ins that are delicious with lobster, but do not appear in a classic Maine lobster roll include capers, Dijon mustard, tarragon, scallions, avocado, bacon…and just about any other ingredient outside of those mentioned above.
Lobster. Mayonnaise. Buttered/Griddled Hot Dog Bun. Maybe a touch of celery and/or lettuce. For Maine lobster roll purists, that's all!

Tell me More About the New England Hot Dog Buns
Split-top hotdog buns are the traditional choice for Maine Lobster Rolls. If you can find the New England-style buns that also have flat sides for toasting, your at-home experience will be all the more authentic.
The flat sides of New England hotdog buns toast especially well on the griddle, creating a buttery, crispy exterior and soft middle.
While my grocery store in New Jersey sells split-top hotdog buns, it can be difficult to find them with flat sides here. I brought a package home with me from New England, but you can also find them online.
Or, if you enjoy bread baking, you can make them yourself at home with a New England Hot Dog Bun pan.
Fun read: In Praise of the New England Hot Dog Bun, from New England Today.

What to Serve with New England Lobster Rolls
Just like when I'm oceanside, I love to serve these Maine Lobster Rolls with lightly-seasoned French fries or kettle chips and coleslaw. I've also seen them served with a dill pickle, but honestly, I usually dive in for the fries or chips with a lobster roll first!
Lobster Rolls are great served with iced tea or a cold beer. My favorite pairings are witbiers and witbier-style brews, such as Allagash White (also from Maine) and Hoegaarden White. I also like saison with lobster rolls.
You want something crisp that isn't going to overpower the flavor of the lobster. Remember: for a classic lobster roll experience, the lobster is king!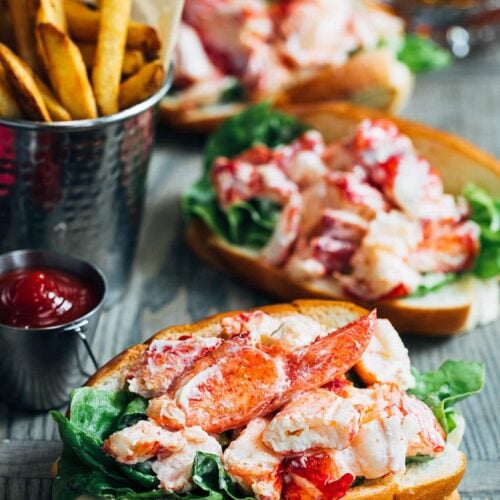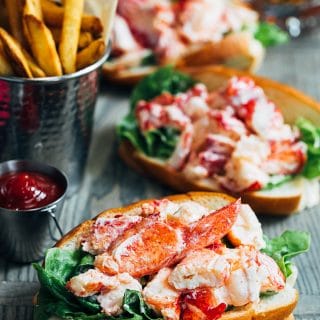 Maine Lobster Rolls
Simple lobster salad meets buttery, griddled buns in these classic Maine Lobster Rolls. A taste of a New England summer at home!
Print
Pin
Rate
Save
Saved!
Course:
Lunch, Main Course
Servings:
4
lobster rolls
Estimated Calories Per Serving:
328
kcal
Ingredients
Two

1-1/2 to 1-3/4 pound

lobsters

, boiled or steamed

3-4

tablespoons

good mayonnaise

1/4

cup

finely chopped celery

(optional, for those who like a little "crunch")

freshly-squeezed lemon juice

(optional)

sea salt and freshly-ground black pepper

4

leaves

lettuce

(optional, I use Boston)

4

top-split, flat-sided hotdog buns

("New England" style)

2

tablespoons

unsalted butter

, softened
Instructions
Remove tail, knuckle, and claw meat from the lobsters and cut into 1/2-inch chunks. You should have about 1 pound of lobster meat. Refrigerate until chilled.

Drain lobster meat, discarding any liquid. Gently toss lobster with 3 tablespoons mayonnaise and celery (if using). The lobster should be coated, but not weighed down by the mayonnaise. Add an additional tablespoon of mayonnaise, if needed.

Taste the lobster salad. Some brands of mayo have more tang than others. If the salad needs more brightness, add a squeeze of fresh lemon juice. Season to taste with salt (if needed) and pepper.

Cover the lobster salad and refrigerate for 30 minutes, or up to 6-8 hours.

When ready to serve, preheat a griddle over medium heat. Butter the sides of the hotdog buns and grill 1-2 minutes on each side, until toasted.

Place a leaf of lettuce (if using) into each griddled hotdog bun and mound each with 1/4 of the lobster salad. Serve immediately with french fries, kettle chips, coleslaw, and dill pickles, if desired.
---
Notes
To Cook Live Lobsters
For step-by-step instructions, see the Lobster Cooking Guide infographic in the blog post above.
To save time, you can also ask your seafood market or the seafood counter at your grocery store to steam the lobsters for you. Some will even remove the meat from the shells.
Nutrition Estimate
Calories:
328
kcal
|
Carbohydrates:
21
g
|
Protein:
23
g
|
Fat:
15
g
|
Saturated Fat:
5
g
|
Cholesterol:
163
mg
|
Sodium:
764
mg
|
Potassium:
297
mg
|
Sugar:
3
g
|
Vitamin A:
205
IU
|
Vitamin C:
0.6
mg
|
Calcium:
171
mg
|
Iron:
1.7
mg
---
About our Recipes:
Please note that our recipes have been developed using the US Customary measurement system and have not been tested for high altitude/elevation cooking and baking.
Keywords:
how to make a maine lobster roll, lobster roll recipe, lobster salad rolls
Have you made this recipe?
Don't forget to leave a comment and rate the recipe below! Take a picture and tag @stripedspatula and #stripedspatula on Instagram for a chance to be featured in our Insta Stories and newsletter!