This Crepe Cake, filled with Rose Water-Vanilla Diplomat cream, has been sponsored by Nielsen-Massey Fine Vanillas and Flavors. As always, all opinions expressed are my own.
The aroma of fresh roses is one that instantly evokes feelings of romance, elegance, and femininity. Did you know that you can cook with floral flavors? Widely used in Persian recipes and popping up with increasing prominence in an array of cuisines, Rose Water is a unique and easy way to infuse dishes with the delicate scent of rose petals.
I've partnered with Nielsen-Massey to combine two of my favorite "on-trend" culinary concepts: Crepe Cakes and Rose Water. This beautiful rose and vanilla-infused French layer cake is an elegant dessert that makes a show-stopping presentation. It has "I love you" written all over it!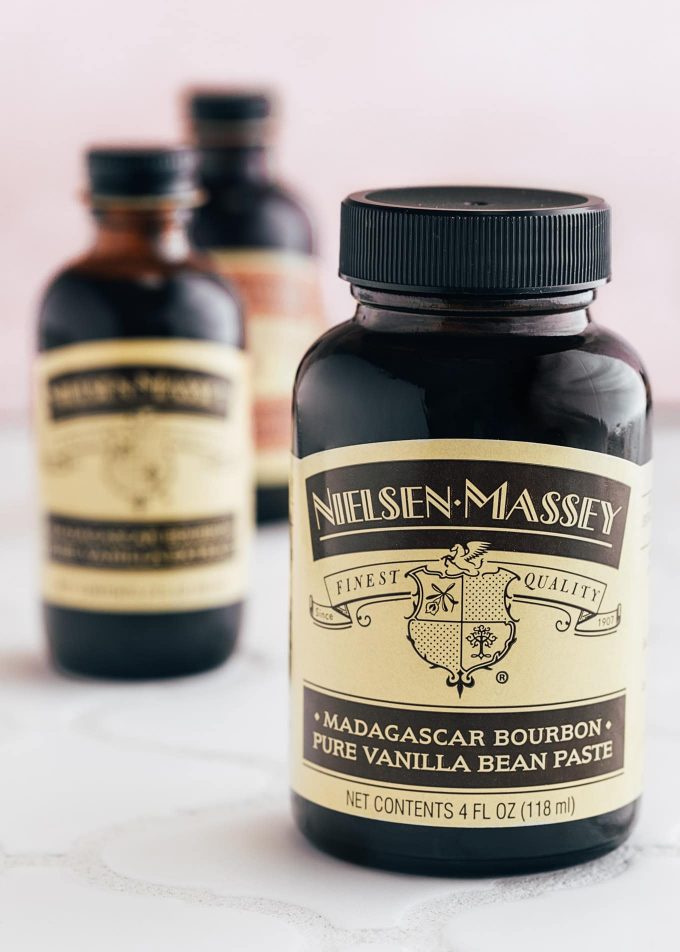 About Nielsen-Massey Vanillas and Flavors
I first discovered Nielsen-Massey about 15 years ago. I'd been watching one of my favorite cooking programs, when the chef picked up a bottle of vanilla extract that looked quite different from the brand I'd always stocked in my pantry. I was intrigued!
A little bit of Googling led me to Nielsen-Massey's Madagascar Bourbon Pure Vanilla Extract. When I purchased my first bottle, I loved everything about it; the elegance of the label, the sweet aroma of the vanilla, and the warm, rounded flavor it added to my recipes. I've used Nielsen-Massey's extracts and flavors exclusively in my kitchen ever since.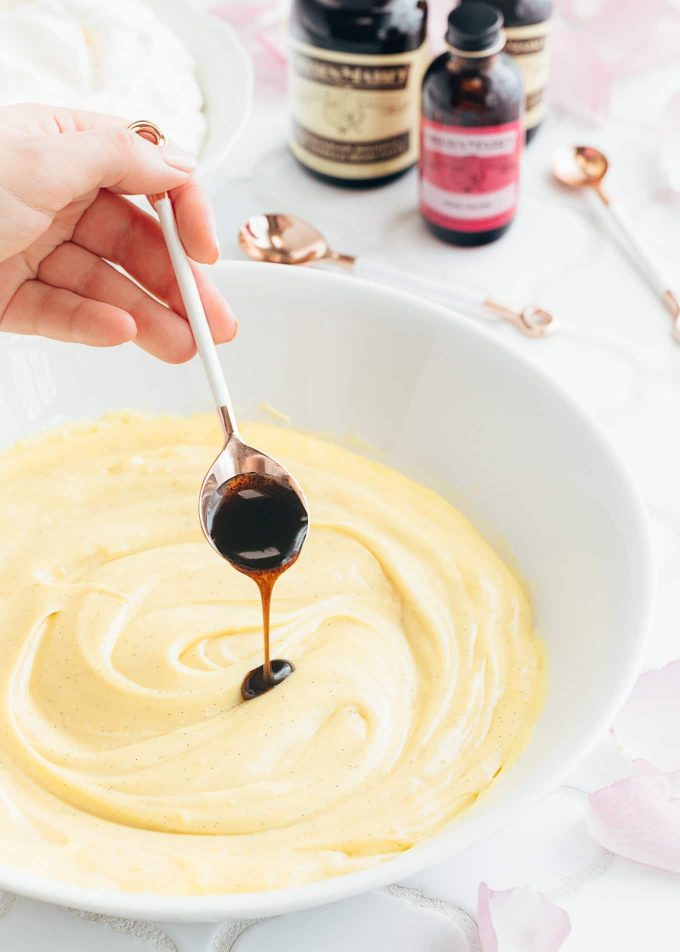 Nielsen-Massey is a family-owned company with exacting standards and an unparalleled commitment to quality. All of their products are all-natural, GMO-free, certified gluten-free, Kosher certified, and allergen free, made with premium ingredients sourced from around the world. Their production philosophy centers on preserving ingredients' natural flavors and aromas to produce the purest, best-tasting extracts.
Nielsen-Massey's product line includes five different varieties of vanilla, ranging from all-purpose to exotics, as well as whole vanilla beans, pastes, powders, and sugars. In addition to their vanillas, Nielsen-Massey produces eight premium flavors and extracts. My favorites are their Orange and Pure Almond extracts (the latter made with bitter almond oil derived from stone fruit pits), and the Rose Water that I used in today's crepe cake.
What is Rose Water?
Rose Water is made through a steam distillation process of rose petals. Its sweet, fragrant floral essence is wonderful with fruit, pastries, and even mild cheeses. I absolutely love Rose Water paired with anything creamy, such as Chantilly cream, custard, and rice pudding.
Nielsen-Massey's Rose Water is lusciously fragrant, and you only need a small amount to infuse your recipes. It's also a fantastic addition to a chic bar cart. Try adding a few drops to your favorite cocktails for a unique sip!
How to Make Crepe Cake
Crepe Cake ("Gâteau Mille Crêpes") is a French layer cake composed of crepes and cream. While its name translates to "a thousand crepes," there aren't quite that many layers in a crepe cake. (Imagine what a staggering cake that would be!)
You can make a Mille Crepe with as many layers as you dare, but most include about 20 crepes. (Have you made a tall crepe cake? Let me know how high you've gone!) Each crepe is spread with pastry cream, whipped cream, or a combination of the two known as Diplomat cream.
For this recipe, I used Nielsen-Massey's Madagascar Bourbon Vanilla Extract to make a batch of lightly-sweetened crepes. For the filling, I made a Rose Water and Vanilla Bean pastry cream (using Nielsen-Massey's rose water and vanilla bean paste), and lightened it with pillowy whipped cream.
Topped with Rose Water-Vanilla flavored whipped cream, fresh raspberries, pistachios, and sugared rose petals, this beautiful cake would be perfect for celebrating Valentine's Day, Mother's Day, or adorning any spring dessert table.
For more recipe inspiration and to learn more about Nielsen-Massey's premium extracts and flavors, follow them on social media (Facebook, Twitter, Instagram), or visit their website at www.nielsenmassey.com.
📖 Recipe