Take your soup and salad game to the next level with a batch of Buttery Garlic Croutons! Homemade croutons are easy to make and a great way to bring new life to day-old bread.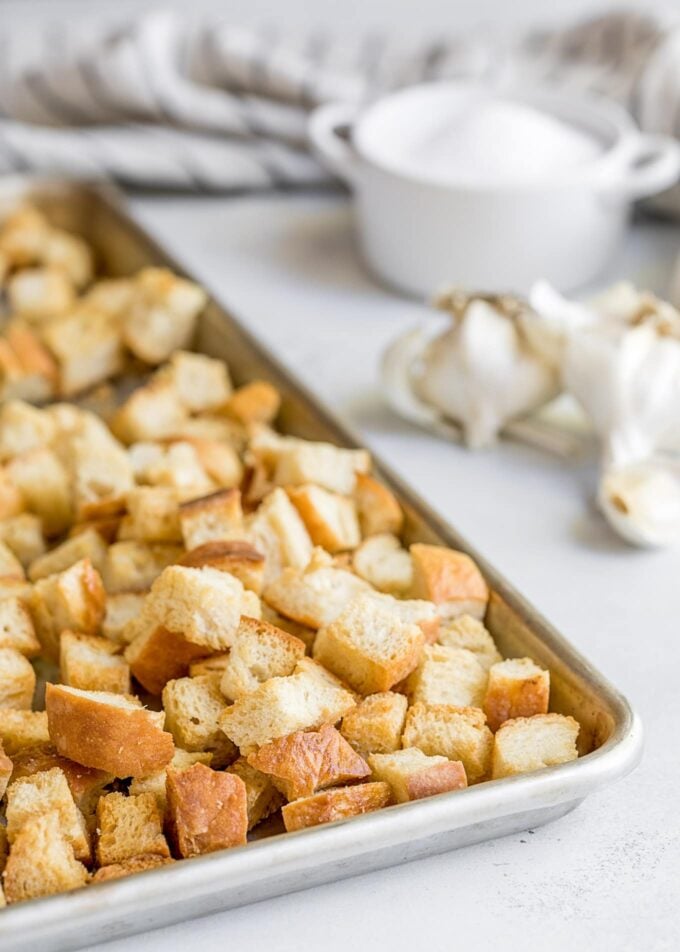 Over the years, there have been a few staple items I used to buy at the store that I have since preferred to make myself at home. Fresh salad dressings are a big one in this category (especially blue cheese), as are garlic croutons.
Store bought croutons get the job done in soup or on a salad, but homemade croutons are simply a whole other world.
These Buttery Garlic Croutons are made from cubes of French bread, tossed and toasted with garlic butter, olive oil, and a touch of salt until crisp. They're simple to prepare and a great way to use up leftover bread.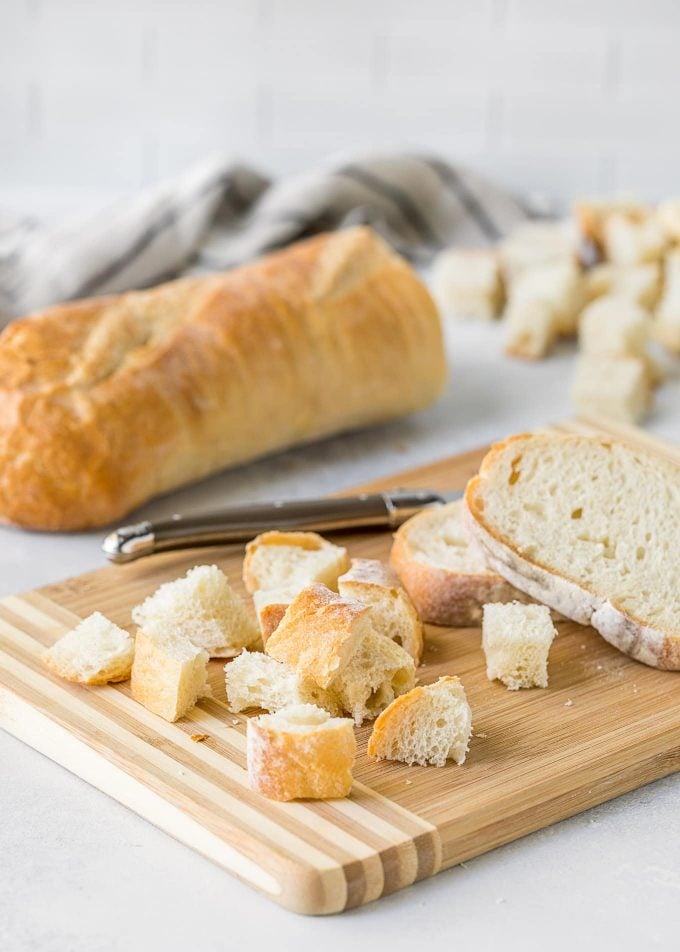 What bread should I use to make croutons?
Good news! You can make croutons out of just about any bread you have on hand. Using day-old bread is best for getting the crunchiest croutons.
Whether it's a leftover piece of artisan French bread (as I used here), a loaf of sandwich bread, or something in the whole wheat family, croutons can be on the menu. Bear in mind that different types of bread will take varied amounts of time to crisp in the oven.
If you're using a less dense bread, like white sandwich bread, start checking the croutons sooner. If you're using something heavier, like a sourdough, they might need a few extra minutes.
I like to leave the crusts on French bread for flavor and texture, but use your best judgment here. If your bread has a very thick crust that won't be appealing toasted, trim it off.
Garlic Butter = Best Butter
I'm weak for a slice of artisan bread slathered with garlic butter. Garlic croutons are the same concept really, with the added benefit of a warm, toasted flavor and crunchy texture.
For croutons that are aromatic on the garlic scale but not overpowering, I like to steep chopped garlic cloves in hot, melted butter (with a touch of olive oil) for about 20 minutes. I then strain the garlic cloves out of the infused butter.
Since croutons are baked longer than, say, a loaf of garlic bread would be, I find that pieces of garlic left in the butter can be prone to overcooking. Charred garlic tends to be bitter, and no one wants a bitter crouton!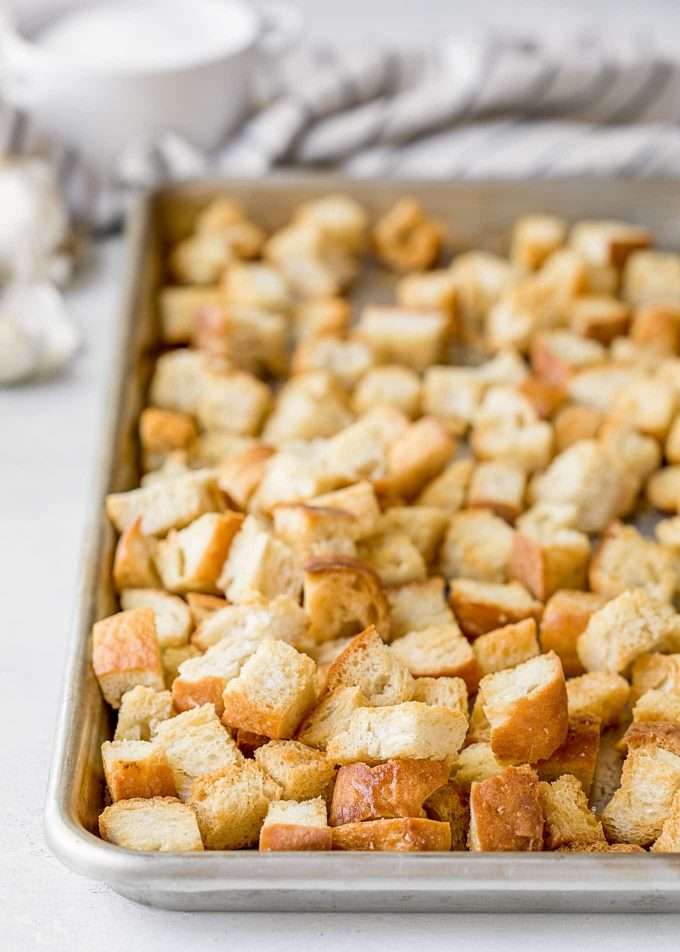 Challenge: Willpower and Warm Garlic Croutons
Homemade garlic croutons are sure to take your soup and salad game to the next level.
Especially when you serve them warm.
The only downside to making your own croutons at home is a serious test of willpower. The aroma of buttery, garlicky, toasty bread is nothing short of craving-worthy. It even woke "My Little Toby" up from his coveted afternoon nap the day I made them for this post.
If you're anything like me, plan to make a double batch, because you'll be snacking on these croutons as soon they come out of the oven.
Don't say you haven't been warned!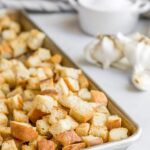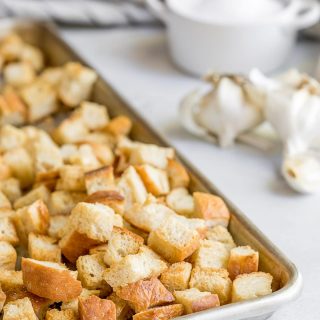 Print
Buttery Garlic Croutons
Homemade croutons are the perfect touch for enhancing your favorite soups and salads. You can use just about any bread you have on hand (the recipe is written for French), but remember that loaves of different densities may take more or less time to bake to a crunchy crouton texture.
Ingredients
1/2

loaf

French bread

(such as baguette or batard, about 8 ounces)

2

large cloves

garlic,

chopped

1

tablespoon

olive oil

3

tablespoons

unsalted butter

1/4

teaspoon

kosher salt,

plus additional for finishing (if desired)
Instructions
Melt together olive oil and butter in a small pot over medium heat. Add garlic cloves and 1/4 teaspoon salt. Simmer for 1 minute, until the garlic is fragrant, but not brown. Remove from heat and allow mixture to cool for 20 minutes.

While garlic butter is cooling, preheat oven to 350 degrees F.

Cut bread into 3/4-inch cubes, discarding any very tough crusts. You should have about 3 cups of cubes.


Strain garlic from oil/butter mixture through a mesh sieve, pressing on the garlic pieces with the back of a spoon. Discard the garlic.

Toss bread cubes on a baking sheet with garlic butter. Spread cubes into an even layer and bake for 15 minutes. Stir cubes and continue baking for 5-10 minutes, until dry and light golden brown. (Baking times may vary by loaf.)


While hot, sprinkle with kosher or sea salt if, desired. Cool to room temperature and store, covered, up to a few days.
Recipe Notes
Variations
Parmesan-Garlic Croutons: After 10 minutes of baking, toss bread cubes with 1/4 cup grated Parmigiano Reggiano and continue baking as directed.
Garlic-Herb Croutons: Before baking, sprinkle the buttered bread cubes with 1/2 teaspoon of your favorite dried herbs (I like an Italian mix for these), toss, and bake as directed. 
Have you made this recipe?
Let me know by leaving a comment and rating the recipe below! Don't forget to take a picture and tag
@stripedspatula
and
#stripedspatula
on
Instagram
for a chance to be featured in my newsletter!