Take your soup and salad game to the next level with a batch of buttery croutons! Homemade croutons are easy to make and a great way to bring new life to day-old bread. This versatile crouton recipe is adaptable to your favorite flavors and seasonings (6 ideas included in the recipe!).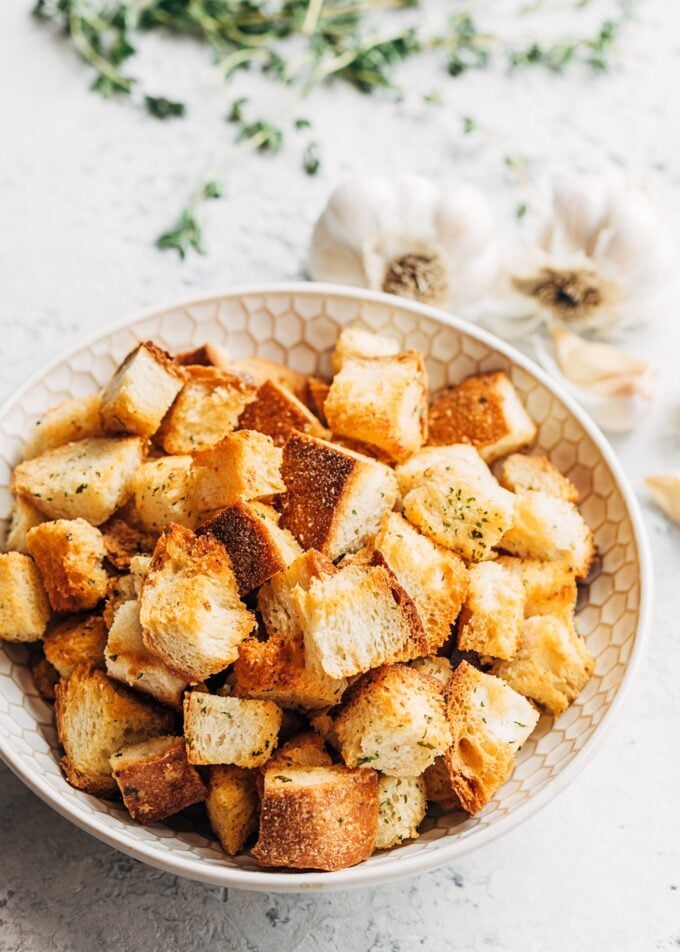 Homemade Croutons
Over the years, there have been a few staple items I used to buy at the store that I have since preferred to make myself at home. Fresh salad dressings are a big one in this category (especially blue cheese), as are homemade croutons.
Store bought croutons get the job done in soup or on a salad, but homemade croutons are simply a whole other world.
My favorite croutons are made from cubes of French bread, tossed and toasted with garlic butter, olive oil, and a touch of salt until crisp. They're simple to prepare and a great way to use up leftover bread.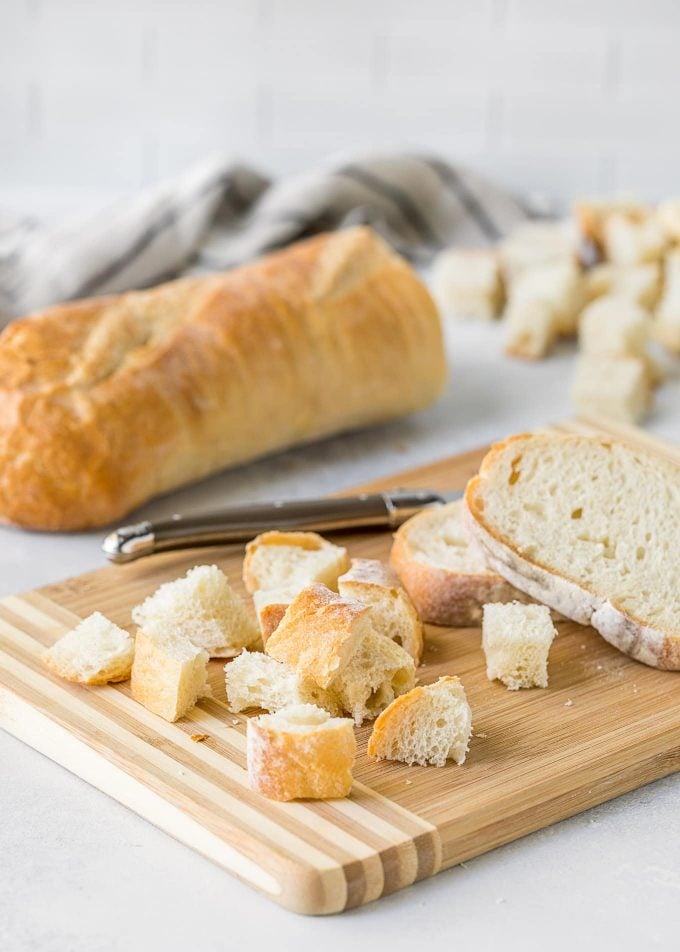 What bread should I use to make croutons?
Good news! You can make croutons out of just about any bread you have on hand. Using day-old bread is best for getting the crunchiest croutons.
Whether it's a leftover piece of artisan French bread (as I used here), a loaf of sandwich bread, or something in the whole wheat family, croutons can be on the menu. Bear in mind that different types of bread will take varied amounts of time to crisp in the oven.
If you're using a less dense bread, like white sandwich bread, start checking the croutons sooner. If you're using something heavier, like a sourdough, they might need a few extra minutes.
Should I cube or tear the bread for croutons?
The shape of your croutons is totally up to you! I vary mine based on the look I'm going for (rustic vs. more uniform) and the type of bread I'm using.
Lighter-textured breads are often easier to just tear into pieces than trying to make clean cubes. Denser breads cube quite nicely.
I like to leave the crusts on French bread for flavor and texture, but use your best judgment here. If your bread has a very thick crust that won't be appealing toasted, trim it off.
You can also slice breads about 1/4-inch thick to make a crostini-style crouton, as shown in my French Lentil Soup. These are great served with hearty soups, or with toppings for an appetizer.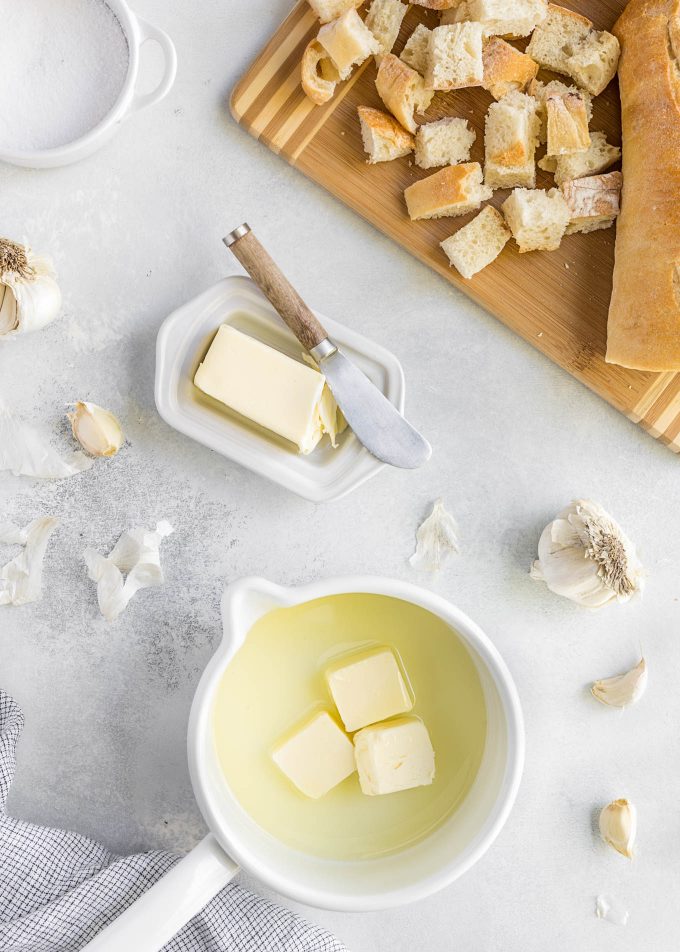 How to Make Seasoned Croutons
Plain, buttery homemade croutons, seasoned with just a bit of sea salt and cracked pepper are a delicious choice for when you need all-purpose accompaniment to your recipes. That said, you can also flavor your croutons with just about any herbs or seasonings you like.
Don't miss all of the savory and sweet seasoning variations in the recipe below!
Garlic Butter = Best Butter
I'm weak for a slice of artisan bread slathered with garlic butter. Garlic croutons are the same concept really, with the added benefit of a warm, toasted flavor and crunchy texture.
For croutons that are aromatic on the garlic scale but not overpowering, I like to steep chopped garlic cloves in the hot, melted butter (with a touch of olive oil) for about 20 minutes. I then strain the garlic cloves out of the infused butter.
Since homemade croutons are baked longer than, say, a loaf of garlic bread would be, I find that pieces of garlic left in the butter can be prone to overcooking. Charred garlic tends to be bitter, and no one wants a bitter crouton!
If time is of the essence, you can also substitute garlic powder for the fresh garlic and omit the steeping time.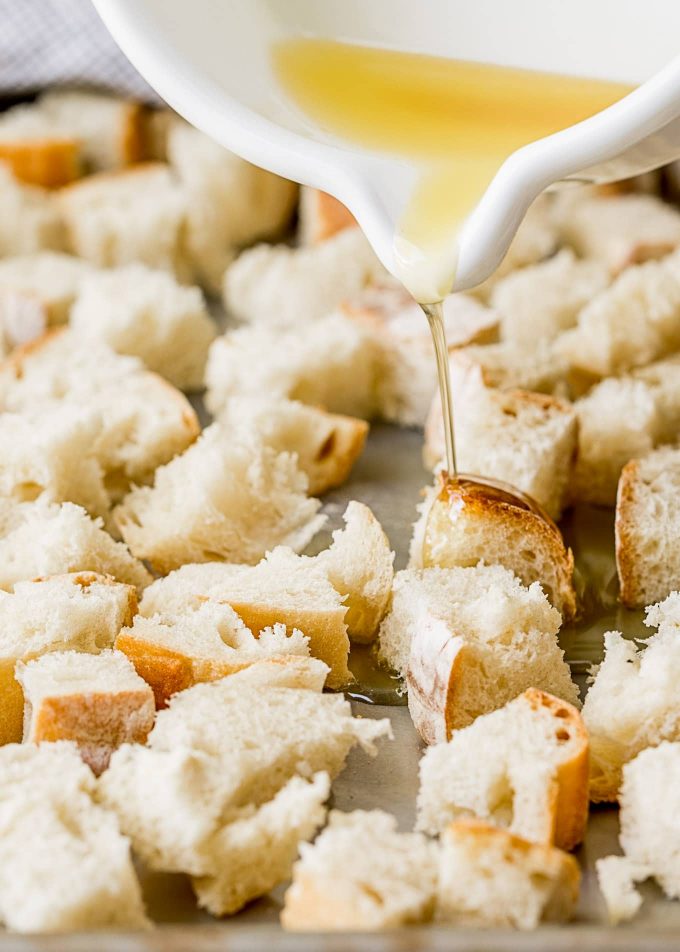 How to Store Homemade Croutons
I keep my croutons in an airtight food storage container (such as any of those shown here) or a zip-top bag for up to three days. You can store them in the refrigerator for a bit longer, but I find that doing so makes them a little less crunchy.
Homemade croutons are also freezable! I use freezer-safe storage bags to separate out different varieties I've made and keep them for up to a month. When ready to use, I spread the croutons onto a baking sheet and bake at 250-275 degrees F for about 10 minutes to defrost and re-crisp.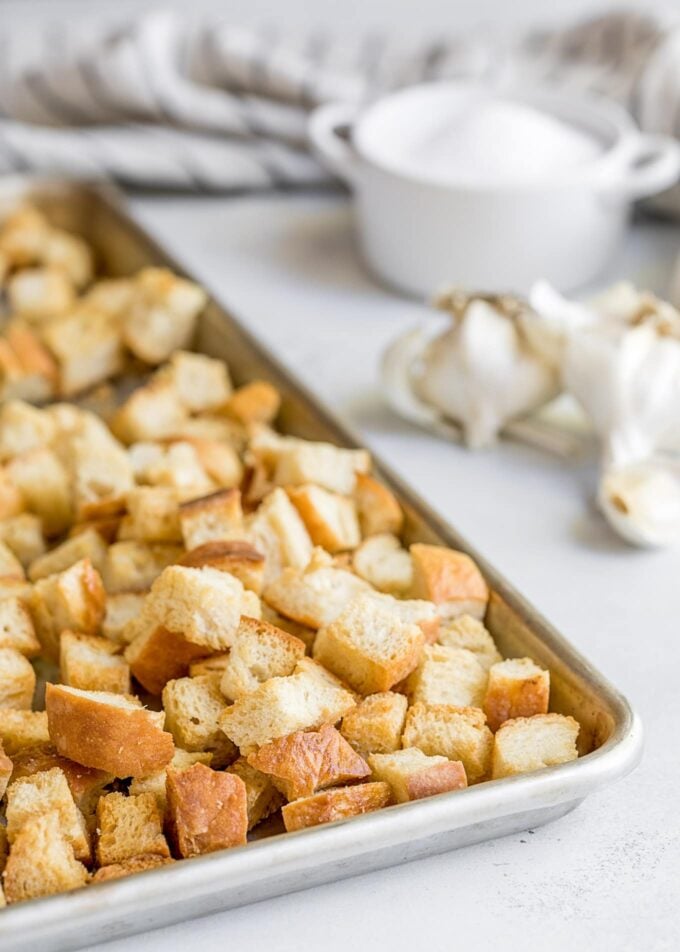 Challenge: Willpower and Warm Homemade Croutons
Homemade croutons are sure to take your soup and salad game to the next level. Especially when you serve them warm.
The only downside to making croutons at home is a serious test of willpower. The aroma of buttery, toasty bread is nothing short of craving-worthy (especially when there's garlic involved!). It even woke "My Little Toby" up from his coveted afternoon nap the day I made them for this post.
If you're anything like me, plan to make a double batch, because you'll be snacking on these croutons as soon they come out of the oven.
Don't say you haven't been warned!
Recipes to Serve with Homemade Croutons:
CRAVING MORE? Subscribe to my newsletter and join me on Facebook, Pinterest, and Instagram for the latest recipes and news.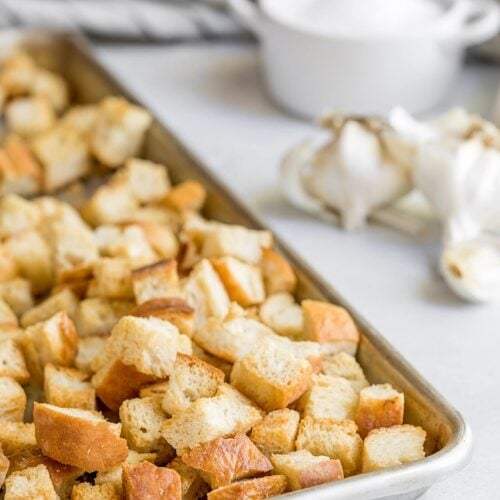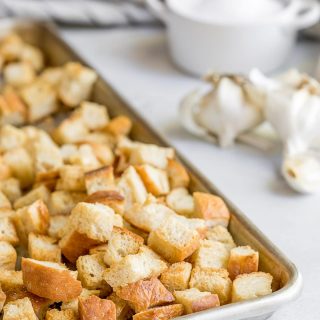 Homemade Croutons
Homemade croutons are the perfect touch for enhancing your favorite soups and salads. You can use just about any bread you have on hand (the recipe is written for French), but remember that loaves of different densities may take more or less time to bake to a crunchy crouton texture.
Print
Pin
Rate
Save
Saved!
Servings:
3
cups croutons
Estimated Calories Per Serving:
335
kcal
Ingredients
Basic Croutons
1/2

loaf

French bread

(such as baguette or batard, about 8 ounces)

1

tablespoon

olive oil

3

tablespoons

unsalted butter

1/4

teaspoon

kosher salt

, plus additional for finishing (if desired)

1/4

teaspoon

freshly-ground or cracked black pepper
Garlic Croutons
2

large cloves

garlic

, chopped
Instructions
Basic Croutons
Preheat oven to 350 degrees F.

Cut bread into 3/4-inch cubes, discarding any very tough crusts. You should have about 3 cups of cubes.


Melt together olive oil and butter in a small pot over medium heat. Add 1/4 teaspoon each kosher or sea salt and cracked black pepper.

Toss bread cubes on a baking sheet with butter mixture. Spread cubes into an even layer and bake for 15 minutes. Stir cubes and continue baking for 5-10 minutes, until dry and light golden brown. (Baking times may vary by loaf.)


While hot, sprinkle with additional kosher or sea salt and pepper, if desired. Cool to room temperature and store in an airtight container on the counter for up to 3 days, in the refrigerator for up to a week, or in the freezer for up to a month.
Garlic Croutons
Add garlic to the seasoned melted butter and olive oil mixture. Simmer for 1 minute, until the garlic is fragrant, but not brown. Remove from heat and allow mixture to cool for 20 minutes.

Strain garlic from butter/oil mixture through a mesh sieve, pressing on the garlic pieces with the back of a spoon. Discard the garlic and continue with the recipe as written.

Short on time? Alternatively, you can substitute 1/4 teaspoon garlic powder (add additional, to taste, if you like a stronger garlic flavor) instead of fresh chopped garlic. No need to steep.
---
Notes
Seasoned Crouton Variations:
Fresh Herb Croutons: I like to add a tablespoon or two of chopped fresh herbs to the warm the butter (after steeping and straining, if you're using garlic), just before I toss it with the bread cubes. Fresh thyme, basil, or dill are some of my favorites.
Dried Herb Croutons: When using dried herbs, you'll need a smaller quantity than fresh. Start by stirring 1/2 teaspoon of your favorite dried herbs into the warm butter mixture, adding additional to taste. (Quantity depends on the variety of dried herbs you're using and how fragrant they are.)
Spiced Croutons: Try adding a bit of smoked paprika, chipotle powder, or Za'atar to the melted butter mixture. Depening on the spice, start with 1/4 teaspoon and increase, to taste.
Parmesan Croutons: After your croutons have baked for about 10 minutes, sprinkle with grated parmesan cheese and continue baking until croutons are crisp and toasted.
Cinnamon-Sugar Croutons: Omit olive oil and use a full 1/4 cup of melted butter. After tossing with bread cubes, sprinkle on all sides with a mixture of 2 tablespoons granulated sugar mixed with 1 to 1-1/2 teaspoons ground cinnamon (to taste).
Nutrition Estimate
Calories:
335
kcal
|
Carbohydrates:
37
g
|
Protein:
7
g
|
Fat:
17
g
|
Saturated Fat:
8
g
|
Cholesterol:
30
mg
|
Sodium:
537
mg
|
Potassium:
85
mg
|
Fiber:
1
g
|
Sugar:
1
g
|
Vitamin A:
350
IU
|
Calcium:
33
mg
|
Iron:
2.4
mg
---
About our Recipes:
Please note that our recipes have been developed using the US Customary measurement system and have not been tested for high altitude/elevation cooking and baking.
Keywords:
how to make croutons, leftover bread recipes
Have you made this recipe?
Don't forget to leave a comment and rate the recipe below! Take a picture and tag @stripedspatula and #stripedspatula on Instagram for a chance to be featured in our Insta Stories and newsletter!
Originally published October 6, 2017. Updated with in 2018 with new tips and photos!