Split Pea Soup with Ham is a hearty and comforting soup that's perfect for making with leftover ham (and a ham bone) from a holiday dinner. No leftovers? No worries! Substitutions provided in the FAQ's.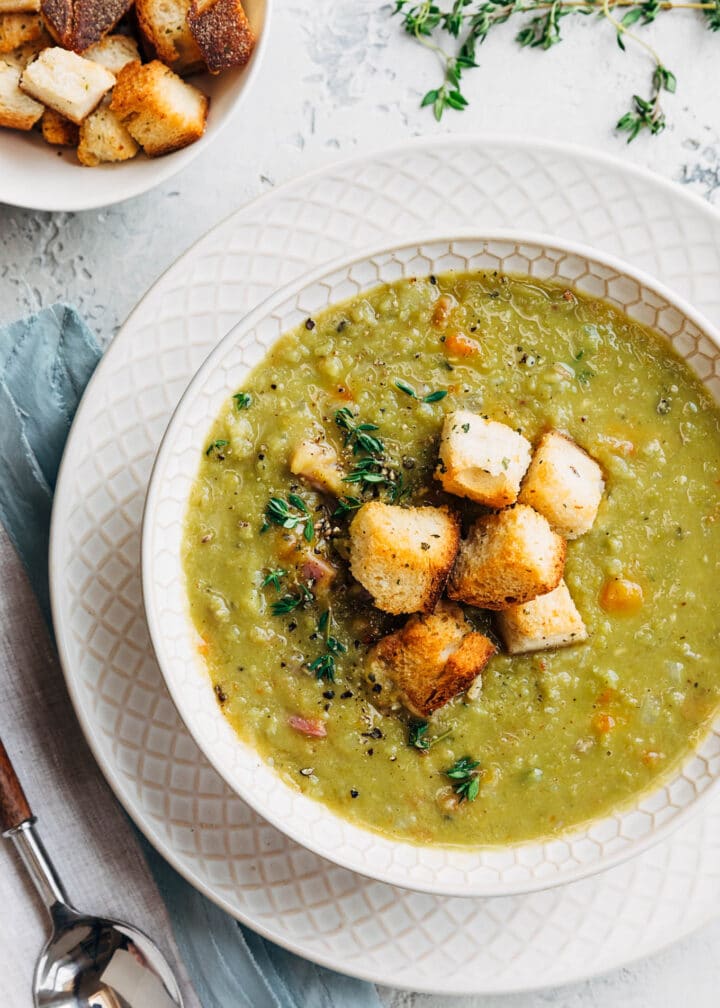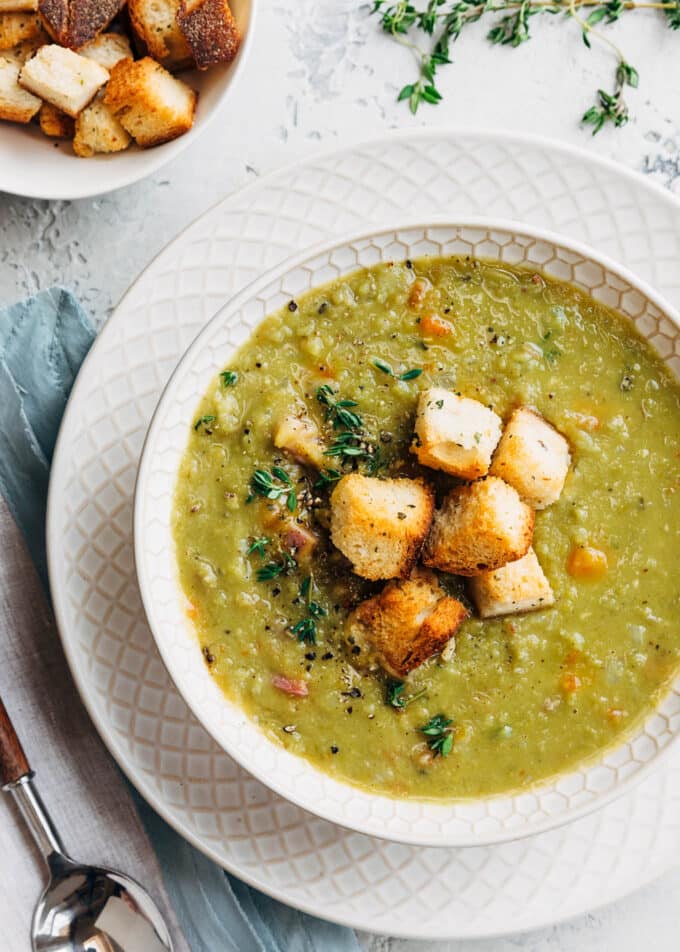 One of my favorite parts of a big holiday dinner is what I get to make the next day with the leftovers. Split Pea Soup is a tradition in my house whenever there's a ham bone in the fridge, usually when we've made my Mom's Honey Mustard Glazed Ham for Christmas or Easter.
Simmered with aromatics until thick and hearty, my family's recipe for Split Pea Soup makes a comforting bowl that's a little bit smoky, a little bit sweet, and completely satisfying.
Looking for more leftover ham recipes? Don't miss my Monte Cristo Sandwiches and Ham and Cheese Puff Pastry Slab Pie!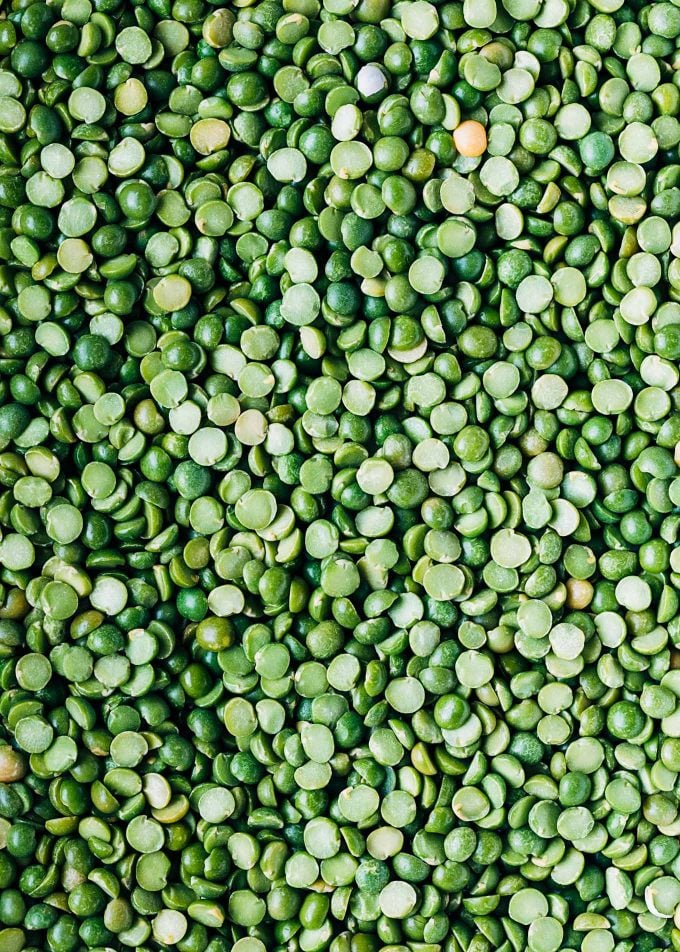 What are Split Peas?
Split peas are field peas that are dried, peeled, and split in half for cooking. They come in both yellow and green varieties. Yellow split peas tend to be the mildest in flavor, and green split peas, sweeter. You'll often see the yellow peas used in curries.
Split peas have great nutritional benefits. They're low in fat, packed with fiber and protein, and are a good source of several vitamins and minerals, including Vitamins A, B, and magnesium.
Like the lentils in my French Lentil Soup, split peas don't need to be soaked prior to cooking. They should be rinsed and sorted to remove any stones that might have gotten mixed into the bag.
Simmered with plenty of stock in a soup, they'll cook down and thicken into a textured puree (without having to use an immersion blender).
Making Split Pea Soup with Ham
Since split peas are mild in flavor, soup made with them can be a little muted. The ham does a lot to rectify that, but a base of aromatics, fresh herbs, and well-flavored stock are equally essential.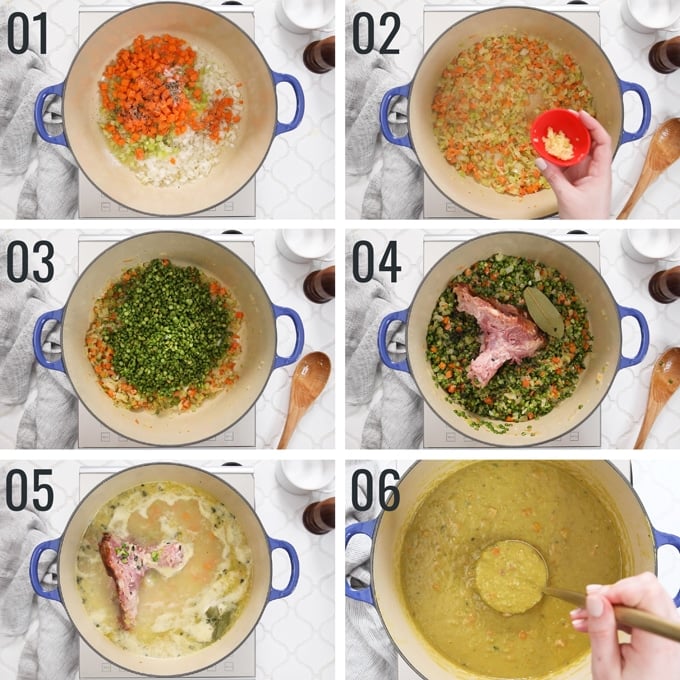 I start this soup with a mirepoix (diced onions, carrots, and celery) softened in butter. For additional flavor, my family also loves adding a couple of minced garlic cloves as well. (Photos 01 and 02)
Once the vegetables are tender and fragrant, add the peas, ham bone, dried bay leaf, and fresh thyme right into the pot. (This is a simple recipe that isn't too fussy to make–just add everything together and stir!) (Photos 03 and 04)
Tip: Ham can vary quite a bit in saltiness by brand and preparation. It's best to go light when adding salt to the recipe and adjust to taste when the soup is finished simmering.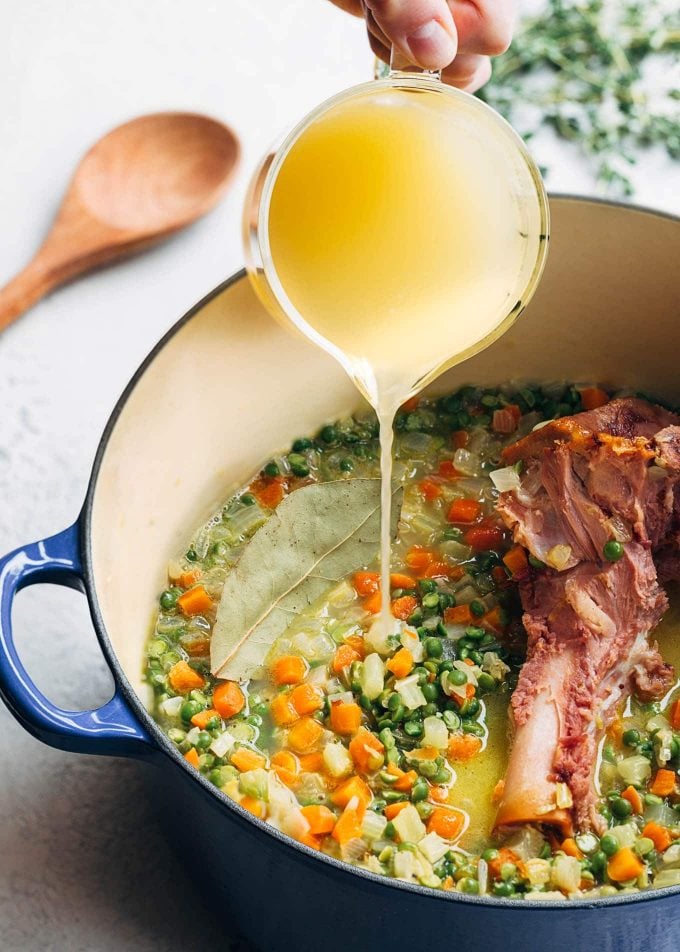 Simmering the Soup
I like to use a mixture of chicken stock and water to simmer my split pea soup. This combination ensures that the soup doesn't have an overly "chicken-y" flavor. If you prefer, you can use all stock.
The split peas will cook down over the course of about 60-90 minutes. (Photo 05) I don't puree the soup further, but you can if you prefer an ultra-smooth texture.
During the last 15 minutes of cooking, I add diced ham for a hearty texture. Adding it just before serving will warm the ham through without drawing a lot of additional salt into the soup itself.
Once the split peas are cooked, you can adjust the soup's thickness to your preferences. If you find that it's too thick, add some extra stock. For a very thick soup, simmer longer. Remember that the soup will continue to thicken as it stands.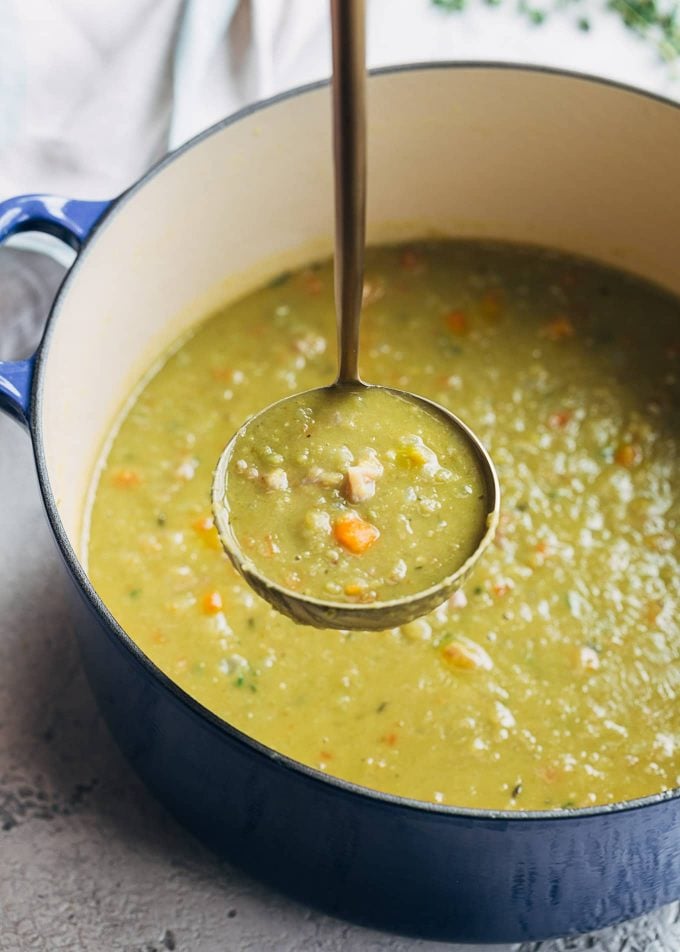 Serving Tips: Don't forget the croutons!
This soup is quite filling on its own, but my family likes to serve it with Buttery Garlic Croutons on top. The crunchy croutons are a great contrast to the creamy soup and bring even more flavor to the dish.
Without croutons, a piece of crusty artisan bread for dipping is never something I'd turn down. Finish the bowl with a little freshly-cracked black pepper and grab a spoon!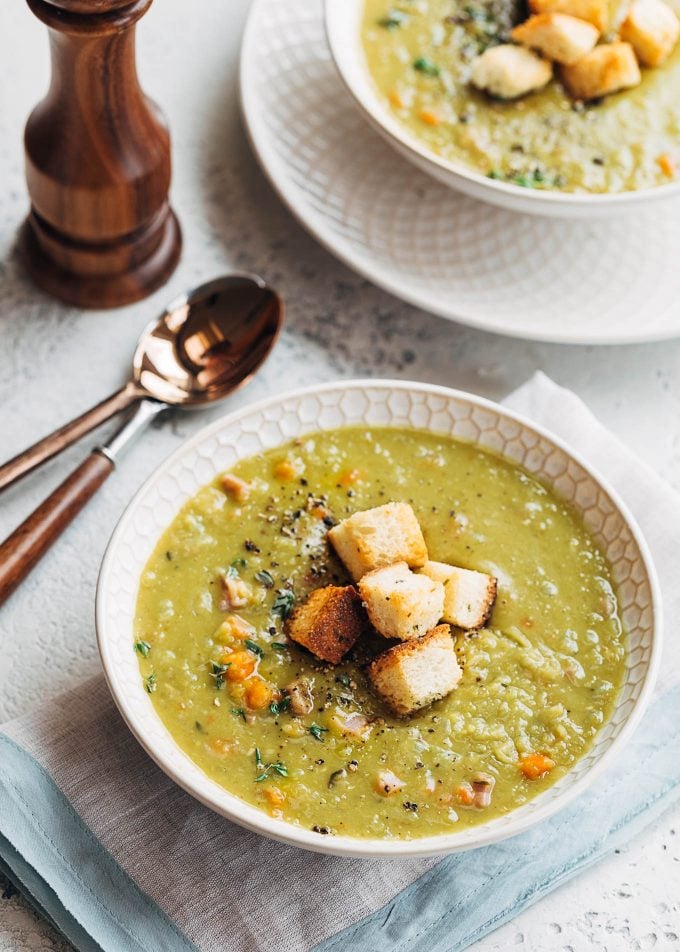 Split Pea Soup FAQ's
New: January 2020. I have been so thrilled to see how many people have made and enjoyed my family's Split Pea Soup recipe! Here are answers to a few questions that have popped up in the comments.
Q. I don't have a leftover ham bone. What can I substitute?
A. You can often buy a meaty ham bone from sources like The Honey Baked Ham Company. When I filmed the video for this recipe, I called my local store and they were able to reserve the bone for me to pick up the next day.
You can also substitute smoked ham hocks. This cut comes from the bottom of the leg, near the ankle, and adds great flavor to braises and slowly-simmered soups. When the soup is ready, just remove the meat from the bones and shred it.
Ham hocks can be a bit saltier than a ham bone, so adjust your added salt as needed.
Q. My peas won't cook! Did I need to soak them first?
A. Split peas shouldn't need soaking prior to simmering. If they aren't breaking down after 90 minutes (or even 2 hours), a few things might've happened:
You could be using split peas that are too old. Split peas don't have an indefinite shelf life. When they age and dry out too much, they take a lot longer to soften.

When you shop for them or take them out of your pantry, check the color. If the peas are very pale, chances are they've been in the bin or on the shelf for a while.

Are you at a high altitude? Split peas will take longer to simmer when higher than 2,000 feet above sea level. Read more about high altitude cooking from the US Department of Agriculture.

Split peas can be affected by acid when cooking. If you're using tap water in the recipe and it's acidic, this can also make it difficult for them to soften.
Q. Can I make split pea soup ahead? (And, how should I store the leftovers?)
A. You can make this recipe in advance and store it, tightly covered, in the refrigerator for 3 days. You may need to thin the texture with a bit of chicken stock when you reheat it. The soup also freezes well for 2-3 months.
Q. Can I add diced potatoes to the soup?
A. My family prefers this recipe without potatoes, but they can certainly be added! Peel and cut the potatoes into a ½-inch dice and add them to the pot during the last 30 minutes of cooking, until tender.
The potato starches can make the soup a bit thicker, so add additional stock or water after they've softened, to your preferred consistency.
Craving more? We'd love to welcome you to our exclusive Facebook group community where we share recipes, hosting tips, party ideas, and more!
Want a quick preview of this recipe? View our Split Pea Soup with Ham Web Story!
📖 Recipe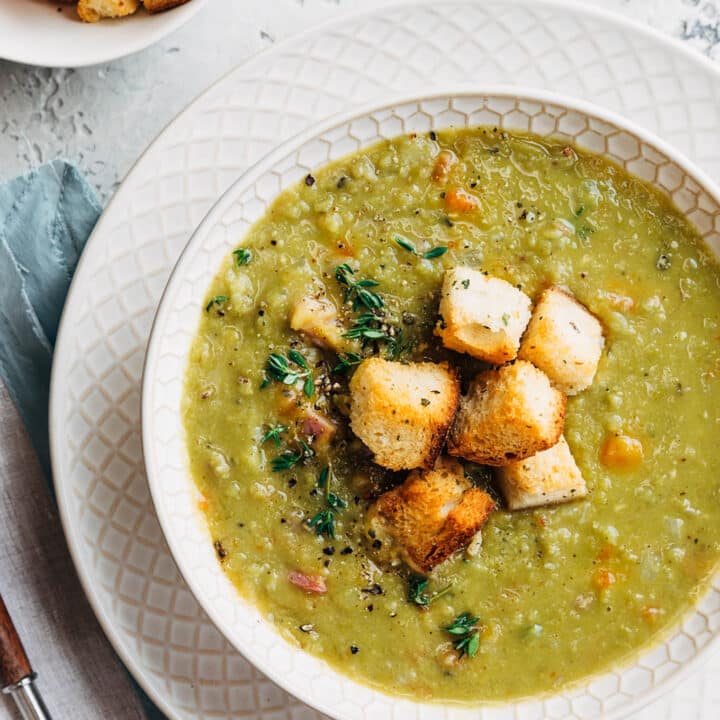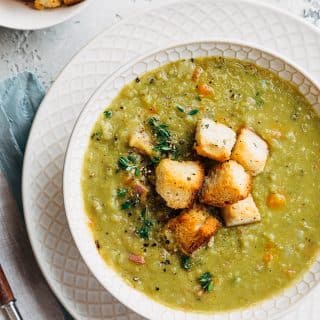 Split Pea Soup with Ham
This slowly-simmered split pea soup uses a ham bone (or ham hocks) for a rich, subtly smoky flavor. Don't forget the croutons on top!
Print
Pin
Rate
Save
Saved!
Estimated Calories:
468
kcal
Ingredients
¼

cup

unsalted butter

2

cups

chopped onion

1

cup

diced carrot

(¼-inch dice)

1

cup

diced celery

(¼-inch dice)

¼ to 1

teaspoon

kosher salt

, to taste

½

teaspoon

freshly-ground black pepper

, plus additional to taste

2

cloves

garlic

, minced

1

pound

dried split peas

, rinsed and sorted

1

meaty ham bone

1

large

bay leaf

(or 2 small)

2

teaspoons

fresh thyme leaves

, chopped and quantity divided

6

cups

chicken stock

2

cups

water

1

cup

diced ham

(¼-inch dice)

Buttery Garlic Croutons

, for serving
Instructions
In a large pot or Dutch oven, melt butter until foaming subsides. Add onion, carrot, celery, ¼ teaspoon salt and ½ teaspoon pepper. Cook until vegetables are softened, 5-8 minutes. Add garlic and cook for 1 minute, until aromatic. Stir in split peas.

Add ham bone, bay leaf, and 1 teaspoon fresh thyme. Stir in chicken stock and water. Bring to a boil, reduce heat, and simmer uncovered for 60-90 minutes, stirring occasionally, until split peas are cooked down and soup is thickened to desired consistency. (Stir more frequently as the soup begins to thicken and add a little additional stock or water if it gets too thick for your tastes.)

Add diced ham during the last 15 minutes of cooking. When ready to serve, remove and discard ham bone and bay leaf, and stir in remaining 1 teaspoon fresh thyme. Season to taste with salt, if needed. Serve hot with croutons and cracked black pepper.
---
Notes
*Salt content can vary significantly across brands of ham. This is why I recommend seasoning the soup to taste after it's finished simmering. If you taste your ham before cooking and it's particularly salty, you might want to omit the ¼ teaspoon salt when sweating the vegetables.
Ham Bone Substitution:
*If you don't have a leftover ham bone, two smoked ham hocks can be substituted (1-½ pounds). They are saltier than a ham bone, so reduce the added salt in your soup accordingly. When you remove the ham hocks from the pot, shred the meat off of the bones and return it to the pot before serving. Discard the bones.
Make-ahead:
The soup can be stored, tightly-covered, in the refrigerator for 3 days, or frozen for 2-3 months. When reheating (to 160 degrees F), add additional stock to thin the soup, if needed.
Have a question about this recipe? Check out the
FAQ's
above, or leave a comment below. We'll do our best to help!
Nutrition Estimate
Calories:
468
kcal
|
Carbohydrates:
62
g
|
Protein:
29
g
|
Fat:
12
g
|
Saturated Fat:
5
g
|
Cholesterol:
37
mg
|
Sodium:
1025
mg
|
Potassium:
1183
mg
|
Fiber:
21
g
|
Sugar:
13
g
|
Vitamin A:
4030
IU
|
Vitamin C:
8.9
mg
|
Calcium:
84
mg
|
Iron:
4.4
mg
Keyword:
leftover ham recipe, split pea soup recipe
---
About our Recipes:
Please note that our recipes have been developed using the US Customary measurement system and have not been tested for high altitude/elevation cooking and baking.
Have you made this recipe?
Don't forget to leave a comment and rate the recipe below! Take a picture? Tag @stripedspatula and #stripedspatula on Instagram!