Strawberry Balsamic Salsa is a sweet, tangy, refreshing summer fruit salsa that's perfect for utilizing your farmer's market haul of berries and herbs!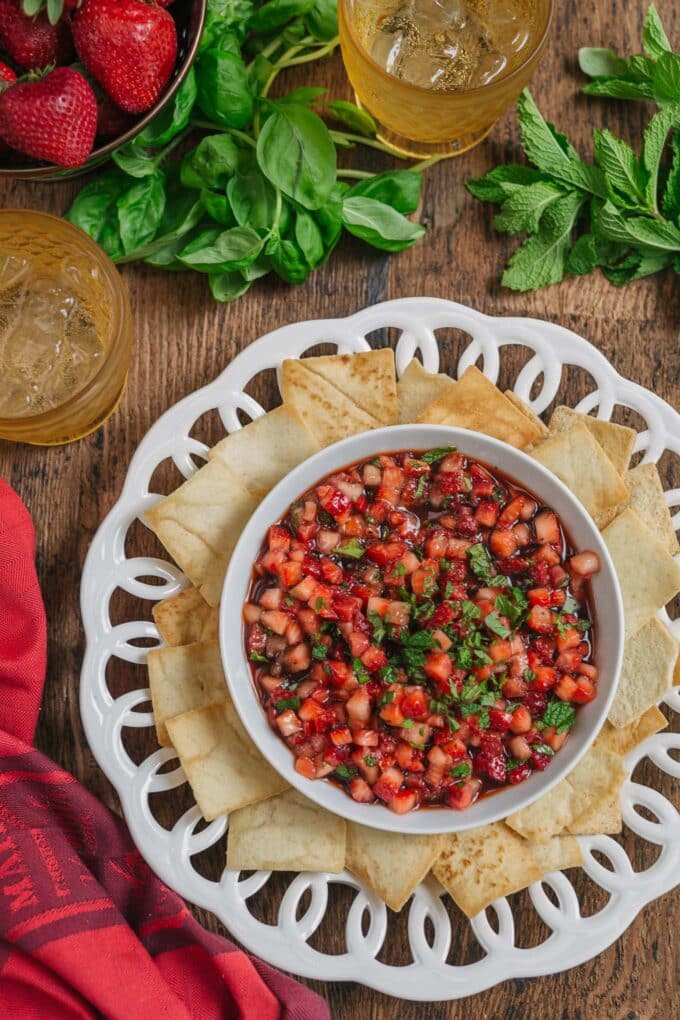 I've become such a fan of fresh fruit salsas the past few years. Don't get me wrong: I love a good bowl of traditional garden salsa, or a tangy salsa verde. But, sweet, ripe summer fruits make incredible salsas that are perfect for dipping and using in a multitude of recipes from breakfast to dessert.
One of my favorite fruit salsa recipes is this Strawberry Balsamic Salsa. I combine juicy diced berries with a splash of balsamic vinegar, brown sugar, cracked black pepper, and fresh herbs. The berries macerate in the sugar and vinegar and produce a rich, sweet-tangy elixir. It's a refreshing combination of savory and sweet on a hot summer day.
Making Strawberry Balsamic Salsa – Quick and Easy!
This recipe doesn't take long to make and is perfect for busy summer schedules. It's best served shortly after it's made, as the berries will continue to release their juices the longer the salsa sits.
For best results, you'll want to find the sweetest summer strawberries available. If you end up with a basket that's more to the tart side, you can always add additional brown sugar, to taste, to balance out the flavors.
Bear in mind that balsamic vinegar introduces another layer of tang to the salsa, so if you're starting with especially tart berries, you'll want to reduce the vinegar slightly and/or add more sugar. Play around with the proportions to find the balance that works best for your particular strawberry haul.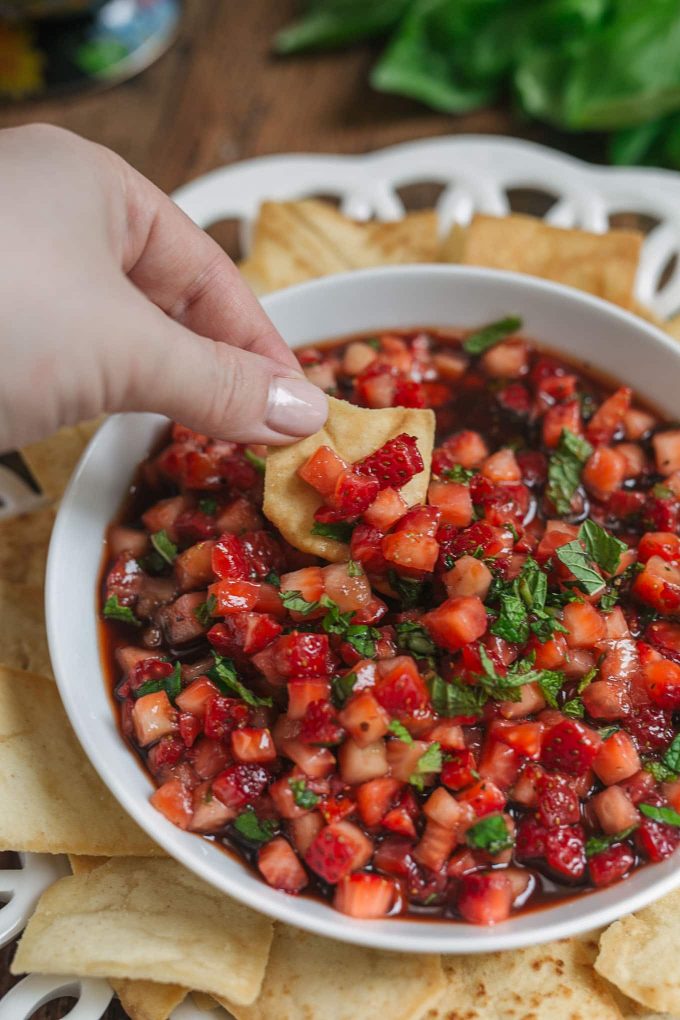 Serve it up!
The uses for Strawberry Balsamic Salsa are pretty much endless. It's great on waffles, in lunch wraps, and even on top of ice cream. But, when serving this recipe, I most often turn to what I've come to call the "4-C's" of Strawberry Balsamic Salsa: Chips, Chicken, Crostini, and (Short)Cake.
Chips: Lightly-salted or cinnamon-sugar pita chips are great for dipping.
Chicken: Use the salsa to top grilled chicken breasts.
Crostini: Spread toasted baguette slices with mascarpone cheese (sweetened with honey, if desired), and top with dollops of the strawberry balsamic salsa.
(Short)Cake: Fill layers of buttermilk biscuits with lightly-sweetened whipped cream and spoonfuls of strawberry salsa.
But, wait, there's a video!
I've started making recipe videos (hello, learning curve!), and put together one for this recipe. If you enjoy the video, I'd love for you to like and share it with your friends on Facebook. (Click HERE for the sharable Facebook post.) Your support is what makes Striped Spatula a success, and I'm so grateful for it.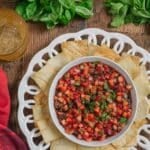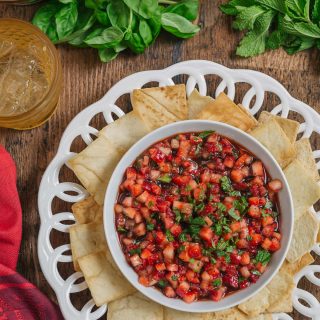 Print
Strawberry Balsamic Salsa
The amount of brown sugar you use in this fresh strawberry salsa will depend on how sweet your berries are. I've had to go up to 3 tablespoons of sugar when I've gotten tart berries. Taste your strawberries before preparing the salsa and adjust as needed.
Ingredients
1

pound

strawberries

, trimmed and cut into 1/4-inch dice

1

tablespoon

balsamic vinegar

1-3

tablespoons

light brown sugar

, depending on how sweet your berries are

1/4

teaspoon

cracked black pepper

, plus additional, to taste

2

tablespoons

chopped fresh basil

1

tablespoon

chopped fresh mint
Instructions
Stir together strawberries, balsamic vinegar, light brown sugar, and black pepper. Let stand 15 minutes. Stir in basil and mint. Season to taste with additional black pepper. Serve!
Serving ideas
Dip with your favorite crackers or pita chips.

Top grilled chicken, steak, or fish.

Make crostini: spread slices of toasted baguette with mascarpone cheese and top with a dollop of strawberry balsamic salsa. If desired, sweeten mascarpone with a bit of honey (stir in about 1 tablespoon to a cup of cheese, to taste).

Make shortcakes: Layer lightly-sweetened whipped cream and strawberry balsamic salsa onto your favorite biscuits!
Have you made this recipe?
Let me know by leaving a comment and rating the recipe below! Don't forget to take a picture and tag
@stripedspatula
and
#stripedspatula
on
Instagram
for a chance to be featured in my newsletter!