When you're craving a protein-packed, meatless dish with lots of bright, fresh flavors, this Lentil Tabbouleh Salad has it all! This riff on traditional bulgur tabbouleh is easy to make and great for a healthy lunch, mezze board, or side dish.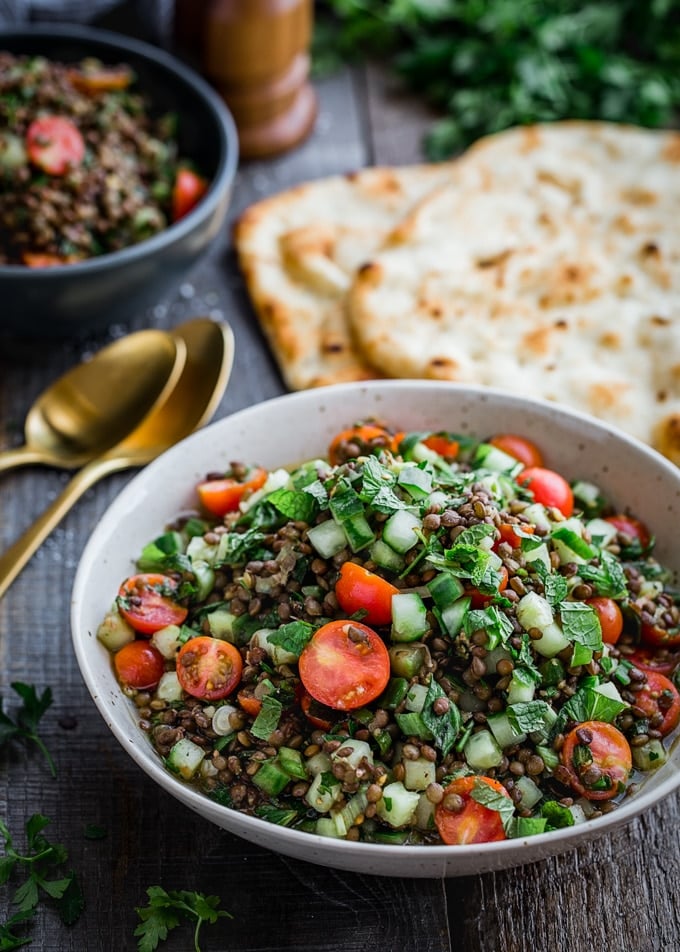 Life fact: when I'm knee-deep in testing recipes, I'll sometimes use things up in my pantry unexpectedly and forget to replace them. Of course, I don't realize anything's missing until I'm craving something else that uses the ingredient. (And, that's usually when I'm some combination of tired, hungry, and in no mood to head to the store!)
That's how I first made this Lentil Tabbouleh Salad. I'd been working all afternoon, felt like tabbouleh for a light dinner, and forgot that I'd used up my bulgur in a soup recipe. Rifling through my pantry, I found my favorite Puy lentils and figured, "Lentil salad it is!"
Since then, I've probably made this Lentil Tabbouleh just as often as the traditional recipe. It's healthy, satisfying, and hearty enough to be lunch on its own.
In fact, it became such a favorite that when my friends at The Digest magazine asked me for a light recipe to print in their January/Februrary 2018 issue, this is the one I chose. And, now, it's on the blog!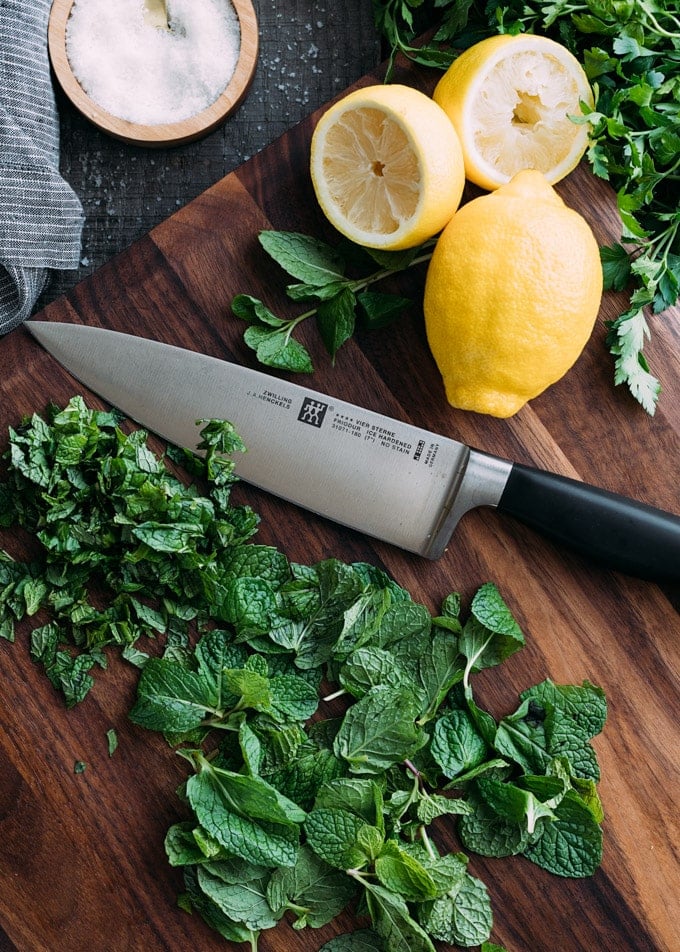 What is Tabbouleh and How is it Served?
Tabbouleh (you'll also see it spelled "tabouli" or "tabbouli") is a vegetarian Lebanese bulgur salad. It's tossed with chopped or diced tomatoes, scallions (or spring onions), lots of finely-chopped fresh mint and parsley, garlic (omitted in some recipes), lemon juice, and olive oil.
The flavors are bright, fresh, and light. Tabbouleh is often served with other small dishes as a part of a mezze (appetizers). It's also delicious as a side dish, especially for grilled fare.
If you're serving this lentil version as a mezze, it would be great with my Roasted Red Pepper Hummus or Eggplant Caponata!
Since lentils are more substantial than bulgur, I also like to serve my lentil tabbouleh on its own for lunch, with a wedge of warm pita or naan on the side. It's a great healthy lunch that you can pack up and take with you on the go!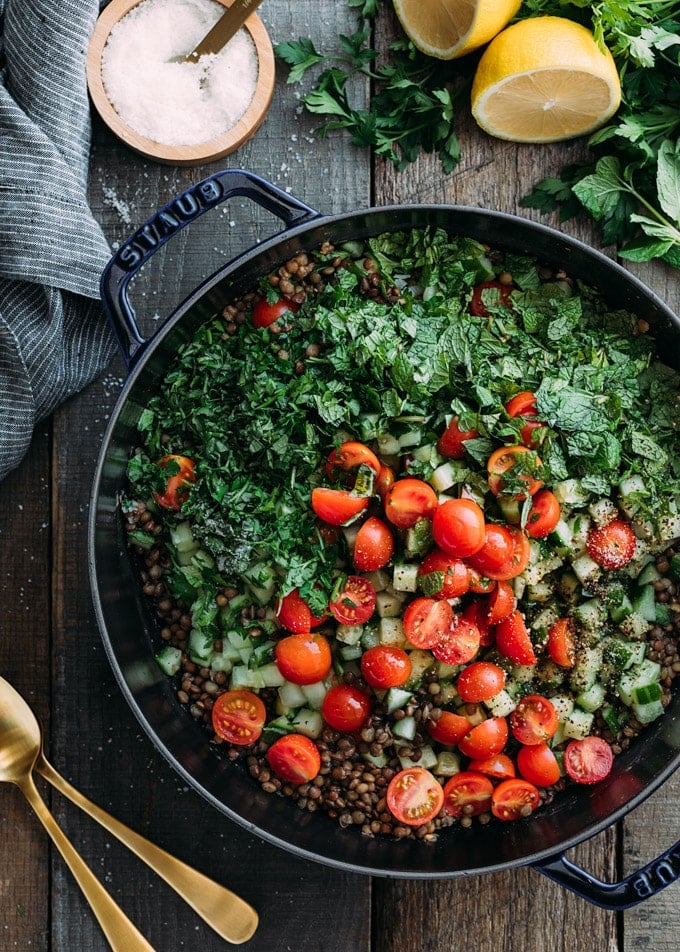 What You'll Need to Make Lentil Tabbouleh Salad
Dried lentils, cooked until tender (preferably the French "Puy" variety, more on this below)
Cherry or Grape Tomatoes, which you'll cut in half. Use all red, or go for assorted colors to give the salad great visual appeal!
Diced English Cucumber (adds some crunch – no need to peel)
Fresh Parsley and Mint (and plenty of it)
Thinly-sliced Scallions
Fresh Lemon Juice and Zest
Garlic
Olive Oil
Salt and Pepper
Time commitment: About 20 minutes of prep and 25 minutes of cooking (mostly hands off, for the lentils to simmer). You can serve the salad right after assembly, or let it rest for an hour or two for the flavors to meld (see: Can I Make This Salad Ahead?)
Lentil Varieties to Use (And Which to Avoid)
I love this salad made with French "Lentilles du Puy." This specialty variety retains more of a bite when cooked than other lentils, so they won't fall apart when you toss the salad. They also have an earthy flavor that complements the fresh herbs and tomatoes in this recipe well.
Puy lentils are a product of protected origin in France, so it's important to look for the AOC or AOP stamp on the box to ensure that what you're getting is authentic.
Read more about Puy lentils in my article for French Lentil Soup, where I talk about what makes them distinctive and how to cook them.
If you're unable to source Puy lentils, look next for "green lentils" or "French green lentils" (which won't have the AOC/AOP designation) at the grocery store. If they're also unavailable, you can substitute brown or beluga lentils.
Lentils to avoid: I don't recommend making this recipe with "split" red or yellow lentils, which are much softer and will lose their shape as you assemble the salad.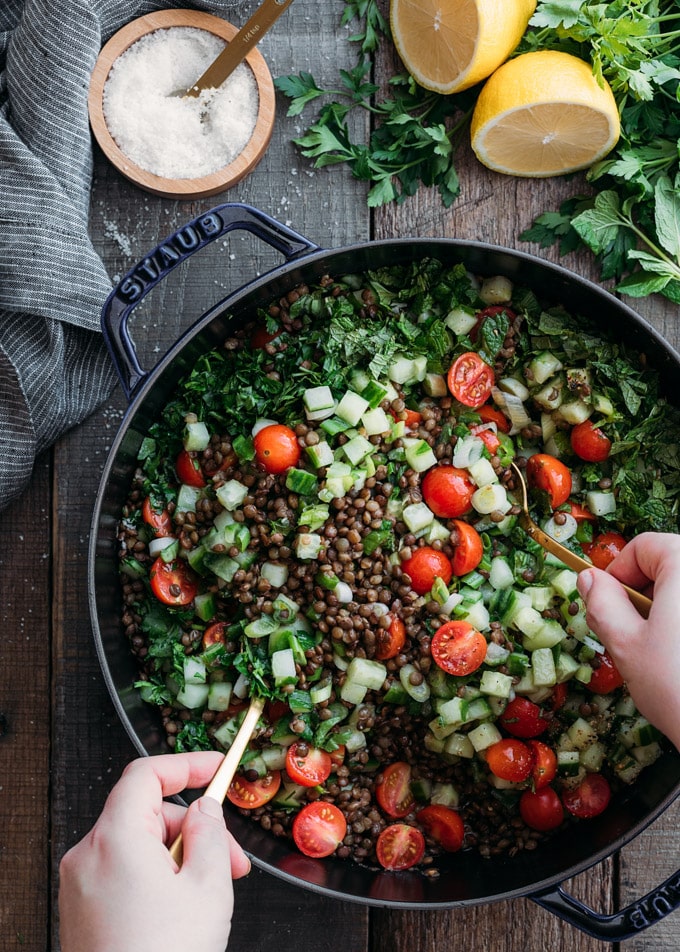 Can I Make Lentil Tabbouleh Ahead?
Yes and no. The chopped fresh herbs will naturally wilt when you toss them with the vinaigrette and the cucumbers will start to lose their crunch with time. Since there's such a hearty proportion of herbs in tabbouleh (1-1/2 cups in this recipe), wilting will be obvious if you assemble the salad too far in advance.
That said, I do find that the flavor of this tabbouleh-style salad improves if the lentils marinate in the vinaigrette for a bit. So, I often toss everything together without the herbs, and let the salad sit for 30 minutes to an hour. Then, right before serving, I chop the fresh herbs, stir them in, and give the salad a taste for final seasoning.
Packing this salad for lunch on the go? Hold back the herbs and stir them into the dressed lentil salad shortly before you're ready to eat.
It's generally best to chop fresh herbs as close as possible to when you're using them (they'll lose flavor and look a bit blackened on the edges the longer they sit). That said, if you chop the mint and parsley in the morning, place them in an airtight container, and keep them chilled, they'll be fine to mingle with your tabbouleh come lunchtime.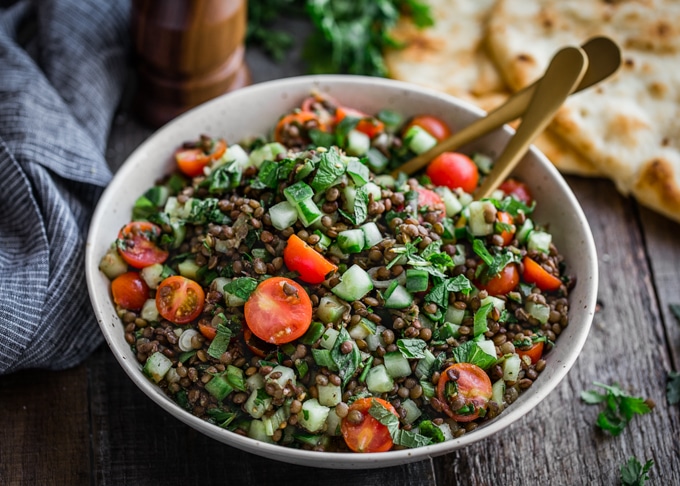 What about leftovers?
For the reasons above, next-day tabbouleh-style salad won't have the same vibrance as fresh, but you can store any leftovers in an airtight container and refrigerate overnight.
I like to let the salad sit out for 15-20 minutes before eating to take off the chill. If the tomatoes and cucumbers have thrown a lot of water, drain some of this off before serving. Give the salad a gentle stir to redistribute any vinaigrette at the bottom of the bowl.
Leftovers tip: A fresh squeeze of lemon juice, a drizzle of olive oil, and some extra chopped herbs on top will help perk up the flavors for next-day salad.
More Salad Recipes:
---
CRAVING MORE? Subscribe to my newsletter and join me on Facebook, Pinterest, and Instagram for the latest recipes and news.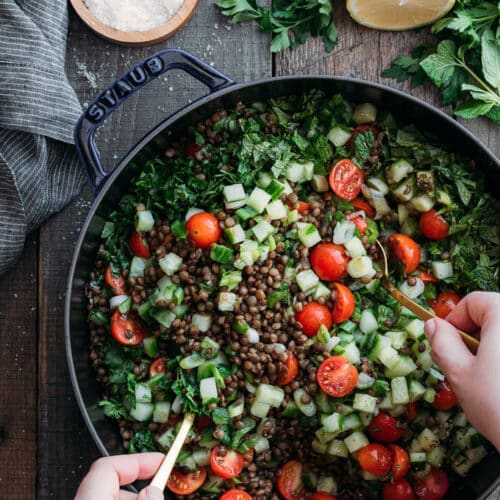 Lentil Tabbouleh Salad
This lentil salad combines the bright, fresh flavors of Tabbouleh with tender, protein-packed lentils. It's wonderful served with a warm wedge of flatbread for a light lunch, with a mezze platter, or as a side dish.
Print
Pin
Rate
Save
Saved!
Course:
Lunch, Salad, Side Dish
Servings:
6
to 8 servings
Estimated Calories Per Serving:
106
kcal
Ingredients
1

cup

dried French green lentils*

1

bay leaf

1/4

cup

fresh lemon juice

1/4

cup

extra virgin olive oil

1

tablespoon

finely-grated lemon zest

1

cup

halved cherry tomatoes

1

English cucumber

, cut into 1/4 inch dice

1

cup

thinly-sliced scallions

3/4

cup

chopped fresh mint leaves

3/4

cup

chopped flat leaf parsley

kosher salt and freshly-ground black pepper
Instructions
Place lentils in a colander and sort through them to remove any stones. Rinse lentils and place in a pot with enough water to cover by 2-inches. Add a pinch of salt and the bay leaf. Bring to a boil. Reduce heat and simmer, uncovered, until lentils are tender, about 25 minutes. Drain, discarding cooking liquid and bay leaf. Cool lentils to room temperature.

In a large bowl, whisk together lemon juice and zest, olive oil, 1 teaspoon kosher salt, and 1/2 teaspoon black pepper. Add cooked lentils, cherry tomatoes, cucumber, scallions, mint, and parsley. Toss to combine. Season to taste with additional salt and pepper.

The salad can be enjoyed right away, but you can also let the flavors develop for an hour or two in the refrigerator. If making ahead, withhold the mint and parsley and stir in just before serving.
---
Notes
*For the best texture and flavor, I love to use tiny green French lentilles du Puy in this salad. Many markets have started carrying this variety, but if you're unable to find them, read about substitutions here.
Lentils should be cooked until tender, but not falling apart. Adjust cooking time as recommended on the package for the variety you're using.
Nutrition Estimate
Calories:
106
kcal
|
Carbohydrates:
6
g
|
Protein:
1
g
|
Fat:
9
g
|
Saturated Fat:
1
g
|
Sodium:
13
mg
|
Potassium:
258
mg
|
Fiber:
2
g
|
Sugar:
2
g
|
Vitamin A:
1211
IU
|
Vitamin C:
27
mg
|
Calcium:
47
mg
|
Iron:
1
mg
---
About our Recipes:
Please note that our recipes have been developed using the US Customary measurement system and have not been tested for high altitude/elevation cooking and baking.
Keywords:
french lentils, lentil salad, lentil tabbouleh
Have you made this recipe?
Don't forget to leave a comment and rate the recipe below! Take a picture and tag @stripedspatula and #stripedspatula on Instagram for a chance to be featured in our Insta Stories and newsletter!