My grandmother's Heirloom Tomato Salad is a light and simple way to savor some of the best summer flavors. Don't forget the bread to dip into the sweet-tangy tomato juices!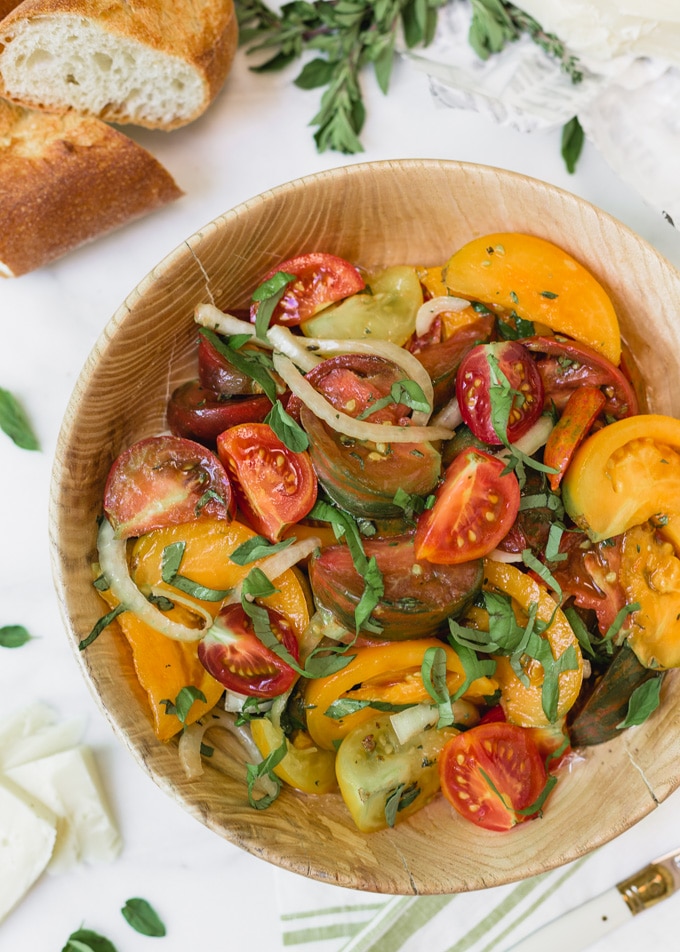 There hasn't been a summer of my adult life when I haven't waxed poetic about tomatoes. Is there anything in the world like biting into a warm, sweet, juicy tomato, plucked fresh from the vine? It's one of nature's finest gifts.
As I mentioned a few years ago, I have many fond memories of the tomatoes my grandfather grew when I was a child. It simply wasn't summer until dinner included a bowl of my grandmother's salad, made with the tomatoes Grandpa had grown in his garden.
Josephine ("Nanny") taught me that beautiful summer produce doesn't need many "extras" to enjoy it to its fullest. Her salad is a simple one, combining wedged tomatoes with extra-virgin olive oil, thinly-sliced Vidalia onions, fresh herbs, and salt.
It's a recipe that defines summer in my heart and on my palate, reminding me of warm evenings spent on my grandparents' patio, and the abundance of love that was shared around their table.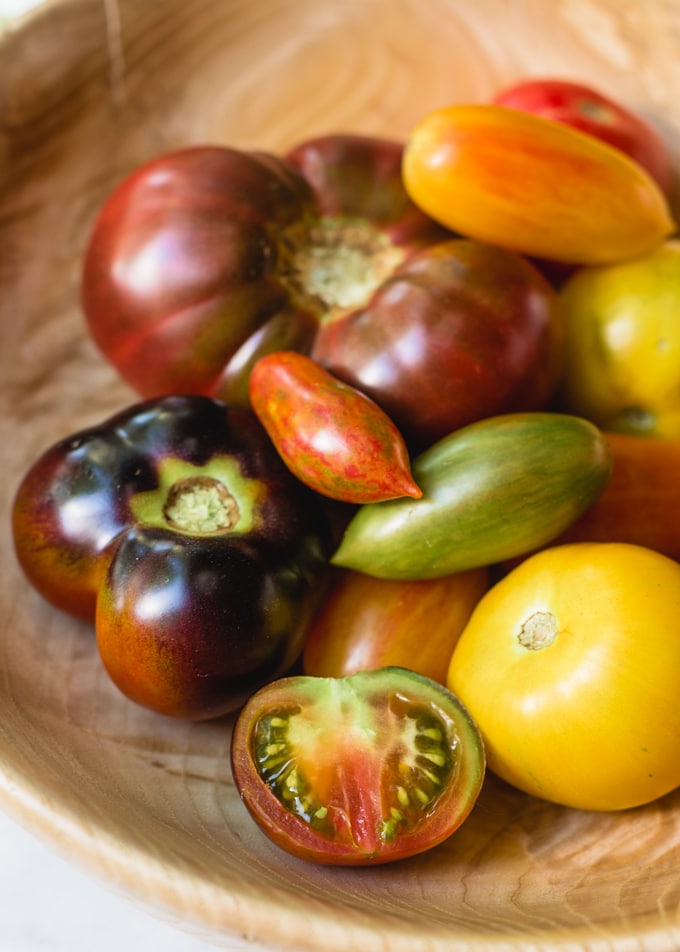 Making Heirloom Tomato Salad
This is probably one of the easiest salads you'll make this summer! We make it at least once or twice a week.
Start by wedging your tomatoes. I usually cut about 8 wedges for a medium to large tomato. (If you prefer tomato chunks, cut the wedges in half crosswise, but you don't want to make them so small that they break down too much.) Smaller tomatoes can be quartered or halved.
Then, just gently toss the tomatoes with thinly-sliced onion (we like Vidalia), fresh herbs, olive oil, salt, and pepper, and let it all marinate for 15 minutes.
The salt helps draws out some of the juices from the tomatoes, which will pool in the bottom of the bowl. When they mingle with the herbs and oil, these juices utterly delicious–liquid gold!
We don't add vinegar to our heirloom tomato salad. Most of the time, the tomatoes have enough acidity on their own. Like Nanny taught me, less is more when it comes to flavorful heirloom tomatoes!
If you find that your tomatoes need a little lift on the tartness scale, add a splash of wine vinegar, to taste.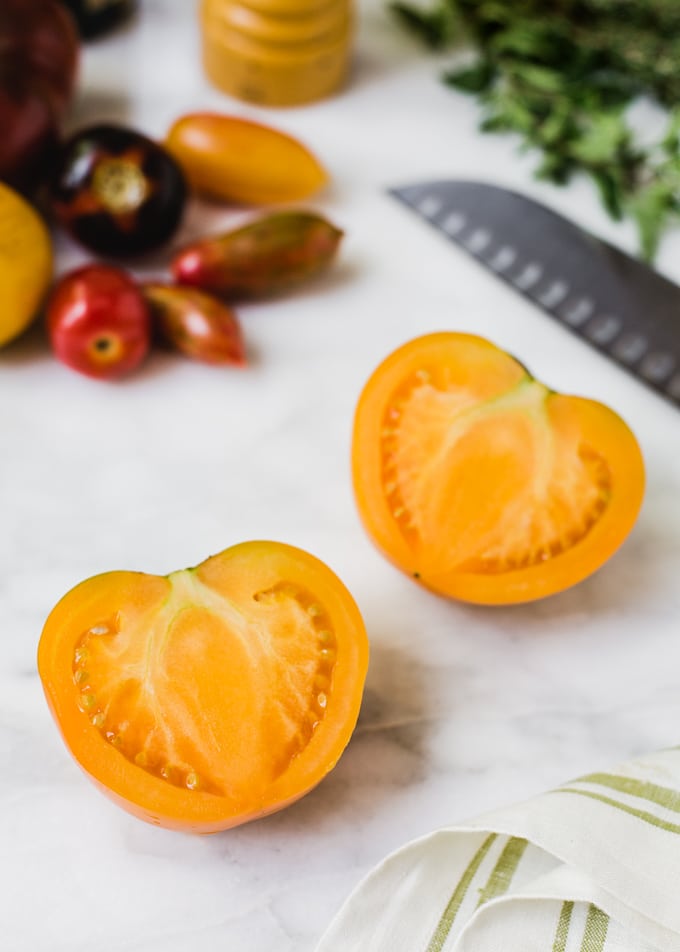 What Tomato Varieties Should I Use?
With so many unique heirloom cultivars available to grow or buy at farm markets today, it's easier than ever to create an artful tomato salad with a vibrant mix of colors, flavors, and textures.
Want to brush up on your heirloom tomato varieties? I love this guide from Dorothy Stainbrook.
We love to make this salad with meaty Brandywine tomatoes, Cherokee Purple, and assorted cocktail varieties. The salad photographed in this post also used a few Lemon Boy and Amana Orange tomatoes from my neighbor's garden.
Since each heirloom brings a little something different to the salad with acidity, sweetness, and sometimes even smoky or citrus notes, it's fun to play around with different mixes. Honestly, I just buy what looks most inviting the day I'm at the farm!
Don't have access to heirloom tomatoes? You can also make this salad with beefsteak and cherry or grape tomatoes from the regular grocery store. The salad won't be as complex in flavor as when using heirlooms, but if the tomatoes are juicy and sweet, they'll make a fine salad.
For any tomatoes you choose, they should be ripe, but not overripe. Tomatoes that are too soft and juicy can become mushy when they're tossed with the salt and oil.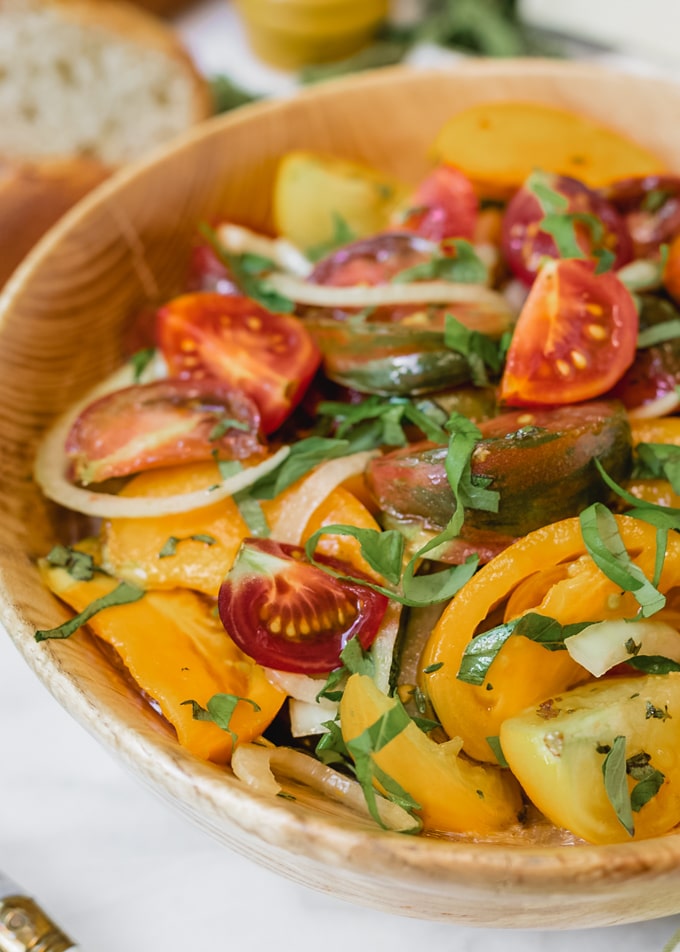 Serving Tomato Salad
A wedge of crusty artisan bread is an absolute "must" for serving this salad in my house! We love to dip it into those flavorful, pooled tomato juices I mentioned earlier. for dipping into those pooled tomato juices I mentioned earlier. Heavenly.
We love to serve heirloom tomato salad alongside grilled meats and seafood, but I often eat it on its own, with a few slices of piquant, imported provolone or a round of burrata. Paired with cheese, tomato salad is perfect for a light lunch that is as beautiful to look at as it is to eat.
(Speaking of natural beauty, how stunning is this maple bowl? It's a one-of-a-kind piece that my neighbor made himself in his free time. Yes, you read that correctly! The wood grain is gorgeous, especially when you see it in person.)
Can I Make This Salad Ahead to Serve Tomorrow?
Honestly, this recipe isn't prime for hanging out in the fridge. As the salad sits, the tomatoes will continue to release their juices and will start to lose their shape and texture.
For the best results, it's best to serve this salad no more than 30 minutes to an hour after assembly. It's just enough time for (most) tomato varieties to mingle without falling part.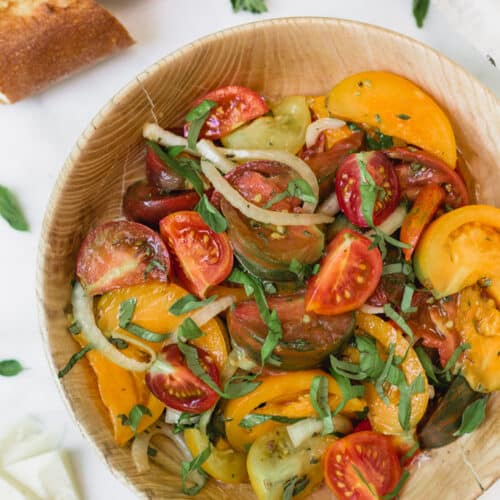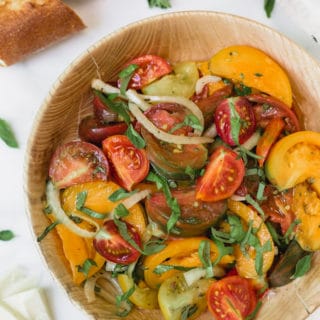 Josephine's Tomato Salad
My grandmother's Tomato Salad is a light and simple way to savor some of the best summer flavors. Don't forget the bread to dip into the tomato juices!
Print
Pin
Rate
Save
Saved!
Cuisine:
Italian, Vegetarian
Estimated Calories Per Serving:
117
kcal
Ingredients
1-1/2

pounds

heirloom tomatoes

, cut into wedges

1/2

sweet onion

(Vidalia, if available), halved and thinly sliced

1-1/2

teaspoons

chopped fresh oregano leaves

1

teaspoon

chopped fresh thyme leaves

1/3

cup

fresh basil leaves

, cut into a chiffonade

3

tablespoons

extra virgin olive oil

3/4 to 1

teaspoon

kosher salt

, to taste

freshly ground black pepper

, to taste
Instructions
In a medium bowl, toss tomatoes with onions, chopped herbs, olive oil, 3/4 teaspoon kosher salt, and a few grinds of black pepper. Taste for seasoning, adding additional salt and pepper to taste.

Let stand 15 minutes for flavors to meld. Tomatoes will release juices. Gently stir before serving with wedges of crusty bread for dipping. (For best results, serve the salad at room temperature, within 1 hour of tossing it together.)
---
Notes
We generally find that the tomatoes themselves are acidic enough to impart a light tang to the salad. If you prefer a tangier flavor, add a splash of red wine vinegar, to taste.
Nutrition Estimate
Calories:
117
kcal
|
Carbohydrates:
5
g
|
Fat:
10
g
|
Saturated Fat:
1
g
|
Sodium:
6
mg
|
Potassium:
183
mg
|
Fiber:
1
g
|
Sugar:
3
g
|
Vitamin A:
600
IU
|
Vitamin C:
10.9
mg
|
Calcium:
21
mg
|
Iron:
0.6
mg
---
About our Recipes:
Please note that our recipes have been developed using the US Customary measurement system and have not been tested for high altitude/elevation cooking and baking.
Keywords:
heirloom tomato salad, summer salad recipes, summer tomato salad
Have you made this recipe?
Don't forget to leave a comment and rate the recipe below! Take a picture and tag @stripedspatula and #stripedspatula on Instagram for a chance to be featured in our Insta Stories and newsletter!
This post was originally published on August 5, 2016 and was updated in 2019 with additional information about the recipe and ingredients.