Bucatini with Roasted Eggplant and Cherry Tomato Sauce turns fresh summer produce into a hearty dish that's perfect for the transition to fall.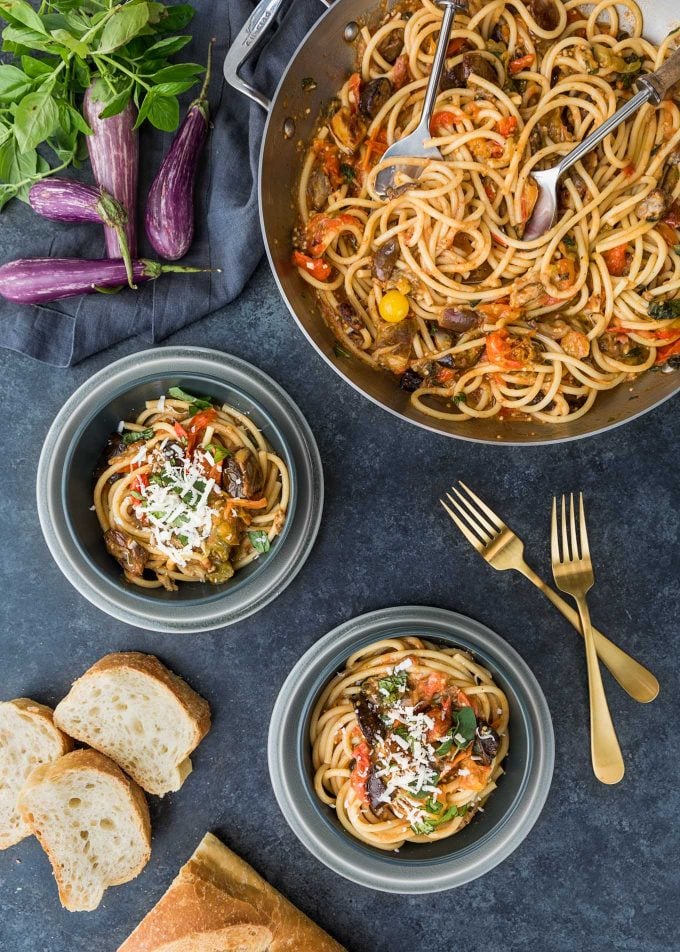 Yet again, I went a little crazy at the farm market and bought all the things. Much like the squirrels, who seem to know that summer is reaching its end, I'm running around stocking up on my fill of the season's best; in my case, heirloom tomatoes and Fairy Tale eggplants.
We've had some chilly days over the past week here in New Jersey. I wore long sleeves and closed-toed shoes for most of Labor Day weekend! The cool evenings have begged for comforting dinners. How better to warm up than with a bowl of bucatini?
In this late-summer pasta dish, I make an heirloom cherry tomato sauce by sautéing the tomatoes with garlic until they burst. Tossed with roasted eggplant cubes, fresh herbs, and a grating of Ricotta Salata, this pasta is some of the best flavors of summer, wrapped up in a dish that's comforting for fall….