This easy Greek Orzo Salad with Feta and lemon vinaigrette is ready in 30 minutes and bursting with classic Mediterranean flavors. Great as a light lunch or side dish!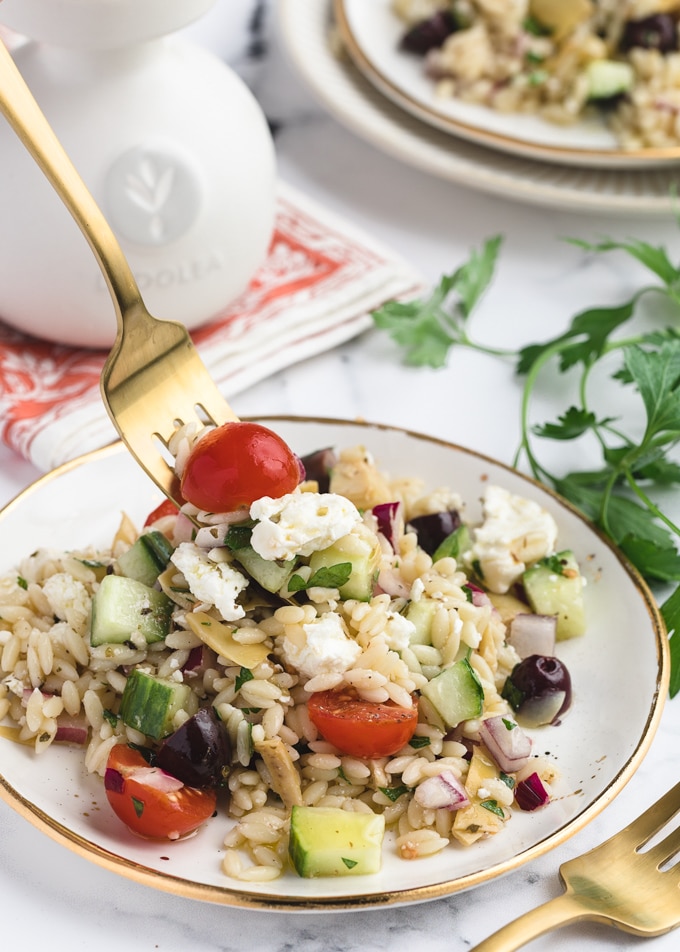 Easy Greek Orzo Salad
My friends just got back from Greece and brought me the most beautiful gifts from their travels. So far, I've tasted an incredible varietal of honey, two fantastic extra virgin olive oils, and am about to try a recipe with trahana (sour pasta).
In the mood for Mediterranean flavors, I decided to make a bowl of my favorite Greek Orzo Salad using one of my new, fragrant olive oils. (Aren't the bottles unique?).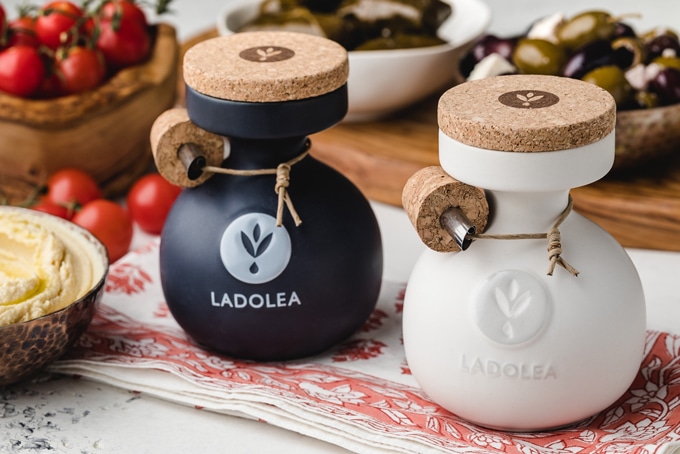 Tossed with crunchy cucumbers, juicy tomatoes, salty Feta, and a bright, tangy vinaigrette, this orzo pasta salad has a great contrast of textures and flavors.
My friends who have tried the recipe have said how well-balanced it is. There is a lot going on ingredient-wise (it's a fully-loaded pasta salad!), but everything plays well together and nothing overshadows.
Greek Orzo Salad is also incredibly easy to make, with only about 30 minutes total of hands-on prep and cooking time. It's one of my go-to's for a busy day or easy entertaining.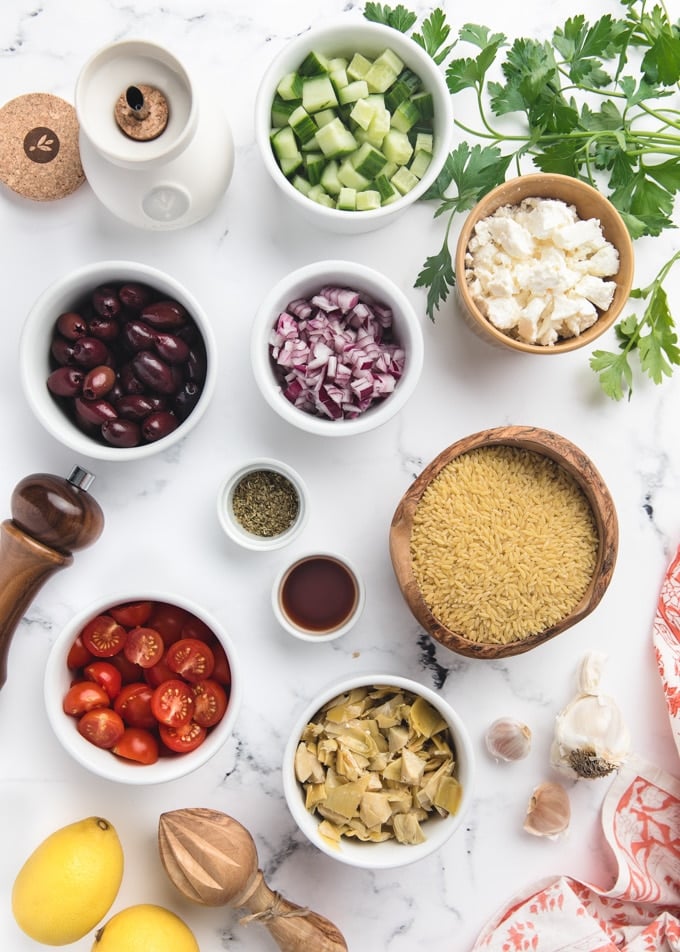 What Goes in This Pasta Salad
Here's what you need to make this big-on-flavor Mediterranean pasta salad:
Orzo (the pasta that looks like rice, but isn't!)
Jarred marinated artichoke hearts
Greek Feta cheese
Cherry tomatoes
Cucumber (I use thin-skinned English cucumbers)
Red onion
Kalamata olives (pitted)
Herbs: fresh parsley and dried oregano
Extra virgin olive oil
Red wine vinegar
Lemon juice
Garlic
Honey (just a touch!)
Shopping for Feta? Check out my Feta Cheese Guide to help you navigate the options at the market. Not all Feta is created equal!
Like most pasta salads, this recipe is easily customizable to your personal tastes and what you have on hand. Other add-in's I've swapped in this salad in the past include chickpeas (great for adding meatless protein), roasted red peppers (diced), raw green bell peppers (diced), pine nuts (toasted), and capers.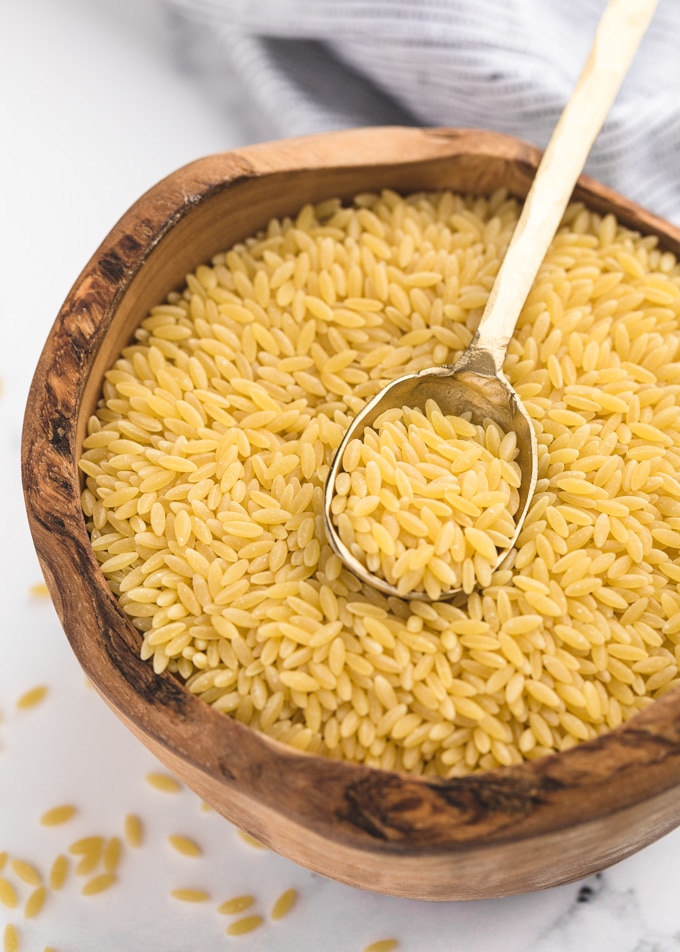 How to Make Greek Orzo Salad
This pasta salad couldn't be easier to make. You'll need a big bowl for the salad itself, a lidded jar to shake the vinaigrette, a pot to cook the orzo, and a colander.
Prep the Ingredients
Get started by cooking the orzo pasta to al dente in salted boiling water. The brand of orzo I buy is ready in 8 to 10 minutes.
Tip: You can also cook the orzo in your Instant Pot. Combine the dried pasta with 4 cups of water, 1 teaspoon of kosher salt, and a splash of olive oil. Cook at high pressure for half the time listed on the box (round down for partial minutes). Quick release, drain, and proceed with the recipe as written.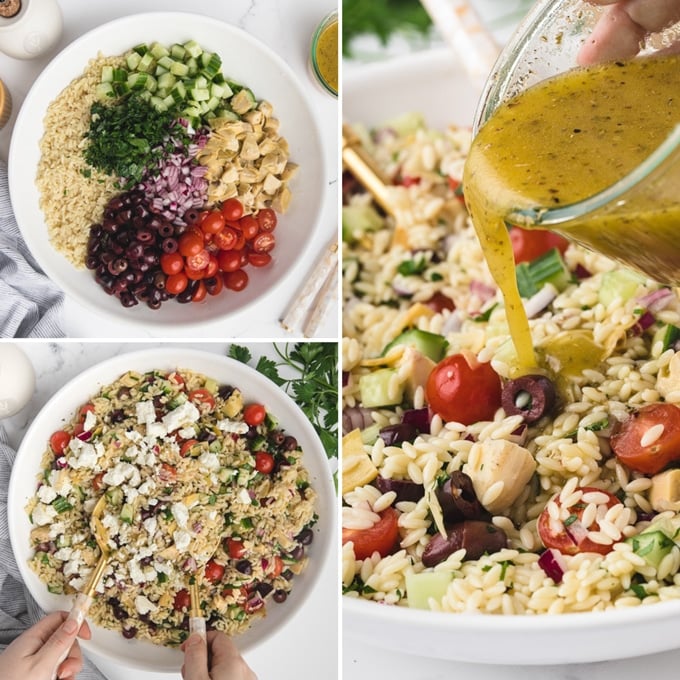 While the orzo is cooking, chop your vegetables. I go for a bite-sized dice for the cucumbers and a rough chop on the artichoke hearts.
For the red onions, I prefer a bit of a finer dice. They're one of the stronger flavors in the salad and a big bite can easily overpower.
I like to cut my cherry tomatoes and olives in half, but if the tomatoes in particular are larger, you might want to quarter them. Greek Orzo Salad is rustic, but you want to make sure the add-ins are of a roughly similar size so they can be easily scooped up on a fork.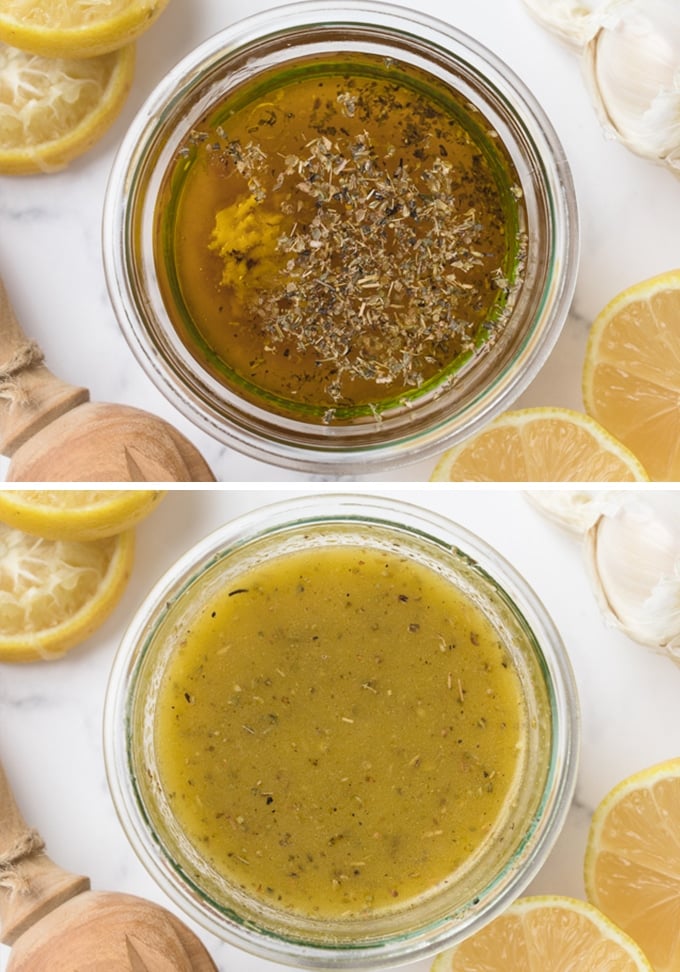 Make the Vinaigrette
Once everything is chopped, make a quick vinaigrette by pouring olive oil, lemon juice, red wine vinegar, honey, oregano, garlic, salt, and pepper into a lidded jar. Shake vigorously until the dressing is combined and slightly thickened.
No jar? No problem. Whisk together all ingredients, except for the olive oil, in a small bowl. Add the olive oil in a steady stream, whisking until the dressing is emulsified.
By the time you're finished chopping and shaking, your pasta will be cooked. Drain it into a colander and rinse it with cool water. Be sure to drain the rinsed orzo well before transferring it to your large salad bowl.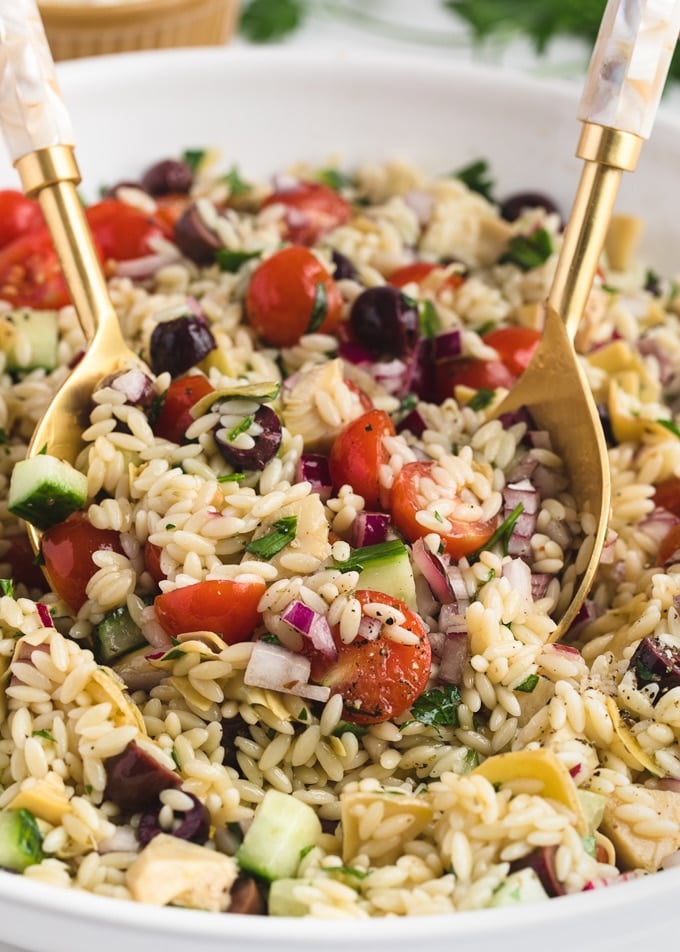 Toss the Orzo Salad
Add your prepped vegetables, olives, parsley, and vinaigrette to the orzo and toss to combine. I like to add the crumbled Feta separately and last, so it doesn't break up too much.
Season the salad to taste with salt, pepper, and additional lemon juice, if needed. The amount of each of these ingredients will depend on the saltiness and tanginess of the Feta you've used, as well as the flavor profile of the marinated artichoke hearts. I find that it varies by batch.
While you can eat the salad right away, if you have time to spare, let it marinate in the refrigerator for about an hour before serving for the best flavor.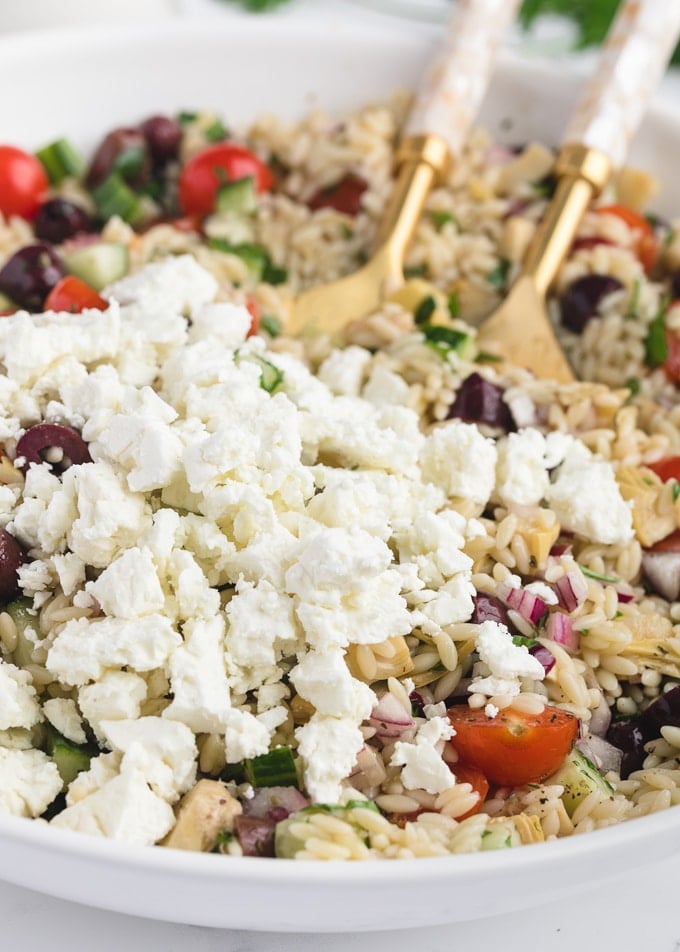 Meal Prep: Can I Make Orzo Salad Ahead?
Absolutely! You can prep and assemble this recipe up to a day in advance of serving.
When prepping Greek Orzo Salad ahead, I like to withhold the fresh parsley and Feta and add them up to an hour before I'm going to serve. Both can lose their luster a bit as they sit in the vinaigrette for an extended period.
Greek Orzo Salad should be stored, tightly-covered, in the refrigerator. Take it out about 20-30 minutes before serving to take the chill off, and give it a good toss to redistribute the dressing at the bottom of the container.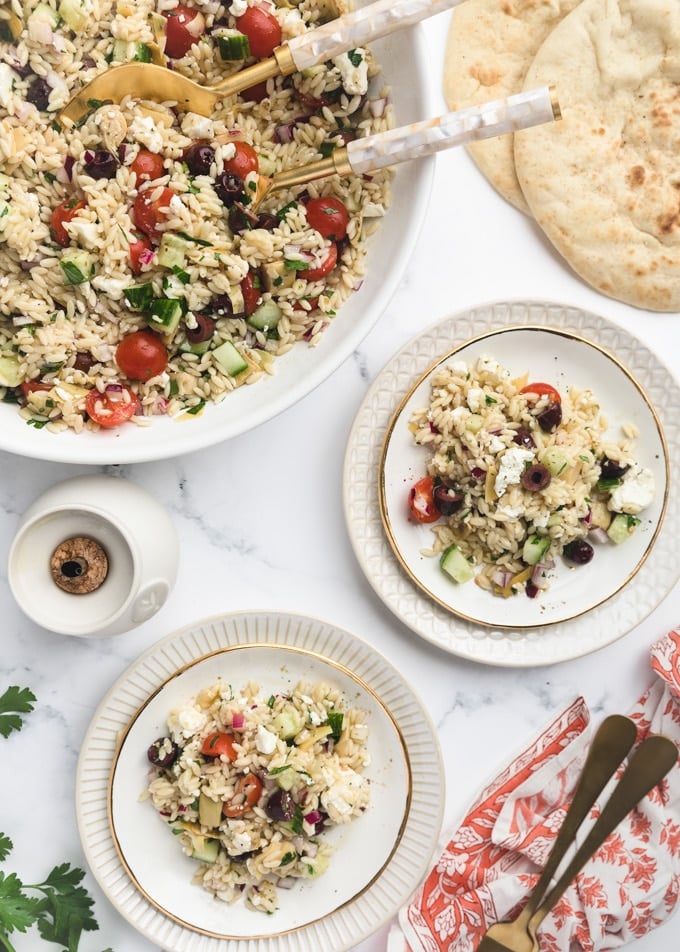 Serving Greek Orzo Salad
While we often think of pasta salads as summer fare, I love having this Greek Orzo Salad year-round for an easy lunch. Serve it with lightly-warmed pita on the side (so good dipped into vinaigrette at the bottom of the bowl!).
It's also a delicious side dish for grilled meats and seafood. I especially like it with marinated and grilled shrimp skewers, chicken breasts, and lamb chops.
Want to turn this salad into a full meal? Toss in cubed grilled chicken breasts, shredded rotisserie chicken, or grilled shrimp.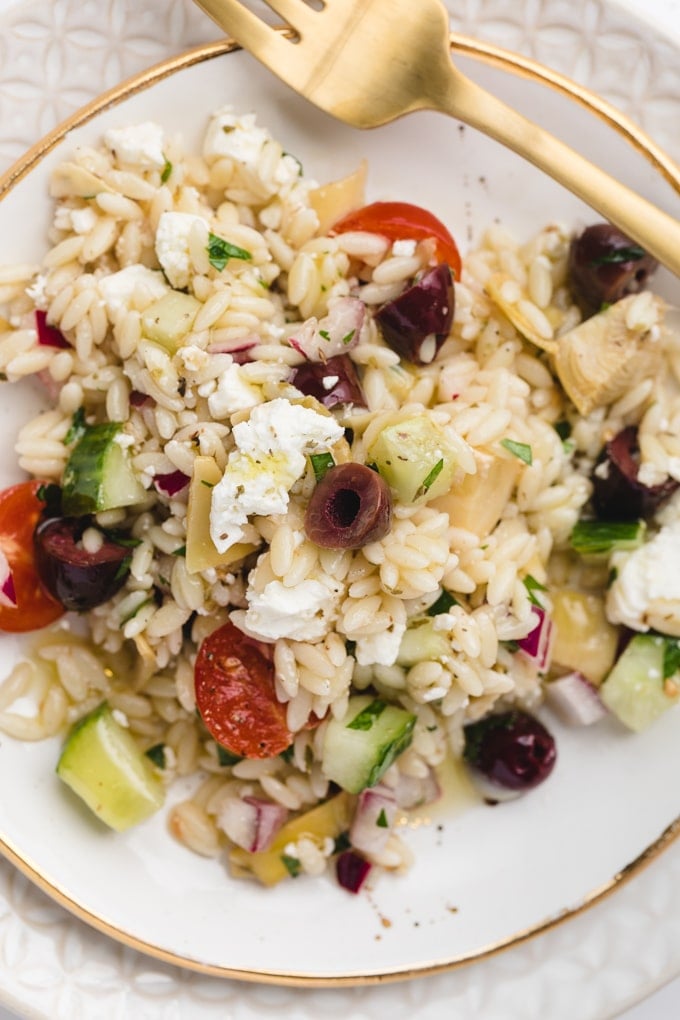 More Greek-Inspired Recipes:
Craving more? We'd love to welcome you to our exclusive Facebook group community where we share recipes, hosting tips, party ideas, and more!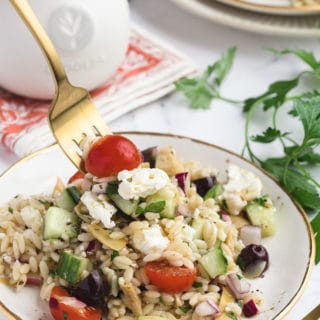 Greek Orzo Salad
This bright and fresh orzo pasta salad is filled with Mediterranean flavors and makes a great meatless lunch or side dish.
Print
Pin
Rate
Course:
Lunch, Salad, Side Dish
Ingredients
1-1/2

cups

dried orzo

1/2

cup

extra virgin olive oil

2

tablespoons

red wine vinegar

1/4

cup

fresh lemon juice

(1 lemon)

1

teaspoon

honey

1

large

garlic clove

, minced

1

teaspoon

dried oregano

1

cup

diced english cucumber

1-1/2

cups

halved cherry tomatoes

3/4

cup

diced red onion

12

ounce

jar marinated artichoke hearts

, drained and roughly chopped

1

cup

halved kalamata olives

1/4

cup

chopped flat leaf parsley

1

cup

crumbled Greek Feta

kosher salt and freshly-ground black pepper
Instructions
Cook orzo in salted boiling water to "al dente" according to package directions. Pour into a colander and rinse with cool water, draining the pasta well.

Pour olive oil, lemon juice, vinegar, honey, garlic, oregano, and 1/4 teaspoon kosher salt and 1/2 teaspoon black pepper into a lidded jar. Shake vigorously to combine. (Alternately, combine all of the dressing ingredients except for the olive oil in a bowl and whisk in the oil in a steady stream until emulsified.)

Toss orzo with the cucumber, tomatoes, onion, artichoke hearts, olives, and parsley. Pour the dressing over the salad and toss to combine. Gently fold in crumbled Feta.

Season to taste with salt, pepper, and additional lemon juice, if needed (quantities will depend on the brand of Feta and artichoke hearts you've used). The salad can be enjoyed right away, but the flavors are best if it marinates in the refrigerator for about an hour. Stir the salad before serving to redistribute any vinaigrette at the bottom of the bowl.

Serve with warm pita bread.
---
Notes
Want to prep this salad ahead? See my tips in the Meal Prep section above.
Nutrition Estimate
Calories:
389
kcal
|
Carbohydrates:
19
g
|
Protein:
7
g
|
Fat:
32
g
|
Saturated Fat:
7
g
|
Cholesterol:
22
mg
|
Sodium:
850
mg
|
Potassium:
159
mg
|
Fiber:
3
g
|
Sugar:
5
g
|
Vitamin A:
1050
IU
|
Vitamin C:
24
mg
|
Calcium:
165
mg
|
Iron:
1
mg
---
About our Recipes:
Please note that our recipes have been developed using the US Customary measurement system and have not been tested for high altitude/elevation cooking and baking.
Keywords:
greek orzo salad, greek pasta salad, orzo salad recipe
Have you made this recipe?
Don't forget to leave a comment and rate the recipe below! Take a picture and tag @stripedspatula and #stripedspatula on Instagram for a chance to be featured in our Insta Stories and newsletter!