When I've picked an abundance of tomatoes from the garden, one of my favorite things to make is Creamy Roasted Tomato Soup. In this summertime recipe, tomatoes caramelize in the oven with onions, garlic, and herbs before being simmered with broth and pureed to velvety perfection.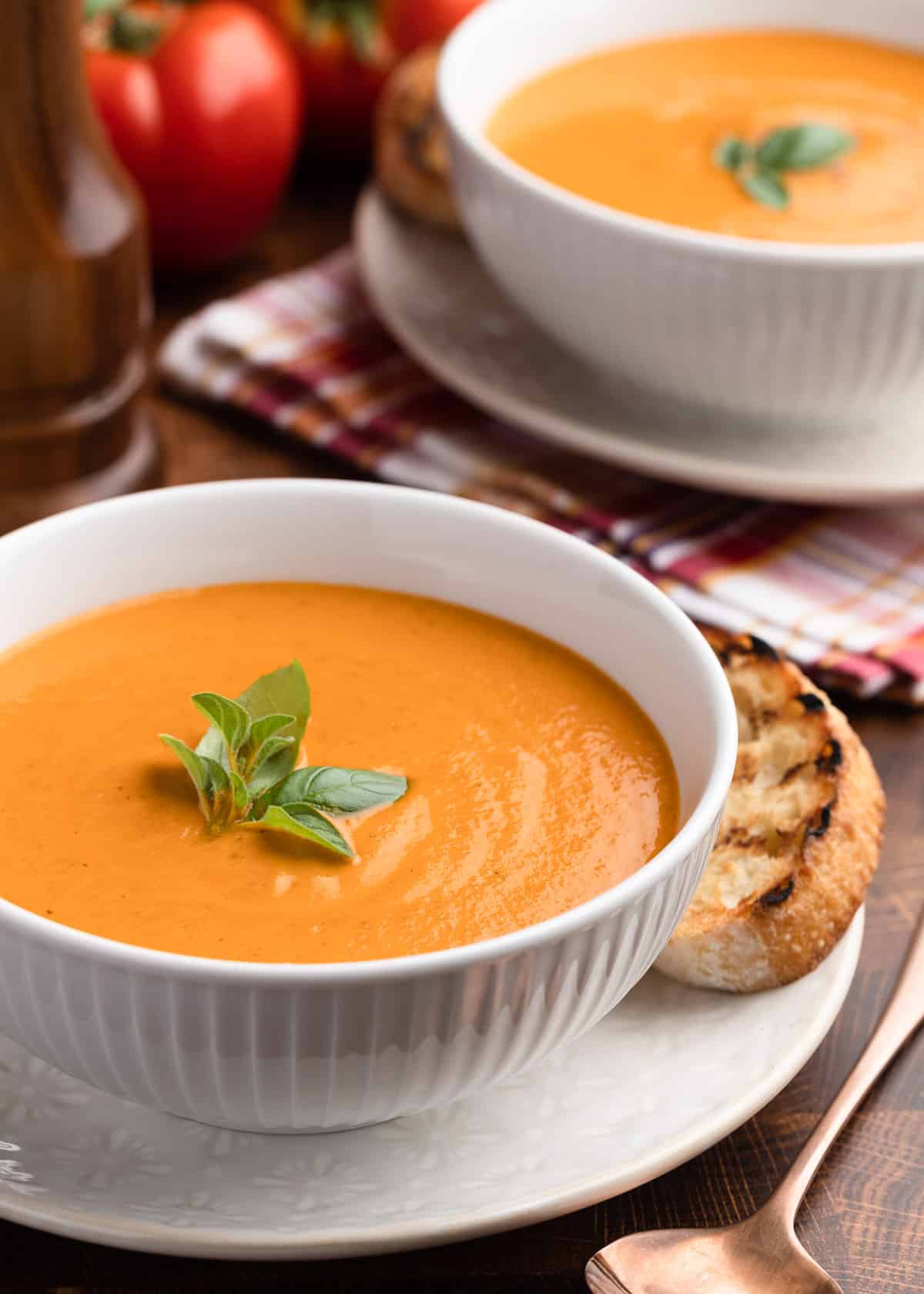 This post contains affiliate links. As an Amazon Associate, I earn a commission (at no additional cost to you) from qualifying purchases made by clicking these links. As always, all recommendations and opinions expressed are my own.
To say that my tomato garden performed beyond my expectations this year is an understatement. Over the course of the growing season, I found myself picking at least 50-60 pounds of juicy tomatoes of 7 different varieties. What a harvest!
What did I do with it all? I gave gifts of tomatoes to just about everyone who crossed my path. At home, I made Heirloom Tomato Salad, Cherry Tomato Bruschetta, Cherry Tomato Confit, cantina-style salsa, fresh tomato pizza and pasta sauces, and my favorite Heirloom Tomato Tart. I blissfully ate a Southern Tomato Sandwich for lunch several times a week.
After a particularly generous harvest day, the tomatoes had piled up faster than we could eat or gift them. (Not a bad problem to have, I know!). So, I pulled out my go-to soup recipe.
This Creamy Roasted Tomato Soup uses up 3-½ pounds of tomatoes at once. It checks all of the boxes of a comforting summertime soup for me. It's rich and creamy; fresh, but indulgent.
This summer alone, I've made it at least 5 times. No one in my house has tired of it yet (but, check back with me at the end of September! <cue laugh track>).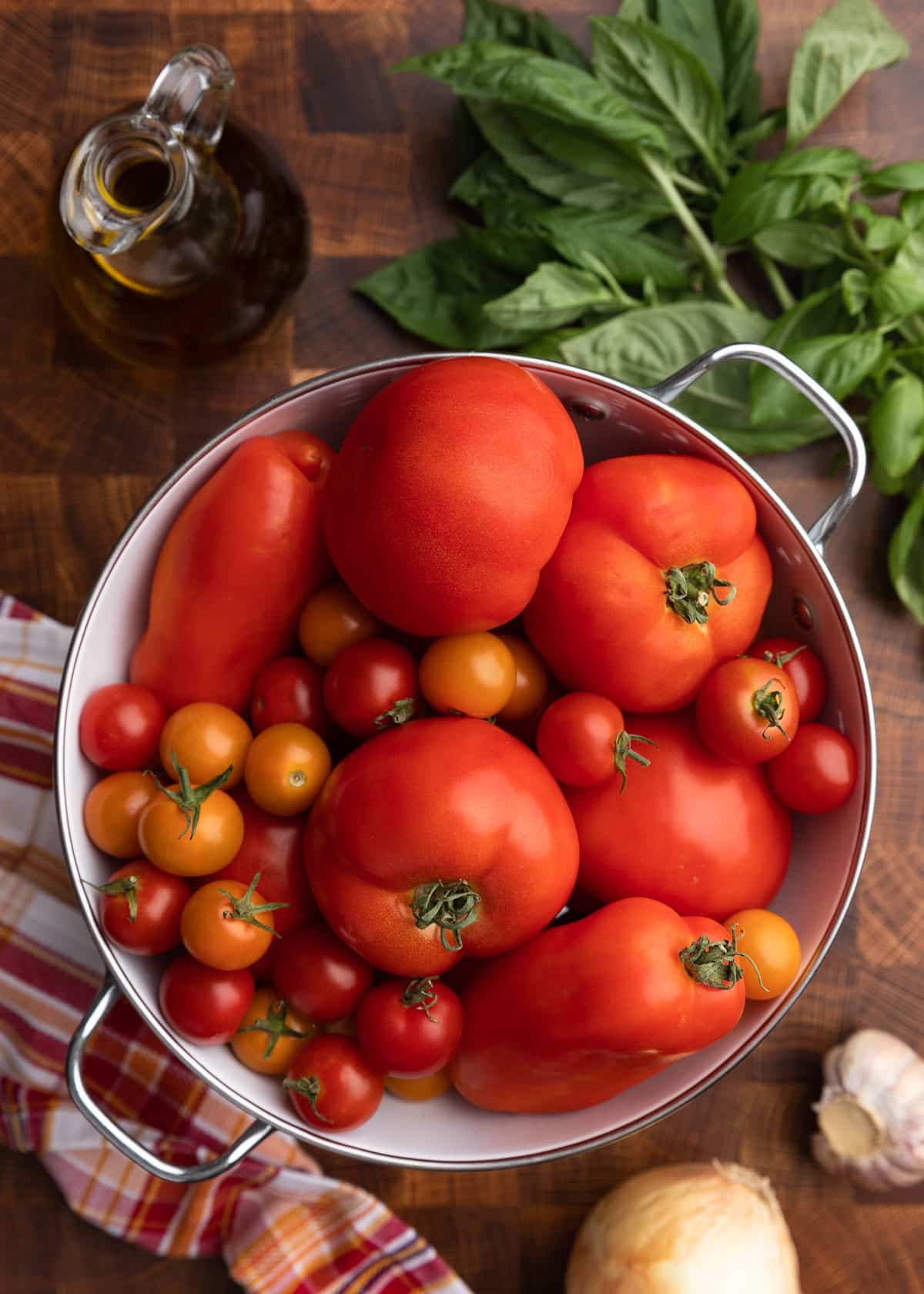 What Goes in Creamy Roasted Tomato Soup
Fresh Tomatoes. Use any mix of ripe summer tomatoes. I most often use a mix of Roma, cherry, and heirloom tomatoes. Bear in mind that slicers will have more juice than other varieties, so you might have to adjust the liquids in your soup if using them.
Garlic Cloves. I love the flavor that sweet, roasted garlic cloves add to this soup. That said, it was controversial addition for one of my taste testers, who prefers a more classic Cream of Tomato Soup flavor. If you love garlic, proceed with the recipe as written; for a more traditional flavor, omit them.
Yellow Onion. Roasted onion wedges add classic sweetness and umami to the soup base.
Olive Oil. For roasting the tomatoes, garlic, and onions. You don't have to use your best extra virgin oil here; regular is fine.
Fresh Herbs. This is a great recipe to use what's growing in your garden. I like to roast the tomatoes with sprigs of oregano and thyme, finishing the soup with a handful of basil and a few extra thyme leaves.
Chicken or Vegetable Broth/Stock. I most often use chicken stock for its depth of flavor. To make the recipe vegetarian, opt for vegetable broth. To control the salt content, choose low sodium varieties and salt the soup, to taste.
Sugar. Optional, if your tomatoes are on the tarter side. Roasting will intensify the tomatoes' natural sweetness. If the soup needs a boost after pureeing, a pinch or two of granulated sugar will do the trick.
Heavy Cream.

While t

he pureed

soup

has a naturally creamy texture, a splash of heavy cream makes it even more luxurious.
Want to brush up on tomato varieties? Check out Know Your Tomatoes: A Guide to the Top 15 Types of Tomatoes from Tasting Table.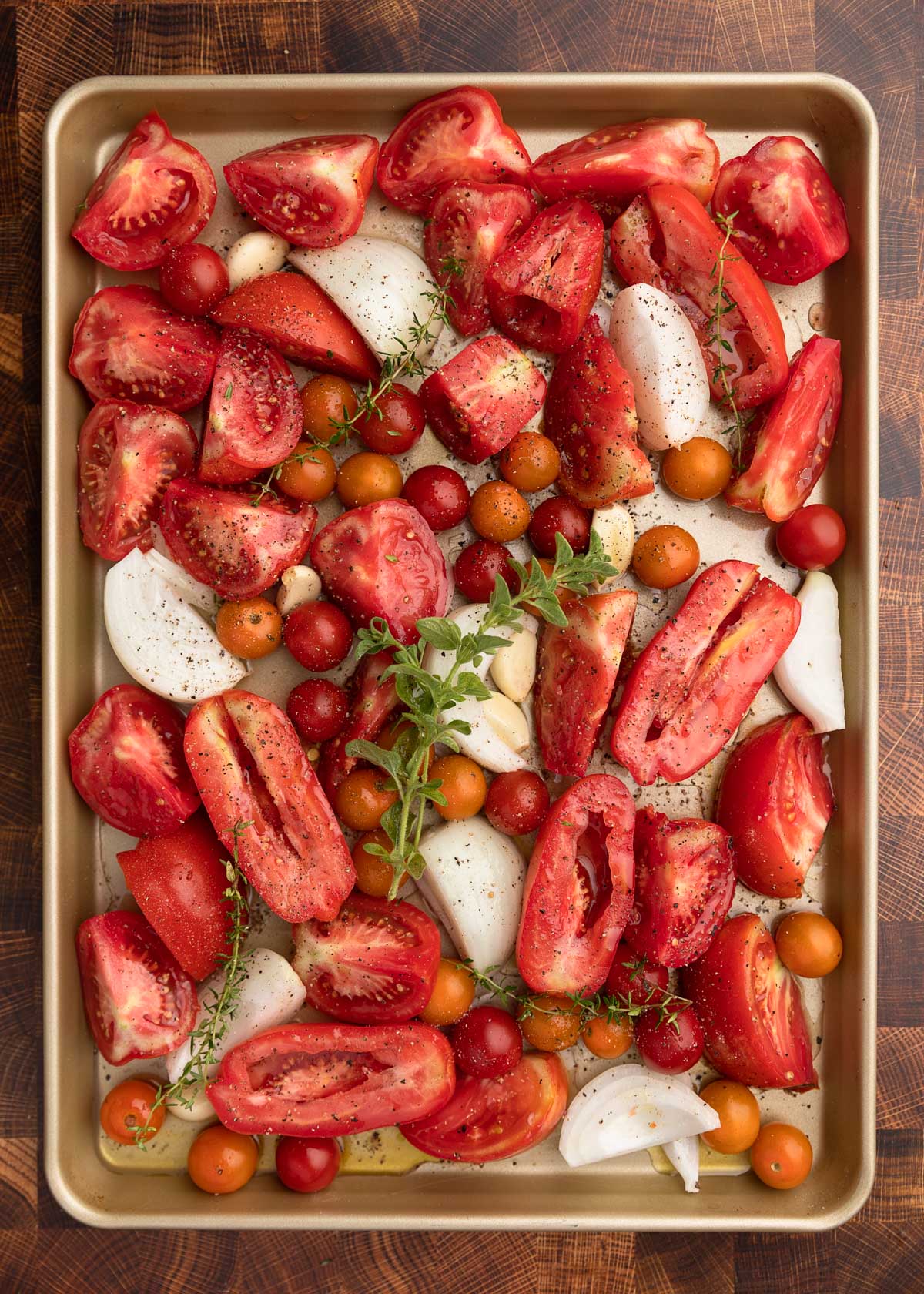 How to Make Creamy Roasted Tomato Soup
Making this soup requires a bit of a time commitment (2 hours, start to finish), but much of it is hands off as the tomatoes roast and simmer. Here's how I make it.
Prepping and Roasting the Tomatoes
To get started, remove and discard any stem pieces from the tomatoes and cut them into wedges. Since we'll be pureeing (and, optionally, straining) the soup, there's no need to peel the tomatoes or remove the cores or seeds.
Peel and wedge the onions, and smash the garlic cloves with the back of a knife, peeling and leaving them whole.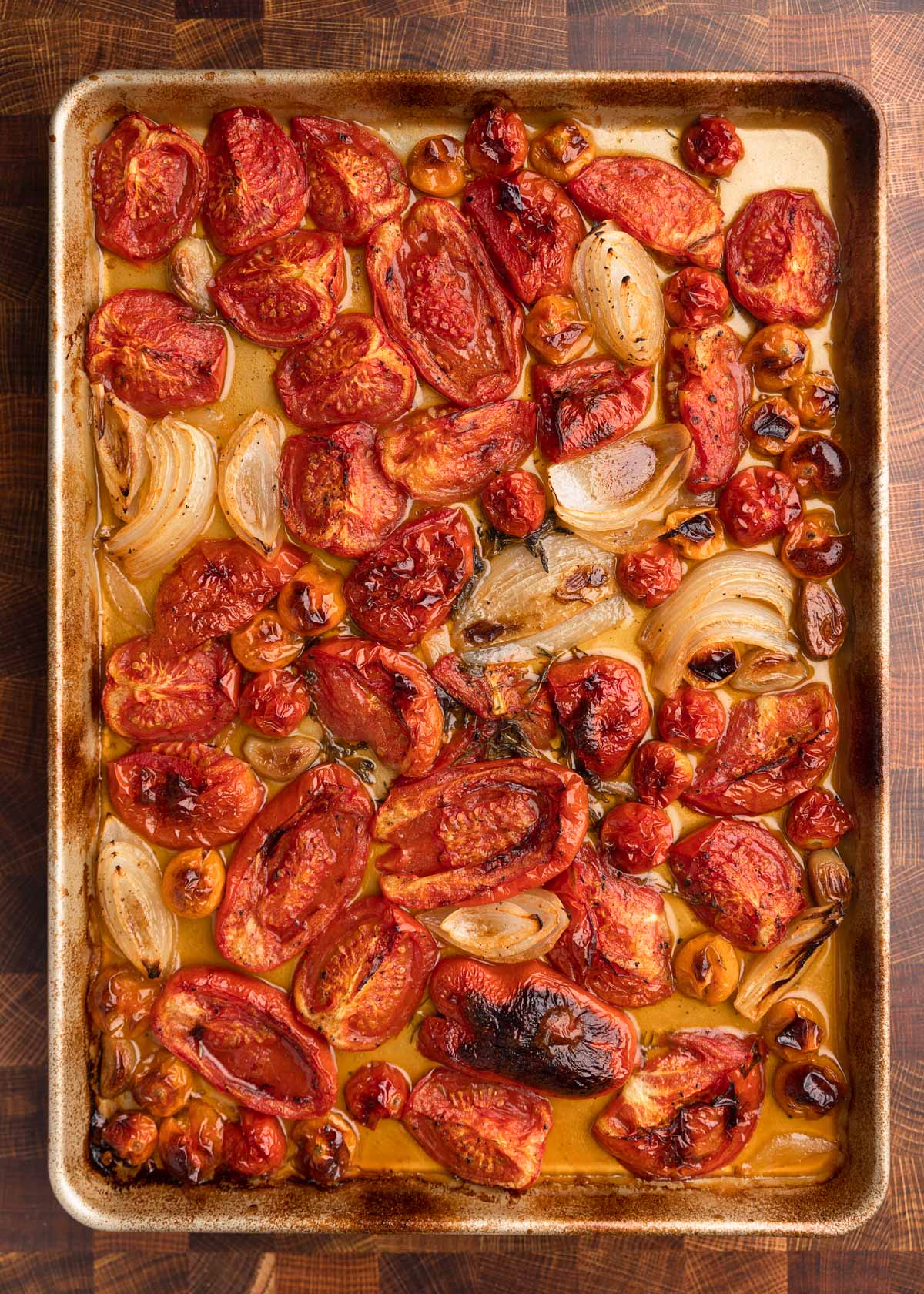 Toss the tomatoes, garlic, and onions onto a rimmed baking sheet (I use a half sheet pan). For easy cleanup, fully line the bottom and edges of the pan with foil–no scrubbing!
Pour olive oil over the mixture and season with several good pinches of salt and freshly ground black pepper. Add the oregano and thyme sprigs, tucking them under and between the tomato wedges so they don't burn.
Roast the mixture at 425 degrees F for about an hour, until the tomatoes and onions are soft, caramelized, and charred in spots. The aroma will be incredible!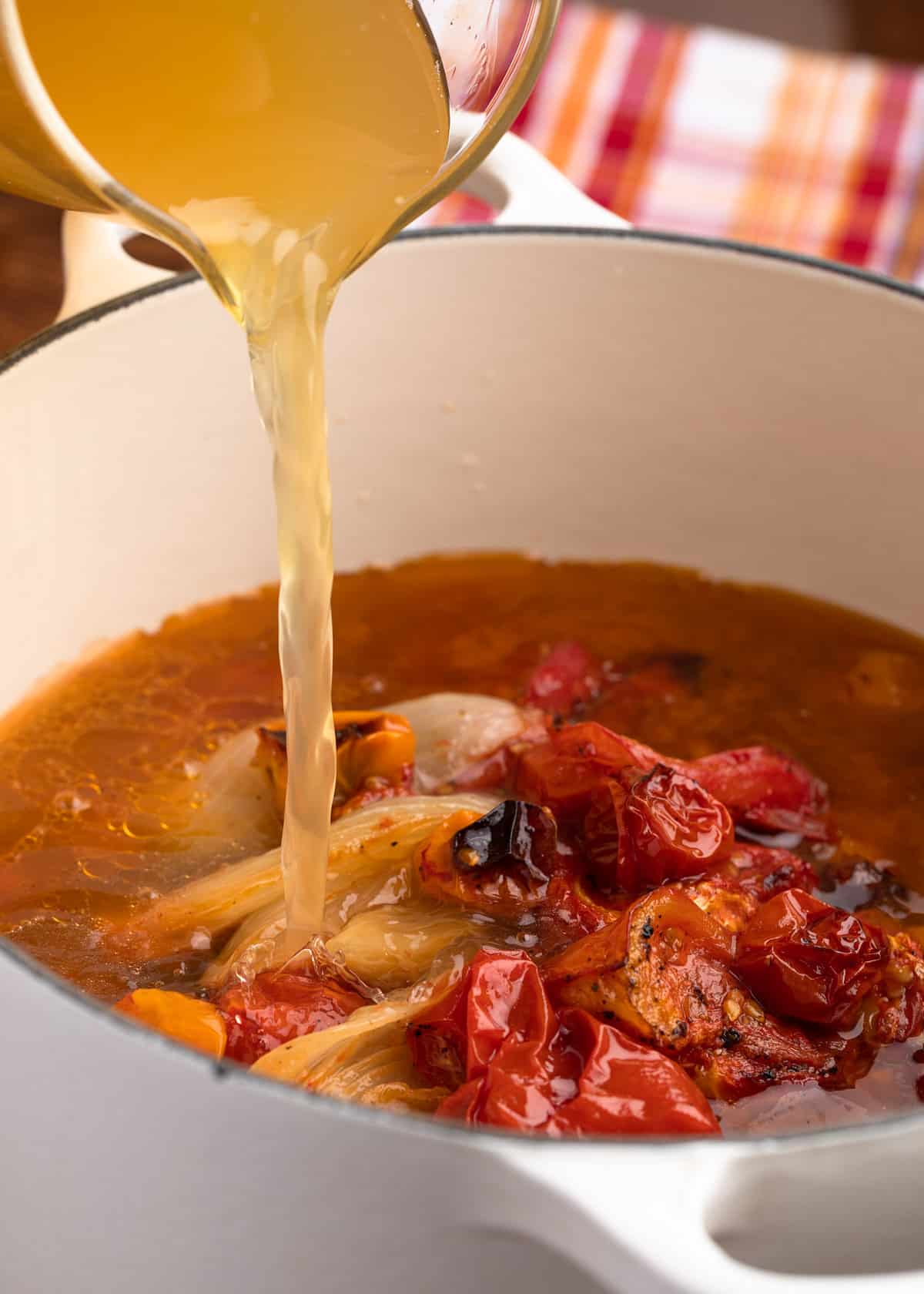 Simmering the Soup
Discard the herb sprigs and transfer the tomatoes, onion, and garlic to a heavy-bottomed pot or French/Dutch oven to finish the soup on the stove. (My Le Creuset 3-½ Quart Signature Round Dutch Oven is pictured.) Don't forget to add all of the delicious juices that have been released onto the sheet pan–they're flavor gold.
Stir 2 cups of broth or stock into the roasted tomatoes. The amount you'll need will depend entirely on how juicy your tomatoes are.
The batch of soup pictured in this post needed 3 cups of stock, but I've made many batches that only needed 2 cups. I recommend starting conservatively at this stage, and adding additional as needed to thin the soup before serving.
Bring the soup to a boil, reduce heat, and simmer for 25 minutes. The broth will infuse with the beautiful flavor of the tomatoes. Just before pureeing, stir in torn basil leaves and a little extra fresh thyme, simmering until wilted.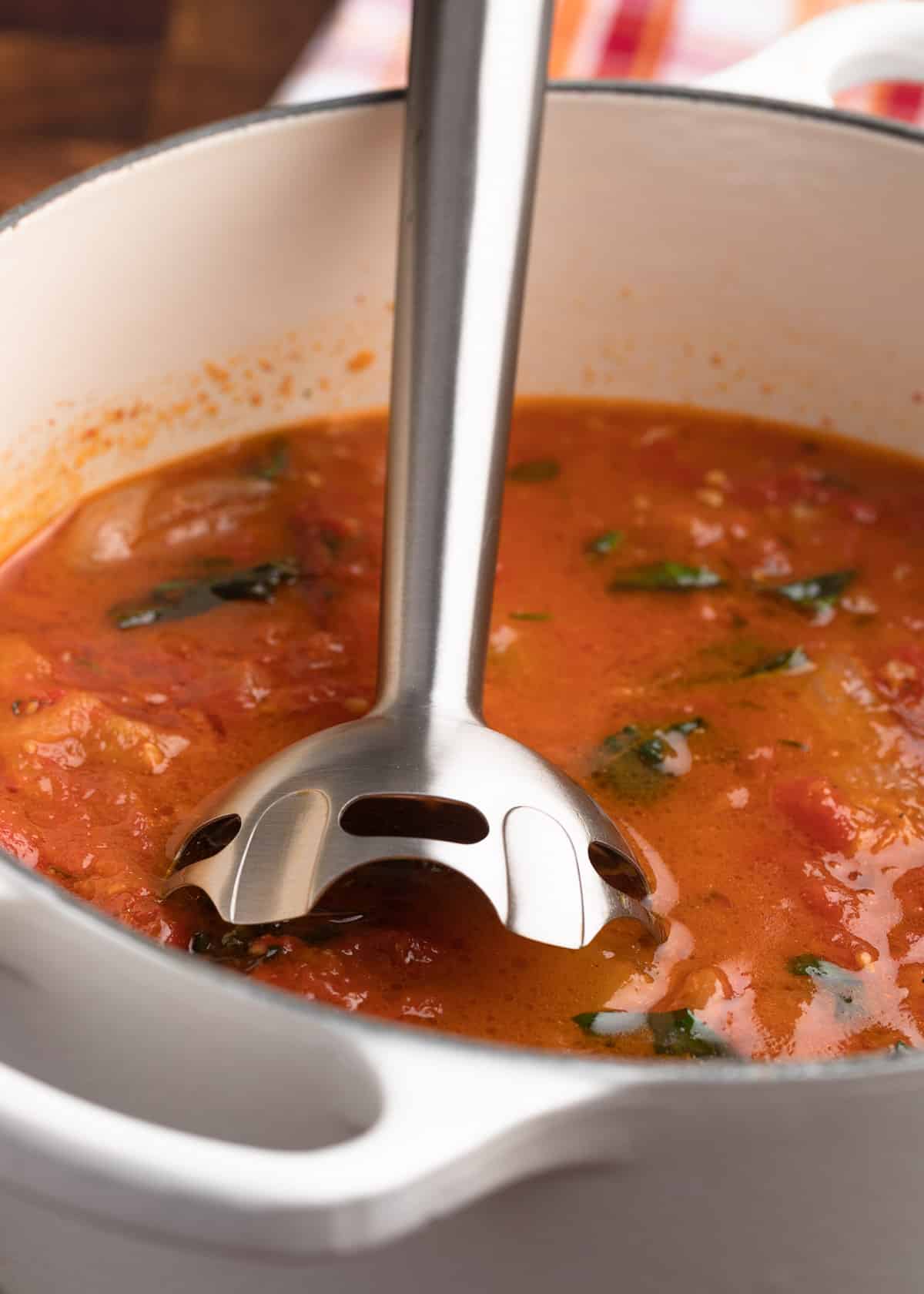 Pureeing and Finishing the Soup
To puree your Roasted Tomato Soup, use an immersion blender right in the pot, starting on low speed and keeping the blade submerged. The pot should only be ⅔ filled with soup to safely use an immersion blender.
Or, transfer the soup in batches to a countertop blender, pureeing in batches. Remember that hot liquids expand when blended. To prevent spills and burns, don't fill the blender more than halfway full and keep the lid firmly seated while blending. Start blending at low power, slowly increasing the speed.
In the market for a new blender? I love my All-Clad Stainless Steel Immersion Blender (pictured) and Vitamix 64-ounce Low Profile Blender.
Once the soup is pureed, I like to pour it through a fine mesh sieve to remove any seeds or skins that remain. Use a spoon or spatula to press the liquid out of the solids in the strainer, discarding what's left behind. This step is optional; feel free to skip if you prefer a more textured soup.
Return the soup to the pot, stir in the cream (start with ½ cup and increase, to taste), and adjust the texture and seasonings as needed.
If the soup is too tart, stir in some granulated sugar; if it's too thick, thin it out with extra chicken stock. If you've used low sodium broth, you might need to add a hefty few pinches of salt.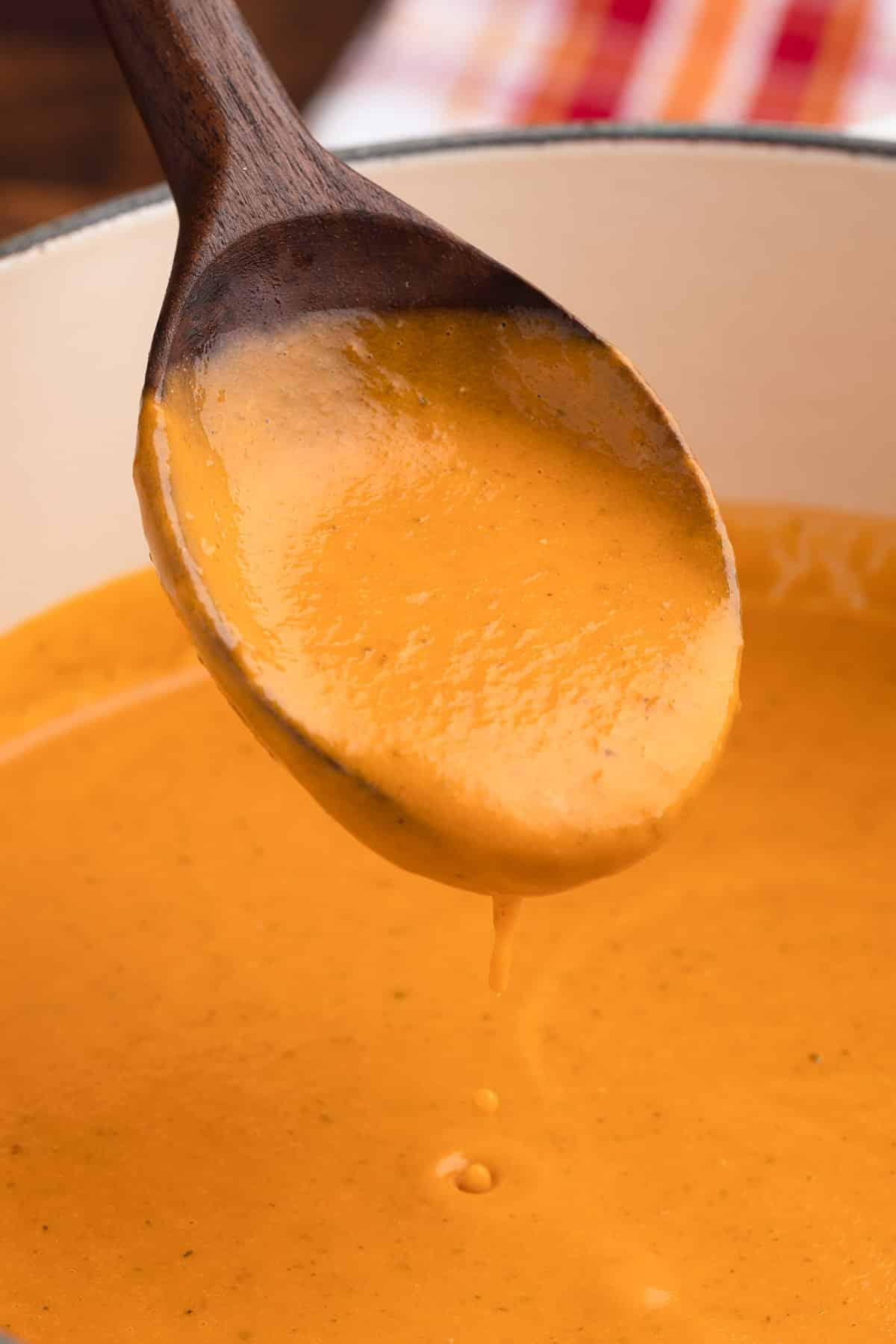 Serving and Storing Roasted Tomato Soup
One of the things I love about this soup is its versatility–you can serve it hot right after making it, or chilled the next day. Warm or cold, I always garnish each serving with fresh herbs from the garden and a grind of pepper.
This soup is delightful topped with Homemade Croutons or served alongside Crostini toasts for dipping. For a pretty presentation and extra indulgence, add a swirl of heavy cream, a dollop of sour cream, or freshly grated Parmigiano Reggiano to each bowl.
Want to make it a full meal? Serve your Creamy Roasted Tomato Soup with your favorite grilled cheese. (I love Grilled Gruyere and Cheddar with Bacon on Sourdough!)
If you have leftover soup, store it in a covered container in the refrigerator. It'll keep well for 3-4 days.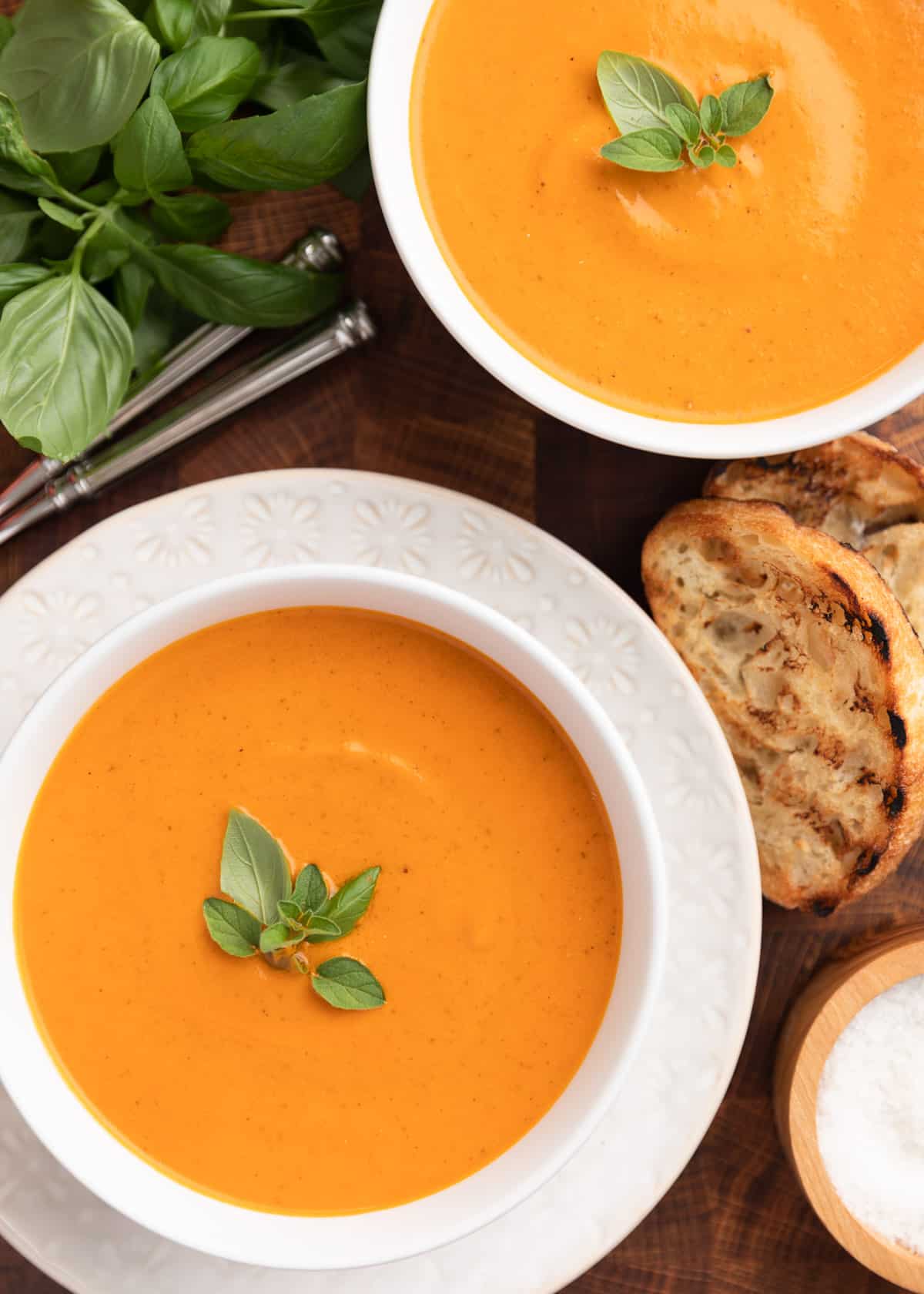 More Reader Favorite Soup Recipes:
CRAVING MORE? Subscribe to my newsletter and join me on Facebook, Pinterest, and Instagram for the latest recipes and news.
📖 Recipe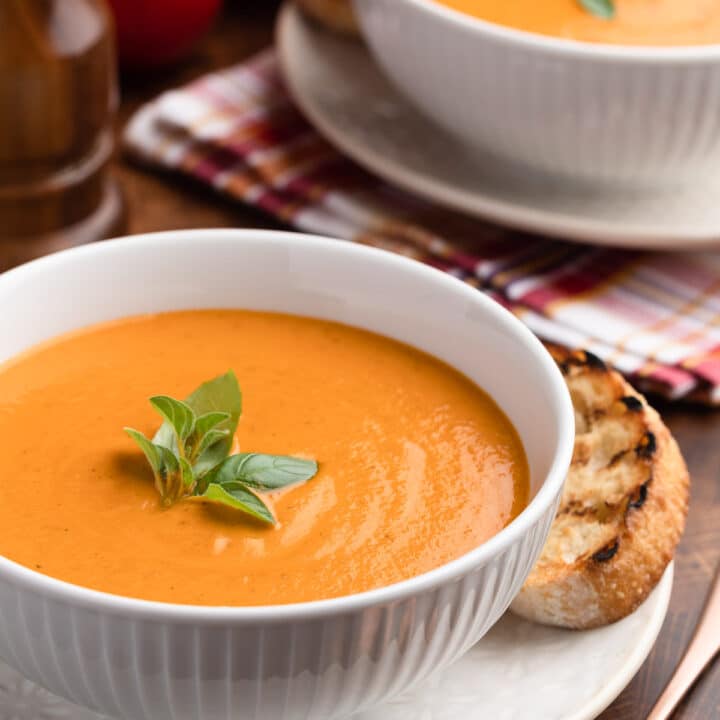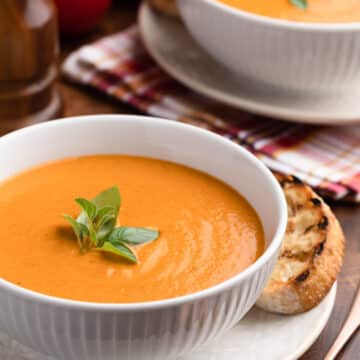 Creamy Roasted Tomato Soup
This Creamy Roasted Tomato Soup is a delicious way to use fresh summer tomatoes from the garden or farm market. Serve the soup hot or chilled, on its own, or alongside your favorite sandwich for a garden-to-table summer lunch.
Print
Pin
Rate
Save
Saved!
Servings:
5
to 6 servings (1 cup)
Estimated Calories:
262
kcal
Ingredients
3-½

pounds

fresh ripe tomatoes

(assorted varieties)

⅓

cup

olive oil

4

cloves

garlic

, lightly smashed and peeled

1

large

yellow onion

, peeled and cut into wedges

4

sprigs

fresh thyme

, plus 1 teaspoon leaves

1

sprig

fresh oregano

2-3

cups

chicken or vegetable broth

, plus additional, if needed

1-3

teaspoons

granulated sugar

(optional, if needed)

½

cup

basil leaves

, torn

½-3/4

cup

heavy cream

kosher salt and freshly-ground black pepper
Instructions
Roast the Tomatoes
Preheat oven to 425 degrees F. Line a rimmed baking sheet (half sheet pan) with foil for easy cleanup.

Remove stems from tomatoes and discard. I typically cut plum/Roma tomatoes in half, vine or slicing tomatoes into wedges, and leave cherry tomatoes whole.

Place the tomatoes onto the prepared sheet pan with the garlic cloves and onion. Pour the olive oil over the mixture, season well with a few pinches of salt and pepper, and toss to coat. Tuck the sprigs of fresh thyme (not the additional 1 teaspoon leaves) and oregano underneath and between the tomatoes.

Roast for 1 hour, until the tomatoes, onions, and garlic are soft, caramelized, and bubbling. Remove the herb sprigs from the tray and discard.
Make the Soup
Transfer the roasted tomatoes, onions, and garlic to a large, heavy-bottomed pot, with any released juices in the pan. Stir in 2 cups of broth, bring the mixture to a boil, reduce heat, and simmer for 25 minutes.

Stir basil leaves and reserved thyme into the soup and simmer for 3-5 minutes, until basil leaves are wilted.

Puree the soup by carefully transferring it in batches to a blender, or directly in the pot with an immersion blender. (See Important Safety note in the "Notes" section of this recipe card, below, before blending.)

If desired, strain the soup through a mesh sieve, discarding any seeds or bits of skin leftover after blending.

Return the soup to the pot. Stir in heavy cream and season to taste with salt, pepper, and sugar, if needed. (If you've used low sodium broth, you might need to add a good amount of salt.)
Serve
The soup can be served hot or chilled, garnished with croutons, fresh herbs, cracked pepper, or a swirl of cream, as desired. For a classic lunch pairing, we love to enjoy a bowl alongside a grilled cheese sandwich.

To store the soup, refrigerate it, tightly-covered, for 3-4 days.
---
Notes
*

The final amount of broth you need will depend on how much juice your tomatoes have released; start with 2 cups and add additional if the soup is too thick after pureeing.
**Important safety note: Hot liquids expand in the blender. If using a countertop blender, blend the soup in batches, filling the container no more than halfway full. Start on low speed, gradually increasing the speed to puree.
If using an immersion blender, make sure that your pot is no more than ⅔ full. Blend slowly, and keep the blade submerged in the liquid to prevent splashes.
Nutrition Estimate
Serving:
1
cup
|
Calories:
262
kcal
|
Carbohydrates:
12
g
|
Protein:
3
g
|
Fat:
24
g
|
Saturated Fat:
8
g
|
Polyunsaturated Fat:
2
g
|
Monounsaturated Fat:
13
g
|
Cholesterol:
30
mg
|
Sodium:
539
mg
|
Potassium:
441
mg
|
Fiber:
3
g
|
Sugar:
7
g
|
Vitamin A:
1658
IU
|
Vitamin C:
23
mg
|
Calcium:
60
mg
|
Iron:
1
mg
Keyword:
creamy roasted tomato soup, roasted tomato soup recipe
---
About our Recipes:
Please note that our recipes have been developed using the US Customary measurement system and have not been tested for high altitude/elevation cooking and baking.
Have you made this recipe?
Don't forget to leave a comment and rate the recipe below! Take a picture? Tag @stripedspatula and #stripedspatula on Instagram!