Wondering how to differentiate different types of clams at the market or in the wild? This guide will walk you through the most common edible clam varieties, and the best ways to prepare them.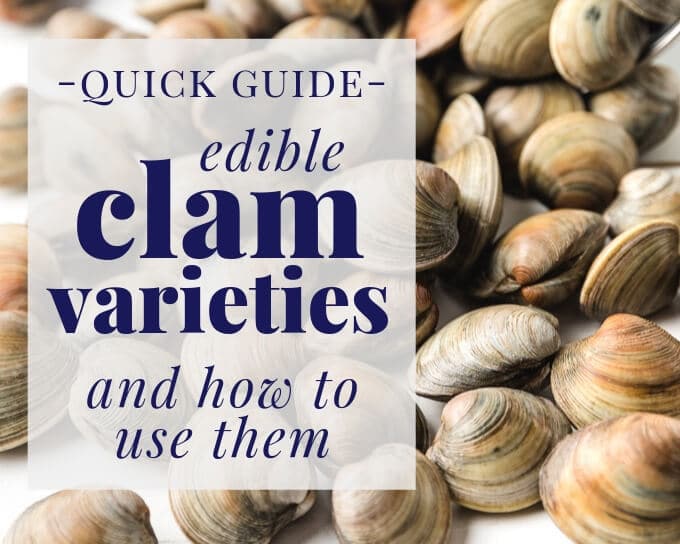 The Basics: Exactly What Are Clams?
Like mussels and oysters, clams are mollusks belonging to the bivalve family (meaning that they have two hinged shells). They live in both fresh and saltwater, but the clams we eat are saltwater varieties.
Unlike mussels and oysters, which attach themselves to rocks and substrate, clams bury themselves in the ocean's sediment (sand and mud). How deep they bury varies by variety.
Popular Types of Clams for Cooking
Thousands of clam species live in the wild, though not all are edible. You'll most often come across these types of clams in recipes and on menus:
1. Hard Shell Clams ("Quahogs")
Quahogs (pronounced: KO-hogs, with regional variations) include littlenecks, topnecks, cherrystones, and chowder clams. These clam varieties range from about 1 to 5 inches in diameter, with littlenecks being the smallest in this list, and chowder clams the largest and oldest at harvest.
Hard shell clams have short siphons (the part of the clam that filters sea water for feeding) and bury themselves in shallow sand. Quahogs are native to the Eastern seaboard, from the Canadian coast to Florida, and particularly in Rhode Island.
Hard shells (especially littlenecks) are also often farmed/cultivated. When you see fresh clams at your grocery store's seafood counter, most of the time, they're farmed quahogs.
Fresh quahogs have tightly-closed shells that range in shades of white, cream, brown, and gray. Their color appears variegated, with darker rings ranging from lighter shades of brown to dark gray and black.
Manila clams are also a hard shell variety, but their shells are thinner than quahogs. They're native to the Pacific ocean and unintentionally entered the northwest coastal region of the United States around 1920 via a shipment from Japan.
Manilla clams are similar in shape and size to littlenecks, but they're meatier. They also take about half the time to cook, since their shells aren't as thick.
How to Use Them: Hard shell clams are great for steaming (try my Beer Steamed Clams), stuffing, grilling, pasta dishes (like Linguine Alle Vongole), and chowder. If you like raw clams on the half shell, littlenecks and cherrystones are good choices.
2. Soft Shell Clams ("Steamers")
Also popularly called Ipswich clams and longnecks, soft shell clams bury themselves deeper in sediment than hard shells, and have larger siphons. These siphons can restrict the clam's ability to close its shell all the way, so it's especially important to de-grit them before cooking. Soft shell clams are most often harvested wild.
For cleaning instructions, see my Fresh Clams guide, linked at the bottom of this post.
Unlike crabs, you won't be able to eat the entirety of a soft shell clam. The clamshell is thinner and more brittle than its hard shell cousins, but not edible. Shell colors are typically shades of white and gray, with a chalky appearance.
How to Use Them: Soft shell clams are most often served steamed or fried.
3. Razor Clams: Atlantic Jackknife and Pacific Razors
Atlantic Razor Clams ("Jackknife Clams") are soft shell clams that are longer and thinner in width than other varieties. As their name implies, their shells look like a barber's straight-edged razor. The flavor is delicate and sweet.
Don't confuse Atlantic Jackknife Clams with Pacific Razor Clams! They are two entirely different species. Pacific Razors are wider, meatier, and have a stronger, "clammier" flavor than Jackknife clams.
How to Use Them: Atlantic Jackknife Clams are best served steamed, grilled, or sautéed, paired with a sauce that won't overpower their delicate flavor. (You'll often find them paired with Asian flavors.) Pacific Razor Clams are great fried, grilled, steamed, sautéed, and in ceviche and chowder.
Looking for information about buying and cleaning clams? Don't miss my Fresh Clams Guide for a full tutorial, with a step-by-step, printable "how-to".