Light-textured and full-flavored, this recipe for Popovers with Bacon and Goat Cheese is the perfect addition to any bread basket. They're easy to make, too!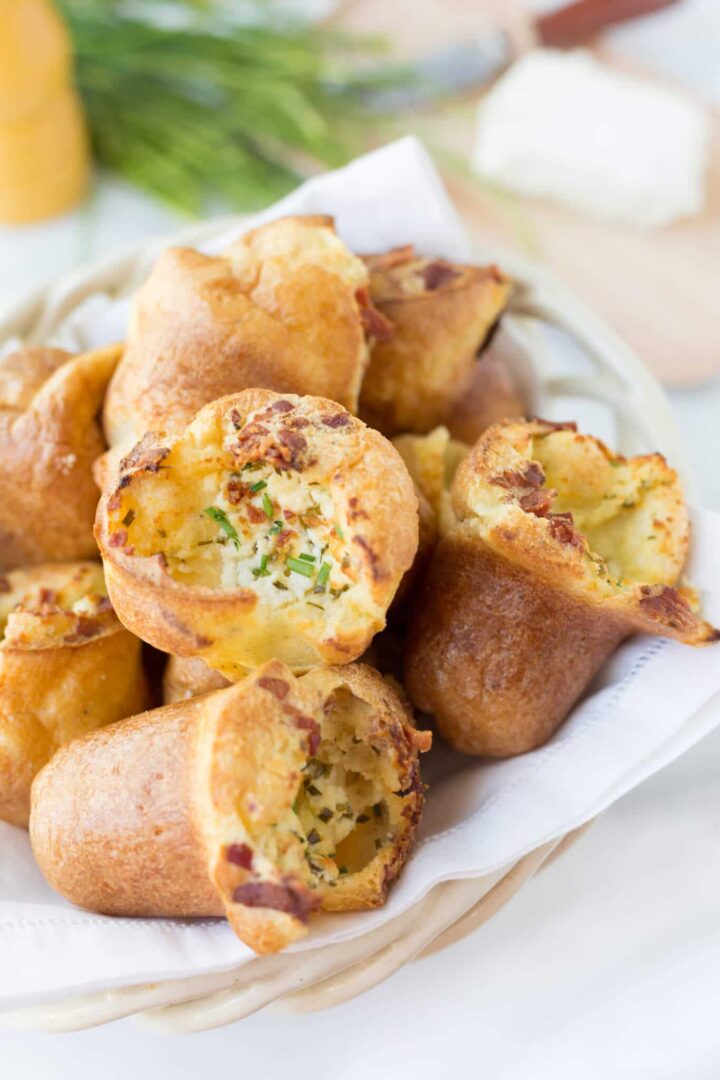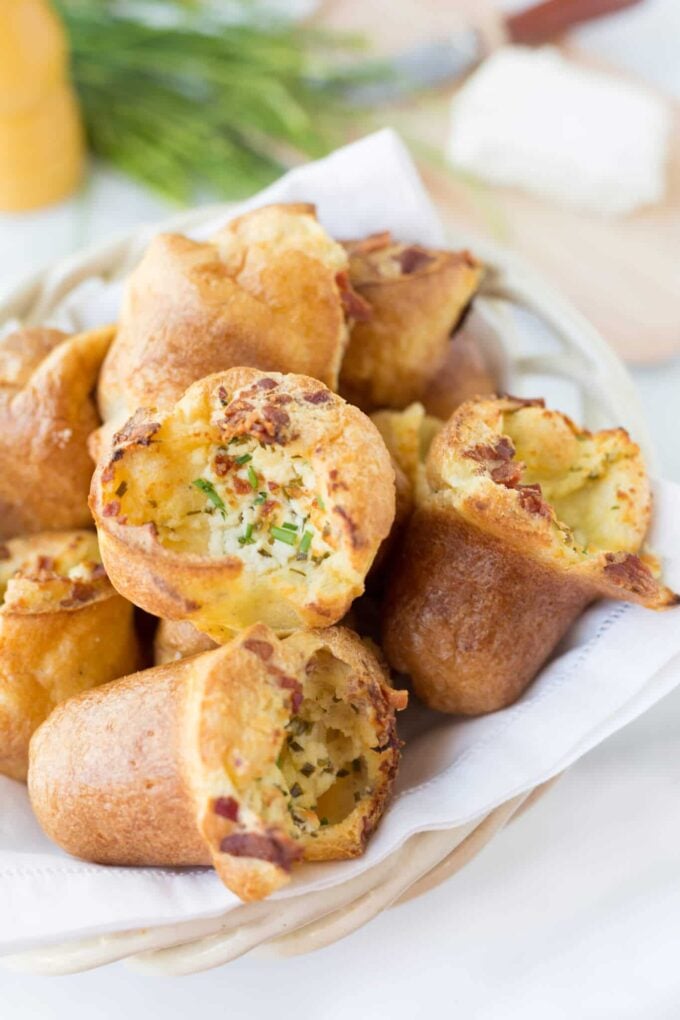 This post contains affiliate links. As an Amazon Associate, I earn a commission (at no additional cost to you) from qualifying purchases made by clicking these links. As always, all recommendations and opinions expressed are my own.
When I think of spring, popovers immediately come to mind. Something about their puffed, crisp shells and tender, airy interiors fits so well with the lighter feel of the season.
As a child, I remember being fascinated by their ballooned rise as my mother pulled them out of the oven. It always seemed like magic!
We'd always eat the warm rolls with butter and honey (or sometimes, with strawberry butter, as served at our favorite destination for girls' shopping luncheons).
Over the years, I've experimented with seasonal popovers recipe variations, and decided to pair them with one of my favorite ingredients for spring: goat cheese. In these savory beauties, traditional popover batter meets salty bacon crumbles, creamy goat cheese, snipped fresh chives, and a hint of black pepper.
Light-textured, full-flavored, and easy to make, this Popovers Recipe with Goat Cheese and Bacon is perfect for any time of day: breakfast, brunch, lunch, or dinner!
What are Popovers?
"Popovers" get their name from how the batter rises in the pan and "pops" over the tops of the wells. Considering that you're only pouring a few tablespoons of batter into each well, the rise is quite dramatic. It's fun to watch them through the oven door as they bake.
Popovers are similar to British Yorkshire puddings, which are baked with the drippings from roasted meats instead of melted butter or cooking spray. The base of both batters is a simple mixture of milk, eggs, flour, and salt.
How to Make Popovers
Some popover recipes call for using a blender, but I've found that hand-mixing with a whisk produces a more tender final product and doesn't take much longer.
The ratio of wet to dry ingredients will yield a thin batter, somewhere between the consistency of half and half and heavy cream. The liquids create the steam needed to make the batter rise, puff, and form the popover's characteristically hollow center.

Homemade Popovers: Tips for Success
To achieve the loveliest rise and texture when making this recipe for popovers, there are a few best practices to keep in mind:
Your popover pan needs to be preheated with your oven so that you're pouring the batter into hot wells.
The eggs and milk should be at room temperature. Batter made with chilled ingredients will not rise as well.
Start the popovers in an extra-hot oven (425 degrees F), lowering the temperature after they've "popped" (20 minutes) and baking until golden. I've found that the deeper the color, the better the popovers retain their shape.
Resist the temptation to open the oven door during baking, or your popovers will deflate!
When filling with cheeses, especially softer varieties like the goat cheese used in this popovers recipe, placing the pan on a lined baking sheet is essential. As the batter rises, it's inevitable that a bit of the cheese will bubble out.
Much like soufflés, popovers are best served immediately after baking. As soon as they come out of the oven, pierce the top or side of each roll with the tip of a knife to release the steam. This will help them hold their shape and texture for a few extra minutes.
(Note: in terms of shape, plain popovers will tend to crown a bit more in the center than filled, goat cheese popovers, as the batter naturally balloons around the filling.)
Do I Need a Popover Pan? Making Muffin Tin Popovers
If you don't have a popover pan (I've used a 12-cup mini popover pan here), a standard muffin tin also works well. Popover pans have deeper, straight walls, which will encourage a higher rise. Though they will be shorter and a bit wider, rolls baked in a muffin tin are still delicious!
Read: Popover Pans: Are They Necessary for Perfect Popovers? from Kitchn.
Bringing a gorgeous basket of popovers to the table is an easy way to make any meal feel a little more special. Just whisk, fill, and bake!
Tip: Make your prep easy by baking your bacon! The crispy bacon crumbles well, and cleanup is a breeze. Check out my How to Cook Bacon in the Oven tutorial for instructions.
More Spring Goat Cheese Recipes:
📖 Recipe
*Post originally published April 20, 2016.