Say goodbye to a stovetop of bacon splatter! This step-by-step tutorial will show you how to cook bacon in the oven for perfectly-crisped results and easy cleanup every time. Plus, you'll learn ways to take breakfast and brunch to the next level with ideas for flavor variations.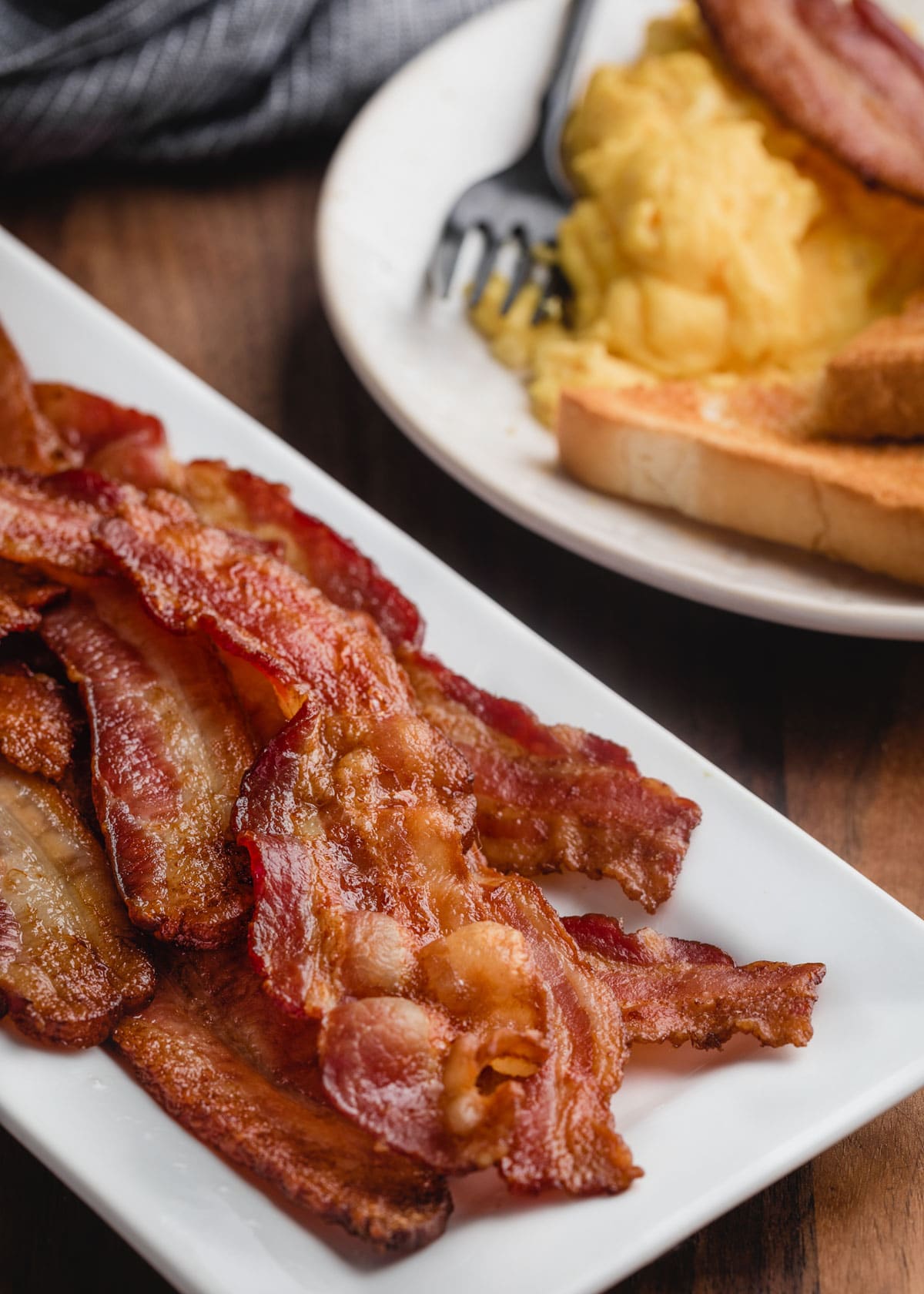 This post contains affiliate links. As an Amazon Associate, I earn a commission (at no additional cost to you) from qualifying purchases made by clicking these links. As always, all recommendations and opinions expressed are my own.
Why Cook Bacon in the Oven?
When it's already pretty quick and easy to cook bacon on the stove, why turn to the oven? Three reasons have made me all but abandon my skillet in favor of a baking sheet in my kitchen:
1. Convenience
Since it isn't a direct-flame cooking method, oven bacon doesn't need to be watched as closely as a pan on the stove. This allows me to give my attention to other parts of the meal, whether that's eggs for breakfast, caramelized onions for savory palmiers, or components of a wedge salad.
If I have overnight guests for breakfast, I can also cook a lot more bacon at once using multiple baking sheets than I would be able to on the stove. All the bacon, on demand!
2. Consistency and Quality
If crispy bacon is your jam, you're going to love the strips that come out of the oven. Since oven bakes more slowly than it would on the stove, the bacon is able to crisp evenly from end to end, without a lot of overcooking at the edges.
Also, this slower cooking process means that the strips don't curl up as much. If picture-perfect, straighter pieces of bacon are your goal, the oven is a great way to achieve that!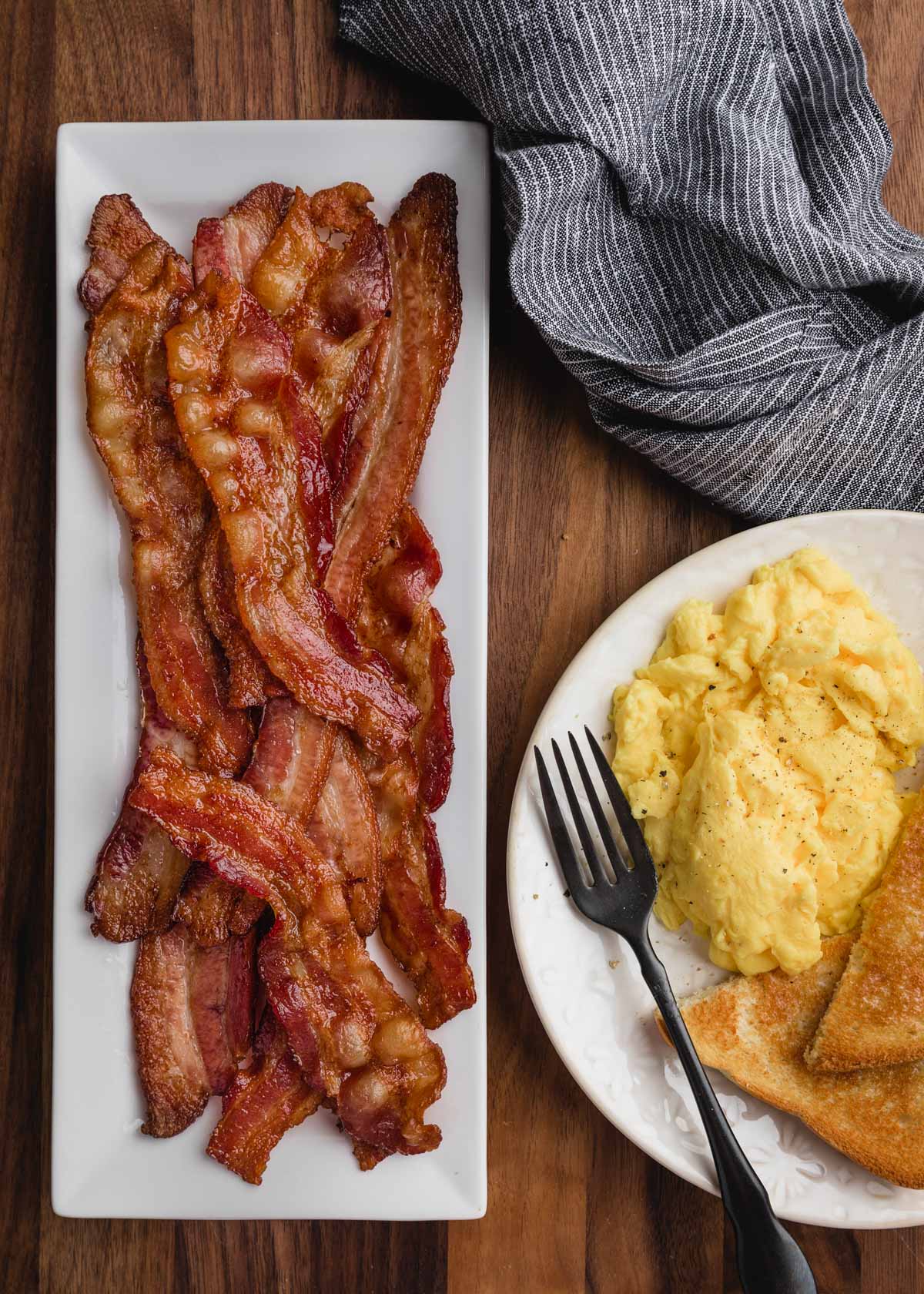 3. Easier Cleanup
Fact: Bacon is fatty. Unless I use a splatter guard when I cook a big batch of bacon on the stove, I find grease on every grate, cap, and knob when I'm finished. It's a hotter, quicker cooking method that releases the fat droplets into the air with more vigor.
When you bake bacon, most of the time you'll just have to roll up and discard the foil or parchment you used to line the pan and give the oven interior a quick wipe down with a damp towel once it's cooled back down.
(Sometimes, I don't even get any splatter in the oven at all. It depends on the type of bacon I've used. I've mostly found it after cooking thick-cut strips that had a high fat-to-meat ratio.)
Bacon-Baking Ingredients and Equipment You'll Need
What Kind of Bacon is Best to Bake?
It depends on what your bacon-loving tastebuds desire. Do you want bacon that's quite crisp without a lot of chew? Bacon you can easily crumble? Go with regular bacon (sliced about 1/16-inch thick).
Do you want rendered, crispy edges with a more meaty overall texture? Thick cut is your pick (sliced about ⅛-inch thick or more).
If you prefer a leaner option, you can also bake turkey bacon. I find that since it has less fat, turkey bacon doesn't come quite as crisp as pork bacon, but you can still get a good texture on it with the oven method. It can also get a little dry if cooked too long, so you'll want to keep an eye on as it bakes.
Brush up on bacon varieties before heading to the store with this Bacon Buying Guide from the Food Network.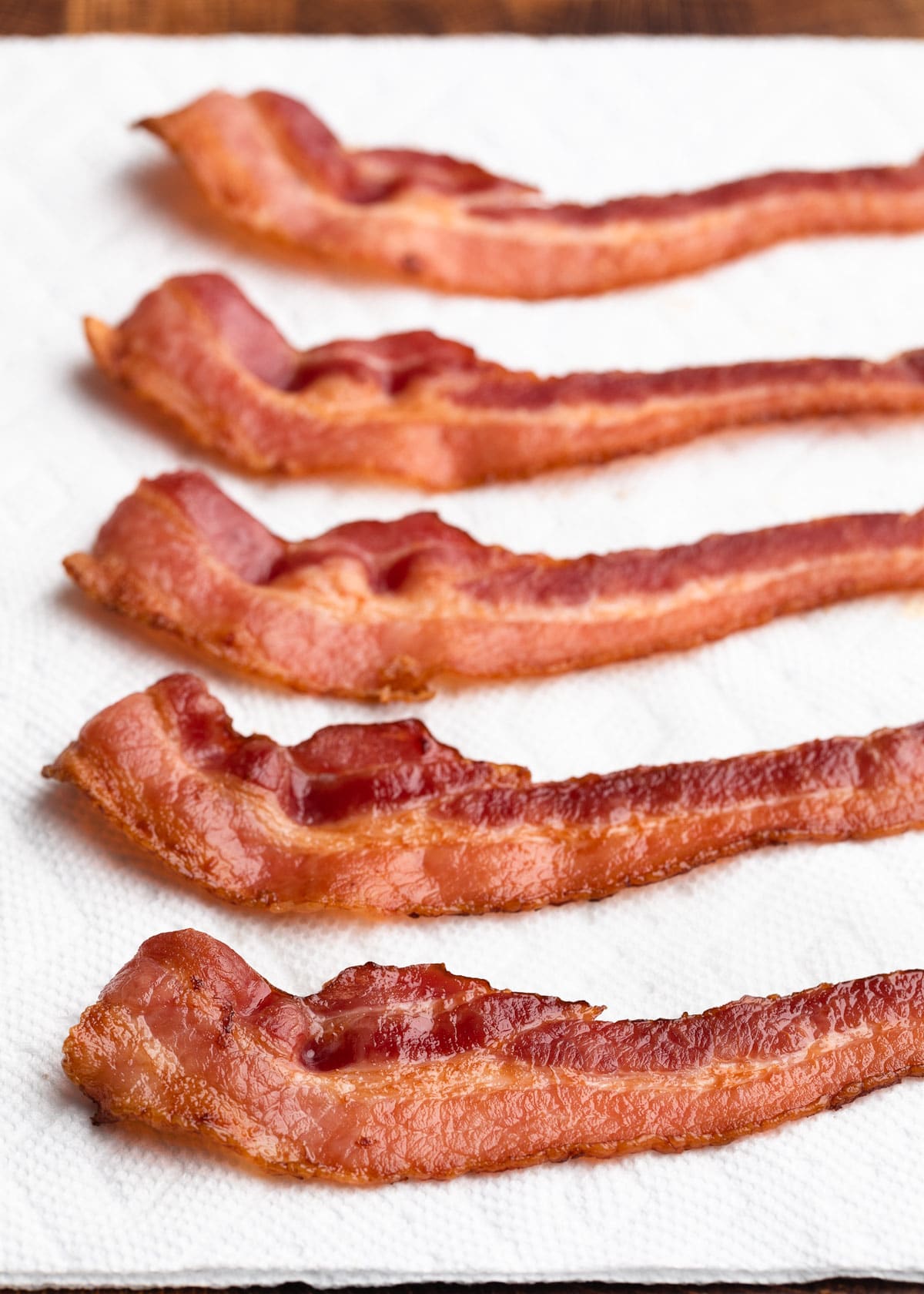 How to Cook Bacon in the Oven
To start, choose your bacon variety and preheat your oven with the rack in the center position. Set it to 400 degrees F if you're using regular bacon or 375 degrees F for thick cut. Line your baking sheet with parchment paper (I recommend a double layer for easy cleanup) or aluminum foil.
While both liners work well, I most often prefer to use foil, wrapping it up and around the rims of the pan for easiest cleanup. The bacon grease won't soak into foil, which is especially useful for straining and saving the grease for other uses.
If desired, fit an oven-safe wire cooling rack onto the baking sheet. I like to use a rack when baking thick cut bacon, since it releases a lot more fat than regular. For thinner cuts, I find that cooking in the fat directly on the pan helps the bacon crisp nicely.
If you decide to cook regular bacon on a rack, you'll get a slightly chewier texture in the center (perfect if you're someone who likes your bacon a little less crisp).
Bake regular bacon for 10-20 minutes, until your desired crispness is reached. For thick cut bacon, bake for 10 minutes, flip it, and continue baking for 10-15 minutes, until the edges are crisp and the centers are cooked to your preferred doneness.
Remember that both varieties of bacon will continue to crisp as they cool. Immediately drain the cooked bacon on a double layer of paper towels before serving.
If you increase the yield on the recipe and are baking more than one sheet at once, place them in the upper and lower thirds of the oven, rotating the sheets halfway through.
Don't Forget to Save the Bacon Grease!
The pooled fat left on the baking sheet after making bacon in the oven is pure gold. I always like to strain it through a fine mesh sieve and save it in an airtight container either the refrigerator (3 months) or freezer (6 months to 1 year) for future use.
Some of our favorite ways to use bacon fat are:
As a substitute for butter when to grease a cast iron skillet for cornbread,
To roast or pan-fry potatoes and hash browns,
For frying eggs or cooking omelettes,
To pop stovetop popcorn,
When roasting or sautéing vegetables, like brussels sprouts, or corn for succotash,
To make a salad with warm bacon vinaigrette.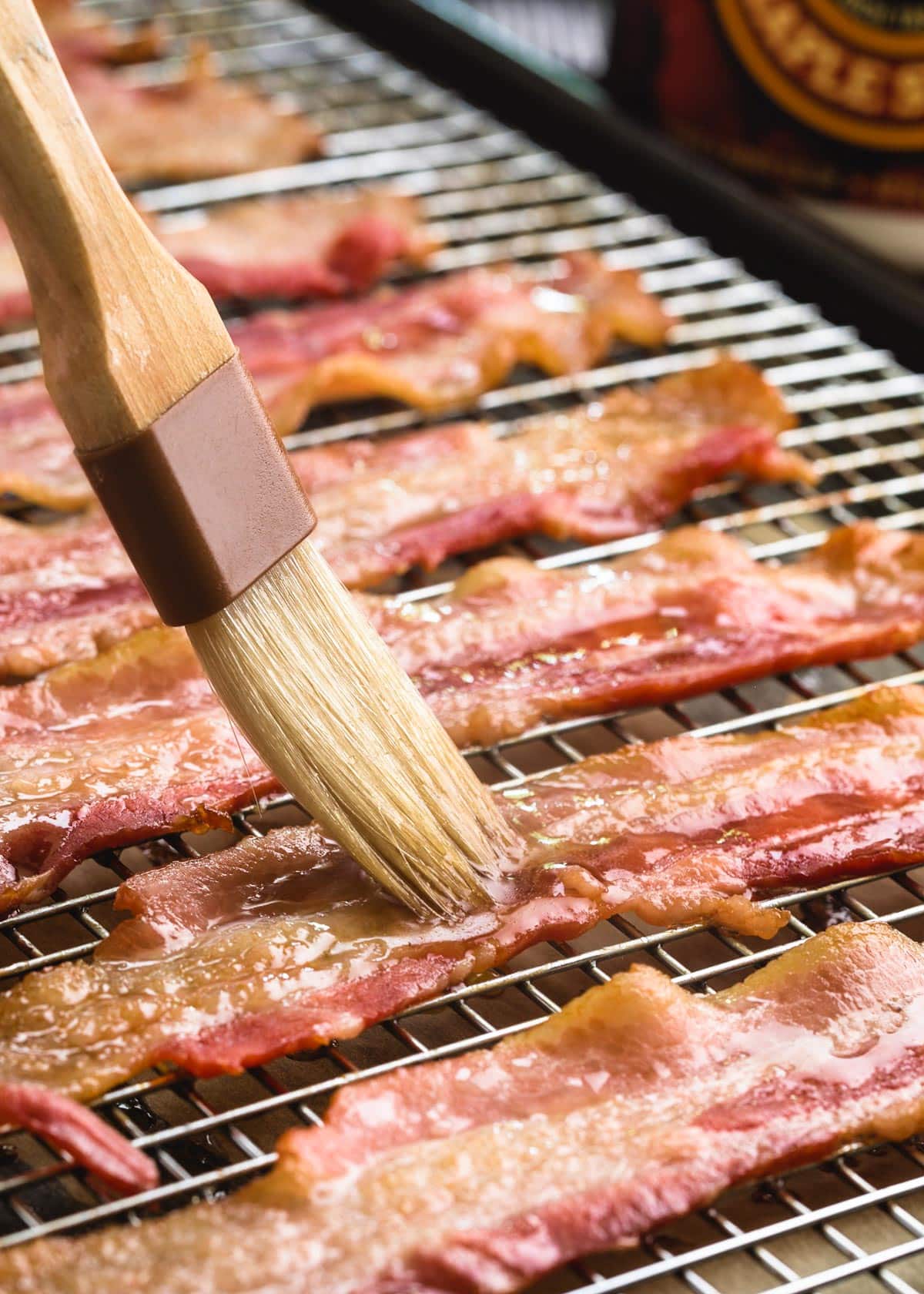 Make it Fancy: Baked Bacon Variations
Peppered. Sprinkle the bacon slices with freshly-cracked pepper before baking.
Brown Sugar. Sprinkle light brown sugar over the bacon before baking.
Maple or Honey: Brush bacon slices with maple syrup or gently-warmed honey during the last 5 minutes of cooking.
Maple-Black Pepper: After brushing the bacon slices with maple syrup, sprinkle with freshly-cracked black pepper.
Maple-Chipotle: Mix 1 teaspoon of ground chipotle powder (more or less, to taste) into ¼ cup maple syrup and brush as described above.
Hot Honey: Mix 1-2 tablespoons of your favorite hot sauce (such as Frank's, Tabasco, or Sriracha; adding more or less, to taste) into ¼ cup of warmed honey.
Brown Sugar Bourbon Glaze: Mix together ½ cup brown sugar and 2 tablespoons bourbon. Also delicious with a little cracked pepper or smoked paprika mixed into the glaze. Honey and maple syrup can be substituted for the brown sugar. Brush the glaze onto thee bacon during the last 5 minutes of baking.
Tip: If you're making a sticky or sugary glaze, like maple or brown sugar, drain the bacon strips on a piece of parchment or a wire rack set over paper towels. The hot sugars can sometimes stick to paper towels if they come in contact.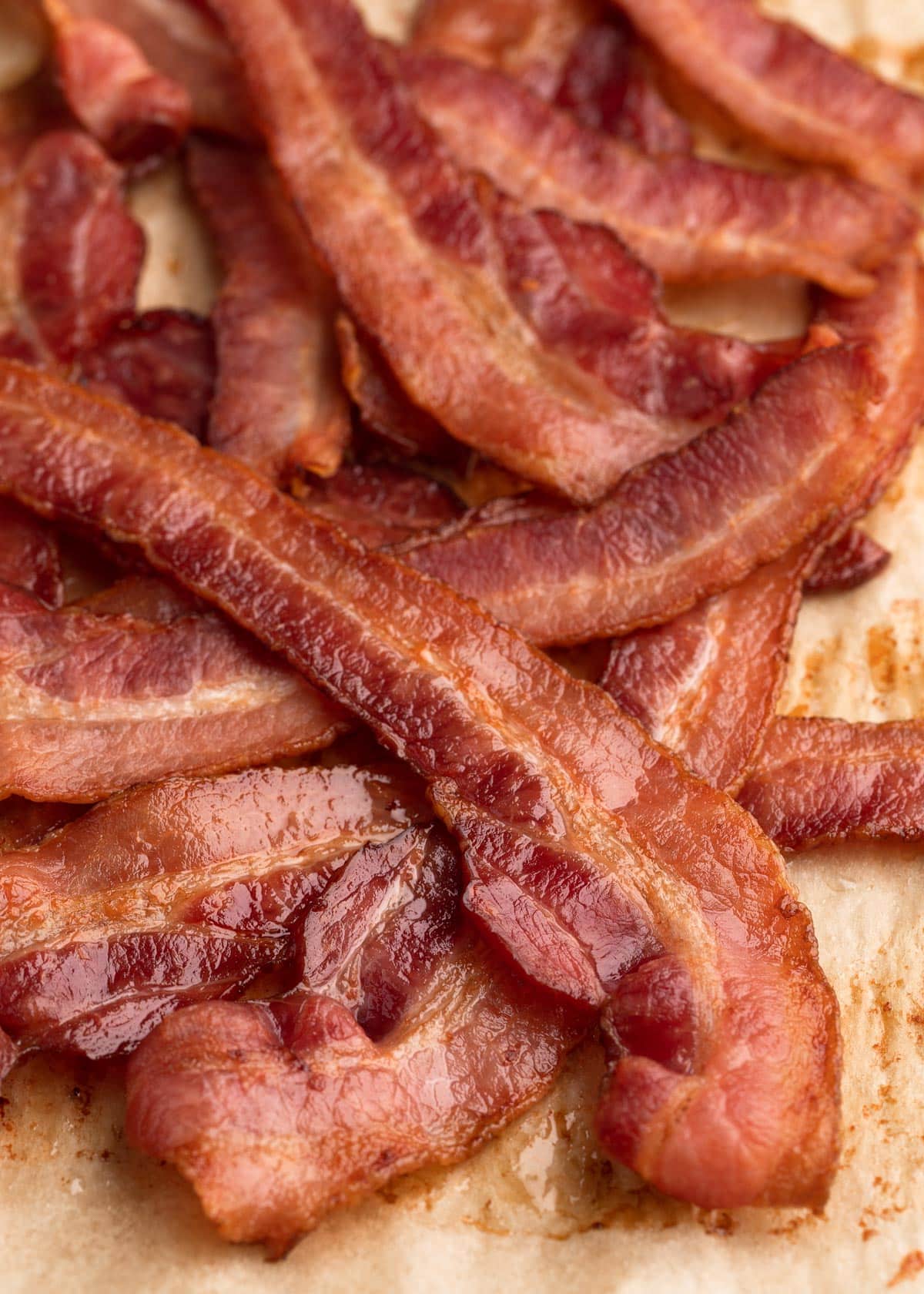 Meal Prep: Baking Bacon Ahead
I often like to bake a large batch of bacon on a weekend morning and use the leftovers throughout the week. Wrapped in foil or stored in an airtight container, baked bacon keeps in the fridge for up to 4-5 days.
If I only need to reheat a few chilled slices, I'll pop them into the microwave for 15-20 seconds on a paper towel-lined plate. (Confirm your brand of paper towels is microwave safe.) Makes breakfast a breeze on a busy morning!
To reheat a larger batch, place the bacon back on a parchment or foil-lined baking sheet and pop into a 350 degree F oven for 10-15 minutes, until heated through and crisp.
Recipes To Make With Baked Bacon
CRAVING MORE? Subscribe to my newsletter and join me on Facebook, Pinterest, and Instagram for the latest recipes and news.
📖 Recipe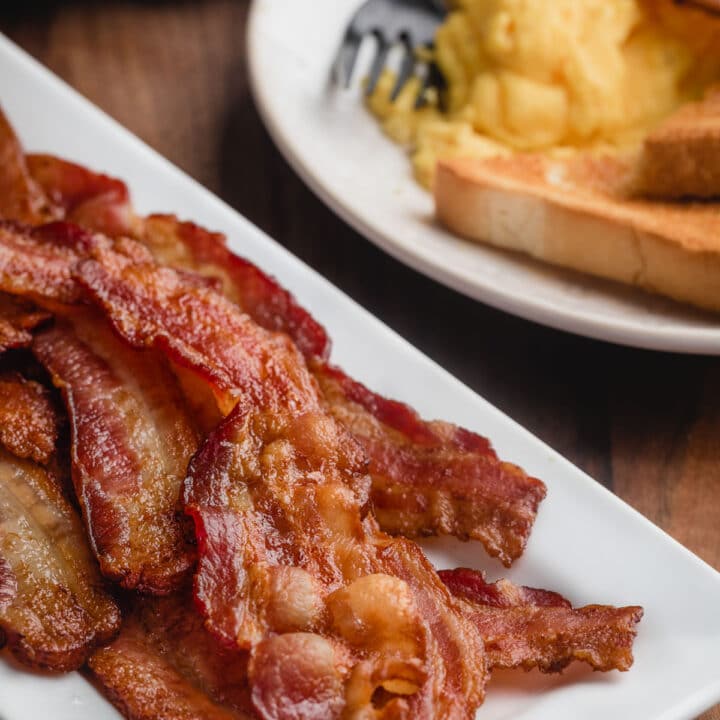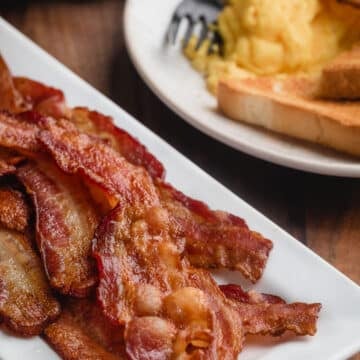 How to Cook Bacon in the Oven
It's a cinch to make perfectly-cooked bacon in the oven! No frying pan, no stove splatter. Great for weekend breakfasts, meal prep, and entertaining.
Print
Pin
Rate
Save
Saved!
Servings:
12
bacon slices
Estimated Calories:
92
kcal
Ingredients
12

slices

bacon

(regular or thick cut)*
Instructions
Regular Cut Bacon (1/16-inch thick)
Preheat oven to 400 degrees F with the rack in the middle position. Line a rimmed baking sheet with foil or a double layer of parchment.

Lay the bacon in a single layer on the baking sheet without overlapping. Bake for 10-20 minutes, rotating the pan halfway through, until the bacon is golden brown and crisp. Cooking time will depend on the brand of bacon and your preferences. When assessing doneness, keep in mind that the bacon will continue to crisp as it cools.

Immediately drain the bacon on a double layer of paper towels and serve.
Thick-Cut Bacon (⅛-inch thick)
Preheat oven to 375 degrees F. Line a rimmed baking sheet with foil or parchment and place an oven-safe wire cooling rack onto the pan.

Lay the bacon strips in a single layer on the wire rack without overlapping. Bake for 10 minutes. Flip the bacon using tongs or a fork, rotate the pan, and continue baking for 10-15 minutes, until the edges are crisp and the centers are cooked to your desired doneness. (Adjust the time as needed for thicker cuts.)

Drain the bacon on a double layer of paper towels before serving. Bacon will continue to crisp as it cools.
---
Notes
*If using extra-thin, "Restaurant Cut" bacon (1/32-inch thick slices), follow the instructions for Regular Cut bacon, and start checking for doneness around the 8-minute mark.
For ways to flavor baked bacon, see the Variations section in the article above.
Nutrition Estimate
Serving:
1
bacon strip
|
Calories:
92
kcal
|
Carbohydrates:
1
g
|
Protein:
3
g
|
Fat:
9
g
|
Saturated Fat:
3
g
|
Trans Fat:
1
g
|
Cholesterol:
15
mg
|
Sodium:
146
mg
|
Potassium:
44
mg
|
Vitamin A:
8
IU
|
Calcium:
1
mg
|
Iron:
1
mg
Keyword:
baked bacon, how to cook bacon in the oven, oven bacon
---
About our Recipes:
Please note that our recipes have been developed using the US Customary measurement system and have not been tested for high altitude/elevation cooking and baking.
Have you made this recipe?
Don't forget to leave a comment and rate the recipe below! Take a picture? Tag @stripedspatula and #stripedspatula on Instagram!