Irish-American Soda Bread is a dense-textured and lightly-sweet loaf, studded with raisins and/or caraway seeds. I like to serve it just slightly warm or at room temperature with softened Irish butter.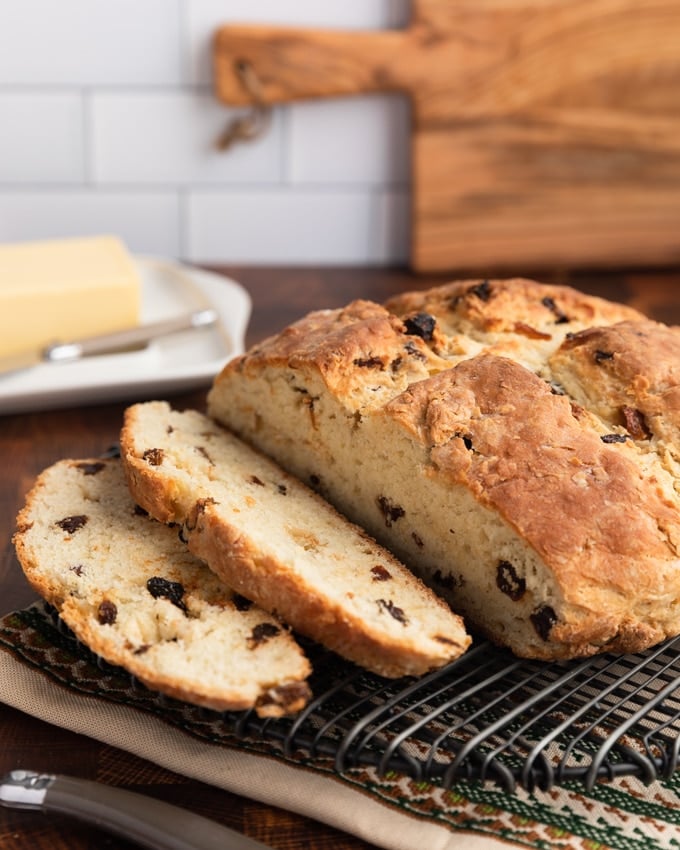 This post contains affiliate links. As an Amazon Associate, I earn a commission (at no additional cost to you) from qualifying purchases made by clicking these links. As always, all recommendations and opinions expressed are my own.
Irish vs Irish-American Soda Bread
Authentic Irish Soda Bread is a yeast-free, unsweetened bread that contains only four ingredients: soft wheat flour, baking soda, salt, and buttermilk.
In Ireland, recipes for bicarbonate-leavened "soda bread" date to the 1800's. They were meant to be fast, easy, everyday table breads that could be made with scarce resources.
Want to read more about the history behind the recipe? Check out Inside the Origin of Irish Soda Bread from Gillie Houston at MyRecipes.
Irish-American Soda Bread takes this base recipe and builds on it. This tradition adds granulated sugar for a touch of sweetness, cubed butter (cut into the dry ingredients), and in some recipes, like mine, a beaten egg.
As is common on this side of the Atlantic, the loaf is typically studded with raisins, dried currants, or caraway seeds.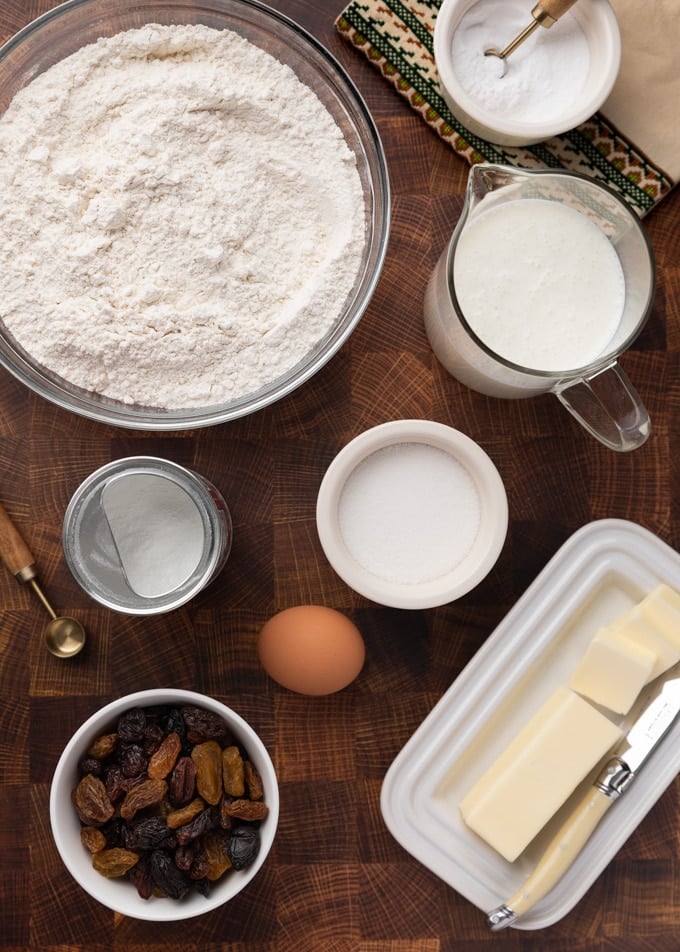 Special Ingredients For the Best Loaf
I've had the best results using a few specific ingredients in my Irish-American Soda Bread:
Whole Buttermilk. Irish buttermilk tends to be richer than its American counterpart. With this in mind, I always buy whole buttermilk for this recipe.

I usually find it in the organic or farm-fresh section of my grocery store's dairy department. If whole buttermilk is unavailable, you can substitute low-fat, but the loaf won't be as rich.

Medium-protein all-purpose flour. For this dough, I've found that flour brands with just a bit less protein aren't as prone to overworking. I like to use Gold Medal (10.5% protein content) or Pillsbury (10-11% protein content) for my soda bread.

Irish butter. If you can source Irish butter, both for making the recipe and serving alongside the baked loaf, all the better. It has a higher butterfat content and less water than American butter.

Irish butter has a beautiful yellow hue and wonderful flavor. I most often use Kerrygold.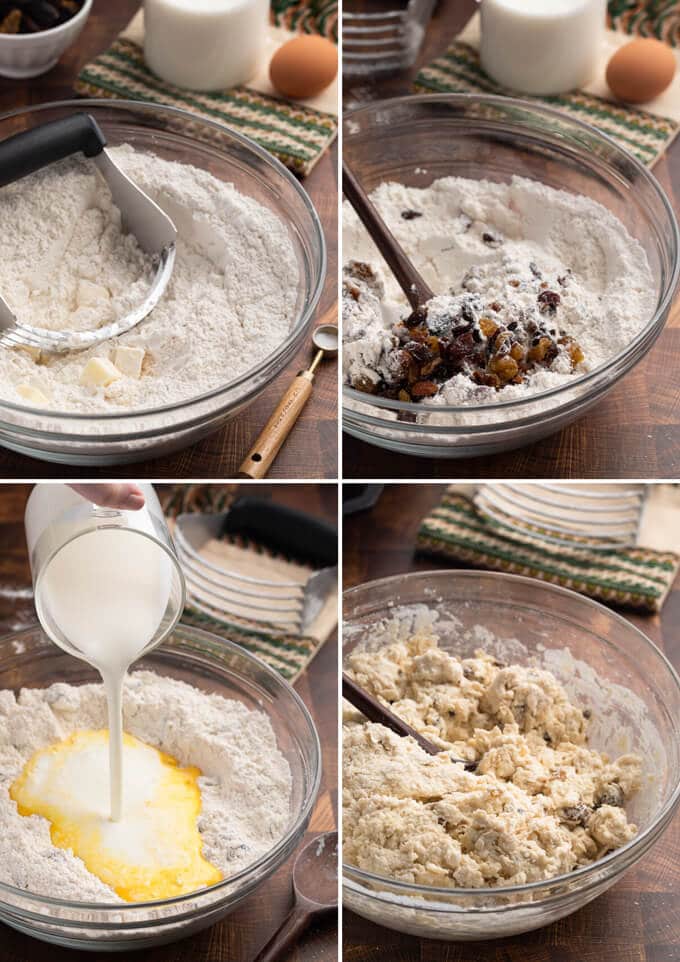 How to Make Irish American Soda Bread
Like traditional soda bread, the American-style recipe is easy to make, requiring minimal kneading and no proofing.
This soda bread is a one-bowl recipe. Just whisk all of the dry ingredients together and cut in cold cubes of butter using a pastry blender or a fork.
You'll see tiny bits of butter in the flour when you're finished, but not large pieces. Once the butter is incorporated, toss in the raisins or caraway seeds, and mix in the egg and buttermilk.
As you combine the dry and wet ingredients, you want to stir just enough enough to bring everything together. Over-mixing or over-kneading the dough will result in a tough crumb.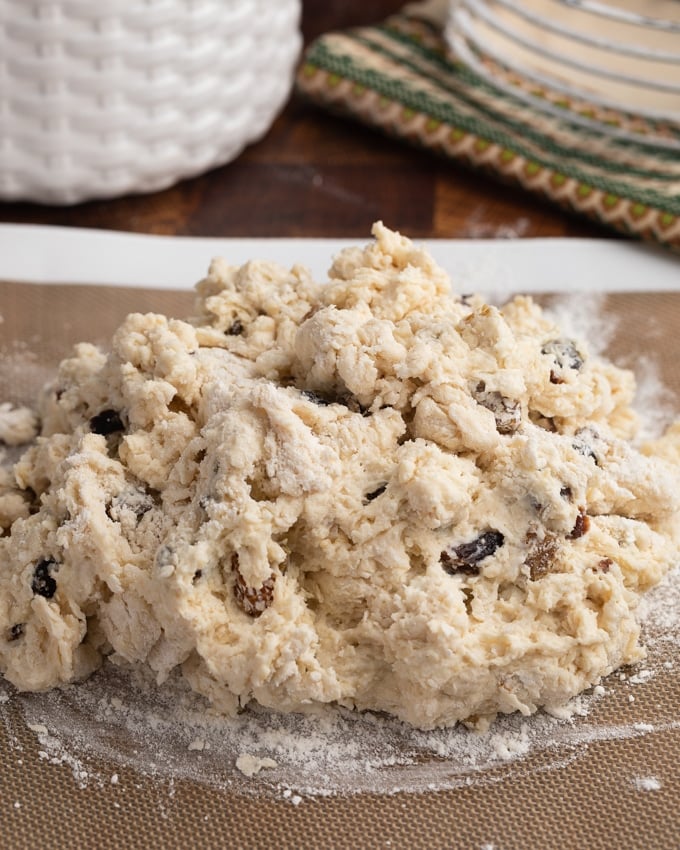 Shaping the Loaf
Once the dough starts to come together, transfer it to a floured marble board or pastry mat. Knead it with floured hands just until you can shape the dough into a ball.
It won't look perfect! The dough should have a scraggly appearance.
Actually, the worst thing a baker can do to a good soda bread recipe (aside from burning or undercooking it, of course!) is overworking the dough. For the most tender loaf, less is more.
For the best crust, I like to bake my Irish-American Soda Bread in a lightly-buttered cast iron skillet. You can also use a parchment-lined baking sheet, but the bottom of the loaf won't be as crisp.
Before baking, use the tip of a paring knife to cut a cross into the top of the dough round, stopping about an inch from each edge. Practically, this helps the center of the loaf to bake evenly. According to Irish tradition, the cross is made in the bread for good luck or to "let the fairies out."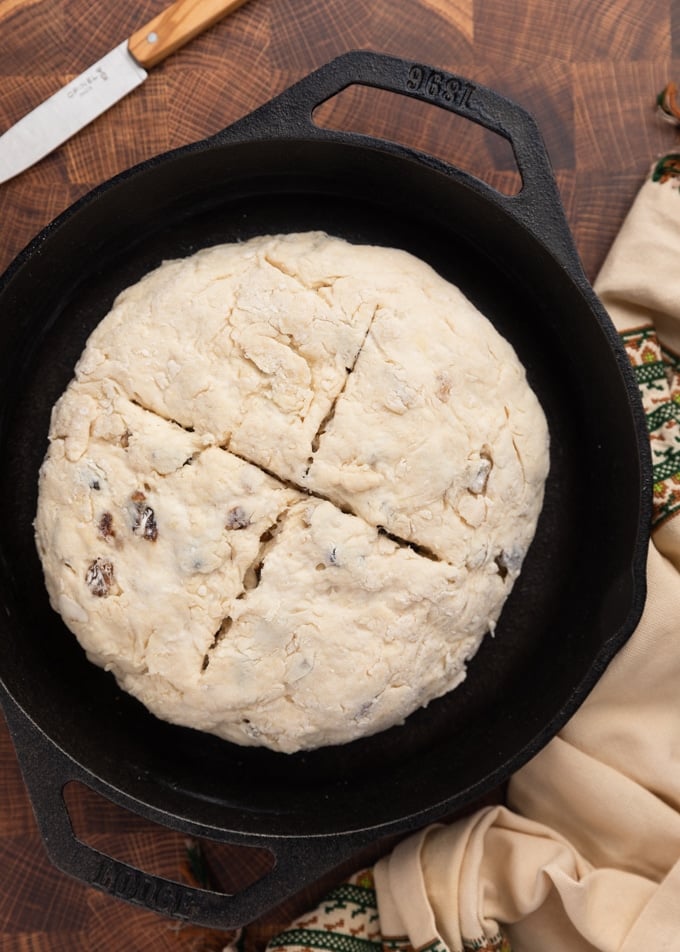 In the Oven
The amount of time the bread bakes will depend on whether you've used a cast iron skillet or a baking sheet (the skillet needing just a few minutes longer). Plan on 40-50 minutes at 400 degrees F.
With both methods, keep an eye on the bread in the oven. You might find that the top of the loaf starts to brown faster than the center bakes. If so, just lay a piece of foil over the top of the loaf.
The bread is ready when it's golden and a cake tester inserted into the center comes out clean or with just a few moist crumbs attached. When it first comes out of the oven and is piping hot, I like to lightly brush the top with a little melted butter.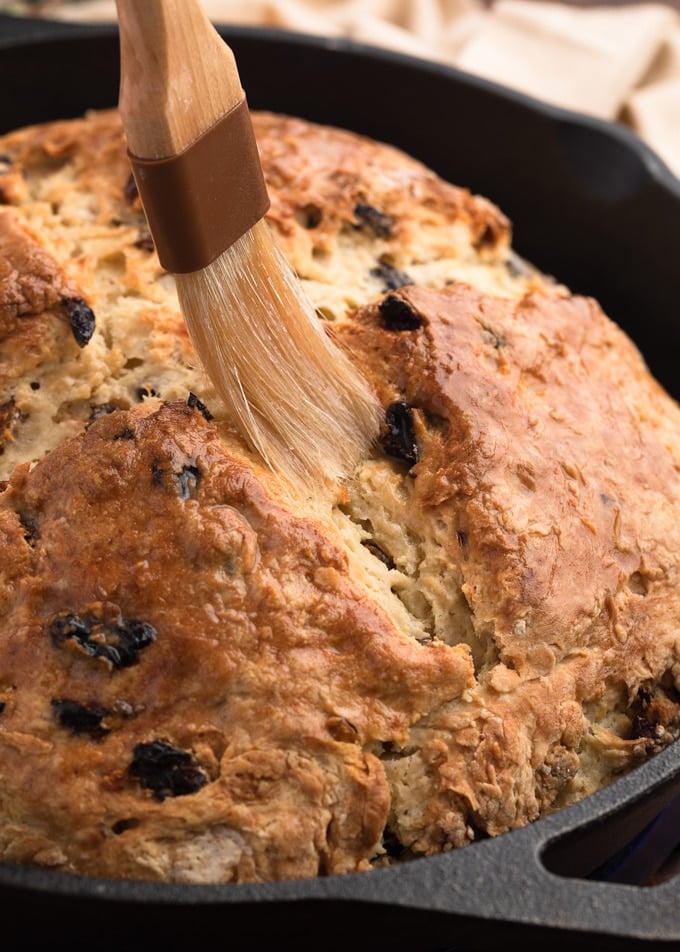 Serving the Soda Bread
While I usually love eating any type of home-baked bread hot, this loaf tastes best closer to room temperature. We love to serve it with a generous dollop of softened Irish butter. It's great with a cup of tea for breakfast.
Since it isn't too sweet, this bread is also delicious alongside Irish Stew, Corned Beef, or any Irish-inspired dinner (especially when made with caraway seeds).
This American-style Irish Soda Bread is best enjoyed the day it's baked. While you can wrap it in foil and save the leftovers for the next morning, the loaf does get a bit heavier and denser as it sits. We always try to make it a same-day treat.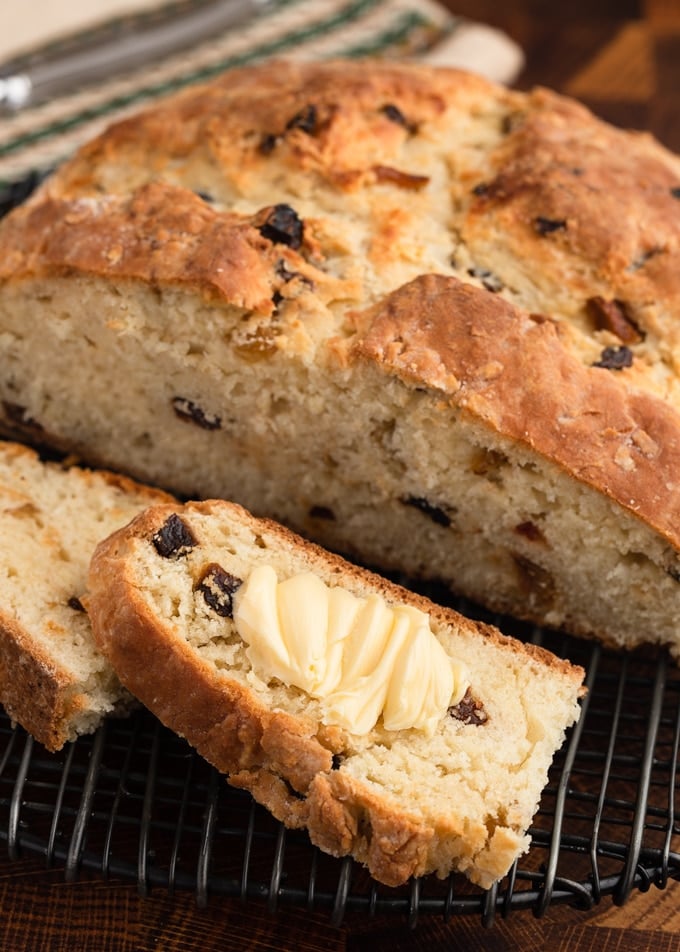 More St. Patrick's Day Recipes
On St. Patrick's Day, I like to think of this rich, sweet soda bread as a little extra gold in the pot at the end of the rainbow. Here are some more Irish-inspired recipe ideas for your holiday feast. Sláinte! (Cheers!)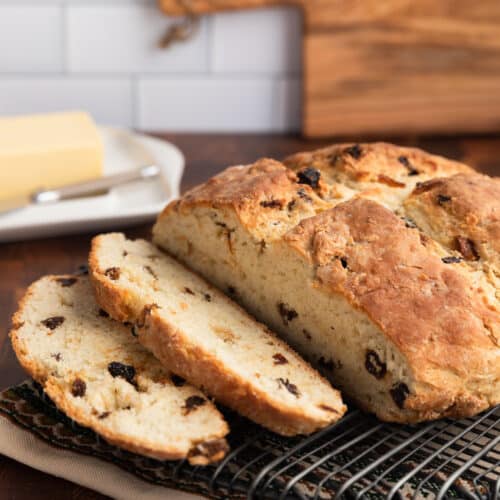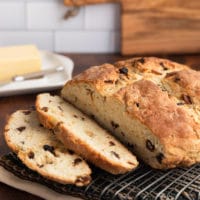 Irish-American Soda Bread
Irish-American Soda Bread is a dense and slightly sweet loaf, studded with raisins. I like to serve it just slightly warm or at room temperature with softened Irish butter.
Print
Pin
Rate
Save
Saved!
Servings:
8
servings (1 loaf)
Estimated Calories Per Serving:
405
kcal
Ingredients
4

cups

all-purpose flour

, plus more for kneading, measured using the spoon-and-level method*

3

tablespoons

granulated sugar

2

teaspoons

baking powder

1

teaspoon

baking soda

1

teaspoon

table salt

5

tablespoons

unsalted butter

, divided

1-1/2 to 1-3/4

cups

buttermilk

, preferably whole**

1

large

egg

, lightly beaten

1

cup

seedless raisins or currants

, (I use mixed raisins) AND/OR

1

tablespoon

caraway seeds
Instructions
Preheat oven to 400 degrees F. Line a baking sheet with parchment paper or lightly butter a 9-inch cast iron skillet.

In a large bowl, whisk together flour, sugar, baking soda, baking powder, and salt. Cut 4 tablespoons of cold butter into small cubes. Cut butter into the flour mixture with a pastry blender or a fork until corse crumbs form.

Stir in raisins/currants and/or caraway seeds (if using). Make a well in the center of the bowl. Pour beaten egg and buttermilk into the well. (Alternately, you can beat the egg and buttermilk together in the measuring cup before adding them to the bowl.) Stir just until the dough begins to come together.

Transfer the dough to a floured pastry board or mat. Knead with floured hands until the dough forms a ball. It will look scraggly. For a tender crumb, do not over-knead!

Form dough into a 6 to 7 inch round and transfer to the prepared skillet or baking sheet. Using a sharp knife, cut a cross shape across the top of the round, stopping about an inch from each edge.

Bake until loaf is golden brown and a skewer inserted into the center comes out clean, or with just a few moist crumbs attached. This will take 40-50 minutes, depending on whether you've used a cast iron skillet or baking sheet. (The skillet usually takes a few extra minutes than the baking sheet.)

Watch the bread while it's baking. If it starts to brown too much before the center is cooked, loosely lay a piece of foil over the top.

While the bread is baking, melt remaining tablespoon of butter. Remove loaf from oven and immediately brush with butter. Transfer to a wire rack to cool for about 20-30 minutes before slicing and serving.

This bread is best enjoyed the day it is baked. Leftovers can still be eaten the next day if the cooled loaf is tightly-wrapped in a double layer of foil and stored at room temperature. The bread will be denser on the second day.
---
Notes
*For best results, read about the ingredient brands and varieties I like to use for this recipe in the "Ingredients" section in the article above.
**The amount of buttermilk you need will range from 1-1/2 to 1-3/4 cups. Start with 1-1/2 cups and if the dough isn't coming together, add an additional 1/4 cup, 1 tablespoonful at a time. I almost always use the full 1-3/4 cups with the brands I use, but you might not need it all.
Nutrition Estimate
Serving:
0.125
loaf
|
Calories:
405
kcal
|
Carbohydrates:
70
g
|
Protein:
10
g
|
Fat:
10
g
|
Saturated Fat:
6
g
|
Cholesterol:
45
mg
|
Sodium:
789
mg
|
Potassium:
406
mg
|
Fiber:
3
g
|
Sugar:
7
g
|
Vitamin A:
335
IU
|
Vitamin C:
1
mg
|
Calcium:
128
mg
|
Iron:
4
mg
---
About our Recipes:
Please note that our recipes have been developed using the US Customary measurement system and have not been tested for high altitude/elevation cooking and baking.
Keywords:
american-style irish soda bread, irish american soda bread, irish soda bread with caraway seeds, irish soda bread with raisins
Have you made this recipe?
Don't forget to leave a comment and rate the recipe below! Take a picture and tag @stripedspatula and #stripedspatula on Instagram for a chance to be featured in our Insta Stories and newsletter!