Irish-American Soda Bread is a dense and slightly sweet loaf, studded with raisins. I like to serve it just slightly warm or at room temperature with softened butter and a drizzle of honey.
It's March! After what can only be described as the Longest. Winter. Ever., Spring is only a week away and St. Patrick's Day festivities have begun. That's right, it's time to break out the corned beef, the stout-spiked everything, and my favorite of all St. Patrick's Day treats: Irish Soda Bread. Finally!
I had a craving for Irish Soda Bread last month, but was immersed in other cooking projects and decided to pick up a loaf from the grocery store. I've bought some delicious store-baked soda breads in the past, but this year, I had no luck whatsoever.
The first loaf I brought home was so packed with raisins, it could've qualified as a fruitcake. The second loaf (from a different store) had a nice flavor, but was so dry, it dissolved into a pile of crumbs upon slicing. The third loaf was completely inedible. Beautifully browned and craggy on the outside, I cut into the center only to find a giant glob of raw dough.
With three strikes against me, and frustration mounting, I decided to pull out my favorite recipe and bake a loaf at home.
This soda bread is the dense, slightly-sweet, raisin-studded "Irish-American" variety that's common on this side of the Atlantic. By comparison, authentic Irish Soda Bread is an unsweetened bread that usually contains only four ingredients: flour (white or wheat), baking soda, salt, and buttermilk. (Delicious in its own right, and sure to appear in a future post.)
One quality the two breads share is that they're very easy to make, requiring minimal kneading and no proofing. Actually, the worst a baker can do to a good soda bread recipe (aside from burning or undercooking it, of course) is overworking the dough. For the most tender loaves, less is more.
My favorite recipe for Irish Soda Bread comes from Cooks Illustrated magazine. The biggest difference between this recipe and others I've tried is the addition of cake flour to the all-purpose flour. This results in a softer interior crumb, while maintaining a good density and crisp outer crust.
I've found that using a lower-protein all-purpose flour also improved the bread's texture and longevity. Loaves made with higher-protein brands were more prone to overworking and turned into gigantic hockey pucks overnight. (More on this in the recipe notes.)
While I usually love eating any type of home-baked bread almost immediately after it emerges from the oven, this loaf tastes best closer to room temperature. The bread is delicious on its own, but I've never said "no" to a dollop of softened butter and/or honey on top (especially when enjoying it for breakfast).
As for your St. Patrick's Day feast? I like to think of this rich, sweet bread as a little extra gold in the pot at the end of the rainbow. Sláinte! (Cheers!)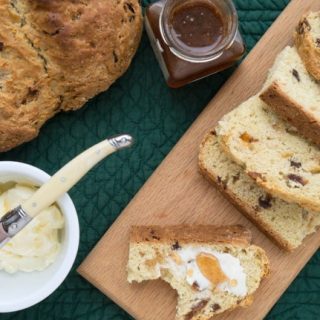 Irish-American Soda Bread
Irish-American Soda Bread is a dense and slightly sweet loaf, studded with raisins. I like to serve it just slightly warm or at room temperature with softened butter and a drizzle of honey.
Adapted from Cooks Illustrated, March 1, 1997

Print
Pin
Rate
Total Time:
1
hour
30
minutes
Servings:
8
servings (1 loaf)
Ingredients
3

cups

bleached all-purpose flour

, plus more for kneading*

1

cup

cake flour

, not self-rising

1/4

cup

granulated sugar

1-1/2

teaspoons

baking soda

1-1/2

teaspoons

cream of tartar

1-1/2

teaspoons

table salt

5

tablespoons

unsalted butter

1-1/4

cups

buttermilk

**

1

egg

, lightly beaten

1

cup

seedless raisins

(I use mixed)

1

tablespoon

caraway seed

(optional; I do not use)
Instructions
Preheat oven to 400 degrees F, with rack positioned one level up from the middle.  Line a baking sheet with parchment paper.  In a large bowl, whisk together all-purpose flour, cake flour, sugar, baking soda, cream of tartar, and table salt.  Soften 4 tablespoons of the butter, and cut into 1-tablespoon slices.  Work butter into the flour mixture with a fork until coarse crumbs form.

Add buttermilk, beaten egg, raisins, and caraway (if using), and stir gently with a fork until the dough begins to come together.  Transfer to a nonstick mat or a lightly-floured surface and knead gently just until the dough forms a ball.  The dough will look lumpy---for a tender crumb, do not over-knead!

Form dough into a 6 to 7 inch round and transfer to parchment-lined baking sheet.  Using a sharp knife, cut a cross shape across the top of the round, stopping about an inch from each edge.

Bake until loaf is golden brown and a skewer inserted into the center comes out clean, about 40 minutes.  Watch the bread while baking---if the loaf begins to brown too much before the center is cooked, cover loosely with a piece of foil.

While the bread is baking, melt remaining tablespoon of butter.  Remove loaf from oven and immediately brush with butter.  Transfer to a wire rack to cool for 30-40 minutes before slicing and serving.
---
Notes
*While a signature characteristic of this bread is its denseness, I find that the crumb is a bit more tender using a lower protein all-purpose flour, such as Pillsbury or Gold Medal.
**Irish buttermilk tends to be richer than its American counterpart. With this in mind, I've had the best results using whole buttermilk in this recipe. I usually find it in the organic or farm-fresh section of my grocery store's dairy department. If whole buttermilk is unavailable, low-fat will still work with delicious results.
This bread is best enjoyed the day it is baked, but can still be eaten the next day if the cooled loaf is tightly-wrapped in a double layer of plastic wrap and foil.  (That's if there are any leftovers, of course!)
Calories:
329
kcal
|
Carbohydrates:
54
g
|
Protein:
7
g
|
Fat:
8
g
|
Saturated Fat:
4
g
|
Cholesterol:
40
mg
|
Sodium:
231
mg
|
Potassium:
124
mg
|
Fiber:
1
g
|
Sugar:
6
g
|
Vitamin A:
260
IU
|
Vitamin C:
0.2
mg
|
Calcium:
28
mg
|
Iron:
2.5
mg
---
About our Recipes:
Please note that our recipes have been developed using the US Customary measurement system and have not been tested for high altitude/elevation cooking and baking.
Have you made this recipe?
Don't forget to leave a comment and rate the recipe below! Take a picture and tag @stripedspatula and #stripedspatula on Instagram for a chance to be featured in our Insta Stories and newsletter!