Turn overripe bananas into moist, delicious, pound cake-like banana bread. Great for breakfast, snack, or dessert any time of year.

I don't know what the weather's been like in your neck of the woods, but here in New Jersey, "erratic" has been the prevailing winter theme.  One day, things like polar vortexes are sending me scrambling for my best Nanook ensemble.  A mere 48-hours later, it's a sunny, unseasonable, flip-flop worthy 70-degrees.  I haven't known whether to pull out the Dutch oven for a pot roast or fire up the grill and host a barbecue. Make up your mind, Mother Nature!
Most years, January is prime for a string of snowstorms (and a prompt abandonment of well-intentioned dieting resolutions).  When the masses rush out to the stores to stock up on milk and bread before a blizzard, I'm assessing my flour and brown sugar inventory.  Is there anything cozier than watching the snow fall to the aroma of home-baked treats?
As luck would have it, the arrival of a recent snowstorm coincided with a bunch of bananas reaching optimal baking ripeness on my countertop.
I know, these bananas look like they've seen better days. While they may be flirting with past-their-prime for eating, heavily-speckled bananas are the best for baking.  When the peels brown, the starches in the fruit convert to sugars.  In turn, the fruit becomes more aromatic, lending a much fuller banana flavor to baked goods. The wait may be hard, but it makes a world of difference in the final product.
I'm not quite sure when banana bread got a reputation for being healthy (is it the suggestion of fruit in the name playing tricks on us?), but most recipes pack the same caloric whammy as cake.
Sure, there are some better-for-you loaves out there utilizing ingredients like Greek yogurt and whole wheat flour.  I have those recipes, and they're lovely. In the spirit of full disclosure, this isn't one of them.
Moist and dense (almost pound cake-like) with a prominent banana flavor, this recipe, in all of its one-and-a-half-sticks-of-butter glory, is my uncontested favorite (and one that I've been tweaking for the better part of 10 years). It's an occasional splurge.
(If you really think about it, the butter is distributed throughout a big loaf, of which you're only going to eat a slice…ahem, or two…at a time, making it a tad less guilt-worthy. Or so I tell myself.)
I tend to be a purist with this bread and find it full-flavored enough to enjoy on its own, slightly warmed.  That said, a little bit of whipped cream cheese never hurt anyone, with or without a sprinkling of chopped walnuts.
If you're really in the mood for something decadent, a dollop of chocolate hazelnut spread is also an amazing accompaniment. (For the sake of my own New Year's resolutions, we're going to go ahead and pretend that I don't have extensive firsthand knowledge of that statement.)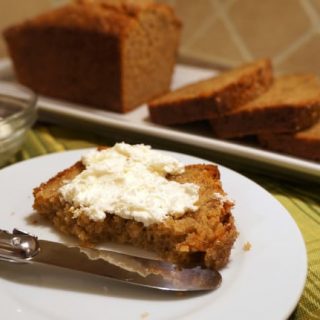 Banana Bread
Turn overripe bananas into moist, delicious, pound cake-like banana bread. Great for breakfast, snack, or dessert any time of year.

Print
Pin
Rate
Total Time:
1
hour
30
minutes
Servings:
8
slices (from 1 loaf)
Ingredients
2

cups

all-purpose flour

(271 grams)

1-1/2

teaspoons

baking powder

1/4

teaspoon

baking soda

1/2

teaspoon

kosher salt

1

teaspoon

ground cinnamon

1/4

teaspoon

ground nutmeg

2

large eggs

3/4

cups

light brown sugar

(160 grams), lightly packed

3/4

cups

unsalted butter

(1-1/2 sticks), melted and cooled

1

cup

mashed overripe bananas

*

1-1/2

teaspoons

vanilla extract

1/4

teaspoon

almond extract

1

teaspoon

orange zest

(optional)

1

tablespoon

white sparkling sugar

, or Demerara sugar for topping
Instructions
Preheat oven to 350 degrees F. Grease and flour a 1-pound loaf pan (about 8-1/2" x 4-1/2" x 2-3/4").

In a large bowl, whisk together flour, baking powder, baking soda, salt, cinnamon, and nutmeg. Set aside.

In a second bowl, whisk eggs until light and frothy. Add brown sugar, cooled melted butter, and extracts, stirring with a wooden spoon until combined. Stir in mashed bananas and orange zest (if using).

Add wet ingredients to the reserved flour mixture, stirring gently until just combined. For a tender bread, do not over-mix. A few streaks of flour are ok.

Pour batter into prepared pan. Evenly sprinkle the top with sparkling sugar. Bake for 1 hour, until a cake tester inserted into the center of the loaf comes out with only a few crumbs attached.

Cool in pan for 20 minutes. Remove loaf from pan and continue cooling on a wire rack. Slice with a serrated knife into 1-inch slices.**
---
Notes
*The recipe is forgiving if you wind up having extra mashed bananas. 1 cup is the standard that I use, but I've increased up to 1-1/4 cups total (so as to not waste the fruit) with good results. The more banana you use, the moister and more strongly flavored the bread will be.
**This bread freezes beautifully. I like to wrap individual, cooled slices in plastic wrap, storing them in freezer bags. Slices can be defrosted on the countertop at room temperature, gently microwaved, or toasted.
---
About our Recipes:
Please note that our recipes have been developed using the US Customary measurement system and have not been tested for high altitude/elevation cooking and baking.
Have you made this recipe?
Don't forget to leave a comment and rate the recipe below! Take a picture and tag @stripedspatula and #stripedspatula on Instagram for a chance to be featured in our Insta Stories and newsletter!