Turn overripe bananas into moist, rich sour cream banana bread with the nutty flavor of brown butter. Great for breakfast, snack, or dessert any time of the year.
This post was originally published in 2014 and updated with new photos and baking tips in 2019.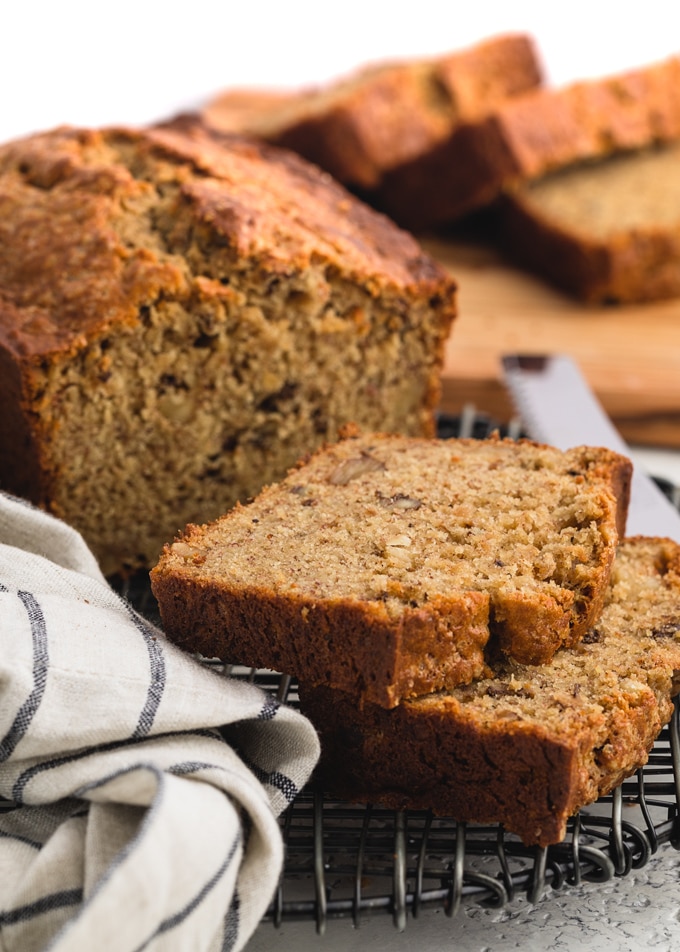 I don't know what the weather's been like in your neck of the woods, but here in New Jersey, "erratic" has been the prevailing theme since fall rolled in. Two days ago, it was 104 degrees. In October. A mere 12-hours later, the temperature had dropped to 54.
I haven't known whether to pull out the Dutch oven for a pot roast or fire up the grill and host a barbecue. Make up your mind, Mother Nature!
As luck would have it, the abrupt drop in temperature coincided with a bunch of bananas reaching baking ripeness on my countertop. That combination can only mean one thing: time to make banana bread.
Why I Love This Sour Cream Banana Bread
This recipe is everything I look for in a good banana bread: a moist crumb (the word everyone loves to hate, but is really the only appropriate descriptor here), a prominent banana aroma, and rich, supporting flavors like nutty brown butter and dark brown sugar.
It's been my family's favorite for the better part of 15 years.
What Goes In Sour Cream Banana Bread
I'm not quite sure when banana bread got a reputation for being healthy (is it the suggestion of fruit in the name playing tricks on us?), but most recipes pack the same caloric whammy as cake.
Sure, there are some better-for-you loaves out there made with Greek yogurt and whole wheat flour. I have those recipes, and they're lovely. In the spirit of full disclosure, this isn't one of them. <cue laugh track>
This banana bread, in all of its full-stick-of-brown-butter-glory is a well-deserved splurge when you want a slice o'something cozy and comforting. Here's what you'll need to make it:
Overripe bananas
Eggs
Vanilla extract
Sour cream
All-purpose flour
Spices (cinnamon and nutmeg)
Kosher salt
Baking powder and soda
Orange zest (optional)
Toasted walnuts (optional)

Tips for Making the Best Banana Bread
Use heavily speckled bananas. To make banana bread with a deep, sweet banana flavor, the fruit needs to become quite overripe. Like those pictured, your bananas should look like they've seen better days. When the peels brown, the starches in the fruit convert to sugars. The bananas then become more aromatic, lending a much fuller flavor to baked goods.
Measure the bananas after mashing. You'll see a lot of banana recipes call for something like, "3 bananas, mashed." The problem is, bananas vary in size, and your 3 bananas could measure out to a significantly different amount than mine. You'll need 1 cup of mashed bananas for a loaf. For me, this is usually 2 to 3 bananas worth.
Don't skip the step of browning the butter. Brown butter makes everything better, IMHO, and banana bread is no exception. It doesn't take long to brown butter on the stove, and those toasty milk solids add another layer of flavor that takes this bread to the next level.
Don't over-mix. Like most quick breads, you'll get the most tender crumb if you don't overwork the batter. It should be well-combined, but a few streaks of flour remaining at the end are ok.
Do try the orange zest. It's a somewhat unconventional addition to sour cream banana bread, and it isn't something everyone's going to love, but I encourage you to give it a try at least once! I find that with so many deeper flavors in the recipe, the little hint of citrus brightens it all up a bit.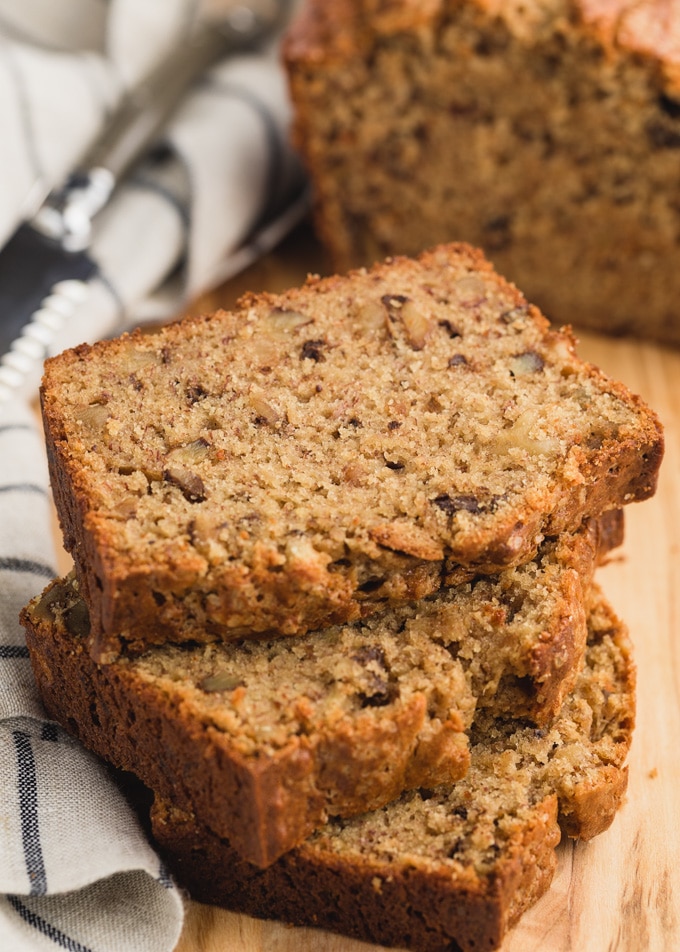 How to Store Your Loaf
You can store this bread at room temperature for up to two, sometimes three days. Tightly wrap it in plastic wrap, foil, or place it in an airtight container.
For longer storage, you can refrigerate the bread for up to a week. Lightly re-warm it before serving. Chilled banana bread isn't anywhere near as moreish.
Sour Cream Banana Bread also freezes well. Wrap it in several layers of plastic wrap and it'll keep in the freezer for up to 3 months. You can either freeze the loaf whole, or individual slices. I always keep slices in my freezer for when I want an easy and convenient treat, but don't want to have to commit to defrosting a big loaf.
Tip: How do you know if your banana bread has spoiled? Look for visible signs of mold on the bread or changes in color. Also, if the bread has a moldy, "off", or fermented aroma, it should be discarded.

How to Serve Sour Cream Banana Bread
When serving a banana bread as full-flavored as this one, I tend to be a purist. Just give me a slice, slightly warm, and I'm happy.
That said, a little schmear of whipped cream cheese on a slice for breakfast is also divine. If you've omitted the optional toasted nuts in the batter, a walnut cream cheese spread or a few nuts sprinkled on top of the cream cheese are also nice.
(Want to take your breakfast or brunch to the next level with a day-old loaf? Try turning thick slices into Banana Bread French Toast. Indulgent!)
If you love the flavor of banana with chocolate, a dollop of chocolate hazelnut spread is amazing. You can also finish Sour Cream Banana Bread with Cream Cheese Glaze or continue the beurre noisette theme with a Brown Butter Glaze. A light-handed drizzle of either of these recipes will give the loaf more of a dessert vibe.
CRAVING MORE? Subscribe to my newsletter and join me on Facebook, Pinterest, and Instagram for the latest recipes and news.
📖 Recipe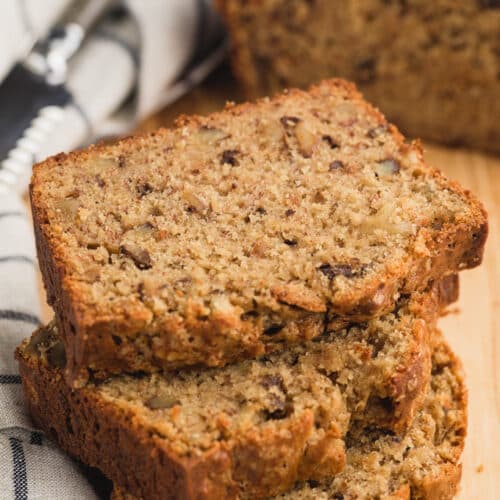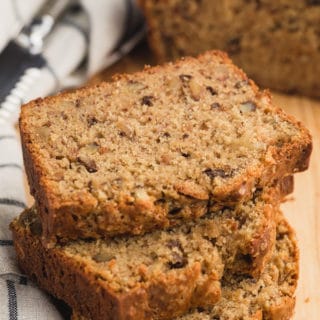 Sour Cream Banana Bread with Brown Butter
My family's favorite banana bread uses sour cream for a moist crumb, brown butter for a rich, nutty flavor, and plenty of bananas for a fragrant aroma.
Print
Pin
Rate
Save
Saved!
Estimated Calories:
365
kcal
Ingredients
½

cup

unsalted butter

½

cup

dark brown sugar

, lightly-packed

¼

cup

granulated sugar

2

large

eggs

1-½

teaspoons

vanilla extract

½

cup

sour cream

1

cup

mashed overripe banana

1-¾

cups

all purpose flour

1

teaspoon

baking powder

½

teaspoon

baking soda

½

teaspoon

kosher salt

1

teaspoon

ground cinnamon

¼

teaspoon

ground nutmeg

½

teaspoon

finely-grated orange zest

(optional)

¾

cup

chopped toasted walnuts

(optional)
Instructions
Preheat oven to 350 degrees F. Butter and flour a 1-pound loaf pan. (Mine is 8 ½" x 4 ½" x 2 ¾" high.)

In a skillet, melt butter over medium heat, swirling the pan occasionally, until melted. Continue cooking, swirling frequently, until the milk solids are golden brown and the butter has a nutty aroma. (Watch carefully! Brown butter can burn easily.)

Pour the brown butter into a bowl, leaving behind any particularly dark sediment in the pan. Set aside to cool slightly while you mix the rest of the ingredients for the batter.

In a medium bowl, whisk together flour, baking powder, baking soda, salt, cinnamon, and nutmeg. Set aside.

In a second bowl, whisk together eggs, brown sugar, and granulated sugar until light. Whisk in vanilla, sour cream, cooled brown butter, mashed bananas, and orange zest (if using).

Add the dry ingredients to the wet ingredients, mixing just to combine (a few streaks of flour are ok; over-mixing won't yield as tender a crumb). Fold in chopped nuts, if using.

Pour the batter into the prepared loaf pan.

Bake 50-60 minutes, until a cake tester inserted in the center comes out with just a few crumbs attached. Cool the banana bread for 10 minutes in the pan before transferring to a wire rack to cool completely.

Store, tightly-wrapped or covered at room temperature for up to 2 days, in the refrigerator for up to a week, or the freezer for up to 2 months.
---
Nutrition Estimate
Calories:
365
kcal
|
Carbohydrates:
33
g
|
Protein:
5
g
|
Fat:
25
g
|
Saturated Fat:
10
g
|
Cholesterol:
91
mg
|
Sodium:
252
mg
|
Potassium:
279
mg
|
Fiber:
2
g
|
Sugar:
24
g
|
Vitamin A:
540
IU
|
Vitamin C:
3
mg
|
Calcium:
79
mg
|
Iron:
1
mg
Keyword:
best banana bread recipe, brown butter banana bread, moist banana bread, sour cream banana bread
---
About our Recipes:
Please note that our recipes have been developed using the US Customary measurement system and have not been tested for high altitude/elevation cooking and baking.
Have you made this recipe?
Don't forget to leave a comment and rate the recipe below! Take a picture? Tag @stripedspatula and #stripedspatula on Instagram!