This smooth, lightly-tangy cream cheese glaze is a delicious way to finish baked goods like pound cake, bundt cake, cinnamon buns, doughnuts, and sweet scones. It's easy to customize it to the consistency you need, from spreadable to pourable!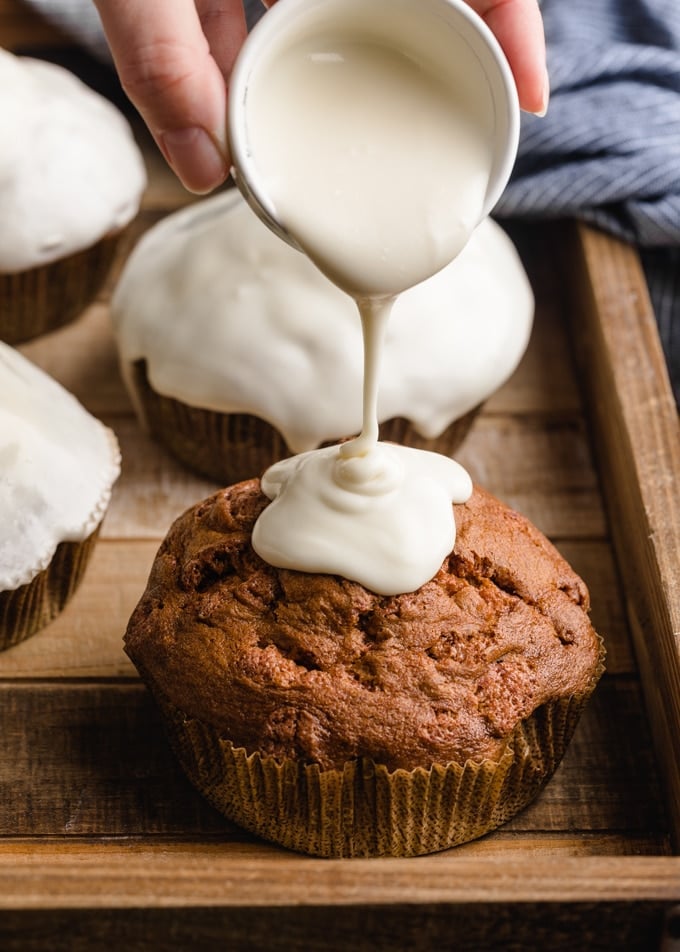 Good glaze recipes are essentials to have in your recipe repertoire, whether you're looking for the perfect finish for something you've baked, or you want to zhuzh–up a cake you've bought at the grocery store. (All of the baked goods photographed in this post were store bought, and given a homemade touch with fresh glaze.)
This cream cheese glaze recipe strikes a great balance between sweet and tangy. It's a great way to complement seasonal flavors, like strawberry, pumpkin, and apple. (See: Ways to Use for a full list of ideas.)
It's also incredibly easy to make, can be made ahead, and customized with flavor variations. If you're anything like me, you're going to be pouring cream cheese glaze onto everything with this recipe in your back pocket!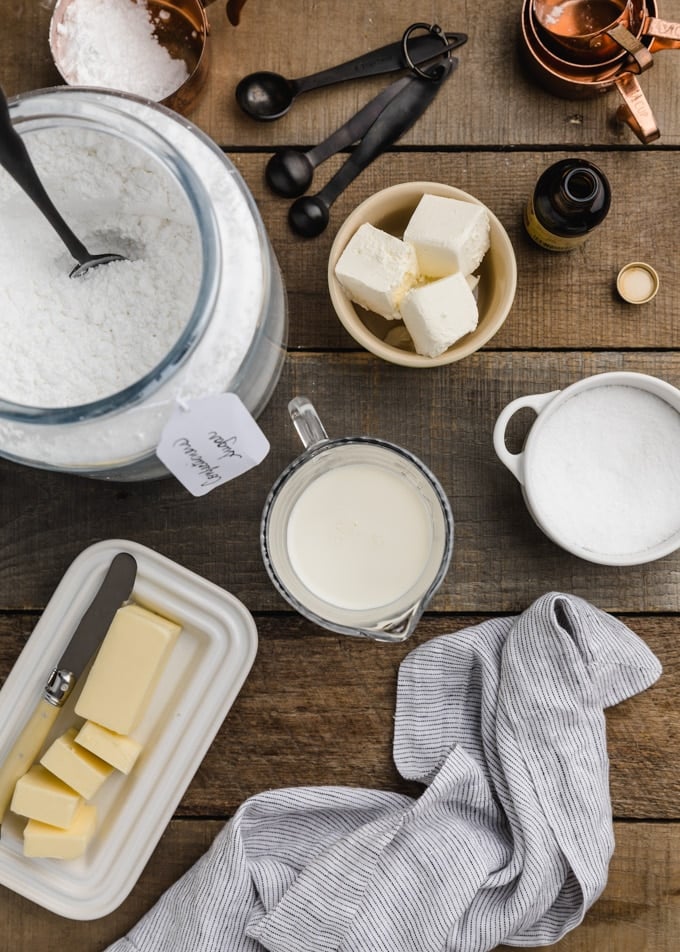 What You'll Need for Cream Cheese Glaze
Cream Cheese Glaze is just a thinner version of classic Cream Cheese Frosting. The ingredient lists are nearly identical, with the addition of liquid to create the "glaze" consistency. For this recipe, you'll need:
Block-style (brick) cream cheese (not cream cheese spread from a tub)
Butter
Confectioner's sugar (sifted before measuring, to remove clumps)
Kosher salt
Vanilla extract
Milk or half and half
For the smoothest glaze, it's important that your butter be at room temperature and the cream cheese softened. Tiny lumps of cream cheese or butter will keep the glaze from having a beautifully even texture when you pour or spread it.
Tip: To quickly soften cream cheese, cut the block into 1-inch cubes and let stand at room temperature for 10-15 minutes. Or, place the cubes on a microwave-safe plate and soften for 10-second intervals at 50% power. It's best not to soften butter in the microwave. For techniques, check out 3 Ways to Soften Butter Quickly and Easily from Kitchn.
You can use salted or unsalted butter to make this glaze. I almost always prefer to use unsalted and add my own salt to taste when baking. If you have a brand of salted butter that you love and use as a staple in your kitchen, simply omit any additional salt in the recipe.
Pure vanilla extract gives the glaze a warm, round flavor against the tangy cream cheese. It will also give it a slightly more ivory appearance.
If you want the glaze to be whiter, you can substitute clear vanilla flavoring. While it's an imitation extract and I personally prefer the flavor of pure vanilla, the clear product can be substituted if color preservation is a significant factor for your presentation.
How to Make Cream Cheese Glaze: Step by Step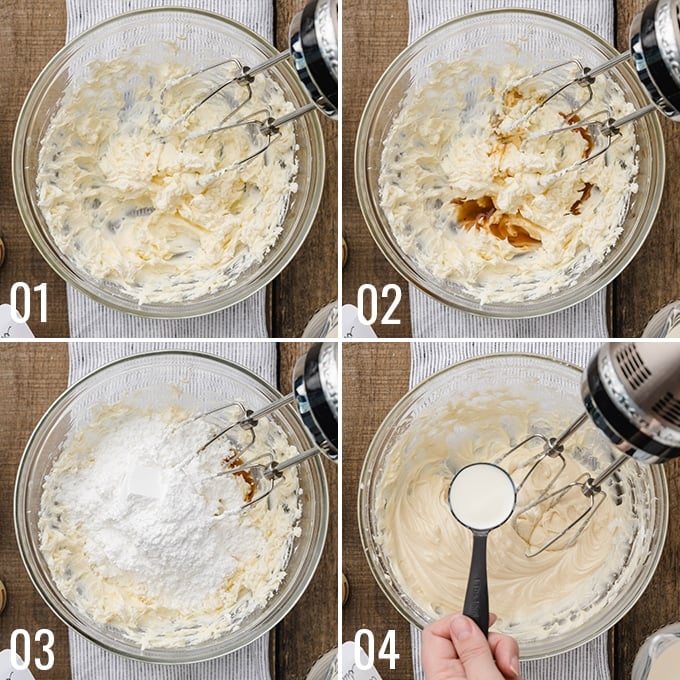 It only takes a few minutes to make cream cheese glaze, so you can easily whip it up while your baked goods are cooling. Start by beating together the cream cheese and butter with a hand mixer until light and fluffy. Then, beat in the vanilla. (Photos 01 and 02)
Add the powdered sugar and beat to combine, scraping the sides of the bowl. Depending on the depth of your bowl, either add it all at once (this is fine for a deeper bowl) or in stages so you don't have a puff of powdered sugar wafting around as you mix it. Start on a low speed and gradually increase your mixer speed as it incorporates. (Photo 03)
Add milk or half and half a tablespoonful at a time, beating it into the cream cheese mixture until combined. For a spreadable glaze, you'll need 1-2 tablespoons. For glaze that you can drizzle or pour, 2-4 tablespoons. (Photo 04)
If you want a really pourable glaze and find that it's still too thick after adding 4 tablespoons of milk, gently warm the glaze to thin it instead of adding additional liquid. I find that using a greater proportion of liquid will hinder the glaze's ability to set up.
To warm, pop the glaze in the microwave at 10-second intervals, stirring in between, until it's thin enough to pour. You just want to very lightly warm it, not make it hot.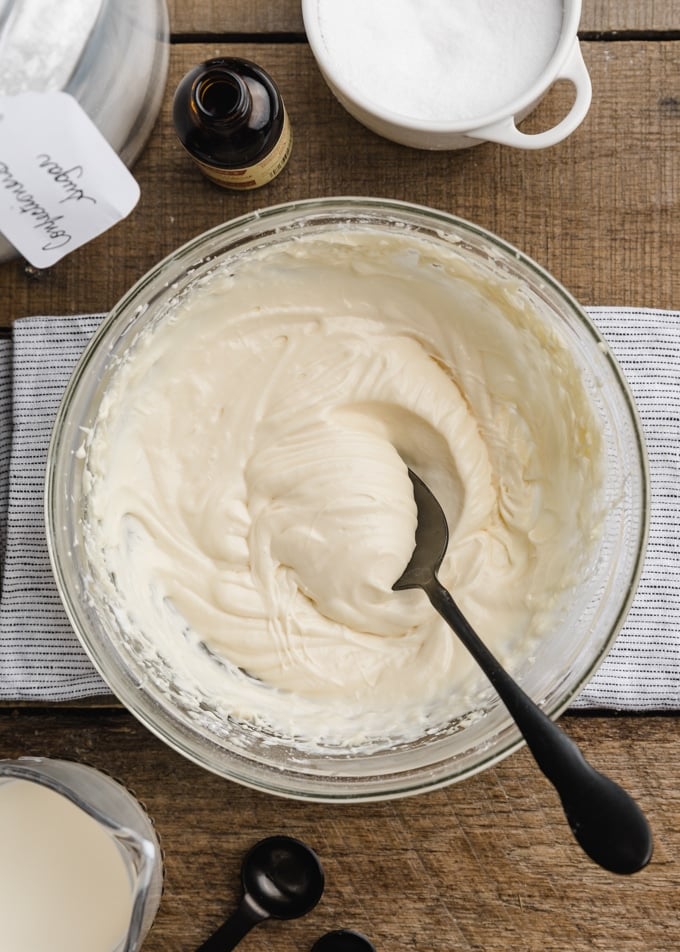 Other Ways to Flavor the Glaze
If you want to switch things up from classic vanilla, you can easily flavor (or spike!) this cream cheese glaze recipe.
Try making a citrus glaze, such as lemon, lime, or orange by replacing some of the milk with freshly-squeezed juice. I also like to add ½ to 1 teaspoon finely-grated citrus zest.
If you have them on hand, high-quality citrus extracts are also great for adding flavor. They can vary pretty significantly in strength by brand, so add them conservatively in place of the vanilla, to taste. I always start with ¼ teaspoon and build from there.
Cream cheese glaze is also delicious with ground cinnamon. Start with ¼ teaspoon and add additional depending on the baked good you're glazing.
Looking to give the glaze a little kick? You can swap out your favorite liquor or liqueur for some of the milk. Try rum, bourbon, Grand Marnier, limoncello, or Chambord. Start with ½ tablespoon and increase to taste.
Lastly, if you love vanilla as much as I do and want to give the glaze a little something special, substitute vanilla bean paste or scraped vanilla bean for the extract. You'll see little flecks of bean, which can be pretty depending on the baked goods you're serving.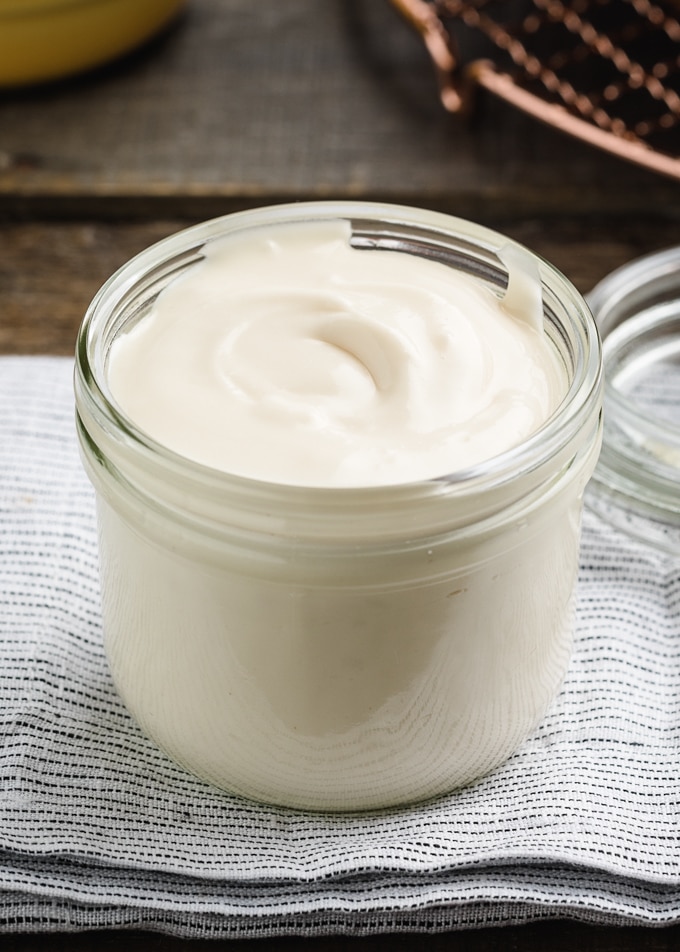 Cream Cheese Glaze FAQ
Q. Does this glaze harden?
A. No. While it will set for cleanly slicing a cake, especially once refrigerated, cream cheese glaze will not firm up the way a basic powdered sugar icing will. It has too much dairy and not enough powdered sugar to form a crust. This isn't a glaze that's suitable for baked goods that are going to be stored stacked.
Q. Can I make the glaze ahead?
A. Yes. You can make your glaze up to 3 days in advance of serving. Store it in the refrigerator, tightly covered.
Bring it to room temperature (30-60 minutes) and stir it well or give it a quick run-through with your hand mixer before using. To speed up the process, you can also gently warm it in the microwave in 10-second increments to regain a pourable consistency.
Q. How should I store baked goods with cream cheese glaze?
A. In the refrigerator. According to FDA guidelines, foods made with cream cheese should be refrigerated within 2 hours (including prep time).
You'll find that some baking resources advocate leaving cream cheese glaze/frosting out at room temperature for up to 8 hours, with the idea that the sugar acts as a preservative. Personally, I err on the side of food safety caution, and stick with the 2 hour rule.
Tip: For the best texture and flavor, let a glazed cake that's been refrigerated stand at room temperature for 20 to 30 minutes before serving.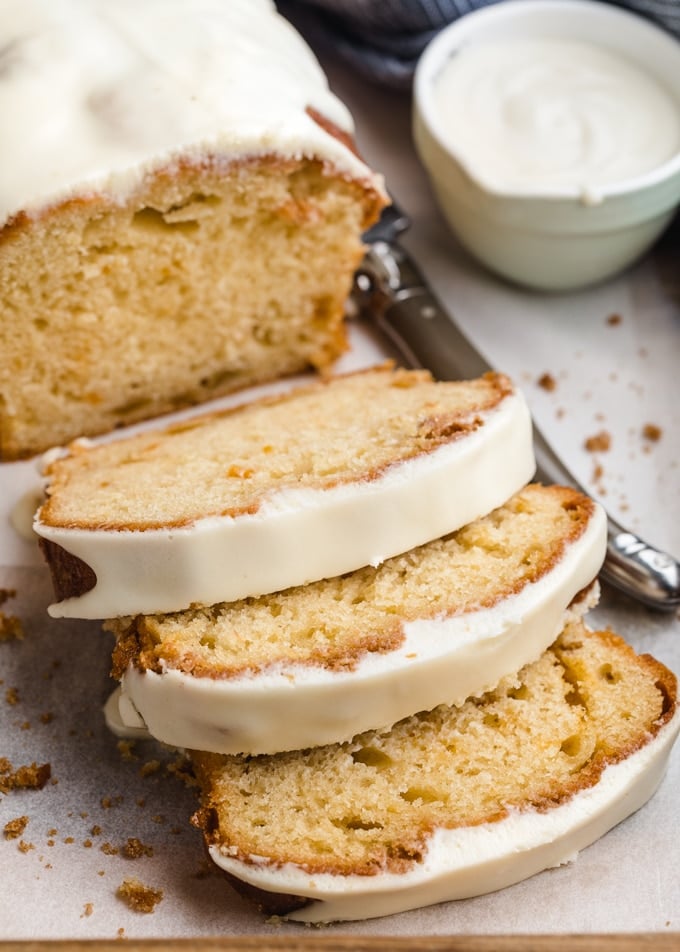 Ways To Use Cream Cheese Glaze
This creamy, sweet, and tangy glaze is a fantastic topper for a variety of desserts and sweets (and even decadent breakfasts!). Some of our favorites are:
Pumpkin Bundt Cake (drizzled or poured)
Pear Cake, Apple Cake, or Hummingbird Cake
Pumpkin or Red Velvet Doughnuts (dip the tops)
Cinnamon Rolls (spread over the tops while warm)
Banana, Cinnamon Swirl, or Red Velvet Pancakes
Pound Cake
Quick Breads (such as Banana Bread or Carrot)
Seasonal Muffins (Pumpkin, Carrot, Cinnamon, Strawberry)
Scones
What's your favorite way to use Cream Cheese Glaze? Tell us in the comments below!
CRAVING MORE? Subscribe to my newsletter and join me on Facebook, Pinterest, and Instagram for the latest recipes and news.
📖 Recipe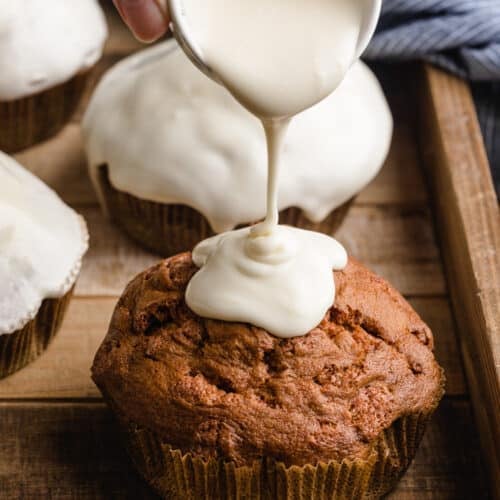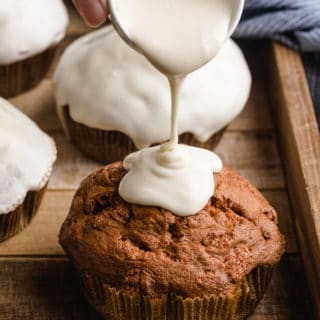 Cream Cheese Glaze
This versatile, easy to make cream cheese glaze is the perfect finish for seasonal cakes, desserts, and sweets.
Print
Pin
Rate
Save
Saved!
Servings:
8
to 10 servings
Estimated Calories:
126
kcal
Ingredients
4

ounces

block-style cream cheese

, softened

4

tablespoons

unsalted butter

, room temperature

1

teaspoon

vanilla extract

1

cup

confectioner's sugar

1-4

tablespoons

milk or half and half
Instructions
In a bowl with a hand mixer, beat together cream cheese and butter until light and fluffy. Beat in vanilla extract and confectioner's sugar until smooth.

Add enough milk or half and half to thin to desired spreading, drizzling, or pouring consistency. If you need your glaze thinner than 4 tablespoons of liquid will allow, very gently warm the glaze (10-second increments in the microwave, stirring in between) until your desired consistency is reached. Adding additional liquid beyond 4 tablespoons will make it more difficult for the glaze to set. Glaze that is slightly warm (not hot) will pour easily and then set up, particularly when it's refrigerated.

Pour or drizzle over your favorite baked goods. Glaze can be made ahead and stored in the refrigerator for up to 3 days. Gently warm to room temperature before using for a pourable consistency. Baked goods finished with cream cheese glaze should be refrigerated for storage.
---
Notes
Note that this glaze will set, but won't harden/crust like a basic powdered sugar glaze. It is not suitable for confections that would need to be stacked.
See the FAQ section of the blog post for additional notes.
Variations:
Citrus: Substitute 1-2 tablespoons fresh citrus juice for some of the milk (to taste). (Or, ¼ teaspoon + pure citrus extract, to taste.) Add ½ to 1 teaspoon finely-grated citrus zest.
Cinnamon: Add ¼ to ½ teaspoon ground cinnamon.
Spiked: Substitute ½ to 1 tablespoon rum, bourbon, or your favorite liqueur for some of the milk (to taste).
Vanilla Bean: Substitute vanilla bean paste or scraped vanilla bean for the vanilla extract.
Nutrition Estimate
Calories:
126
kcal
|
Carbohydrates:
16
g
|
Protein:
2
g
|
Fat:
6
g
|
Saturated Fat:
4
g
|
Cholesterol:
17
mg
|
Sodium:
101
mg
|
Potassium:
39
mg
|
Sugar:
16
g
|
Vitamin A:
182
IU
|
Calcium:
54
mg
|
Iron:
1
mg
Keyword:
cake glaze recipe, cream cheese glaze
---
About our Recipes:
Please note that our recipes have been developed using the US Customary measurement system and have not been tested for high altitude/elevation cooking and baking.
Have you made this recipe?
Don't forget to leave a comment and rate the recipe below! Take a picture? Tag @stripedspatula and #stripedspatula on Instagram!