My Colcannon recipe combines rich and creamy mashed potatoes with Savoy cabbage, sweet leeks, and a touch of garlic. Drizzle the top with melted Irish butter and dig in for an easy addition to your St. Patrick's Day feast!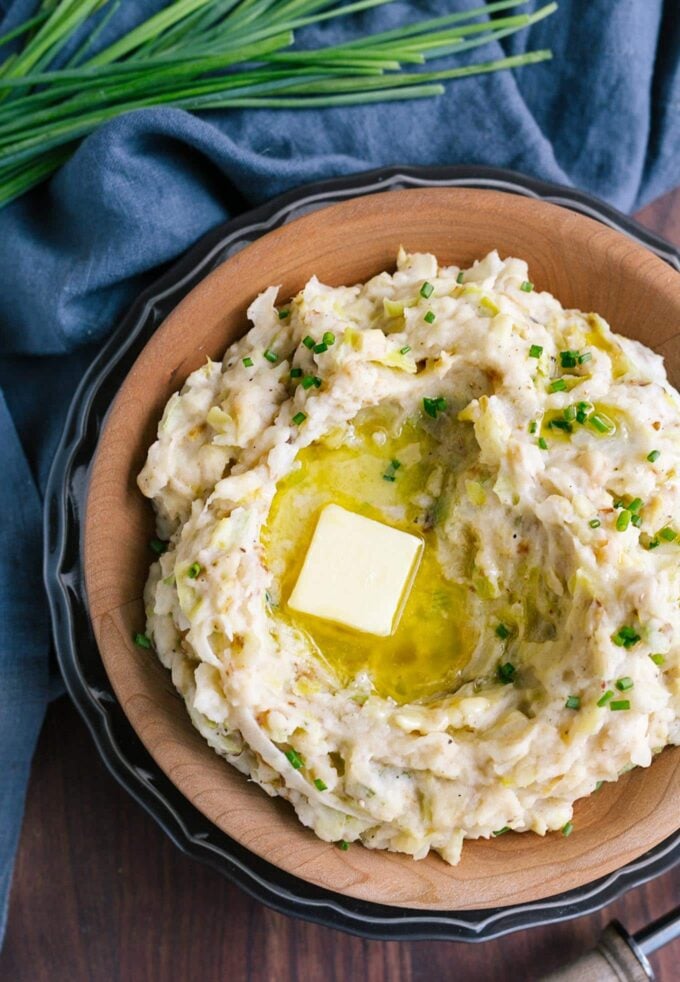 This time last year, I'd never tasted colcannon. I had heard about this Irish potato dish so many times, and somehow, St. Patrick's Day came and went every year without any colcannon on my table.
As someone who's weak in the face of good mashed potatoes, I'm not sure how this trend persisted for so long.
When I finally made a batch last year, I was fiercely annoyed with myself for having waited. To channel my inner 90's teenager, these potatoes are seriously "all that."
I've made colcannon several times since, testing a couple of different flavor variations. This recipe, with sautéed Savoy cabbage and leeks, has become our favorite. It's amazing alongside corned beef, roasted lamb, or any stout-braised meat. I'm not sure I can ever have another St. Patrick's Day feast without it!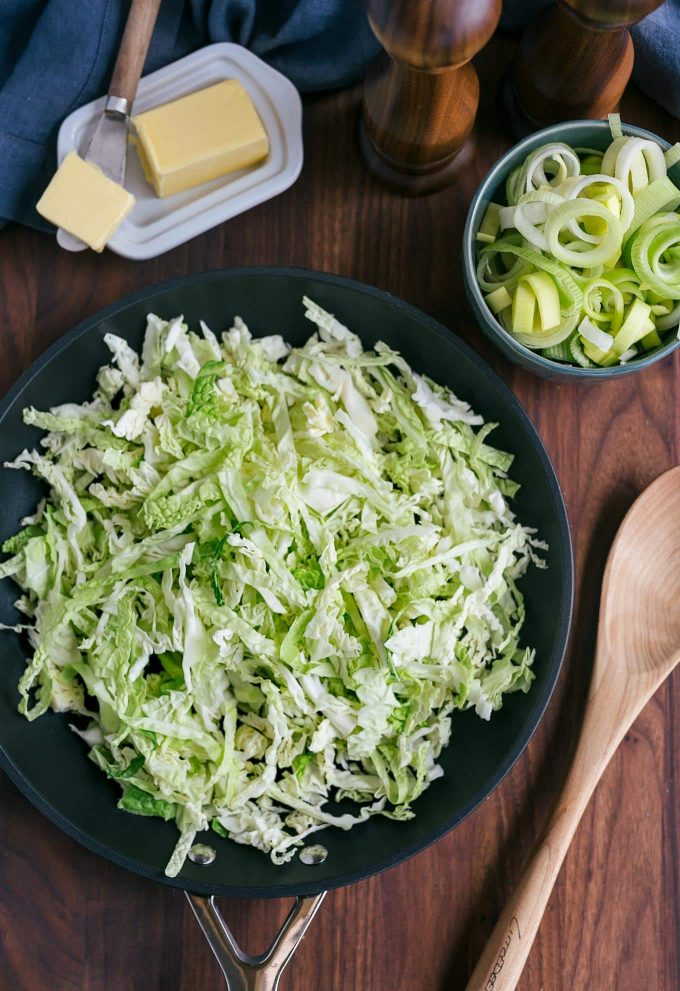 Recipes for colcannon (Irish for "white-speckled cabbage") vary by region and cook. Most recipes combine the potatoes with kale, and/or cabbage. The first colcannon recipe I tried was a traditional kale-cabbage mixture. The vegetables brought a bit of a rustic texture to the potatoes and the contrast was downright delicious.
As I've shared many times before on the blog, I'm something of a leek fiend, so exploring a leek colcannon variation was high on my list. In the end, the combination of sweet leeks with the tender cabbage and ultra-creamy potatoes won my heart.
Many traditional colcannon recipes call for boiling the vegetables with the potatoes until tender, while variations utilize a sautéing or pan-roasting method. After having tried both, I prefer to sauté the vegetables. The caramelization that both the cabbage and leeks develop bring such a wonderful depth of flavor to the otherwise blank canvas of the mashed potatoes.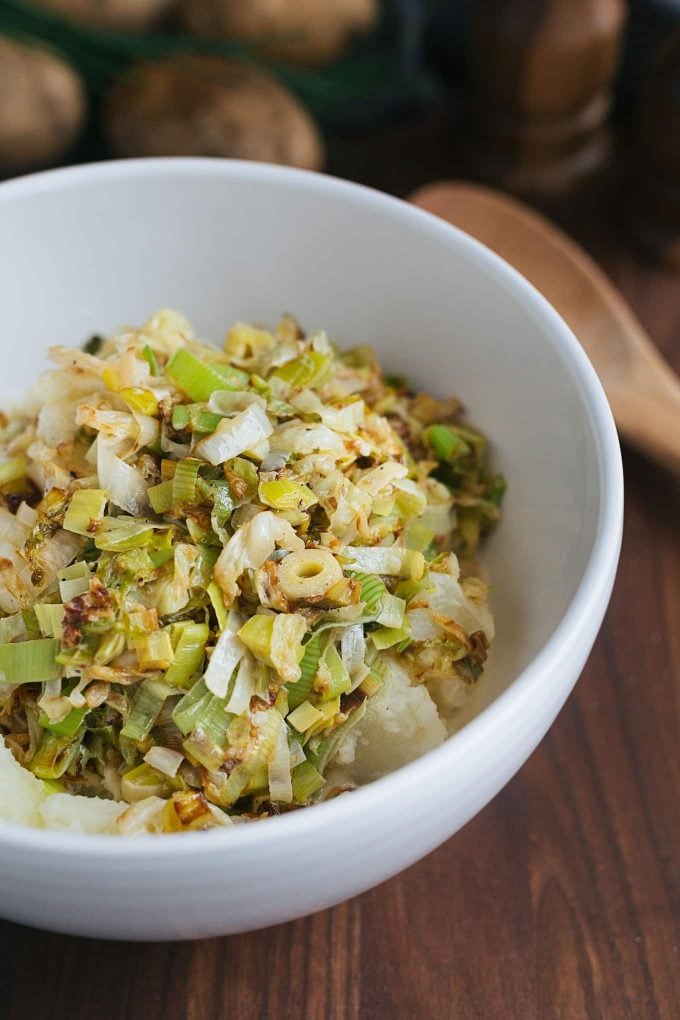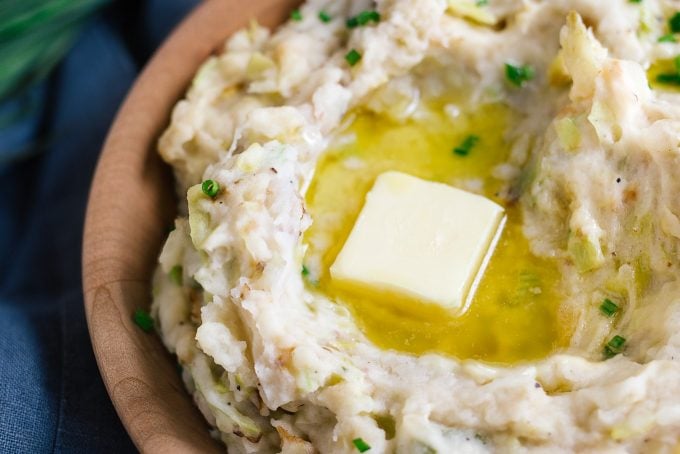 If there's one element of colcannon that's consistent across recipes (aside from potatoes, of course), it's butter, and plenty of it!
In this recipe, butter is both incorporated into the potatoes themselves with the sautéed vegetables and drizzled over the dish before serving. As each scoop of colcannon is served, the spoon dips through a well of pooled butter in the center of the bowl.
If you can, use Irish butter for an extra boost of flavor, as I did here. It's a bit softer than other butters on the market with an ultra-fresh, creamy taste, and a beautiful golden color. Many grocery stores are now stocking it regularly in their dairy sections.
Are you hungry yet? Grab a spoon. These rich, buttery potatoes are waiting for you.
More St. Patrick's Day Recipes from the blog archives:
Chocolate Stout Cream Pie with Irish Cream Whipped Cream
Stout-Braised Short Rib Cottage Pie
Irish-American Soda Bread
Did you know I have a weekly newsletter? Subscribe to stay up to date on what's delicious on the blog.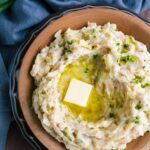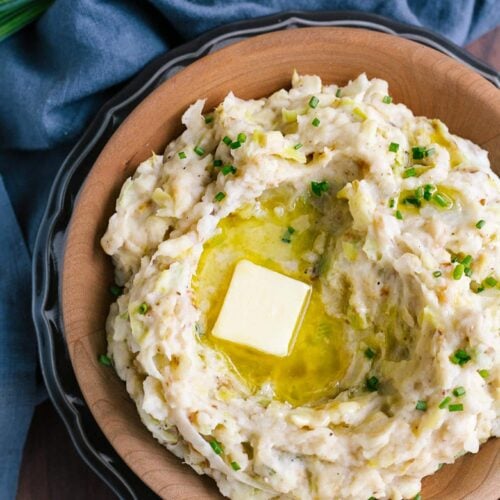 Print
Creamy Leek and Cabbage Colcannon
My Colcannon recipe combines rich and creamy mashed potatoes with Savoy cabbage, sweet leeks, and a touch of garlic. Drizzle the top with melted Irish butter and dig in for an easy addition to your St. Patrick's Day feast!
Ingredients
2

pounds

russet potatoes

, cleaned, peeled, and cut into 1-inch wedges

2

leeks

(white and light green parts only), cleaned thoroughly and sliced into 1/4-inch rounds

3

cups

finely-shredded savoy cabbage

(about 1/4 of a head), packed

1

large

garlic clove

, minced

6

tablespoons

unsalted butter

, divided

1

cup

half and half

*

kosher salt and freshly ground black pepper

snipped chives

(for garnish)
Instructions
Boil potatoes in a large pot of water with a pinch of salt until tender, about 15 minutes. When cooked, a paring knife can be inserted into the centers and removed without resistance. Drain potatoes well and return to the hot pot. Let stand a few minutes to allow any remaining moisture to evaporate.

While potatoes are boiling, melt 4 tablespoons butter in a large skillet until foaming subsides. Add cabbage and 1 teaspoon each kosher salt and black pepper. Cook over medium-high heat, stirring frequently, until cabbage is just starting to brown, 5-8 minutes.

Add leeks and an additional 1/2 teaspoon of salt. Continue cooking, stirring often, until vegetables are tender, 5-8 minutes more. Add garlic, and cook for an additional minute. Stir in half and half, bring to a simmer, and remove from heat.

Stir vegetables and half and half into the cooked potatoes. Use a potato masher to fully combine and mash to desired consistency. Potatoes will thicken a bit as they stand. Season to taste with salt and pepper.

To serve, mound potatoes into a serving bowl, and use a spoon to create a shallow well in the center. Melt the remaining 2 tablespoons of butter and drizzle it over the potatoes, allowing it to pool into the well. Scoop potatoes, catching some of the melted butter with each serving. Garnish with snipped chives.
Recipe Notes
*Keep in mind that the potatoes may look loose when the half and half is first added, but will naturally thicken as you mash the mixture, and within about 5 minutes of standing. If you prefer your mashed potatoes stiffer, reduce liquid to 3/4 cup.
I love using Irish butter in these rich potatoes. I generally use unsalted in the potatoes themselves so I can better control the saltiness of the dish. I'll often use salted butter in the melted drizzle on top for an extra-luscious finish.
Have you made this recipe?
Let me know by leaving a comment and rating the recipe below! Don't forget to take a picture and tag
@stripedspatula
and
#stripedspatula
on
Instagram
for a chance to be featured in my newsletter!