Tender, garlicky sautéed mushrooms are a classic steakhouse side that's easy to make at home. A splash of cognac and lemon juice takes these mushrooms to the next level. They're the perfect side for your favorite meats, chops, and chicken.
I'm pretty sure that our local steakhouse can recite my dinner order the minute they see me walk through the door. Just like Creamed Spinach, a steakhouse dinner isn't complete for me without a bowl of Sautéed Mushrooms.
If I'm going to be predictable in my side dishes, I can't think of a better choice to be at the top of my "must" list!
Crave-worthy, restaurant-quality sautéed mushrooms are a cinch to make at home. They're ready in under 30 minutes, with only about 15 minutes of cooking time, so they're a fantastic addition to your entertaining menu, or dinner on a busy weeknight.
My favorite way to prepare sautéed mushrooms is with garlic butter, lemon juice, cognac, and fresh herbs. These classic flavors work so well with the earthiness of mushrooms, and I love the extra depth of flavor that a splash of cognac brings to the dish.
While not an overly assertive flavor, the cognac is a background addition that really takes these mushrooms from "standard" to "second serving" territory.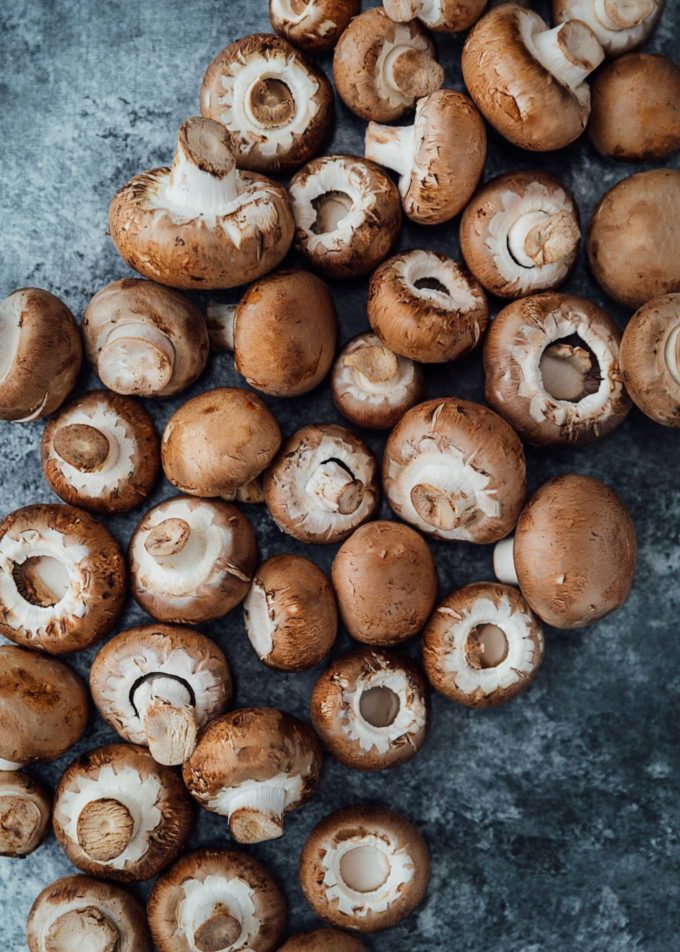 What Kind of Mushrooms Should I Use?
I like to use cremini mushrooms (baby bella) for this sauté. They're deeper in flavor than button mushrooms, and the earthiness plays nicely with the flavors in the sauce.
That said, you can absolutely use white button mushrooms in this recipe for a milder flavor. If you like, you can also substitute a wild mushroom mix with varieties like oyster, shiitake, and chanterelle. I love to use a similar "gourmet mix" in my Cream of Mushroom Soup, and it's delicious sautéed.
How to Clean Mushrooms: Rinse or Brush?
The question of whether or not you can wash mushrooms, or if you should simply wipe them clean with a brush or towel, is pretty widely debated. I'm sure you've heard the rule that you shouldn't expose mushrooms to water, because they'll absorb the liquid, won't brown, and will have an undesirable texture.
While it's true that mushrooms are on the "spongey" side, many chefs and culinary resources, from Cooks Illustrated to Alton Brown (and more), have tested just how much water mushrooms soak up during a quick rinse.
The resounding answer? If you're working with whole mushrooms, they don't absorb that much. Certainly, not enough to affect browning or change their texture when cooked..
It all comes down to a matter of personal preference. If your whole mushrooms look pretty clean and you're comfortable just wiping them with a cloth, many chefs would agree with your decision.
If they're on the dirtier side and you want to give them a rinse, don't fear it! Just as long as you don't soak them in water, the mushrooms will be fine. If you are going to rinse, it's best to do so right before you're going to cook the mushrooms.
Also, Cook's Illustrated did conclude that sliced mushrooms tend to soak up more moisture when rinsed, because the mushroom's flesh is exposed. So, if you're going to rinse mushrooms for slicing or quartering, they recommend doing so when they're still whole.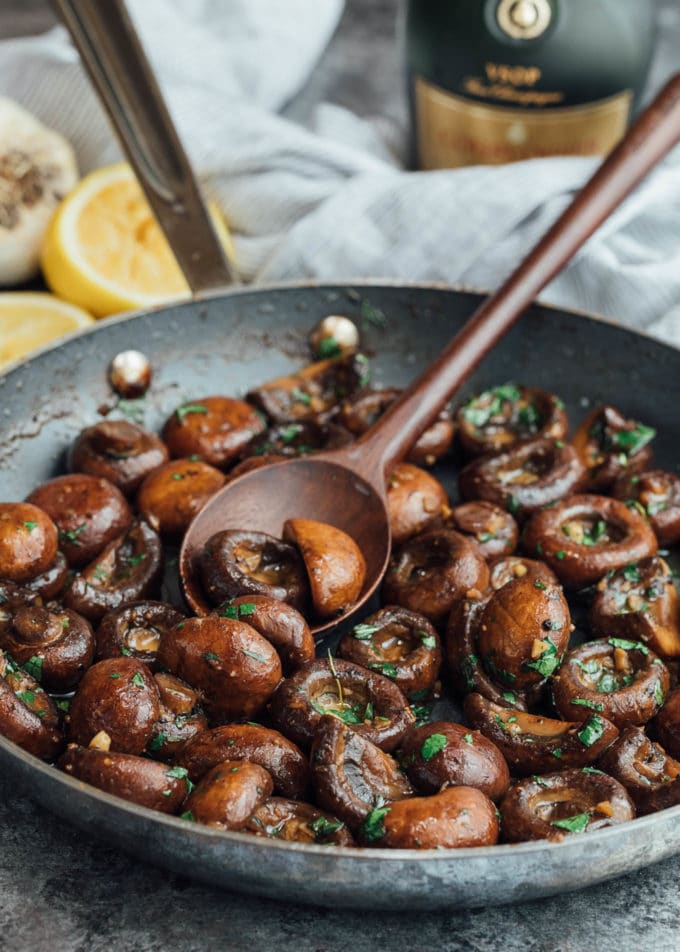 Method: Making Sautéed Mushrooms
Sautéed mushrooms don't take long to make, but a few tips and techniques will ensure the meatiest, juiciest mushrooms possible.
First, for the best browning, don't crowd the pan. You'll need a sauté pan large enough to hold all of the raw mushrooms in a single layer. If you don't have one that will accommodate them, it's best to split the oil/butter in half and cook them in two batches.
Second, when you first add the mushrooms to the pan at a fairly high heat, don't disturb them for a few minutes. Getting a good sear on the caps will help you cook the mushrooms without releasing too much of their liquid upfront. For the best texture, we want to sauté them, not end up simmering them.
That said, the mushrooms will release some liquid when you start tossing them with salt and pepper after the initial sear. This will take just a few minutes to evaporate. The mushrooms are ready when they're brown and tender. Try not to overcook them, so they don't risk becoming rubbery.
When the only "liquid" left in the pan is the oil and butter, add the garlic, and deglaze with cognac and lemon juice. Once the pan is deglazed and the fresh herbs are added, I like to add just a tiny splash extra of cognac to the mushrooms just before serving for a nice finish.
Serving Sautéed Mushrooms
Whether you're serving Pan Seared Steak, Slow-Roasted Prime Rib, Beef Tenderloin, or just a great steak on the grill, sautéed mushrooms are never a disappointing choice for a side. If you have leftovers, these would even be fantastic sliced and served on top of my favorite Steak Sandwich.
I like these mushrooms best when they've cooled just a few minutes to warm. I find that the juiciness of the mushrooms and the flavors in the garlic-butter sauce really shine when the mushrooms aren't piping hot.
While I love a juicy steak, I have to admit that I could make a meal out of these mushrooms on their own. (Don't forget a piece of crusty artisan bread for soaking up all of the luscious garlic butter sauce at the bottom of the bowl!)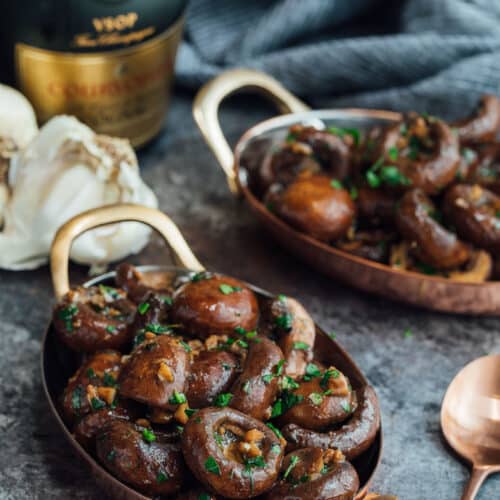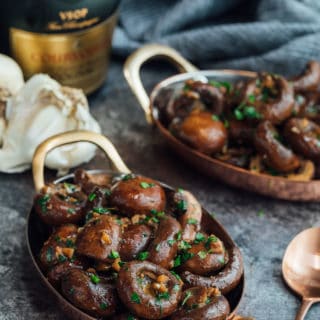 Sauteed Mushrooms with Garlic and Cognac
In less than 30 minutes, you can have these restaurant-quality sautéed mushrooms on the table as a steakhouse-inspired side. Leftovers are great on steak sandwiches, too!
Print
Pin
Rate
Save
Saved!
Estimated Calories Per Serving:
209
kcal
Ingredients
2

pounds

cremini mushrooms

3

tablespoons

unsalted butter

2

tablespoons

olive oil

2

large garlic cloves

minced (1 tablespoon)

2

tablespoons

cognac

plus 1 teaspoon, divided

1

tablespoon

fresh lemon juice

2

teaspoons

fresh thyme leaves

1

tablespoon

chopped fresh parsley

1/2

teaspoon

kosher salt

1/4

teaspoon

black pepper
Instructions
Clean mushrooms and trim stems. If the mushrooms are large, halve or quarter them. Small mushrooms can be left whole.

Heat butter and oil in a large skillet that can hold the mushrooms in a single layer. Add the mushrooms cap-side down and cook over medium high heat for 3-4 minutes, without stirring, to caramelize.

Toss the mushrooms and lower the heat to medium. Season with salt and pepper. Continue cooking until the mushrooms are tender, brown, and any released liquid is evaporated, about 5-6 minutes longer.

Add the minced garlic and cook until fragrant, about 1 minute. Deglaze the pan with 2 tablespoons of cognac and lemon juice, scraping any brown bits from the bottom of the pan. Toss the mushrooms again and cook until the cognac and lemon juice are reduced, about 2 minutes.

Add the fresh herbs to the pan and season to taste with additional salt and pepper. Just before plating, stir in the remaining 1 teaspoon of cognac.
---
Nutrition Estimate
Calories:
209
kcal
|
Carbohydrates:
10
g
|
Protein:
5
g
|
Fat:
15
g
|
Saturated Fat:
6
g
|
Cholesterol:
22
mg
|
Sodium:
306
mg
|
Potassium:
1016
mg
|
Fiber:
1
g
|
Sugar:
4
g
|
Vitamin A:
395
IU
|
Vitamin C:
4.9
mg
|
Calcium:
50
mg
|
Iron:
1.2
mg
---
About our Recipes:
Please note that our recipes have been developed using the US Customary measurement system and have not been tested for high altitude/elevation cooking and baking.
Keywords:
cremini mushroom recipes, sauteed mushrooms
Have you made this recipe?
Don't forget to leave a comment and rate the recipe below! Take a picture and tag @stripedspatula and #stripedspatula on Instagram for a chance to be featured in our Insta Stories and newsletter!