Made with a full pound of mixed mushrooms, fragrant thyme, and a splash of sherry, this top-rated homemade Cream of Mushroom Soup is the real deal. Elegant comfort food at its best!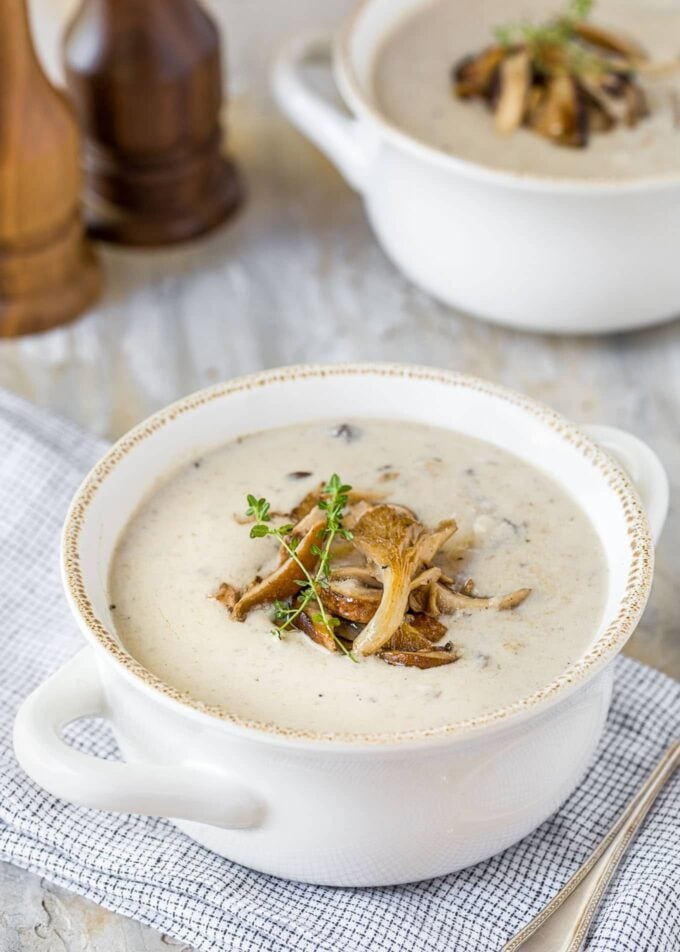 Truth: I'm a person who could eat soup 365 days a year. It could be the middle of a steamy summer afternoon, and I'd have no problem sautéing, deglazing, and simmering away for the sake of a scrape-your-bowl-clean soup recipe.
If you aren't someone who's excited to dig into soup in flip flops, this homemade Cream of Mushroom Soup is just the ticket for warming up on a cold day. It's easy enough for a quick weeknight dinner, and makes an elegant starter course for a dinner party or holiday meal.

What Kind of Mushrooms Should I Use?
My favorite cream of mushroom soup is made with a hearty proportion of cremini mushrooms (sometimes called "Baby Bellas"), mixed with shiitake and oyster or chanterelle. I find that using a mix as opposed to a single variety makes a more complex soup with a well-rounded flavor.
In reality, you can turn just about any mushroom variety into a luxurious soup. Using all white button mushrooms will yield a soup that's earthy, but very mild-tasting. I prefer a stronger mushroom flavor, so I rarely use a large proportion of buttons, but I'll sometimes include them in my mushroom mix.
I usually prefer to buy whole mushrooms and slice them myself, but I have come across a few pre-sliced "gourmet mushroom blends" that have been fantastic in this soup recipe.
It's fun to venture out and try making soup with different varieties of mushrooms that look fresh and interesting when you're at the market.
Want to read more about different mushroom varieties before you go shopping? Check out this visual guide from Epicurious.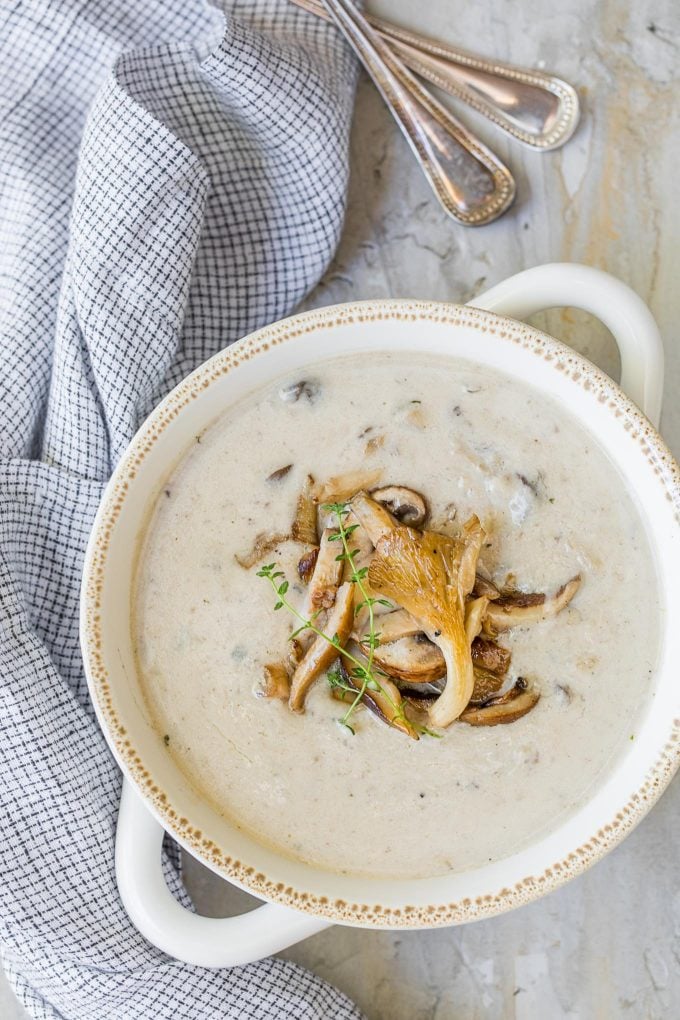 The Best Textured Mushroom Soup
My main grievance with various cream of mushroom soups I've eaten over the years has been the texture. I love a creamy soup base contrasted with pieces of meaty sautéed mushrooms.
Sometimes, though, the soup itself is too thin, other times way too thick, and a great deal of the time, just doesn't have anywhere near enough mushrooms to really qualify as "mushroom soup".
I use a full pound of mushrooms in this recipe and both puree some of them into the base (hello, flavor!), and leave a good amount whole for texture.
That said, if you'd prefer to turn this recipe into a smooth mushroom bisque, that's certainly doable! Just puree the whole batch and add a bit more broth to thin it a bit.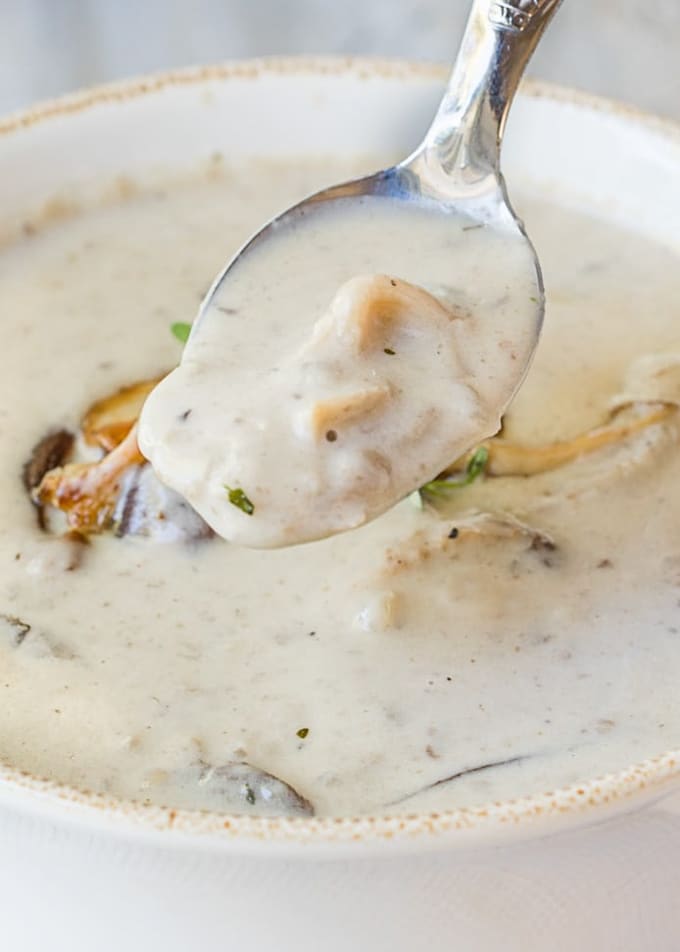 How to Make Cream of Mushroom Soup: Step by Step
Start by cleaning the mushrooms and cutting them into 1/4-inch thick slices. Melt unsalted butter in a large pot until it stops foaming. Add chopped onions and cook until they're soft but not brown. This will take about 5-8 minutes. (Photos 01-02)
Add the mushrooms and season with salt and pepper. Cook for about 10 minutes until the mushrooms are soft and most of their liquid has evaporated from the pan. Stir in all-purpose flour to coat the mushrooms and cook for about a minute. (Photos 03-04)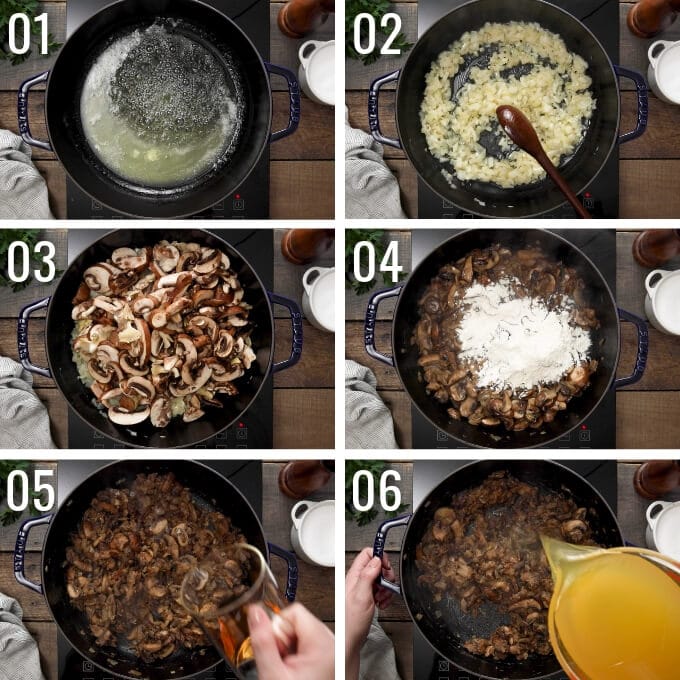 Deglaze the pot with dry sherry. Use a wooden spoon to scrape any brown bits up from the bottom of the pan (great flavor!). Stir in chicken or vegetable stock and fresh thyme leaves. (Photos 05-06)
Bring the soup to a boil and reduce heat to maintain a simmer. Cook for 20 minutes, giving it a stir occasionally. Turn off the heat and transfer 1-1/2 cups soup from the pot to a blender or food processor. (Photos 07-08)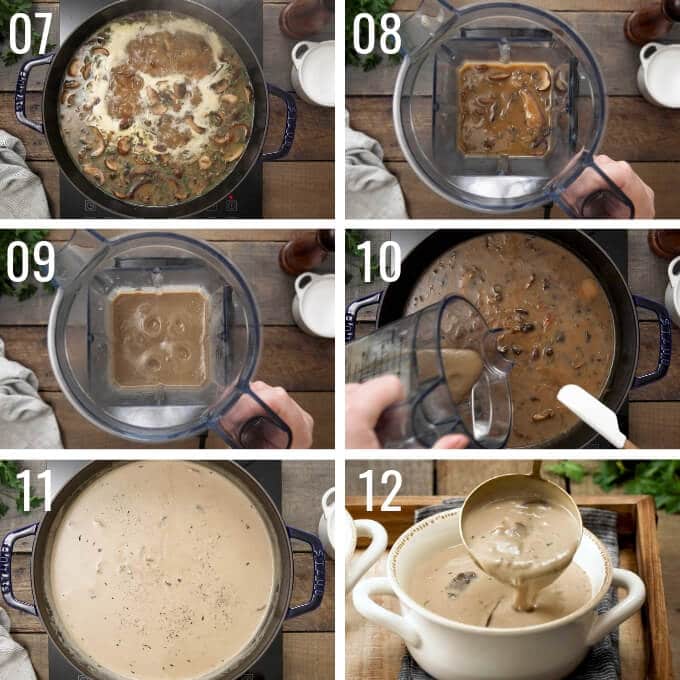 Puree this portion of mushroom soup until it's smooth and then stir it back into the pot. Stir in heavy cream and season the soup to taste with salt and pepper. (Photos 09-10)
If the soup has cooled down too much, gently warm it over low heat until your desired temperature is reached. Ladle into bowls and serve. (Photos 11-12)
How to Make this Recipe Ahead
You can make this Cream of Mushroom Soup a couple of days in advance of serving. It will last for about 3 days in the refrigerator. It last In this case, I like to leave out the heavy cream in the recipe and add it once I've reheated the soup and am ready to serve my guests.
This recipe also freezes well for up to 3 months if you omit the cream and add it after defrosting and heating. Store it in an airtight container with at least an inch at the top for expansion. To read more about the do's and don'ts of freezing and reheating soups, check out this article on Food52.
How to Serve This Soup
I love to serve homemade Cream of Mushroom Soup with a few grinds of freshly-cracked pepper on top and a piece of crusty artisan bread on the side for dipping. Or, even better, with a batch of my Buttery Garlic Croutons. Bread and soup are a match made in comfort food heaven!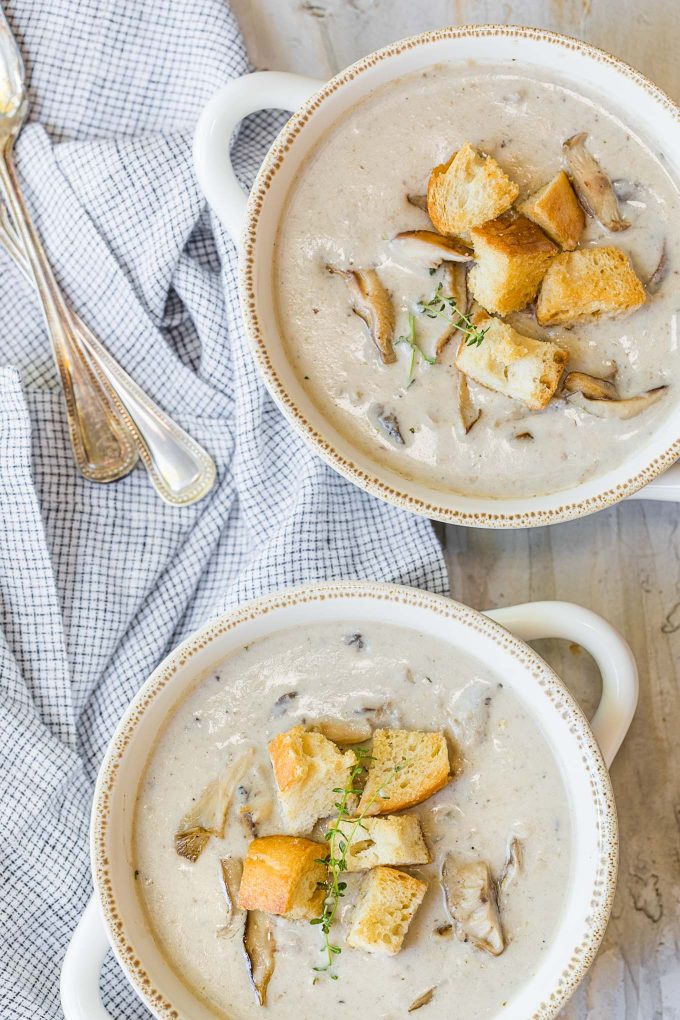 Top 5 Tips for Making Homemade Cream of Mushroom Soup
Remember that the mushroom variety you choose will determine how "mushroomy" the finished soup is. Button mushrooms will be mild. Soup made from cremini and gourmet mushroom mixes will have an earthier flavor.
Broths and stocks can vary quite a bit in terms of salt content. If you aren't working with homemade stock or a brand that you're very familiar cooking with, look for low sodium labels, and add kosher salt to the soup, to taste.
Don't worry if the soup looks a little "gloppy" when the liquid is first added. Stir well and the roux coating the mushrooms will meld into the soup as it simmers for a velvety base.
Unfortunately, this soup is not a good stand-in for recipes calling for condensed cream of mushroom soup, even when calling for it to be reconstituted. Canned condensed soups often contain additional thickening starches. This soup, made just with a flour roux and heavy cream, won't behave the same way.
If you're going to make the soup ahead of time for the freezer, remember to leave out the heavy cream and add it after reheating.
If you've tried this Homemade Cream of Mushroom Soup or any of my recipes, please let me know in the comments. I'd love to hear from you! You can also join my community of home cooks and food enthusiasts by FOLLOWING ME on FACEBOOK, INSTAGRAM, and PINTEREST.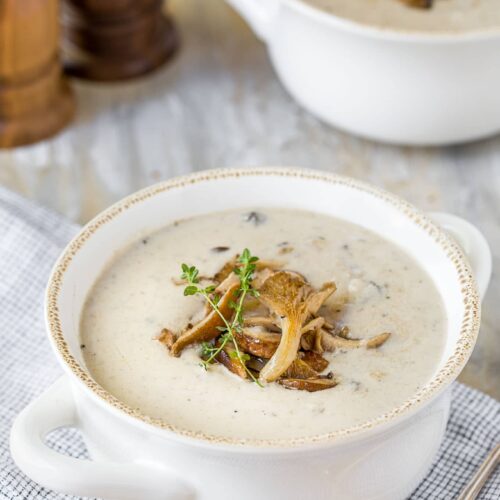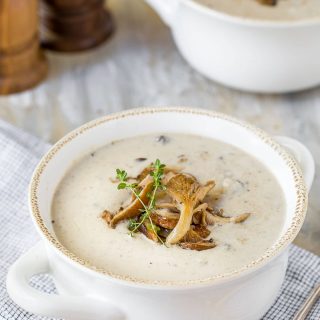 Homemade Cream of Mushroom Soup
This gourmet cream of mushroom soup has a creamy base with plenty of sliced mushrooms throughout. If you prefer a smooth soup, puree the soup to your desired texture. If fully pureeing, you might need to add a little extra chicken broth to thin.
Print
Pin
Rate
Servings:
4
to 6 servings
Ingredients
1

pound

fresh mushrooms

(I use a mix of cremini, shiitake, and oyster or chanterelle)

1

large

onion,

chopped (about 2 cups)

6

tablespoons

unsalted butter

1/3

cup

all purpose flour

kosher salt and freshly ground black pepper

1/4

cup

dry sherry

4

cups

chicken or vegetable broth or stock

1/2 to 1

tablespoon

fresh thyme leaves

*

1

cup

heavy cream
Instructions
Clean mushrooms and discard any tough stems. Cut mushrooms into 1/4-inch thick slices. Set aside.

In a large heavy bottomed pot or Dutch oven, melt butter until foaming subsides. Add onion and cook until soft but not browned, about 5-8 minutes. Add mushrooms and 1/2 teaspoon each kosher salt and black pepper. Cook over medium heat, stirring often, until mushrooms have released their liquid and are soft, about 10 minutes.

Add flour and stir to coat the mushroom mixture. Cook for 1 minute. Add sherry and cook for an additional minute, scraping any brown bits from the bottom of the pot.

Stir in chicken or vegetable broth and thyme leaves. Bring to a boil, stirring. (The soup may look, for the lack of a better term, "gloppy" at this point. This is normal! As you stir and the liquid heats, the roux will dissolve.)

Reduce heat to maintain a simmer and cook for 20 minutes, stirring occasionally. Remove from heat.

Transfer 1-1/2 cups of soup to a blender or food processor and puree until smooth. Stir pureed soup back into the pot.


Stir in heavy cream and season to taste with salt and pepper. Gently warm over low heat, if needed, and serve.
---
Notes
*Add the quantity of fresh thyme to your preferences. I love the flavor thyme adds to this soup with the mushrooms and sherry, so I use a full tablespoon. If you aren't as much of a thyme fan, start with half a tablespoon and add additional, to taste.
To style the soup for the photos in this post, I sautéed some extra mushrooms as a garnish. Beyond presentation, the soup really does not need them; it has plenty of mushrooms!
---
About our Recipes:
Please note that our recipes have been developed using the US Customary measurement system and have not been tested for high altitude/elevation cooking and baking.
Keywords:
cream of mushroom soup, homemade soup recipes, how to make cream soup
Have you made this recipe?
Don't forget to leave a comment and rate the recipe below! Take a picture and tag @stripedspatula and #stripedspatula on Instagram for a chance to be featured in our Insta Stories and newsletter!