Homemade Blue Cheese Dressing is the perfect accompaniment to your favorite salads, sandwiches, and dips. Made with tangy buttermilk and crumbled blue cheese, this one-bowl recipe only takes a few minutes to prep and is easy to customize.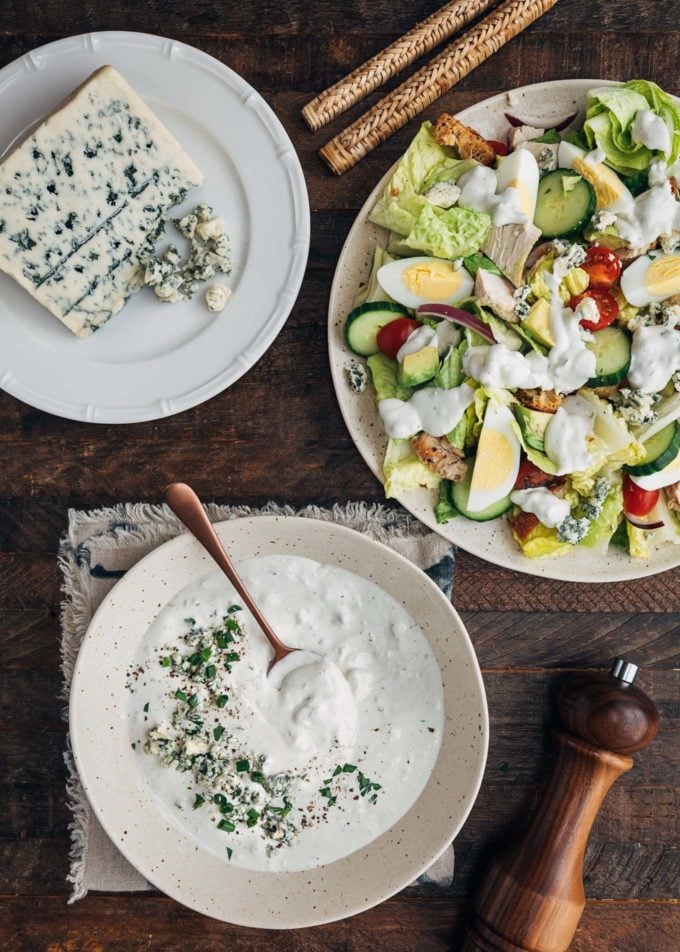 This post contains affiliate links. As an Amazon Associate, I earn a commission (at no additional cost to you) from qualifying purchases made by clicking these links. As always, all recommendations and opinions expressed are my own.
In the world of dressings, I can't think of anything more classic and satisfyingly indulgent than blue cheese. Creamy, salty, and tangy with the punch of well-veined blue cheese crumbles, it works well with everything from salads to dips, and even as a sandwich spread.
Back in the 80's, our (now-closed) local tavern made the best chunky blue cheese dressing. They served it in a gravy boat alongside their house salad (iceberg lettuce, cucumbers, crumbled hardboiled egg, and baby shrimp).
It was a simple salad, and the thick dollops of blue cheese dressing on top were the perfect crowning touch. Years after they closed, I had a craving for their dressing, and the bottles I was buying at the grocery store weren't quite hitting the mark.
Much like croutons, once I realized how easy it is to whip up a batch of dressing, I never looked back. Not only do I know everything that went into the dressing, but I can customize it to our personal tastes and serving needs.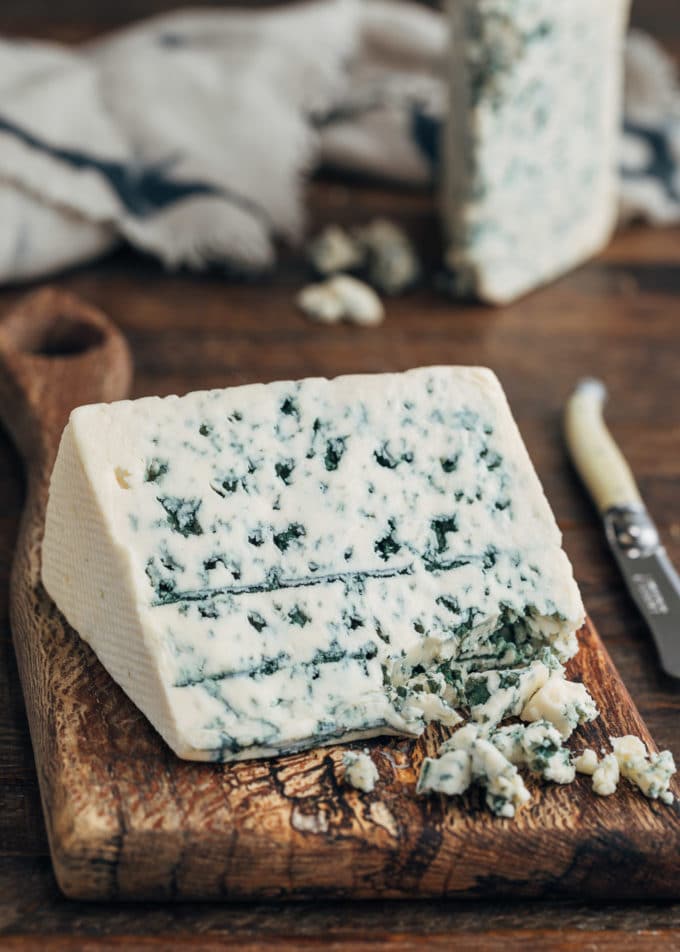 What You'll Need for Homemade Blue Cheese Dressing
To make this recipe, you'll need, mayonnaise, sour cream, buttermilk, Worcestershire sauce, lemon juice, fresh chives, and cracked black pepper.
What Kind of Blue Cheese Should I Buy?
Since the cheese is the primary flavoring agent in the mayonnaise and sour cream base, pick a good quality blue that crumbles well. For the best flavor, I always buy wedges instead of pre-crumbled cheese.
Some of my favorite varieties for making dressing are Danish blue and California's Point Reyes Original Blue. (I used "Friendship" Danablu in this post.)
French Roquefort and Iowa's Maytag blue are also classic choices. Roquefort has a more pungent flavor, and Maytag has a spicier finish.
When choosing a cheese, visit the gourmet cheese case at your grocery store and ask if you can sample what they have in stock that day. The cheesemonger will usually make a few recommendations, and you'll get to taste and choose one with the pungency you like best.
Want to read more about Blue Cheese Styles? Check out From Mild to Strong: How to Select the Best Blue Cheese on Delishably.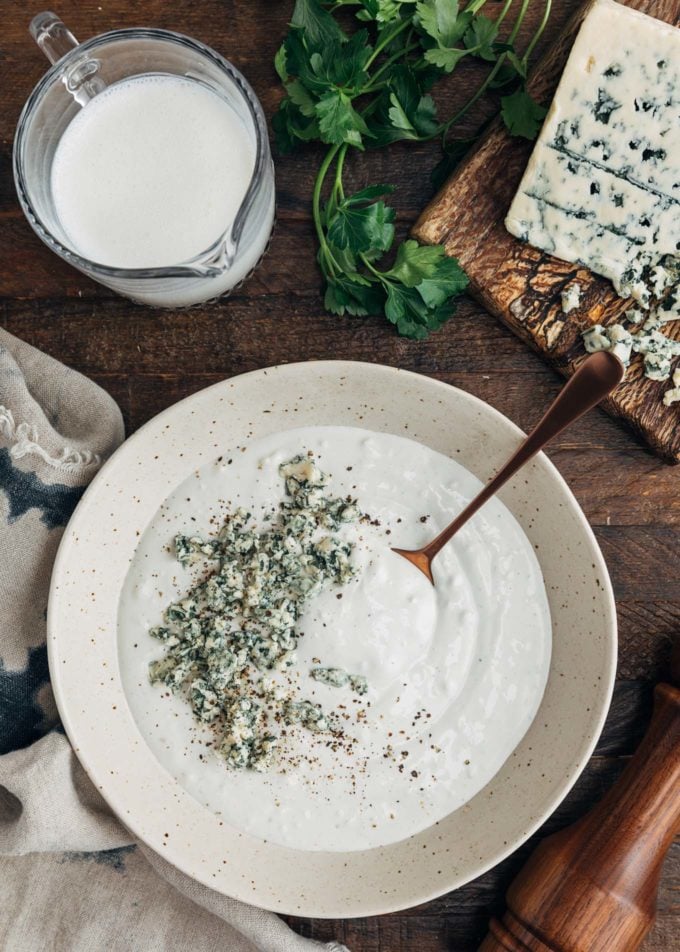 About the Buttermilk
Whenever I can, I like to use whole, farm-fresh cultured buttermilk, both for its tangy flavor and ultra-creamy texture. It's being stocked much more widely in regular grocery stores these days. You'll often find it in the dairy aisle, near the glass bottles of milk, or in the organic section.
If you're unable to find "farm" buttermilk, or want to lighten the dressing up a bit, low-fat cultured buttermilk can be substituted.
Optional Additions
If you love a garlicky flavor in your blue cheese dressing, add garlic powder, to taste. (I prefer garlic powder in creamy dressings to avoid the harsh bite that raw cloves can have.)
You can also add a little kick to the dressing with hot sauce, cayenne, or Sriracha. Whisk them into the dressing base, to taste.
(Note: Even if you don't like things "hot", a couple of small dashes of hot sauce will add a hint of vinegary spice that balances the rich flavors. I can't eat spicy food, and I love the addition, especially when serving the dressing as a dip.)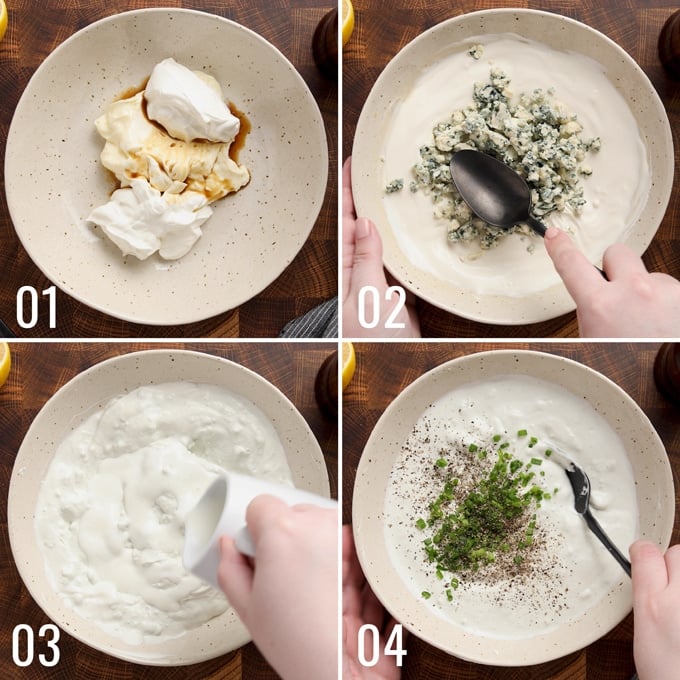 Making the Dressing: 5 Minute Prep and 1 Bowl!
In terms of prep, this recipe couldn't be simpler. Just whisk together the mayo, sour cream, Worcestershire sauce, and lemon juice (Photo 01).
Add the blue cheese, using the back of a spoon to break up some of the larger crumbles. Mashing some of the cheese gives the dressing a nice depth of flavor. (Photo 02)
I find that if you just fold the cheese crumbles into the dressing, you can pick up a little too much of a mayo flavor in the bites that don't include cheese. Don't go overboard! Leave some crumbles intact for a great "chunky" blue cheese dressing.
Once the blue cheese is mixed in, add your herbs, and adjust your seasonings to taste (Photo 03). Finish by stirring in as much buttermilk as you'd like to create a dippable or pourable dressing (Photo 04).
When you taste the dressing immediately after mixing, it might be a little on the bland side. The flavor will develop and the texture will thicken as the dressing is refrigerated.
You can serve it after a minimum of an hour, but I find that it reaches its optimal flavor after a 24 hour rest.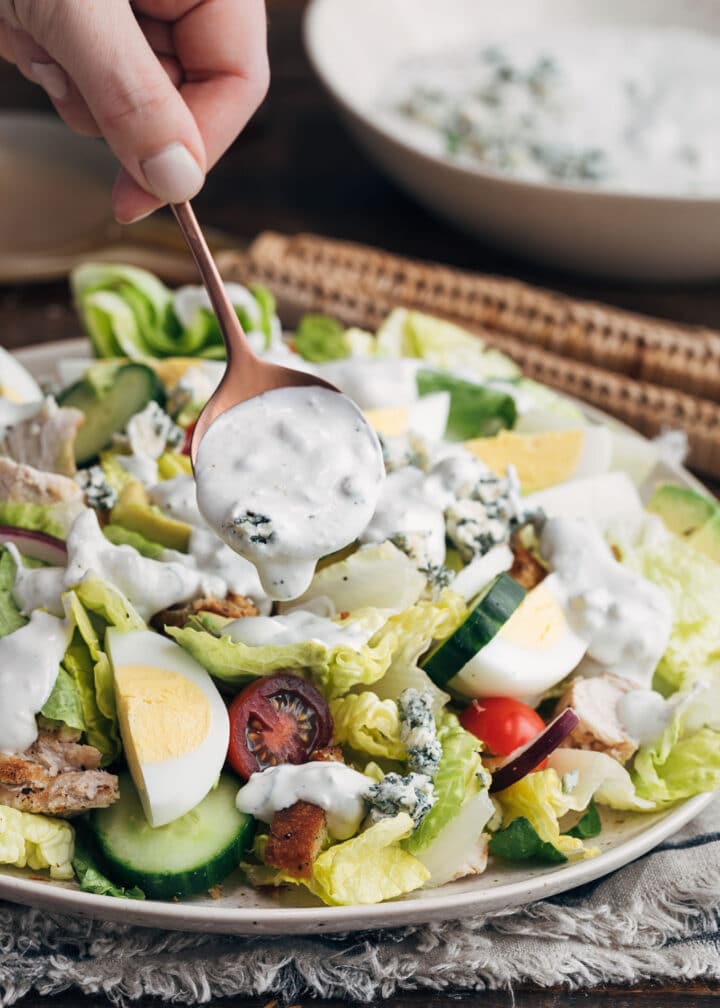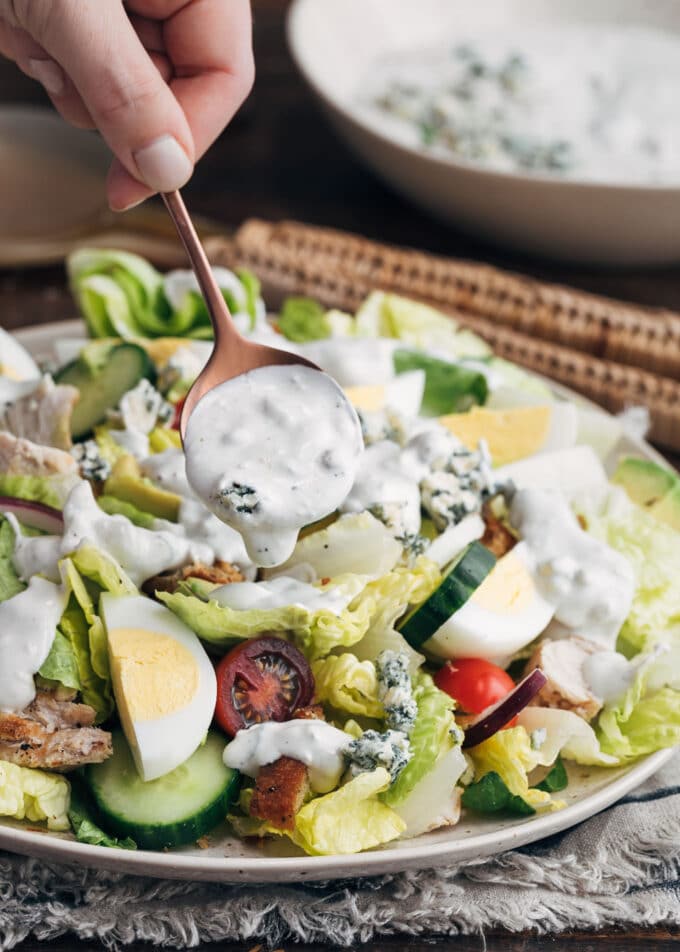 Our Favorite Ways to Serve Homemade Blue Cheese Dressing
I most often use this blue cheese dressing to top a Cobb Salad, Chef's Salad, Wedge Salad, or the shrimp and egg starter salad I mentioned earlier. It's also a great dip for a crudités platter or buffalo wings for game day.
We love to substitute this dressing for the flavored mayonnaise on my favorite steak sandwich recipe. Blue cheese, steak, and caramelized onions are a match made in heaven! (It's also my favorite condiment for a quick deli roast beef sandwich, arugula on a ciabatta roll–so good!)
Recipe FAQ's
Q. Why are there ranges of quantities for the blue cheese, Worcestershire sauce, lemon juice, and buttermilk in this recipe?
A. Over the years, I've tested this recipe across numerous batches with different brands. In doing so, I've found that quantities needed to make the best-tasting blue cheese dressing can vary.
For example, dressing made with Duke's mayonnaise needed a little less lemon juice than Hellmann's. Cheese quantities varied based on pungency, which also dictated how much extra seasoning the dressing needed.
Similarly, I needed more whole milk buttermilk to make a pourable dressing than low-fat. (Whole buttermilk has a thicker, richer texture.) I also found that the tanginess of buttermilk varied across brands and fat percentages.
Tailor this recipe to your preferences, using the brands available to you. Start at the low end of the ranges, and adjust the quantities as needed to make your best dressing.
Q. How should I store my dressing?
A. Store the dressing tightly-covered, in the refrigerator. It keeps well for 3-5 days. If you don't think you'll use it all, I recommend halving the recipe and making it fresh as you need it.
Q. Can I use low-fat sour cream and mayonnaise?
A. Yes, but bear in mind that the dressing might be a bit thinner, requiring less buttermilk. Depending on the brand, some low-fat products also have a tangier flavor, so you might need to adjust the amount of lemon juice accordingly.
Craving more? We'd love to welcome you to our exclusive Facebook group community where we share recipes, hosting tips, party ideas, and more!
📖 Recipe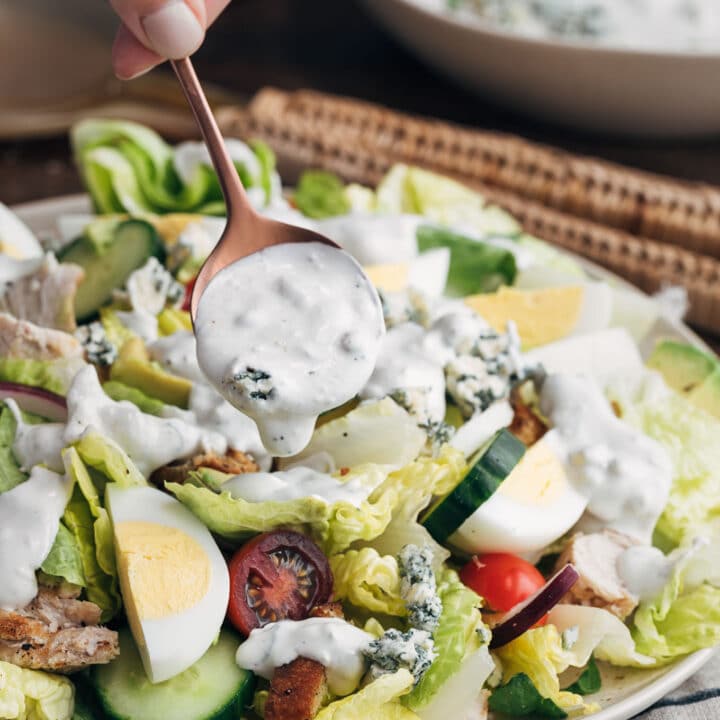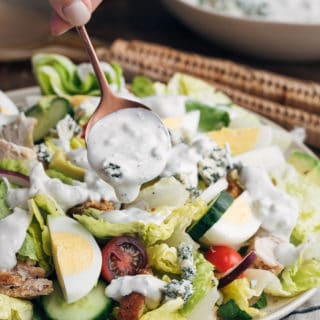 Homemade Blue Cheese Dressing
This creamy Buttermilk Blue Cheese Dressing is easy to make at home. It's great as a dip for wings or crudités and is the perfect addition to your favorite salads and sandwiches.
Print
Pin
Rate
Save
Saved!
Servings:
16
servings (2 tablespoons)
Estimated Calories:
79
kcal
Ingredients
½

cup

mayonnaise

½

cup

sour cream

½ to 1

teaspoon

Worcestershire sauce

½ to 3

teaspoons

fresh lemon juice

½ to ¾

cup

crumbled blue cheese

(2 to 3 ounces)

2 to 8

tablespoons

buttermilk

(⅛ to ½ cup, preferably "whole" buttermilk)

1

tablespoon

snipped chives

(optional, but recommended)

freshly-ground black pepper
Instructions
In a bowl, stir or whisk together mayonnaise, sour cream, Worcestershire sauce, and lemon juice. Stir in blue cheese (start with ½ cup–see note), using the back of a spoon to mash some of the crumbles into the dressing base. Leave some of the crumbles intact for a chunky-style dressing.

Stir in as much buttermilk as needed to create your desired consistency dressing (see note). Stir in chives or parsley. Season to taste with black pepper and add additional Worcestershire sauce and lemon juice, to taste.

Cover and refrigerate for at least an hour for the flavors to meld, preferably longer. The flavor is best after 24 hours.* Store, tightly-covered, in the refrigerator for up to 3-5 days.
---
Notes
*Adjust the buttermilk and quantity of blue cheese based on the texture of dressing you want (dippable vs. pourable), and the pungency of the wedge of cheese you're using. For a very thick dip, you might not need any buttermilk at all! Remember that the dressing will both thicken and intensify in flavor as it stands.
Read the
FAQ's
above for additional info about ingredient quantity ranges.
For blue cheese recommendations, read "What Kind of Blue Cheese Should I Buy?", in the article above.
Variations:
For a little garlicky flavor, add garlic powder, to taste, starting with ¼ teaspoon.
For blue cheese dressing with a kick, add hot sauce, cayenne pepper, or sriracha, to taste.
For a smoky blue cheese dressing, use a smoked blue cheese, such as those available from Cowgirl Creamery or Rogue Creamery.
Nutrition Estimate
Serving:
2
tablespoons dressing
|
Calories:
79
kcal
|
Carbohydrates:
1
g
|
Protein:
1
g
|
Fat:
8
g
|
Saturated Fat:
3
g
|
Cholesterol:
10
mg
|
Sodium:
115
mg
|
Potassium:
26
mg
|
Sugar:
1
g
|
Vitamin A:
96
IU
|
Vitamin C:
1
mg
|
Calcium:
34
mg
|
Iron:
1
mg
Keyword:
buttermilk blue cheese dressing, homemade blue cheese dressing recipe
---
About our Recipes:
Please note that our recipes have been developed using the US Customary measurement system and have not been tested for high altitude/elevation cooking and baking.
Have you made this recipe?
Don't forget to leave a comment and rate the recipe below! Take a picture? Tag @stripedspatula and #stripedspatula on Instagram!