Treat yourself to a steakhouse staple with this Classic Wedge Salad. Crisp iceberg lettuce, creamy blue cheese dressing, and crumbled bacon make for a crave-worthy lunch or starter salad.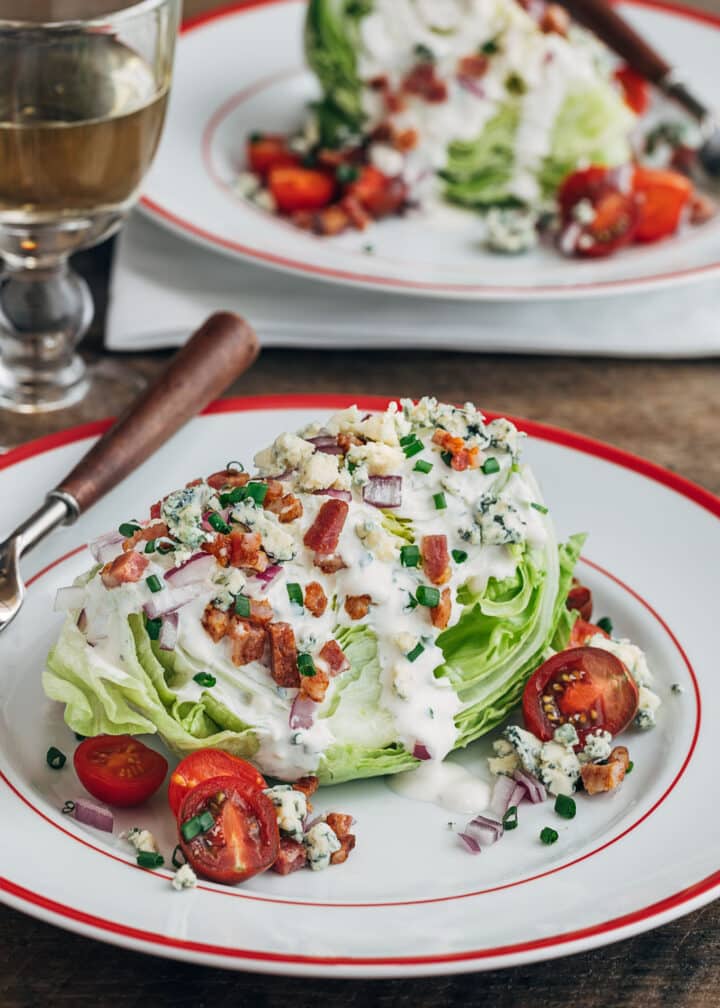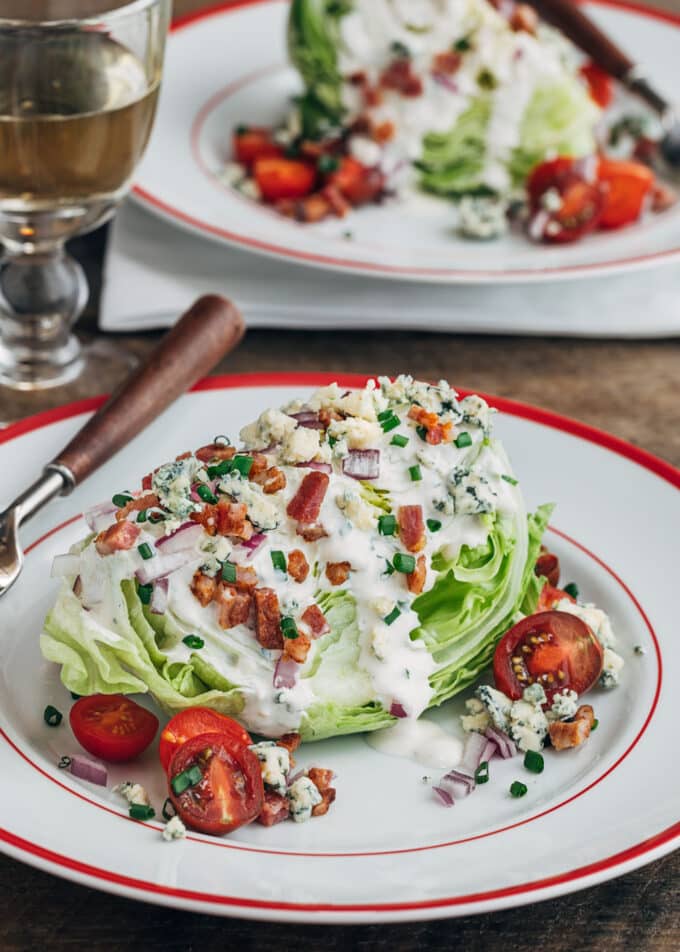 When it comes to steakhouse starters, you just can't beat a classic Wedge Salad. Much like the Mandarin Orange Chicken Salad at lunch spots, my eyes always lock in on the Wedge as it passes my table, destined to the fork of another guest.
The Wedge Salad has been a diner and steakhouse staple since the 1950's. As is the case with most food trends, the iceberg-based salad fell out of popularity for a while, as other greens, like romaine, mesclun, and artisanal lettuces were on the rise.
But, like many retro recipes, the Wedge has seen a resurgence since the mid-2000's. I'm sure the Mad Men influence had at least a little to do with its comeback in pop culture; you might recall Roger Sterling's order of, "Iceberg wedges, blue cheese, bacon."
Today, there are few steakhouse menus that don't feature a classic Wedge Salad. Whether you order it on its own for lunch, or as a starter to a juicy steak dinner, a well-executed Wedge is rarely a disappointing choice.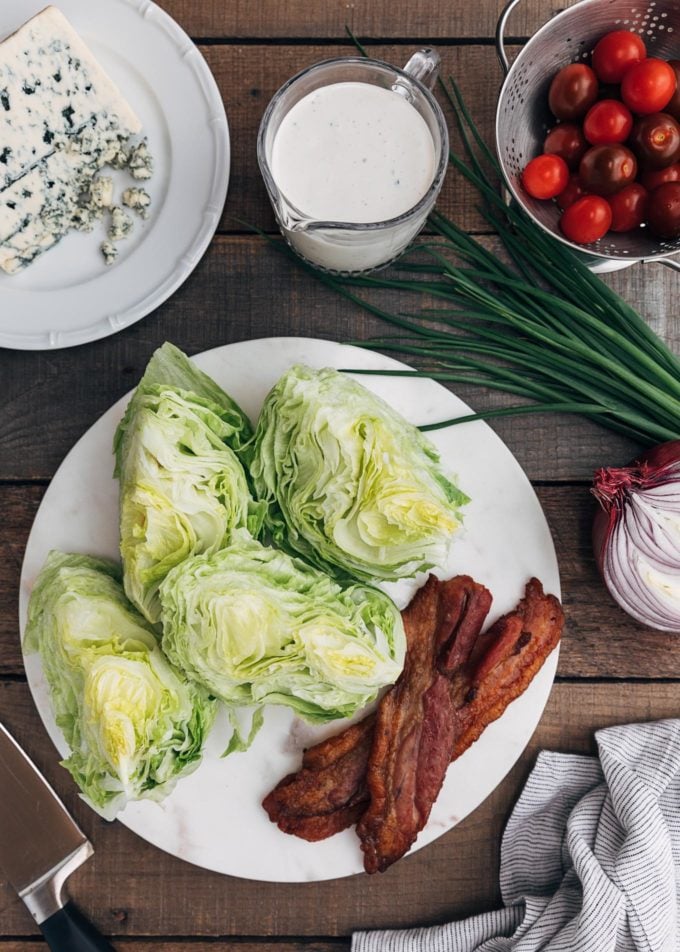 Exactly What is a Wedge Salad?
The Wedge Salad is precisely what its name suggests: a salad built on a wedge of iceberg lettuce. Unlike other salads, the lettuce is not chopped or torn, and the wedge is served intact, topped with dressing and a few simple accoutrements.
It's one of those dishes where less–in terms of number of ingredients–is usually more.
Blue cheese dressing and crumbled bacon are central additions to the classic Wedge. Moving a little outside the base recipe, other commonly-found toppings include chopped red onion, tomatoes, snipped chives, and crumbled hard-cooked egg. Occasionally, you'll find Russian dressing served with the Wedge on restaurant menus (more-so in diners, I've observed).
As in my photos, I almost always add tomato to the plate. It gives the salad the feel of a BLT–if a BLT had the glorious addition of blue cheese. This isn't a healthy salad by any means, but man, is it delicious!
Really, you can top your wedge with anything you like–if it can go on a salad, it can go on a wedge. That said, there's something so satisfying about starting with the classic pairing. The luscious Buttermilk Blue Cheese Dressing that pools into the wedge's nooks and crannies. The cheese's slightly-piquant flavor against salty, smoky pops of bacon.
Are you as hungry as I am right now?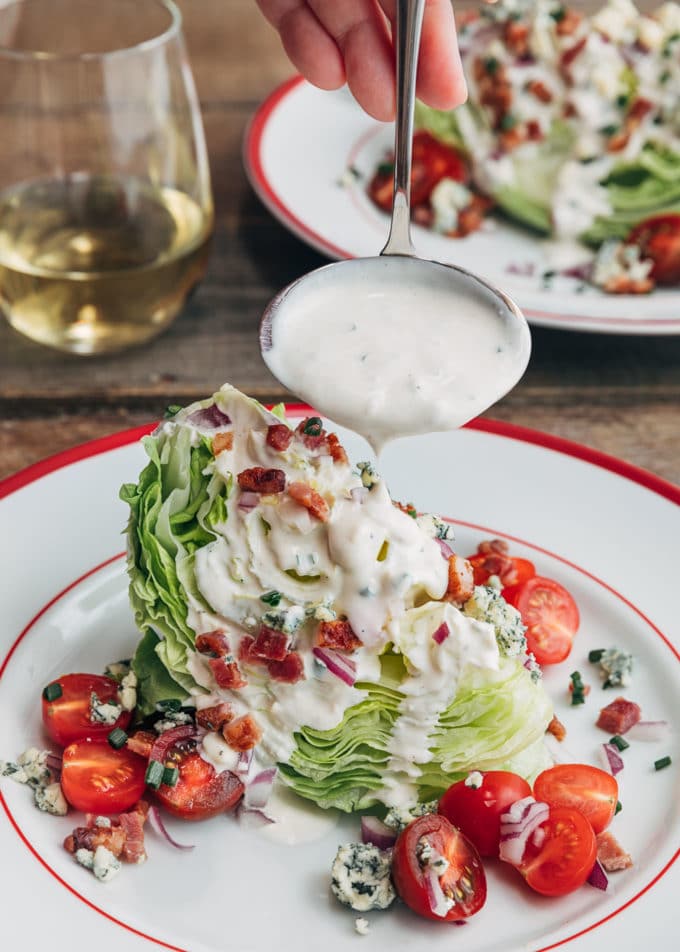 How to Make a Classic Wedge Salad
At its core, the Wedge is a simple salad; there isn't a lot of pretension here. It's easy to prepare, but getting the execution right will make the difference between a just okay and really good Wedge Salad.
First, the lettuce needs to be well-chilled. You'll want to use the freshest, crispest head of iceberg possible for that refreshing "snap" that you can hear as you cut into the wedge when you eat it. Start by removing any dull or limp outer leaves. Cut the head of lettuce in half, halve again, and cut away the core.
To assemble the salad, place the wedge cut side up (rounded, outer side down) on a chilled plate. This will expose the iceberg's layers, allowing the dressing to seep into them as it's poured over the top. Handle the wedge gently so it doesn't fall apart when plating, but bear in mind that some of the outer layers will loosen a bit–this is normal.
Pour the blue cheese dressing over the wedge before adding any additional toppings. It helps the bacon and other accompaniments to stick to the lettuce without all falling to the plate.
I start with any small, crumbled toppings right over the top, arranging bigger components, like halved cherry tomatoes or larger crumbles of extra blue cheese, around the base of the wedge. Snipped chives and freshly-cracked black pepper always serve as my finishing touch just before heading to the table.
Prepping your bacon? My favorite cooking method is baking it in the oven. You'll get crispy bacon that crumbles well, with easy cleanup. For instructions, check out my How to Cook Bacon in the Oven tutorial.
Wedge Salad is best served immediately after assembling, while the lettuce is still cold.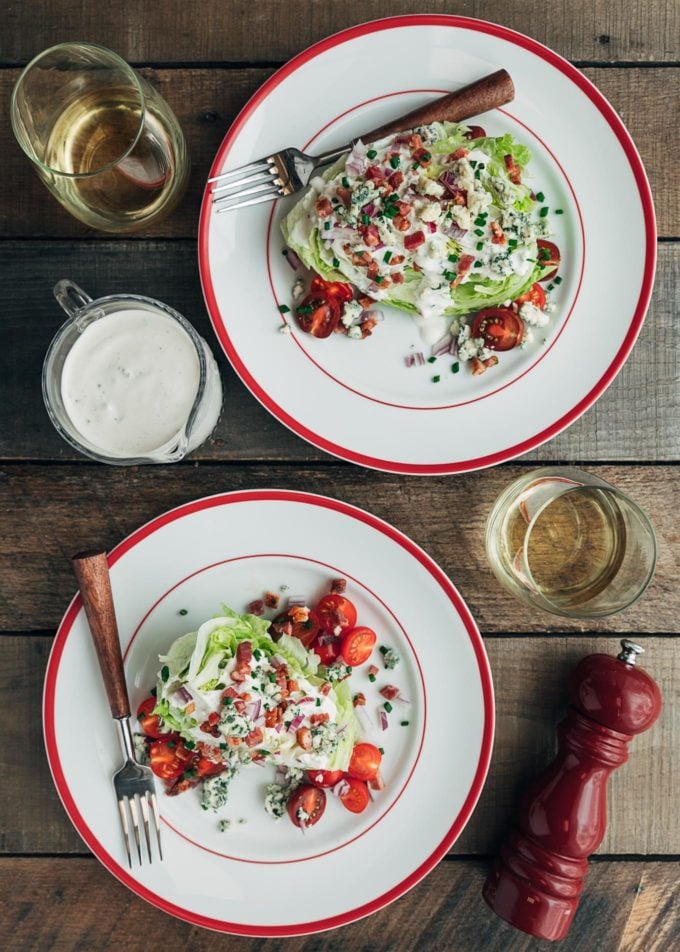 Casual Entertaining: A Wedge Salad Bar
Having friends over for a casual gathering? Consider treating them to a Wedge Salad bar. It's fun to arrange a selection of dressings and toppings in bowls for your guests to build their customized Wedge.
For any salad bar, keeping the lettuce, dressings, and (most of) the toppings chilled is key. I like to place the small bowls containing all of the goodies into ice cube-lined trays, much as you would a raw bar.
The iceberg wedges do well presented on one of those summertime-designed cold serving trays or salad bowls, which have a built-in ice compartment on the bottom. I've also used a well-chilled marble platter.
After your salad course, throw a few steaks on the grill (or slice up your favorite Pan-Seared Steak), whip up a batch of Creamed Spinach, and some sautéed mushrooms, and steakhouse night is on!
📖 Recipe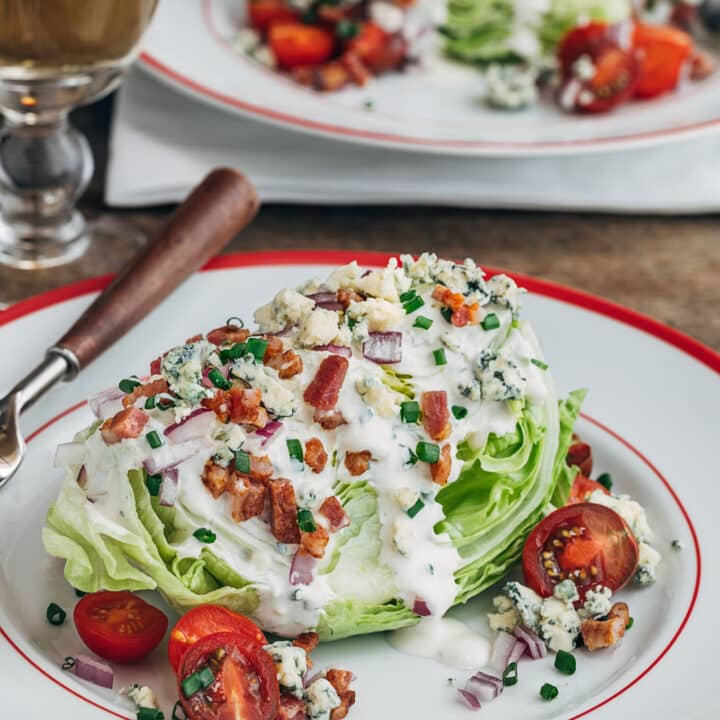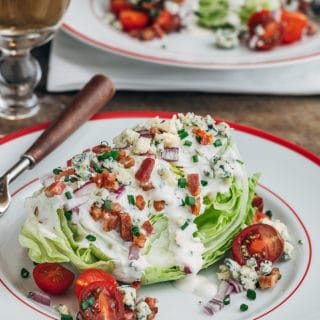 Classic Wedge Salad
This Wedge Salad recipe makes it easy to re-create a steakhouse favorite at home. Blue cheese and bacon are the classic accompaniments, but feel free to add your favorite salad toppings. A few variation suggestions are in the recipe notes.
Print
Pin
Rate
Save
Saved!
Estimated Calories:
238
kcal
Ingredients
1

head

iceberg lettuce

1

cup

blue cheese dressing

4

ounces

bacon

, cooked crisp and crumbled

¼

cup

chopped red onion

¼

cup

crumbled blue cheese

1

cup

cherry tomatoes

, halved

snipped chives

, for garnish
Instructions
Remove any brown or wilted leaves from the head of lettuce. Cut the core from the bottom and slice the iceberg into 4 quarters. Wash each quarter, gently rinsing between the layers. Dry well.

Place each wedge on a plate, cut side up, and pour some of the blue cheese dressing over the top. Top with crumbled bacon, red onion, crumbled blue cheese, and snipped chives. Arrange cherry tomatoes around the wedge on the plate.

If desired, finish each salad with freshly-cracked black pepper. Serve immediately.
---
Notes
The quantities listed in the ingredients list for the dressing and toppings are general guidelines. Feel free to load up your salad, or go light, to your preferences!
Topping ideas for Wedge Salad variations:
crumbled hard-boiled eggs
baby shrimp
diced avocado
toasted Panko breadcrumbs
diced red bell pepper
Russian Dressing or Green Goddess Dressing
Nutrition Estimate
Calories:
238
kcal
|
Carbohydrates:
8
g
|
Protein:
10
g
|
Fat:
18
g
|
Saturated Fat:
6
g
|
Cholesterol:
25
mg
|
Sodium:
898
mg
|
Potassium:
363
mg
|
Fiber:
2
g
|
Sugar:
5
g
|
Vitamin A:
925
IU
|
Vitamin C:
13
mg
|
Calcium:
127
mg
|
Iron:
1.2
mg
Keyword:
classic wedge salad, salad recipes
---
About our Recipes:
Please note that our recipes have been developed using the US Customary measurement system and have not been tested for high altitude/elevation cooking and baking.
Have you made this recipe?
Don't forget to leave a comment and rate the recipe below! Take a picture? Tag @stripedspatula and #stripedspatula on Instagram!