What do you do when you can't decide between a turkey or ham sandwich? Use them both to make a Monte Cristo Sandwich! Sweet, salty, cheesy, and buttery; it's the best of all the worlds.
This indulgent recipe layers ham, turkey, and Swiss with custard-soaked bread, pan-fried until golden. Served with powdered sugar and jelly for dipping, this Monte Cristo is the ultimate comfort food for breakfast, brunch, lunch, or dinner.
Have extra ham and turkey in the fridge after a holiday dinner? This recipe is one of my family's favorites to make with leftovers.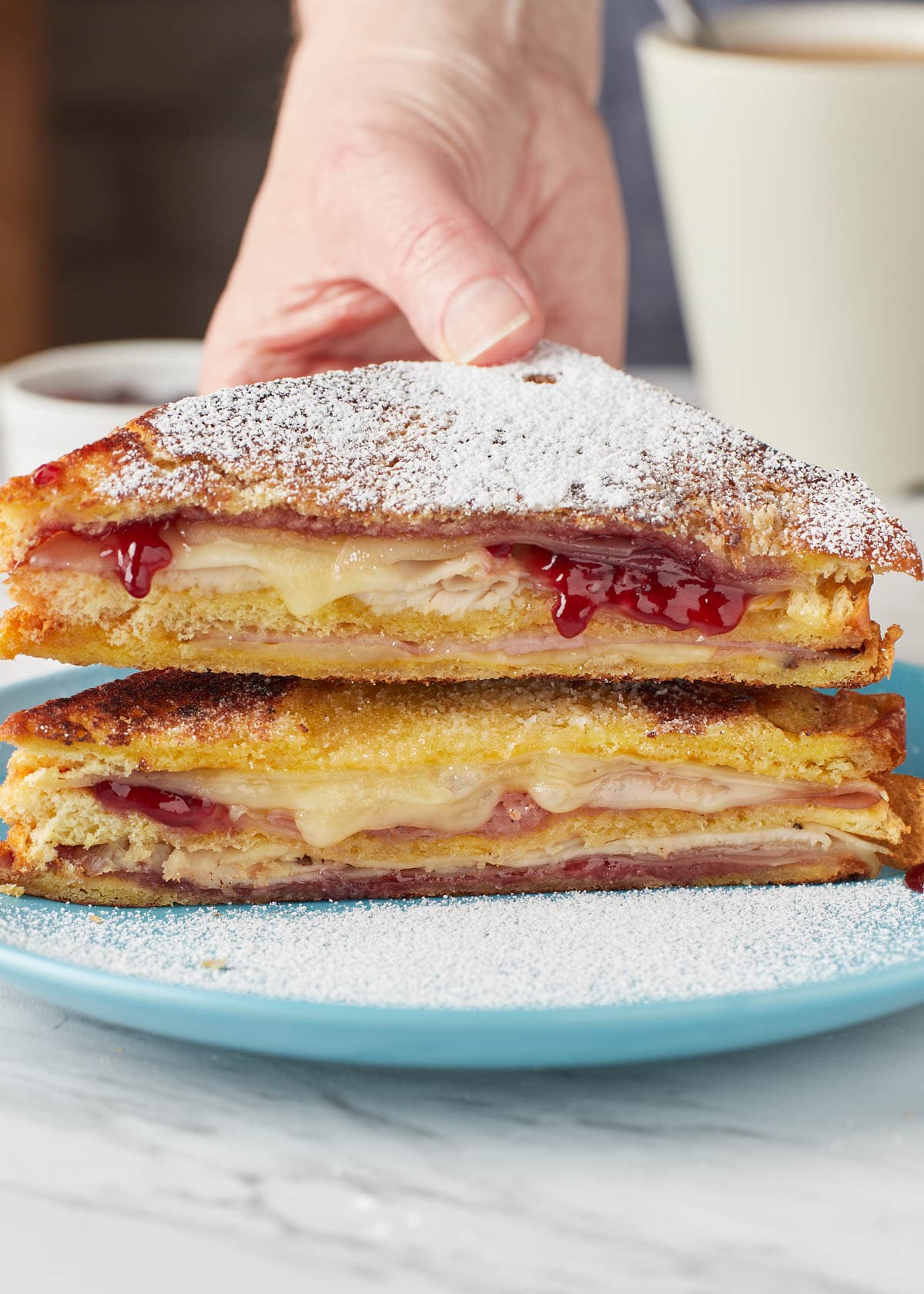 This post contains affiliate links. As an Amazon Associate, I earn a commission (at no additional cost to you) from qualifying purchases made by clicking these links. As always, all recommendations and opinions expressed are my own.
What is a Monte Cristo?
The Monte Cristo sandwich is a cross between a meaty grilled cheese and French Toast. If you love a sweet-savory combo, this is the sandwich for you!
In researching the sandwich, I found that its origins are debated. Many believe it was created as a twist on the popular French Croque Monsieur, finding popularity in Southern California restaurants in the 1950's. An early recipe appears in the original Brown Derby Cookbook (Doubleday, 1949).
Disneyland is particularly well-known for its version of the Monte Cristo sandwich, a mainstay on the park's Blue Bayou restaurant menu since 1967.
Recipes vary both regionally and by cook. At its core, the Monte Cristo is made as a double or triple decker with ham, turkey, and Swiss cheese. The assembled sandwich is then dipped into an egg batter or custard and pan fried or deep fried until golden. In the Southern United States, it also sometimes includes a crunchy breading, such as crushed corn flakes.
Warm Monte Cristo sandwiches are typically dusted with powdered sugar and served with jam or jelly on the side for dipping.
Want to read more about the origins of this delicious sandwich? Check out the Monte Cristo recipe entry on Food Timeline.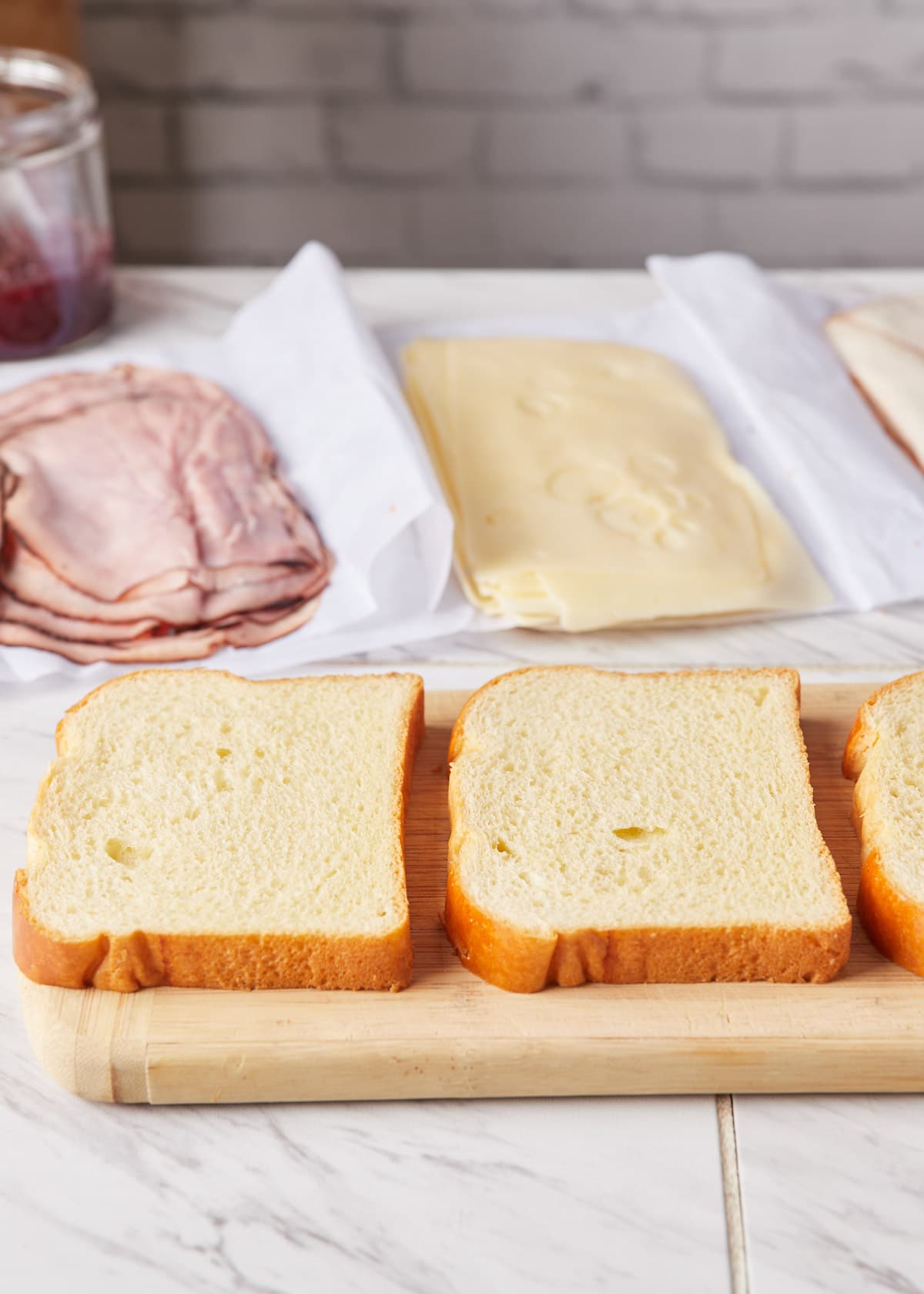 What Goes In a Monte Cristo Sandwich
Like the Brown Derby Cookbook recipe, my Monte Cristo recipe is a triple-decker sandwich. Here's what I use to make it:
Bread. I use hearty farmhouse-style white bread or day-old brioche or challah, sliced 1/2-inch thick. Airy white breads tend to fall apart too easily in this recipe.
Sliced Ham and Turkey. You can use leftover ham from a holiday dinner (such as my Honey Mustard Glazed Ham), or deli meat. From the deli, we order Black Forest or Virginia ham and roasted turkey (without heavy herbs or spices).
Swiss or Swiss-style cheese. We often use our deli's house "imported Swiss," Gruyère, Emmental, or Jarlsberg. If you have leftover Swiss from a cheese board, you can also use it in your sandwich, shredded or thinly-sliced.
Unsalted butter. I prefer European-style butters here, such as Kerrygold or Plugra, for their rich flavor and how beautifully they help the bread brown. You'll spread it onto the bread and melt it in the pan for frying.
Dijon mustard. In a departure from the classic, I like to spread a thin layer of Dijon onto one of the bread slices. Maille and Edmond Fallot are my favorites.
Jam, jelly, or preserves. Sweet-tart red currant jelly is classic for a Monte Cristo, but other jams and preserves, like raspberry, can be substituted. As in the classic Brown Derby recipe, you'll serve the jelly on the side for dipping. I also like to spread a little onto one of the bread slices to add a touch of sweetness to the sandwich itself.
Milk, eggs, and nutmeg make up the French toast-style custard. I like to use whole or 2% milk, with just a hint of freshly-grated nutmeg (non-traditional, but delicious).
Vegetable oil. Used in combination with butter to pan-fry the sandwich.
Powdered sugar. For dusting.
Notes on Slicing the Ham and Turkey
If you're using leftover turkey and ham that you've cooked yourself, slice the meat thinly for even cooking. Thick-cut meats will make it more difficult to heat the sandwich through at the same rate that the bread browns.
When buying deli meat, ask for the ham and turkey to be sliced "thin" or "medium" on the slicer. I prefer not to use "shaved" or "chipped" meats (the deli terms for extremely thin cuts, depending on where you live).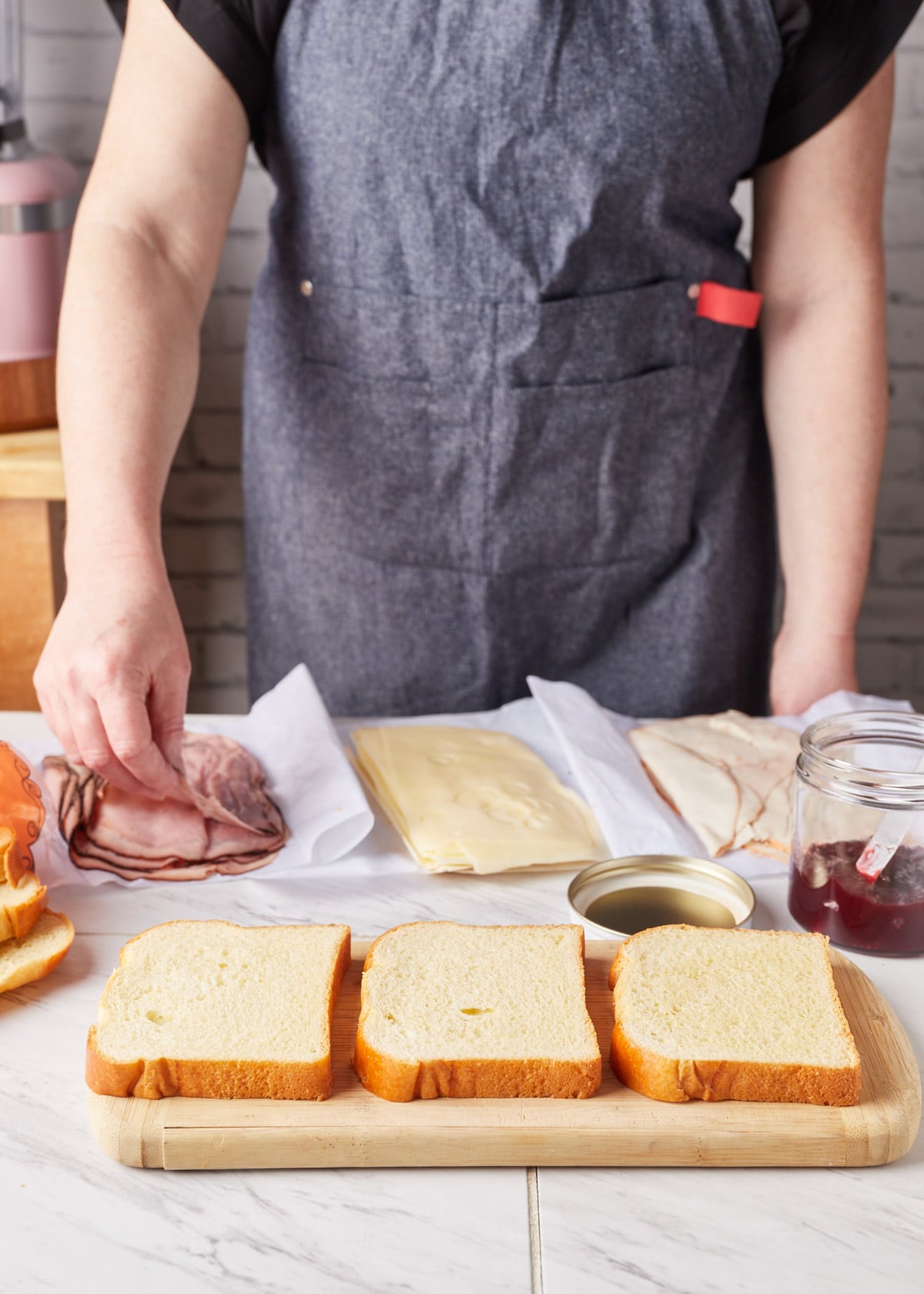 How to Make a Monte Cristo Sandwich
Making a Monte Cristo is as easy as making a grilled cheese or French Toast, but a few assembly tips will help you make the most consistently delicious sandwiches every time.
Assembling the Sandwich
Since you're making a triple decker, you'll need three slices of bread. Lightly butter one side of two slices, and both sides of the third (middle) slice. Then, spread a thin layer of Dijon onto one of the unbuttered sides of bread, and jam on the other.
You can either choose to trim the crusts from your bread or leave them intact. Most brioche and challah loaves have soft enough crusts that they don't detract from the texture of the fried sandwich. In my experience, leaving these crusts on also makes the sandwich sturdier in the pan.
If you're using a bread with a particularly heavy or crusty exterior, trimming the sandwich should be considered.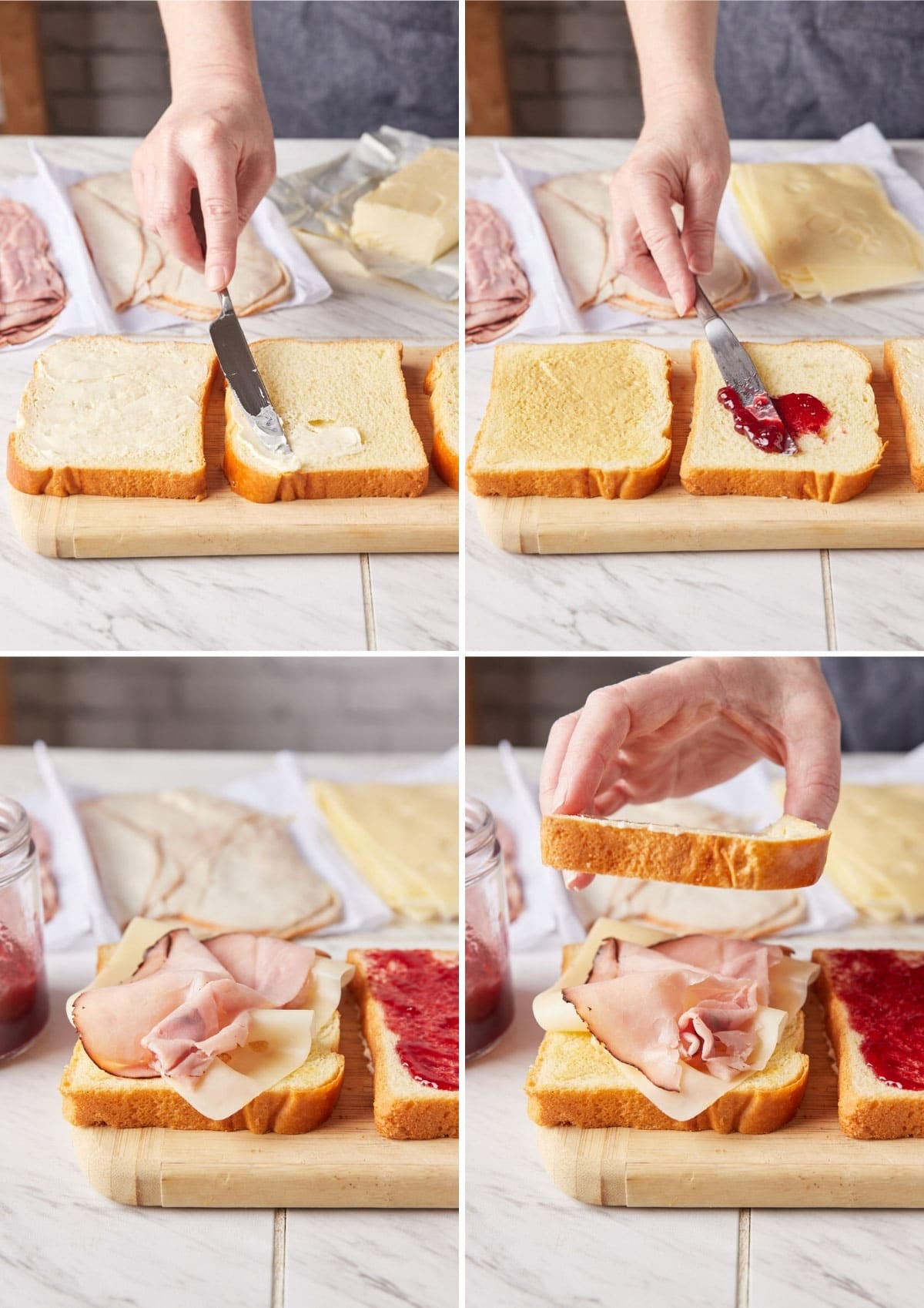 When layering the meats and cheeses, start and end with cheese. As it melts, it will help the whole sandwich stay together in the pan.
With the Dijon side of the bread facing up, layer half of the Swiss cheese, followed by the ham, the slice of bread buttered on both sides, the turkey, and the rest of the cheese. Finish the sandwich with the remaining slice of bread, placing it jam-side down.
I like to loosely wrap the sandwich in wax paper or plastic wrap and weight it with a grill press or skillet for about 5 minutes before dipping into the egg custard. This helps to gently compress the layers for frying.
It's important not to oversaturate the bread with the custard. By very lightly spreading the bread with softened butter before dipping it in the egg mixture, you'll create a barrier that allows it to soak up just the right amount of liquid.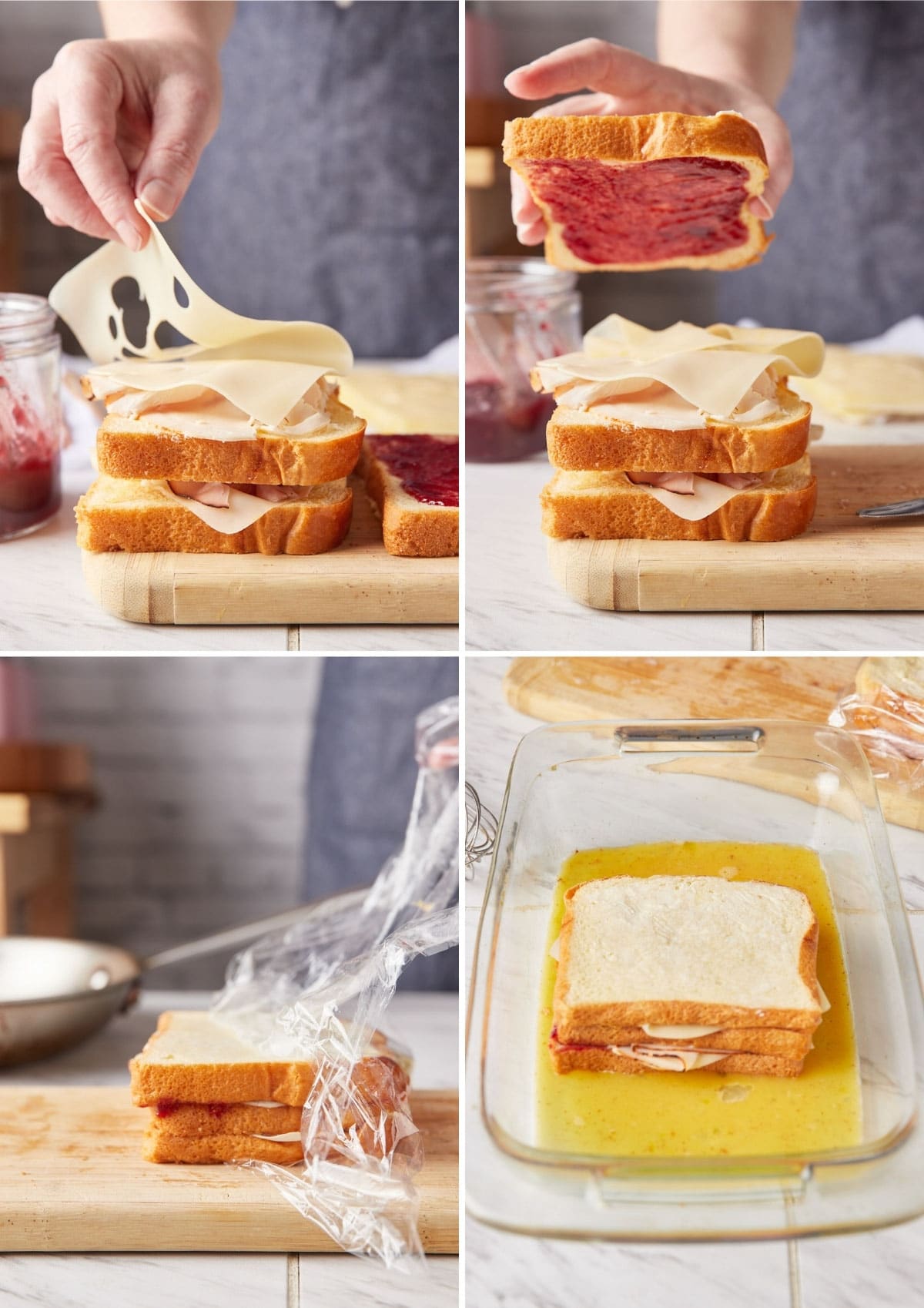 Frying and Serving the Sandwich
Some Monte Cristo sandwich recipes call for deep frying (such as Disneyland's version), but I love them best pan-fried (as in the Brown Derby recipe).
I cook my Monte Cristos on the stove in a seasoned cast iron skillet, or on my propane Blackstone griddle. Both cast iron and the standalone griddle are fantastic conductors of heat, frying a perfectly golden sandwich. You can also use your favorite non-stick skillet, stovetop griddle, or electric griddle.
Using a combination of butter and vegetable oil gives the sandwich a nice buttery flavor, while increasing the smoking point from that of butter alone. It'll take 3-4 minutes per side for the bread to toast and the sandwich to heat through.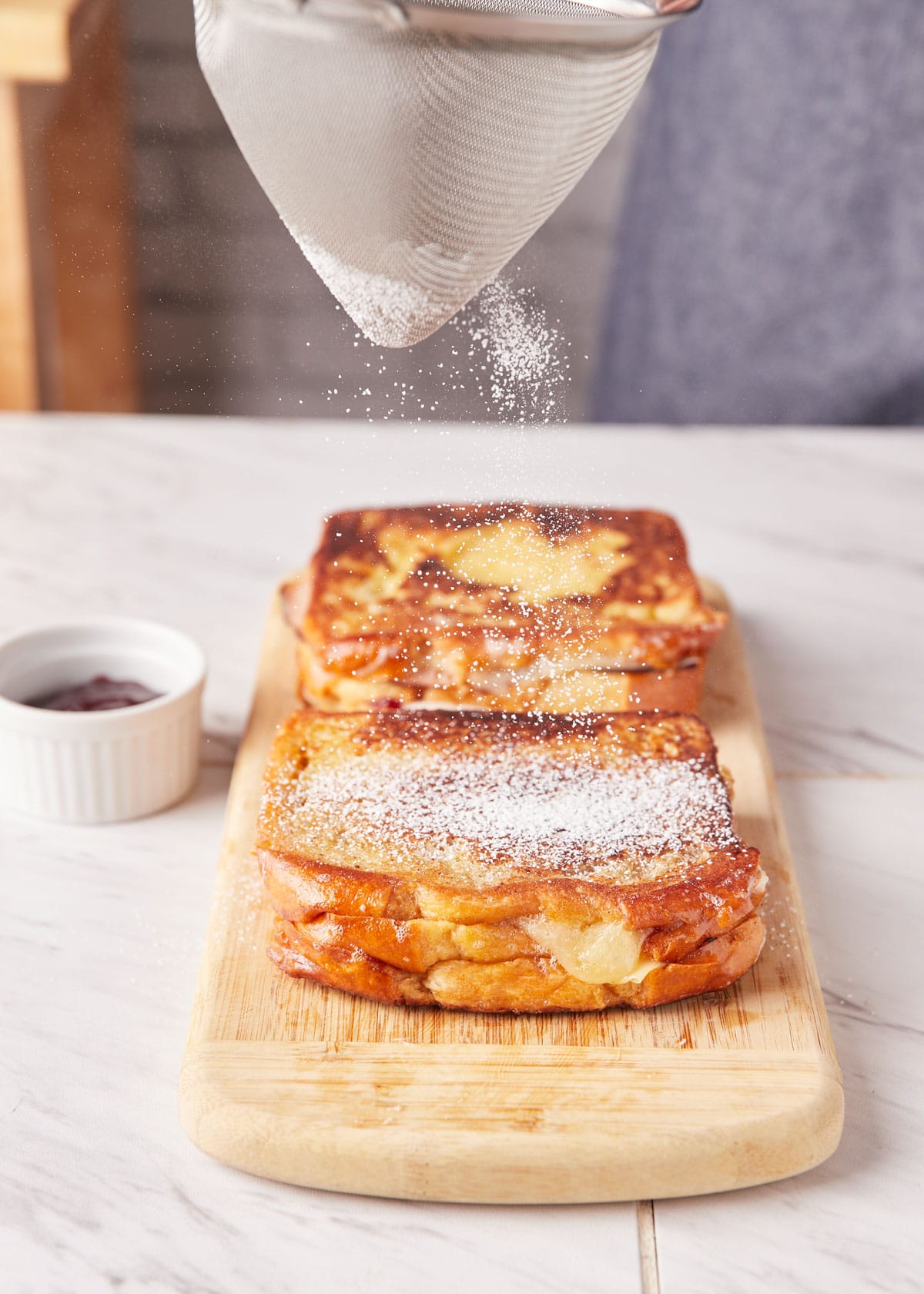 After frying, drain the sandwiches on paper towels to soak up any residual butter. Then, just dust them with powdered sugar, slice in half, and serve with a small bowl of warmed jam, jelly, or preserves on the side.
As you eat the sandwich, you can either drizzle the jelly over the top, or dip it into the bowl with each bite. If that isn't the ultimate sweet and savory bite, I don't know what is!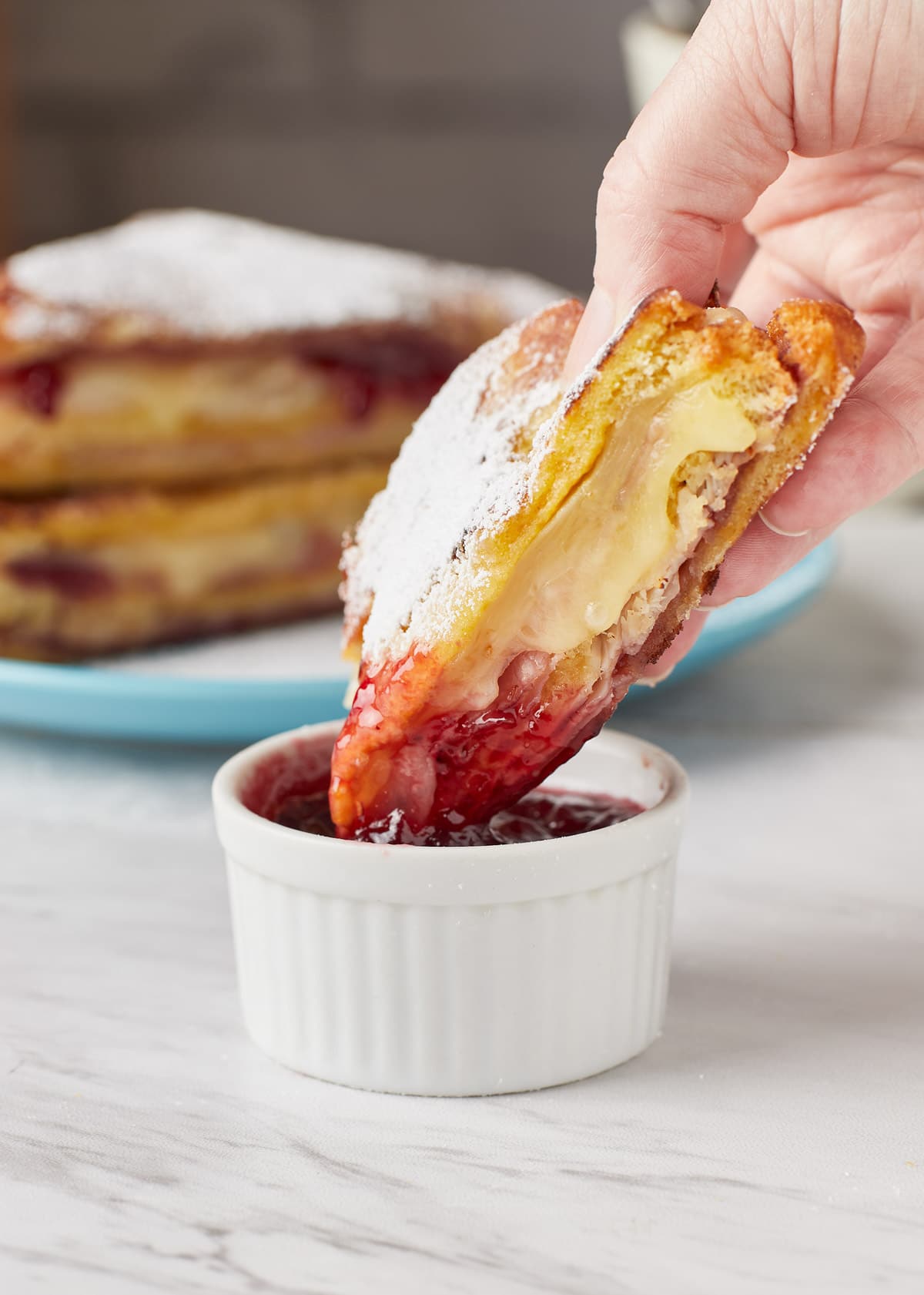 More Ways to Use Leftover Turkey or Ham
CRAVING MORE? Subscribe to my newsletter and join me on Facebook, Pinterest, and Instagram for the latest recipes and news.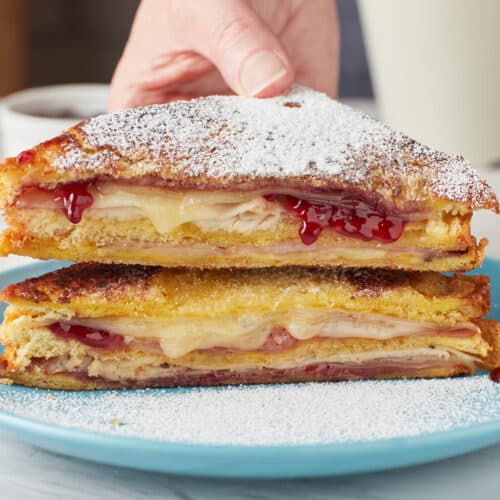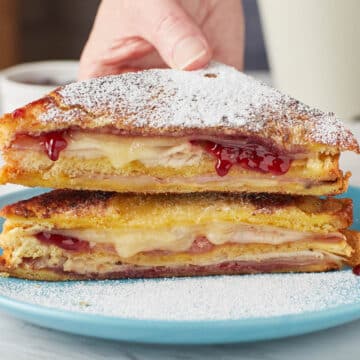 Monte Cristo Sandwich Recipe
French Toast meets a meaty grilled cheese sandwich in this classic brunch indulgence.This Monte Cristo Sandwich recipe is sweet and savory comfort food at its best! Great for using leftover holiday turkey or ham.
Print
Pin
Rate
Save
Saved!
Estimated Calories Per Serving:
1382
kcal
Ingredients
3

slices

farmhouse white sandwich bread, brioche, or challah

(approx. 1/2-inch thick slices)

2-1/2

tablespoons

unsalted butter

, divided (I use European-style, such as Kerrygold or Plugra)

1

teaspoon

Dijon mustard

1/4

cup

red currant jelly or seedless raspberry jam

, plus 1 teaspoon, divided

2

slices

Swiss cheese

or shredded Gruyere (2 ounces)

2

slices

ham

(2 ounces)

2

slices

turkey

(2 ounces)

1

large

egg

1

tablespoon

milk

pinch

kosher salt

pinch

ground nutmeg

1/2

tablespoon

vegetable oil

confectioner's sugar

, for dusting
Instructions
Soften 1 tablespoon of butter and very lightly butter one side of two slices of the bread, and both sides of the third slice of bread. Spread Dijon mustard onto the unbuttered side of one slice of bread, and 1 teaspoon of jam or jelly onto the unbuttered side of the final slice.

Assemble sandwich in the following order: 1 ounce/slice of Swiss/Gruyere on top of the Dijon, followed by the ham, the slice of fully buttered bread, turkey, 1 ounce/slice of Swiss/Gruyere, and the remaining slice of bread, jelly side down. Trim crusts, if desired.

Loosely wrap the sandwich with plastic wrap and weigh it down with a grill press or skillet for 3-5 minutes.

In a shallow dish, whisk together egg, milk, salt, and nutmeg. Dip sandwich into the egg mixture, until some of the liquid absorbs into the bread, but it isn't falling apart.

Melt together vegetable oil and remaining butter in a skillet (I like to use cast iron). Cook 3-4 minutes per side, until sandwich is golden and cheese is melted. Transfer to paper towels to drain.

Heat remaining jam or jelly in a small saucepan or microwave until warmed. Dust sandwich with confectioner's sugar, slice in half, and serve with jelly on the side.
---
Nutrition Estimate
Calories:
1382
kcal
|
Carbohydrates:
111
g
|
Protein:
53
g
|
Fat:
80
g
|
Saturated Fat:
45
g
|
Cholesterol:
521
mg
|
Sodium:
1456
mg
|
Potassium:
445
mg
|
Sugar:
43
g
|
Vitamin A:
2160
IU
|
Vitamin C:
7.5
mg
|
Calcium:
582
mg
|
Iron:
3.1
mg
---
About our Recipes:
Please note that our recipes have been developed using the US Customary measurement system and have not been tested for high altitude/elevation cooking and baking.
Keywords:
holiday leftovers, leftover ham recipe, leftover turkey recipe, monte cristo sandwich
Have you made this recipe?
Don't forget to leave a comment and rate the recipe below! Take a picture and tag @stripedspatula and #stripedspatula on Instagram for a chance to be featured in our Insta Stories and newsletter!
This recipe post originally appeared on Striped Spatula on April 3, 2018. We updated it in 2021 with new photos, a video, and additional information about the recipe.