Turn a pandoro loaf into a creamy, yet remarkably light pandoro bread pudding. Add a drizzle of warm bourbon sauce for a perfect finish.
I love stumbling upon good recipes by accident. Such was the case last week when a less-than-stellar pandoro purchase became one of the best bread puddings I've ever eaten. Lemonade from lemons. Bread pudding from bad pandoro. It's a beautiful thing.
Pandoro is a tall, star-shaped Christmas bread from Verona. In its simplest terms, it's much like panettone without all of the "stuff" inside (raisins, candied citron, etc.). Delicious on its own, it rarely needs more than a quick warming and dusting of powdered sugar (reminiscent of the snow-tipped peaks of the Alps).
Rewind to last week. On a whim, I picked up a pandoro from my local grocery store. I hesitated at the time, given that: a) I usually defer to speciality markets for these types of foods, b) it was a brand I'd never heard of, and c) it was on a rolling cart in the middle of the butcher department, flanked on either side by 3-ton fruitcakes.
I suspected that the odds might be against me.
Long story short, it was one of the densest masses of bread I've ever choked down. No amount of warming could've saved it. Such a fail.
Seeing as the thing cost upwards of $30 (not the cheapest of Christmas treats, but worth the price for a good one), I didn't want to throw it out and started pondering alternate uses. Trifle base? Perhaps. Sweet bread crumbs for strudel? Possibility. French toast? Closer. Bread pudding? Yes! If a custard bath couldn't save this thing, nothing could.
A few years ago, I bookmarked Ina Garten's recipe for panettone bread pudding, but never had a chance to try it. Given the flavor and textural similarities of the breads, it seemed a good place to start. Once I had a plan, the wheels started turning.
I had grand visions of replacing the almonds with marrons glacés. (I do cartwheels for anything chestnut this time of year.) Of course, those take three days to make and I really wanted to move the sad little loaf off of my counter, so I settled for roasted chestnuts that I had on hand.
(Not to mention that marrons glacés are such things of beauty that to bury them in a post about a bread purchase gone wrong seems borderline criminal.)
Within a few hours, the once inedible pandoro was transformed into a creamy, yet remarkably light bread pudding that I would gladly serve to guests. I'd almost consider buying another just to make it again, although it would probably be even better using my preferred brand. The pudding was moist enough on its own, but a drizzle of warm bourbon sauce was a perfect finishing touch.
Granted, the price tag on these loaves makes this a recipe that none of us is going to put in our weekly rotations. But, if you're looking for something special, find yourself having been gifted a pandoro you don't know what to do with, or see them on sale after the holidays, it's a keeper.
📖 Recipe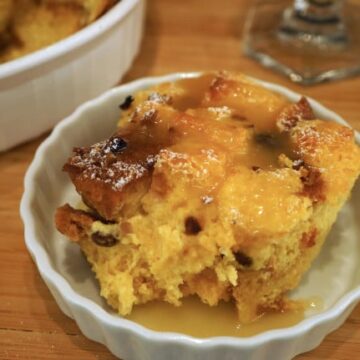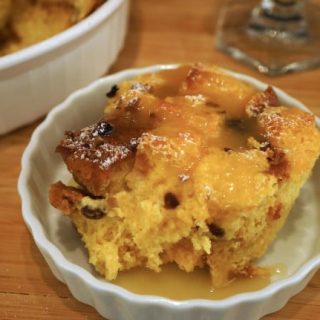 Pandoro Bread Pudding with Warm Bourbon Sauce
Turn a pandoro loaf into a creamy, yet remarkably light pandoro bread pudding. Add a drizzle of warm bourbon sauce for a perfect finish.
Bread pudding adapted from Ina Garten, "Panettone Bread Pudding"; Warm Bourbon Sauce adapted, barely, from Bon Appetit, September 1999
Print
Pin
Rate
Save
Saved!
Servings:
6
to 8 servings
Estimated Calories:
671
kcal
Ingredients
Bread Pudding
1

pandoro loaf

(about 1.5 pounds)

3

extra-large eggs

8

extra-large egg yolks

5

cups

half and half

½

cup

granulated sugar

1

tablespoon

vanilla extract

½

cup

seedless mixed raisins

½

cup

coarsely chopped roasted chestnuts

(optional)

unsalted butter

for baking dish

powdered sugar

for dusting
Warm Bourbon Sauce
¼

cup

unsalted butter

½

cup

sugar

3

tablespoons

heavy cream

2

tablespoons

bourbon

Pinch salt
Instructions
Make the Bread Pudding
Preheat oven to 350 degrees. Butter a 13x9x2 baking dish.

Trim off the thick, dark edges on the pandoro and cut the remaining loaf into 1-inch cubes. Spread in a single layer on two baking sheets, and bake for 10-12 minutes until lightly browned and fragrant. Set aside to cool.

Toss bread cubes with raisins and chestnuts (if using) and place in prepared baking dish. In a large bowl, whisk together eggs, egg yolks, half and half, sugar, and vanilla. Slowly pour the mixture over the bread cubes, gently pressing with a spatula to help the liquid absorb. Let stand for 10 minutes.

Make a bain-marie (water bath) by placing the baking dish in a large roasting pan and filling the pan with enough steaming water to reach halfway up the dish's sides. Cover the roasting pan with foil and cut a few vent holes with a sharp knife.

Bake, covered, for 45 minutes. Remove foil and continue baking 40 - 45 minutes, until bread pudding is lightly browned and custard is set. Cool for about 15 minutes, dust with powdered sugar, and serve with warm bourbon sauce.
Make the Warm Bourbon Sauce
Melt butter in a medium saucepan. Remove from heat and whisk in sugar, heavy cream, bourbon, and salt. Return to medium-low heat and simmer, whisking, until thick enough to lightly coat the back of a spoon. Cool slightly and serve.
---
Nutrition Estimate
Calories:
671
kcal
|
Carbohydrates:
58
g
|
Protein:
13
g
|
Fat:
42
g
|
Saturated Fat:
24
g
|
Cholesterol:
447
mg
|
Sodium:
134
mg
|
Potassium:
476
mg
|
Sugar:
34
g
|
Vitamin A:
1525
IU
|
Vitamin C:
7.3
mg
|
Calcium:
268
mg
|
Iron:
1.6
mg
---
About our Recipes:
Please note that our recipes have been developed using the US Customary measurement system and have not been tested for high altitude/elevation cooking and baking.
Have you made this recipe?
Don't forget to leave a comment and rate the recipe below! Take a picture? Tag @stripedspatula and #stripedspatula on Instagram!