Rich and creamy with chunks of fresh rum-soaked cherries swirled throughout a custard base, this Rum Cherry Ice Cream is a grown-up twist on a classic. 
I covet the arrival of fresh cherries every year. Sweet and juicy, there's nothing like a bowl of them, enjoyed slowly under the sun on a warm summer afternoon.
I cook with them as much as I can before the season ends: cherry clafoutis for dessert, compote for French toast and waffles, and of course: cherry ice cream. In my favorite adults-only version, I fold rum-soaked cherries into a rich and creamy vanilla custard base.
Rum Cherry Ice Cream is the perfect way to indulge in a classic summertime treat in a decidedly grown up way.
Ice cream brings me back to my childhood summers; long days in the pool that, more often than not, ended with making root beer floats with my Dad, or a family trip to the local ice cream shop.
When making ice cream at home, I tend to prefer French ultra-velvety custard-based recipes to the eggless "Philadelphia style". (Though, I'd never say "no" to a bowl of homemade ice cream of any variety!)
The basic recipe that I use to adapt most of my favorite flavors is Cook's Illustrated's Rich Vanilla Ice Cream, which adds light corn syrup to the custard. The corn syrup helps keep the ice cream easy to scoop after freezing and cuts down on the icy mouthfeel that many homemade recipes have. I adjusted the milk/cream/corn syrup proportions of this base to accommodate the fruit, juices, and liquor in my Rum Cherry version.
The number one rule when making ice cream of any style is to make sure that your base (custard, or milk/cream/sugar mixture) is well-chilled before churning. The colder the base, the creamier the final product.
In terms of equipment, I've used a standard "freezer bowl" ice cream maker for years with good results. The unit pictured here is a compressor model. It's a recent addition to the Striped Spatula kitchen and we've fallen head over heels in love. With a built-in freezer, the bowl does not have to be pre-chilled. The convenience of this translates into ice cream "on demand" and the ability to make multiple flavors back to back with little downtime.
In comparing batches from the two models, we've also found the compressor to yield a creamier churn. Compressor models are investment pieces and a space commitment on your countertop. But, if you're someone who makes a lot of ice cream for your family (or yourself!), they're a special luxury to consider.
If rum isn't your favorite liquor, others can certainly be substituted. Brandy or bourbon would be classic pairings, kirsch would up the cherry ante, and chambord would bring an underlying berry note. The alcohol will make this ice cream a bit more susceptible to melting, so it's best to enjoy right away after scooping.
But, let's be real, with a bowl of Rum Cherry Ice Cream in front of you, are you really going to wait that long to dig in? I'm not!
Did you know I have a weekly newsletter? Subscribe to stay up to date on what's delicious on the blog!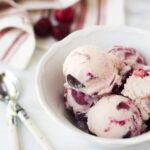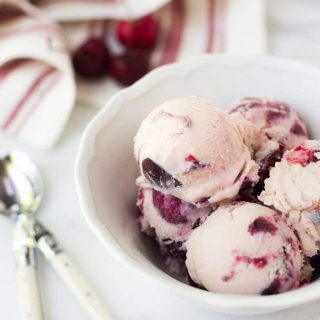 Print
Rum Cherry Ice Cream
Rum soaked cherries make this ice cream an extra-special treat for adults, but it is equally delicious with the alcohol omitted. Serve on its own or with a drizzling of hot fudge!
Makes a little over one quart of ice cream.
Ingredients
1

pound

fresh Bing cherries

, pitted and halved

1/3

cup

plus 2 tablespoons granulated sugar

, divided

2-3

tablespoons

dark rum

(depending on how prominent you like the rum flavor)

1

cup

whole milk

2

cups

heavy cream

1/2

cup

light corn syrup

1/4

teaspoon

kosher salt

6

large egg yolks

1-1/2

teaspoons

pure vanilla extract
Instructions
Combine cherries and 1/3 cup granulated sugar in a medium saucepan. Simmer over medium heat, stirring, until cherries have begun to soften and juices are a syrup-like consistency, about 8-10 minutes. Strain syrup into a bowl and set aside. Place cherries in a separate bowl and stir in rum. Cool both syrup and rum-soaked cherries to room temperature, then refrigerate, covered, until well-chilled.

Stir together whole milk, heavy cream, light corn syrup, and kosher salt in a heavy-bottomed saucepan. Cook over medium-low heat, stirring, until mixture is steadily steaming and reads about 175 degrees. Remove from heat.

Whisk together egg yolks and remaining 2 tablespoons of granulated sugar in a medium bowl. Gradually whisk about one third of the warm milk into the yolks. Return yolk mixture to the pot, stirring to combine. Cook over medium-low heat, stirring, until the custard is thick enough to coat the back of a spoon. Do not boil.

Strain custard through a fine mesh sieve into a large bowl and stir in vanilla extract. Let stand at room temperature for about 10 minutes. Cover with plastic wrap and refrigerate until well-chilled, at least 4 hours, preferably overnight.

When ready to churn, stir reserved cherry syrup into the custard. Freeze according to your ice cream maker's directions until a soft-serve consistency is reached, adding reserved cherries (and any accumulated juices/rum) during the last 4 minutes of churning.

Transfer to a freezer safe container, cover with plastic wrap, and freeze until ice cream is firm and scoopable, at least 4 hours.
Have you made this recipe?
Let me know by leaving a comment and rating the recipe below! Don't forget to take a picture and tag
@stripedspatula
and
#stripedspatula
on
Instagram
for a chance to be featured in my newsletter!