Soft, mildly-flavored and speckled with crumbles of maple-lacquered bacon, these Sweet Potato Biscuits are a wonderful addition to any fall bread basket.
Get out your party hats: Striped Spatula turned one year old today!
I can hardly believe that a year has passed since I hit the "publish" button on my first post. When I think back to the earliest days of this site, I can't help but laugh a little. I had wanted to create a cooking blog for some time, but once I got started, realized fairly quickly that I had no idea what I was doing.
My photography skills were meager (thank goodness for intelli-shoot!), and in terms of running a website, I couldn't have told you the difference between CSS and SEO.
From the technical elements of choosing an aperture setting on my camera, to the more practical revelation that stainless steel spoons are reflective (making a cooking ensemble of plaid fleece pajamas a poor choice), I've learned a lot this year, and had fun in the process. I hope you've enjoyed the ride as much as I have!
Since I started this site with a sweet potato recipe, I've decided to make it an annual tradition. November 24 is officially "Sweet Potato Day" on Striped Spatula.
This year, I made my Maple Bacon Sweet Potato Biscuits to share with all of you. Soft, mildly-flavored and speckled with crumbles of maple-lacquered bacon between buttery layers, these biscuits are a wonderful addition to any biscuit basket; breakfast, brunch, or dinner.
I first sampled sweet potato biscuits at a cooking class about ten years ago. I really enjoyed the flavor, but found their texture a little dense, as the recipe contained only an egg and mashed sweet potato for moisture.
When developing a sweet potato biscuit of my own, I turned to the standard "Buttermilk Biscuit" recipe in Joy of Cooking that I'd used for years, and started tweaking from there.
It took quite a few batches to work out all of the ratios (dare I say, biscuits and I were getting totally sick of each other's company), but one afternoon, I finally achieved the sweet potato biscuit I'd been craving.
There have to be at least a thousand different biscuit-making tips and tricks out there, all held with equal conviction that they yield the best! biscuits! ever!
Having grown up in New Jersey—not exactly the land of prolific biscuit-making—I was fortunate to glean some solid biscuit guidance during my four-year stay in Virginia as an undergrad.
The biggest tip I've learned is that those coveted flaky layers are almost entirely a product of technique. Most importantly: your ingredients need to be cold and the butter should be visible in your finished dough. (The cold butter creates steam pockets when it bakes in the oven, puffing the dough and contributing to the flaky layer effect.)
As for the flour, most Southern bakers swear by using a soft (lower-protein) variety for the best-textured biscuits (namely; White Lily and Southern Biscuit).
While I totally share in the White Lily love (and have been thrilled to finally find it stocked in a regional supermarket here in NJ), I know that it's not something that's readily available to everyone.
For these biscuits, I mimic the texture of the lower-protein flour with a combination of cake and all-purpose flours. It isn't Southern biscuit flour, but it's a solid alternative for those of us in solid "Yankee" territory.
Despite not being head over heels for the finished product at that cooking class all those years ago, I did glean a technique that I wouldn't have thought to apply to biscuit dough: folding.
Similar to the way you would approach a laminated dough, such as puff pastry or croissant, folding the dough in thirds (like a business letter) and gently rolling or patting the folds onto themselves, is a definite layer booster.
(With this technique, I find that the layers are more dramatic in regular biscuits—I believe the density of the mashed sweet potato inhibits the rise a bit—but it helps here.)
These biscuits are delicious on their own, but I'm not going to lie: a schmear of maple butter doesn't hurt!
When I started this site, I didn't think that my readership would extend much further than my friends. To find myself on my first "blogoversary" with more than 1,300 Facebook followers, a list of email subscribers, and receiving messages from people I've never met complimenting me on a photo, or letting me know that they enjoyed a recipe they found here, is beyond anything I could've imagined.
I am humbled and grateful to you—my family, friends, and Striped Spatula readers—for joining me on this journey. Here's to the start of another year of cooking together. Biscuits all around! Cheers!

📖 Recipe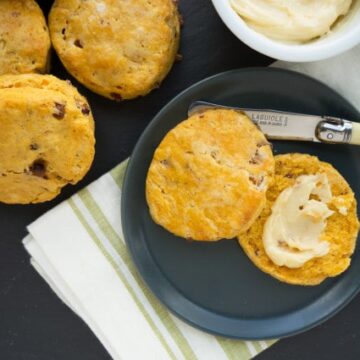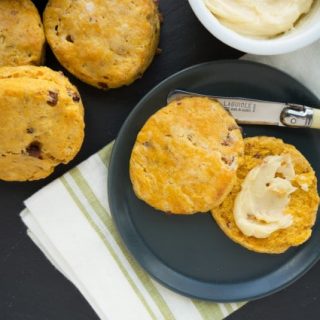 Sweet Potato Biscuits with Maple Bacon
Soft, mildly-flavored and speckled with crumbles of maple-lacquered bacon, these Sweet Potato Biscuits are a wonderful addition to any fall bread basket.
To make these biscuits extra-special, serve warm with a schmear of maple butter (see notes).
Print
Pin
Rate
Save
Saved!
Servings:
9
biscuits (2-½ inch diameter)
Estimated Calories:
306
kcal
Ingredients
4

slices

thick cut bacon

2

tablespoons

pure maple syrup

1-½

cups

cake flour

¾

cup

all-purpose flour

, plus additional for rolling

1

tablespoon

baking powder

½

teaspoon

baking soda

1

teaspoon

salt

2

tablespoons

granulated sugar

6

tablespoons

unsalted butter

, cut into small cubes and chilled

1

cup

mashed cooked sweet potato

, chilled

½

cup

buttermilk

, shaken and chilled, plus 1 tablespoon for brushing biscuits*
Instructions
Make the Maple Bacon
Preheat oven to 425 degrees F. Place wire rack on a foil-lined rimmed baking sheet. Lay bacon strips flat on the rack and bush with half of the maple syrup. Bake, 10 minutes. Remove from oven, flip bacon, and bush with remaining maple syrup. Continue baking about 10-12 minutes, until bacon is brown and crisp. Remove from oven, let cool, and chop or crumble. Chill until ready to use.
Make the Sweet Potato Biscuits
Line a baking sheet with parchment paper or a silicone baking mat.

In a large bowl, sift together cake flour, all-purpose flour, baking powder, baking soda, salt, and sugar. Add chilled butter cubes. Using a pastry blender or two knives, cut butter into dry ingredients until pea-sized pieces of butter remain. Stir in crumbled bacon.

In a small bowl, whisk together mashed sweet potato and buttermilk. Pour into center of butter and flour mixture, tossing with a fork just to combine (mixture will look dry and scraggly---resist the urge to add more buttermilk!). Turn dough out onto a lightly-floured board, and gently knead, about 5 times, until dough comes together (for tender biscuits, do not overwork dough).

With a lightly-floured rolling pin, or your hands, gently roll or pat dough into a rectangle, about ¾-inch thick. Fold the dough in thirds, as if folding a business letter. Turn the dough 90-degrees and repeat the rolling and folding process.

Roll or pat dough into a ¾-inch thick rectangle. Using a 2-½ inch round biscuit cutter that has been lightly dipped in flour, cut biscuits by pressing down firmly in a single motion. Do not twist biscuit cutter, as this will affect the dough's ability to rise and form layers. One swift motion down and up is all you need. Space cuts as close together as possible. Gently press dough scraps together and continue cutting biscuits.** Transfer to the prepared baking sheet. Chill 10 minutes. Lightly brush tops of dough rounds with reserved buttermilk.

Bake 15-18 minutes, until biscuits have risen and are a light golden brown. Remove from oven, let biscuits stand about 3 minutes, and transfer to wire racks to cool. Serve just slightly warm or at room temperature.
---
Notes
*I use whole buttermilk, which I find in the organic or farm-fresh section of my grocery store's dairy aisle.
**Re-rolled scraps will not rise as high or be as tender as your first batch, so it's important to get as many biscuits out of the first cutting as possible.
To Make Maple Butter for serving: Stir together ½ cup softened unsalted butter and 2-3 tablespoons of maple syrup, to taste.
Nutrition Estimate
Calories:
306
kcal
|
Carbohydrates:
36
g
|
Protein:
6
g
|
Fat:
14
g
|
Saturated Fat:
7
g
|
Cholesterol:
32
mg
|
Sodium:
453
mg
|
Potassium:
374
mg
|
Fiber:
1
g
|
Sugar:
8
g
|
Vitamin A:
6240
IU
|
Vitamin C:
6.1
mg
|
Calcium:
97
mg
|
Iron:
1.1
mg
---
About our Recipes:
Please note that our recipes have been developed using the US Customary measurement system and have not been tested for high altitude/elevation cooking and baking.
Have you made this recipe?
Don't forget to leave a comment and rate the recipe below! Take a picture? Tag @stripedspatula and #stripedspatula on Instagram!