A creamy whipped Sweet Potato Casserole with buttermilk and cinnamon. Top with your choice of marshmallows or crunchy pecan praline.
Confession: Thanksgiving dinner has never been about the turkey for me. Sure, it's the attention-hog of the feast. We agonize over it for days before our guests arrive, bathing it in buttermilk soaks and cider brines. We lovingly baste it for hours as it roasts to juicy, golden perfection (so we hope), before carving it up and presenting it as the glorious centerpiece to our holiday tables.
It's good. Delicious even.
Despite all of the anticipation surrounding that eponymous bird (it is, after all, "Turkey Day"), I never eat more than one slice. For the best flavors of Thanksgiving, I go straight to the sides.

Sweet Potato Casserole has been a staple on our Thanksgiving table for as long as I can remember. I'm sure my initial attraction to the dish had nothing (everything) to do with the novelty of getting to eat marshmallows for dinner ("jackpot" to a four-year-old).
As a 30-something, I still dive fork-first into this casserole every year. The whipped potatoes are creamy and gently spiced, while the buttermilk lends a light tang to complement the sweetness. It's a win-win for guests of all ages.
Did I mention that it's easy? The recipe starts with cooked sweet potatoes. Use whatever method you prefer—boiling, microwaving, baking. I use an electric pressure cooker. It's fast and frees up the stove for other uses.
In a pinch, canned yams (plain, not candied) can be substituted. Beyond that, the process is little more than Mix-Bake-Eat, leaving plenty of time and energy left to tend to that fussy turkey.

As for the topping? While toasted marshmallows make me nostalgic for my childhood, I've since come to love this casserole topped with a pecan praline crust. Instructions for both variations follow, so you and your family can choose your favorite.
The recipe makes a pretty big bowl, but worry not, the casserole also reheats well the next day. You may or may not catch me eating a scoop of these for breakfast every year on Black Friday. I plead the Fifth.
Did you know I have a weekly newsletter? It's a great time of year to subscribe and have delicious recipes delivered to your Inbox for all of your holiday entertaining needs!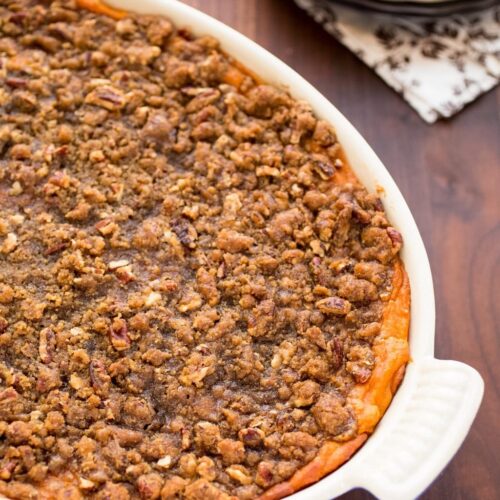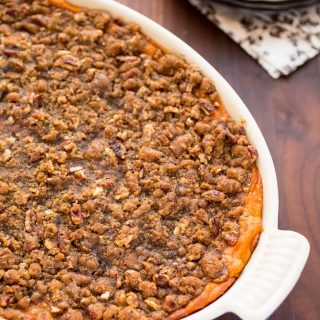 Sweet Potato Casserole
A creamy whipped Sweet Potato Casserole with buttermilk and cinnamon. Top with your choice of marshmallows or crunchy pecan praline.
Inspired by "Holiday Sweet Potatoes," Mrs. Jim Hendrick (Southern Sideboards, The Junior League of Jackson)
Print
Pin
Rate
Total Time:
1
hour
30
minutes
Servings:
10
to 12 servings
Ingredients
For the Sweet Potatoes
1/2

cup

unsalted butter

(melted, if using cooled sweet potatoes), plus extra for buttering casserole dish

6

large sweet potatoes

(about 5 pounds, cooked and peeled) OR 2 (40-ounce) cans cut yams, drained*

1

teaspoon

baking powder

1

teaspoon

vanilla extract

1

teaspoon

ground cinnamon

3/4

cup

granulated sugar

3/4

cup

shaken buttermilk

2

large eggs
For the Pecan Praline Crust
3/4

cup

finely chopped pecans

1/3

cup

flour

1/2

cup

light brown sugar

, lightly packed

1/2

cup

dark brown sugar

, lightly packed

4

tablespoons

unsalted butter

, melted
Instructions
Preheat oven to 350 degrees F with rack in middle position. Butter a 3-quart gratin dish.

Place prepped sweet potatoes (or canned yams) into a large pot or bowl and add 1/2 cup butter, baking powder, vanilla, cinnamon, and sugar. Whip with a hand mixer until combined. Beat in buttermilk. Add eggs and continue whipping until smooth. Transfer mixture to the prepared gratin dish and smooth the top with a rubber spatula.
Make the pecan praline crust and bake:
In a small bowl, stir together pecans, flour, and sugars. Stir in melted butter until combined.

Crumble brown sugar and pecan mixture over the top of the sweet potatoes.

Bake casserole for 45-50 minutes, until sweet potatoes are hot in the center and topping is lightly browned. Let stand 5 minutes before serving.**
---
Notes
*Canned yams tend to be sweeter than fresh and might require less sugar. If using canned, start with 1/2 cup sugar and taste before adding eggs, adding the additional 1/4 cup if needed.
**If you prefer to top your casserole with toasted marshmallows, omit pecan praline crust and bake the un-topped sweet potatoes for 40 minutes, or until the center is hot. Top casserole with marshmallows and bake an additional 5 to 10 minutes, until marshmallows are melted and lightly browned.
---
About our Recipes:
Please note that our recipes have been developed using the US Customary measurement system and have not been tested for high altitude/elevation cooking and baking.
Have you made this recipe?
Don't forget to leave a comment and rate the recipe below! Take a picture and tag @stripedspatula and #stripedspatula on Instagram for a chance to be featured in our Insta Stories and newsletter!