Do you love to upgrade your steak with a blue cheese crust at your favorite steakhouse? It's easy to make this add-on at home! My Blue Cheese Crusted Steak with balsamic-caramelized shallots, crispy breadcrumbs, and herbs is a restaurant-quality recipe that's ready to impress in an hour, prep to table.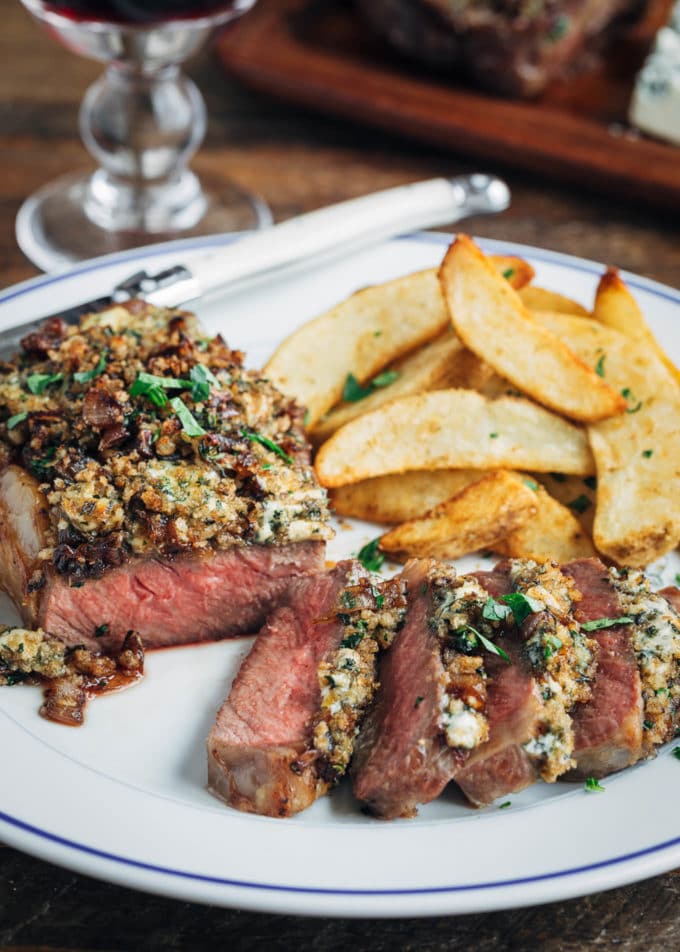 I'm usually a minimalist when it comes to a good cut of steak. Just sea salt, pepper, herbs, and a flavored butter on top. That is, unless a Blue Cheese Crusted Steak is on the menu. There's something so irresistible about the flavor of beef with creamy, piquant blue cheese.
You'll often find blue cheese crust as an add-on at steakhouses. It's that finishing touch that elevates a simple steak dinner to "special" status.
Blue Cheese Crusted Steak is also incredibly easy to recreate at home for an impressive centerpiece to a dinner party menu, or an intimate dinner for two. It's one of my go-to recipes for when I want to "wow" without a lot of time to cook.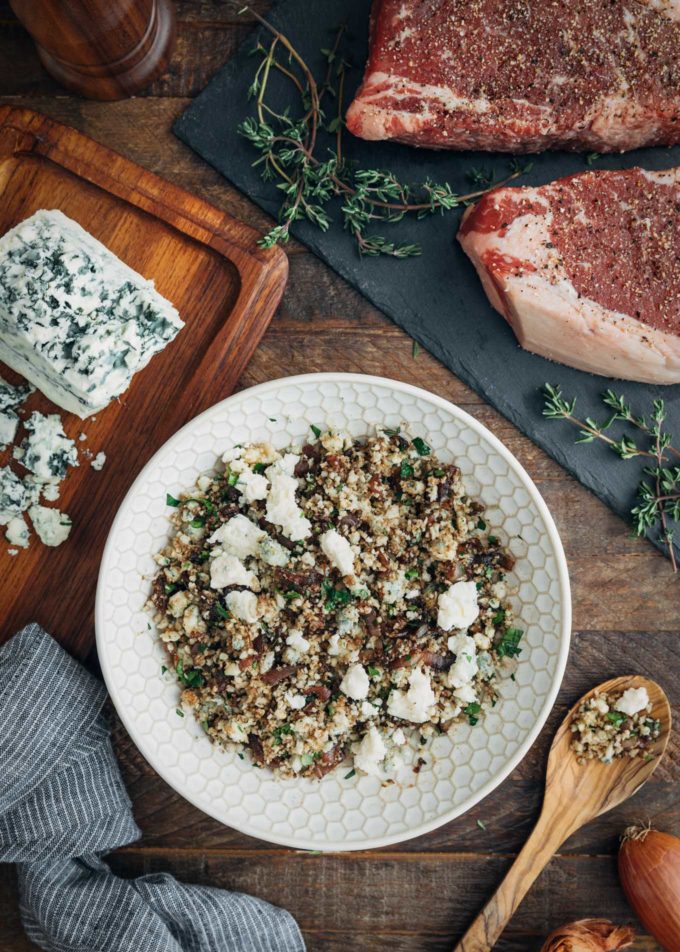 What Steak Cut Should I Use?
You can make a blue cheese crust with just about any cut of steak. I particularly like it with strip steaks (New York steaks, shown), ribeyes, and filet mignon.
For a more mildly-flavored cut, like filet mignon, the blue cheese and balsamic caramelized shallots add to the overall flavor of the steak significantly. With something like a strip steak or ribeye that has a bigger, beefier flavor, the crust stands up to the cut and complements it nicely.
How Should I Cook the Steak?
Just like the cut of steak, the cooking method is customizable to your preferences. A blue cheese crust can be added to pan-seared steak, grilled, broiled, and even sous vide.
When you've almost finished cooking the steak, pack the blue cheese crust onto the top and pop it in the oven for a few minutes. (Or, if you're grilling, place it on the indirect heat side of the grill with the lid closed.) The trick to making sure that your meat doesn't overcook when you crisp the crust is to cook the steak one level of doneness less than you want to serve it.
So, if you want to serve medium-rare steaks, cook them to the pre-resting temperature for rare and then proceed with the crust. For medium, cook first to medium-rare, etc.
I cooked the prime-grade, 1-1/2 inch New York strip steaks shown in this post to an internal temperature of 120 degrees F sous vide, gave them a quick sear on the stove (20 seconds per side), added the crust, and baked them in a 500-degree F oven for 4 minutes. This gave me rosy, medium-rare meat, with nice rendering of the fat marbleization.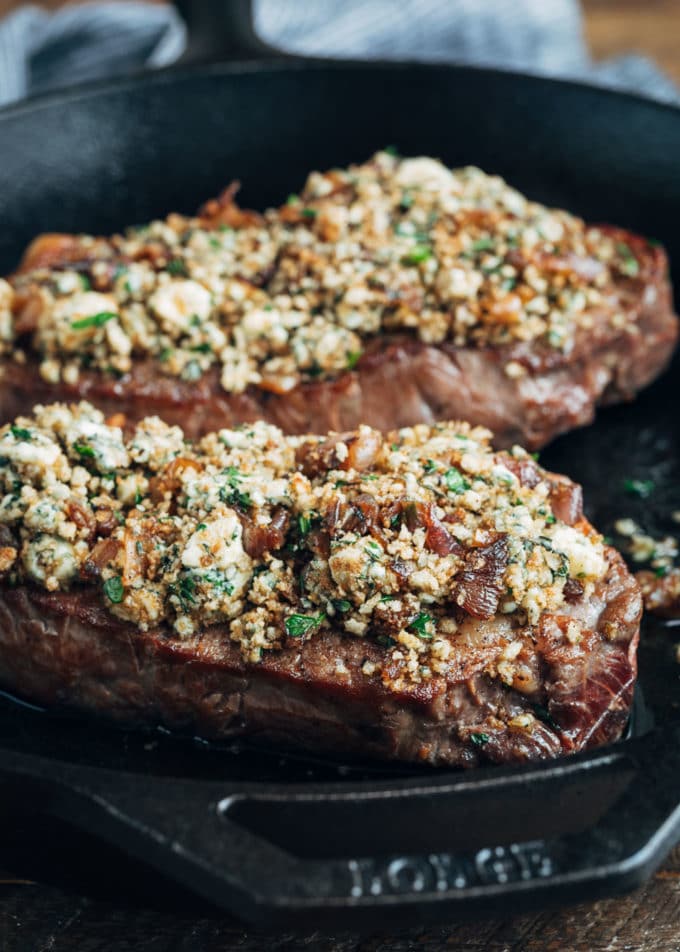 Making the Blue Cheese Crust
The topping for blue cheese crusted steak couldn't be simpler to make. I like to use Japanese Panko breadcrumbs to help bind the ingredients and give the crust some texture.
I like to add balsamic-glazed caramelized shallots to the mixture for a nice balance of flavors between salty, tangy, and sweet. To make a more classic crust, you can omit the shallots entirely.
For cleaner slicing after you've baked or broiled the crust, it's important to press down a bit and pack it onto the top of each steak instead of merely sprinkling. That said, do expect that some of the crust will still fall off of the steak and onto your plate when you cut it.
In terms of texture, the top of the crust gets a nice crispiness to it as the Panko toasts. The interior stays soft, with a bit of creaminess from the melted blue cheese.
What Kind of Blue Cheese Should I Use?
I like to use either a classic Danish blue cheese in this recipe or Point Reyes, both of which crumble and melt well, but are not dry.
The pungency of blue cheese can vary pretty widely by brand, and even between wedge within the same brand. Taste it before adding it to your crust. If your blue cheese is especially assertive in flavor, consider dialing back the quantity to 1/2 cup instead of 3/4.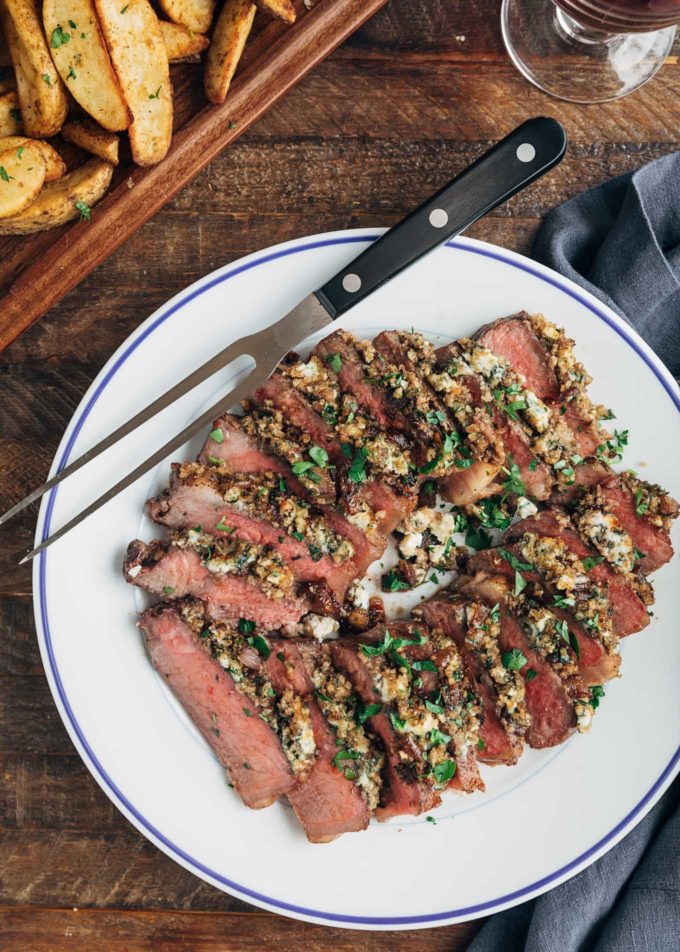 Serving Blue Cheese Crusted Steak
For the best results, serve the steaks within a few minutes of crisping the crust. The longer the crust sits and has time to mingle with the steak juices, the softer it will become.
Blue cheese crusted steak is delicious served alongside creamy mashed potatoes, roasted potato wedges, or a lightly-dressed side salad. Since the crust is full-flavored, I like to keep the side dishes on the simple side and really let the steak be the star of the show.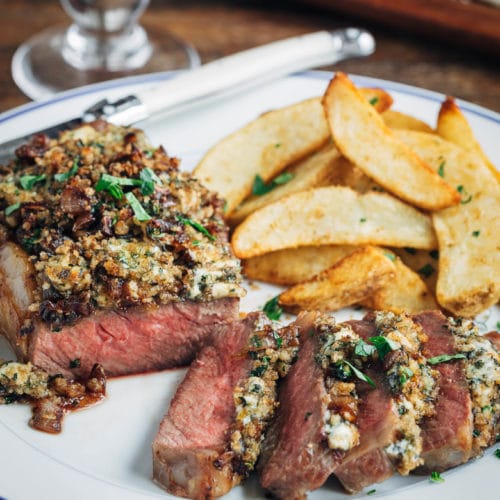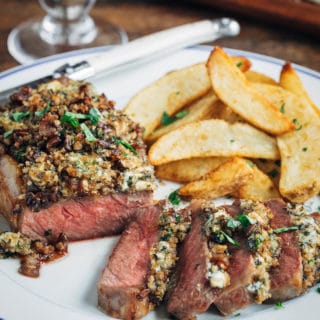 Blue Cheese Crusted Steak
Elevate your steak dinner with a simple blue cheese crust! Balsamic caramelized shallots add a hint of sweetness and tang, and can be omitted for a more classic crust.
Print
Pin
Rate
Ingredients
2

New York Strip Steaks

, about 12 ounces each and 1-1/2 inches thick (or your favorite steak cut)

1

tablespoon

unsalted butter

2-3

shallots

, sliced into 1/4-inch thick rounds (about 1 cup shallots)

1

tablespoon

balsamic vinegar

1/3

cup

panko breadcrumbs

1/2

teaspoon

vegetable oil

, plus 1-2 tablespoons, divided

3

ounces

crumbled blue cheese

(about 3/4 cup)

1

tablespoon

chopped Italian parsley

2

teaspoons

chopped fresh thyme leaves

kosher salt and freshly-ground black pepper
Instructions
30 minutes before you're ready to cook, season steaks on both sides with salt and pepper and let stand at room temperature.
Make the Blue Cheese Crust
Melt butter in a small skillet over medium high heat. Add sliced shallots with a pinch each of salt and pepper. Cook until beginning to soften, about 3 minutes. Reduce heat to low and continue cooking until shallots are soft and caramelized, about 15 minutes longer.

Deglaze the pan with the balsamic vinegar, scraping up any brown bits from the bottom. Cook, stirring, until vinegar is evaporated, 1-2 minutes. Remove from heat and set aside to cool.

In a bowl, mix together Panko, blue cheese, parsley, thyme, 1/2 teaspoon oil, and caramelized shallots. Leave some chunks of blue cheese in the mixture.
Make the Steaks
Preheat oven to 500 degrees F.*

Heat 1-2 tablespoons oil in a 12-inch, oven-safe skillet over high heat, just until wisps of smoke start to rise from the edges of the pan. Sear the steaks for 3-4 minutes per side, until the centers register 120 degrees F (for steaks to be served medium-rare).

Top each steak with half of the blue cheese mixture, pressing to pack it a bit for cleaner slicing. Transfer the skillet to the oven and bake for 4-5 minutes, until the cheese is melted, the topping is golden, and the steaks have an internal temperature of 128-130 degrees F. Remove from oven, let steaks rest 5 minutes on a cutting board, and serve.
---
Notes
Cooking Methods:
Cooking times will vary depending on the cut and thickness of the steaks, as well as your desired "doneness".
You can also grill, broil, or sous vide the steaks. Whatever cooking method you choose, add the blue cheese crust and transfer to the oven when the steaks are one degree of doneness less than you want to serve them. They will finish cooking in the oven with the crust.
If you cooked the steaks closer to its final cooking temperature before adding the crust, don't worry! Instead of baking in the 500-degree oven, pop the crusted steaks under the broiler for 2 minutes to quickly brown the top and melt the cheese. Watch the steaks carefully--they can burn quickly!
A note on yield:
This recipe makes enough blue cheese crust for two large strip steaks. If you're using a steak with a smaller surface area, like filet mignon, you'll have enough for 4 steaks.
Nutrition Estimate
Calories:
746
kcal
|
Carbohydrates:
14
g
|
Protein:
56
g
|
Fat:
51
g
|
Saturated Fat:
26
g
|
Cholesterol:
184
mg
|
Sodium:
790
mg
|
Potassium:
817
mg
|
Fiber:
1
g
|
Sugar:
4
g
|
Vitamin A:
795
IU
|
Vitamin C:
7.8
mg
|
Calcium:
276
mg
|
Iron:
5.3
mg
---
About our Recipes:
Please note that our recipes have been developed using the US Customary measurement system and have not been tested for high altitude/elevation cooking and baking.
Keywords:
blue cheese crusted steak, new york strip steak recipes
Have you made this recipe?
Don't forget to leave a comment and rate the recipe below! Take a picture and tag @stripedspatula and #stripedspatula on Instagram for a chance to be featured in our Insta Stories and newsletter!