Apple and Herb Turkey Brine infuses wonderful flavor into the meat and helps keep it juicy while roasting. Plus, it's easy to prep ahead!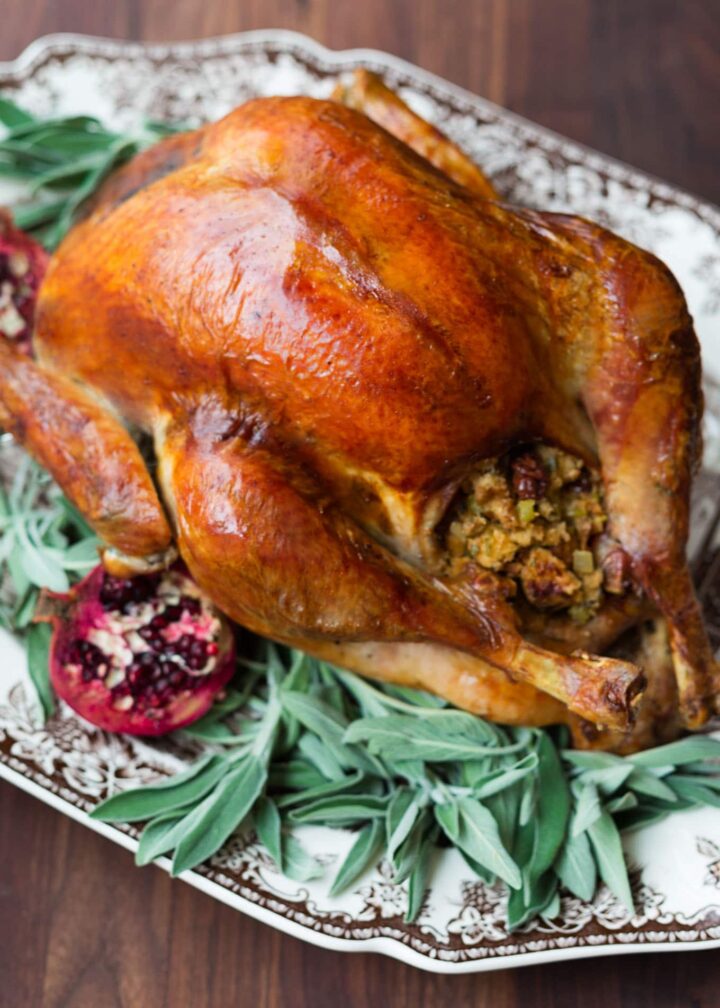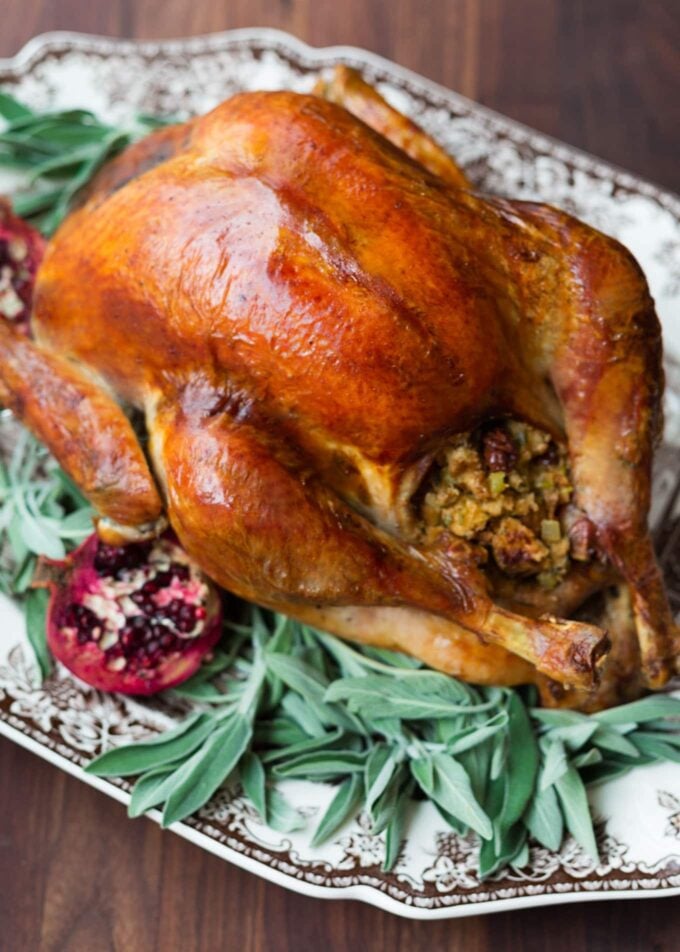 Let's talk about turkey. More specifically, dry turkey. The kind that crumbles when you slice it and would probably qualify as a choking hazard without copious pools of gravy to save the day.
If you don't know what I'm talking about, I envy you!
So many of us have met a dry, overcooked turkey at least once in our lives, either as the cook behind the creation, or the guest eating it. (I can raise my hand for both of those!)
When cooking a large bird, it can be easy to fall into the dry meat trap. Like many others searching for a solution, I discovered brining years ago and have never looked back.
Soaking your holiday bird overnight in a seasoned salt solution such as this Apple and Herb Turkey Brine infuses wonderful flavor into the meat and helps keep it juicy while roasting. It's also easy to make. We all need as much "easy" during the holidays as possible, right?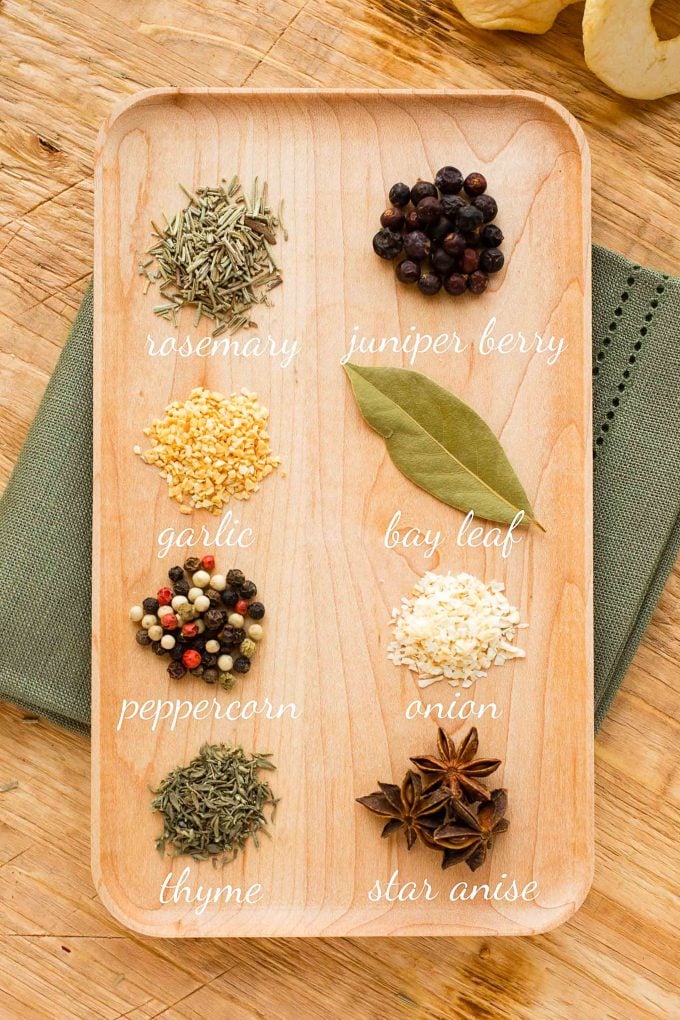 When brining first became the "It" thing in holiday home cooking a while back, I purchased pre-mixed brining blends from various gourmet stores. They were delicious, and my turkeys were consistently juicy and flavorful.
Once I got acquainted with my local spice shop, I realized that I could recreate my favorite commercial brines at home, with my own customizations.
This Apple and Herb Turkey Brine combines the best flavors of my favorite commercial mixes—dried apples, rosemary, thyme, peppercorns, star anise, onion, garlic, bay leaves, and juniper berries—with whole cloves and a touch of brown sugar. The blend has become a favorite at our holiday table.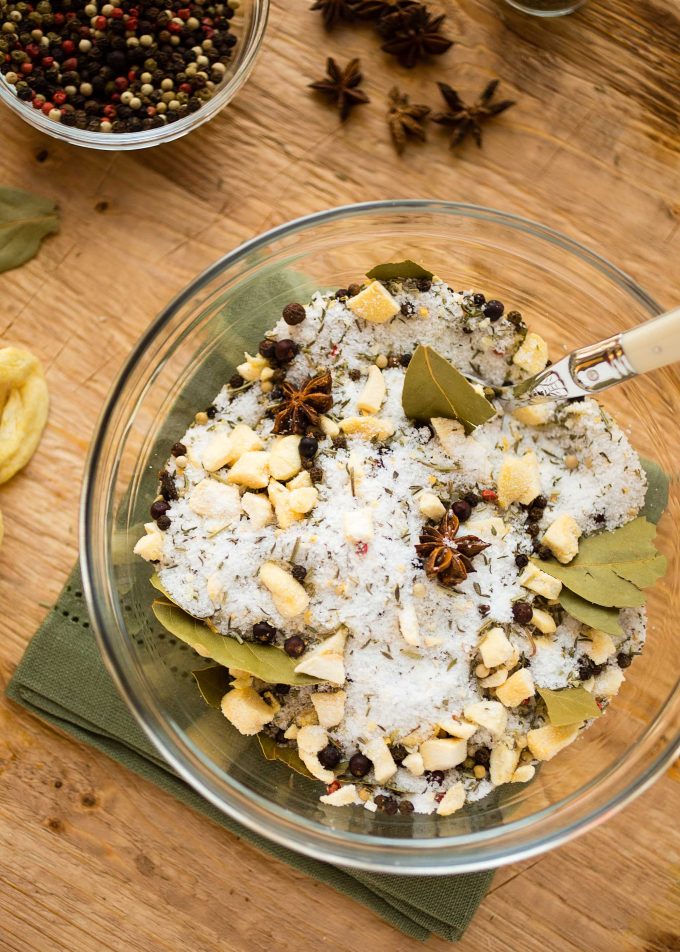 I've utilized a lower salt-to-liquid ratio than many guidelines suggest, giving you the option of using some of the pan drippings in your gravy. (Many times, this isn't possible with a brined bird because of the amount of salt in the drippings; nobody likes a too-salty gravy!)
I also love the delicate touch of sweetness that using apple cider adds to the roasted turkey, further softening the salt flavor while still tenderizing the meat.
As for the type of salt used for brining, most of the gourmet mixes use a coarse sea salt, but I find that it's a luxury that isn't totally necessary for a home blend. I use Kosher salt with great, and more economical, results.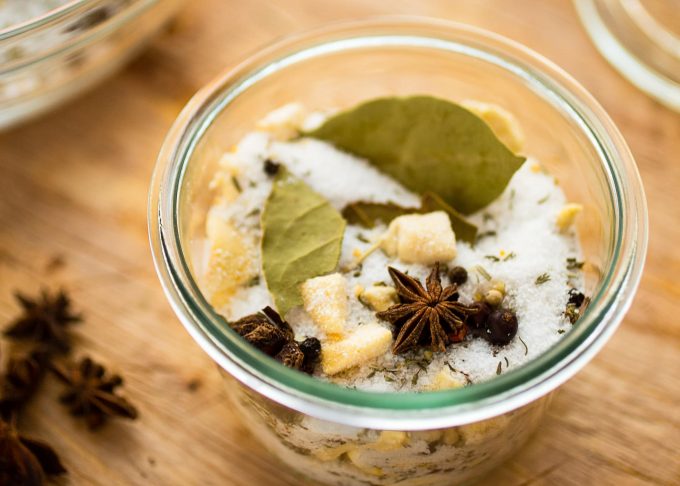 Why not brine with fresh herbs, you might ask? Convenience. I make this brining mix ahead of time and keep it in an airtight container on my pantry shelf.
It also makes a nice seasonal gift, packaged in canning jars with a festive ribbon and brining instructions written on a decorative tag. How fun to surprise a fellow food nerd with a unique, homemade hostess gift!
Sealed, this dry mix will stay fresh at room temperature for several months, but I can guarantee that once you taste the fantastic turkey it produces, it won't last that long!
Have turkey leftovers after the big dinner? Try my reader-favorite (creamy and not dry!) Turkey Tetrazzini recipe.
More Thanksgiving Recipes on Striped Spatula:
Sweet Potato Casserole with Pecan Praline Crust
Spiced Pumpkin Seeds (gluten-free, vegan)
Our Favorite Apple Pie
Delicata Squash Salad with Brown Butter Vinaigrette (gluten-free, vegetarian)
Sausage and Chestnut Stuffing
Apple-Orange Cranberry Sauce (gluten-free, vegetarian)
Maple-Bacon Sweet Potato Biscuits
📖 Recipe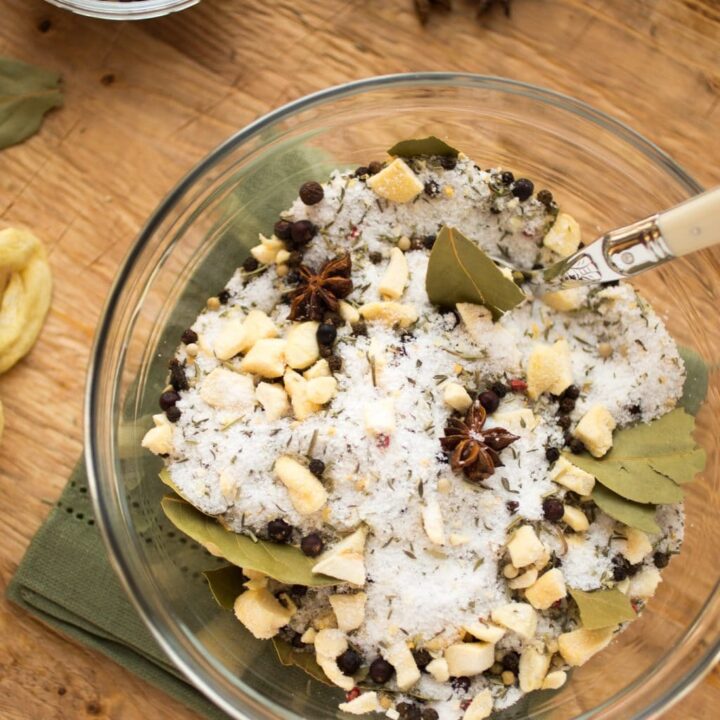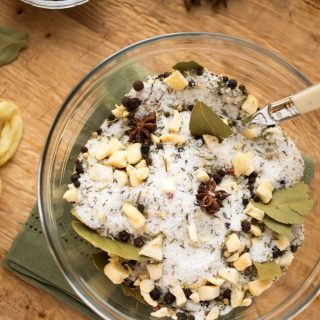 Apple and Herb Turkey Brine
Apple and Herb Turkey Brine infuses wonderful flavor into the meat and helps keep it juicy while roasting. Plus, it's easy to prep ahead!
Makes enough brine for a 20-pound turkey

Inspired by my favorite commercial brine mixes.
Print
Pin
Rate
Save
Saved!
Estimated Calories:
46
kcal
Ingredients
To make the brine mix
1-½

cups

Kosher salt

(I use Diamond Crystal)

2

tablespoons

light brown sugar

6

dried bay leaves

, broken into pieces

1

tablespoon

dried rosemary

2

tablespoons

dried thyme

2

tablespoons

whole peppercorns

(I use tri-color)*

1

tablespoon

juniper berries

1

teaspoon

minced dried garlic

(not powder)

2

teaspoons

minced dried onion

(not powder)

6

star anise pods

1

teaspoon

whole cloves or whole allspice

½

cup

chopped dried apples or pears
To brine a 20 pound turkey
4

quarts

sweet apple cider

, divided

4

quarts

cold water
Instructions
Make the brine mix
Combine salt, sugar, herbs, spices, and apples in a large bowl. Mix can be made ahead and stored at room temperature in an airtight container.
Brine the turkey
Combine brine mix and 1 quart apple cider in a heavy-bottomed saucepan. Simmer over medium heat for 5 minutes, stirring until salt is fully dissolved. Remove from heat and let cool to room temperature. Refrigerate until chilled.

In a large stock pot, stir together cold cider mixture with remaining 3 quarts apple cider and all of the cold water. Submerge turkey in the pot, or pour brine over turkey in a large brining bag (see brining tips below). Cover and let soak 8-12 hours.

Remove turkey from brine, rinse well inside and out, and dry with paper towels. Discard brining liquid. Follow your favorite roasting method, remembering to omit any salt added to the turkey.
---
Notes
Be sure to use a turkey that hasn't been "enhanced" or injected with broth or other flavorings.
*Allergy note: pink peppercorns are related to cashews and can invoke a reaction in guests with tree nut allergies.
Brining Tips:
The turkey needs to be totally submerged in the brining liquid. Any non-reactive deep vessel (a huge bowl or deep pot) covered with plastic wrap will work for this.
The turkey can be weighted down into the brine with a plate turned upside down and a large can. I like using the plastic brining bags available in most kitchen stores, turning the turkey in the bag halfway through the soak. My favorite have both zip tops and plastic clips for added peace of mind.
I always place the bag in a large roasting pan in my refrigerator, just in case of leaks. (Having to stop what you're doing in the middle of Thanksgiving meal prep to scrub down a refrigerator for a brine spill is not fun; been there, done that, got the medal!)
To brine a turkey breast (6-7 pounds) instead of a whole turkey, halve the recipe and reduce brining time to 5 hours.
How to Roast a Turkey:
I most often use a butter-soaked cheesecloth method such as this, as outlined by Martha Stewart.
Nutrition Estimate
Calories:
46
kcal
|
Carbohydrates:
10
g
|
Sodium:
5684
mg
|
Potassium:
105
mg
|
Fiber:
1
g
|
Sugar:
6
g
|
Vitamin A:
55
IU
|
Vitamin C:
1.7
mg
|
Calcium:
54
mg
|
Iron:
1.7
mg
---
About our Recipes:
Please note that our recipes have been developed using the US Customary measurement system and have not been tested for high altitude/elevation cooking and baking.
Have you made this recipe?
Don't forget to leave a comment and rate the recipe below! Take a picture? Tag @stripedspatula and #stripedspatula on Instagram!