Toasty brown butter takes these rich and creamy whipped sweet potatoes to the next level of deliciousness! A great recipe for Thanksgiving, or any dinner that calls for a cozy and comforting side dish.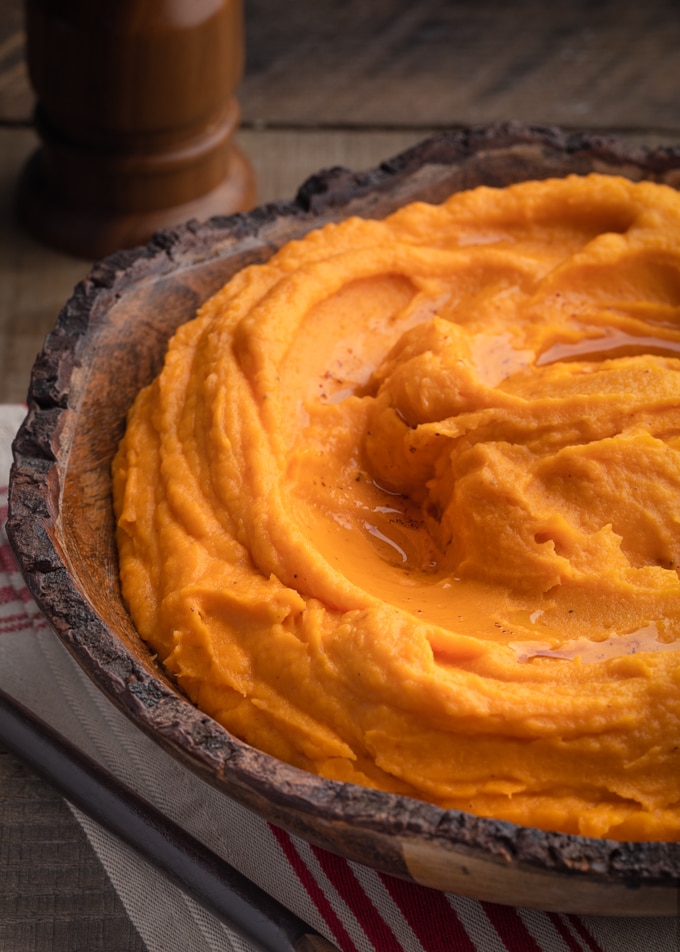 I have a soft spot in my heart for sweet potatoes during the holiday season. They were always the first side dish I dove for at the table as a child on Thanksgiving and Christmas. The color! The sweet flavor! My spoon was drawn to the pillowy mound like a magnet.
As an adult, I still love all things sweet potato. It wouldn't be a Thanksgiving feast without them on my table. One of my favorite ways to dress up these festive spuds for the holiday is with golden, fragrant brown butter and heavy cream.
Whipped to smooth, fluffy perfection, this not-too-sweet potato recipe is incredibly moreish and makes a beautiful presentation on the table.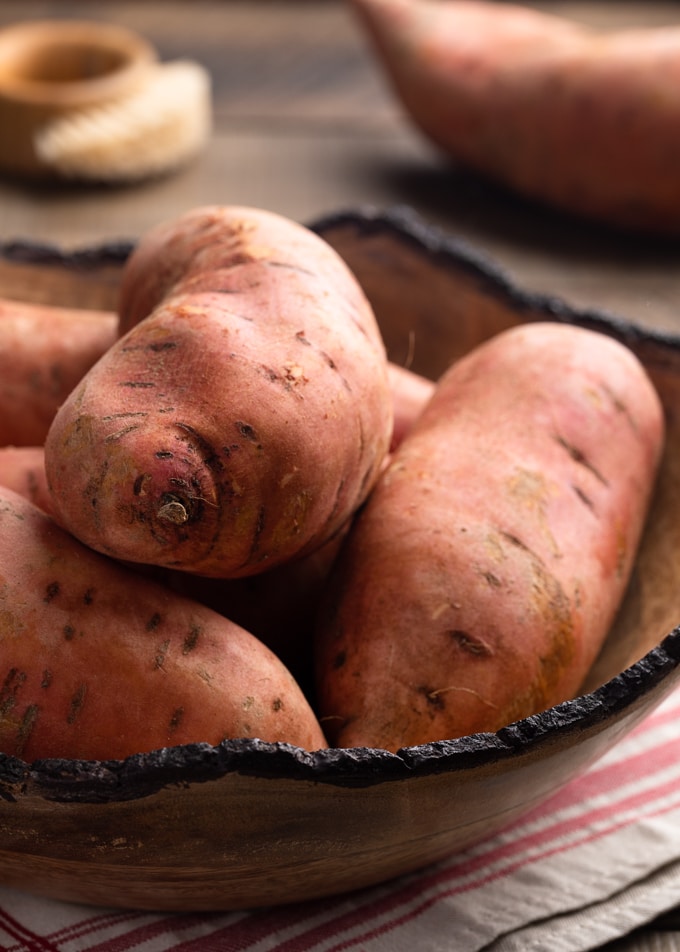 What You'll Need to Make Whipped Sweet Potatoes
Sweet potatoes are so naturally delicious, they don't need much added to create a side dish that your guests will love. You'll have this recipe on the table with 4 main ingredients (sweet potatoes, brown butter, cream, and salt/pepper), plus an optional addition of sweetener, if needed.
Sweet Potato Varieties
I use classic orange sweet potatoes for this recipe. With a sweet flavor and cooked texture that's prime for mashing, these sweet potatoes whip to an ethereally-smooth consistency. Plus, with their pumpkin-like color, they just look like fall, don't they?
If you find other sweet potato varietals available at your market, you can substitute them in this recipe. Stokes purple sweet potatoes are one of my favorites. The chestnut-like flavor and regal purple hue always gets attention on the dinner table!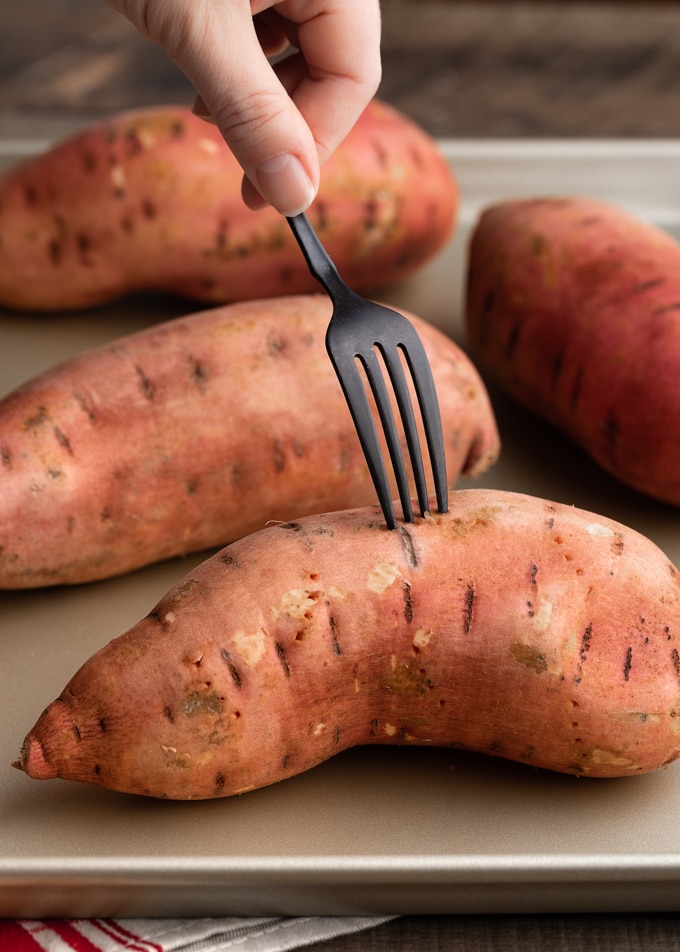 Bear in mind that if you're going to use white sweet potatoes, they're drier in texture than orange when they're cooked, so they'll need a little extra cream to produce the same dreamy whipped texture.
Read more about the different varieties of sweet potatoes you'll find at the market, plus how they differ from yams in this article from Bon Appetit. What you see labeled as "yams" usually aren't!
Why is Sugar Optional?
Depending on what I'm serving for dinner, I'll need sweet potato recipe that's lower on the sweetness scale. Don't get me wrong, I love a well-sweetened mash, such as pecan-crusted Sweet Potato Casserole! But I also like to enjoy the sweet potato's delicate natural sweetness on its own as well.
Wanting to allow the sweet potatoes and brown butter to shine in this recipe, I've made additional sweetening agents optional. I always taste this recipe after whipping everything together to determine if it needs a touch of light brown sugar or maple syrup as a flavor boost.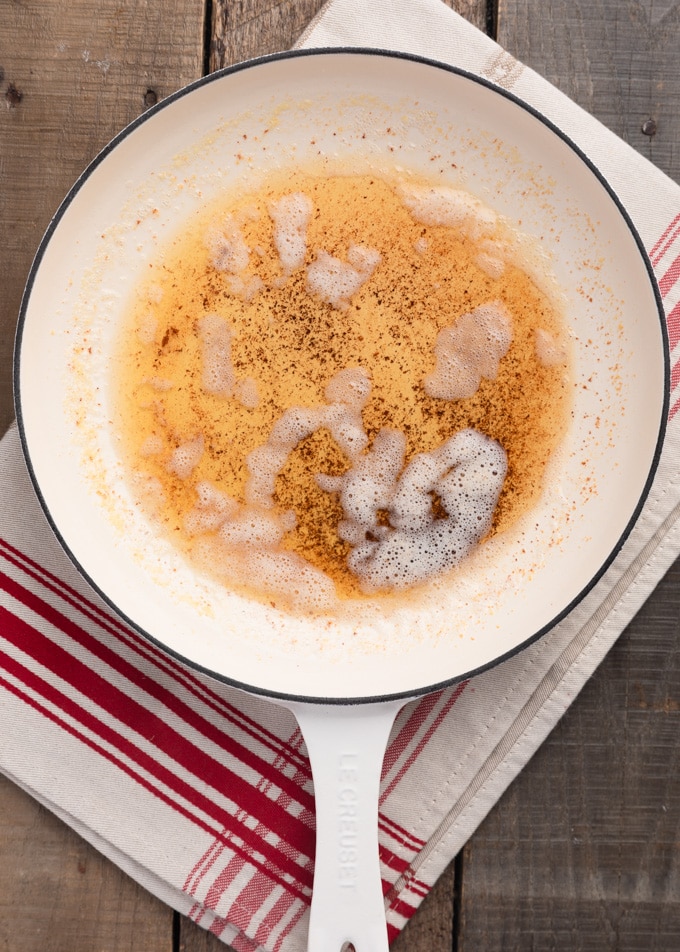 Brown Butter Everything
I use a lot of brown butter (beurre noisette) in my cooking, especially during the fall and winter months. The deep, nutty flavor and aroma fits so well for the season. It's a quick way to elevate a recipe, even when you're short on time.
You'll need 1/4 cup of brown butter for the recipe, but I often like to add in an extra tablespoon for drizzling over the top of the serving bowl. The little pools of golden, toasted butter amidst swirls of creamy potatoes makes for a picture-perfect finish!
Looking for more recipes using brown butter? Some of my favorites are Brown Butter Banana Bread, Lemon-Herb Brown Butter Haricots Verts, and Delicata Squash Salad with Brown Butter Vinaigrette.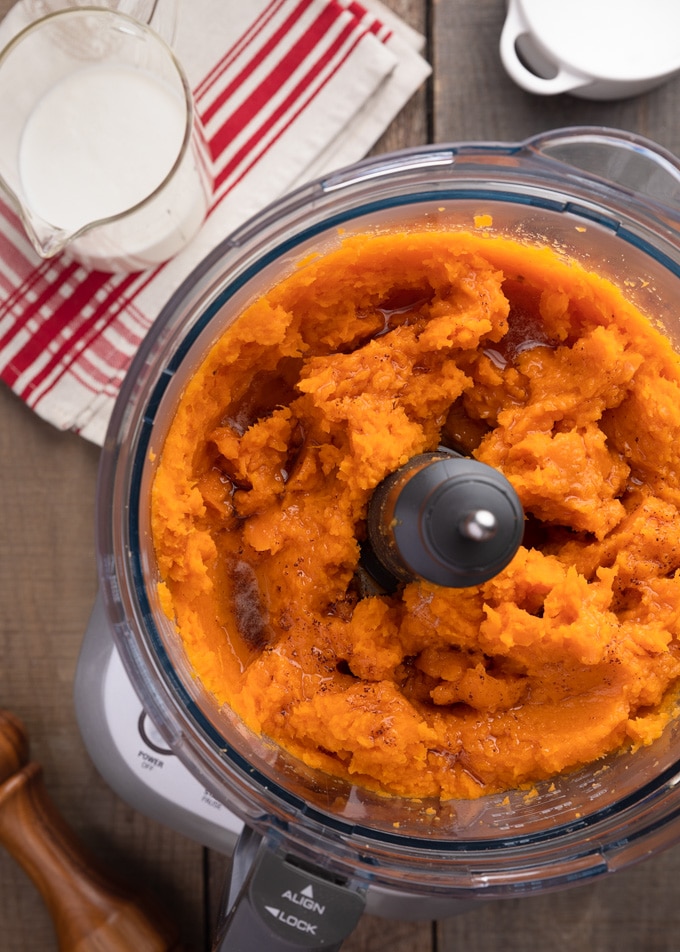 How to Make the Creamiest Brown Butter Sweet Potatoes
For the best flavor, I like to roast my sweet potatoes on a baking sheet in a 400 degree F oven. Since they're going to be peeled to puree, there's no need to oil the skin or wrap them in foil. Just pierce the potatoes all over with a fork to allow steam to escape.
The roasting time will depend on the size of the potatoes you're using. Large, plump potatoes, like those pictured, will take an hour or longer to cook through. Smaller potatoes can take as little as 30 to 45 minutes.
Start checking them at the 30 minute mark by giving them a gentle squeeze. They should feel soft, and a knife inserted into the center shouldn't meet resistance.
Once roasted, I let the sweet potatoes stand for just a few minutes so they aren't scalding hot before slicing them in half and scooping out the flesh. Discard the skins. You should have about 6 cups of sweet potatoes.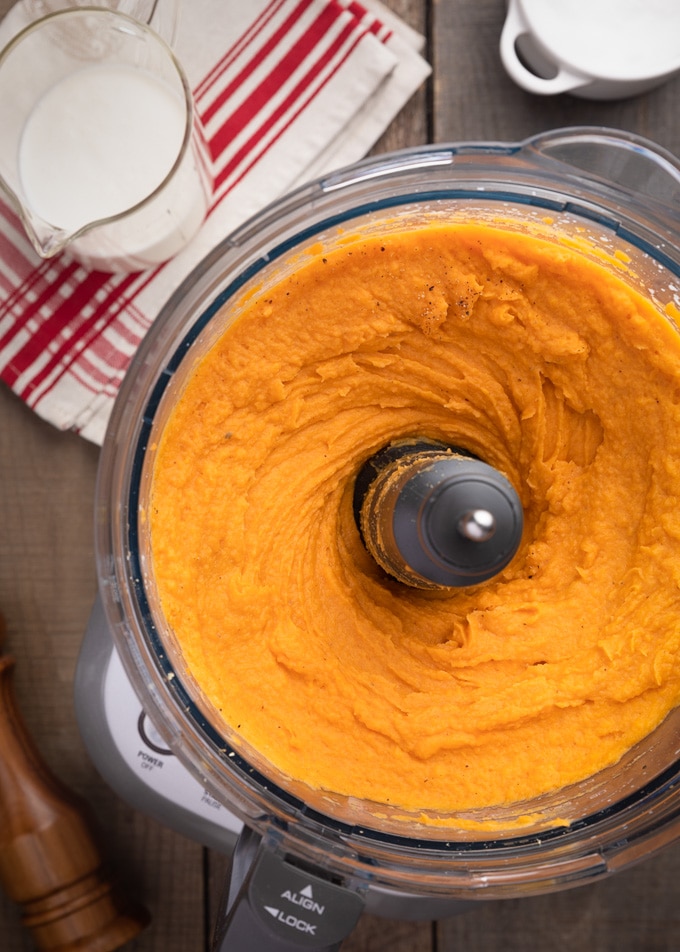 Whipping Sweet Potatoes in the Food Processor
While the food processor isn't the best tool for whipping white potatoes (such as yukon gold or russet; it overworks their starches and turns them gluey), it's great for lower-starch sweet potatoes.
To whip the potatoes, simply pulse the peeled roasted potatoes in the food processor bowl until they start to become smooth. Then, add the brown butter and warm cream and finish pureeing until smooth and fluffy.
I like to start with 3/4 cup of heated cream and add up to an additional 1/4 cup after pureeing, if needed. Some potato batches need the extra cream, others are the perfect thickness without.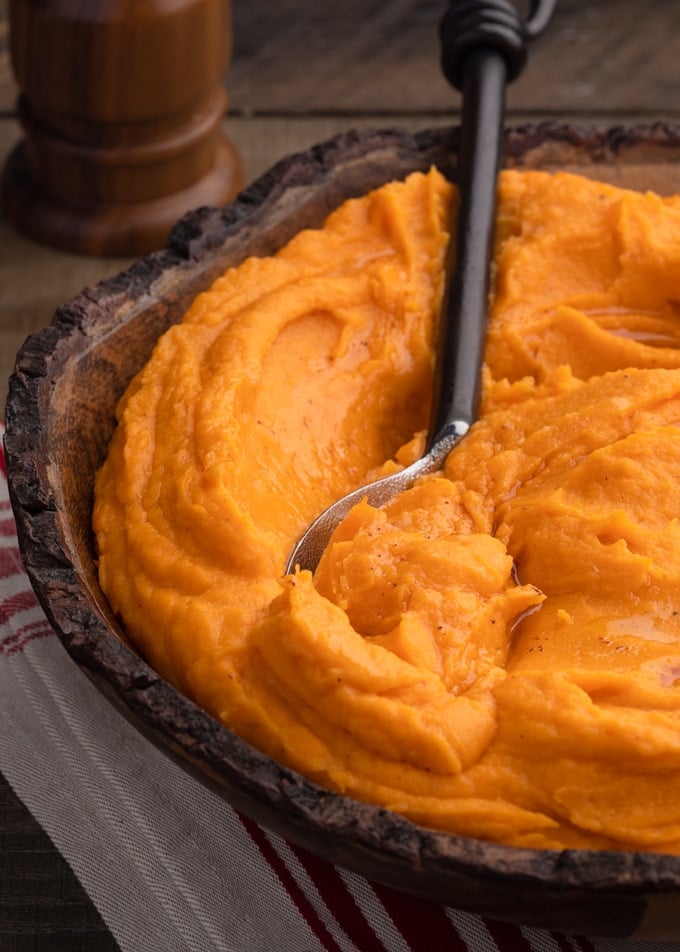 Frequently Asked Questions About this Recipe
1. Can I use other methods than roasting to cook the sweet potatoes?
Sure! You can use any technique you like best that produces soft, mashable potatoes.

If you prefer to peel, slice, and boil or steam the potatoes, that's fine. You can also microwave them or cook them in an electric pressure cooker, such as an Instant Pot.
2. I don't have a food processor. Is there another way I can make these?
Absolutely. I love the very smooth texture I get from my food processor, but you can also use a potato masher, potato ricer, food mill, handheld mixer, or stand mixer fitted with the paddle attachment.
3. Can I make this recipe ahead for holiday entertaining?
Yes. These whipped sweet potatoes reheat very well. Store, tightly covered in the refrigerator for up to 3 days. I find that they reheat quite well in the microwave, but you can also gently warm them on the stove, stirring frequently.
CRAVING MORE? Subscribe to my newsletter and join me on Facebook, Pinterest, and Instagram for the latest recipes and news.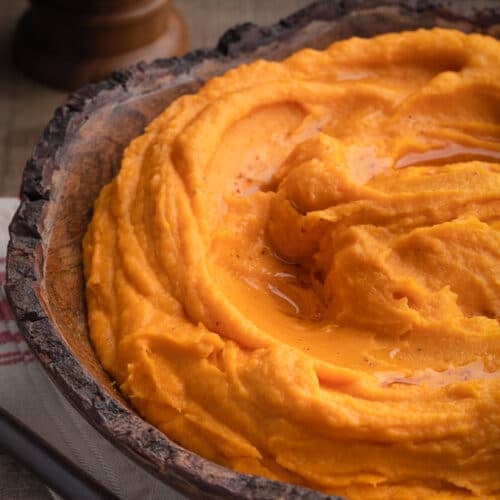 Brown Butter Whipped Sweet Potatoes
Elevate classic whipped sweet potatoes with the nutty flavor of brown butter. These creamy, not-too-sweet potatoes are a decadent side dish that's perfect for a holiday dinner.
Print
Pin
Rate
Save
Saved!
Estimated Calories Per Serving:
329
kcal
Ingredients
4

pounds

sweet potatoes

, scrubbed⁠

1/4

cup

unsalted butter

, cut into tablespoon-sized pats⁠

3/4 to 1

cup

heavy cream

, heated⁠

1 to 2

tablespoons

brown sugar or maple syrup

(optional⁠)

salt and pepper

, to taste⁠
Instructions
Bake the Sweet Potatoes
Preheat oven to 400 degrees F.

⁠Place sweet potatoes on a foil-lined baking sheet. Use a fork to pierce the potatoes all over. Bake, turning once, until soft. (Time will depend on the size of your sweet potatoes. The potatoes photographed took a little over an hour. Smaller potatoes have taken me as little as 30-40 minutes.)⁠
Make the Brown Butter
When the potatoes are almost finished baking, melt butter over medium heat in a small, heavy-bottomed skillet. Choose a skillet that's light in color (stainless or white/ivory enameled) so you can monitor the butter's color as it browns.

As foaming subsides, continue cooking, swirling the pan frequently, until the milk solids are golden brown and the butter has a nutty aroma. (Watch it closely! Brown butter can burn easily. It's best to pull it off of the heat when the butter is just slightly lighter than you ultimately want it to be; it will continue to brown a little from the residual heat.)⁠

Immediately pour brown butter into a bowl, leaving behind any very dark solids in the pan. ⁠
Whip the potatoes and serve
Scoop flesh from potatoes and discard skins. (You'll have about 6 cups of potatoes.) Place the sweet potatoes in the bowl of a food processor and pulse for about 10 seconds, until they start to look smooth.⁠

Add brown butter, 3/4 cup cream, and sugar or maple syrup (if using – I like to taste the sweet potatoes first to determine if they need a sweetness boost). Process for about 5-10 seconds until very smooth. Add additional cream, if needed. Season to taste with salt and pepper. Serve warm.⁠
---
Notes
See the FAQ section above for notes about alternate cooking, processing, and make-ahead suggestions.
Optional serving addition: I often like to brown an extra tablespoon of butter and drizzle it over the top of the sweet potatoes in the serving bowl. It's a pretty way to dress the dish for the table, and I'd never say no to a little extra brown butter!
Nutrition Estimate
Calories:
329
kcal
|
Carbohydrates:
48
g
|
Protein:
4
g
|
Fat:
14
g
|
Saturated Fat:
9
g
|
Cholesterol:
46
mg
|
Sodium:
134
mg
|
Potassium:
781
mg
|
Fiber:
7
g
|
Sugar:
11
g
|
Vitamin A:
32681
IU
|
Vitamin C:
6
mg
|
Calcium:
84
mg
|
Iron:
1
mg
---
About our Recipes:
Please note that our recipes have been developed using the US Customary measurement system and have not been tested for high altitude/elevation cooking and baking.
Keywords:
brown butter sweet potatoes, whipped sweet potatoes
Have you made this recipe?
Don't forget to leave a comment and rate the recipe below! Take a picture and tag @stripedspatula and #stripedspatula on Instagram for a chance to be featured in our Insta Stories and newsletter!