Learn how to make delicious homemade Tzatziki with creamy yogurt, cucumbers, and garlic. This refreshing Greek recipe makes a great dip, condiment for your favorite sandwiches, and sauce for grilled meats and seafood.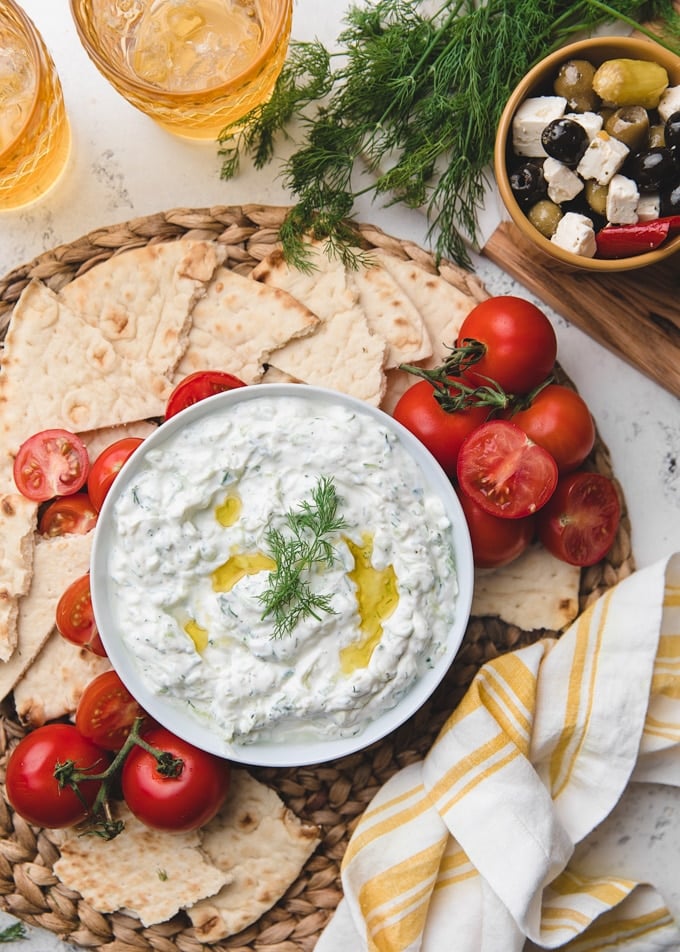 Among condiments that I could eat directly from the bowl, on a spoon, and be perfectly happy, tzatziki is near the top of the list. It's creamy, garlicky, pleasantly tart, and totally refreshing.
For years after tasting it at a Greek restaurant, I bought prepared tzatziki at the grocery store, but never found my goldilocks of brands. The tubs were always a bit too much of this, or not enough of that, and a lot of the time, loaded with preservatives to keep them fresh.
Nothing compared to the authentic, house-made tzatziki I'd enjoyed at that restaurant. So, I did some research with the help of a friend of Greek heritage, and started making it at home, where I could customize it to our favorite proportions and textures. This recipe has become a staple in my refrigerator year round, but especially in the spring and summer months.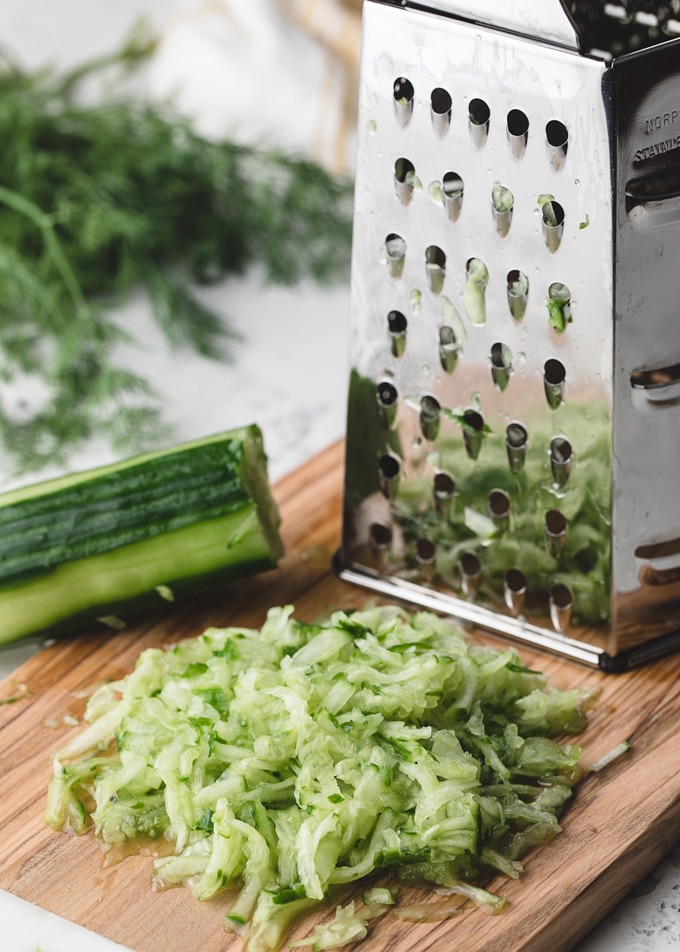 What is Tzatziki?
Tzatziki (American pronunciation: saht-ZEE-key) is a Mediterranean, yogurt-based condiment made with cucumbers, olive oil, garlic, and herbs. The version that I'm most familiar with, and am sharing with you today, is Greek tzatziki.
You'll find similar dishes in other Mediterranean and Middle Eastern regions. In Turkey, the sauce is called cacik (the word from which tzatziki derives). A Bulgarian recipe, tarator, uses the same ingredients, but includes walnuts and a bit of water and/or ice cubes to thin the texture for a chilled soup.
You'll find slight variations in recipes across regions of Greece itself, mostly concerning the type of herbs used (dill or mint), and the cucumber preparation (grated or diced).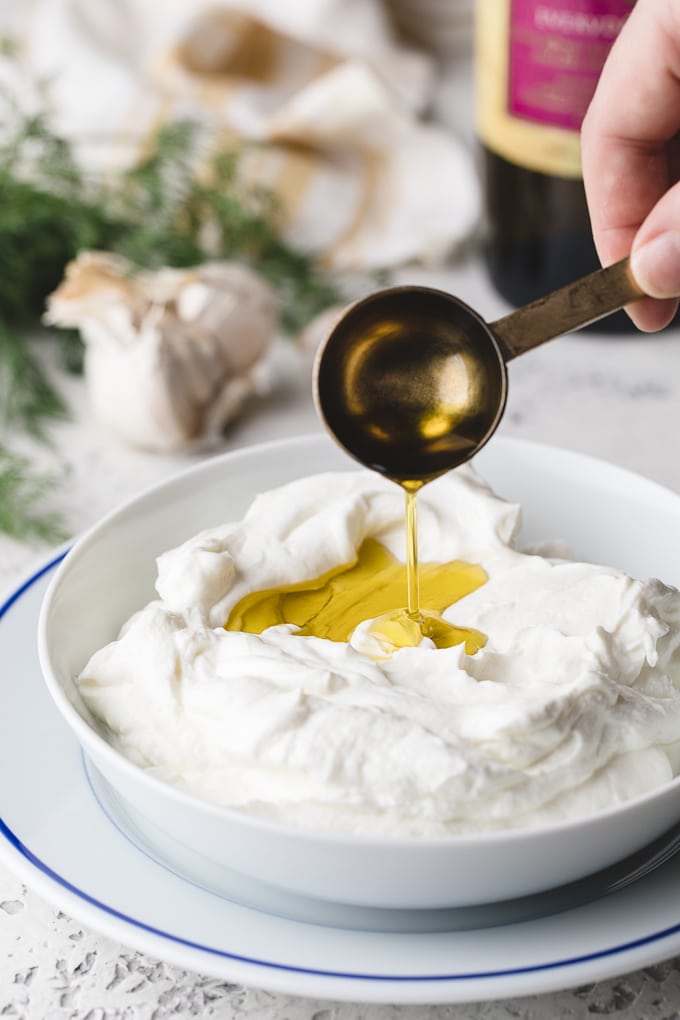 What Kind of Yogurt Should I Use in Homemade Tzatziki?
Greek tzatziki is made with strained yogurt. For the most authentic texture, it's best to buy plain Greek yogurt, which has been strained for you. My favorite brand in terms of both flavor and texture is Fage.
Greek yogurt is widely distributed in regular grocery stores, but if you're unable to find it, or prefer to strain your own yogurt, this tutorial will walk you through the necessary steps.
I most often use whole milk Greek yogurt in my homemade tzatziki. I find that it strikes just the right balance of richness and tartness.
You can absolutely use lowfat and nonfat Greek yogurt in this recipe, but bear in mind that depending on the brand, reduced fat varieties can be a little more tart than their whole counterparts. If substituting, it's best to go light on the vinegar or lemon juice and add it to taste.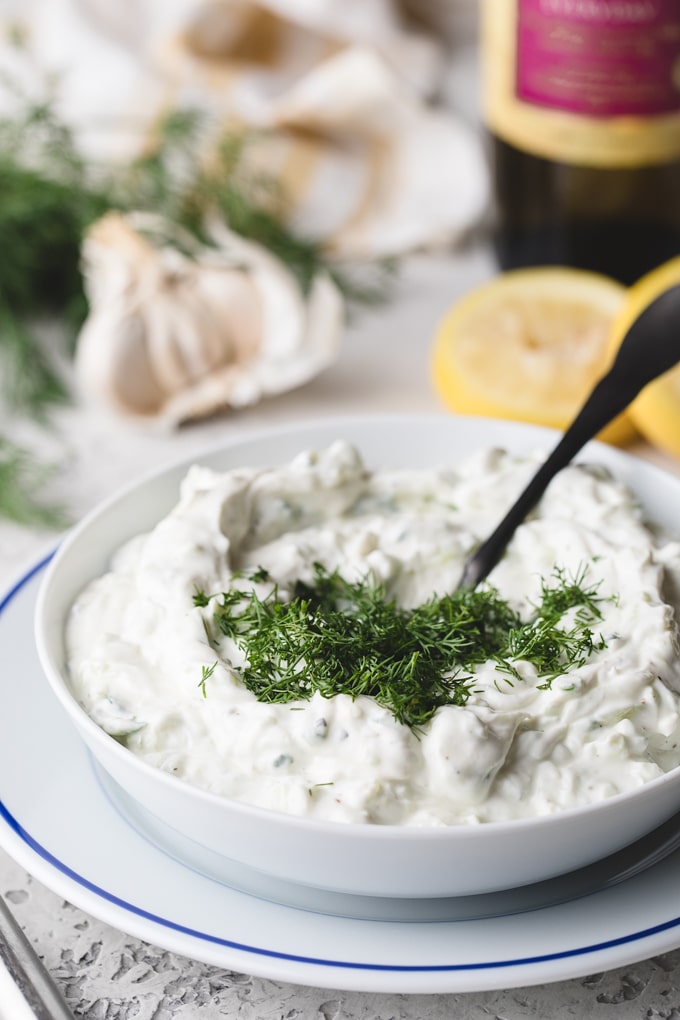 Prepping the Cucumbers for a Creamy Sauce
I like to use grated cucumbers in my homemade tzatziki, as opposed to diced, for a creamy sauce that's perfect for dolloping. While I usually pull out the shredder disk on my food processor for this kind of vegetable prep, I find that the large holes on a standard box grater do a better job of extracting the liquid and creating fine shreds for this recipe.
The secret to creamy tzatziki is drawing the liquid out of the cucumbers before mixing, to keep the recipe from becoming watery as it sits. The process is similar to my Homemade Coleslaw recipe.
After grating, set the cucumbers in a strainer set over a bowl, and toss with a little salt. Let them rest for about 30 minutes.
Give the cucumbers a final press with the back of a spoon or rubber spatula, and discard the water that collects in the bowl. (You'll be amazed by how much is there!) Then, just dry the grated cucumber between double layers of paper towels, pressing out any excess moisture.
While all of this is an extra step, it's essential if you like your tzatziki thick and creamy. Otherwise, all of that liquid you discarded will end up in your sauce!
What Variety of Cucumber is Best for Tzatziki?
I use English cucumbers in my homemade tzatziki, both for their delicate peels and lack of seeds. Before grating, I peel them in a "stripe" pattern, to bring a little bit of extra color and texture to the sauce, as well as to benefit from the peel's nutritional value.
If you're using a cucumber variety with a thicker skin, or one with a wax coating, it's best to peel them entirely before grating. Thicker cucumber skins can be a bit bitter.
When using cucumbers with seeds, I like to slice them in half and use a small spoon to scoop out and discard the centers before grating. I personally don't love the texture of cucumber seeds in homemade tzatziki.
Want to brush up on identifying cucumber varieties? Check out A Brief Guide To Types of Cucumbers from The Spruce Eats.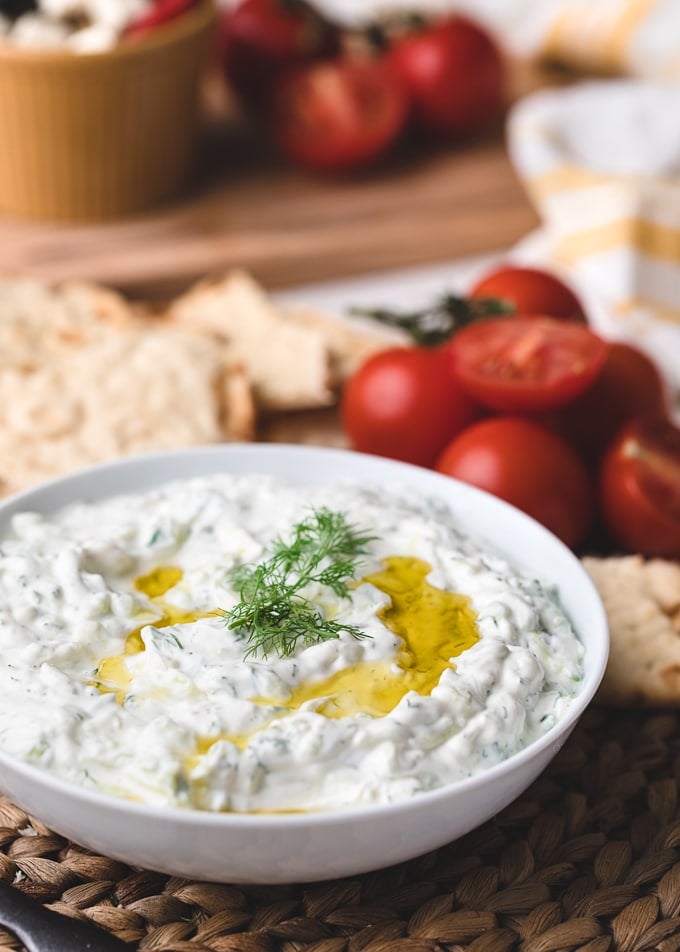 Ways to Use Homemade Tzatziki Sauce
Tzatziki is such a versatile condiment, bringing a bright, garlicky, refreshing taste to a number of dishes. First and foremost, we love to serve it as a dip, with warm pitas and vegetables, like cherry tomatoes. It's also a fantastic addition to a mezze platter, alongside olives, feta, and your favorite Mediterranean small bites.
Tzatziki is a traditional condiment for gyros. I like to serve it with just about any pita-style sandwich, such as my Leftover Lamb Pita Board.
Don't stop there! Try topping your burgers (chicken, turkey, or seafood are particularly good) with homemade tzatziki for a Mediterranean finish.
For summer dinners, we also love a dollop of tzatziki alongside grilled fare; especially, lamb chops and salmon fillets. It's the perfect accompaniment to brighten those richer, char-grilled flavors.
Homemade tzatziki lasts for up to 3 days in the refrigerator, so you'll get some good mileage out of it for a few meals–or on that spoon I mentioned at the start of the post!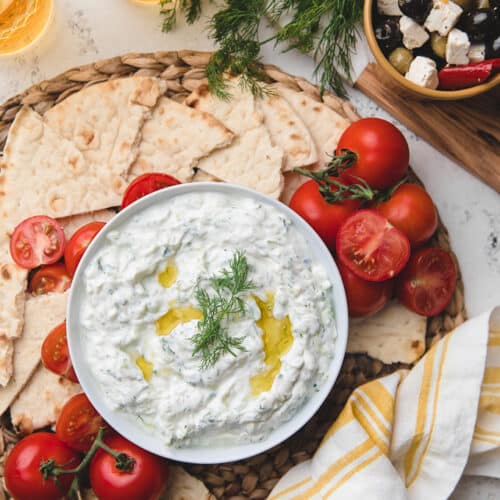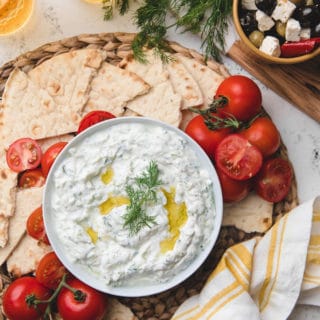 Homemade Tzatziki
This thick and creamy homemade tzatziki is easy to make and a refreshing condiment for pitas, grilled meats and seafoods, and served as a dip.
Print
Pin
Rate
Save
Saved!
Servings:
18
servings (2 tablespoons)
Estimated Calories Per Serving:
28
kcal
Ingredients
1

cup

grated cucumber

about 1 whole English cucumber, fully peeled or peeled in stripes

2

cups

whole Greek yogurt

see note

2

tablespoons

extra virgin olive oil

1

tablespoon

white vinegar or fresh lemon juice

*

2

cloves

garlic

, minced

2

tablespoons

fresh dill or mint

(I most often use dill)

kosher salt and freshly-ground black pepper
Instructions
Place grated cucumber in a strainer set over a bowl and toss with 1/4 teaspoon kosher salt. Let stand for 30 minutes. Discard liquid that collects in the bowl and dry cucumbers well between double layers of paper towels, pressing out excess water.

In a bowl, whisk together yogurt, olive oil, vinegar or lemon juice, garlic, and 1/2 teaspoon each kosher salt and black pepper. Stir in cucumbers and dill or mint.

Cover and refrigerate for at least an hour for the flavors to develop. Stir the tzatziki and season to taste with additional salt, pepper, and vinegar or lemon juice, if desired. Store in the refrigerator in an airtight container for up to 3 days.
---
Notes
*White wine vinegar is authentic to tzatziki in Greece. Substituting lemon juice will add a slightly milder tartness.
*You can use reduced fat or fat-free Greek yogurt, but I often find that they're more tart than whole. If substituting, you might need to reduce the vinegar or lemon juice slightly, and add it to taste.
See the blog post above for serving suggestions.
Nutrition Estimate
Calories:
28
kcal
|
Carbohydrates:
1
g
|
Protein:
2
g
|
Fat:
1
g
|
Cholesterol:
1
mg
|
Sodium:
8
mg
|
Potassium:
41
mg
|
Vitamin A:
10
IU
|
Vitamin C:
0.7
mg
|
Calcium:
26
mg
---
About our Recipes:
Please note that our recipes have been developed using the US Customary measurement system and have not been tested for high altitude/elevation cooking and baking.
Keywords:
creamy, easy, Greek
Have you made this recipe?
Don't forget to leave a comment and rate the recipe below! Take a picture and tag @stripedspatula and #stripedspatula on Instagram for a chance to be featured in our Insta Stories and newsletter!