Homemade crostini toasts are quick, easy, and versatile for entertaining. Serve them with your favorite toppings, dips, cheese boards, and spreads.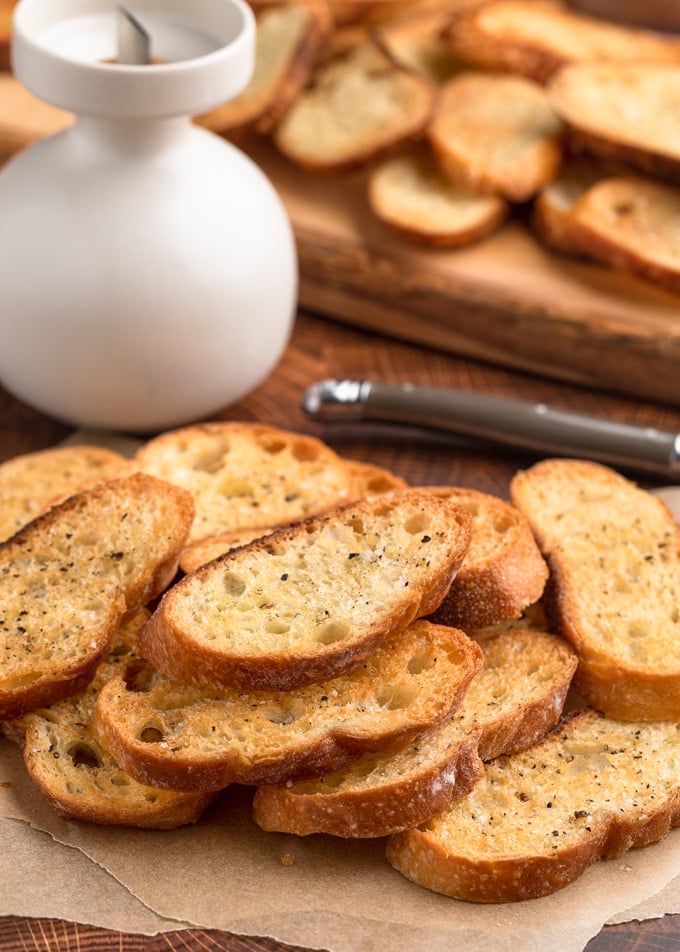 What are Crostini?
Crostini (plural, crostino – singular) is Italian for "little toasts" or "little crusts". They're made by toasting thinly-sliced pieces of bread until crispy.
The term can both refer to the toasts themselves, or the assembled canapé-style antipasto (appetizer) for which they form a base. Crostini can be served with an endless variety of toppings, from cheeses, meats, and seafood, to fruits and vegetables.
What's the Difference Between Crostini and Bruschetta?
You'll sometimes see "crostini" and "bruschetta" used interchangeably, since they both involve toasted, topped slices of bread. In truth, they're two entirely different antipasti. The distinction is in how the bread is prepared.
Crostini are small bites that are thin and crunchy. They're easy to pick up and can be finished in 2-3 bites. Here, the bread (usually a baguette) is brushed with olive oil and seasoned before toasting.
Bruschetta (which comes from the Italian word bruscare; meaning "to roast over coals") are heartier than crostini. They're made with wider loaf of bread (such as a rustic Italian).
The bread for bruschetta is sliced into thicker pieces than crostini, and grilled (or broiled) until lightly-charred. After grilling, warm bruschetta is rubbed with a garlic clove and drizzled with olive oil before topping and serving.
What You'll Need: 4 Ingredients
As is traditional, I like to use a French baguette or a loaf of Italian bread that isn't too wide. (My local bakery sells a loaf called an "old fashioned long" that makes wonderful crostini.)
For crisp toasts, I like to use day-old bread. This is a great way to use up a whole or partial loaf that you have leftover from a dinner party!
In addition to the bread, you'll need olive oil, kosher or fine-flaked sea salt, and freshly-ground black pepper. That's all!
Want to make your own bread? Try this baguette recipe from King Arthur Flour.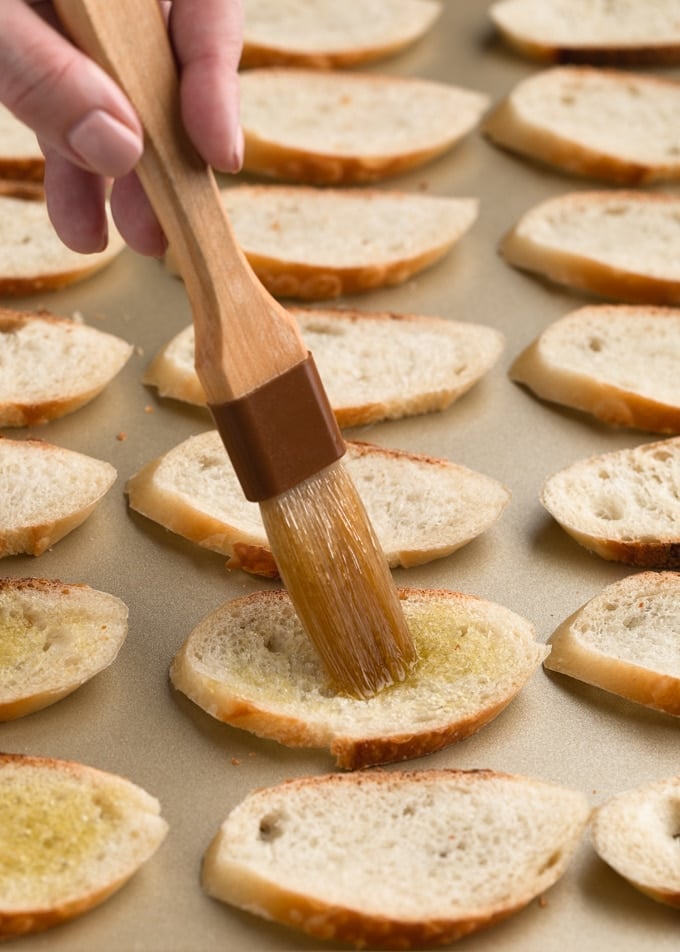 Making Crostini: Process & Tips
Prepping the Bread
For evenly-crisp toasts, slice the bread into ¼- to ½-inch thick slices. (I'm being way too precise with what I'm about to say, but my favorite thickness for crostini is about ⅜-inch.) Most importantly, you want the slices to be thin and even.
You can either slice the bread into rounds, or turn your serrated knife on a diagonal (as shown in the photos for this post) for more elongated, oval toasts.
Before baking, brush each side of the bread slices with olive oil. You don't want to oversaturate the bread, but you do want enough oil to give them a little flavor and help with browning.
I season the bread with salt and pepper on one side. To accommodate a range of toppings or serving options, go light-handed with the seasoning. You want the toasts to complement whatever you're serving them with, not overpower.
Toasting the Crostini
You'll see various baking temperatures in crostini recipes from 350 degrees F all the way up to 425. I like to bake mine at 400. It's hot enough to quickly toast the bread (5-8 minutes) without drying it out so much that the crostini are too hard to bite when cooled.
A word of caution: the length of time that you bake the crostini can vary. Factors that will influence this are 1) how thick you've sliced the bread, 2) its density, and 3) how much moisture content it has.
For instance, day old bread tends to toast in less time than fresh. Some baguettes have a denser crumb than others, and need a little extra time to dry and crisp.
I like to keep the light on in the oven and monitor each batch individually. When bread burns, it burns quickly! Crostini should be lightly golden and crisp (and will continue to crisp further as they cool).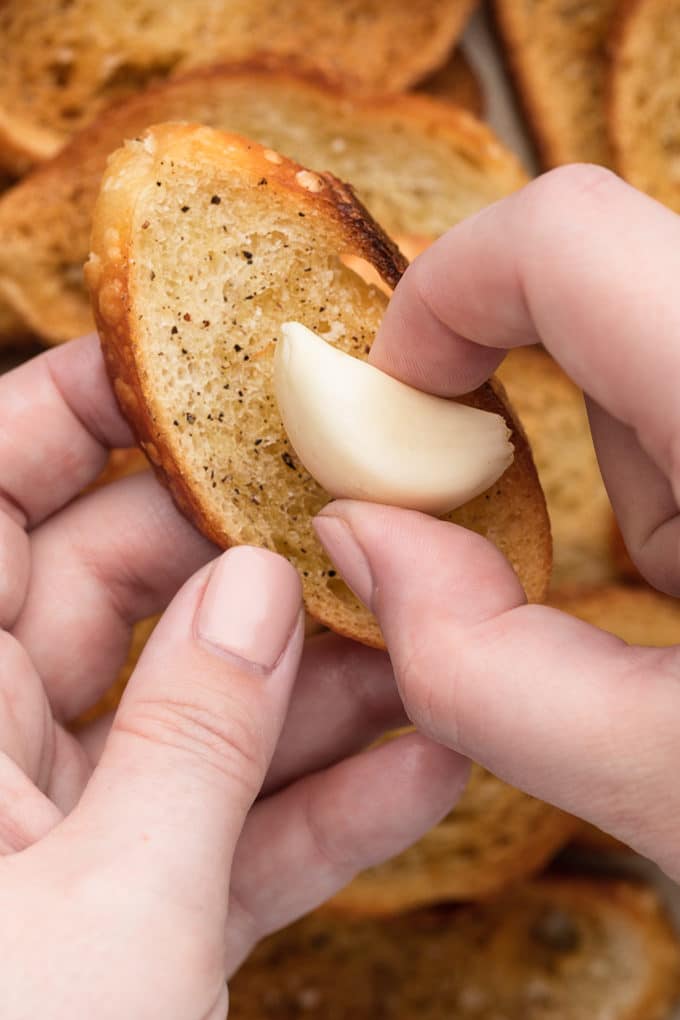 Crostini FAQ's
Q. How long can I keep the toasts?
A. I love crostini when they're still slightly warm from the oven. That said, once fully cooled, you can store them in an airtight container or zip-top bag at room temperature for 3-5 days.
Q. Can I season the crostini with anything other than salt and pepper?
A. Sure! I most often stick with a basic salt and pepper seasoning, leaving the bulk of the flavor to the toppings or dips that I serve with the toasts. But, I do often take a page from bruschetta-making, and rub the crostini with a garlic clove while they're still warm.
You can also stir a little garlic powder or your favorite chopped fresh herbs into the olive oil before you brush it onto the bread slices, or use an infused oil.
Q. What Should I Serve with Crostini?
A. You can top your toasts with just about anything! A classic Olive Tapenade is one of our favorites, as are these Roasted Grape Crostini, with balsamic-roasted grapes and whipped goat cheese.
Crostini are also great for dipping. I often serve them with my Spinach and Artichoke Dip, Crab and Artichoke Dip, and Roasted Red Pepper Hummus.
Craving more? We'd love to welcome you to our exclusive Facebook group community where we share recipes, hosting tips, party ideas, and more!
📖 Recipe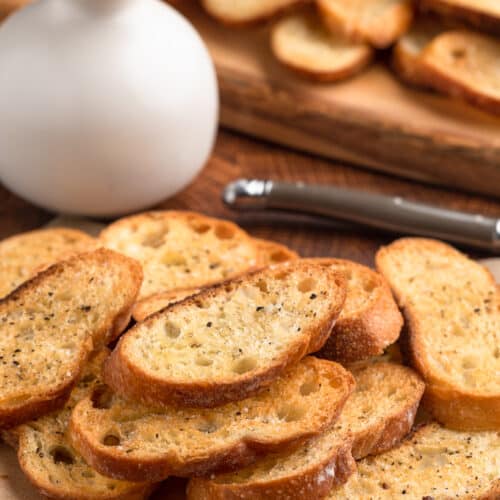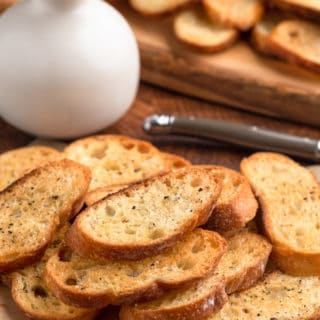 Crostini
These crisp toasted bread rounds are an easy recipe to keep on hand for appetizers, cheese boards, and more. Homemade crostini are quick to make (and a great way to use up a loaf of day-old bread!)
Print
Pin
Rate
Save
Saved!
Estimated Calories:
65
kcal
Ingredients
1

baguette or other long, thin, crusty bread

(fresh or day-old)

½

cup

olive oil

(more or less, depending on how long the baguette is)

kosher or fine-flaked sea salt

freshly-ground black pepper
Instructions
Preheat oven to 400 degrees F. Slice baguette into ¼ to ½ inch thick slices. You can either slice them as rounds or on the diagonal.

Arrange bread slices in a single layer on a baking sheet. Brush both sides with olive oil. Lightly season one side with salt and pepper.

Bake 6-8 minutes, flipping once, until bread is crisp and lightly-toasted.* Serve warm or at room temperature with your favorite crostini toppings.
---
Notes
*Baking time will vary based on the type of bread you've used, how thick you've sliced it, its moisture content, and density. In general, most will take between 6 and 8 minutes. Keep a close eye on the crostini as they bake so they don't burn.
See the FAQ's above for seasoning variations.
Nutrition Estimate
Serving:
1
toast
|
Calories:
65
kcal
|
Carbohydrates:
5
g
|
Protein:
1
g
|
Fat:
5
g
|
Saturated Fat:
1
g
|
Sodium:
340
mg
|
Potassium:
11
mg
|
Fiber:
1
g
|
Sugar:
1
g
|
Calcium:
8
mg
|
Iron:
1
mg
Keyword:
crostini, crostini toasts, how to make crostini, toasted bread rounds
---
About our Recipes:
Please note that our recipes have been developed using the US Customary measurement system and have not been tested for high altitude/elevation cooking and baking.
Have you made this recipe?
Don't forget to leave a comment and rate the recipe below! Take a picture? Tag @stripedspatula and #stripedspatula on Instagram!