Creamy, cheesy, and loaded with lump crab meat, this Crab and Artichoke Dip is a perfect appetizer for game day parties and year-round entertaining!


This time last week, we were staring down an epic blizzard here in New Jersey. We had gotten spoiled with all of those 70-degree days in December, but winter came back with a vengeance and our town ended up with 30 inches of the fluffy white stuff.
Thankfully, our power stayed on and we were able to spend the storm in the cozy comfort of our home until it was time to dig out. And, by "cozy," I mean the works: oversized pj's, fuzzy slippers, a faux fur blanket, and an array of homemade treats coming out of the oven in steady succession.
My favorite snowstorm snack was a bowl of this creamy, cheesy, Warm Crab and Artichoke Dip. I folded tender lump crab meat into a four-cheese base and baked it to bubbly perfection with artichoke hearts, a touch of garlic, and tangy Dijon mustard. Snow Day snacking at its best!
Crab and Artichoke Dip is one of my favorite restaurant appetizers. I especially like making it at home where I'm able to control the quality of ingredients and quantity of crab (no "fillers" here!).
When I was developing this recipe, I turned to inspiration from two of my favorite dip recipes: Spinach and Artichoke Dip and Hot Crab Salsa Dip. I used the base from my spinach dip, adding a touch of sour cream for extra creaminess. Like some of my favorite restaurant dips, I swapped out the Italian 4-cheese shred for a blend of Cheddar and Monterey Jack.
To flavor the dip, I added two of my favorite additions when I make crab salad: Dijon mustard and scallions. The resulting dip is well-flavored, but still mild enough to let the sweet crab shine through.
The first time I served this dip (a pre-blizzard batch during a football game), my friends were largely silent when they dug in. I've come to realize that this either means they're indifferent about the recipe and it's time to head back to the drawing board, or they're totally and happily engrossed.
Just when I was starting to worry about the fate of my Crab and Artichoke Dip, one of them said, "The first bite was great, but the second, third, and fourth are addictive!"
With snowstorm snacking behind us (hopefully, for the rest of the winter!), this Warm Crab and Artichoke Dip is a great dish to plan for those Game Day parties on the horizon.
I would be lying if I didn't confess that while I've learned a thing or two about football this season, the commercials and appetizers are still what I'm most looking forward to for the Big Game.
(I've tried to control it, but I still gasp aloud when the players are forcefully tackled to the ground or land in a massive pileup; I know they're wearing gear, but "yikes!")
Much like the blizzard, just set me up with a bowl of dip and a crusty baguette, check on me in a few hours, and I'll be a happy camper!
Need more ideas for your Big Game menus? Check out the Game Day archives!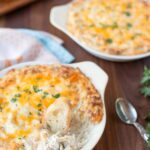 Print
Warm Crab and Artichoke Dip
This creamy, cheesy crab dip is sure to be a crowd-pleaser. Be sure to let it stand for a few minutes before serving to let the texture and flavors meld. I like my dip mild, but if you prefer a spicy twist, add a little bit of hot sauce before baking, to taste. To serve a smaller group, the recipe is easily halved.
Ingredients
16

ounces

block-style cream cheese

, room temperature

1

cup

coarsely chopped artichoke hearts

(14-ounce can, rinsed and drained, or about half of a 12-ounce bag of frozen, cooked according to package directions)

1/2

cup

shredded Monterey Jack cheese

, divided

3/4

cup

shredded cheddar cheese

, divided

1/4

cup

thinly-sliced scallions

1

garlic clove

, minced

2

teaspoons

Worcestershire sauce

2

teaspoons

Dijon mustard

1/2

cup

grated Parmigiano Reggiano

1/4

cup

sour cream

1/2

cup

mayonnaise

1

pound

lump crabmeat

, picked over for cartilage
Instructions
Preheat oven to 350 degrees F. Lightly coat a 2-quart baking dish (such as an 8-inch square pan) with cooking spray.*

In a large bowl with a hand mixer, or in the bowl of a stand mixer with the paddle attachment, beat together cream cheese, mayonnaise, Parmigiano Reggiano, mustard, Worcestershire sauce, and garlic. Using a spoon or spatula, stir in scallions, 1/2 cup cheddar cheese, and 1/4 cup Monterey Jack until combined. Fold in artichoke hearts and crabmeat. (Crab will break up as it's folded; I like to try to leave a few larger chunks in the dip, where possible.)

Transfer dip to prepared pan. Toss together remaining 1/4 cup cheddar and 1/4 cup Monterey jack and sprinkle over the dip. Bake until dip is hot and bubbly, 25-30 minutes. Let stand 5 minutes before serving with bread cubes, crackers, or crostini.
Recipe Notes
*As I did for the photos attached to this post, I often divide the dip between three, 12-inch round gratins instead of baking in one large pan. I like to do this when I'm entertaining for a long afternoon (such as a game watch party) and want to bake fresh dip at regular intervals. I keep the smaller dishes in the refrigerator until ready to bake, place them on baking sheets, and check the dip after 20-25 minutes in the oven.
Have you made this recipe?
Let me know by leaving a comment and rating the recipe below! Don't forget to take a picture and tag
@stripedspatula
and
#stripedspatula
on
Instagram
for a chance to be featured in my newsletter!