With sharp cheddar, bacon, scallions, and sour cream in every bite, this Loaded Potato Salad is summer barbecue comfort food at its best. Easy to make, and make ahead!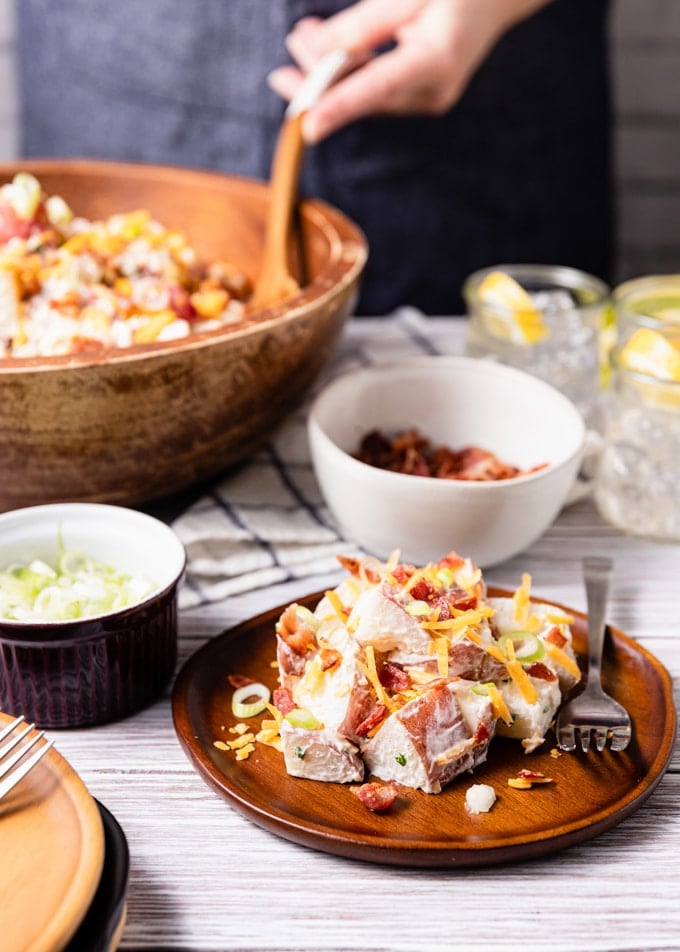 This post contains affiliate links. As an Amazon Associate, I earn a commission (at no additional cost to you) from qualifying purchases made by clicking these links. As always, all recommendations and opinions expressed are my own.
My Favorite Deli's Bacon-Cheddar Potato Salad
Growing up, we had a great little delicatessen in town. It was one of those places that you could drop by any time of day, see at least five people you knew, and get something good (and quintessentially "Jersey") to eat.
Their Loaded Potato Salad (called "Bacon Cheddar Potato Salad" on the menu) was my favorite. I can't even imagine how many containers of this stuff my adolescent metabolism and I consumed, but man, was it good.
When I came home from college one year, I found that the deli had closed. Thoroughly disappointed (I had thought about that potato salad all the way up I-95 from Virginia), I decided to try making it at home. Several batches later, I had a Loaded Potato Salad that has become a staple on our summer barbecue menus.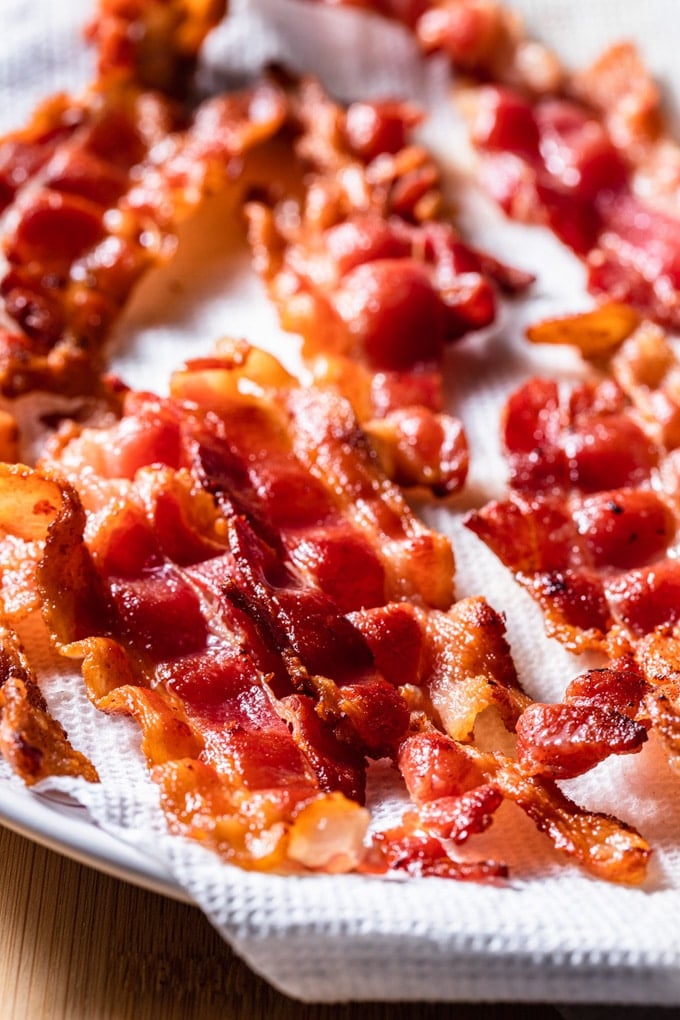 The Good Stuff: What You'll Need To Make This Potato Salad
Like the deli, I make this potato salad with unpeeled red potatoes. You could absolutely substitute other potato varieties, but I love the texture that the thin, red skins add to this recipe.
I most often use full-sized red potatoes, cutting them into chunks. But, you could also use an equal quantity of halved red new potatoes.
The dressing for this potato salad is a simple mayonnaise and sour cream base. I like to add a touch of apple cider vinegar balance some of the salad's richer flavors.
What makes this recipe a "loaded" potato salad? The accoutrements! I use plenty of crumbled bacon (thick-cut whenever possible), grated sharp cheddar cheese, scallions, a touch of garlic, and fresh parsley.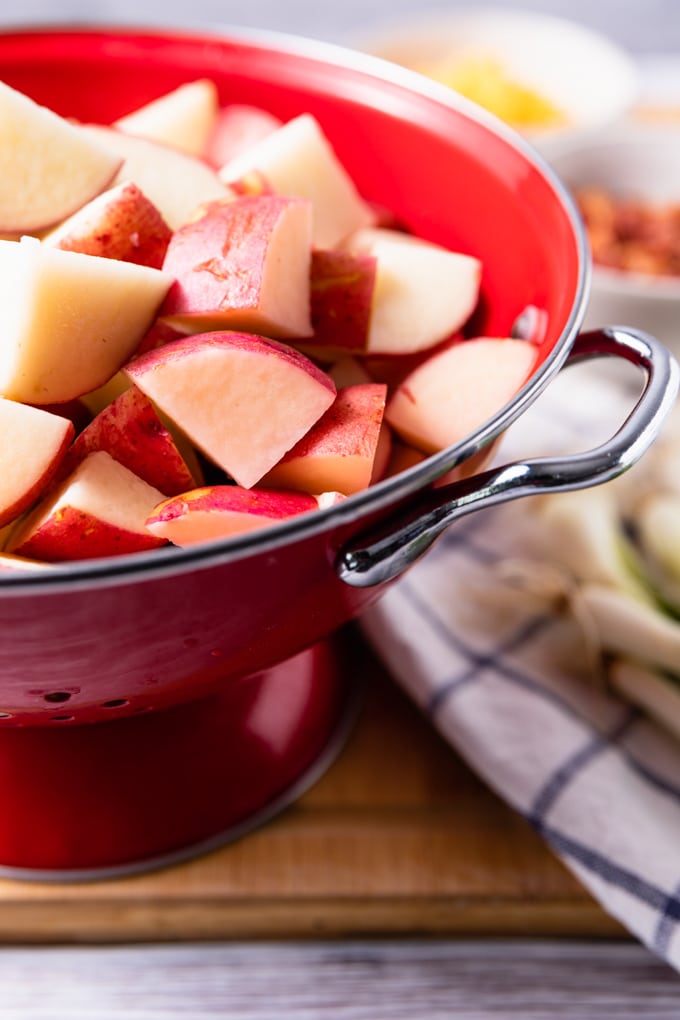 Cooking the Potatoes
If there's any trick to making potato salad, it's determining the right amount of time to cook the potatoes.
Too long of a boil and the potatoes will break up when you combine them with the dressing. Too short, and your guests will crunch on undercooked interiors, which ruins the potato salad party just as much as a mushy spud.
You want to boil the potatoes in lightly-salted water just until they're tender. Be sure to cut the potatoes into chunks of roughly the same size (about ¾- to 1-inch), so they'll cook at the same rate. Depending on how large you've cut them, they'll take about 8-12 minutes.
Check for doneness by sliding a fork into one of the potato's cut sides. You should be able to do this without meeting resistance, but also without the potato splitting into pieces.
Prefer to cook your potatoes whole? Follow the same boiling process, lengthening the cooking time. Medium potatoes will take about 15 minutes, and larger potatoes up to 20 minutes, or longer. Cut the potatoes into cubes after draining, when they're cool enough to handle.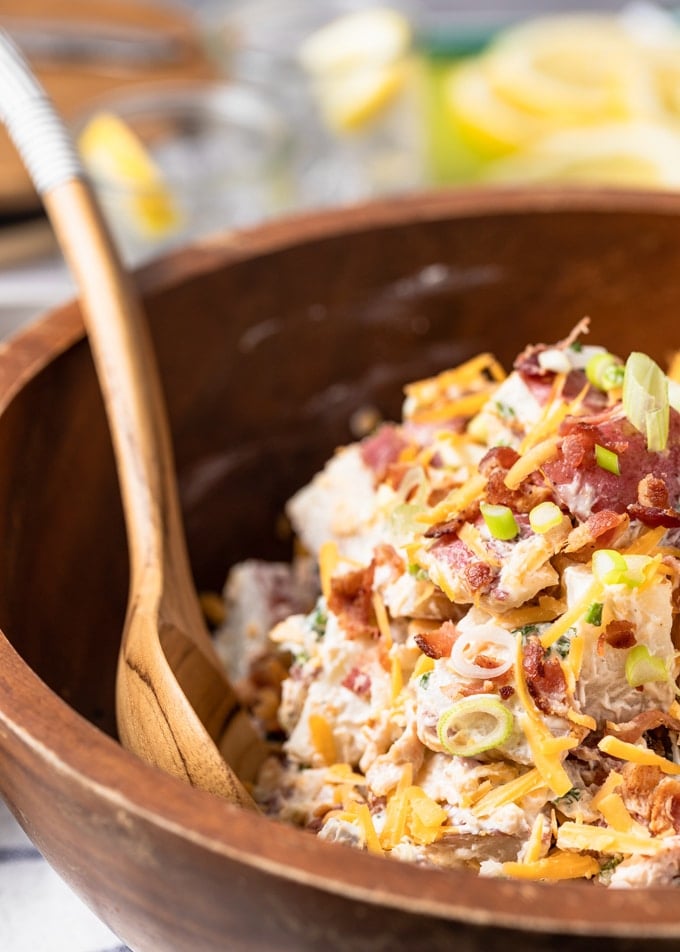 Tips for Making this Recipe
After cooking the potatoes, drain them well and let them cool to room temperature or just slightly warm. They shouldn't be so hot when you toss them with the dressing that the cheese will melt.

The amount of vinegar needed may vary by the brands of mayonnaise and sour cream you use. Start light and adjust to taste.

If the salad looks "saucy" as you first toss it, don't worry. The potatoes will absorb some of the dressing as the salad sits and chills. You'll want to let it rest in the fridge for at least 2 hours, or up to overnight, before serving.

Use freshly-grated cheddar, if possible. Pre-shredded cheese contains starches to prevent clumping in the bag. I always prefer to buy a block and shred it myself.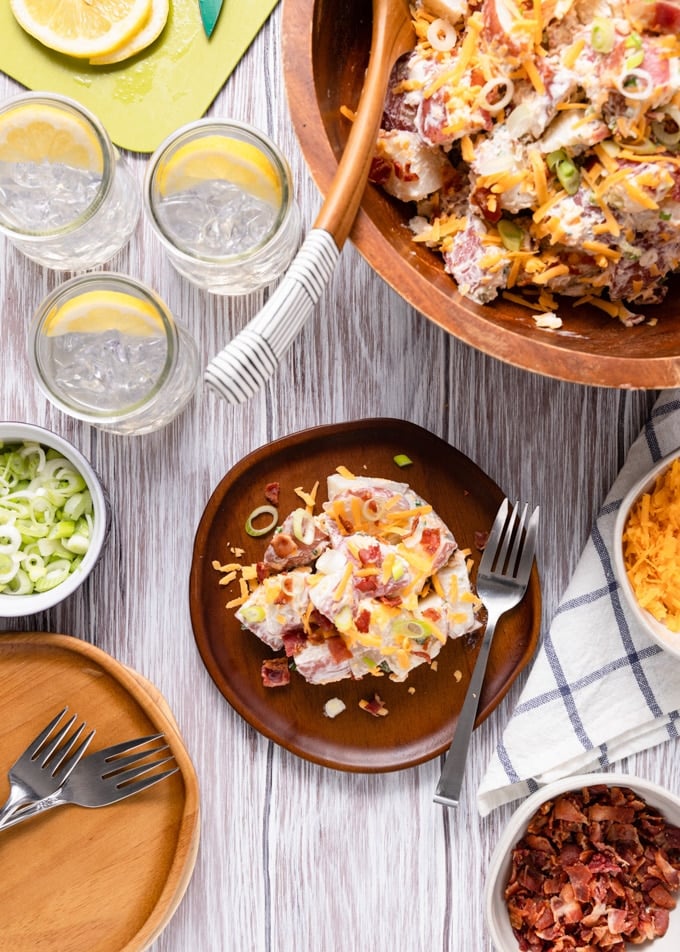 Serving Loaded Potato Salad
This potato salad packs a solid flavor punch, but also plays well with most picnic foods. We like to serve it with ribs, hamburgers, barbecued chicken, deli-style sandwiches; you name it.
You can make this recipe a day or two in advance of serving, making it a low-stress dish for summer entertaining. Just reserve some grated cheese, crumbled bacon, and scallions (I'd recommend slicing them fresh) to garnish the serving bowl.
Looking for more deli-style recipes? Check out my Homemade Coleslaw, Russian Dressing, and Reuben Sandwiches.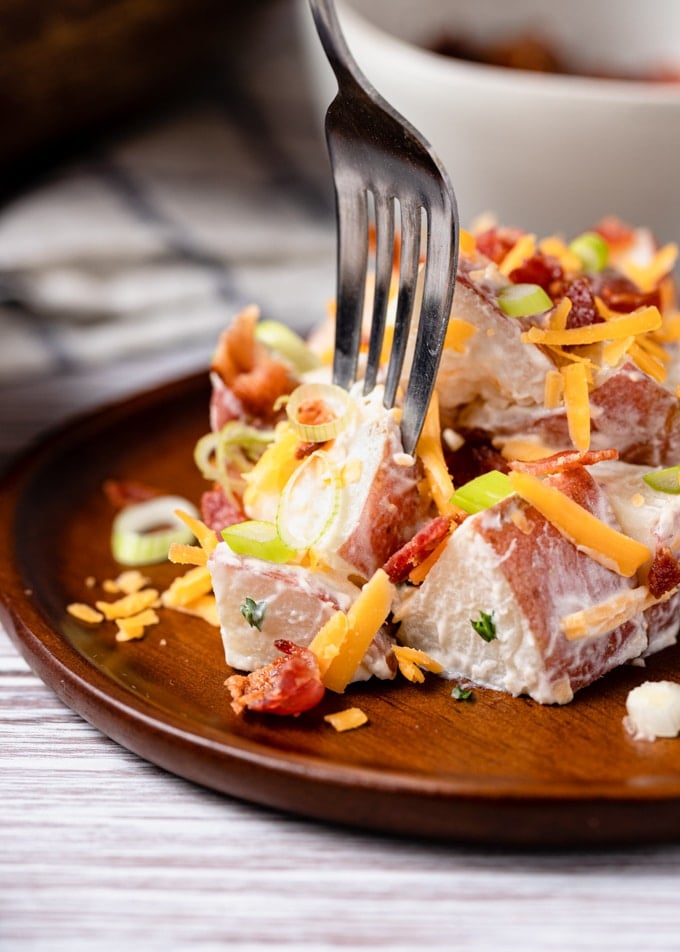 Food Safety Notes
It's important to be mindful of food safety with potato salad, especially when you're serving it in warm weather. Since this is a low-acid recipe, I keep this potato salad in the fridge, or packed in a well-chilled cooler, until just before we're ready to eat.
When serving outdoors or for a buffet, using a chilled serving bowl with a lid is a good way to keep the salad cold. You can also nestle a regular serving bowl in a larger bowl of ice. Keep an eye on it to make sure that the serving bowl doesn't tip as the ice starts to melt–you don't want to get water or ice in your potato salad!
Tip: The FDA recommends observing the "2-hour rule" when serving perishable foods. You can keep foods that require refrigeration at room temperature for up to 2 hours, or 1 hour if the room is above 90° F. (Honestly, I always stick with a 1-hour range for potato salad, even at room temp.)
📖 Recipe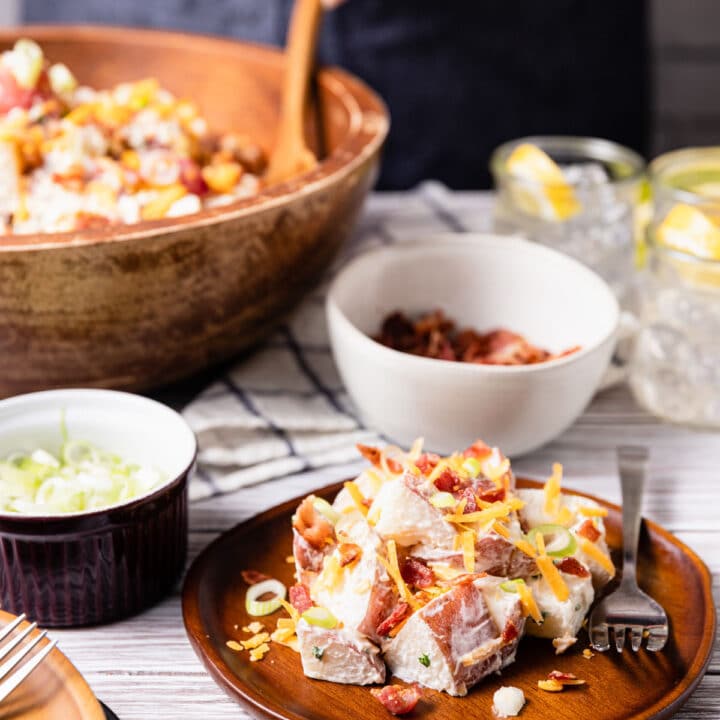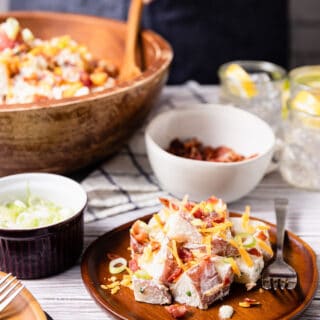 Loaded Potato Salad
With classic baked potato toppings, like sour cream, bacon, and scallions in every bite, this Loaded Potato Salad is one of my family's favorite barbecue comfort sides.
Print
Pin
Rate
Save
Saved!
Servings:
6
to 8 servings
Estimated Calories:
373
kcal
Ingredients
2-½ to 3

pounds

red potatoes

, cleaned, unpeeled, and cut into chunks (about ¾- to 1-inch)

1

cup

mayonnaise

½

cup

sour cream

½ to 1

teaspoon

apple cider vinegar

, to taste (see note)*

¼

teaspoon

garlic powder

½

cup

thinly sliced scallions

, plus additional for garnish

¼

cup

chopped flat-leaf parsley

6 to 8

slices

bacon (I use thick-cut)

, cooked crisp and crumbled

¾

cup

shredded sharp cheddar

, plus additional for garnish

kosher salt and freshly-ground black pepper
Instructions
Place potatoes in a large pot with enough cool water to cover by 1 to 2 inches. Add 1 teaspoon salt and bring to a boil over medium-high heat. Reduce heat and simmer for 8-12 minutes (depending on how large of a cut you're using), until potatoes are fork tender, but not falling apart. Drain well and cool to just slightly warm or room temperature. (You don't want to melt the cheese when you assemble the salad.)

Make the dressing by whisking together mayonnaise, sour cream, vinegar, ½ teaspoon salt, ½ teaspoon pepper, and garlic powder in a large bowl. Add scallions, parsley, and about ¾ of the crumbled bacon (reserving the rest for garnish), and stir to combine. Refrigerate until ready to use.

Add the potatoes to the dressing, gently tossing to coat. (Don't worry if the salad looks a little "saucy" at this point; it thickens as it chills.) Fold in cheddar and season to taste with additional salt and pepper.

Cover and refrigerate until well-chilled, at least 2 hours. Serve, garnished with remaining bacon, additional sliced scallions, and cheddar.
---
Notes
*Apple cider vinegar helps to balance some of the richer flavors in this recipe. I've provided a range on the quantity, since I've found that different brands of mayo and sour cream have more of a tang than others. Start with ½ teaspoon and adjust to taste. (I usually use a full teaspoon.) If you prefer your dressing tangier, you can increase the apple cider vinegar up to about a tablespoonful.
Nutrition Estimate
Serving:
0.125
recipe (⅛th)
|
Calories:
373
kcal
|
Carbohydrates:
11
g
|
Protein:
7
g
|
Fat:
34
g
|
Saturated Fat:
9
g
|
Cholesterol:
41
mg
|
Sodium:
522
mg
|
Potassium:
355
mg
|
Fiber:
1
g
|
Sugar:
2
g
|
Vitamin A:
434
IU
|
Vitamin C:
9
mg
|
Calcium:
107
mg
|
Iron:
1
mg
Keyword:
bacon cheddar potato salad, loaded potato salad, mayonnaise potato salad
---
About our Recipes:
Please note that our recipes have been developed using the US Customary measurement system and have not been tested for high altitude/elevation cooking and baking.
Have you made this recipe?
Don't forget to leave a comment and rate the recipe below! Take a picture? Tag @stripedspatula and #stripedspatula on Instagram!
This post was originally published on July 29, 2014 and updated in 2020 with new photos and video.