Treat your cabbage to a major flavor upgrade by roasting it! These caramelized roasted cabbage wedges are crispy on the outside, tender on the inside, and absolutely delicious. Don't miss the "Variations" section for ways to flavor the basic recipe!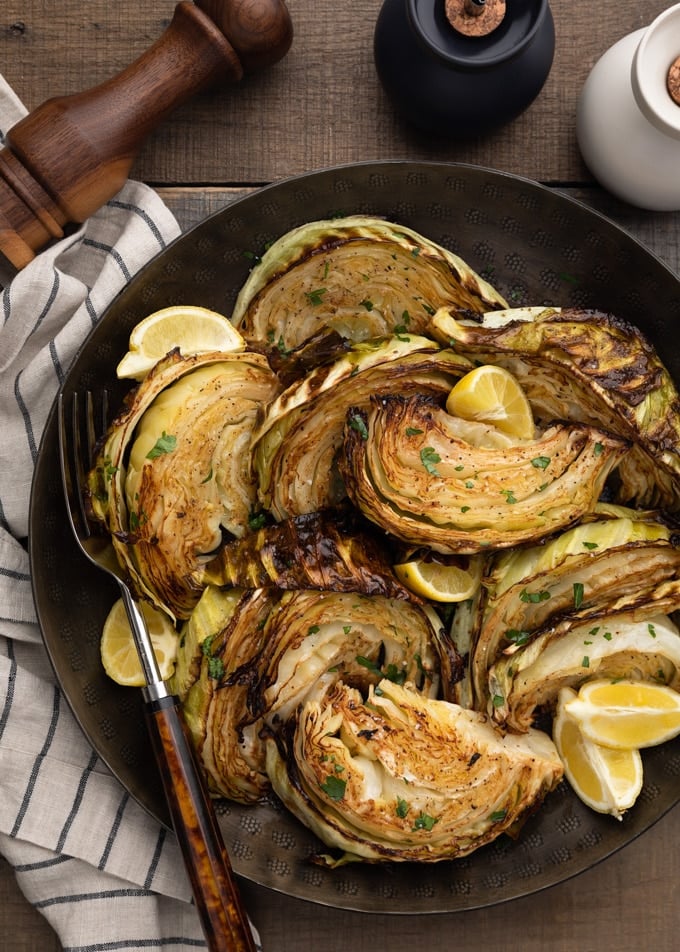 I often hear cabbage described as "bland". I get it. I've tasted some really underwhelming, overcooked boiled cabbage over the years myself!
Cabbage doesn't have to be boring, friends! If you haven't already discovered the wonderful world of roasted cabbage, let me tell you: it's a game changer.
I'm talking about crispy, charred outer leaves. Tender (but not mushy) centers. An intensified flavor with subtle sweetness that comes from caramelization and browning.
Roasted cabbage wedges are an easy upgrade, whether you're making them for St. Patrick's Day, or as a healthy side dish on a busy weeknight. In fact, this cabbage might just steal the show from everything else on the table.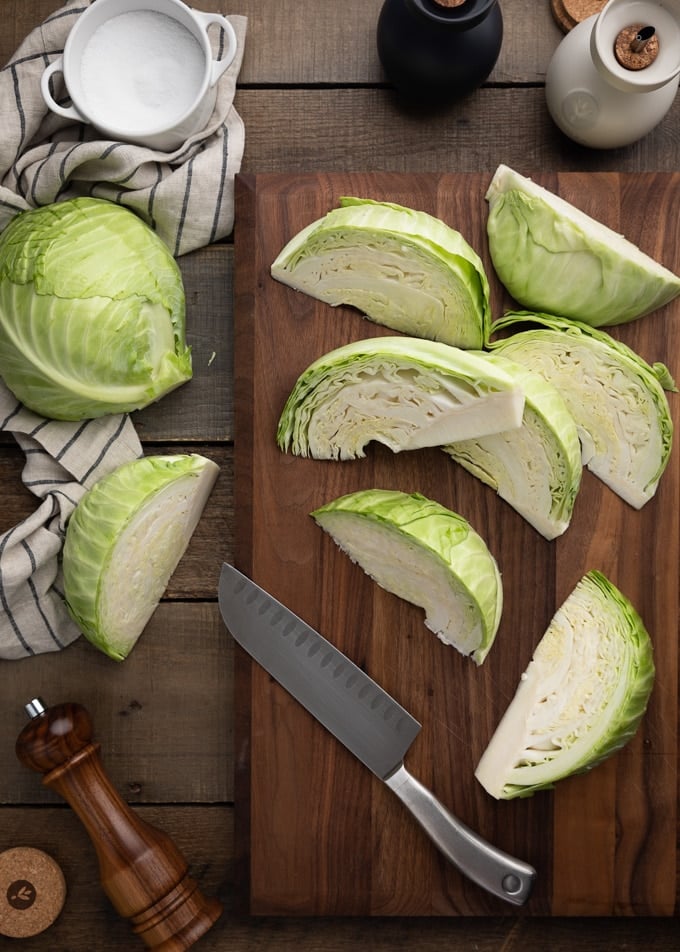 What Kind of Cabbage Can You Roast?
Cabbage is cruciferous vegetable (from the Brassicaceae family). Just like its cousins, broccoli, cauliflower, Brussels sprouts, and radishes, it's well suited to roasting.
You can use just about any cabbage, though cooking times may vary between heartier and more delicate varieties. Check out this article from Bon Appetit to brush up on some of the types available at the market.
I most often roast green or red cabbage. The leaves on both of these varieties are tightly-packed, so the cut wedges are sturdy and tend to stay intact when cooked.
While more delicate, I've also roasted savoy cabbage. Since the leaves are lacy (so pretty!) I find that they crisp up a more quickly than green. If you use it, keep a close eye so "charred" doesn't turn into totally burned.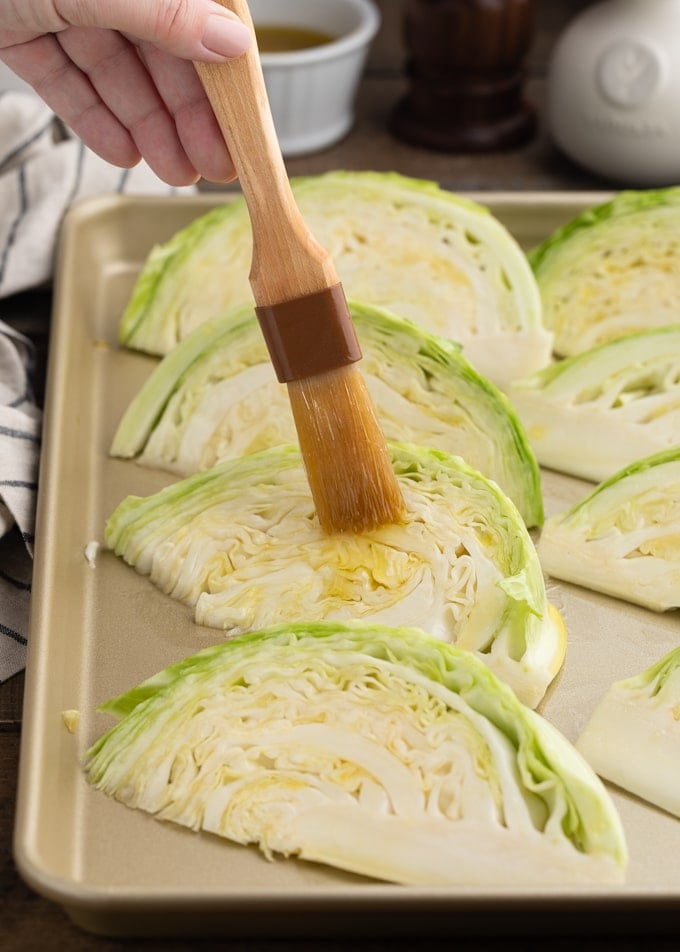 How to Roast Cabbage
Prep It
You can cut cabbage into round "steaks" or smaller wedges for roasting. Since I most often serve this recipe as a side dish, I prefer wedges.
To prep the cabbage, remove any tough or wilted outer leaves and cut the whole head in half vertically through the core. Halve each half, and then each quarter, cutting through the core each time.
It's important that each wedge have some of the core in it to help the cabbage stay intact as it roasts. Cabbage core is edible, and is quite delicious whether raw or cooked.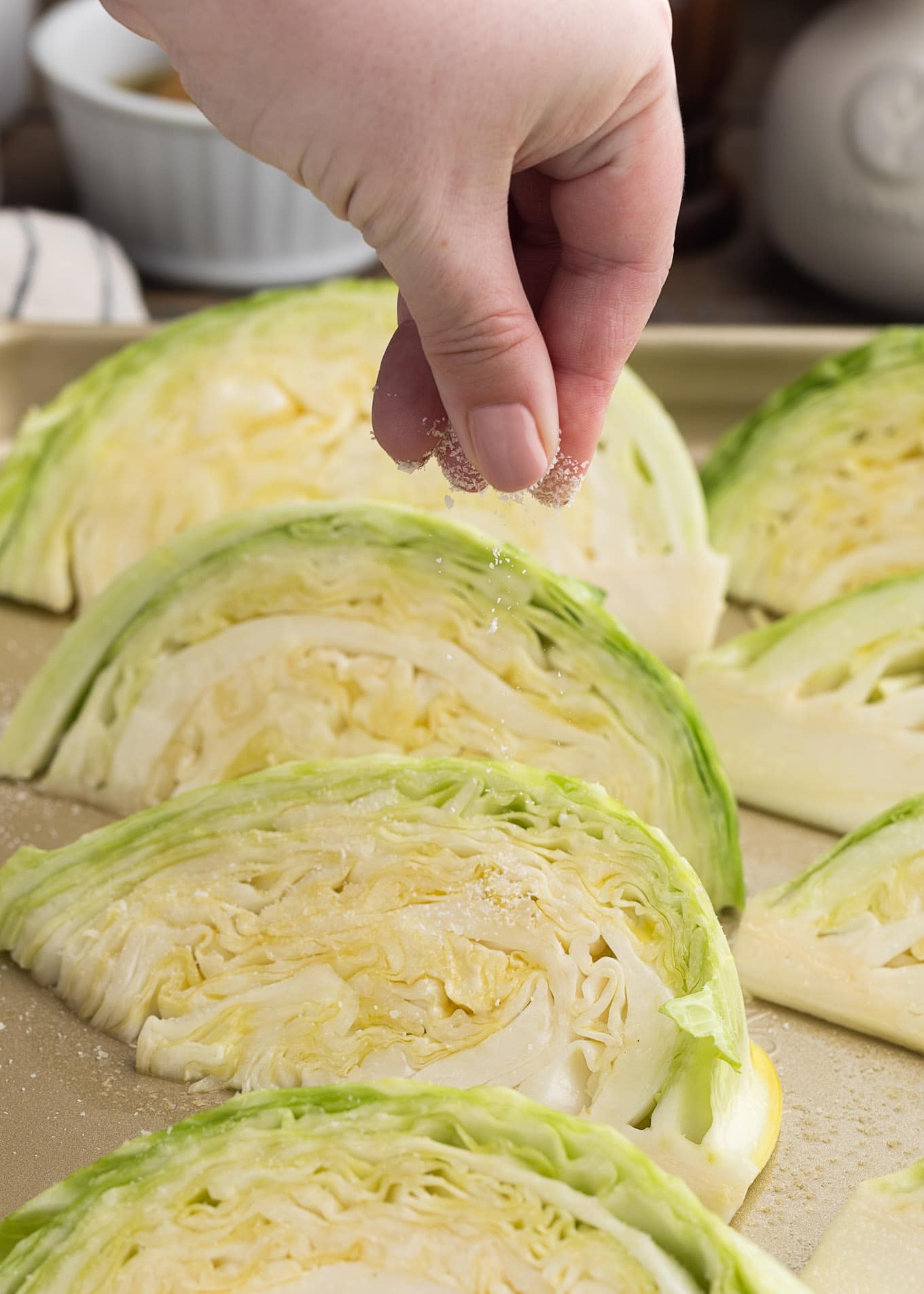 Roast It
To roast, you'll need a big baking sheet that will hold the cabbage wedges in a single layer. (I use a half sheet pan.) For easy cleanup, line the pan with foil.
I like to season the cabbage simply by brushing each wedge on all sides with olive oil and seasoning with salt and cracked black pepper. Let the oil seep between some of the layers for the best flavor.
Roasting time will depend on the thickness of the wedges and your personal preferences for softness. At 425 degrees F, this takes me 25-35 minutes.
Since the time can vary, I flip the cabbage after 15 minutes and continue roasting until the outer leaves are charred, the cut sides are caramelized, and the centers are tender, but still have a bite.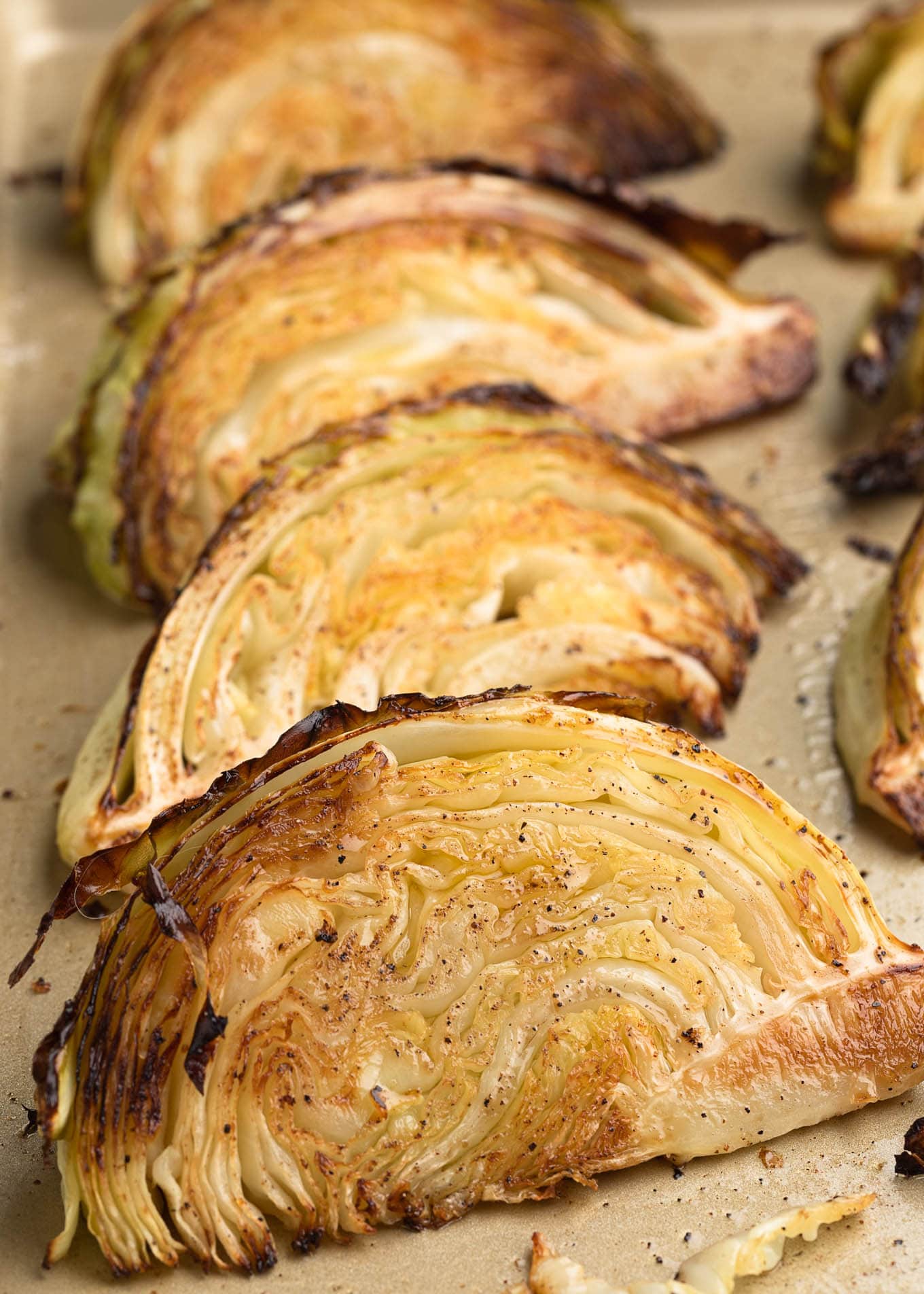 Variations For Flavoring the Dish
I most often finish the cabbage with fresh parsley and a squeeze of lemon juice. Sometimes, I'll sprinkle crushed red pepper flakes over the platter for a little kick.
That said, there are so many ways to dress up the basic recipe, depending on what you're serving with the cabbage. Here are some of our favorite variations. Choose one flavoring option or piece a few together to create your own combination!
Add garlic powder and/or smoked paprika (1/2 to 1 teaspoon of each) to the oil before brushing the wedges. Or, use your favorite infused oil.
Like it spicy? Drizzle the cabbage with chili oil.
When you take the cabbage out of the oven, immediately grate Parmigiano Reggiano over the top. The residual heat will melt the cheese and add a salty, nutty flavor to finish the dish. (Also excellent paired with the garlic oil, above.)
For a sweet-tangy twist, drizzle the roasted cabbage wedges with Maple-Dijon Vinaigrette or a balsamic reduction (as made in my Fig Pizza recipe).
Go for an Asian flair and drizzle the wedges with the Plum Vinaigrette from my Mandarin Orange Chicken Salad.
Add some crunch to the platter with toasted Panko breadcrumbs. Try the Garlic-Parmesan, Spicy Garlic, or Herbed versions in my "Crunchy Toppings" post. (I wrote the guide for topping Mac and Cheese, but it works here, too! Follow the toasting instructions intended for "stovetop mac and cheese.")
Sprinkle the roasted cabbage with your favorite seasonal herbs. In addition to parsley, we also love fresh dill or thyme.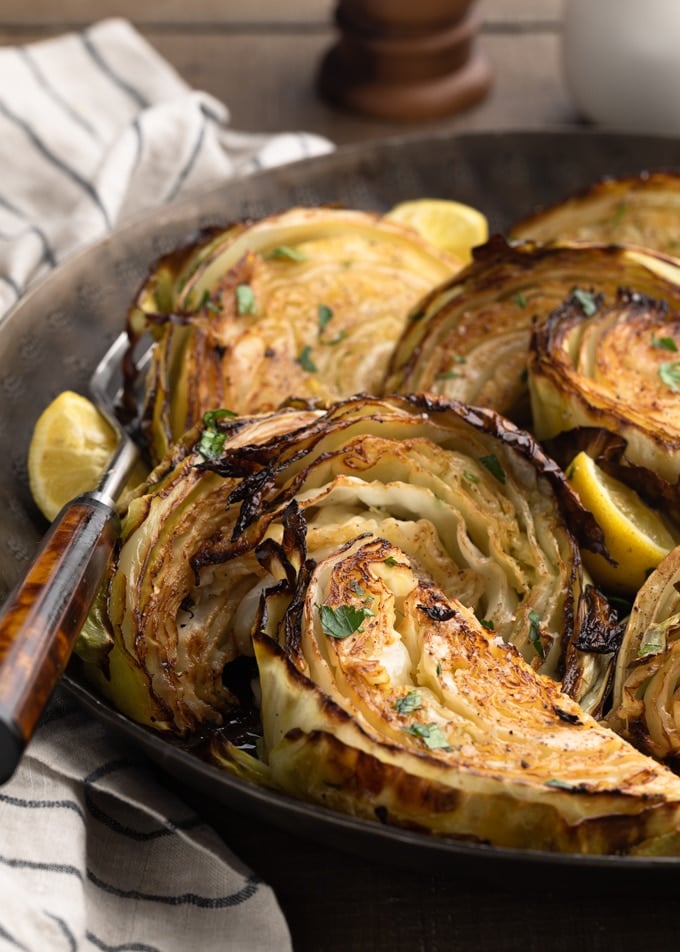 What to Serve with Roasted Cabbage Wedges
If you're adding this roasted cabbage to your St. Patrick's Day menu, it's fantastic alongside my Beer Braised Corned Beef, or my Instant Pot Corned Beef. (If you're making your corned beef in the pressure cooker, just omit the cabbage from the veggies at the end.)
Aside from St. Patrick's Day, it's also great with a pan-seared steak, pork chops, and poultry (like my roasted chicken). I've even made a meatless lunch out of it on its own, with some of the heartier flavor variations listed above.
CRAVING MORE? Subscribe to my newsletter and join me on Facebook, Pinterest, and Instagram for the latest recipes and news.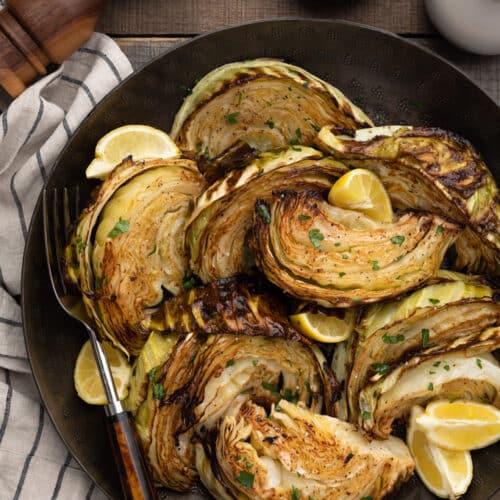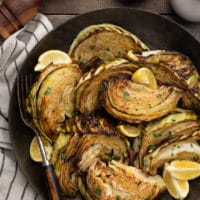 Roasted Cabbage Wedges
Take your cabbage game to the next level with this simple roasting method! These flavorful roasted cabbage wedges are easy to make, healthy, and delicious.
Print
Pin
Rate
Save
Saved!
Cuisine:
American, Vegetarian
Estimated Calories Per Serving:
88
kcal
Ingredients
1

head

cabbage

(I use green cabbage)

1/4

cup

extra virgin olive oil

kosher salt and freshly ground black pepper

lemon wedges

, for serving (optional)

crushed red pepper flakes

, for serving (optional)
Instructions
Preheat oven to 425 degrees F. If desired, line a half sheet pan with foil for easy cleanup.

Remove and discard any wilted or tough outer leaves from the cabbage head. Cut the cabbage into 8 equal wedges.

Place the cabbage wedges in a single layer on the baking sheet. Brush them on all sides with the olive oil, letting a little bit of the oil seep between the cabbage layers. Season well with salt and pepper.

Roast for 15 minutes. Carefully flip the wedges, and continue roasting until the cabbage is browned and tender, but still has a bit of bite in the center, 10-20 minutes more. The outer leaves will crisp and get a nice char. Note that roasting times will vary by the size of the head of cabbage.

Serve with lemon wedges, and if desired, a sprinkling of crushed red pepper flakes for a little kick.
---
Notes
For other flavoring ideas, don't miss the
Variations
section in the article above!
To cut the cabbage into wedges:
Start by cutting the cabbage in half lengthwise, slicing through the core. Then, halve each half, and finally, halve each quarter. Be sure to cut through the core with each slice so all of the wedges contain a little core. This will help them stay intact as they roast. If there's a large stem on the bottom of the cabbage, you can trim it off, but leave the core intact.
Nutrition Estimate
Serving:
1
wedge
|
Calories:
88
kcal
|
Carbohydrates:
7
g
|
Protein:
1
g
|
Fat:
7
g
|
Saturated Fat:
1
g
|
Sodium:
21
mg
|
Potassium:
193
mg
|
Fiber:
3
g
|
Sugar:
4
g
|
Vitamin A:
111
IU
|
Vitamin C:
42
mg
|
Calcium:
45
mg
|
Iron:
1
mg
---
About our Recipes:
Please note that our recipes have been developed using the US Customary measurement system and have not been tested for high altitude/elevation cooking and baking.
Keywords:
roasted cabbage recipe, roasted cabbage wedges
Have you made this recipe?
Don't forget to leave a comment and rate the recipe below! Take a picture and tag @stripedspatula and #stripedspatula on Instagram for a chance to be featured in our Insta Stories and newsletter!