With sausage, chestnuts, and a touch of apple cider, this fluffy cornbread stuffing is one of my family's favorite holiday sides.

When I started Striped Spatula, I confessed my lukewarm feelings toward holiday turkeys and adoration for all things side dishes. Not much has changed.
Don't get me wrong: I love a beautifully-roasted turkey. But, my heart still belongs to the sides, and this Thanksgiving, I'm all about the stuffing.
This Cornbread Stuffing is one of my favorite holiday trimmings. I make it with two types of bread (cornbread and country white), sausage, roasted chestnuts, fresh herbs, and a touch of sweetness from apple cider.
It takes a great deal of restraint to not make a meal out of the stuffing alone. (Especially the crispy edges, I'm just going to go ahead and call "dibs" on those now.)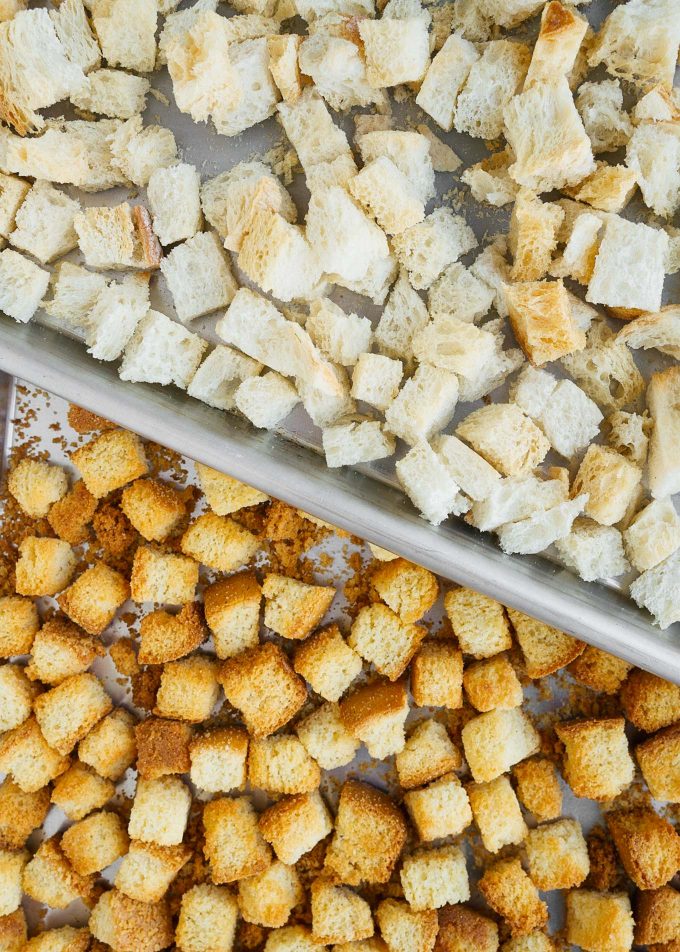 Cornbread Stuffing or Dressing?
Let's get the technical (and, dare I say controversial) part of this post out of the way: do we rightly call this recipe, baked in a gratin dish, stuffing or dressing?
I've always termed most savory bread-based sides "stuffing" regardless of whether they're cooked in the bird or in a pan alongside. It's a regional thing, I've heard.
Growing up in New Jersey, neither my family nor any of my friends' families ever called it anything but stuffing. When I went to college in Virginia, I started hearing all of my friends who grew up in the South talking about how they couldn't wait to have their mothers' dressing over Thanksgiving break.
Until I caught on, I thought that Southern mothers were really into making salads with mind-blowing homemade dressings.
I've since come to understand that, technically-speaking, if it's cooked in the bird, it's stuffing. If it's cooked in a separate baking dish, it's dressing.
I acknowledge this, but have a feeling that "bird" or "pan", I'll probably always call it stuffing. Old habits die hard!
Fun read: Stuffing vs. Dressing: Is There Actually a Difference? from Food & Wine.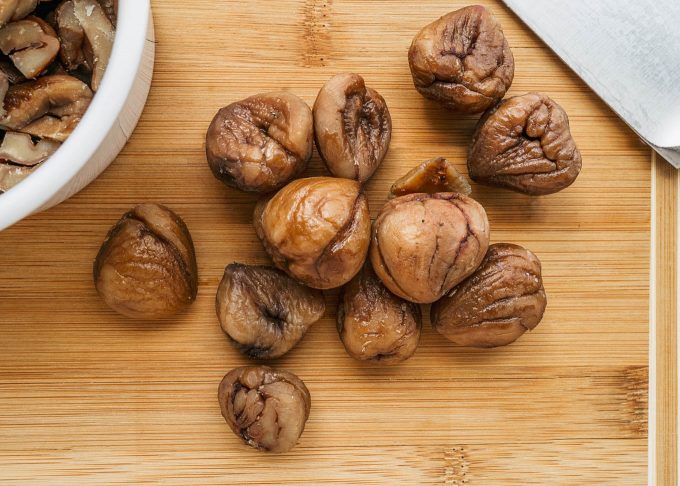 Prep-Ahead Stuffing for Easy Thanksgiving Entertaining
This cornbread stuffing can be largely prepped in advance of the big day. Cutting down on your "to-do" list when you're getting your turkey ready for the oven is always a plus. I often chop the vegetables, chestnuts, and herbs a day or two in advance and store them in zip-top bags in the refrigerator.
I also like to cube and toast the bread the night before (luckily, day-old bread is a plus here). Most often, I'll use my Buttermilk Skillet Cornbread recipe (make it two days out–a day prior to toasting), but have also made this stuffing with store bought with good results.
On Thanksgiving day, it's easy to just cook the sausage, sauté the onion and celery, toss everything together, and bake.
With umpteen other dishes to prepare, guests to entertain, and a roasting turkey to babysit, who has time to stand over a cutting board chopping onions?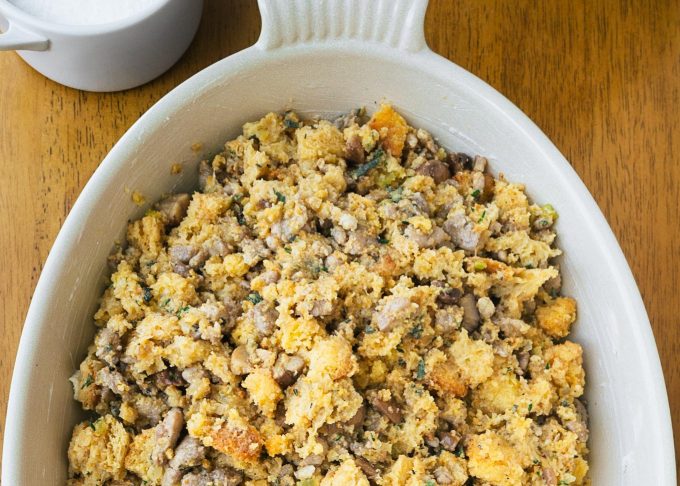 Fluffy Cornbread Stuffing
I love that this recipe utilizes both cornbread and country-style white bread. They play well together. The cornbread lends a touch of sweetness and a nice texture to the finished dish, while the country-style bread gives it substance.
The Williams-Sonoma recipe that inspired mine called for a much higher cornbread to white bread ratio. We found this made the stuffing a little too loose for our tastes. My family loves a 1:1 bread ratio for the best of both worlds.
I also add beaten eggs to bind the cornbread stuffing and give it a light, fluffy-texture.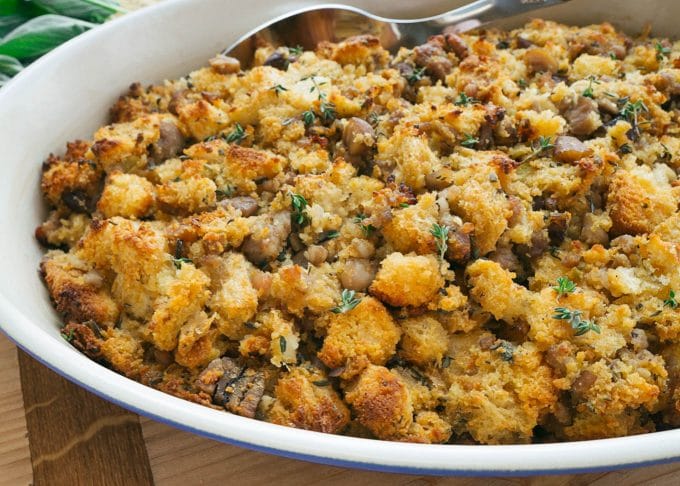 Individual Cornbread Stuffing Muffins: Crispy Edges for Everyone!
About those crispy edges: if you want to maximize the crispiness on each of your guests' plates (and cut down on baking time), this recipe translates beautifully into "stuffing muffins."
You'll get about fifteen cornbread stuffing "muffins," generously-mounded into standard muffin pans. They're a cute, convenient alternative if you're looking for something a little different to present on your holiday table.
Whether you're serving "stuffing" or "dressing", I wish you and yours a very Happy Thanksgiving!
More Thanksgiving Side Dish Recipes:
CRAVING MORE? Subscribe to my newsletter and join me on Facebook, Pinterest, and Instagram for the latest recipes and news.
📖 Recipe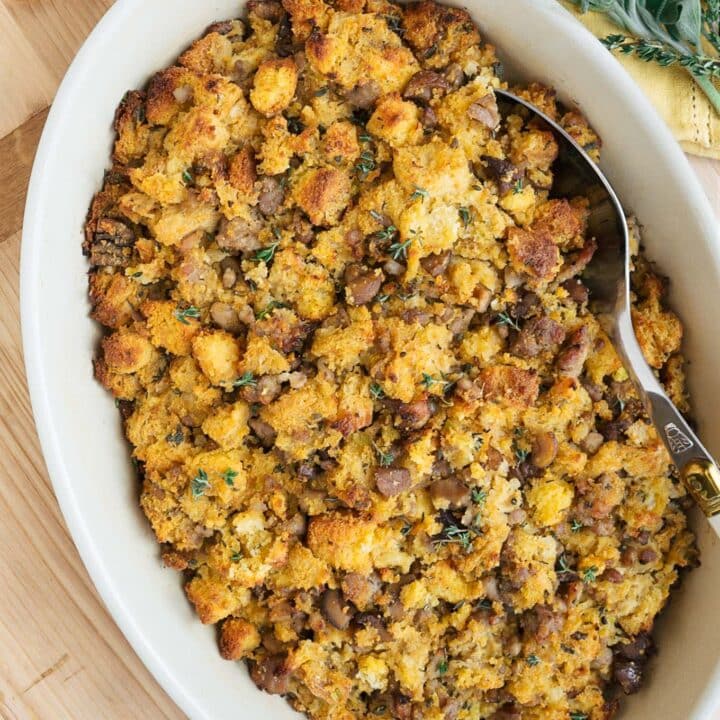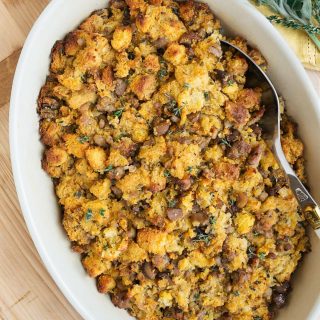 Cornbread Stuffing with Sausage and Chestnuts
With cornbread, country-style bread, sausage, chestnuts, and a touch of apple cider, this Sausage and Chestnut Stuffing is one of my favorite holiday sides.
Print
Pin
Rate
Save
Saved!
Servings:
12
to 15 servings
Estimated Calories:
440
kcal
Ingredients
1

pound

day-old cornbread loaf

*

1

pound

day-old country-style white bread loaf

, crusts removed

1

pound

sweet Italian sausage

, casings removed

2

tablespoons

olive oil

½

cup

finely-chopped celery

(about 1 large stalk)

1

cup

finely-chopped yellow onion

(about 1 medium)

3

tablespoons

chopped mixed herbs

(such as fresh rosemary, thyme, and sage)

1

cup

roasted or steamed chestnuts

, shelled and quartered**

2

cups

low sodium chicken or turkey stock

, plus additional for basting, if needed

1

cup

sweet apple cider

2

large eggs

, beaten

kosher salt and freshly-ground pepper
Instructions
Preheat oven to 325 degrees F. Cut cornbread and country-style bread into ½ to ¾-inch cubes. You should have about six cups of each. Spread in an even layer on two baking sheets and bake until lightly toasted and dry throughout, about 20 minutes. Set aside to cool.

Raise oven temperature to 375 degrees F. Butter a 3-quart gratin pan and set aside. Place sausage in a medium skillet over medium-high heat and cook, breaking sausage up with a wooden spatula or spoon, until cooked through. Remove from pan and transfer to a large bowl. Add olive oil to pan and sauté chopped celery and onion until softened, about 5-8 minutes. Season with ½-teaspoon kosher salt and ¼ teaspoon pepper.

Add sautéed celery and onion, herbs, and chestnuts to sausage. Stir to combine. Add toasted bread cubes, chicken stock, and apple cider, folding gently to combine. Season to taste with salt and pepper. Gently fold in beaten eggs.

Transfer stuffing mixture to prepared gratin pan. Bake, covered with foil for 30 minutes. Uncover and continue baking 20-25 minutes, until stuffing registers 165 degrees F in the center and is lightly browned and crisp on top.
To make single-serve "Stuffing Muffins"
Butter standard muffin tins (you'll need about 15 wells), including bottoms, sides, and top rims. Use an ice cream scoop to generously mound stuffing into each well, pressing gently to compact. Bake uncovered for 20-25 minutes, until centers reach 165 degrees F and stuffing is crisp on the top. Remove from oven and run a butter knife around the sides of each cup to loosen. Let stand 5 minutes and use a fork to help ease muffins out of wells and onto a serving platter.
---
Notes
*Either your favorite homemade or store-bought cornbread is fine to use here. The loaves I use generally weigh about a pound and are baked in an 8-inch pan.
**I love to roast chestnuts at home (such a wonderful aroma!) but almost always use imported jarred chestnuts (such as Clement Faugier or Minerve) when I'm not going to enjoy them on their own and am mixing them into recipes such as stuffing. Convenient and delicious.
The amount of salt and pepper needed to season this recipe will depend not only on your personal tastes, but on the saltiness of your stock and amount of spice in your store's brand of Italian sausage. For safety purposes, finish seasoning before raw eggs are added and avoid re-tasting until the stuffing is fully cooked.
Since every oven is different, you'll want to keep an eye on the stuffing after it's uncovered to make sure it's not drying out or becoming too crisp. If it looks like it's becoming dry before it reaches the proper internal temperature, just pour a few additional tablespoons of reserved stock over the top to lightly moisten.
Nutrition Estimate
Calories:
440
kcal
|
Carbohydrates:
49
g
|
Protein:
13
g
|
Fat:
20
g
|
Saturated Fat:
6
g
|
Cholesterol:
78
mg
|
Sodium:
761
mg
|
Potassium:
360
mg
|
Fiber:
2
g
|
Sugar:
11
g
|
Vitamin A:
315
IU
|
Vitamin C:
7.6
mg
|
Calcium:
176
mg
|
Iron:
3
mg
Keyword:
Cornbread stuffing, Thanksgiving dressing recipe, Thanksgiving stuffing recipe
---
About our Recipes:
Please note that our recipes have been developed using the US Customary measurement system and have not been tested for high altitude/elevation cooking and baking.
Have you made this recipe?
Don't forget to leave a comment and rate the recipe below! Take a picture? Tag @stripedspatula and #stripedspatula on Instagram!