This juicy, flavorful Roasted Turkey breast with garlic-herb compound butter makes a beautiful centerpiece for any holiday dinner table.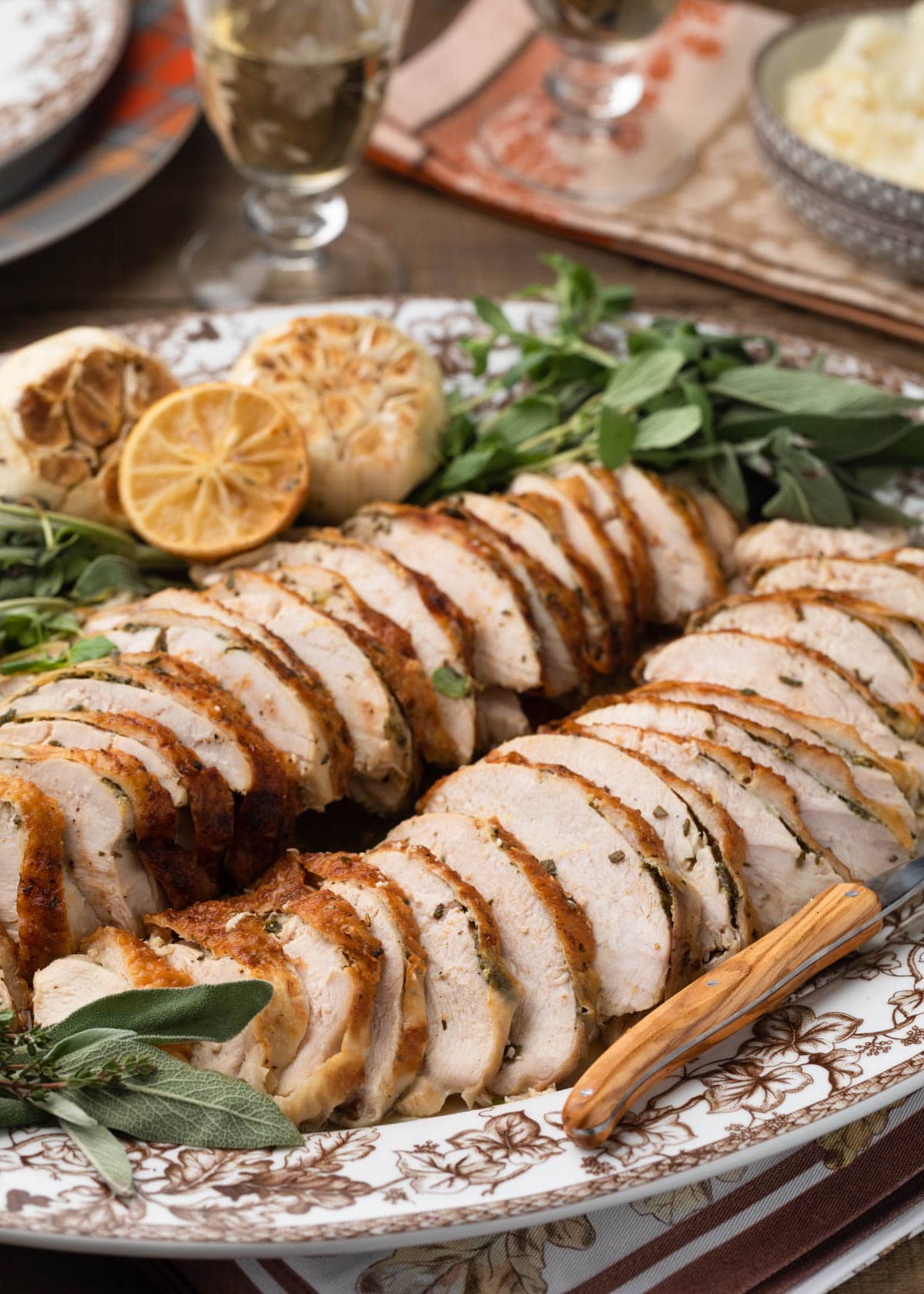 When I'm hosting a small holiday dinner, I don't necessarily need to make a whole turkey. A roasted turkey breast is a great option for Thanksgiving, Christmas, Easter, or any dinner where you want to make an impression, but don't need to have a large bird on the menu.
It's also a good recipe to keep on hand if you're hosting a big dinner and need extra white meat to supplement. (Or, if you want to ensure that you have leftovers for sandwiches!)
This juicy and flavorful Herb-Roasted Turkey Breast is one of my family's favorite recipes. Here's a complete tutorial of how I make it, from market to table.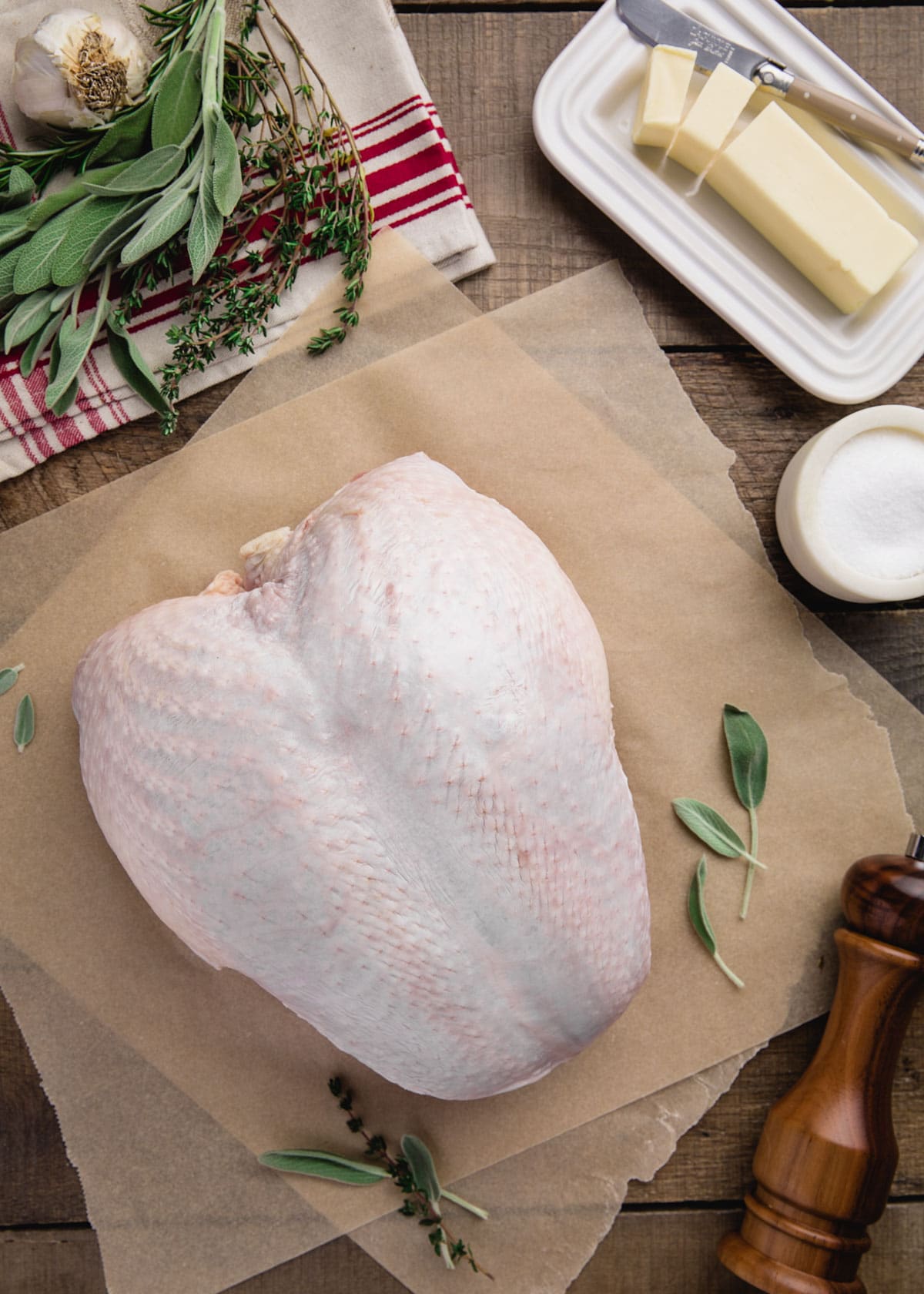 Buying a Turkey Breast: What to Look for at the Market
For roasting, I like to buy a whole, bone-in, skin-on turkey breast between 6 and 7 pounds. As a rule of thumb, plan on 1 pound per person, increasing to 1-½ pounds if you want leftovers.
Since we always want leftovers, this makes a roasted turkey breast a good option for up to 4 to 5 guests in my house.
Turkey breast can be prone to drying out, so buying the breast on the bone with skin is key to ensuring a juicy roast. You'll find turkey breasts sold as either the whole breast, or larger half breasts. As long as they're bone-in, skin-on, you can use them for this recipe.
Shopping Tip: Most grocery stores will stock whole turkey breasts around Thanksgiving, Christmas, and Easter. If you don't see them, talk to the butcher. Some will be willing to special order one or break down a whole turkey for you. You can then use the legs, wings, and giblets to make your own turkey stock.
Pay close attention to the labeling on your turkey breast. If it's marked "kosher," "self-basting," or "brine injected," watch the amount of salt you're adding to the recipe. Natural turkeys will not have been pre-salted or injected.
Read more about the types of turkeys you'll find at the market and the differences between them in, "Turkey Talk: Natural, Kosher, or Injected?" from Serious Eats.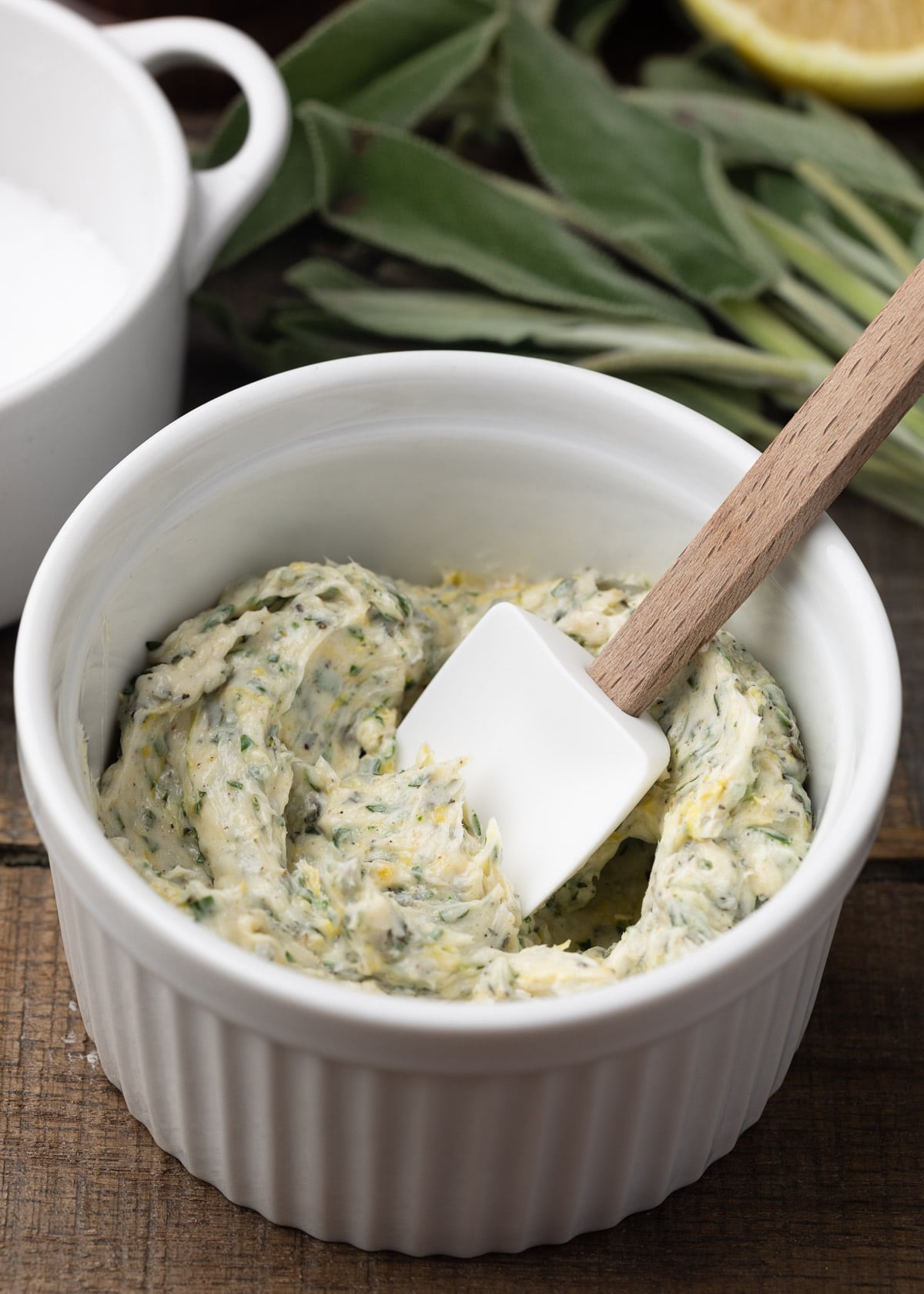 Making Herb-Roasted Turkey Breast
As with my favorite Roasted Chicken method, I like to let the turkey breast sit out at room temperature (70 degrees F) for about an hour before roasting. This will help it to cook more evenly.
I roast my turkey breast in a roasting pan, sitting on a rack, to allow for air circulation. A touch of liquid in the bottom of the pan (a mixture of dry white wine and stock) helps to keep the meat juicy. It also cuts down on smoking as the drippings collect.
Garlic-Herb Compound Butter
Compound butter is my favorite way to infuse meats that can be on the drier and blander side, like chicken or turkey breast, with flavor. For this recipe, I use a classic combination of herbs that embody the aromas of Thanksgiving: fresh sage, rosemary, thyme, and parsley.
To finish the butter, I like to add garlic powder, onion powder, and lemon zest for a little punch. In making this recipe numerous times over the years, we've found that raw garlic can be a bit too prominent a flavor for Thanksgiving, so I opt for garlic powder.
If you prefer a stronger garlic flavor, substitute 1-2 large garlic cloves for the powder. If going this route, press the cloves through a garlic press, or grate them on a microplane.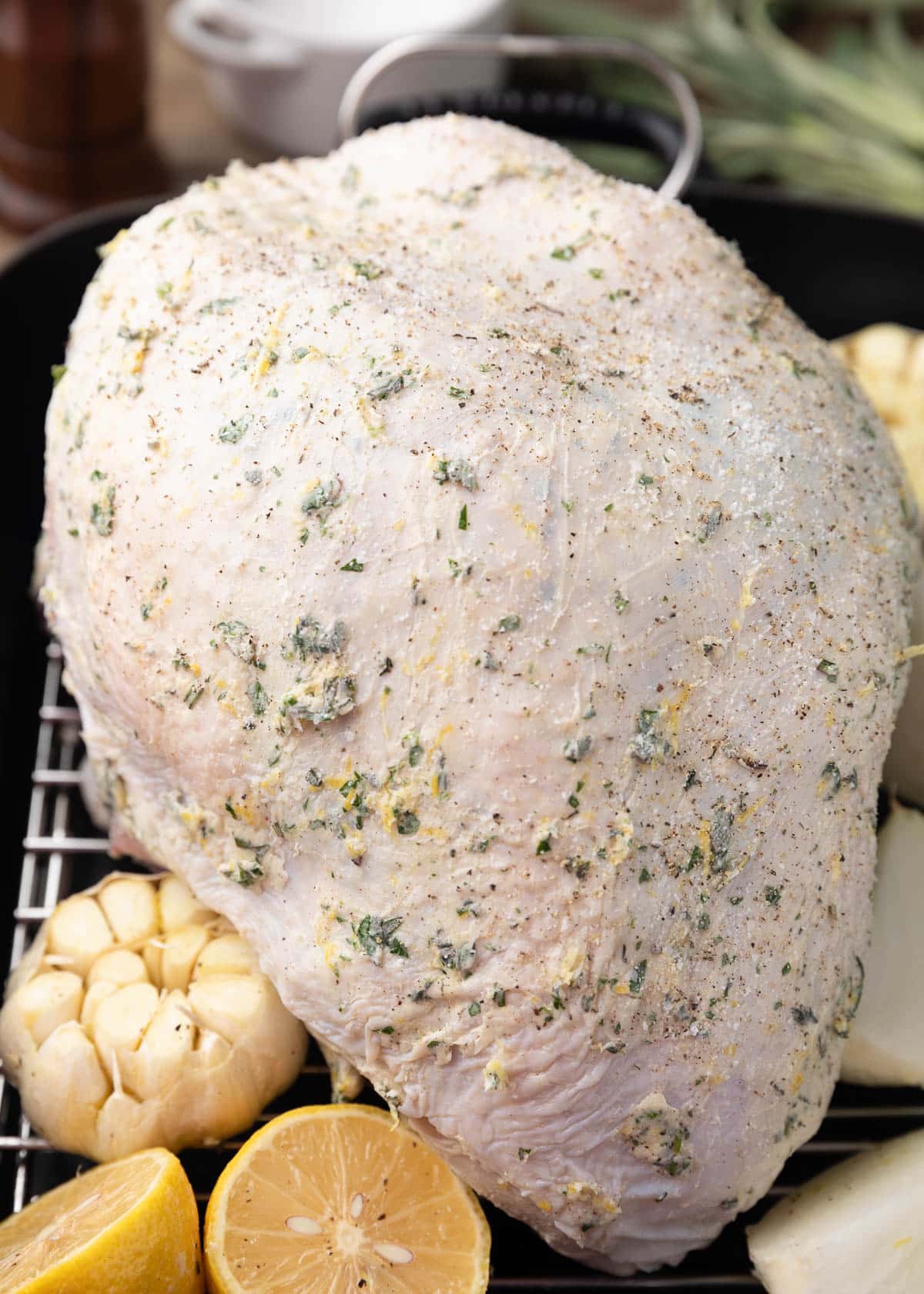 How to Get the Butter Under the Turkey Skin
With the top of the turkey breast facing you, gently slide your fingers between the skin and the meat, loosening the skin and creating a pocket.
It's important not to tear the skin, or the butter will immediately melt out into the pan. You also want to try to leave the skin attached on the sides and bottom of the breast to keep the butter as contained as possible.
Use a spoon to distribute about ⅔ of the butter between the two breast halves. Then, use your hands to rub the outside of the skin to distribute the butter evenly across the breast meat.
Seasoning and Roasting
Before roasting, dry the outside of the turkey breast well with paper towels and rub the remaining herb butter onto the skin. If you don't dry the skin, the butter won't adhere. Season the breast with salt and pepper, and you're ready to roast.
I start the roasting process with a 30-minute blast in a 425 degree F oven. This will help to develop a beautiful golden color on the skin.
After 30 minutes, I lower the heat to 325 degrees F and pour a little white wine directly over the turkey breast. The meat will only need to be basted a couple of times as it roasts to juicy perfection.
Tip: I like to roast a few garlic heads, lemon halves, and a quartered onion in the pan, surrounding the turkey. I use the lemon and garlic to garnish the platter when serving. This is totally optional.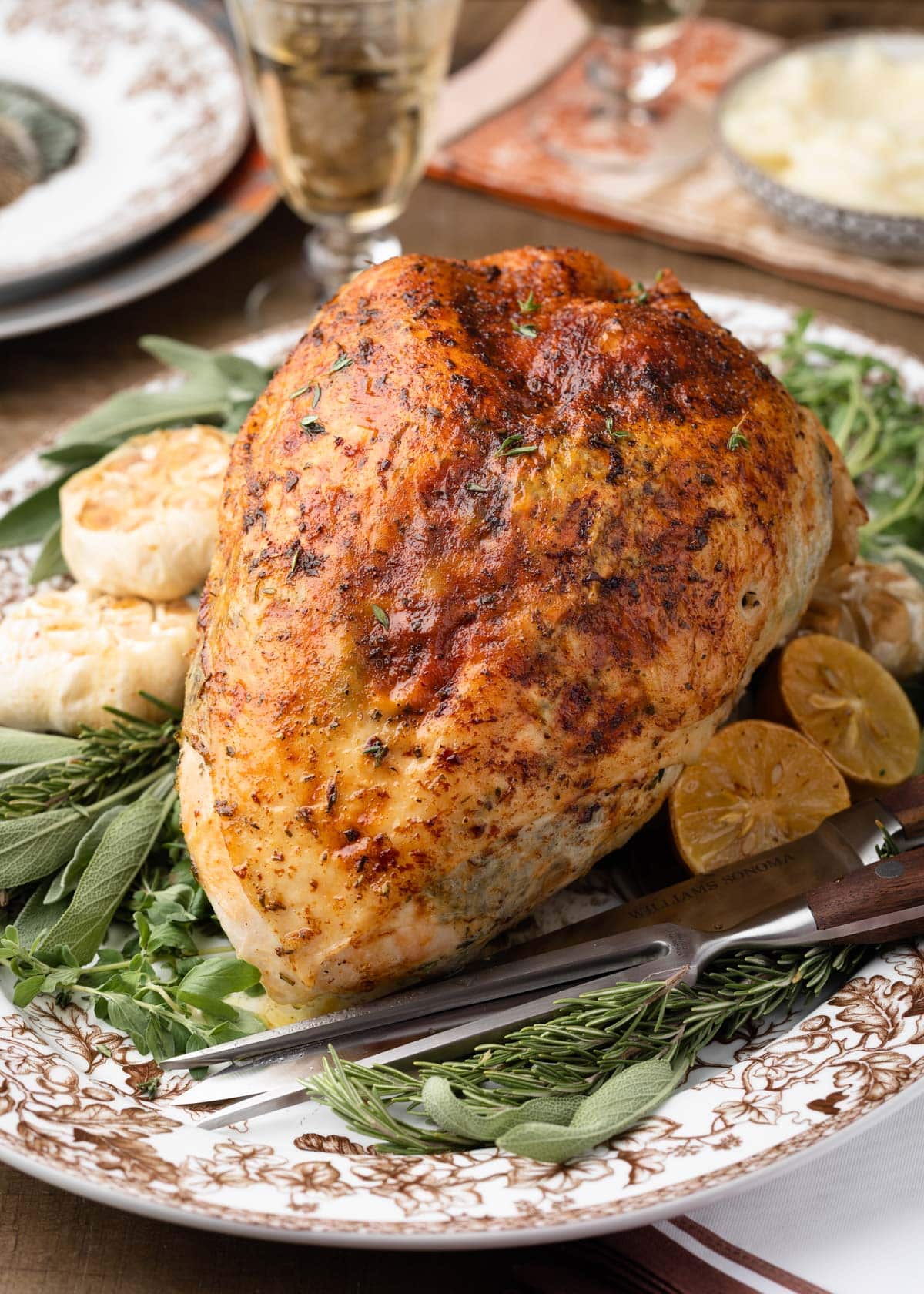 How to Know When Your Turkey Breast is Cooked
To take your turkey breast's temperature, insert an instant-read thermometer into the thickest part of the meat. Be sure that you aren't close to or hitting the bone. When cooked, it should read 160 degrees F. (I like to probe it in a couple of places to be sure.)
Depending on the size of the breast, this can take anywhere from 60 minutes to 90+ minutes after the initial 30-minute higher heat blast.
As the turkey breast rests on a carving board for about 15 minutes, it will rise to 165 degrees F, the FDA's recommended safe internal temperature for poultry.
Dinner is Served! Plating and Sides
To carve the turkey, use a sharp carving knife to detach each breast half from the breastbone and the ribcage. Once you've removed the breast meat, slice it against the grain into thin slices.
I like to arrange each fanned, sliced breast half onto my serving platter and garnish with fresh herbs. If you prefer to serve the turkey with a sauce, deglaze the roasting pan with ½ cup of chicken or turkey stock, strain the pan juices, season to taste with salt and pepper, and spoon over the turkey slices.
Side Dishes to Serve with Your Turkey Breast
CRAVING MORE? Subscribe to my newsletter and join me on Facebook, Pinterest, and Instagram for the latest recipes and news.
📖 Recipe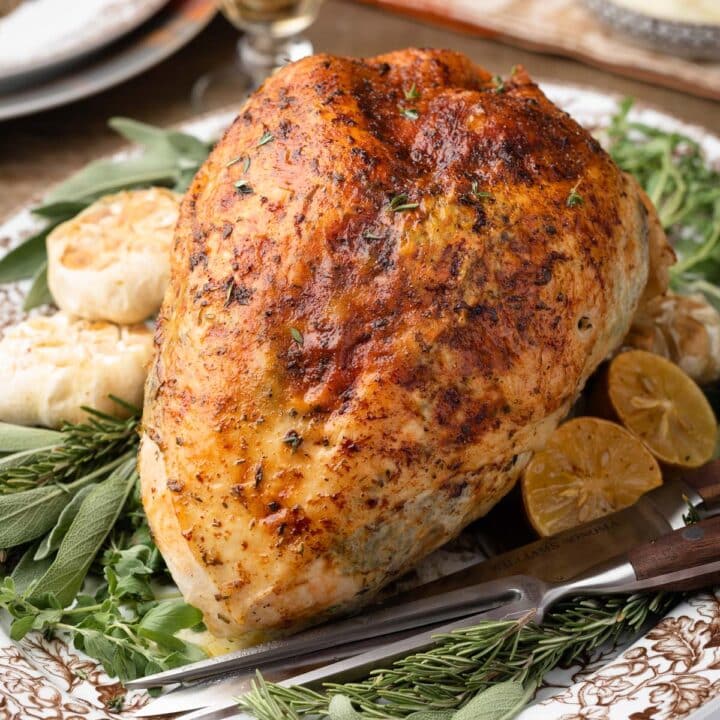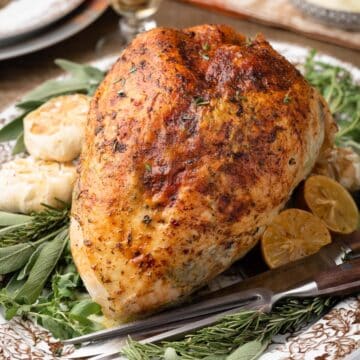 Herb Roasted Turkey Breast
This juicy roasted turkey breast with herb compound butter is a beautiful alternative to a whole turkey for a holiday dinner.
Print
Pin
Rate
Save
Saved!
Servings:
5
to 7 guests (4 to 5 if you want leftovers)
Estimated Calories:
764
kcal
Ingredients
6 to 7

pound

whole, bone-in turkey breast

(defrosted)*

8

tablespoons

unsalted butter

, softened to room temperature

1

tablespoon

chopped fresh parsley

2

teaspoons

chopped fresh thyme

2

teaspoons

chopped fresh sage

1

teaspoon

chopped fresh rosemary

2

teaspoons

finely-grated lemon zest

1

teaspoon

garlic powder

(OR 1-2 large garlic cloves, pressed in a garlic press or grated on a microplane**)

½

teaspoon

onion powder

½

cup

chicken stock, turkey stock, or water

1

cup

dry white wine

, divided

kosher salt and black pepper
Instructions
Let turkey breast sit at room temperature (70 degrees F) for an hour before roasting. Trim any excess skin. Preheat oven to 425 degrees F. Place a flat or V-rack in a large roasting pan.

Stir together softened butter, herbs, lemon zest, garlic powder (or fresh garlic), onion powder, ¾ teaspoon kosher salt, and ¼ teaspoon pepper until combined.

Use your fingers to gently loosen the area between the turkey meat and skin. Be careful not to tear the skin. Using a spoon, divide ⅔ of the herb butter between each breast half, placing it under the skin. Press on the outside of the skin to distribute it evenly across the meat.

Pat the outside of the turkey breast dry with paper towels. Rub the remaining butter all over the skin. Season with salt and pepper.

Place the turkey on the rack and pour ½ cup stock and ½ cup white wine into the bottom of the roasting pan.*

Roast for 30 minutes. Pour remaining ½ cup wine over the top of the turkey breast. Reduce oven to 325 degrees F and continue roasting until the temperature in the thickest part of the meat, away from the bone, registers 160 degrees F (60-90+ minutes, depending on your oven and the size of the turkey breast). Baste the turkey occasionally with the pan juices and keep and eye on the color – if it's getting too golden, loosely cover it with foil.

Remove the turkey from the oven and let it rest for 15-20 minutes (temperature will rise to 165 degrees F). Carve and serve.
---
Notes
*If using a brined, self-basting, or kosher turkey breast, reduce the salt in the butter mixture to ¼ teaspoon and be light-handed with the amount of salt you sprinkle on the outside of the skin.
If the breast has a pop-up timer, don't remove it, but use an instant-read thermometer instead to determine doneness.
**Garlic powder lends less pungency to the recipe than fresh cloves. If you prefer a more prominent garlic flavor, substitute 1-2 large coves, pressed/finely-grated.
***If desired, you can nestle two large peeled, quartered onions, a few lemon halves, and a few heads of garlic (trim off the top to expose the cloves and drizzle with a little olive oil) around the turkey breast in the roasting pan. I like to use the roasted lemons and garlic for garnish (plus, roasted garlic is delicious spread onto artisan bread!)
Nutrition Estimate
Serving:
0.2
recipe
|
Calories:
764
kcal
|
Carbohydrates:
6
g
|
Protein:
90
g
|
Fat:
41
g
|
Saturated Fat:
19
g
|
Cholesterol:
290
mg
|
Sodium:
827
mg
|
Potassium:
41
mg
|
Fiber:
1
g
|
Sugar:
1
g
|
Vitamin A:
665
IU
|
Vitamin C:
4
mg
|
Calcium:
16
mg
|
Iron:
1
mg
Keyword:
herb roasted turkey breast, how to roast a turkey breast, roasted turkey breast
---
About our Recipes:
Please note that our recipes have been developed using the US Customary measurement system and have not been tested for high altitude/elevation cooking and baking.
Have you made this recipe?
Don't forget to leave a comment and rate the recipe below! Take a picture? Tag @stripedspatula and #stripedspatula on Instagram!
This post was originally published on Striped Spatula on November 25, 2019 and was updated in 2020 with new photos.