Pan searing is a simple and versatile way to prepare salmon fillets. In this comprehensive tutorial, you'll learn tips, techniques, and my favorite equipment for making tender, crisp-skinned, restaurant-quality pan seared salmon at home.
This post contains affiliate links. As an Amazon Associate, I earn a commission (at no additional cost to you) from qualifying purchases made by clicking these links. As always, all recommendations and opinions expressed are my own.
In this article (click headings to jump)
What to Buy at the Market
Equipment
i. Pan
ii. Fish Spatula
Technique
i. Prep
ii. Searing
iii. Testing for Doneness
Serving
What to Buy at the Market
When shopping for salmon, look for the freshest possible fish at the seafood market or counter. The fillets should be moist in appearance, without a fishy odor. (If using frozen salmon fillets, defrost them fully before cooking.)
I like to buy skin-on fillets that are 6 to 8 ounces each and measure about 1- to 1-1/2 inches thick. Even if you don't plan to eat the salmon skin, cooking the fish skin-on yields the juiciest, most-evenly cooked fillet. For consistent cooking results, buy fillets that are of a similar weight and thickness.
Note that very thick salmon fillets aren't the best choice for an exclusively pan-seared cooking method. (The skin will over-crisp before the fillet is cooked. These fillets are better suited to roasting, or pan-searing and finishing in the oven.)
For the same reason (as well as maneuverability in the pan), I prefer to pan-sear portioned fillets rather than a single, larger cut of fish.
Pan-searing is an excellent cooking method for either farmed or wild salmon varieties. Brush up on the salmon varieties you'll find at the market with A Guide to Every Type of Salmon You Can Buy from Food & Wine.
When ordering your salmon, ask your fishmonger to remove the pin bones from the fillets and descale the skin.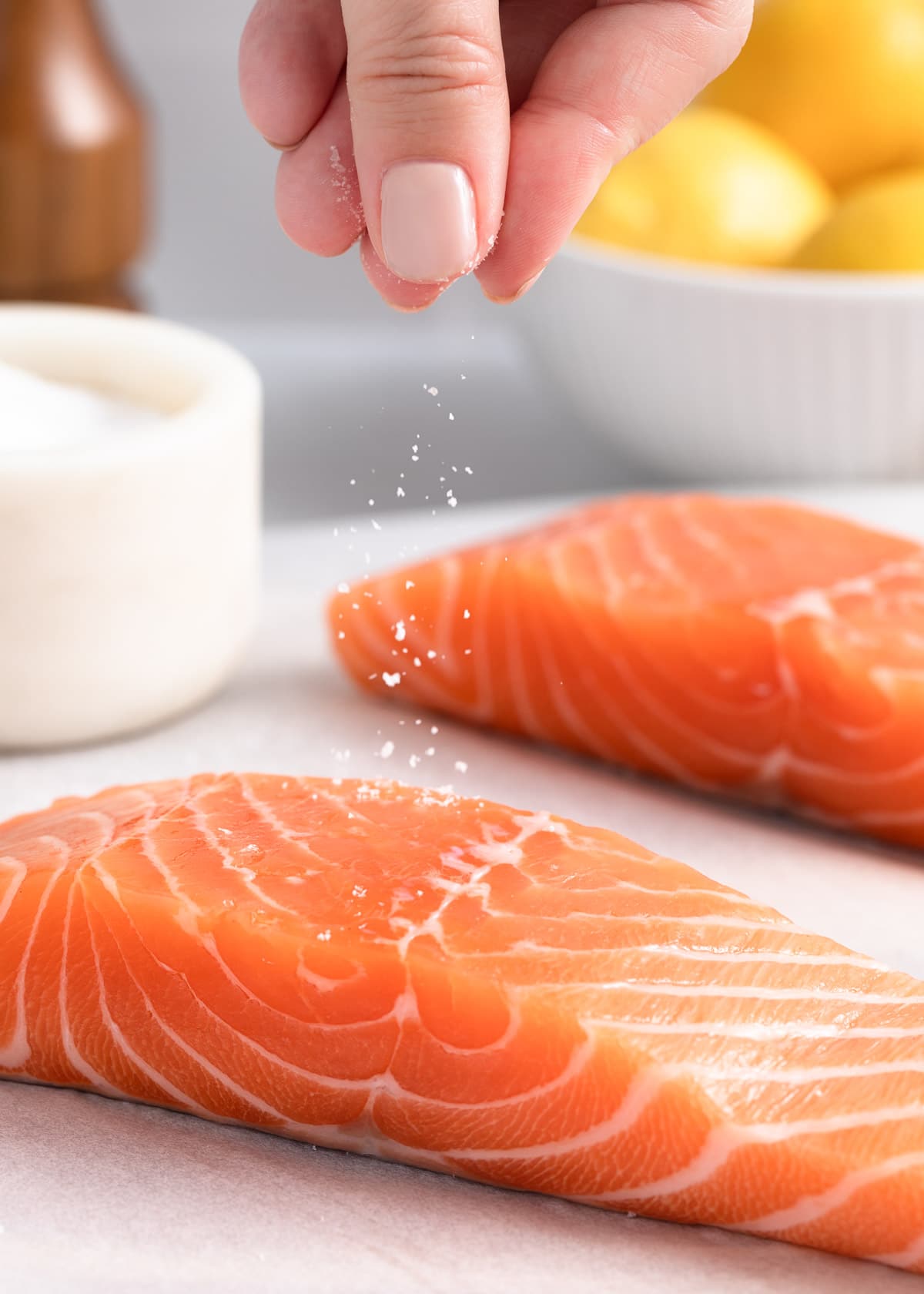 Equipment You'll Need
The Pan
To sear salmon on the stove, you'll need a large frying pan. I use either a 10-inch or 12-inch depending on the size of my fillets, and how many I'm cooking. (For the best results, don't crowd the pan; 2 fillets is generally my max.)
My favorite types of pans to use for searing fish are clad stainless steel, carbon steel, enameled cast iron, and my GreenPan (Thermolon™ coated aluminum).
I find that clad stainless steel and well-seasoned carbon steel pans yield the crispiest skin. My favorite clad frying pans are from Made In and All Clad. I'm also a fan of Made In's carbon steel frying pans.
When using cast iron to sear salmon, I prefer to use an enameled surface, such as my Staub 12-inch Fry Pan. Regular cast iron can absorb the flavors and oils of the fish, which can be an issue when cooking other foods later.
While I don't usually reach for nonstick pans when searing, the exception is my GreenPan ceramic frying pan. While the skin doesn't turn out quite as crispy as the other surfaces, it's particularly easy to work with for a quick weeknight dinner.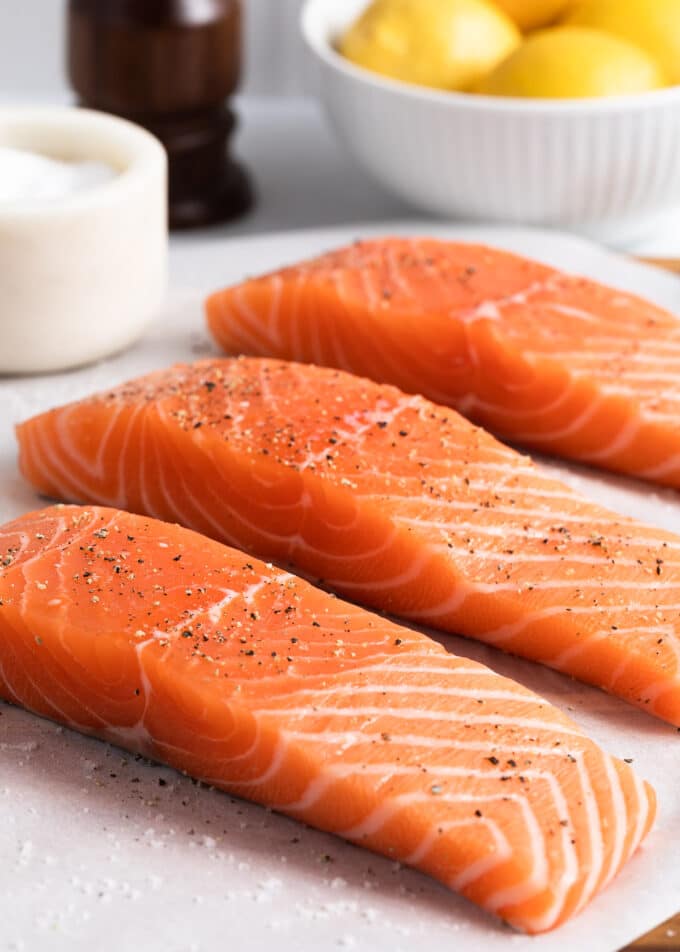 The Fish Spatula
For the best success when pan-cooking seafood, a fish spatula is an essential tool. (You might also see it called a "fish turner" or "offset slotted spatula".) These thin spatulas are a bit flexible, making it easy to maneuver delicate fillets in and out of the pan.
When pan-searing salmon, you'll use the spatula for two purposes. 1.) turning the fillets in the pan/removing them when cooked; and, 2.) keeping the fillets from pulling in on themselves when they first hit the hot cooking surface.
I own two fish spatulas that I love; the OXO Good Grips Stainless Steel Fish Turner and Wusthof Gourmet Offset Spatula, 6-1/2 inch. You can't go wrong with either choice.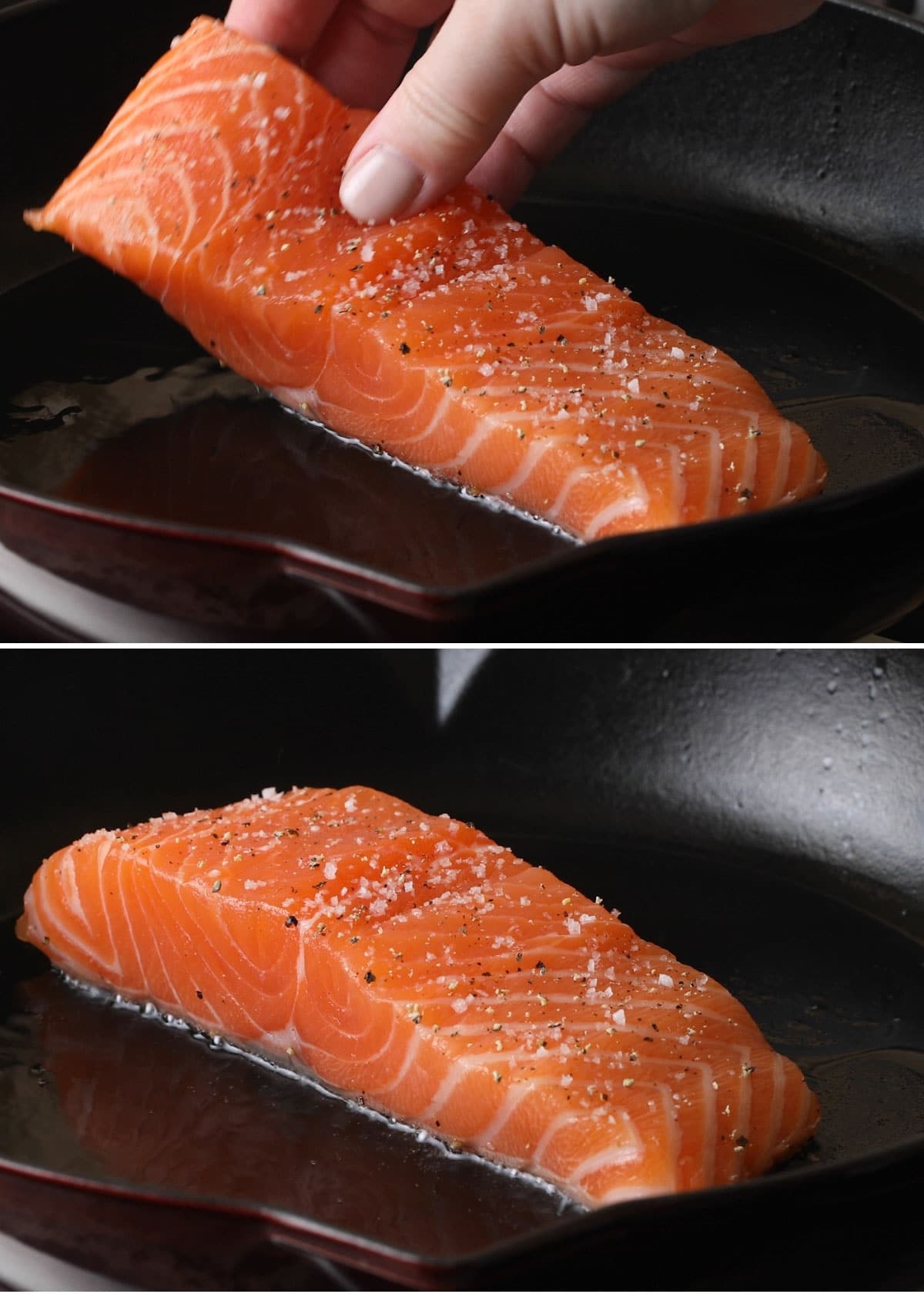 How to Pan Sear Salmon
Prepping the Fillets
For even cooking, I let my salmon fillets stand at room temperature (70 degrees F) for about 15 minutes. When fillets are fresh-out-of-the-fridge, it's difficult to perfectly crisp the skin and cook the fish at the same rate.
Also, very cold fillets hitting a hot pan are more likely to cause albumin to push out of the surface; i.e. the white stuff you sometimes see on cooked salmon.
Like steaks or chicken, you'll get the best browning and crispiest skin if extra moisture is removed from the surface. Right before you're ready to cook the fillets, pat them dry with paper towels on all sides.
I like to keep my seasonings simple with a sprinkling of kosher or sea salt and freshly-ground black pepper. For the best results, season the fillets just before searing so the salt doesn't draw out moisture.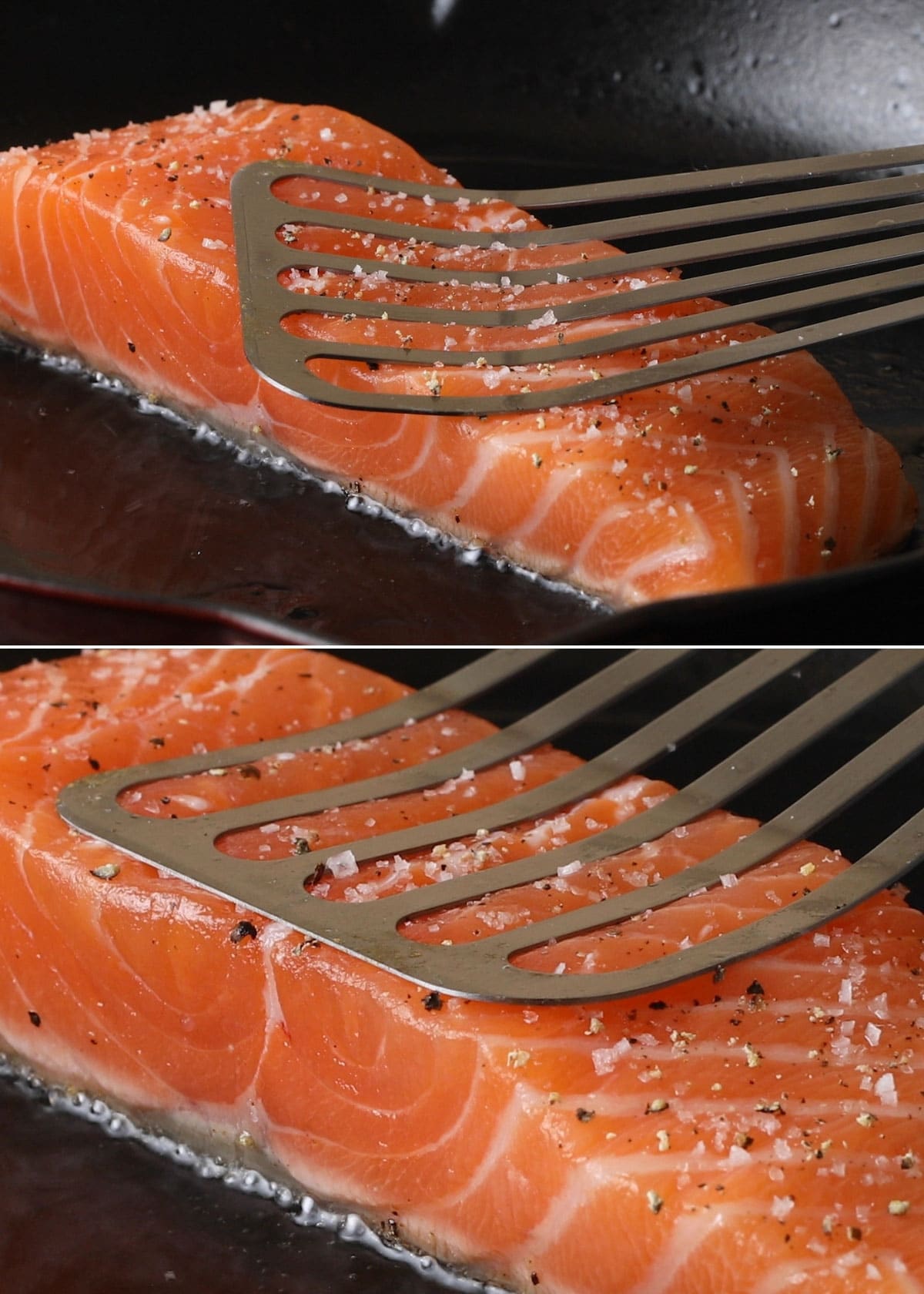 Searing the Fillets
I like start my salmon fillets skin-side down, and refrain from flipping until the fish is mostly cooked. The skin creates a barrier between the delicate flesh and direct heat for the most succulent fillet.
For the crispiest skin and crust, I get my pan pretty hot to start. Test the dry pan by shaking a few drops of water into it. The droplets should dance around the pan for a few seconds before evaporating. Add enough oil to just cover the bottom of the pan, and give it a moment to shimmer.
Once the fillets are in the pan, lower the heat to medium or medium low (depending on the stove, pan, and thickness of the fillets) to cook them through at a more moderate temperature.
Safety note: When adding the fillets to the pan, the fish's moisture content (even though you've patted it dry), will create a little oil splatter. Gently lay each fillet into the pan from the front to the back, moving in a direction away from you.
As soon as the fillets are in the pan, you'll notice that they start to pull in on themselves toward the center. Use your fish spatula to gently press them down to help regain their original thickness.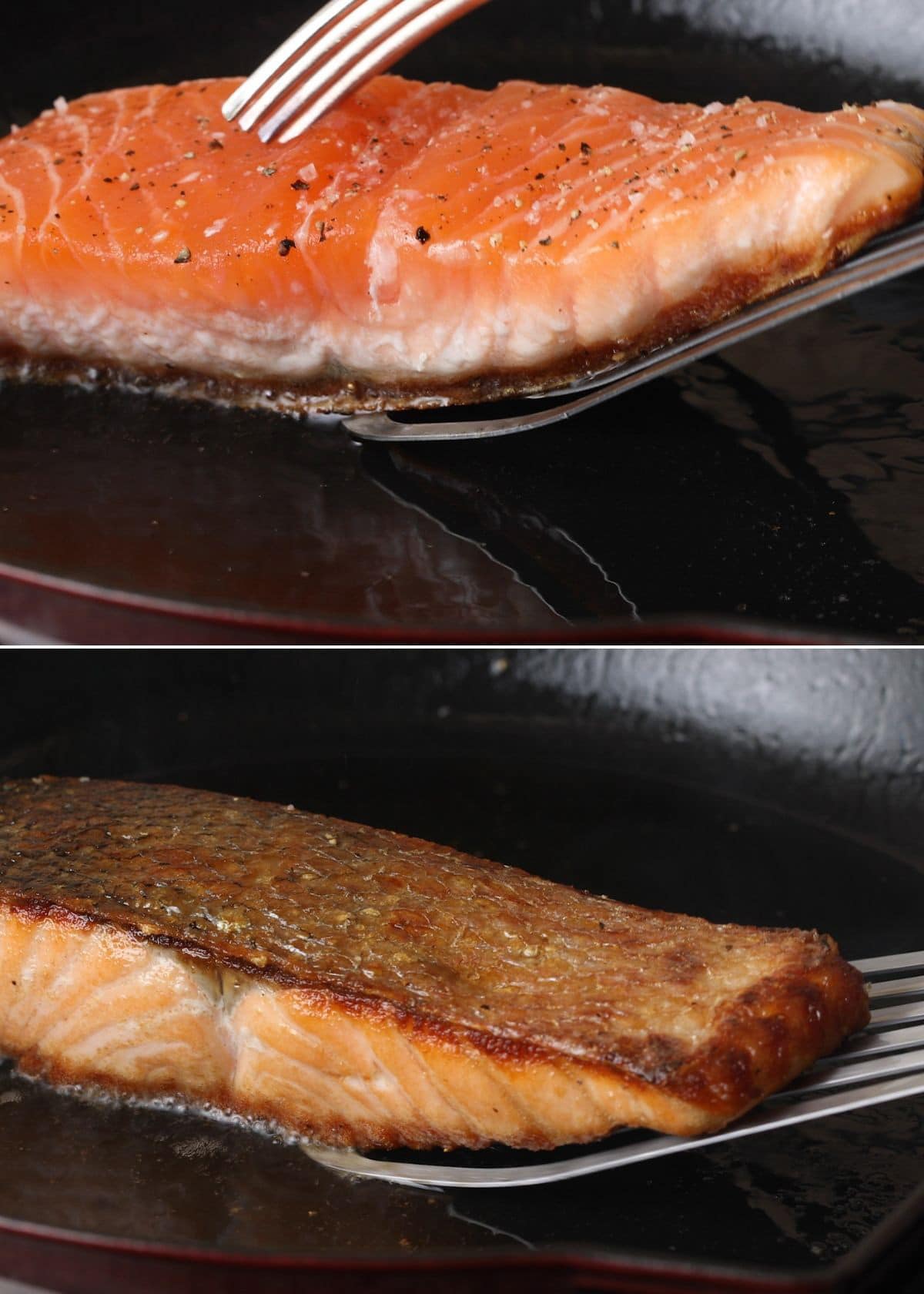 How To Know When Pan Seared Salmon is Ready
The first step in judging doneness is knowing when to flip the fillets. As the salmon cooks on the skin side, watch the side of the fillet. You'll start to see the color change from a more vibrant, translucent coral, to a lighter, opaque shade.
When that line reaches about 75% up the side of the fillet, it's time to flip. This typically takes between 5 and 9 minutes, depending on the salmon's thickness.
Trying to flip and the salmon skin is stuck? Give it another minute or two and try again. If the fillet was seared with sufficient oil in a well-heated pan, the skin will naturally release when it's ready.
The fillets will only need a few minutes on the second side. To determine doneness, take the temperature of the fillet with an instant-read thermometer. The FDA recommends an internal cooking temperature of 145 degrees F in the thickest part of the fillet.
Many chefs prefer to cook salmon to a temperature of 120 to 125 degrees F to retain juiciness. A lower internal temperature is particularly desirable when working with wild fillets. When cooking farmed fillets, I like mine cooked to 125-130 degrees F.*
*Disclaimer: consuming raw or undercooked seafood may increase your risk of food-borne illness.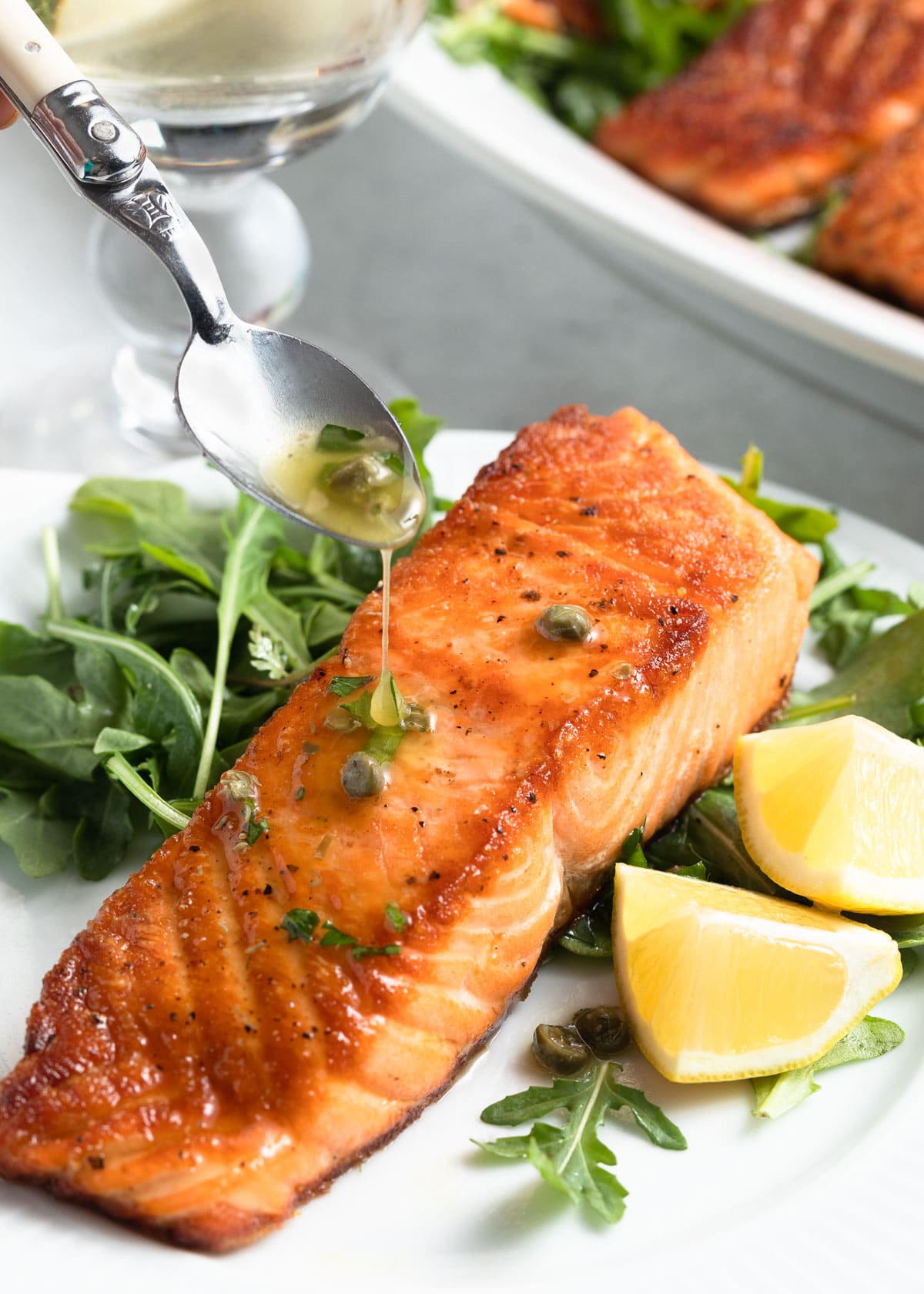 Serving Pan Seared Salmon
You can serve pan-seared salmon with or without the crispy skin. If you're leaving the skin on, serve the fish skin-side up. To remove it, gently slide your spatula between the fish and skin from each end to loosen, and lift the fillet in one piece.
A good piece of fish needs minimal treatment after cooking to be delicious. I usually serve pan-seared salmon with a squeeze of fresh lemon juice and chopped fresh herbs, or a simple sauce. Some of our favorites are Beurre Blanc, Lemon-Caper Vinaigrette, Tzatziki, or Honey-Ginger Sauce.
We also love these fillets topped with a scoop of Cherry Tomato Confit, or flaked into a warm entree salad, such as my Seared Salmon and Couscous Salad.
Easy Side Dish Ideas
CRAVING MORE? Subscribe to my newsletter and join me on Facebook, Pinterest, and Instagram for the latest recipes and news.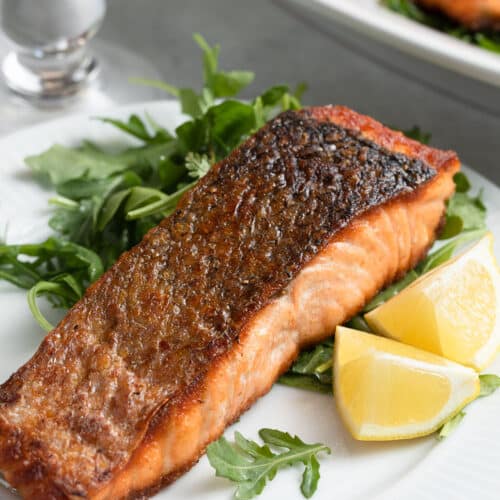 Pan Seared Salmon
Make restaurant-quality pan seared salmon at home! These moist and tender fillets with perfectly-crisped skin are excellent on their own as a main course, or to use in recipes.
Print
Pin
Rate
Save
Saved!
Estimated Calories Per Serving:
340
kcal
Ingredients
2

skin-on salmon fillets

(6 to 8 ounces each, 1 to 1-1/2 inches thick, pin bones removed and skin descaled)

1-2

tablespoons

neutral, high-smoking point oil, such as canola

kosher salt and freshly-ground black pepper
Instructions
Remove salmon fillets from the refrigerator 15 minutes before cooking and let stand at room temperature (about 70 degrees F).

Heat a 10 to 12 inch frying pan on the stove over medium-high heat until hot. (See the Equipment section in the article above for pan type recommendations.) Add a few droplets of water to the pan. If they jump around and quickly evaporate, the pan is ready. Add enough oil to the pan to lightly coat the bottom. Heat until shimmering, but not smoking.

Just before searing, pat the fillets dry with paper towels on all sides, and season the flesh with kosher salt and a few grinds of black pepper.

Add the fillets to the pan skin side down, from the front of the pan to the back, so the any oil splatter moves away from you. Reduce heat to medium/medium low. The fillets will begin to buckle when they hit the hot pan. Use a fish spatula to gently press down on the flesh until they regain their original thickness, about a minute.

Cook on the skin side until the fillets are 3/4 of the way cooked. Watch the color of the fish; starting at the bottom near the skin, it will change from a richer, translucent coral color to an opaque, pastel shade. It will take about 5-9 minutes for the color to change 3/4 up the sides of the fillets, depending on your stove, the pan, and the thickness of the fish.

Use your fish spatula to flip the fillets and continue cooking on the flesh side to your desired doneness, 1-4 minutes. The USDA recommends cooking salmon to an internal temperature of 145 degrees F. For medium-rare fillets, cook the salmon to 120 to 125 degrees F; medium: 125-130 degrees F, medium-well 135 degrees F.*

Remove the fillets from the pan and drain on a paper towel lined plate for 2-3 minutes. Serve with a squeeze of fresh lemon juice or your favorite finishing sauce. For crispy-skinned fillets, plate the salmon skin-side up. To remove the skin from the fillets, use your fish spatula to loosen the skin from the bottom of the cooked fillet, lifting the fish from the skin in one piece.
---
Notes
*Consuming raw or undercooked seafood may increase your chance of food borne illnesses.
Nutrition Estimate
Serving:
1
fillet
|
Calories:
340
kcal
|
Protein:
45
g
|
Fat:
16
g
|
Saturated Fat:
2
g
|
Cholesterol:
125
mg
|
Sodium:
100
mg
|
Potassium:
1111
mg
|
Vitamin A:
91
IU
|
Calcium:
27
mg
|
Iron:
2
mg
---
About our Recipes:
Please note that our recipes have been developed using the US Customary measurement system and have not been tested for high altitude/elevation cooking and baking.
Keywords:
pan fried salmon, pan seared salmon
Have you made this recipe?
Don't forget to leave a comment and rate the recipe below! Take a picture and tag @stripedspatula and #stripedspatula on Instagram for a chance to be featured in our Insta Stories and newsletter!