This slow-roasted, crispy-skinned porchetta recipe is an Italian classic for the holidays. With step-by-step instructions from shopping to serving, this post will take the guesswork out of making juicy porchetta, with the coveted crackling.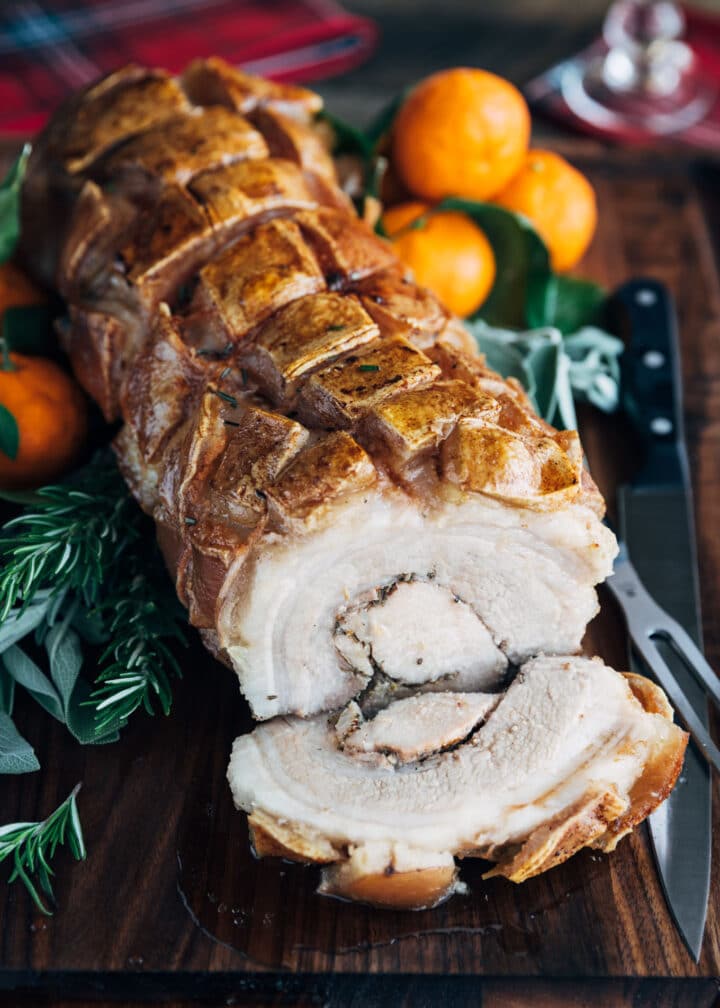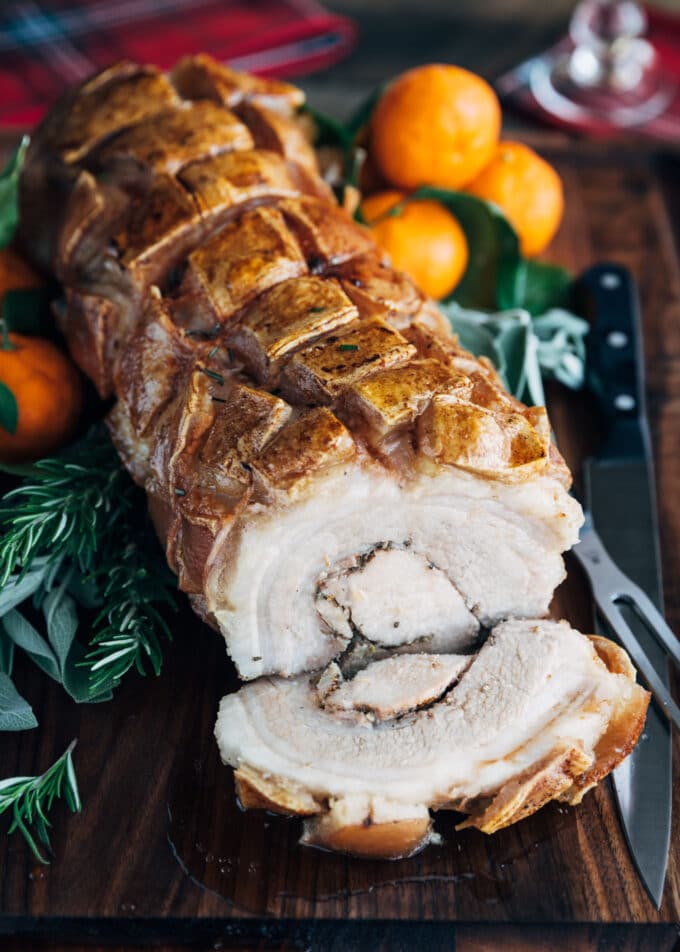 What is Porchetta?
Porchetta is an Italian roasted pork dish originating in Central Italy, around Rome. In Italy, the dish is typically made with a boneless suckling pig. The pig is stuffed with fennel, garlic, and herbs, and often livers, ground pork, and/or sausage, and roasted over a spit.
Here in America, the porchetta recipe we know recreates the traditional dish as a pork roast. Recipes vary, but most often, a porchetta roast is made from a stuffed pork loin wrapped in a slab of pork belly.

Porchetta Roast with Herb Stuffing
The rub (or, stuffing) for this porchetta recipe is an aromatic blend of toasted spices, garlic, and fresh herbs. Fennel and black peppercorns are traditional, as is citrus zest.
I like to toast the fennel seeds and peppercorns to develop their flavors before grinding them in a spice grinder. Then, I mix them with fresh rosemary, sage, and thyme leaves, plenty of fresh chopped garlic, and orange and lemon zests.
A touch of crushed red pepper flakes brings a hint of heat, without being overly spicy. You can easily omit them for the mildest roast. Since the pork is rich, I limit the stuffing to the herb and spice mixture, without any additional meats.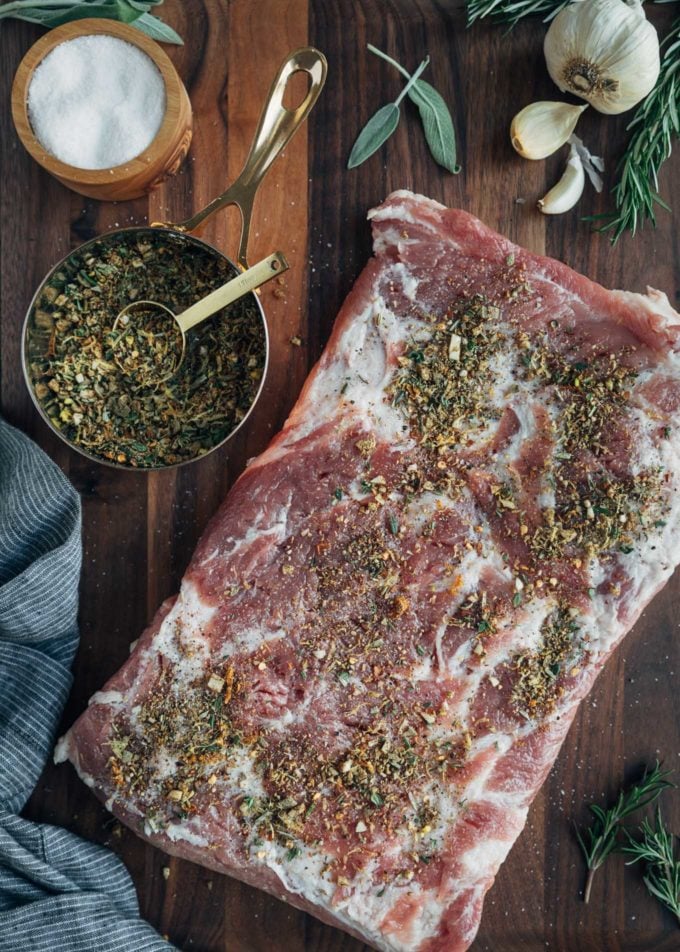 Buying Meats for a Porchetta Roast
For this porchetta recipe, you'll need a 3-4 pound center cut pork loin. It's important to buy pork loin as opposed to pork tenderloin. The tenderloin cut is better suited to high-temperature, quick-cooking methods than a slow roast.
The pork loin will need to be trimmed and "double-butterflied" in order to stuff and roll it. I almost always ask my butcher to do this for me, but you can also butterfly it at home using this guide.
You'll also need a 5-6 pound piece of skin-on pork belly, to wrap around the rolled pork loin. This is often something that your butcher counter will have to special order for you.
Many times, butcher counters that stock pork belly will cut it into smaller pieces for the case. You need a big, rectangular piece for this recipe. For this post, I was lucky to have visited Whole Foods the day that they got in a new pork belly shipment, and got dibs on my piece before trimming.
When you're at your butcher counter, tell them that you're making porchetta, and ask them to confirm that the piece of pork belly will fit around the rolled pork loin before they wrap everything up. That way, you won't have to do any additional trimming when you get home.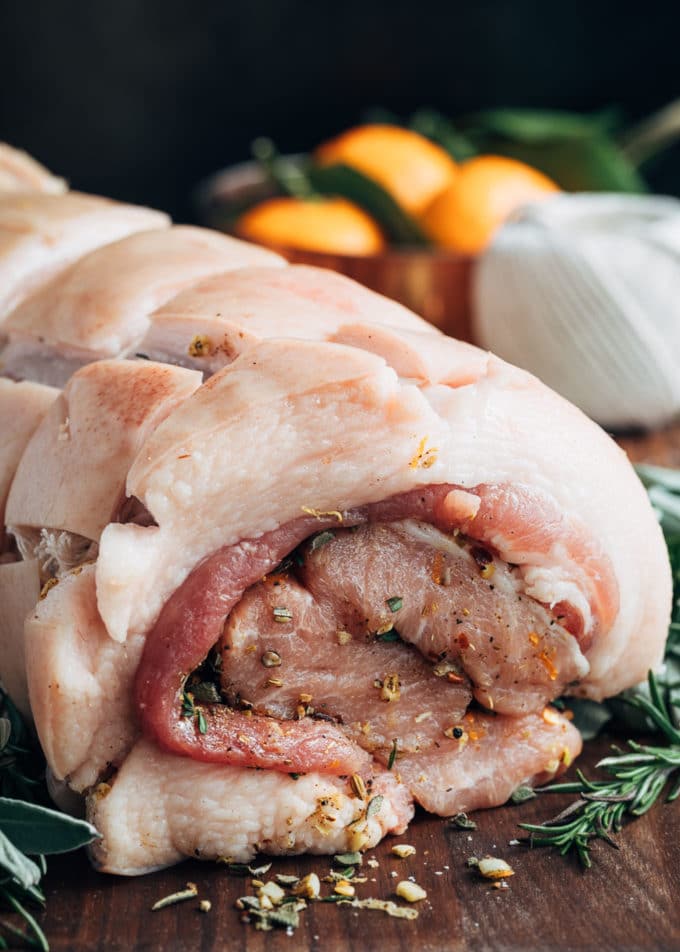 A Slow-Roasted Porchetta Recipe With Crackling
Making porchetta is a multi-day process, though a lot of it is a hands-0ff resting period. Plan to start prepping your porchetta one to two days in advance of roasting.
Preparing the Pork Roast for the Oven
To make porchetta, you'll start by poking holes all over the meat-side of the pork belly with the tip of a paring knife. Don't be dainty here. This both tenderizes the pork belly and allows the flavors of the spice rub to really get into the meat. Then, sprinkle with kosher salt, and rub with half of the spice mixture.
Season the butterflied pork loin the same way with salt and the remaining spice mixture (no need to tenderize this piece). Then, tightly roll it up and wrap it with the pork belly.
Tie the rolled porchetta with butcher's twine at 1-inch lengths so that it's compact and doesn't unroll.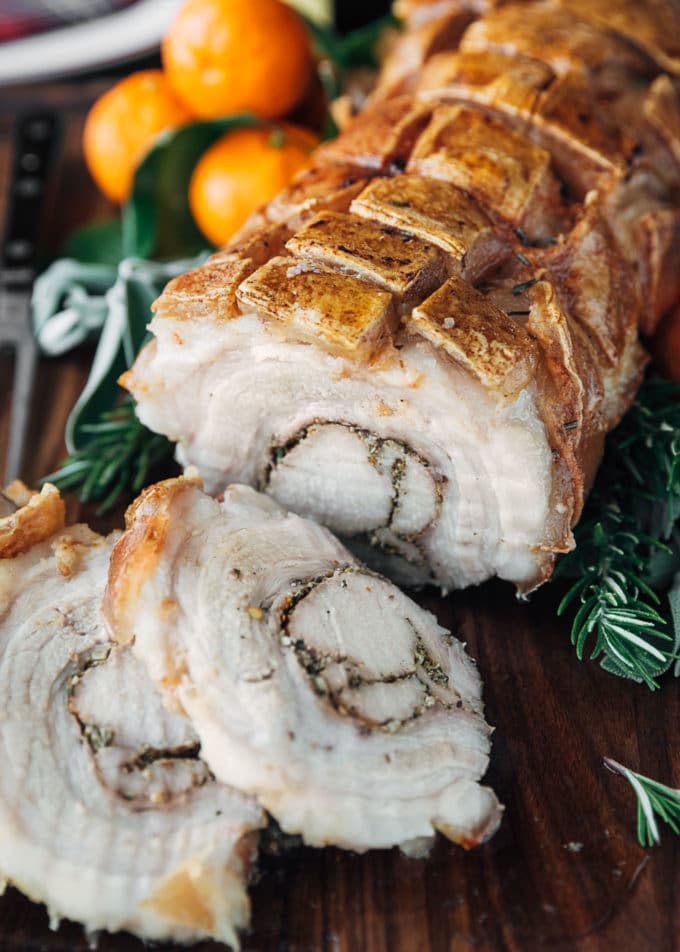 How to Make Cracklings: Salt, Baking Soda, and Rest
One of the hallmark characteristics of a porchetta roast is the crispy pork skin, or crackling. For the crispiest skin, a few steps are key.
Decide whether or not you want to score the skin of your pork belly. Scoring makes a pretty presentation and allows for lots of crispy-edged crackling pieces, but it can be hard to do without an extremely sharp knife or razor.

If you're going to score the skin, cut a crosshatch pattern in 1- to 2-inch widths, trying not to slice down into the pork belly meat. You can also ask your butcher to do this for you.

Note that you don't have to score the skin.Un-scored porchetta will have a smoother appearance when roasted, and will be just as delicious. It's entirely your decision!

Rub the pork belly skin with salt and baking soda. After the porchetta is rolled and tied, the rub will help remove moisture in the skin and roast it to crispy perfection.
Let the meat rest for 1-2 days. For the crispiest skin and fullest-flavored meat, place the porchetta roast on a rack set in a baking pan and refrigerate, uncovered, for up to 2 days. This will really draw out the moisture in the skin, and let the dry rub sink into the meat.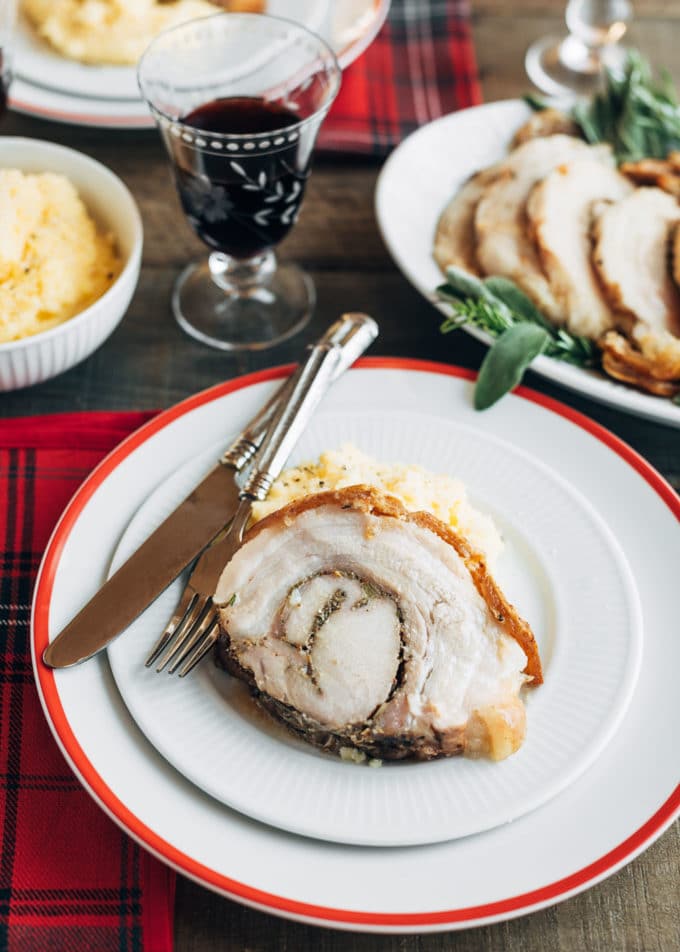 The Main Event: Roasting Porchetta
Much like my Slow-Roasted Prime Rib, I like to use a reverse-sear method for my porchetta recipe.
I start the pork at a low oven temperature (275 degrees F) and roast it until the center hits 140 degrees F. For the weights specified in this porchetta recipe, this will take about 3 to 3-½ hours.
When the pork hits its internal cooking temp, I take it out of the oven and let it rest as I crank the oven up to 500 degrees F. Then, I return the porchetta to the oven and continue roasting until the skin is deep golden brown and crisp, just 15-20 minutes more.
This technique ensures an ultra tender, juicy pork loin in the center, and the crispiest skin imaginable.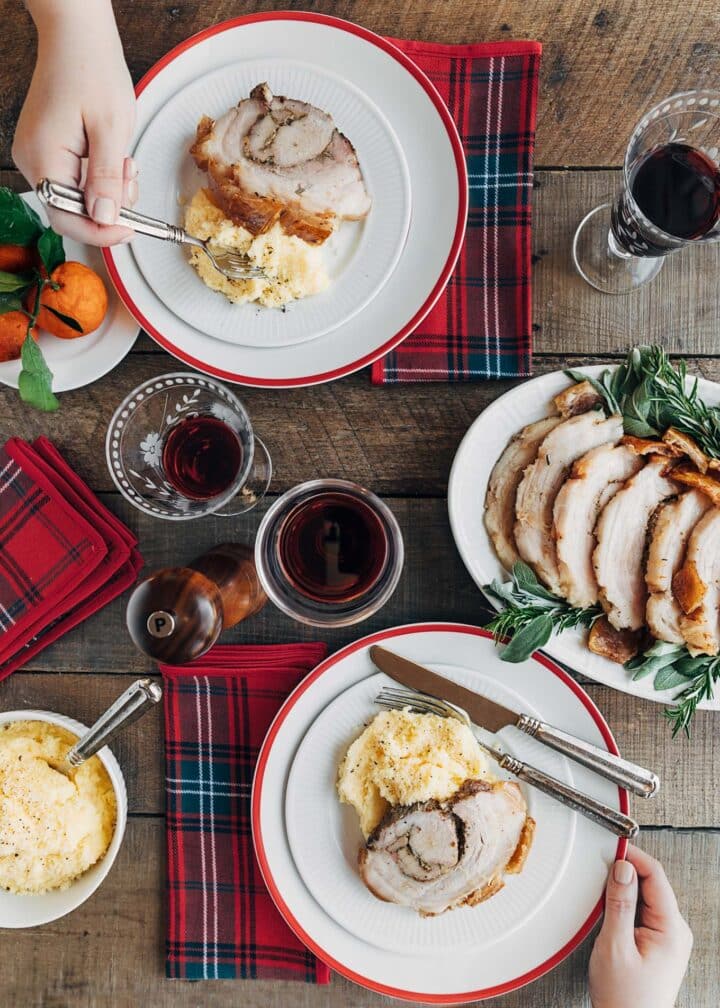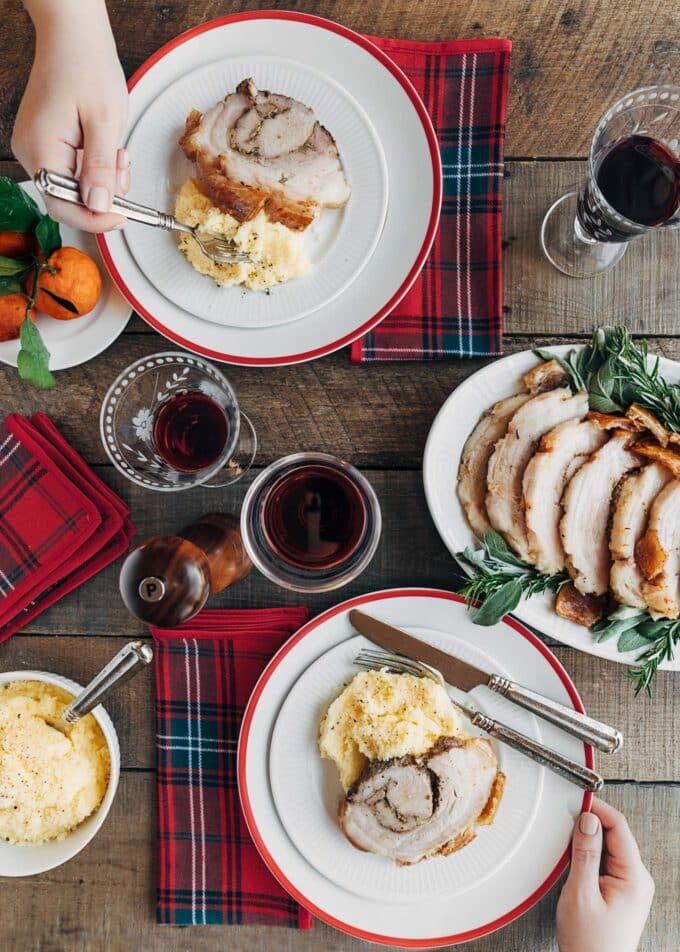 What to Serve with Porchetta
I like to slice the porchetta with a serrated knife, to start, to get through the crispy pork skin. Then, I often switch off to a meat carving knife for smooth slices, but this is strictly for presentation.
Many times, the pork skin will detach from the belly. This is fine! I like to cut the cracklings into small pieces (especially if I haven't scored the skin), and serve them alongside the sliced porchetta.
Since the porchetta is so rich and well-flavored, I like to serve it simply, with a scoop of polenta or mashed potatoes. This isn't the kind of roast that needs gravy, though, a drizzle of Italian Salsa Verde is a nice touch if you'd like to add a pop of freshness.
Don't forget the leftovers! A porchetta sandwich is one of my favorite post-holiday lunches.

Enjoy your porchetta with a glass of wine! Certified Sommelier, Hugh Preece, suggests:
Pairing: Falesco 'RC2' Sagrantino di Montefalco DOCG
"Penetrating ruby red in color with bright highlights. Aromas of red fruit from blackberry to ripe plum. This wine is well balanced with factual elegance."
Daring Pairing: De Vescovi Ulzbach 'Vigilius' Teroldego Rotaliano DOC
"A robust wine, healthy spiced palate showing flavors of mulberry, black currant, wild herbs, loamy earth, violet, and minerals."
📖 Recipe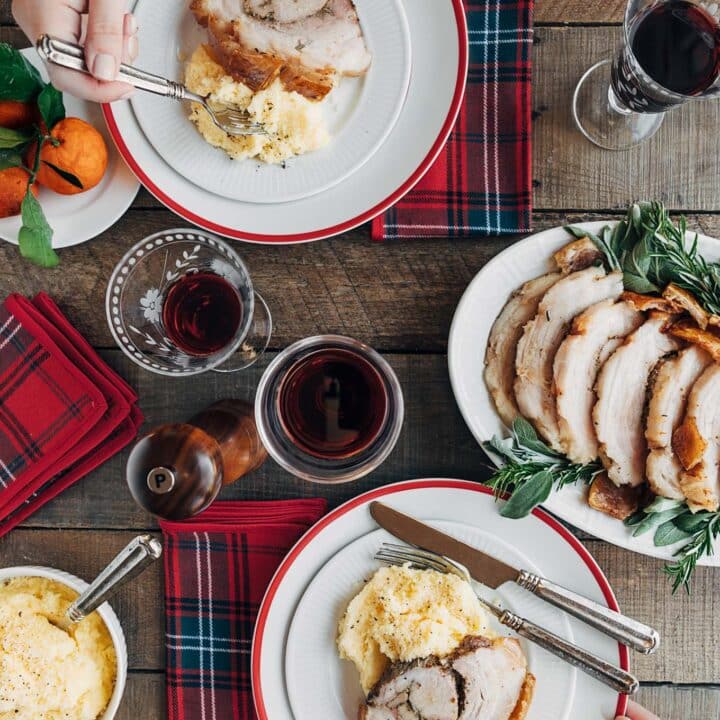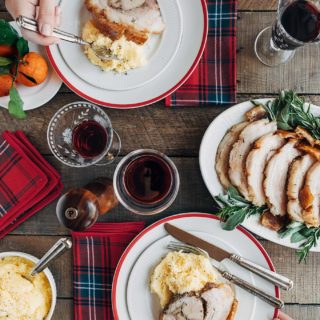 Porchetta Recipe
This rich Italian pork roast makes an impressive presentation for a holiday dinner. Porchetta cooking times do not include the 24-48 hour rest prior to roasting.
Print
Pin
Rate
Save
Saved!
Servings:
8
to 12 servings
Estimated Calories:
1365
kcal
Ingredients
Porchetta
5-6

pound

pork belly

, skin on*

3-4

pound

center-cut pork loin

, trimmed and butterflied

2

tablespoons

kosher salt

1

teaspoon

baking soda
Spice Rub
2

tablespoons

fennel seeds

1

tablespoon

black peppercorns

1

tablespoon

chopped fresh sage

1

tablespoon

chopped fresh rosemary

1

tablespoon

chopped fresh thyme

1

teaspoon

grated orange zest

1

tablespoon

grated lemon zest

5

cloves

garlic

, finely chopped

1

teaspoon

crushed red pepper flakes

(optional)
Instructions
Make the Spice Rub
Combine fennel seeds and peppercorns in a small skillet. Toast over medium heat, stirring often, until lightly golden and fragrant, about 3-5 minutes. Cool and transfer to a spice grinder. Pulse until finely ground. (Alternatively, you can use a mortar and pestle.)

In a small bowl, combine the ground spices with sage, rosemary, thyme, lemon zest, orange zest, garlic, and red pepper flakes.
Assemble the Porchetta
Use the tip of a paring knife to make small holes all over the meat side of the pork belly. Season with about 1-½ teaspoons kosher salt and and half of the spice mixture, rubbing it into the meat.

Season the pork loin with 1-½ teaspoons of kosher salt and the remaining half of the spice mixture. Tightly roll the pork loin from the long end into a cylinder.

Roll the pork belly (skin side out) around the rolled pork loin. Tie the loin with butcher's twine at 1-inch intervals.

In a small bowl, combine 1 tablespoon kosher salt and 1 teaspoon baking soda. Rub the salt and baking soda mixture all over the skin.

Place the porchetta on a rack set in a roasting pan or rimmed baking sheet. Refrigerate, uncovered, 24-48 hours.
Roast the Porchetta
Take the porchetta out of the refrigerator 2 hours before roasting and allow to rest at room temperature. Preheat oven to 275 degrees F.

Roast the porchetta for 3 to 3-½ hours, until the internal temperature of the pork loin is 140 degrees F. Remove from oven, tent with foil, and increase oven temperature to 500 degrees F.

Uncover the porchetta and return it to the oven to roast until the skin is deep golden and crispy, about 15-20 minutes longer. Watch it closely so it doesn't burn.

Place the porchetta on a carving board, snip and remove the twine, and let rest 10 minuets before slicing. It can be helpful to use a serrated knife to cut through the pork skin. If desired, cut the skin (crackling) into small pieces to serve alongside the sliced pork. Serve hot.
---
Notes
*If desired, you can score the pork belly skin in a crosshatch pattern, with cuts 1-2 inches apart. Use a very sharp knife and be careful not to cut down into the meat. You can also ask your butcher to do this.
For detailed tips and shopping info for this recipe, be sure to read through the blog post.
Nutrition Estimate
Calories:
1365
kcal
|
Carbohydrates:
2
g
|
Protein:
52
g
|
Fat:
126
g
|
Saturated Fat:
45
g
|
Cholesterol:
249
mg
|
Sodium:
1648
mg
|
Potassium:
976
mg
|
Fiber:
1
g
|
Vitamin A:
125
IU
|
Vitamin C:
3.7
mg
|
Calcium:
45
mg
|
Iron:
2.5
mg
Keyword:
how to make porchetta, Italian pork roast, porchetta
---
About our Recipes:
Please note that our recipes have been developed using the US Customary measurement system and have not been tested for high altitude/elevation cooking and baking.
Have you made this recipe?
Don't forget to leave a comment and rate the recipe below! Take a picture? Tag @stripedspatula and #stripedspatula on Instagram!