Slow cooked with homemade roasted salsa verde, Chicken Tomatillo Tacos are a great dinner for busy schedules.
I definitely don't use my slow cooker enough, especially during the summer when I'm firing up the grill. When I first bought my cooker, I promised I would get out of the mindset of only using it for winter soups and stews.
I'm getting there, but old habits die hard!
Earlier this week, still in a Latin-themed mindset after the delicious Gallo Pinto, I decided to use my slow cooker to make Chicken Tomatillo Tacos.
Boneless, skinless chicken thighs are slow-cooked in a tangy, smoky, sweet roasted tomatillo salsa, then shredded into corn tortillas with a little lime juice, red onion, sliced avocado, and a dollop of sour cream.
The chicken is juicy and tender, with a bright, fresh flavor thanks to the tomatillos and a little extra squeeze of lime juice upon serving. In one word: yum.
A couple of sources inspired this recipe, including my all-time favorite Chicken Enchiladas from Tyler Florence. I've made them for years, with very minimal changes, to rave reviews. For a rich, filling comfort food meal, I highly recommend.
Most of the time, the button on my jeans is thankful when I eat a little healthier, so I started using the enchiladas' homemade roasted salsa verde to top grilled chicken breasts. Also delicious, but, truth be told, a little boring after a while.
When I saw a recipe on Serious Eats that combined chicken thighs with tomatillo salsa in the slow cooker for a taco filling, I knew I had to give the concept a try with the roasted salsa verde. We really enjoyed them.
The tacos were big on flavor and lighter on the calorie scale than enchiladas for a weeknight meal. (Though, I'm not going to kid anyone into thinking that I don't still make the enchiladas on occasion. All good things in moderation!)


The real star of the show here is the Roasted Tomatillo Salsa. If you've never cooked with tomatillos, they're fun!
The base of Mexican salsa verde, tomatillos are covered with a delicate paper wrapping and look like small green tomatoes once husked. (You'll notice a sticky residue on the husked tomatillo skin; this is actually the tomatillo's defense against pests while growing, and easily rinses off with water.)
Tomatillos have a bright, tart flavor and can be used cooked or raw. I particularly love them roasted, as the heat brings out their natural sweetness without totally diminishing the tang, resulting in a rounded, balanced salsa verde.
When it comes to soft tacos, my biggest pet peeve is sogginess. Too much sauce, and they fall apart, ruining the entire taco experience. Such a mess!
When using the slow cooker, chicken thighs tend to throw a lot of juice. The first time I made these, I found the sauce, served "as-is" at the end of four hours, far too watery.
To balance this, I removed the thighs from the slow cooker when they were finished and reduced the cooking liquid to intensify the flavor and thicken it a bit. Then, I tossed the shredded chicken with just enough sauce to flavor and coat, drizzling additional salsa onto the tacos just before serving.
Using the slow cooker makes these tacos as easy as they are convenient for a weeknight meal, especially since the salsa verde can be prepped several days in advance and stored in the refigerator.
(As an extra time-saver, you could certainly use your favorite store-bought salsa verde here, but I encourage you to give homemade a try; it isn't a lot of work and the flavors are so fresh!).
On the day you're ready to make the tacos, just toss the chicken thighs with some of the salsa, set the slow cooker to low, and go on your merry way while dinner cooks itself. A few finishing touches and tacos are on the table.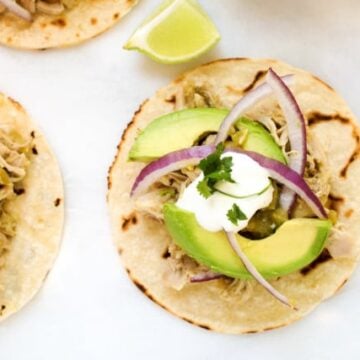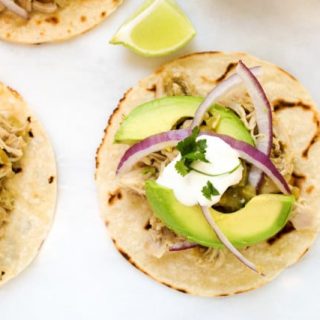 Slow Cooker Chicken Tomatillo Tacos
Slow cooked with homemade roasted salsa verde, Chicken Tomatillo Tacos are a great dinner for busy schedules.
Roasted Tomatillo Salsa adapted from Tyler Florence, Slow Cooker Chicken Tacos Inspired by Serious Eats
Print
Pin
Rate
Save
Saved!
Servings:
6
to 8 servings
Estimated Calories:
251
kcal
Ingredients
Roasted Tomatillo Salsa
1-½

pounds

tomatillos

, husked, rinsed, and cut in half

1

medium

white onion

, peeled and cut into large chunks

4

garlic cloves

, unpeeled

2

jalapeño peppers

, halved and seeded*

1

tablespoon

vegetable or olive oil

2

teaspoons

ground cumin

1

teaspoon

kosher salt

½

cup

cilantro leaves

1

tablespoon

fresh lime juice
Chicken and Tacos
2-½

pounds

boneless, skinless chicken thighs

kosher salt and freshly-ground pepper

12

corn tortillas

toppings, such as including lime wedges, thinly-sliced red onion, sliced avocado, and sour cream
Instructions
Make the Roasted Tomatillo Salsa
Preheat oven to 400 degrees F with rack in the center position. If desired, line a baking sheet with foil for easy cleanup. Toss tomatillos, onion, garlic, and jalapeño peppers with olive oil on the baking sheet. Flip tomatillos and jalapeños so they are cut-side down. Roast until tomatillos are browned and onions and jalapeños are soft about 25 minutes. Let cool slightly and squeeze the roasted garlic from the cloves, discarding the skins.

Transfer roasted tomatillo mixture, including any juices that have accumulated on the baking sheet, to a blender or food processor. Add cumin, salt, cilantro, and lime juice, and pulse until the salsa is combined and is to your preferred consistency (I prefer leaving mine a little on the chunky side).
Make the chicken and serve
Season chicken thighs with salt and pepper. Place in the slow cooker and toss with 1 cup roasted tomatillo salsa, reserving the rest for garnishing the tacos (or eating with chips!). Cover and cook on low for 4 hours, until chicken is tender.

Remove thighs from the slow cooker and shred, using two forks, or the paddle attachment on your stand mixer. Cover to keep warm.

Transfer cooking liquid to a small saucepan (or place your slow cooker insert directly on the stove, if your specific model allows this), and simmer over medium heat until reduced to ¾ to 1 cup, about 15 minutes, stirring occasionally.

Toss shredded chicken with enough sauce to coat, re-warming the chicken as needed if it has cooled.

While the sauce is reducing, warm corn tortillas in a dry skillet until lightly-browned. To serve, fill each taco with shredded chicken and top with a squeeze of fresh lime juice, a dollop of the reserved tomatillo salsa, sour cream, red onion, and avocado.
---
Notes
*Seeding the jalapeños will produce a mild salsa. For a spicier version, skip the seeding, or use a hotter pepper variety to your preferred heat level, such as serranos.
Nutrition Estimate
Calories:
251
kcal
|
Carbohydrates:
28
g
|
Protein:
18
g
|
Fat:
7
g
|
Saturated Fat:
1
g
|
Cholesterol:
71
mg
|
Sodium:
481
mg
|
Potassium:
448
mg
|
Fiber:
4
g
|
Sugar:
3
g
|
Vitamin A:
210
IU
|
Vitamin C:
13
mg
|
Calcium:
66
mg
|
Iron:
2
mg
---
About our Recipes:
Please note that our recipes have been developed using the US Customary measurement system and have not been tested for high altitude/elevation cooking and baking.
Have you made this recipe?
Don't forget to leave a comment and rate the recipe below! Take a picture? Tag @stripedspatula and #stripedspatula on Instagram!